Friday, October 28, 2011

all this horror business
A quick rundown of what's up this Halloweekend:
Tonight:
The Waldorf
kicks off an entire weekend of events that culminates with the venue's one year anniversary and Ice Cream Social's sixth birthday soiree.
Beat Connection, Too High Crew, Teen Daze, and Blood Diamonds
are at the Electric Owl. Tix are nearly sold out, but there will be handful at the door.
A Hard Days Night of the Living Dead
(the SSRIs as the Beatles) play the Rickshaw. With "Ice Cream Social vs. East Van Soul Club" behind the decks.
One Baby
(members of Baptists, Congress, and Slow Learners covering Nirvana) play a special Friday night edition of one of my favourite monthlies, Junior High.
And,
Mode Moderne, Korean Gut, members of Sutures, the Courtneys, and (again) Mode Moderne, members of Bummer High, High Drops, and Timecopz, and members of Indian Wars, My Friend Wallis, and Student Teacher
are rocking another covers show at 360 Glen.
Tomorrow:
The Rickshaw
hosts the Defektors as AC/DC, White Lung as the Wipers & Misfits, Peace as the Cramps, and Aquanaut as Sabbath.
Glory Days
hosts its annual Halloween dance party.
Man Your Horse, Blake, Tasty Animals, and Whiskey Tooth play Montmartre Cafe.
Square Root of Evil
play Zoo Zhop.
Sunday:
Chariots, N213, Lief Hall, and Colby Sparks play the Astoria.
Monday:
Bitch Moves, Night Mirrors, and Zoo
play Zoo Zhop.
And
the Biltmore
hosts the Ramores (Ramones covers) and Teenagers from Mars (Misfits covers).
now playing: Chelsea Wolfe - Demons
Labels: halloween, show announcements
Thursday, September 29, 2011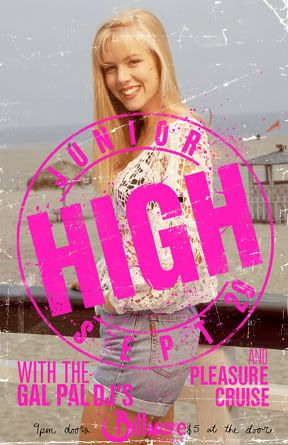 Obviously, the appropriate first post in a month on your blog is about your own bands show.
This is tonight at the Biltmore. Check us out on
Bandcamp
and come down to the Biltmore.
Labels: junior high, pleasure cruise, self-aggrandizing
Thursday, September 01, 2011
Three more sleeps!
Labels: victory square block party
Thursday, August 25, 2011

it goes on and on and on
I don't really post 90s R&B songs here all that often, but on the 10th anniversary of Aaliyah's death, I think it's worth reminding how completely ahead of its time this 15-year-old gem is. A lot of the credit has to go to Missy and Timbaland's production work, but Aaliyah was the perfect foil to that (at the time) complete off-the-wall approach to pop music (and
her enthusiasm for the track was one of the reasons that it got released in the first place
).
Anyhow, with all the pop revivalism going on, it's not rare to find an old song that would do well as a new release. This, however, is a different sort of beast. It's a song that could be released tomorrow and it would still be a hit today, but it wouldn't be due to retro appeal or nostalgia, because it still sounds positively modern.
Labels: aaliyah RIP, video
Thursday, August 18, 2011

nikki don't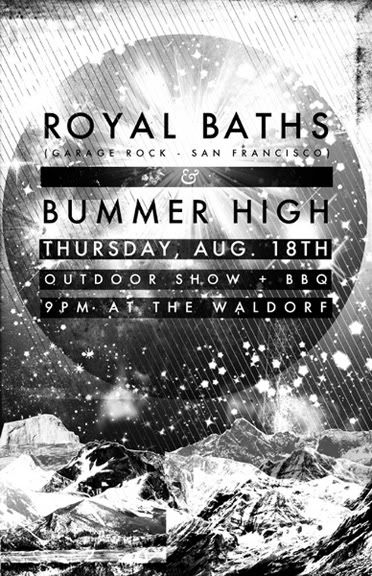 So, I know Obits (with the always awesome locals, Hard Feelings) is also tonight. And, I'm not going to lie, that show will slay pretty hard. Also, I haven't seen Royal Baths live, but the local support for this show is on par, it's outdoors (and there's only so much summer left), and you can saunter over to C86 Night in the Tiki Room afterwards, which is what sold me on a tough decision.
This also helped...
download: Bummer High -
Cough Syrup
Dave from
Bummer High
was nice enough to send over three unreleased songs. They're all great, but this one grabbed me the hardest. Enjoy.
Labels: bummer high, mp3, royal baths, timecopz
Tuesday, August 16, 2011

end of the cause
Sorry, it's been summer, so, well, you know how it goes.
Anyhow, if you haven't already heard,
the Victory Square Block Party
line-up is out. And, as usual, it celebrates some of the best the city has to offer. Also, this year it's on a Sunday, which means you get a stat holiday the next day to work of your park drunk/after party induced hangover.
Speaking of great local festivals,
Olio
, which goes down from September 22nd-25th also has their
line-up out
.
Also, huge apology to
Aunts & Uncles
, as I totally forgot to plug their EP release show last week. I can, however, suggest that you check out the actual EP:
now playing: Jody Glenham -
Daydream Believer (Monkees Cover)
Labels: aunts and uncles, olio, victory square block party
Thursday, July 28, 2011

in the red
Some catch up:
First off, Cults on Thursday was, oddly, the first time I'd been to Venue since it changed from the Plaza. I didn't think it was possible for the sound to be any worse than it was pre-renovations, but, hey, I've been wrong before. Pretty solid performance marred by godawful sound. The band had their own sound guy but the opening band, who used the in-house guy had similar problems, so I'm going to chalk it up to the room.
Second, hopefully you made it out to Khatsalano on Saturday. It was gorgeous out and the music stages, curated by Zulu, made it like Music Waste (if it were one day, free, and in Kits). There's a pic of B-Lines up there playing where I'd never expected to watch them, at the corner of 4th and Maple.
Wednesday, I made it down to the Biltmore for Junior High. The relatively new (it started in June) monthly features 90s hits (which I'm more into than I realized) from the "Gal Pal" DJs and last night they welcomed Love Cuts, who played a short, but sweet set. They weren't super tight, but they've got some good (and a couple great) songs, notably
this one
.
This weekend looks to be a busy one. There's the Neverland Boat Cruise tomorrow, Needles & Pins/Peace at the Astoria and Chains of Love's release party at the Biltmore after that, while Saturday sees Scratch/Interurban hosting a huge record sale in the afternoon, Goody hosting and outdoor BBQ with 7 live acts, another outdoor show at the Waldorf with Iceage, Cults of Youth, White Lung, and Nu Sensae, an early Ty Segall show at the Biltmore, plus late shows at the Astoria and Pat's. So, if you're sticking around town, go see something besides fireworks.
Oh, and if you're not busy tonight, come to
this fundraiser
. I'm playing some records with Dustin. Dan Moxon's playing a solo set of mostly covers, and a bunch of other cool performers are doing there thing as well.
now playing: Wu Lyf -
Brooklyn Girls
Labels: cults, khatsalano, love cuts, show recaps