Friday, September 30, 2005

a quick one
Ben Lee
plays Richard's on Rememberance Day, Sally Seltmann (aka
New Buffalo
) returns to Vancouver for the second time in two months to support.
Ozomatli
plays the Commodore on November 28th.
Tickets for boths shows are already on sale.
now playing: Kray Twins feat. Twista - What We Do
Wednesday, September 28, 2005

we're desperate, get used to it
Does
anybody
out there want to buy my Fourtet/Jamie Lidell ticket from me?
It's this Friday, it cost me $20. The show is early (7:30-10) so you can still go out after. Price is negotiable... make an offer.
I will be out of town til Thurs... but can meet you either a) Thursday night (possibly) b) Friday after 6pm or between 12-2pm at UBC
Help a brother out.
now playing: Girls Aloud - Deadlines and Diets
Tuesday, September 27, 2005

last things last
The Coup headlining show originally scheduled for Richard's and now moved to Sonar, is now a
Mike Relm
headlined show. Dude scratches with DVDs. For serious.
Livesavas
and
Dope Poets Society
(who warmed my heart with the song, "Fuck Mike Harris" a couple of years ago) round out the bill.
After gushing about Wolf Parade and the Neutral Milk Hotel reissue, I guess the Pitchfork staff felt like they needed some balance, cause they were a little hard on the new
Fugees
comeback track.
Lemon-Red
has the mp3.
Rachel's
is NOT playing with
the Magic Numbers
on November 6th... cause they're headlining their own show on the 7th!
Ris Paul Ric
(Chris Richards, formerly of Q and Not U) plays the Media Club on October 25th.
Jem
plays Richard's on October 16th.
New release day! Off to get Metric/Ryan Adams/Wolf Parade.
edit: I somehow forgot to post that Firmdragon was kind enough to not only tape Saturday's AiH show, but also post it on
DimeaDozen
.
now playing: Elliot Smith - Angel in the Snow
Monday, September 26, 2005

i've got a hand, so i've got a fist, so i've got a plan.
Remember how this morning I said you'll be hearing much much more about
Wolf Parade
? Well, I'm not mentioning it again because I think it was some revelation... everyone else has been saying it too.
But, if the hype train is rolling already, it's about to pick up some serious steam.
Pfork gives Apologies to the Queen Mary a whopping 9.2.
Here's hoping a video for "Shine a Light" ends up a) getting made and b) getting into high rotation like "Rebellion (Lies)"
now playing: Cardigans - Lovefool
Sunday, September 25, 2005

sometimes we rock'n'roll, sometimes we stay at home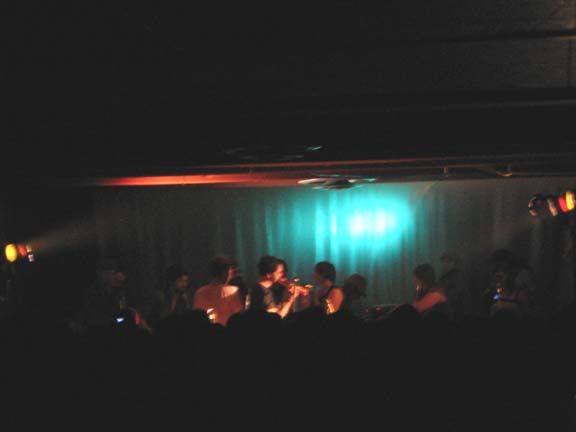 I arrived at last night's
Architecture in Helsinki
headlined show, just in time to catch openers,
Dr. Dog
. I know they're getting a lot of hype, but I didn't really find them much to write home about. Or, at least, there was nothing particularly striking about the music. What was striking was the venue. Usually an afterhours bar (which also begs the question of why you would want to draw attention to your illegal nightspot), after entering from the alley off of Hastings and moving through an empty warehouse like part, you came to the room that the bands were playing in, which was not unlike a sauna. This was compounded after Dr. Dog's set, as it appeared that everybody (including me) was primarily there to see
Wolf Parade
.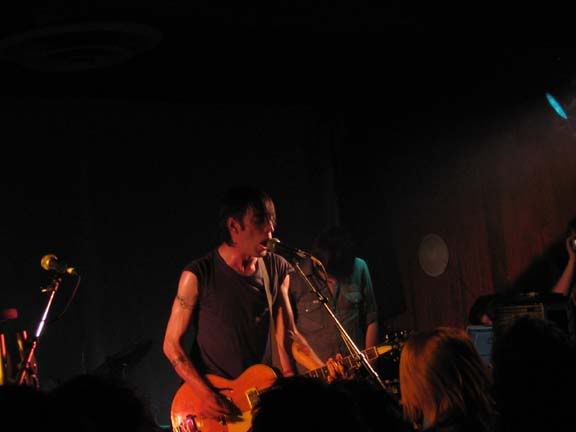 The (now, with addition of former
Hot Hot Heat-er
Dante DeCaro) five ex-Victorians were clearly feeling the heat, but that didn't stop them from going full tilt for the next 45 minutes or so. A little loose sounding? Perhaps. But, that was more than made up for (and maybe partly because) of the intensity level.
The jury is still out about their recent CMJ performance
, but I guarantee you're going to hear more and more and more about them in the next little while.
After Wolf Parade, the crowd was noticably thinner, which is unfortunate, as Architecture in Helsinki were, as per usual, pretty excellent. When they were setting up their gear they didn't look hugely thrilled about the place (and weren't even overly thrilled with the Media Club last time around), but once they started playing any reservations had clearly melted away. They even brought out the two openers for an extra percussion filled version of "Do the Whirlwind" to close the show.
Props to the DJ who spun "Only Shallow" by My Bloody Valentine between sets.
PS: check out the comments of the last entry for video/pics/more reviews of the New Pornographers show last night, and the previous night in Vic.
now playing: Wolf Parade - This Heart's On Fire
Saturday, September 24, 2005

the song that's shakin' me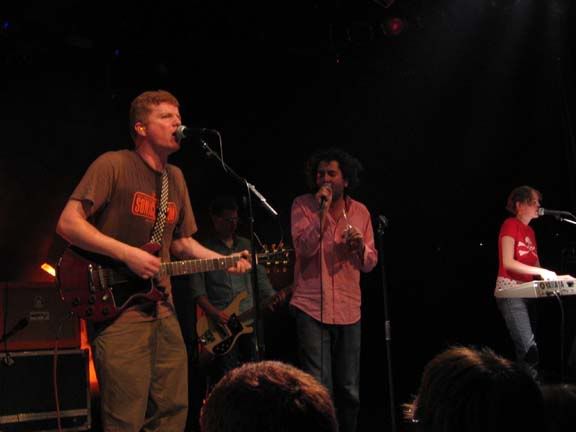 Before I talk about how fabulous
the New Pornographers
were last night, I must first share with you this amusing anecdote:
So, right before the New Pornographers came on stage, someone tried to barge to the front. This, of course, is not uncommon at concerts, cause let's be real, people are kinda jerks. Normally, you might get the odd comment to said asshole, or more likely, the bunch of people who just got cut in front of will mutter to themselves. Instead, not one, or two, but five or six people not only verbally berated this man, but also forcibly (yet peacefully) guided him back from where he came from.
Ok... so the show...
The New Pornographers were their usual fantastic selves, playing for just over two hours, including encores. They pulled from all three of their albums, and more importantly (for me), because
Destroyer
opened, Dan Bejar was there to sing all of his NP songs. Hopefully, I'm not alone in proclaiming the beginning of "Jackie, Dressed in Cobras" as fuckin' magical. The song marked the first time in the set when you had Bejar, Carl Newman, Neko Case, Kathryn Calder, and Kurt Dahle rocking the five part vocal thing together. There were, of course, other highlights. Set closer, "Sing Me Spanish Techno" was fantastic, and predictably "Mass Romantic," "Letter From An Occupant," and "Laws Have Changed" all got the crowd bouncing. Additionally, Kathryn Calder's adorable spin move before hitting the keys on "Slow Descent Into Alcoholism" was just too cute for me not to mention. It's also worth noting how Dan Bejar would stumble out for his songs looking hammered and confused, had to mumble "what song is this?", but was still able to come in on the one for "Testament to Youth in Verse" with no problems.
While Dan made up a lot of the highlights in the Pornographers set, I have to admit I was a little disappointed with Destroyer's set. Lots of older stuff, but nothing at all from
Your Blues
. That being said, any night I get to hear "The Sublimation Hour" live is a good day in my books.
Immaculate Machine
, who opened the show, were a pleasant surprise. The afermentioned Kathryn Calder shared lead vocal duties with Brooke Gallupe. They're on Mint, they sing pop songs, you can probably imagine what they sound like. Their drummer, Luke Kozlowski, is also a dead ringer for a young Iggy Pop.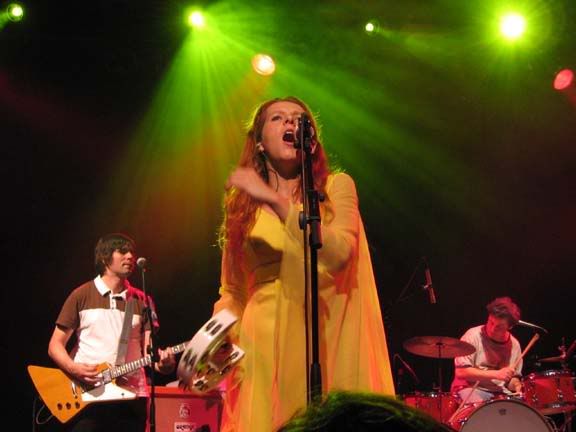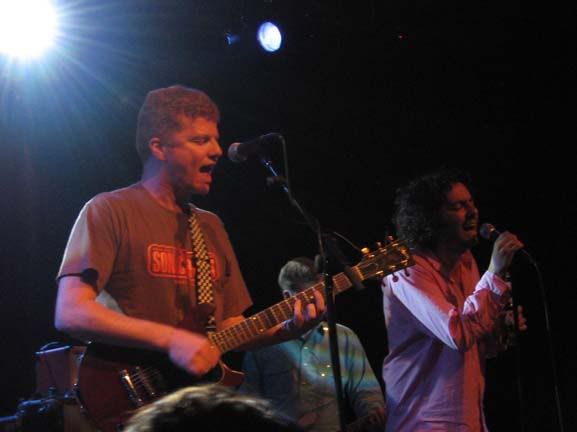 now playing: Matthew Good - Tripoli (acoustic)
Thursday, September 22, 2005

i made you a tape
1. the Cure - Pictures of You
2. Lucinda Williams - Still I Long For Your Kiss
3. Matthew Good Band - the Rat Who Would Be King
4. Ryan Adams - Call Me On Your Way Back Home
5. the Weakerthans - Left and Leaving
6. Cat Power - Good Woman
7. Wilco - Radio Cure
8. Spirtualized - Broken Heart
9. New Buffalo - Come Back
10. Cat Power - Colors and the Kids
11. Elliot Smith - Miss Misery
12. Ryan Adams - Young Winds
download:
From Blown Speakers' "it's a good day for a mixcd" mixcd
now playing: Cat Power - Colors and the Kids
Tuesday, September 20, 2005

mwng!
I would normally wait til tomorrow to post this, but I've got class, and frankly, I'll probably forget if I don't tell you now...
Super Furry Animals
hit Richard's on November 24th. Now, if you aren't a huge fan of the Welsh popsters (and I'll admit, while they're quite good, I probably wouldn't go otherwise), you're mind will (or should) be changed by the fact that
Caribou
(nay Manitoba), is being tipped as the opener for
all
of the dates.
A little late, but if you read this before in the next couple of hours, you may want to tune into Jimmy Kimmel, as my favourite band with two singers who can't really sing,
Blood Brothers
, are the musical guest.
now playing: the Strokes - Juicebox

if we put our hearts in 20, 000 tiny jars...
For a long time, I've held the belief that almost any menial job (within reason) can be made bareable with some headphones connected to decent music, which may be why I'm so fond of the new
Final Fantasy
video. It also helps that "This is the Dream of Win & Regine" is still holding up as one of the best songs of the year. Watch it at
Awesomology
. Unicorns are, like, totally awesome. (via
For the Records
)
Harvey Danger
(remember them?) are giving away their new album for free via their website... and
explain why
.
The Dandy Warhols
play the Commodore on November 15th. I heard their new album borders on horrible, but have yet to corroborate that information. Hopefully they play quite a bit from
13 Tales...
(thanks Shea)
Vanmega
has mp3's of M.I.A., Kano, and the Foos performing cover tunes for BBC1 up.
Spank Rock
is no longer listed as the opener for
M.I.A.
According to the man himself, he's only opening til the 4th. No word on whether
Diplo
will be behind the decks for Ms. Maya or not. Apparently he was not-to-be-found in Miami, but is listed as the headliner for the afterparty in Toronto.
The
Nada Surf
show on October 18th has been moved from the Media Club to Richard's.
The Deadly Snakes
show has a venue now... also Richard's.
now playing: M.I.A. - Everyday I Love You Less and Less (Kaiser Chiefs Cover)
Saturday, September 17, 2005

the littlest birds sing the prettiest songs
The Be Good Tanyas
headline a Hurricane Katrina benefit at the Commodore on September 25th. Tickets are $20+charges, and are available right now.
The Deadly Snakes
play
SWAK's
Halloween show on... Halloween. Venue TBA. Tangiers support.
Cut Copy
will be spinning at Celeb's for Stacked on October 4th, after their opening stint with Franz.
The Coup
show has been moved from Richard's to Sonar... this makes it slightly less convenient to hit up before
M.I.A.
now playing: Ryan Adams and the Cardinals - Games
Thursday, September 15, 2005

drive slow
Kanye West
and
Common
hit GM Place on December 11th. It's my girlfriend's birthday! Too bad she doesn't like Kanye. No ticket info yet, but rest assured it will cost you a large chunk of change. Kanye was pretty ace at Sasquatch though.
This one is for my dear friend Kara, who is on exchange in Amsterdam... Remember that
Magic Numbers
gig I talked about two days ago? Well,
Rachel's
are set to open.
Martha Wainwright
plays Richard's October 13th... I have nothing at all to say about this show.
Dillinger Escape Plan
play the Red Room on October 15th. That beefy guy you know with the ear tunnels is totally psyched.
You like music videos, don't you? Good. Go
here
now playing: Amusement Parks On Fire - You Made Me Realise (My Bloody Valentine Cover)
Wednesday, September 14, 2005

from my window to yours
I'll be at the
M.I.A.
show that day... but it seems people want to know. The pre-sale password for the
Arcade Fire
show is
KEXP
now playing: Stone Roses - Standing Here
Tuesday, September 13, 2005

i got the beats to make you bang
M.I.A.
returns to Vancouver to headline a show a month ahead of her
Gwen Stefani
opening slot. She plays the Commodore with fellow
Diplo
collaborator,
Spank Rock
, on October 7th. Tickets are on sale this Friday at 10am for $25+charges. My girlfriend is psyched for this one. To get you equally excited, here's a track that criminally got left off of
Arular
after the advances went out.
download: M.I.A. -
You're Good
Heavy Trash
(aka Jon Spencer and Matt Verta-Ray) play Richard's on October 28th.
The Sadies
open the show, and serve as backing band for the headliners. Tickets also on sale this Friday.
The Magic Numbers
play Richard's on November 6th. Unlike the last two, this doesn't go on sale Friday...
But
My Morning Jacket
does.
Shout Out Louds
rock Richard's the same night as the might Broken Social Scene hit the Commodore (November 13th).
Speaking of... We all know that ticketmaster are total bastards, but the $10 "service" fees on the $25 BSS ticket was a little out of hand.
now playing: Jeff Tweedy and Jay Bennett - I Got You (at the End of the Century) (live in Toronto)
Sunday, September 11, 2005

shake your head, it's empty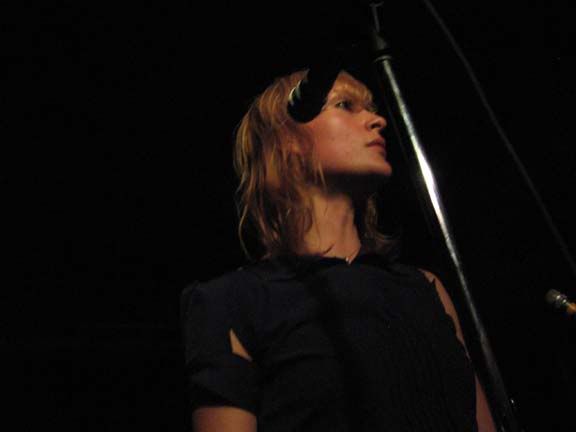 Metric
rocked UBC's Pit Pub last night. While they played a fair amount off of their proper debut,
Old World Underground, Where Are You Now?
, I was pleasantly surprised by a set that featured a majority of songs from their forthcoming disc,
Live It Out
. The band seemed to be having a great time, and the crowd was into it... although I could've done without the moshing, and the dozens of creepy hands that sprung forward to stroke Emily Haines' hair everytime she came near the edge of the stage. As the Pit is more of a bar then a show venue, the lighting wasn't optimal for picture taking, but here are a few shots.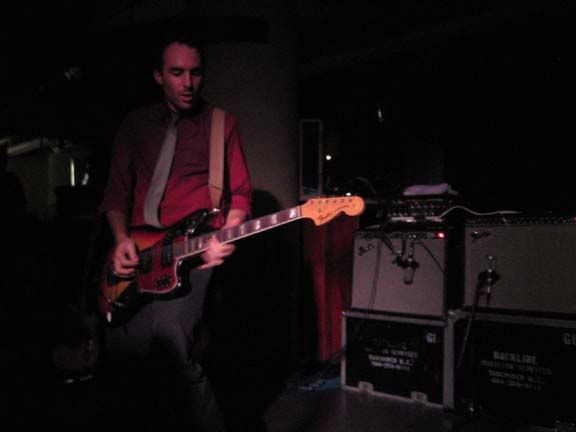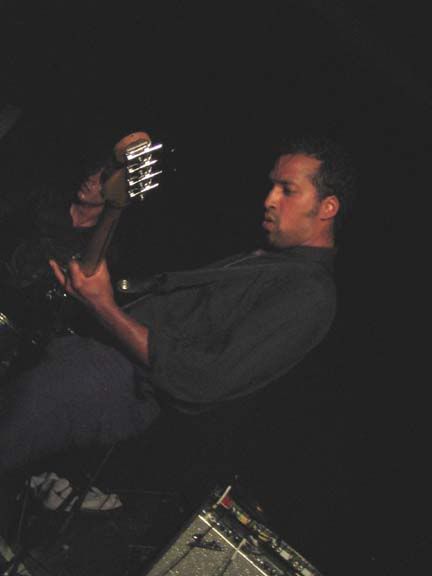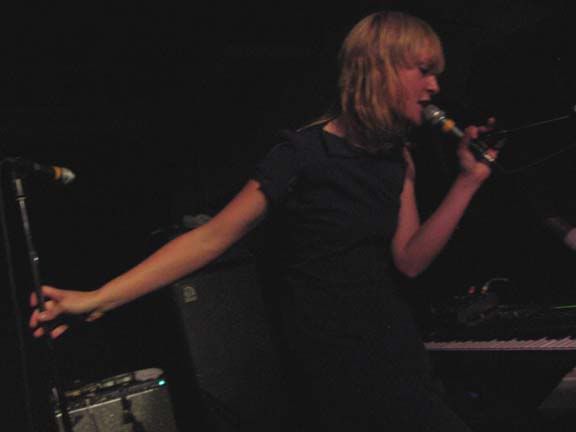 I would write more... but I have to get to work. More substantial updates soon, I promise.
now playing: Radiohead - I Want None Of This
Thursday, September 08, 2005

red is my favourite colour
Good thing I have no class today, cause the day's just full of updates...
Okkervil River
are finally scheduled to return to Vancouver on October 27th at the Media Club. The last time was an opening stint for
the Decemberists
that got cancelled, as you may recall.
Question of the week: Okkervil River? Controller.Controller? or Deerhoof?
Matthew Good
plays the Commodore on November 4th. Tickets are on sale tomorrow for $34.50+charges.
Update on the Wolf Parade/AiH ticket situation: Zulu has
more
tickets now. (thanks Ty)
Gwen Stefani
is doing her best to break my heart. Tickets for her November 20th show (with the mighty Miss
M.I.A.
opening) go on sale Saturday, with decent seats running you a whopping $79.50+charges. And this on day when I'm so pumped about the
Richard X
remix of "Cool." Not as good as his Ciara remix or that Rachel Stevens track... but it's pretty hot.
download: Gwen Stefani -
Cool (Richard X Remix)
Anybody want to buy my Fourtet ticket off of me? $20
now playing: Black Dice - Smiling Off (Luomo Remix)

sleeping is giving in
It was on, then it was off, and then it was kinda-on again, and now it's official.
The Arcade Fire
play the PNE Forum on October 7th. Tickets go on sale at 10am on Friday the 16th, and are available at Zulu and Ticketmaster for a sorta hefty $31.50+charges.
Wolf Parade
and
Bell Orchestre
support.
Speaking of Wolf Parade, tickets to their show with
Architecture in Helsinki
are now sold out at Zulu... but Scratch and RedCat still have some. If you want to go, you better get a jump on it.
Broken Social Scene
tickets go on sale tomorrow at Scratch, Zulu, and Ticketmaster.
Controller.Controller.
return to Vancouver with
Magneta Lane
on October 27th. They're playing the Red Room.
Depeche Mode
play the Garage on November 15th.
The Raveonettes
open.
Nashville Pussy
play the Arch on October 21st.
Last but not least:
A gift for you, from TV on the Radio
.
now playing: David Banner feat. Twista - On Everything
Tuesday, September 06, 2005

celebration guns
Stars
return to Vancouver, for a headlining date at the Commodore on November 21st. Sorry to disappoint you Ben Gibbard fans... but they're thankfully done opening for DeathCab by then, so you'll have to get your fix on October 3rd/4th.
If you forked over the $40 to see, what was by all reports, a triumphant return to Vancouver by
Garbage
on August 30th, you might enjoy
this torrent of the bootleg.
Pitchfork
reports that
Deerhoof
hit Richard's on October 27th. I keep hearing really good things about their new one, and still haven't gotten around to aquiring a copy to listen to... I really have to get on that.
If you missed
Terminal City's
Victory Square Block Party yesterday... well, shame on you. Free show! So!Many!Great!Bands!... but you can take some solace in the fact that the fine people at
Sealed With a Kiss
have booked
Book of Lists
at Richard's on November 17th.
Last, but certainly not least, an old internet aquaintance of mine was nice enough to pass on this mp3 to me. Check out
Mike Skinner
throwing down his one-of-a-kind verses over
Bloc Party's Banquet
. It's ripped from a video, so the quality isn't super high, but I've never seen this anywhere else.
download: Bloc Party -
Banquet (Streets "remix")
Alrighty... off to *ack* school.
now playing: Diplo - Live in Montreal
Sunday, September 04, 2005

live it out
Let's start by talking about
Metric's
new album, the forthcoming
Live It Out
. Let's talk about how it's a little darker than
Old World, Underground..
. But, more importantly, let's talk about how, upon initial listens, it sounds stronger as an album than
Old World Underground...
download: Metric -
Empty
Live It Out
hits stores on September 27th, make sure you run out and buy it. While you're at it, check them out at any (or all) of three upcoming shows in Vancouver (September 10th at UBC, October 30th for two shows at the Commodore).
Next, let's talk about
Mr. Kanye West
. By now you've all seen it... but if you haven't...
Crooks and Liars has the video and transcript.
He's getting a lot of flack... most of it about "he's arrogant this" or "he's selfserving that"... yeah, he's a cocky bastard. Disagree with him if you want, but watch that clip again, and you'll notice that there was nothing arrogant or selfserving about it. I don't think I've seen a public appearance where he's seemed so unsure about himself.
It was the ballsiest thing said on National television by a musician (or anybody for that matter) in ages, and it was said when a whole bunch of other people thinking the same thing have decided to keep their mouths shut. By weekends end, there'll be a bigger media backlash then when those poor Dixie Chicks decided to speak up. Join me in tipping our collective hats, won't you?
For now, why not listen to a little bit of what the man does best...
download: Kanye West feat. Twista and Jamie Foxx -
Slow Jams (Twista Remix)
Not to be outdone, Canada's (now Vegas') own Celine Dion, dishes out some of her own on Larry King. Long story short, Celine (like me) can't understand how there's
almost 200 billion dollars
for ye olde war, but they can't find enough helicopters, buses, or National Guardsmen to send down South.
Daily Kos has the full transcript and video
Finally, some potentially good news on the
Arcade Fire
show front. Drummer Jeremy Gara, via the
ArcadeFire.net
board:
we're working on it...
well, really, some people are working on it for us!

it's not for lack of trying...
lots of the venues we'd love to play are booked, and some of the alternative venues are just way too expensive to even explain... but i promise there are people working on putting it together. last i heard (a couple days ago) it was still being ironed out.

best we can do for now.

not really a scoop, i guess.

xo j
So, it ain't dead yet. I'll, of course, keep you posted.
now playing: Kanye West feat. Consequence and John Legend - So Soulful
Saturday, September 03, 2005

i'm still alive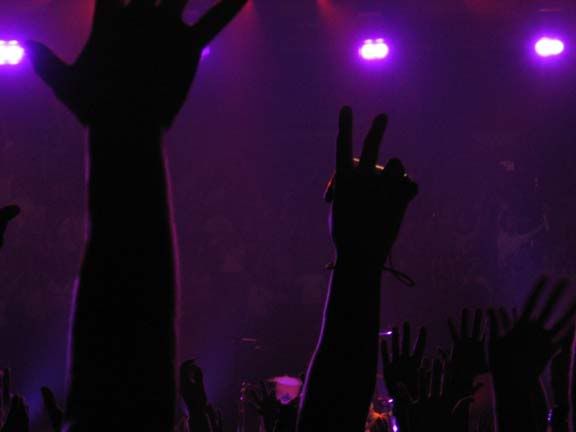 Yesterday's
Pearl Jam
show was punctuated by its length, as well as the abundance of live rarities, so to change it up, today Seattle's favourite sons brought out all the hits. Ten (coincidentally) of the twenty-nine songs that PJ tore through in just under 2 1/2 hours were singles, and that doesn't include non-single 90's radio staples like "Black," "Betterman," and "Yellow Ledbetter." Not ones to disappoint hardcore followers (like myself), the band also threw in a couple more obscure live tracks. "Footsteps" opened the encore portion of the show, "WMA" was tagged onto the end of "Daughter," and "Bee Girl" was played for the second time in three shows, after an over eleven year absence from a Pearl Jam setlist. The crowd, as one would expect, ate it up and came back for more. Maybe it's because I don't see a lot of stadium shows anymore, but everytime I watch Pearl Jam, I'm amazed at how loud the crowd gets. Tonight was no different.
PJ's setlist:
Main set:
Release, Go, Animal, Save You, Given To Fly, Corduroy, LBC, Even Flow, Betterman/Unknown Tag, 1/2 Full,
Daughter (/WMA tag/Hello Wolfgang tag to some new baby), Wishlist, Lukin, Grievance, Immortality, Nothingman, Down, Do The Evolution, Blood
Encore 1:
Footsteps, Small Town, U, Alive
Encore 2:
Bee Girl, Black, Porch
Encore 3:
I Believe In Miracles, Baba O'Riley, Yellow Ledbetter
The Supersuckers
opened, and were alright. I actually quite like them, but they were far more enjoyable when I saw them at Richard's a couple of years ago. Guess they're just not an arena band... although the whole place (or at least everyone who was smart enough to show up early) was jumping when Eddie Vedder (in silver lame suit and Mexican wrestling mask - no, seriously) joined them for a cover of X's "Poor Girl" to close their set.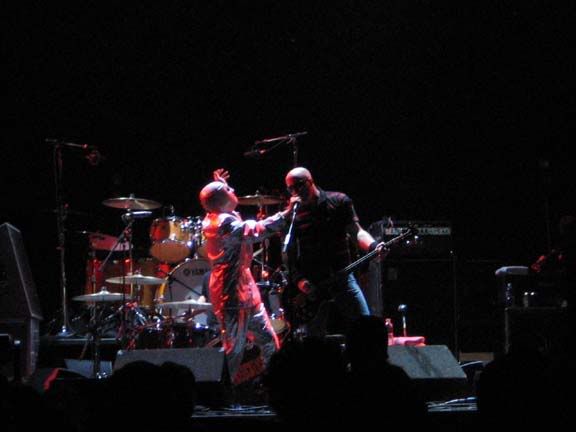 Eddie's Vedder and Spaghetti share a moment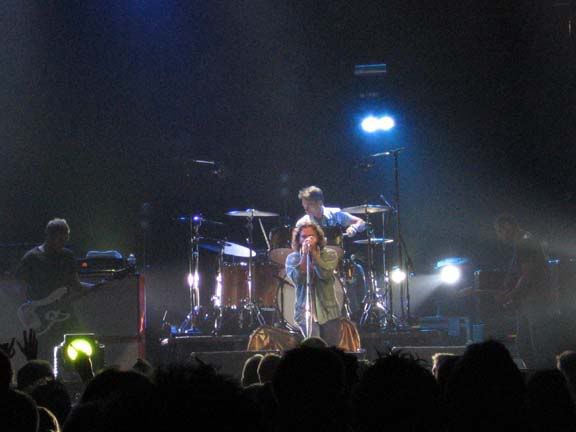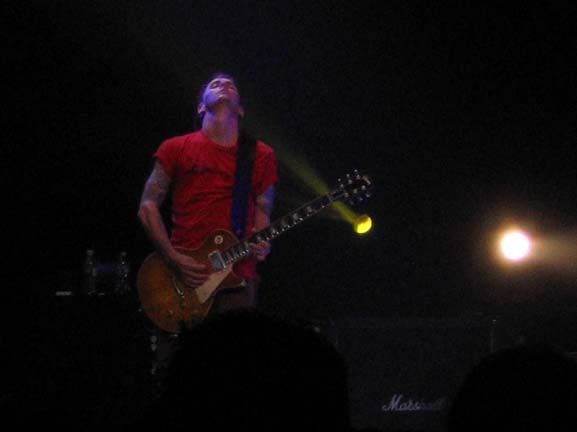 More photos from
tonight
and
last night
.
now playing: Pearl Jam - Alone (live at the Gorge)
Friday, September 02, 2005

put out the fire, and don't look past my shoulder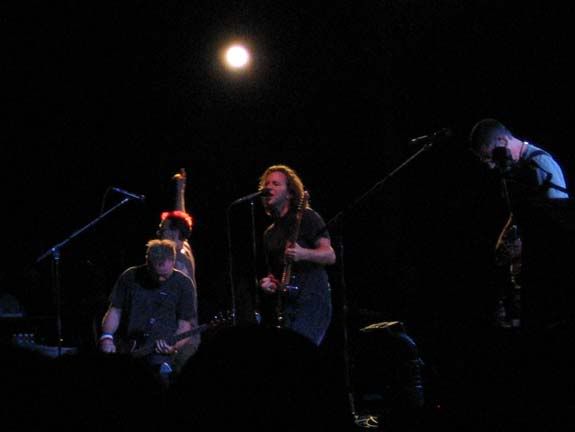 Back from
Pearl Jam
at the Gorge. Very tired.
Setlist:
Acoustic Set:
I Believe In Miracles, Small Town, Off He Goes, Lowlight, Man of the Hour, I Am Mine, Crazy Mary, Black, Hard to Imagine
Electric Set:
Last Exit, Save You, Do The Evolution, Alone, Sad, Even Flow, Not For You/Jam, Corduroy, Dissident, MFC, Undone, Daughter, In My Tree, State of Love and Trust, Alive, Porch
Encore 1:
Love Boat Captain, Insignificance, Better Man, Rearviewmirror
Encore 2:
I Won't Back Down, Last Kiss, Crown of Thorns, Blood, Yellow Ledbetter, Baba O'Riley
I've seen this band six times previous, twice in amazing venues (the Commodore and Benaroya Hall in Seattle), but this one took the proverbial cake. "Undone" was played for the first time ever, and rarely played non-hits like "Alone" and "Hard to Imagine" made appearances. 35 songs in 3 1/2 hours... that's getting your money's worth.
I need to sleep now.
Here are some photos... I was pretty far away, and I'm still getting the hang of my new camera, although it's already performing much much better than my old one. When I can get a little closer to the stage at a show, I think I'll be quite pleased with the results...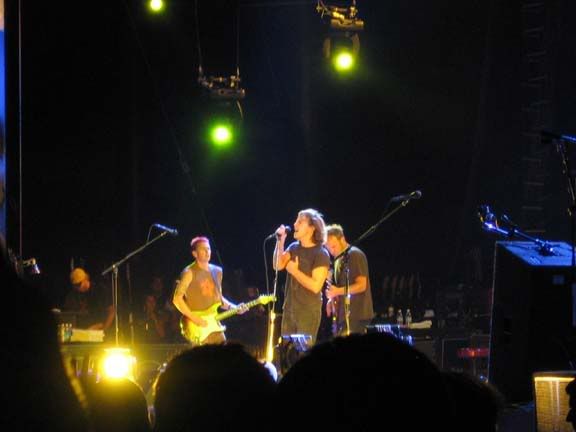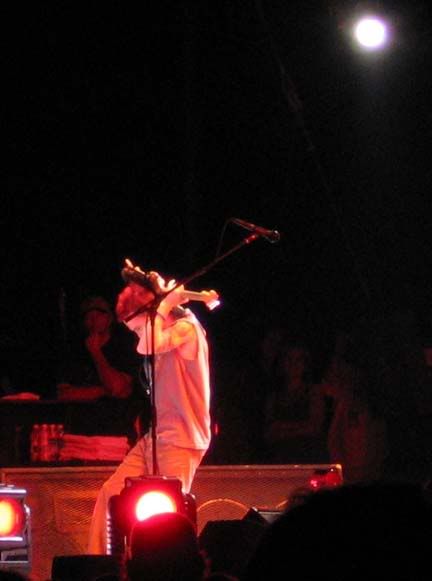 a shame that the mic stand was in the way.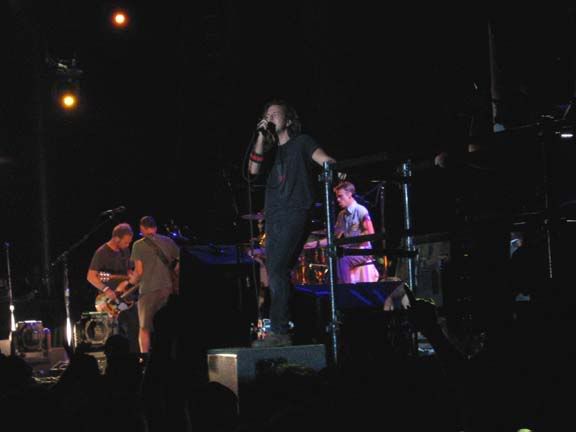 now playing: Pearl Jam - Last Exit