Saturday, December 31, 2005

you know i'm not dead
...but my computer is.
updates to come in a week or so.
have a safe and happy new year.
Saturday, December 24, 2005

i always end up miles away
Some exciting
Broken Social Scene
news via
Broken Socialite
. An upcoming remix/b-side album is due from everyone's favourite collective in the new year. They're apparently shooting for a January release, but with BSS, that probably means Summer. Regardless of when it's released, the potential tracklist looks stellar. "Deathcock" is pegged to finally get widespread release, and one of my personal favourite Scene tunes, "New Country," may finally see an official release as well.
Following the American, Canadian, and UK lists,
A Reminder
has the results of the Top Bands in Australia Poll. Sean managed to get a hold of about twenty Aussies, with
Augie March
coming out on top.
Stereogum
has (most of) the results of their 2005 reader's poll up.
The Straight
has more info about the Lamplighter no longer hosting touring bands.
According to Roddy Woomble's
band diary
, he will release a solo effort next year with Idlewild putting out an album as well. The singer-songwriter's folkier leanings will be contained on the former, with the band putting out an "Idlewild rock beast." If this marks a return to the more untamed Idlewild of yore, I'm pretty psyched.
Merry Christmas (War is Over... if you want it). Hope Santa is good to you tomorrow.
now playing: Soulwax - Last Christmas (Wham! Cover)
Friday, December 23, 2005

another year older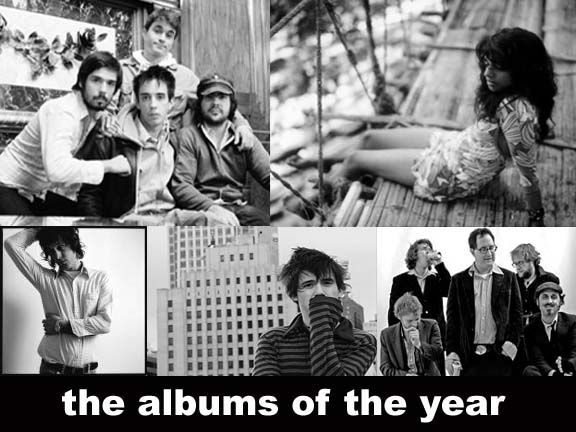 Most of these records have already been talked to death, so I'll refrain. If for some reason you still don't know what all the fuss is about, you can use your ears instead of your eyes by downloading the mix below. As always, I love to hear what everyone else out there thought, so please drop a comment or two.
1.
Wolf Parade
- Apologies To the Queen Mary
2.
M.I.A.
- Arular
3.
Jason Collett
- Idols of Exile
4.
Bright Eyes
- I'm Wide Awake, It's Morning
5.
The Hold Steady
- Separation Sunday
6.
Final Fantasy
- Has A Good Home
7.
Broken Social Scene
- Broken Social Scene
8.
LCD Soundsystem
- LCD Soundsystem
9.
Sleater-Kinney
- The Woods
10.
Bloc Party
- Silent Alarm
The best of the rest (in no particular order): Andrew Bird, Girls Aloud, Architecture in Helsinki, The Constantines, Jamie Lidell, Ryan Adams (the second one), Math and Physics Club (both EPs), The National, The New Pornographers, Someone Still Loves You Boris Yeltsin, Clap Your Hands Say Yeah, Cadence Weapon, Lady Sovereign
As promised, a year-end-sorta-recap mix. Rock it on your IPod, although it'll fit on one cd if you're old fashioned.
1. Broken Social Scene - Ibi Dreams of Pavement (A Better Day)
2. The Hold Steady - Your Little Hoodrat Friend
3. The Constantines - Why I Didn't Like August '93 (Elevator To Hell Cover)
4. Sleater-Kinney - Rollercoaster
5. Bloc Party - Two More Years (MSTRKRFT Remix)
6. Gwen Stefani - Hollaback Girl (Diplo's Hollatronix Remix)
7. Amerie feat. Jay-Z - One Thing (Remix)
8. Kanye West - Gold Digger (Tugboat Edit)*
9. Diplo - Tippin' Toxic (Toxic vs. Still Tippin')
10. M.I.A. - Hombre (Xerox Re-Tug)
11. Jamie Lidell - Multiply (Gonzalez Mix)
12. LCD Soundsystem - Tribulations (Linstrom Mix)
13. Wolf Parade - This Heart's On Fire
14. Final Fantasy - The CN Tower Belongs To The Dead (live)
15. Jason Collett - Pink Night
16. Bright Eyes - Landlocked Blues
17. The New Pornographers - Streets of Fire
18. The National - Baby, We'll Be Fine (live)
19. Feist - Let It Die (live and solo)
*
it's actually more of a Ray Charles Remix, but let's let it slide
download:
From Blown Speakers Year End Mix 2005
now playing: Cadence Weapon - Grim Fandango
Thursday, December 22, 2005

over and over again
Three posts in one day... when it rains it pours.
The
Constantines
show on January 15th will be at the Media Club.
The Wedding Present
play Richard's on February 22nd.
Tim Fite
supports. (thanks G)
The Black Rebel Motorcycle Club
show originally scheduled for March 20th at the Commodore has been cancelled. (thanks Shea)
now playing: Spank Rock - Voila! (Mixtape)

good news for people who like bad news
I have yet to confirm this from an official source, but it appears as though the Lamplighter (at least as it currently exists) is going under. Between this, the Vogue turning into a supper club, and the Arch turning into a Mexica themed(!?) nightclub, it tops off a year that's... well... just like every other year in Vancouver. Speaking of places I like to go, does anybody know if DV8 is ever going to reopen?
Also, the
Stars
show is now at the Croation Cultural Centre.
File this under the potentially not terrible category:
Ryan Adams has recorded an album with Willie Nelson.
Now, I have nothing but love for either of these artists (even though Ryan's last - though first recorded - record of '05 is kinda weak), but I remind you that last time these two stepped into a studio of some kind the result was a GAP commercial.
I just downloaded the most lifeless cover ever.
edit: actual good news.
Blood Brothers
finally return to
headline
a show in Vancouver. Mesa Luna. January 29th.
now playing:
Franz Ferdinand
Gwen Stefani - What You Waiting For?
(Gwen Cover)

the big guns are coming out
Pitchfork
,
Stylus
,
Tiny Mix Tapes
all unleash their top album lists today (well, Stylus' will be out in full by week's end). TMT ups the ante with an array of year-end wrap up articles as well. It's a little stupid, of course, to take too much time on these things... but, everybody loves lists, let's be honest. With that, I pose the following question to you surfers of the world wide webbernet: Am I the only one who thinks that Sufjan's album is massively overrated? Don't get me wrong, it's a fine little record, but it's not all it's being touted as. Also, "Casimir Pulaski Day" is a great song, but it mentions both 1) bible study and 2) crying for the duration of an evening. Shouldn't that make it inherently lame... at least a little? Don't even get me started on the Kanye record.
Brookln Vegan
has
Stars
new year tour dates up. You may notice the two day gap between Edmonton and Seattle. Well, if they can play 6 shows in Toronto, they can do at least one in Vancouver. Look out for a February 7th all ages show at Mesa Luna.
Stereolab
plays the Commodore on March 7th.
Archer Prewitt
is at the Media Club on February 20th. (both via
More Cowbell
)
now playing: The New Pornographers - Ballad of a Comeback Kid
Monday, December 19, 2005

soon enough
Sorry 'bout the lack of updates. I was studying for exams, then taking exams, then partying after finishing exams, and the internets took a back seat. Here are a backlog of show announcements...
Keep your eyes and ears open for an additional
Constantines
date in January. The boys are rumoured to be playing the day after their show at the Pit at an intimate venue (most likely the
Railway
Lamplighter). I'll, of course, keep you posted.
The Buttless Chaps
and
Young and Sexy
play a dual cd release show on February 23rd at the Red Room.
Marah
play Richard's on February 3rd.
Akron/Family
play the Media Club on March 4th.
The Dirtbombs
play Richard's on April 2nd.
Secret Chiefs 3
are at Richard's on January 8th.
Mice Parade
play the Media Club on February 18th. I know nothing about them, other than the recently aquired knowledge that Wolf Parade got their name from a night when Atlas Strategic were mocking them at a show they played together.
Anybody know the presale password for Cat Power's show at the Moore in Seattle on February 20th? If you could hook me up, I'd be much obliged.
now playing: Sleater-Kinney - Rollercoaster
Thursday, December 15, 2005

i like the crowds at the really big shows...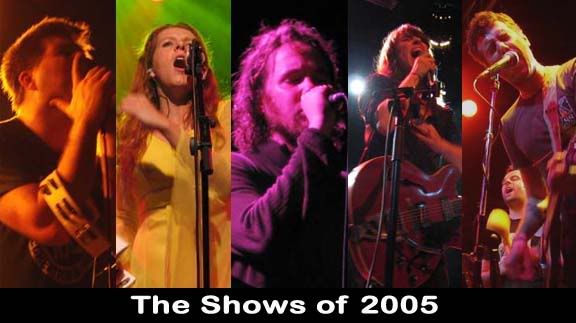 2005 recap round two, which reminds me that I haven't been able to make it out to a show in about a month. There were a lot of great shows that came through our fair city this year, hopefully you were able to make it out to a few. Here were some of my favourites...
1.
LCD Soundsystem
with
M.I.A.
and
Diplo
@ the Commodore
Was there anything that rolled into town this year with more hype behind it? Maybe Clap Your Hands Say Yeah!... but their tourmates, the National, are tragically underrated. This was a one-two punch of anticipation, and it certainly didn't disappoint. MIA, the opener, encored, and James Murphy and co. were enough disco to get the kids dancing and enough punk get fists pumping. Here's what I said about it in May.
2.
The New Pornographers
with
Destroyer
and
Immaculate Machine
@ the Commodore
Two things made this show, and with apologies to the very talented Carl Newman, he was not one of them. For me anyhow, this was the Neko and Dan show. Neko Case has quite often been the highlight of seeing the New Pornographers for me, but touring with Dan Bejar for the first time really made the songs sound whole. Carl did a fine job on "Jackie" and "Testament To Youth In Verse" when I've seen them in the past, but seeing the Destroyer frontman (who ironically, was kinda boring with his full time unit) singing his own songs made my evening. The original take.
3.
Broken Social Scene
with
The Most Serene Republic
@ the Commodore
Bringing along a lady singer and a couple of horns makes a huge difference. BSS were gigantic sounding. And, while Lisa Lobsinger may have been a tad underwhelming, she was the missing piece that was sorely lacking during the Scene's previous Vancouver appearance. The Most Serene Republic, during round two, just cememented there "meh" status with me, however. Not so long ago thoughts.
4.
Feist
with
Jason Collett
and
New Buffalo
at the Commodore
Feist put out one of my favourite albums of last year. Jason Collett put out one of my favourite albums of this year. New Buffalo penned one of my favourite songs of this year. So, before any of them hit the stage I was suitably excited. Sally Seltmann's stage presence wasn't especially strong, but her performance was quite endearing. Collett was immensely good, and his performance was bolstered by some assitance from the headliner. Ms. Feist was captivating, and even threw in a "cover" of her and Collett's sometimes other band, Broken Social Scene. I was just as enamoured about it in October.
5.
The Weakerthans
with
The Constantines
@ Richard's
I would consider myself a pretty big fan of the Weakerthans, but I'm not above admitting that a) their last effort was kinda weak and b) they've been touring it for way too long. But, their three night stand (I caught two) with The Cons was a step up from their usual, with the two canuck factions collaborating several times in the evening. The highlight came in the encore of night two, which featured everyone up on stage with John K. Samson and Bry Webb trading verses on the Travelling Wilbury's "End of the Line" and Bry taking the lead on Neil Young's "Don't Be Denied." Night one. Night two.
Notables: Sleater-Kinney, The Cons with the Hold Steady, Sufjan, ...And You Will Know Us By The Trail of Dead.
Sasquatch Festival was probably the best thing I saw all year, but it was out of town... Go ahead and tell me I'm out to lunch in the comments by letting me know your favourite shows this year.
I need to go
study
cram for International Law... My favourite albums and a year-in-review downloadable mix next week.
now playing: The Stone Roses - Going Down
Tuesday, December 13, 2005

there's no skatin' here
The Second Annual Pop (All Love) Canadian Music Bloggers Year-End Poll Thingy

results are up. Thanks to Aaron for commissioning the poll and tabulating the results. If you're curious, I threw my votes at: Wolf Parade, BSS, Jason Collett, and Final Fantasy (in that order).
Coachella
rumours are starting to fly.
Depeche Mode
(yawn) are confirmed to headline Saturday night.
Product Shop
is reporting the rumour that
Pearl Jam
may headline Sunday. I'm pretty sure PJ no longer plays non-seated venues. But also, while I love them to death, considering the type of audience that Coachella has been courting, I'm not sure how great a choice this would be.
Brooklyn Vegan
also has some of the other rumoured bands listed: "Arcade Fire, The Strokes, Roxy Music, Yeah Yeah Yeahs, Franz Ferdinand, 65 Days Of Static, Lightning Bolt, Ladytron, Super Furry Animals, The White Stripes, Sigur Ros, Death Cab For Cutie, De La Soul, Elbow, TV On The Radio, Clap Your Hands Say Yeah, Explosions In The Sky, Doves, Massive Attack and Devendra Banhart..."
Some fairly exciting things... but I don't know if it's worth travelling to California and getting heatstroke for.
The Yeah Yeah Yeahs
want you to make them a flag for the cover of their forthcoming LP (tentatively titled
Coco Beware
, tentatively scheduled for a March 2006 release).
Speaking of March,
David Gray
plays the Orpheum on March 17th. Tickets are on sale Friday, pre-sale starting tomorrow, for $49.50 + charges. (via
Rob Vanmega
)
Finally, here's a tune I've been enjoying immensely in the last couple months, and I've finally been able to find a copy that doesn't have annoying DJ mixtape banter in the beginning. You may recognize
Lupe Fiasco
from such hits as
Kanye West's
"Touch the Sky" and "Touch the Sky" by Kanye West. But hopefully, you'll soon be hearing more about him. "Kick, Push," the lead off single from his forthcoming debut,
Food and Liquor
, is something you rarely (if ever?) find in hip-hop: a skateboarding themed, love song.
download: Lupe Fiasco -
Kick, Push
Oh... and happy belated 22nd birthday to my dear kid sister. I forgot to call her... I'm a bad sibling.
now playing: Wolf Parade - Shine A Light
Monday, December 12, 2005

blue christmas

Remember how
Sony did a really bad thing
to you beautiful people out there who like to support artists by buying their cds? Well, this Christmas, why not tell Sony how much you appreciate their unsolicited early holiday gifts, by joining me (and many others) in boycotting all their products. Now, regardless of how crappy a record deal an artist may find themselves in, I'm still quite a supporter of buying their record if you enjoy it. But, in this case, may I humbly suggest that if you were planning to buy (for example) the latest
My Morning Jacket
or
Fiona Apple
album, you download the damn thing. May I also humbly suggest, that if you do so, you buy a t-shirt (or other piece of merch) from them or go see them on tour (musicians make way more money off of those things anyhow).
Speaking of downloading, I finally got around to checking out the
Jenny Lewis
"solo" record, that has been floating around for about a month. I'm not that huge on
Rilo Kiley
, but I've listened to this album about 5-6 times today, whilst procrastinating from studying for final exams. Everyone is talking about the help Jenny gets from Conor (yeah, just Conor - he's like the emo Madonna), Ben Gibbard, and M. Ward on the record's cover of "Handle With Care" (originally by the Travelling Wilburys), but it's
The Watson Twins
that are the
real
supporting cast. I have no idea who handled all the instrumentation duties, but the ladies backup harmonies are deal makers on many of the tracks. If you're looking for tracks, they've already been posted all over (so if you look, you'll find them). The record is out officialy on January 24th, and I highly reccomend picking up a copy.
Last, but most certainly not least,
How to pose like a guitar god.
now playing: Jenny Lewis with the Watson Twins - Happy
Saturday, December 10, 2005

thought for food
The Books
play Richard's on April 22nd.
Tyrone Warner
is blogging
A Campaign Soundtrack For Everyone
for CTV. Politics and music... it's like someone at CTV tapped directly into my inner-geek. An excerpt:
The New Democratic Party: "Crabbuckit" - K-Os

The NDP are going to be facing big obstacles in this year's campaign despite having a hand in the "NDP" budget that passed in the House of Commons earlier this year. Their biggest challenge this campaign will be convincing voters not to vote strategically; that is, the belief that voting for the NDP will allow the Conservatives to gain a majority government. So Kevin Brereton's song about infighting and reaching for the top is included to rally the NDP faithful for this long winter campaign.
The new
Lemon-Red Mix
is up. This month,
Nick Catchdubs
contributes 45 minutes of aural entertainment. For more, check out
Oh, Snap
(scroll down a bit), his grade-A, blow my mind, mix cd.
I'm doing music picks for
The Tyee
now. They change weekly, but I'll be contributing on a less frequent basis. This week: Julie Doiron, Belle and Sebastian, Field Music, Math and Physics Club, and Great Lake Swimmers... complete with mp3s. There are some links to some other publications I write for in the side bar now. If you happen to be from a publication and want to let me write something for you, drop me a line, because I like to do such things.
The music industry wants to open a new front in their legal war, and start
suing lyric and tab/chord sites
. (via ILM, complete with commentary)
The Onion
might be right on the ball soon.
Glenn Kotche (
Wilco's
drummer) opens the Jeff Tweedy show. Tix go on sale on December 17th for $28+charges.
now playing: Nick Catchdubs - Look What You Made Me Do (Jay-Z vs. Muse)
Friday, December 09, 2005

a few times i've been 'round that track
Lists are totally self indulgent. But let's be serious, blogs kinda are too.
With that, it's getting close to the end of the year, so why don't we start off this year end business. If you're the type of person who doesn't like lists, but loves the accompanying mp3s that go with them, you'll be sadly disappointed, as I've decided to start with singles this week, shows next week, albums the week after, with a downloadble mix that is (hopefully) reflective of all three lists to finally go with the latter. See? Self-Indulgent.
With that...
The Top 20 Singles Of The Year, as arbitrarily chosen by me.
If it was released as a single in 2005 (on cd, vinyl, or as a video) it was up for consideration.
1.
Gwen Stefani
-
Hollaback Girl
I know... if one more person you know describes something they like with "shit is bananas" you're going to punch the first bleached blonde in sight. But you're just kidding yourself. The monster drum beat, the you-better-stay-retired-beyonce marching band horns, and the afermentioned breakdown; you secretly (or not so secretly) stomp your feet like this everytime. In a year, Gwen's anthem might be like "Hey Ya," but for now, I still turn it up everytime I hear it.
2.
Broken Social Scene
-
Ibi Dreams Of Pavement (A Better Day)
Kevin Drew's voice, in all its multitracked glory, almost seems like its drowning underneath the thick soup of instruments on "Ibi," but that's part of the beauty. A room full of guitars, horns, some white noise... Dave Neufeld piled everything he could on top of the vocals, but somehow they still manage to cut through. It didn't have that subtle build that "Anthems..." had, or the pop punch that "Almost Crimes" had, and it didn't have that slow burn of "Lover's Spit," but it was bigger than all three. Sometimes, size matters.
3.
Ciara feat. Ludacris
-
Oh
If you play this on any decent stereo the low end makes you feel like your insides are going to shake right out of your chest. Ciara's best moment of 2005 might actually be when she "sings it accapella" for Missy, but 5 seconds does not a song make. Smooth vocals, a monster hook, and a verse from Mr. why-don't-I-just-stick-to-cameos does however. I was pretty smitten with "1-2 Step" and "Goodies" as well, but this is, without question, her best work.
4.
The Futureheads
-
Hounds Of Love
I have a friend who "survived an all night essay writing binge with only coffee, some potato chips, and the Futureheads covering 'Hounds of Love' on a loop." I'm still not sure how wise a decision it was, but he said it worked. Rather than espousing the virtues of Eliot when I listen to this, I'm more motivated to try my hand at the "oh oh oh" and then the "oh OH oh oh oh" parts... but hey, that's just me.
5.
Jamie Lidell
-
Multiply (Gonzalez Remix)
The album version of this song is a keeper in it's own right. Stripped back on this remix, however, it's pure blue-eyed soul. Piano, handclaps, a little blues bar atmosphere, and Jamie's croon - it's enough to make Al Green jealous.
6.
LCD Soundsystem
-
Daft Punk Is Playing At My House
When I saw James Murphy and Co. earlier this year, "Daft Punk..." was the only song that sounded worse than the record. Everything else seemed to get a massive kick in the ass, but this sounded subdued - reined in, despite the dueling basses - the complete opposite of the record. This is the kind of song you crank up to get out of bed on a monday. That, and it's got a cowbell solo that the lead singer announces for chrissakes!
7.
Kanye West
feat. Jamie Foxx -
Gold Digger
Exhibit A: One of my best friends insisted on playing this song everyday on the way to school, but I still love it.
Exhibit B: Next time you're around a group of friends yell, "If you ain't no chump, holla we want prenup!" Rather than look at you like you're an idiot, they will, in fact, yell back, "WE WANT PRENUP, YEAAAAHH!"
The defence rests.
8.
Amerie
feat. Jay-Z -
One Thing (Remix)
If there was anything that could make this song better, it was Hip Hop's most famous retiree (sorry Too $hort) dropping in to replace the rap verses (sorry Eve).
9.
The Arcade Fire
-
Neighbourhood #3 (Power Out)
It wasn't "Tunnels" or "Wake Up," but "Power Out" is the only Arcade Fire song I've heard in a night club sandwiched between Bloc Party and "House of Jealous Lovers." Not only that, but it wasn't a lull in the dancy trio of tunes, it was the climax."
10.
The Killers
-
All These Things That I've Done
I hate this band. Loath them, in fact. I hate Brandon Flowers' prancing. I hate his faux accent. I hate "Somebody Told Me" more than "My Humps." I hate how so many people eat up their shitty new-new wave like they're the second coming of Joy Division instead of the second coming of Duran Duran. I'd be lying if I didn't admit to loving this song though, embarrassing as it is. The over the top delivery works on this one. I love the sing-songy chorus. I love how the keyboard only intro gives way to that chugging reverb soaked guitar riff. But, most of all, I love how two minutes and 40 odd seconds in everything slows to a palm mute and Mr. Brightside, himself, is surrounded from all sides in glamour as they nick Spiritualized biting the Stones in all their gospel glory.
11.
Final Fanatasy
-
This Is The Dream of Win and Regine
12.
Sleater-Kinney
-
Entertain
13.
Cat Power
-
The Greatest
14.
Out Hud
-
It's For You
15.
Bright Eyes
-
First Day Of My Life
16.
Helen Love
-
Debbie Loves Joey
17.
M.I.A.
-
Bucky Done Gun
18.
Robyn
-
Konichiwa Bitches
19.
Diplo
-
Tippin' Toxic (Britney vs. Mike Jones and Paul Wall)
20.
Bloc Party
-
Two More Years (MSTRKRFT Remix)
now playing: Franz Ferdinand - The Fallen (Justice Edit)
Thursday, December 08, 2005

some have gone and some remain
Everyone else has already done it, but I couldn't let today slip away without talking about the 25th anniversary of the murder of my favourite Beatle. As you no doubt know,
John Lennon
(who recently got his own official website - complete with videos) was gunned down outside of his NYC apartment a quarter century ago.
It's rare that I suggest that you tune in to commercial radio, but if you're looking for some music this evening,
Rock 101
continues its annual tradition of broadcasting 24 hours of Lennon's songs every December 8th.
Also for your listening pleasure, here are a few of my favourite covers of Lennon penned tunes:
download: Fiona Apple -
Across the Universe
download: Elliot Smith -
Jealous Guy
download: Pearl Jam -
Gimme Some Truth
now playing: The Beatles - A Day In The Life
Tuesday, December 06, 2005

spiders (kidsmoke)
Jeff Tweedy
is set to play a solo at the Commodore on January 31st. The full set of dates is
here
. Anyone who knows me, knows that my love of Wilco is almost as strong as my love for my mother, so I think I might head down to Seattle on February 2nd as well. (via
More Cowbell
)
Mint Records
is throwing a Xmas party this Friday at the Cambrian Hall (Main @ 17th). The Organ, Carolyn Mark, The Buttless Chaps, Young and Sexy, Immaculate Machine, Chris Mastheim and the Come All Ye's, and the Choir Practice are all scheduled to play. There is also the promise of "special surprises." This is totally unsubstantiated, but
most
of the New Pornographers should be back in town on Friday... a boy can dream. I actually have to get rid of a shift at work if I'm going to check this out (or alternately go really really late), so cross your fingers for me.
Harry Potter
has better taste in music than most people I know.
Find out what was topping the pops in the UK on your birthday.
Some very advance notice (and chances are these dates could change), but
their booking agency
has
Oneida
penciled in for a March 17th date in Vancouver and
Mates of State
for an April 20th appearance (both at venues TBA).
Also from Kork,
P.O.S.
hits Richard's on March 8th. That's the P.O.S. from Minneapolis, not the P.O.S. from Vancouver, for the record.
Miss Modern Age
points us to news on
Sony's new PSP marketing campaign
. Ummm... yeah... real hip.
Chart
is now taking votes in its annual readers poll. The Chart polls seems to have a tendency to draw throngs of message board hangers-on and street teamers, which may explain why Matt Mays currently has a healthy lead in the "Best Canadian Album" category.
Finally, if for some odd reason you don't go there before you visit here, you should know that
Stylus
is counting down their Top 50 Singles of 2005. The Stylus singles list is my favourite of the multitude of year-end lists. For one, I rather like Stylus, and it's always well written and so very aesthetically pleasing. For two, although I'm still more of an album guy, in the age of instantaneously downloadable to IPod music consumption, the single really is
the
thing. Albums can take time, but a good single is downloaded, uploaded, and buried in your conciousness in a matter of minutes.
now playing: Destroyer - European Oils
Monday, December 05, 2005

there's glory in your story
With the release of
Warnings/Promises
,
Idlewild
have now fulfilled their contract with Parlophone/EMI, and have decided to part ways with the label. Singer, Roddy Woomble, put it this way on the band's website: "...it feels like the end of a chapter, or a bit like leaving school." So, I thought it might be a good time to take a look back at one of my favourite bands (yeah, I know their last album was kinda dodgy - I still love them).
The Early Singles and Captain
Idlewild formed in '95, but didn't release their first single until two years later. "Queen Of The Troubled Teens" was followed quickly with "Chandelier" in 1997; both songs (and the accompanying bsides) feature Roddy yelping/singing over buzzsaw guitar, fuzzy bass, and a "1-2, 1-2" drum beat.
Captain
followed the next year and was more of the same. I remember reading a British music mag at the end of 2000 (the year their third full length was released) that commented on early Idlewild, summing up with something to the effect of, "they're kind of like a yappy dog... good in small doses." Harsh, but perhaps a fair assessment, as I'm sure my affection for the noisy arrangements of their early songs may put me in the minority. Don't let that put you off though. There are some quality tunes buried deep in the annals of the band's back catalogue. "Faster" is probably my favourite of the bunch. The b-side of "Queen Of The Troubled Teens" single, it's a minute and fifty seconds of compressed postpunk explosion.
download: Idlewild -
Faster
Hope Is Important
The band's first full-length ushered in a little more structure. Roddy sang a bit more, and loud and noisy bits were used to far better effect. That being said, "I'm Happy To Be Here Tonight," with its acoustic guitar and soft melody, seemed to stick out next to the rest of the louder material (while still being great in and of itself). Still though, the material on
Hope Is Important
displayed big steps forward. Arrangements were more complex, there were ideas forming that pointed to something big, and quite a few of the numbers are stunners, especially live. "When I Argue I See Shapes," with its multitracked, competing vocal lines, and quiet/loud/quiet/loud dynamic, isn't my favourite track on the record, but seems to sum up what Idlewild sounded like around this time.
download: Idlewild -
When I Argue I See Shapes
100 Broken Windows
This is one of my favourite records ever, and I'm going to say, that without a doubt, this is Idlewild's finest record. There's a balance between quiet moments and loud moments, the music is focused, minimal, but rich, and Roddy's voice shows a lot of improvement over the first couple of releases. The songs are diverse, but at the same time, the album is cohesive. It stands up as a whole, but there are a wide variety of musical statements. With that, it's hard to choose one track. Even the majority of b-sides from this record deserve a listen. The release of
100 Broken Windows
(on import) also marked the first time that the band graced our fair city. They played the long since departed Starfish Room (RIP), on a coheadlining tour with
Brassy
in early 2001, and the rooms tiny stage could barely contain the band. I still remember being blown away by guitarist Rod Jones' manic pogoing and Roddy dragging his mic stand and singing in the crowd for the entire set, as much as I was by the strength of the songs (most of which I hadn't heard at that point).
If "When I Argue..." sums up
Hope Is Important
era Idlewild for me, "Actually, It's Darkness" sums up the band. It's got everything I love about them: the subtle harmonies, the sort of obtuse lyrics that almost seem awkward in the verse, the near complete dropout in the piano led bridge, and that soaring chorus.
download: Idlewild -
Actually, It's Darkness
The Remote Part
This is where it started to slip a bit for me. Don't get me wrong... "You Held The World In Your Arms" was great, and "American English" was the "slow one" that they seemed to be reaching for with "I'm Happy To Be Here Tonight" but never quite managed. That being said, with
The Remote Part
seemed to have shed that last bit of rough edge that they were holding onto. There were still some "rockers," but they didn't seem that have that unrestrained energy of older tracks. "Stay The Same" has always been my favourite track off of this record. What I said about unrestrained energy two sentences ago... yeah, forget that for this one.
download: Idlewild -
Stay The Same
Warnings/Promises
Alright... if you got through all of that sloppy writing, you've made it to the end of the line. I had really high hopes for this record. Sure, like I said,
The Remote Part
wasn't as good as
100 Broken Windows
, but I figured they'd just bounce back a bit.
Warnings/Promises
was written entirely on acoustic instruments, which may explain why it's even more laidback than its predecessor. I don't think that's what makes it weaker neccessarily, but with a band like Idlewild, I don't think it helped. My disappointment with this record speaks less to its quality, in and of itself, and more to the high regard that I hold the rest of bands catalogue, but after buying it for inflated import price, it was definitely disappointment, none the less. "I Understand It" is one of the few tracks that, in my mind, stand up to the rest of the bands' work.
download: Idlewild -
I Understand It
Regardless of what quality their future material falls under, I will
always
see this band live if they come to town, and suggest that you do the same.
I was going to finish this days ago... but I'm a bad blogger.
now playing: Idlewild - Let Me Sleep (Next To The Mirror)
Friday, December 02, 2005

balloon factory
Dandi Wind
make their triumphant return to Vancouver on December 14th. They're playing an all ages affair at Mesa Luna, with Hot Loins, Channels 3+4, and Nihilist Party.
Check the poster.
Black Rebel Motorcycle Club
hit the Commodore on March 20th. (via
More Cowbell
)
Fiddy is for the ladies, like R. Kelly is for the children.
A real update tomorrow. I promise.
now playing: Autolux - Great Days For The Passenger Element