Wednesday, May 31, 2006

hail, hail the lucky ones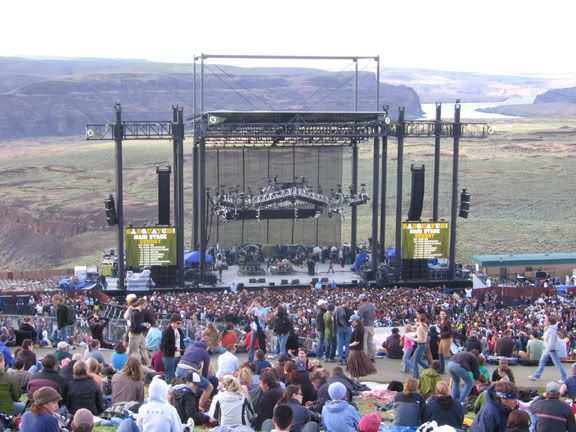 No, Pearl Jam weren't added as surprise guests on the Sasquatch bill, but that's really the only appropriate title... more on that later.
I made my annual trek down to the Gorge for days two and three of the (now) weekend long festival, arriving on site in time to whip up a couple of tents and make it in for most of
Rogue Wave
.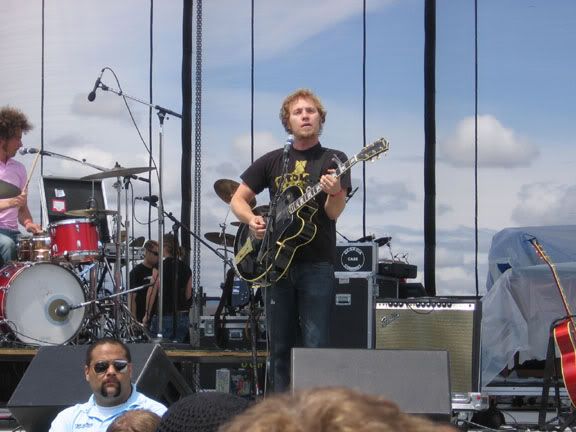 They were certainly good, but nothing to write home about. I know the Shins comparisons are getting a bit tired, but they felt like a warm up to Mercer and Co.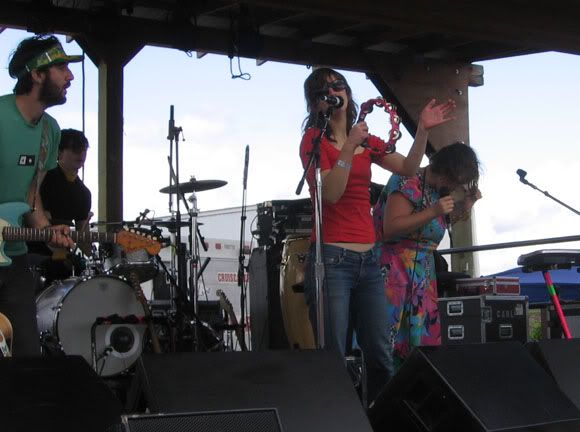 After Rogue Wave I made my way up to the second stage to catch
Architecture In Helsinki
. AiH were fabulous as usual, and were the perfect soundtrack to some early afternoon dancing.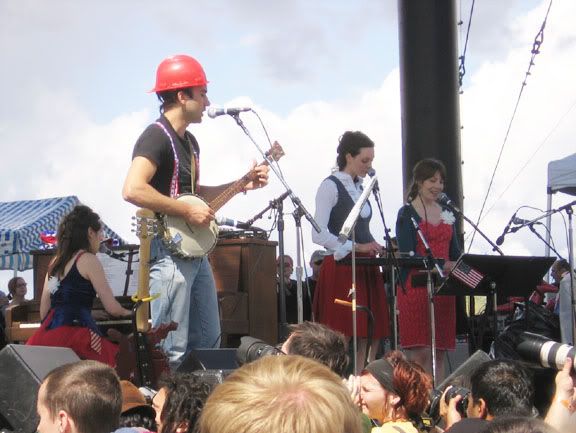 Sufjan
hit the mainstage after that, and I headed down for what would be the first set of the last two days to add a little extra something in the staging department. Sufjan's set, which was great musically, was punctuated by his construction hat, some red, white, and blue, and a small army of inflatable supermen, that were passed out into the crowd.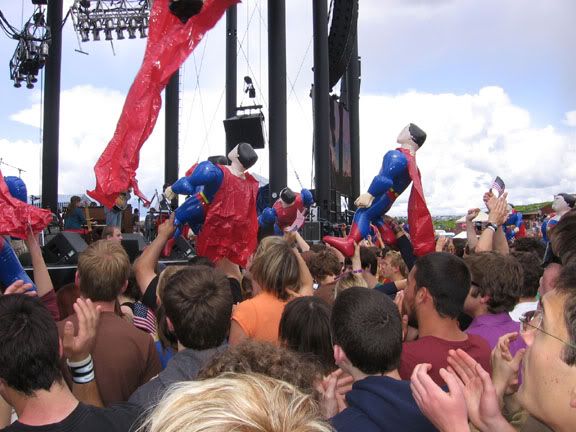 After Sufjan I caught bits of
Iron & Wine
(pretty good) and
Band of Horses
(not good), before heading down to the mainstage to catch
Neko Case
.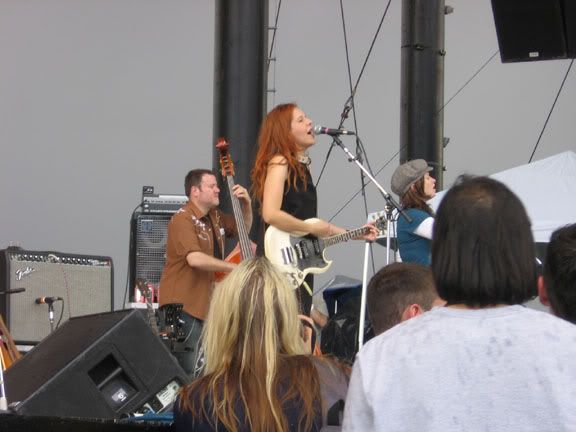 That's when the "fun" really started. Neko was barely through one song when it started to sprinkle a bit of rain. No big deal, right? Right. It was when that rain transformed to hail (like, big ass hail) that things got a little bit insane. Neko braved the elements for one song or so more before the plug was pulled on her set and most people started to run for cover. I don't think I can adequately describe just how crazy the hail storm was. It was coming down so hard it was almost comical, were it not for the fact that 1) it kinda hurt, and 2) everything and everyone was getting soaked. After unsuccessfully seeking shelter under a tree (in retrospect, a dumb idea due to the lightning), I found refuge when some kind soul invited me to share, nothing other than, a port-a-potty with me. If you're ever caught in a massive storm, I recommend it wholeheartedly. We actually ended up being joined by two other people who preferred hanging out in a toilet to braving the elements. Good times.
The hail storm caused the first cancellations due to weather
ever
in the Gorge's 20 year history, with both side stages being shut down, and some sets also had to be shortened after the weather cleared up. It certainly made this year's festival memorable, though.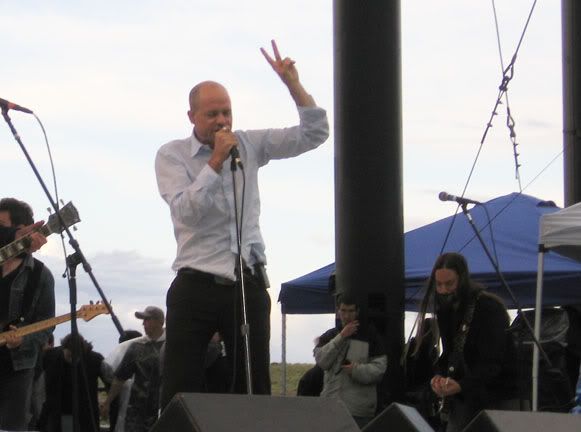 That meant that
the Hip
played a little less than scheduled, but they were still met with enthusiasm by the soggy (mostly) Canadians who shivered along as the band tore into "Grace, Too." I would've loved for them to play longer, but even at 40 minutes or so, they were one of the highlights of the first day.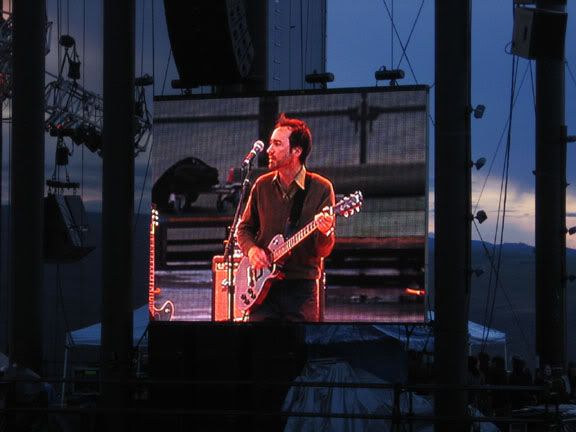 The Shins
were on after the Hip. I've heard some people say that they were pretty pedestrian live, and I suppose that's true. And, while they don't really do anything but play the songs, when the songs are this good, and the band is that tight, do you really need any side show?
After the Shins, I ended up shaking my way back to camp. Ben Harper, who I'm not to fond of, ended up rescheduled
before
the Flaming Lips, so I took it as an opportunity to go change. Well, that was my plan. I ended up falling asleep in the car, and missing the Lips. A mistake, I'm sure, although I've seen them quite a few times before. Some friends of mine actually ended up as part of their on-stage dance troupe, so I am a bit sad that I missed that.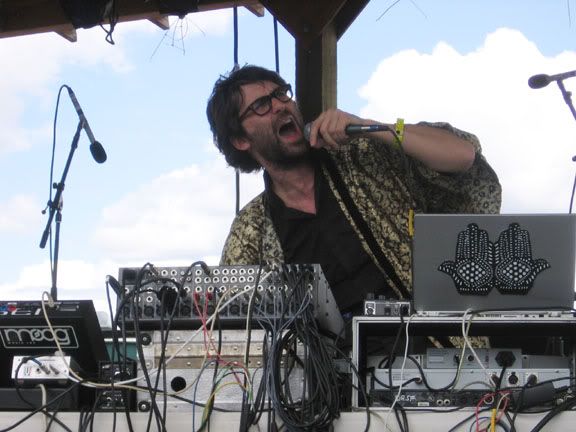 After waking up a little disoriented and more than a little hungover in my car, campsites were packed and I made it back in the festival in time for
Jamie Lidell
. The blue-eyed soulsmith was in fine form, especially considering his early time slot. Lidell's music is mostly sample and loop based, but that didn't mean he was content to press play on a laptop. He did an amazing job of reworking the songs from
Multiply
, building each one up with a combination of pre-recorded loops, and loops built on the fly, some differing significantly from the album versions. Who says an electronic artist can't improvise?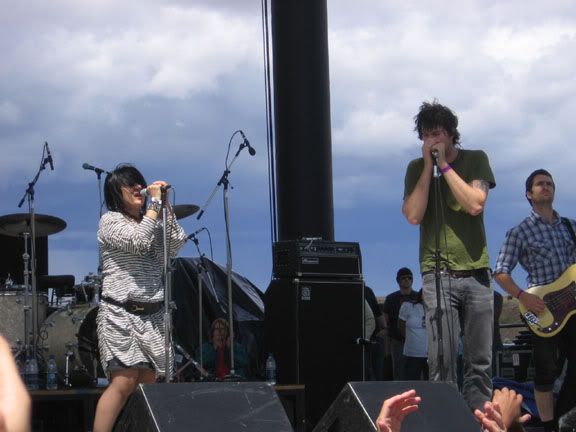 I wasn't very enamoured with the newest
Pretty Girls Make Graves
record, and their mid-afternoon performance (that completely ignored their first album) didn't really change my mind. A couple of songs rose to the occassion, but for the most part they sounded really flat. The band did bring out a small girl to skip rope during one song, which was pretty cute.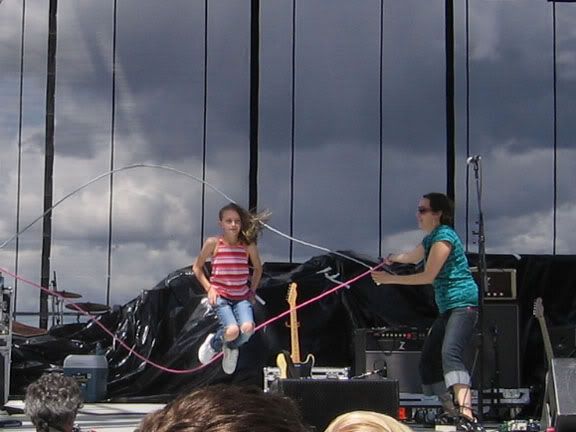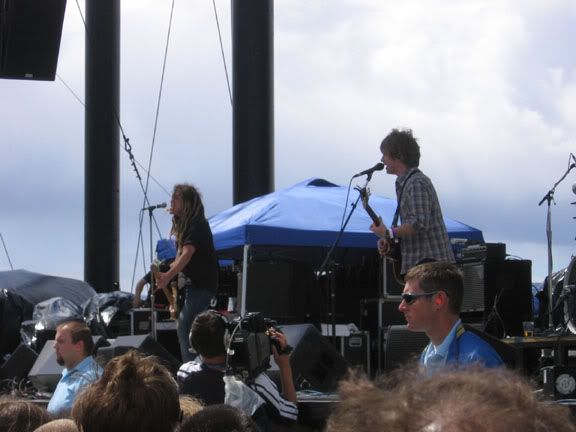 Nada Surf
was up next on the mainstage, and we stuck around to get a good spot for the next couple of acts. They played "Popular" first. I guess it was like when Radiohead used to play "Creep" really early in the set so nobody would obnoxiously yell for it. After their only "hit" things went downhill, and I can't say I'm even that into "Popular."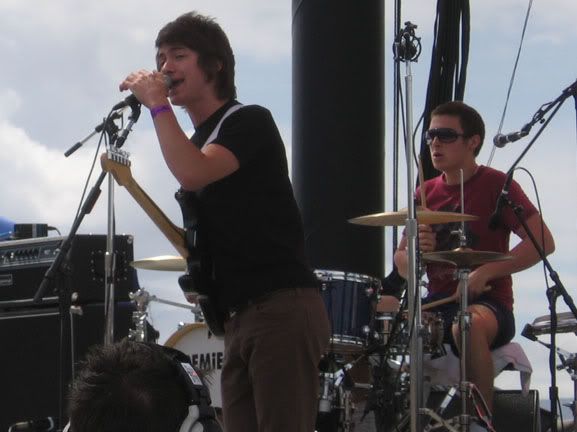 Arctic Monkeys
were up next on the mainstage. I thought their demos were pretty great (for demos), and the full length is quite good, as well, but the hype was way over done. There are plenty of better upbeat indie records out this year. That being said, while they didn't live up to the massive hype (which is probably impossible), they were goddamn great live. "When the Sun Goes Down" was one of the single funnest moments of the show for me.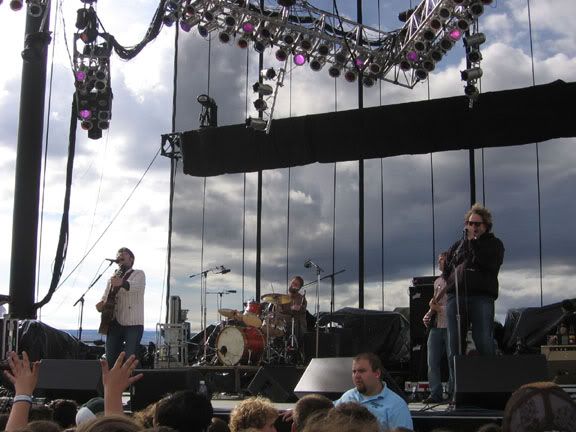 The Decemberists
had the task of following the new British invasion on the mainstage, and ended up doing a pretty fine job. They stuck mainly to upbeat material, and were even joined onstage by the guy from Harvey Danger (I think) for "16 Military Wives."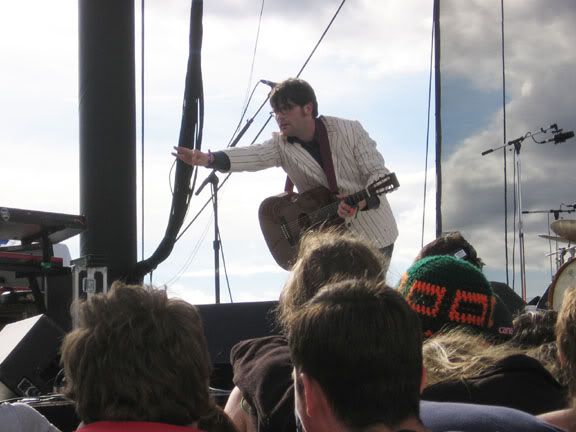 Colin even got the entire front of the stage to crouch down during one number.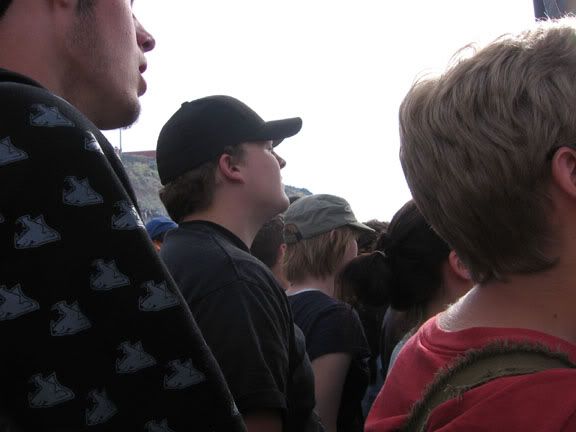 As an aside, if you are this guy in the black hat, it wasn't funny to yell "free bird!" everytime there was a quiet part in the set. 1982 called, it wants it's joke back, jackass.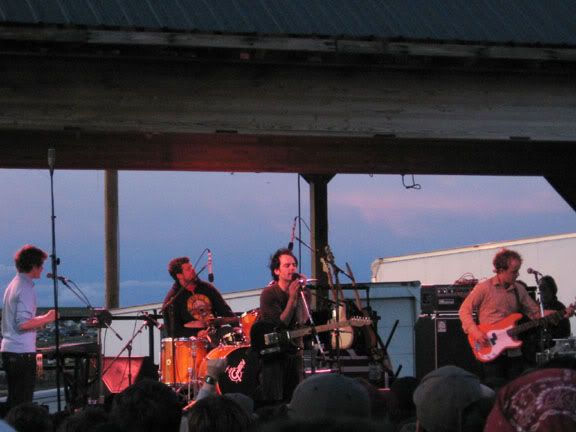 After the Decemberists, I was content to relax for awhile, visiting with various friends I'd run into over the course of the weekend, and taking in Queens of the Stoneage from way up on the lawn. I did, however, make it over to the second stage to catch
Clap Your Hands Say Yeah.
If you were at their show at Sonar last year, you know that they were "clap you hands say terribly boring" live. Well, I'm happy to say that they were awesome at Sasquatch. High energy, and surprisingly good sounding (considering the shitty sound at that stage). A performance of "Clap Your Hands" at the beginning of the encore was particularly great, with the crowd happily screaming back the responses to Alec Ounsworth's calls of the track's title.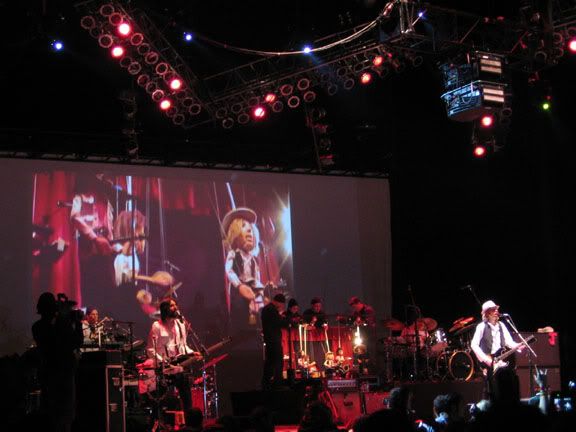 I did some more wandering around during Death Cab, before meeting up with one of the people from my car and getting a spot for
Beck
. My favourite scientologist came out swinging, opening his set with "Devil's Haircut," and never letting up. I wasn't that huge on
Guero
, but the album's tracks get a huge boost live. He also tossed in a good helping of old favourites.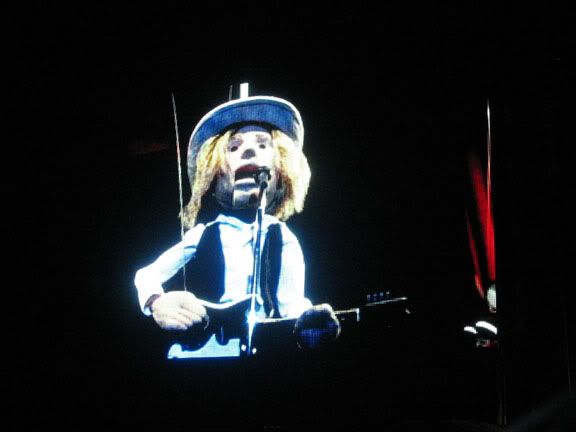 Not about to be outdone by anyone else's stage show (or at least, not about to go down without a fight), Beck's stage setup featured a miniature stage right in the middle. The mini stage featured puppeteers who recreated the set as it was played with meticulous detail, with the entire thing being projected behind the band. There was also a puppet camera man (with a working camera) and puppet stage crew. No joke. The "solo" portion of his set was also punctuated by the band taking a break to eat at a dinner table near the back of the stage, that then doubled as percussion.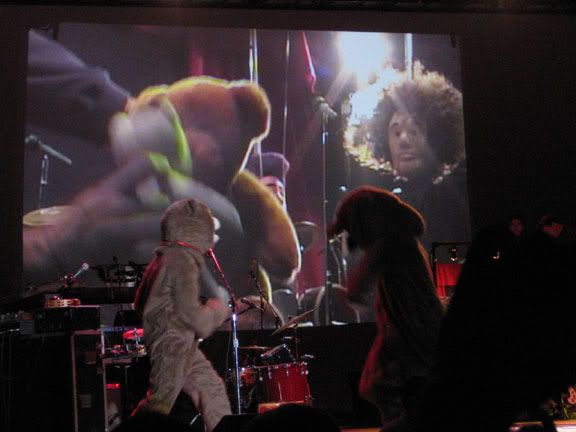 The encore began with only the puppets synching their way along to the recorded version of "Loser," before the band reemerged with Beck and his breakdancer dressed in bear suits (one grizzly, one teddy).
All in all, it was a great weekend. Huge props to the organizers, for running what was, by in large, a really great event... although I do have to ask...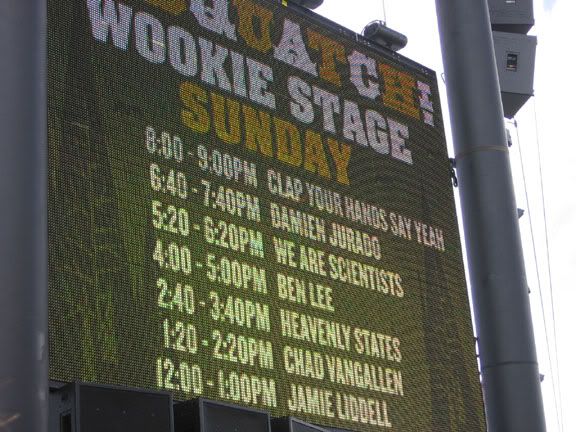 Who managed to spell "Jamie Lidell" and "Chad VanGaalen" wrong on the big screen?
Get your tickets early next year, this year Sat/Sun ended up selling out.
now playing: Thom Yorke - Black Swan
Friday, May 26, 2006

weekends away
I, like 20,000 other people, am heading down to
Sasquatch
for the weekend... in 11 hours, in fact.
No posts til Monday or Tuesday, but I guarantee I'll have lots to write about.
I'm hoping to catch some or all of:
Rogue Wave, Architecture in Helsinki, Sufjan Stevens, Iron & Wine, Band of Horses, Neko Case, the Cons, the Hip, The Shins, Flaming Lips, Jamie Lidell, Pretty Girls Make Graves, Chad VanGaalen, Arctic Monkeys, the Decemberists, QotSA, Clap Your Hands Say Yeah, and Beck.
I still wonder who, in their infinite wisdom put the Hip and the Cons on almost completely overlapping, and slotted Steve Malkmus in as a last minute addition on the same overpacked day, but scheduled We Are Scientists, Mitasyahu, and Damien Jurado (yawnnnnnn) at the same time on Sunday (I have deemed that time, "nap time"). I know part of it is dependent on band schedules... but still.
Michael
and
Hanson
are there too.
Have a good weekend.
now playing: Neko Case - Hold On, Hold On

young hearts be free tonight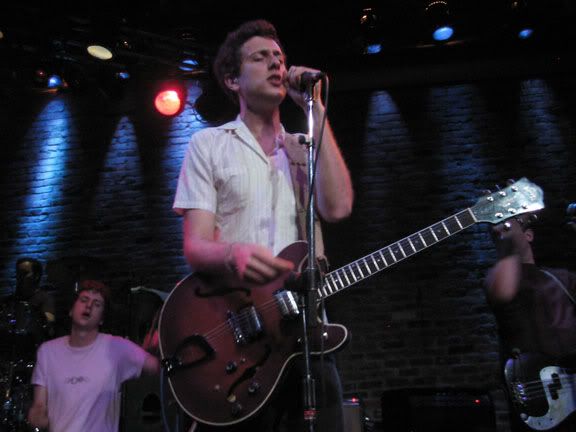 Until tonight, I was perfectly fine with my plan to hang tight in front of the mainstage at Sasquatch and forgo
the Constantines
entirely. I had planned to see them today, which would mean I wouldn't
have
to catch part of their set on Saturday. Right now, however, if I had my choice, I'd be down in Seattle tomorrow night catching their show at the Croc, and would still be intent on making the uphill sprint on the weekend to catch some of their set after Neko Case is finished.
If you were to ask me to name my ten favourite bands, the Cons would inevitably figure somewhere in there. Whenever I see them live, however, once those opening notes hit, they're my favourite band in the world for the next hour and a half. I think I said something similar in a review for
the Ubyssey
in January, but the feeling still catches me off guard.
I'm actually reviewing the show for
Discorder
, so I'll leave you with this thought: If you weren't there, and could've gone, you dropped the ball. If you did go and weren't rocking out on the floor, you also dropped the ball.
They closed with a Lou Reed cover. It was fabulous.
Shows!Shows!Shows!
Why don't we start with Saturday at Pub 340, because that one is the least notice of the bunch. If you didn't snap up tickets to see
the new great british hope
, head down to the East Side to check out
Bakelite
,
Blue Grey Dots
, Ok Vancouver Ok, and maybe
Defect!Defect!
(according to their website they had border trouble and are no longer playing in Canada). Actually, now that I think about it, the Paper Cranes are playing Pat's too. Now you have choices... lots of choices.
They Shoot Horses, Don't They?
is at Richard's on July 13th with
Jon Rae Fletcher
(sans the River, I think) and
the Doers
.
Way in advance...
Do Make Say Think
are at Richard's on November 23rd, according to Pollstar.
Matt Costa
is at the Commodore on September 4th.
French Kicks
are at a venue TBA on August 14th.
As for the debate over tickets and service charges in the comments a couple of posts back: I have no idea what the reasons are, but I've definitely bought tickets at Zulu before, and then returned to buy tickets for friend and found that they'd gone up in price.
Oh... and I saw Mogwai on Wednesday night. They kicked my ass. They kicked everyone's ass... even though they didn't play "Xmas Steps."
now playing: Lou Reed - Temporary Thing
Thursday, May 25, 2006

school's out
download: Math and Physics Club -
Graduation Day
now playing: Annie - the Crush
Tuesday, May 23, 2006

spinning and scratching
Way back in January,
Rob Vanmega
dropped the gauntlet, providing me and some other internet folk with some mixmaking software, and putting out a blogger fake dj challenge. Well, I finally did one. The transitions get really rough near the end. You've been warned.
download:
From Blown Speaker's FakeDJMix
Tracklist:
Intro
Wolf Parade - This Heart's On Fire
Soulwax - NY Excuse (Justice Remix)
DJ Soup - Temperature In Paris (Sean Paul vs. MSTRKRFT)
Rick Ross feat. Young Jeezy and Jay-Z - Hustlin' (Remix)
Test Icicles - Circle.Triangle.Square. (James Ford Remix)
Stanton Warriors feat. Twista - Pop Ya Cork
Lily Allen - LDN
Public Enemy - Don't Believe The Hype
The Jackson 5 - I Want You Back
The Pipettes - Pull Shapes (Album Mix)
Bloc Party - Banquet
Bloc Party vs. Mike Skinner - Banquet (Streets Remix)
Blue Grey Dots - Future Cougar
Johnny Boy - You Are The Generation That Bought More Shoes And You Get What You Deserve (Crews Against Consumismo Extended Remix)
Bikini Kill - Rebel Girl
Camera Obscura
are at the Plaza on July 24th.
Let's Get Out Of This Country
just might be my favourite record so far this year, and the title track is definitely one of my favourite songs of 2006.
You may recall that a little band called Broken Social Scene is opening for a guy named Sam Roberts the day after. You might also be excited to know that Sam's Montreal buddies,
the Stills
, will also be joining the party, with more guests still to come.
The Rentals
are back together! Matt Sharp will lead his reformed band at Richard's on the same day as the Sam/BSS/Stills extravaganza.
Head over to
Section Two
to check out four live
Akron/Family
videos. If you were at their March show at the Media Club, you already know how amazing they are live.
My Old Kentucky Blog
is on a covers tear. So far, he's done whole sets of covers of
Don't Fear The Reaper
,
God Only Knows
,
In The Aeroplane, Over The Sea
,
There Is A Light That Never Goes Out
,
When You Were Mine
, and one of my all time favourite songs,
Love Will Tear Us Apart
. The covers vary in quality, but I can say that, without a doubt, that guy from Fall Out Boy should be punished somehow for butchering Joy Division.
now playing: Ryan Adams - Do Miss America
Sunday, May 21, 2006

already gone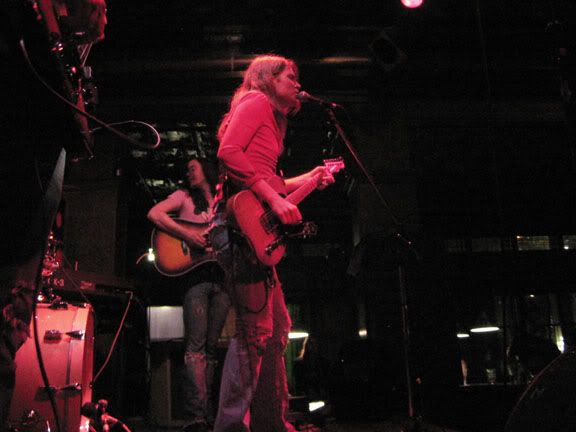 After re-reading my post about
Lions On The Street
, I realize I may have turned some people off, because the way I described them would've probably turned me off, had I not written it. I usually tend to shy away from any sort of "revival," and I think that's the way it came across. Granted, they really do sound like they were forged in the 70's, but differ from most blasts from the past, in that they're goddamn good at what they do. Conversely, I find that most bands who wear their influences on their sleeves end up as pale imitations, unable to fill the footsteps their attempting to tread on. I made my way down to check out the band at the Lamplighter last night, and that divide between successfully harnessing classic sounds and coming off as only followers was evident when sitting through the bands' openers.
The first act took a lot of cues from "classic rock" but were totally forgetable. In fact, I can't really recall what it was about their sound that offended me so much, but the conversation I ended up having about the Pabst (that was on special), and how cheap beer has become "hip," was far more interesting than the music. The second act, sounded like five dudes who grew up worshipping Guns n Roses, Pearl Jam, and Metallica. I happen to like Gnr and PJ quite a bit, but when that kind of music gets filtered down you end up with unneccessary riffage, gratuitious guitar posing, and a lead singer who puts on what Moby once called "the cookie monster voice." My friend questioned whether, "I think he talks like that all the time." I went with "no," based simply on the fact that there's no way a construction worker/jr. executive/barista/or whatever occupation, could possibly be taken seriously if they did.
By contrast, the boys in LitS pulled from influences that were far more tasteful, in my humble opinion (the Stones, the Band, the Faces, Rod Stewart before he got shitty and disco and/or shitty and AC). Classic sounding rock bands, though, have to jump that same hurdle that every guy who picks up a guitar and plays folk does: overcoming being merely pleasant sounding. And, they manage that as well by being, not simply a collection of familiar sounds, but pretty great songwriters to boot. In addition, the solos were well placed and never wanky, there was energy and feeling, and that energy translated to an intensity that was sans any obvious or unneccessary posturing.
As I mentioned on Friday, the band has an entire album sitting in a major label vault somewhere, which forced them to record their EP totally DIY, and, in the end, resulted in a really great sounding set of songs. Well, as your parents will tell you, adversity builds character, and that just might be the case with Lions In The Street, as they're songwriting prowess seems to have grown as well. In addition to to the EP material, what I assume were a new track or two, and a cover, the guys also played a song "from our album that will never see the light of day." And, to be completely honest, it just wasn't as good. The same style for sure, but the melody didn't stick with me, and it definitely didn't have the same sort of swagger that they seem to possess now.
Hopefully, they don't end up lumped in with the classic rock pretenders they played with last night, as they deserve much better company. Actually, on that note, they're opening (along with
the Illuminati
) for the mighty
Pride Tiger
at Richard's on June 21st. I know you're already going to see Pride Tiger, but show up early, ok?
You'd never call them innovators, but as
Matthew
put it, "I'd much rather listen to a band doing something old really well than an artist doing something really innovative badly."
You can still get the entire
Cat Got Your Tongue EP
for free on their
website
.
now playing: Lions In The Street - Lady Blue
Saturday, May 20, 2006

park that care, drop that phone, sleep on the floor, dream about me
There are only a few bands that warrant a post when I've come home at 3am and I'm half asleep already, but
Broken Social Scene
is one of those bands, especially when they're scheduled to play outdoors on (what will hopefully be) a gorgeous summer day... and even if they're playing with someone whose new album has got me less than excited.
The Scene open for
Sam Roberts
on July 25th at Deer Lake Park.
This will be fantastically awesome, as at this very moment I can think of few things in the musical realm that will fill me with more joy than hearing my favourite collective play "Anthems for a Seventeen-Year-Old Girl" under a blanket of summer sun.
Regular on-sale is this Friday. Pre-sale info if/when I get it... but Deer Lake Park is pretty big, so I doubt it will sell out instantaneously.
Thanks to Cy for the headsup.
now playing: Broken Social Scene - Anthems for a Seventeen-Year-Old Girl
Friday, May 19, 2006

you won't go home alone tonight
A pair of Friday (local) music recommendations:
I didn't now much about
Blue Grey Dots
when I included them in my
Tyee Music Pix
last week, and since then I haven't really learned much more.
Here's what I can tell you:
They're from Vancouver.
They're three guys and a girl.
I've been playing out the three songs available for download on their
MySpace
.
They sound like they could be the new torchbarers of that very characteristic Vancouver no-wave sound.
They're playing on June 1st at Pat's as part of
Music Waste
.
You should go check them out.
From a very different part of the musical spectrum come
Lions in the Street
. If you're a MySpace user you know that every couple of days some random band adds you. And, more often than not, said band is pretty shitty. So, it was with great skepticism that I opened my ears up to this Vancouver foursome, after receiving a message and friends request on the 'Space.
They're definitely not reinventing the wheel, but they're pretty damn good at following in the footsteps of some pretty damn good bands (right down to the fashion sense). "Already Gone" was the first track that I sampled, and I immediately thought of
Exile...
era Stones. If that doesn't convince you to at least check them out, I don't know what will.
After getting the screwjob by some major label, the band packed it back home to Vancouver and DIY'd an EP in a basement onto an 8-track. The process shows in the sound, but if you ask me, that's a good thing (the rough around the edges sound, not the screwjob). This is what I thought the new Primal Scream record - a collection of songs in a similar vein - would be... y'know... "good."
They're
giving away
their entire EP on
their website
for free. Giving away! For free!
Alternately, if you like good ol' fashioned cds, you can pick up a hard copy ( for free! to the first 100 people) at the Lamplighter this Saturday (as in tomorrow) night. $10 cover... and $3 cans of PBR. How... "indie." Robert Dayton's djing too.
now playing: Blue Grey Dots - Future Cougar
Thursday, May 18, 2006

the modern age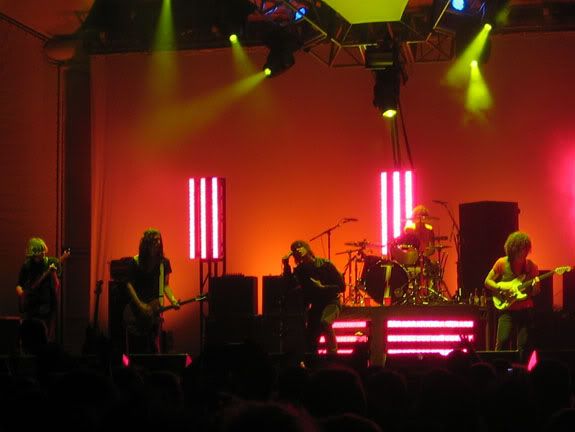 A friend of mine scored two freebies to
the Strokes
show tonight and was nice enough to invite me along, so I caught the formerly titled saviors of rock for the first time since they headlined the Commodore around 5 years ago (times flies).
To be completely honest, I think I've heard
Room On Fire
a couple times through at various locales, but other than the singles, haven't really made an effort to hear, or been exposed to much of
First Impressions of Earth
. So, the first thing that struck me about the band's performance was how very much I love the songs from
Is This It?
; a record that, for whatever reason, I haven't given a spin in awhile. Unforunately, the second thing that struck me is how flat the new songs sound by comparison. Perhaps "flat" is the wrong word, as the rhythm section rumbles on a lot of the new tracks, but it seems like the boys have traded the wonderfully jangly melodies that wove their way through the older material for their newfound bollocks. Julian seems to favour his "I'm bored with you" voice over his "holy crap I'm so excited the track is clipping" voice too. I suppose the whole yelling during the chorus pattern may have become a little predictable three records on, but on the other hand, if it works, it works. "Juicebox" was the exception among the new material, and consequently, was one of the better performances of the evening. Ditto for the mainset closing, "Reptilia."
I'm going to come off totally pretentious here, which is unfortunate. But, in all honestly, I also enjoyed them way more in a smaller venue. It's nothing to do with them getting popular. In fact, things can be quite the opposite sometimes.
Take Coldplay, for example. I can't say I'm interested in them much at all. I did, however, see them at the Commodore the first time they played here, and they were bloody awful. Chris Martin spent the entire show either whining about his guitar or staring at his feet. But compare that with footage of the band now. Again, they don't really do it for me musically, but they've certainly learned how to work a big stage. They still aren't the biggest band in the world, but they sure as hell perform like they are (well, they might actually think they are... but that's another discussion).
By contrast, the Strokes haven't gotten any worse, they're just mostly the same. And, while things like Julian's detached non-chalance went over pretty well in a bar, from halfway back in the Plaza of Nations it's just a little boring. Only during a raucous, night capping version of "Take It Or Leave It" did things really take off. Casablancas waltzed around the stage like he owned the place, Nick Valensi scaled an amp, and the other Nik and Albert Hammond, Jr moved out to the wings.
On the whole, they weren't bad. They were pretty good, really. They could just be so much better.
Oh... I almost forgot, they also embraced the comparisons of Juian's vocals to Lou Reed by churning out a pretty sweet version of "Walk On The Wild Side."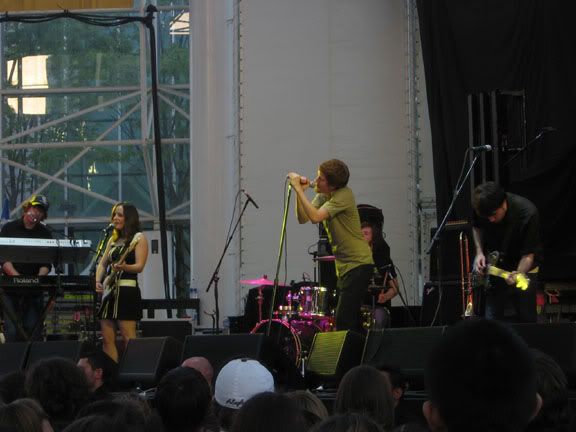 Most Serene Republic
opened. This is the third time I've seen them in a support role, and while they still haven't really won me over, they're certainly growing on me. They've undergone a bit of a lineup change as well, and have a bigger sound, which also works a little better.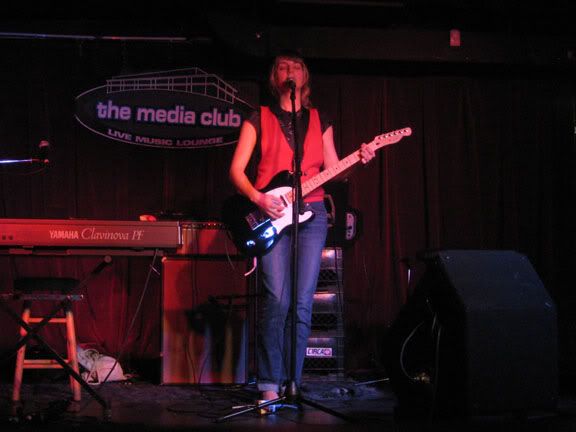 Before the rock extravaganza at the Plaza of Nations, I took in the hastily rescheduled
New Buffalo
show at the Media Club. Unfortunately, very little advertising translated into an extremely sparse crowd (like, 15 or so). Sally also got the bad news that after cancelling tonight's show to do a TV spot, the Concretes (whom she was set to open for down the West Coast) have decided to cancel the rest of the dates as well. Despite the low attendance and cancelled tour, she did her best to put on a very intimate little show. Sometimes playing along to more fleshed out backing tracks, sometimes backed only by guitar or piano, she made her way through most of
Last Beautiful Day
, and also performed a couple of new tracks (that sounded particularly strong). Hopefully, her next appearance in Vancouver is met with better circumstances.
All in all, not a bad Wednesday, considering this time last week I was still mourning the Islands and Concretes cancellations.
now playing: Sunset Rubdown - Us Ones In Between
Wednesday, May 17, 2006

it's a crime
I'm pretty sure this has been talked about elsewhere, but I was thinking about it this evening.
So,
Sasha Frere-Jones
and
Jessica Hopper
think Stephen Merritt is a racist
because he doesn't like hip hop... or appreciate Beyonce... or state his love of "enough" black artists in public. I will comment on the ridiculousness of this insinuation by posing the following:
In 2004 SF-J published this
best of the year list
. Please note that amongst the 158 songs and 52 albums there are only three openly GLBT artists (Tegan and Sara, Indigo Girls, and, ironically, Magnetic Fields)... and I guess "Michael" had some pretty strong homosexual undertones, so we'll give him the benefit of the doubt for including a Franz Ferdinand song (even though it was "Dark of the Matinee").
Now subtract from that number (three and a half if you're keeping score) from the number of artists on the list that have lyrics that are pretty openly homophobic (and don't even start with that "they don't
really
mean it like that when they say 'faggot' on record"). The resulting number is a negative integer.
I bet he doesn't own any Melissa Etheridge records... or if he does, it's just for show.
Does that mean Sasha is homophobic?
Note also, Jessica Hopper's
2005 Pazz and Jop ballot
. The closest thing to an openly homosexual artist is Kate Bush, who is straight, but lots of gay dudes happen to like her.
I bet she has better taste than Sasha and doesn't like any Indigo Girls songs either.
Is Jessica Hopper, therefore, homophobic?
now playing: the Nasty On - Lester Bangs
Tuesday, May 16, 2006

last beautiful day
Even though
the Concretes
have deemed playing a UK television show more important than playing at Richard's, Sally Seltmann is not one to disappoint us Vancouverites.
New Buffalo
will
still
be appearing in town tomorrow, playing an early show at the Media Club. Show goes from 6pm-8pm. (thanks to apl)
The Raconteurs
are at Malkin Bowl on July 26th. I can't say that I'm as excited as everyone else seems to be about
Broken Boy Soldiers
, but its hard to resist outdoor shows in the park.
now playing: Lucinda Williams - Essence

crush in the ghetto
...actually, she's playing in one of the nicer parts of town... Pollstar reports that
Jolie Holland
will bring her beautiful croon to St. James Hall on June 18th. I think I can safely say that this is the first concert I will see in Kitsilano.
Someone Still Loves You Boris Yeltsin
are at the Red Room on June 19th with
Sound Team
. I have no idea who is opening and who is headlining, but I'm amped for SSLYBY.
Hella
and
The Advantage
are at the Red Room on May 28th. As the anonymous tipster put it in the comments, "beep bloop beep bip boop bip beep beep?" Although, with Hella there'll be some crash and bang too.
Oneida
are at - you guessed it - the Red Room on July 20th.
Last, but not least,
Leeroy Stagger
has a brand new song called "Depression River" up on his
MySpace
. Says Leeroy, "new song up, probably will get in shit. dont care." In other words, go download it fast before his label makes him take it down. It's from his forthcoming September release. It's going to be awesome, and I am going to talk about it a lot.
now playing: Leeroy Stagger - Depression River
Monday, May 15, 2006

dear mr. supercomputer
Currently I host my .css file at Ripway.com, which works out fine, except when Ripway is not functioning properly, like today... which results in the whole site becoming a random assortment of haphazard links.
So, my question, internet friends, is this... would anybody out there with more programming knowledge then mine be willing to integrate my .css into my template if I send both to you?
I can't really offer you anything other than my eternal gratitude... but if that's enough for you shoot me an email: quinn.omori ATATAT gmail
now playing: the Smiths - Heaven Knows I'm Miserable Now

in the fire of my youth, we were racing with the sun
One Song: Perfect Songs for an Imperfect World

download: the Constantines -
On To You
If you had asked me 6 months ago to name my favourite song by the
Constantines
, I would've probably said "Arizona" or maybe "Soon Enough." I don't know exactly what struck me last January during the Cons' two night stand in Vancouver, but for some reason this track, that I've always thought was one of the bands finer moments, transcended the rest of their glorious catalogue during those shows.
If for nothing other than the fact that the Springsteen comparisons that follow around Bry Webb like a lost puppy are so very apt during the song's four and a half minutes, it sounds immediately like the Constantines. At the same time though, there are so many subtle differences that make it an anomoly when put side by side with the rest of their work. "On To You" has those (Fugazi) trademark (infringing) dueling, hard panned guitars, but rather than cut at eachother, the dynamic riffs seem to speed along together, bound by Dallas Wherle's growling bass lines. And, while they've never sounded out of place, Wil Kidman's keys are absolutely perfect on
Shine A Light's
seventh track. The nature of the song, in essence a power ballad, so easily invites itself to be drenched in rich organ. It's restraint, however, that produces such winning results; a restraint that only breaks open at the songs end, finishing things off with a deep hum. And then there's those backing vocals. It's not that they haven't utilized extra voices before, but here they sound "pop" in the finest essence of the word. The Cons have always had an amiable ragged quality to them, and those "oohs" and "sha-la-las" that pop up throughout "On To You" are like the backups of some joyfilled teenage boys who didn't get the memo that they couldn't be a girl group.
I've read different interpretations of the lyrics, but most seem to conclude that its "romantic." Judging by Bry's usual live intro of, "I've got girrrrlllll trouble, out the ass," I'm not sure "romantic" is the correct descriptor, though. It's a love song, for sure - a love song that's sung with an almost ferocious, yet ironically subdued, tenacity - but it seems like the sound of failure, or impending failure. That last set of vocal lines, especially - when they crash over the chugging guitars - seem to dwell on the past:
"I knew a righteous woman."
In retrospect, I think I do know what it was about January that pulled me towards "On To You." I was in the midst of "relationship" of sorts, though I have friends who would probably object to the term. But that's just it. We both wanted it to work, and it probably
should
have. But it just wouldn't. There's a process that leads two people to come to that sort of realization...
Ohhhh, I'm on to you
.
now playing: the Constantines - On To You
Labels: constantines, one song
Saturday, May 13, 2006

i want you so hard
Eagles of Death Metal
are at the Commodore on June 10th. I haven't been that huge on QotSA since
Rated R
, but Eagles of Death Metal are starting to grow on me. They have
an entire show
up for download on their official site.
Cage
is at Richard's on July 15th with
Mr. Lif
and Camu Tao.
3 Inches of Blood
are at the Red Room on June 5th.
Catlow
is at the Morrissey on June 15th. Anybody know if the Morrissey hosting shows is going to be a permanent thing?
Short notice... very short notice, in fact... but,
You Say Party! We Say Die!
is doing a surprise show at the Ukranian Dance Hall at 6pm today.
Pride Tiger
are playing a set there tonight as well.
Both shows are all-ages. When's the last time there was an all-ages double header like this in Vancouver?
The Straight
has more info on the Mesa Luna shutting down. I cribbed that link from Luisa on
StillePost
, which more Vancouverites should start using.
Here is a question about PFork... How is it that
the Beirut record
gets a 7.7 and is "recommended music," but
Final Fantasy
and
Cadence Weapon
both score 8.0s and aren't?
Speaking of, that Beirut album is aces, but
everyone else has already talked it up
, so there's no need for me to go into more detail. Go get it, though.
I did the
Music Pix
for the Tyee this week: five
Music Waste
bands.
now playing: the Zombies - This Will Be Our Year
Wednesday, May 10, 2006

one night in toronto vancouver, with its checkerboard floors
This was very
subtley alluded to
earlier, but now it's official!
From
thehip.com
:
On Friday May 26th, The Tragically Hip will be performing for one night only in Vancouver, BC. The details are...

Vancouver, BC
The Tragically Hip
With Special Guests

Friday May 26th
The Commodore Ballroom
Doors: 8:00pm
Tickets: $59.50 plus service charges
19 show

Tickets on sale Friday May 12th at 10:00am (Pacific)

Only Registered Users of thehip.com are able to purchase tickets to this show. If you choose to tell friends of yours, who are not yet Registered Users, have them visit thehip.com and become a Registered User today to avoid any disappointment in the processing time to be officially registered

How it works is, on Friday May 12th, at 10:00am (Pacific)/1:00pm (Eastern), there will be a posting on thehip.com homepage that only registered users can see that will contain the link and password to purchase tickets.
Sixty bucks is a little hefty, and I'll be up extremely early for Sasquatch the next day... but I'm tempted to at least try for tickets.
now playing: Bob Wiseman - Hold Me Blues
Tuesday, May 09, 2006

i think you've got it in for me
We say punk! You say rock!
The Buzzcocks
are at the Red Room on July 30th. I'm going to go ahead and make the obvious claim that
Singles Going Steady
is one of the greatest compilations of all time (and also had one of the best LP titles of all time). I've got it on CD and vinyl... it's just that good. (via
Brooklyn Vegan
)
SubPop lists Mudhoney at Richard's on June 16th.
The Subhumans
are at the Red Room on June 22nd. If you'll recall, last time they played here it was a
little bit messy
.
How about some bad news? Because really, it wouldn't be Vancouver in the last week without some crappy news on the ol' music front. Remember that show that
Built to Spill
had originally pencilled in for the Commodore on June 12th? Well, you can forget it, because they're now starting their tour with a multi-night stand in Seattle, and one of
Jack Johnson's surfing buddies
is now scheduled at the Ballroom that night.
Ok... now some better news:
Ray Davies
is at the Commodore on July 9th. He plays mostly solo stuff live, but this is still pretty cool.
For those who inquired, I don't know the entire story regarding Mesa Luna's closure. Apparently the former owners are now m.i.a. with some people's damage deposits for other upcoming events, and it's days are truly numbered though. Add it to the list with the Vogue, Blinding Light of dead all ages venues.
Let's continue this wake-like post-mortem though... Kat already mentioned the Hot Hot Heat led local extravaganza a couple years back as one of her favourites at the place (in the comments of the last post). What's yours?
I think I'm going to have to go with the Blood Brothers with Red Light Sting and A Luna Red in Summer 2002.
now playing: Fuck Me USA - Infinite Slope
Monday, May 08, 2006

grim fandango
Some very bad news... not only because it means the
Islands
/
Cadence Weapon
show is
cancelled
tomorrow, but because
Mesa Luna
closing is a huge blow to the all ages music scene in this city, and to the scene in general.
Off the top of my head, and just in the last 3-4 years, I can think of a whole wack of amazing shows there:
- Hot Hot Heat playing with the Red Light Sting, Three Inches, New Town Animals, and Operation Makeout right before they got big
- The Arcade Fire
- The Blood Brothers a whole bunch of times
- The Red Light Sting's last show ever
and tons more...
In fact, I had a short lived band, and we even played there.
So to recap: Mesa Luna is closing, tomorrow's show is cancelled, the whole situation is really shitty.
Islands ticket refunds can be sought at your point of purchase.
now playing: Cat Power - We Dance (Pavement Cover)

i've been drinking, but drinking doesn't make me feel alright
This post is both praise and a plea. The praise is for one of Vancouver's most legendary acts. The plea is for anyone who has their lone EP in digital format to please send me the .mp3s (I tracked down the vinyl last year, which is also way too hard to find). It was sparked by Andrew from Red Cat's
Music Pix
for the Tyee this week. With that, let's talk about Slow.
I was too young to be around during the bands very brief heyday, but there is no escaping their importance within the canon of Canadian independent music. You can hear their influence locally in bands like
the Nasty On
. When Christian Thorvaldson joined Matthew Good's touring band, I remember Good describing him as "the best guitarist [he'd] ever heard." "Have Not Been the Same" was pinched for the title of a book on
"the CanRock Renaissance"
. The same tune was named the 10th best Canadian single of all time by
Chart
("I Broke the Circle" was number 40). And, when MuchWest signed off for the very last time, Chris Nelson did it by throwing to the song, saying something along the lines of, "it's the quintissential West Coast video."
Slow have a scant two singles and one EP to their credit, but their brand of gritty, Stooges inspired, punk still stands up along side their forebarers and contemporary bands making music of a similar style. It was their live show, though, that was legendary. Again, I was about five or so when they were playing, but the stories live on, and the stories are amazing.
The
Slow live story has to be how they managed to get the Expo 86 Independent Bands Showcase shut down on its opening night. The story goes, a couple of Expo patrons who stumbled onto the bands set were so disgusted by the band's antics that they immediately went to complain to Expo officials, who responded by cutting the power to the stage, bringing their set to a premature end. Stephen Hamm (of Canned Hamm, and formerly Tankhog) responded by mooning the audience, while Tom Anselmi (who would later front Copyright) dropped his pants and gave the audience a frontal perspective of the male anatomy. A riot ensued, BCTV's onsite studio was stormed, and the rest of the festival was cancelled. The VPD detained the band and were thinking of charging them. The band eventually broke up on Expo's closing day.
If anyone has the full album in a digital format, it would be much appreciated.
download: Slow -
Have Not Been The Same
download: Slow -
Have Not Been The Same (Ipod Video)
Or stream the video
here
.
now playing: Sonic Youth - Touch Me, I'm Sick (Mudhoney Cover)
Sunday, May 07, 2006

my favourite moment of our dead century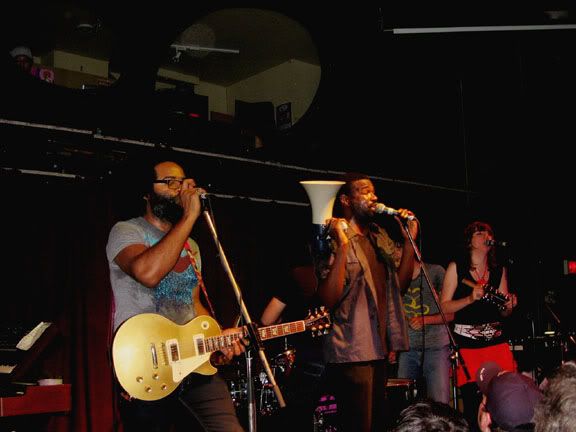 If you didn't make it out to something this weekend (and you still have a chance tonight with Sunset Rubdown/Frog Eyes and Rainer Maria), you have no right to complain that nothing comes to this city. There were a billion and a half things going on for those of you who enjoy live music (and if you don't, you probably stopped reading already). Yesterday I managed to make it out to three of them.
A sealed off venue didn't stop
TV on the Radio
from migrating from Richard's to the Plaza to put in an evening's work. The band were definitely "on" last night, starting off with an amped up version of "The Wrong Way" and - even on slower numbers - never really letting up afterward. Last time I saw the Walkmen they opened with "the Rat" and blew everyone's heads off, but couldn't really keep up the intensity. TVotR had no such difficulties. Speaking of "the Rat," "Playhouses" (out on their forthcoming disc) has that same sort of frantic energy. Yesterday it was driving and ferocious, and I'd be shocked if it doesn't become a live favourite. The various members of openers, Celebration (who were great - more on them further down) helped out the boys throughout their set, adding a bit of a communal feel to the evening.
Constrained by a curfew, they were only on for an hour or so, but managed to run through quite a few old favourites, while previewing a fair chunk of the forthcoming LP, as well. The encore was a perfect ending: a lively version of "Staring at the Sun" that was followed by the now requisite rendering of "Ambulance" featuring David Sitek dropping his axe in favour of a microphone, so he could beatbox.
As a closing note on TVotR, I think it was my friend
Graham
who once noted something along the lines of it being "unfair that most bands can't find one vocalist of the calibre of Kyp Malone or Tunde Adibempe, while they have both." Point taken. (He's totally going to come here and correct that misquote now)
Celebration
opened, and while I'd love to see them somewhere where the sound is a little cleaner, they did manage to get across the fact that they've got some talent. Vocalist Katrina Ford, who certainly knows how to work a crowd - and can sing to match her visual flair - is the obvious focal point, but its multi-instrumentalist Sean Antanaitis who's the overshadowed star. At one point he was fretting his guitar with his left hand, playing keys with his right, and playing bass via a set of Moog synth pedals with his feet. If you've ever been learning to play guitar and attempted to sing and strum for the first time, you'll realize how amazing that is. They're most definitely worth another look if/when they come through town again. You can check out one song (and the video for "War") at their
MySpace
, though the recording, while good, fails to capture their live energy.
The show at the Plaza ended at 10:30ish, which was plenty of time to march down to gastown to catch
Ladyhawk
at Goonpack. The boys played a short set, foregoing any of their slower numbers for a half hour or so of four-to-the-floor rock 'n' roll. It was cramped and sweaty. Fists were pumped, and songs were sung along to. The band lurched into the crowd, the crowd bled onto the "stage," some even helping Duffy out on "the Dugout's" chorus. It was great.
It's going to be awesome when the guys get big (like in that Black Mountain way... I know they're not going to be filling stadiums or anything), but there is something about them being able to play emptied out galleries filled with a couple hundred people, that I'll miss. Go see them in tiny places while you can, Vancouver.
I capped off the night (like the majority of people at Ladyhawk, it seemed), with a short jaunt down to the Columbia for cheap beers, dancing, and
Low Budget
. To be completely honest, he's a super tight DJ, and to be fair, he was doing it (with Diplo) first, but there are a ton of guys spinning the same sorts of records (basically anything if you can party to it). MSTRKRFT last weekend was way more interesting from a musical perspective. At any rate, when you're crammed onto the Columbia dance floor, it's not really time to reflect too much on the music anyhow. It's a guarantee that no matter who's spinning you can shake your ass to it, and that's the key.
Props to Malcolm and everyone over at
SWAK
for finding an alternate venue for TVotR on such short notice, and to
My!Gay!Husband!
and his deejay buddies for putting on not one, but two rad parties.
Speaking of M!G!H!, you can now abandon Celebs on Tuesdays and hit Shine, where he'll be spinning with Paul Devro, starting on May 16th. Hiballs are still $2, and they'll be selling 40oz of Old E for ten and a quarter... I dunno if that's terrible or awesome; probably both.
now playing: Outkast - Jazzy Bells
Friday, May 05, 2006

snakes and martyrs
From
SWAK
:
Heads up Vancouver people, several major changes to Sealed with a Kiss shows this weekend.

First of all, WHITE ROSE MOVEMENT will not be appearing at the Lamplighter tonight (May 5) due to work visa problems. Full refunds at point of purchase.

Secondly, due to the violence at Richards which occured last night, we have been forced to move our TV on the Radio show to a new venue and new time. Word is that the Portland show last night was "the best show of the year" so you don't want to miss this one.
Here's all the info:

Sat.May.06.06 TV ON THE RADIO
TV on the Radio, Celebration :: has moved to THE PLAZA CLUB (881 Granville) :: EARLY SHOW - Doors at 7pm, Show 8pm, Curfew 10:30pm. (TVOTR will be on stage by 9:00pm)
ALL TICKETS PURCHASED FOR THE RICHARDS ON RICHARDS SHOW WILL BE HONORED AT THE PLAZA CLUB. SEALED WITH A KISS AND RICHARDS APOLOGIZE FOR ANY INCONVENIENCE.

that's about it for now,
xo Malcolm--
Down sides:
- two dudes got shot at Richard's last night.
- short notice (although, unavoidable) - so get out there and spread the word to your showgoing friends, we don't want anyone to miss TVotR.
Up sides:
- Two people I know who have seen White Rose Movement live said they were terrible anyhow... if you had tickets, now you can save your hard earned money.
- Tomorrow night it is now conceivable to: see TVotR, Ladyhawk, AND Low Budget
now playing: Lily Allen - Knock Em Out
Thursday, May 04, 2006

that's when the audience died
Shameless self-promotion:
The piece I did on Owen Pallett for Discorder is
up on the web
.
Also... look for
Final Fantasy
to finally make a proper live appearance here in the middle of September. That's way in advance, I know, but it's exciting.
Oh, and the sidebar went through a bit of a reorganization to put a little more emphasis on Vancouver.
Speaking of which, there are a million and a half
things
to
do
here this weekend, so get out and have some fun in nofuncity.
now playing: Camera Obscura - Let's Get Out Of The Country
Wednesday, May 03, 2006

don't take it personal, when they forget about you
The forthcoming, self-titled,
Ladyhawk
record has surfaced on the internet. If you've poked your mouse around here before, you know that this is one of my most anticipated records of the year, and upon early listens, I haven't been let down. Actually, that's a lie. My favourite song of theirs isn't on here, but that doesn't take away from the fact that the record, in and of itself, is a pretty great debut. The boys are playing at Goonpack on Saturday for one of two Emily Carr aftergrad parties (the other is Low Budget at the Columbia). The record is out in physical form on June 6th.
download: Ladyhawk -
Advice
Of Montreal
are at the Plaza on September 1st. If Vashti Bunyan plays a show up here around the same time, my will to head down to Bumbershoot will be mostly shot.
The Futureheads
are at the Commodore on June 15th with
French Kicks
.
Rob
is totally psyched. So am I. (thanks Shea)
Jenny was kind enough to give the headsup that
Buck 65
is playing the Commodore on June 27th for the
JazzFest
. In addition to Buck and the previously blogged Neko Case show,
Elvis Costello and the Imposters
are at the Orpheum on June 26th.
In obligatory Final Fantasy news of the week,
Owen's website
is back up.
I was going to post "Let's Get Out Of This Country" by
Camera Obscura
this morning, because it is the perfect slice of summer, but
Music (for Robots)
beat me to it. They also made the very apt observation that everyone always brings up the reigning champs of twee, Belle and Sebastian, when talking about Camera Obscura, but there is something more soulful going on here (no offense to B&S). I've always liked Saturday Looks Good To Me as a reference point. To all my gradding and country escaping friends: download this and blast it on your plane, train, or automobile. For the record, I'm pretty sure the lyric is "we'll find a cathedral
so that
you can convince me I'm pretty," not what David titled his entry.
now playing: Ladyhawk - 48 Hours
Tuesday, May 02, 2006

living proof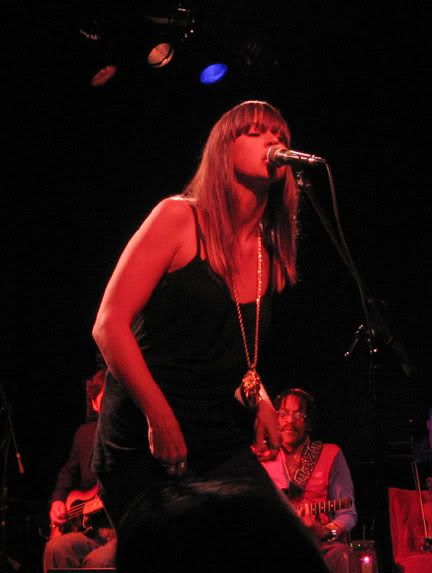 I made the trek down to Seattle last night to see
Cat Power
at the Showbox. As anyone who has seen her knows, a Cat Power live experience is a crapshoot at best, and after this show was initially cancelled (it was originally scheduled for January), I was just happy that it was still on. Chan's usually a little more reliable on stage with a band, but even those shows have ended with her storming off stage, or the band storming off stage, on occassion. Last night, however, was different.
Chan was backed by an 11 piece band that included horns, keys, a pair of background singers, and three members of the Seattle symphony on strings, in addition to the requisite guitar, bass, and drums. The evening began with a very soulful instrumental before someone came up from off-stage to announce "let's get ready to rumble... ladies and gentlemen, Cat Power!" The band jumped into the opening chords of "The Greatest" and Chan bounded on stage, with a big smile plastered across her face, staying in the shadows until the verse started, and gliding over to the microphone, right on cue. And, for the duration of the main set, that was more or less the story. Her movements were a little eccentric, and in between songs she would retreat from the spotlights and quietly applaud in the band's direction, but there was no crying, nor aborted songs, nor between song requests for more or less reverb; just gorgeous, gorgeous music. The main set closed with "Where Is My Love," and Chan finished the final chorus and said a quiet "thank you. goodnight" before leaving the stage, as each of her back up singers took a whirl at the chorus before singing again in unison, and introducing each of the band members. Chan then returned to the stage, having made a costume change to give one last croon of the track's title, before the band left.
As she sat down behind the piano, I figured this was where things would turn into a "typical" Cat Power show. She started with a cover I didn't recognize, before jumping into a series of chords, then stopping and restarting in a different key.
"I've just got to find this song..."
That kind of thing usually means an aborted tune, but after a few more seconds, she looked up with a smile, noting "there it is," before playing a significantly more upbeat version of Nina Simone's "Wild is the Wind" (which graced 2000's
The Covers Record
), bleeding it into a cover of the Everly Brothers' "Dreams." She switched to guitar and ran through "Hate," "House of the Rising Sun," and a medley of the White Stripes' "It's True That We Love One Another" and "Hit the Road Jack," finishing off the solo portion of the evening. "Hate" was notable for the pair of lyric changes, "I
don't
hate myself, and I
don't
want to die."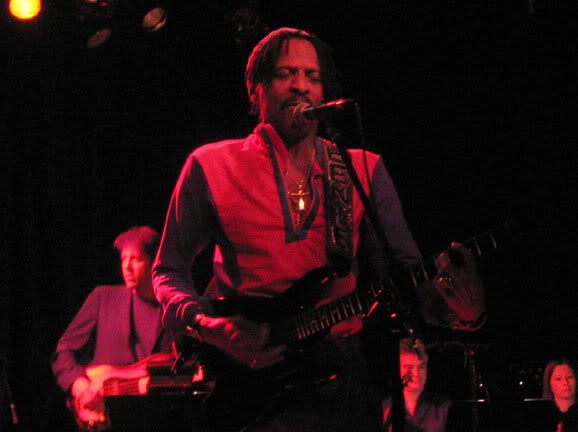 The Memphis Rhythm band then returned to the stage, and Chan stepped back as (former Al Green guitarist) Teenie Hodges led the band through a number, taking lead vocals, before Chan jumped back behind the microhphone and they then ran through one more with her singing (whatever they hadn't played from
The Greatest
yet, I can't recall exactly, but they played everything from the album, I think).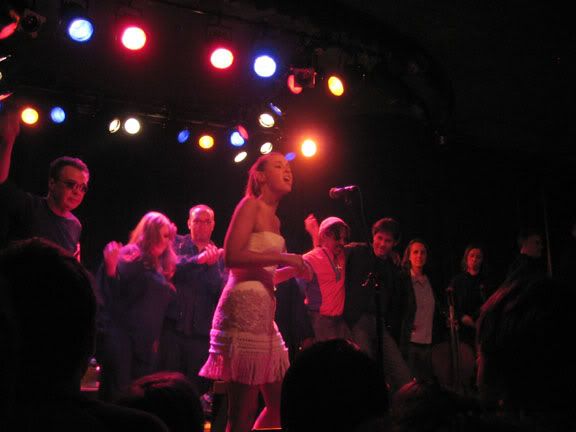 The band came to the front of the stage and everyone was arm in arm for a bow, before backing Chan with some finger snaps, while she ran through a cover (that I didn't recognize) accapella, before everyone left the stage together. The crowd, who were enraptured during the entire set, managed to get her back out on stage, and - in what is becoming a typical part of her live show - Chan lipsynched and swayed around a bit to the PA music, before again saying goodnight.
now playing: Cat Power - The Greatest