Wednesday, February 28, 2007

family matters
I have a nasty cold. On the bright side, because I had nothing better to do than sit at home and 1) read 2) watch hockey highlights on YouTube and 3) comb the internet, I finally rediscovered this article, that I'd been meaning to comment on for ages.
As
Wired
reports, the head of Warner Music, Edgar Bronfman, caught one of his seven(! - hope they don't all take after dad) kids downloading music illegally.
"I explained to them what I believe is right, that the principle is that stealing music is stealing music. Frankly, right is right and wrong is wrong, particularly when a parent is talking to a child. A bright line around moral responsibility is very important. I can assure you they no longer do that."
Now consider that his kid got a stern talking to while today the RIAA very charitably offered college students the opportunity to pay a
discounted settlement
for the same practice this week.
Speaking of right being right, perhaps Mr. Bronfman will run into the same type of karma that's currently afflicting Handsome Dick Manitoba. You may remember that Dick
sued Dan Snaith (now known as Caribou)
over the use of the "Manitoba" name. Well, it seems that Dick's now in some legal trouble of his own. Some people that moved in above the bar he owns weren't to keen about the rock 'n' roll coming from downstairs, and the bar recently lost a hearing and
can no longer host live music
. Now normally, I'd be completely onside with the venue owners, and not the idiots who moved in right by a loud night club only to complain later (condo owners near the Morrissey take note), but in this case the assholes sort of deserve each other. In the immortal words of Justin Timberlake, what goes around comes around.
Only
points out that
You Say Party! We Say Die!
will grace this month's
Exclaim!
... at least in the West. Everyone East of Alberta will see Malajube and Chromeo smiling back at them when they pick up the March issue of the freebie mag. Now, putting aside the question about why they would have regional covers in the first place, how exactly does giving a band cover exposure in its native territory help them more than throwing them up on the front page in places that they're less well known? It's not like the covers match up with the forthcoming Exclaim tour either, as YSP!WSD! is playing every date across Canada, and Malajube is playing every date except for Victoria.
Thanks to Matt for reminding me that I still haven't mentioned that
George Clinton's
at Plush this Sunday. At $63 a ticket, you better hope you get a whole year's worth of funk in one evening.
The Black Angels
are at Richard's on May 25th, ahead of their appearance at Saquatch.
Priestess
are at the Plaza on March 29th with
Pride Tiger
.
Ron Sexsmith
is at UBC's Chan Centre on April 15th.
Tomorrow, I'm returning to my Alma Mater to judge the
UBC Battle of the Bands
. It'll either be awesome or terrible, or perhaps awesome in its terribleness. If you're interested, it starts around 8:30pm
And finally, do you know where your children are?
Are they emo?
now playing: Sparklehorse - Don't Take Away My Sunshine
Labels: instant karma, media related western alienation, riaa, show announcements
Tuesday, February 27, 2007

like a piggy bank, this is one penny
Dear internets,
Please help
Graham
and I sleep better, by either confirming or denying this:
Wikipedia
claims that KRS-ONE made a cameo on
The Fresh Prince of Bel-Air
. I swear I would remember something like that. And I can't find any further on-line confirmation.
As a consolation for being unable to provide footage of the Blastmaster with Will Smith, I give you this clip of Bell Biv Devoe with DJ Jazzy Jeff and the Fresh Prince.
now playing: Boogie Down Productions - My Philosophy
Labels: 90's television, KRS-ONE
Monday, February 26, 2007

my moon, my man
Feist
is at the Orpheum on May 16th. Pre-sale starts on Wednesday at 10am. Regular on-sale is Friday at 10am. I don't know the pre-sale password, but if it's seated I recommend hitting the latter on-sale anyhow. (thanks Shea)
For some reason you can only freebie download the pre-release single from
the Reminder
in France. But if you look around a little (very little)
you might find it
.
Seu Jorge
is at the Commodore on July 4th.
Damien Rice
is at the Centre for the Performing Arts on April 24th.
Elizabeth
headlines an all-ager at the Ukrainian Hall on E. Pender with
the Cape May
,
Love and Mathematics
, and
Cran
this Friday.
Gizmodo
is calling for a RIAA boycott for the month of March. Seems a little short notice for it to pick up enough steam... and wouldn't the idea work better if it was in line with the quarterly sales cycle? I certainly concur with the sentiment though.
Finally, when you got bed tonight pray/make a wish/cross your fingers/knock on wood that the
Rock the Bells tour
at least makes it to Seattle with the
the Wu-Tang Clan
on the bill.
now playing: Saturday Looks Good to Me - Since You Stole My Heart
Labels: show announcements
Sunday, February 25, 2007

the earth is not a cold dead place
Over the last four or five years, I think I've seen
Explosions in the Sky
dates for Vancouver at least three times (on their official site, pollstar, and even their booking agent's site), and each time that date was removed. So maybe you'll want to take it with a grain of salt, but the band's scheduled for an all-ager at the Croation Cultural Centre on May 5th. In all seriousness, it's probably a sure thing, since they're actually selling tickets this time around - $25 at Zulu and Scratch.
!!!
are at Richard's on May 4th. That'll be a hell of a week. (thanks to Dave for the heads up)
According to his
MySpace
, My!Gay!Husband! will spin at UBC's annual end-of-school-year party,
Arts County Fair
, again this year. Also according to his
MySpace
, he'll be joined on April 12th at TBird Stadium by
Sam Roberts
,
Aaron Pritchett
,
Pride Tiger
and one would presume, two more tba bands. It's all-ages again with the beer in the back.
Speaking of Pride Tiger, they were the perfect way to cap off an evening that I started off with many beers at my friend Josh's birthday. And it had been way too long since I'd been to a show at the Cobalt.
Speaking of My!Gay!Husband!,
Half Alive
(where he spins every Friday with
Tyler Fedchuk
and
Tony X
) is moving again. In what seems to be an ongoing quest to find the strangest possible venue, starting on March 30th, they'll be at
Smiley O'Neals
on Howe and Pender.
Zulu
and the band's
booking agency
has
Junior Boys
listed as playing Richard's on April 22nd, but
Ticketmaster
still has the Klaxons at Dick's on that date. Your guess is as good as mine.
Chet
(who are actually from Victoria) are at the Lamplighter with Shindig! winners
Victoria, Victoria!
on March 3rd.
The Choir Practice
round out the bill.
Only's
throwing a party for themselves.
Mutators
,
No Feeling
, and a "secret band" bring the noise at a benefit for everyone's favourite local once-a-fortnight magazine at the Emergency Room (Hastings and Hawks) on the same night. That's one busy evening.
I've been blogging here for two years, last Tuesday. Thanks for reading.
now playing: the Affair - Red and White
Labels: lazy show recaps, show announcements
Saturday, February 24, 2007

sharks
If you're an old school video game fan or a
Cadence Weapon
fan (or even better, both), you'll probably share my excitement about his newest video for "Sharks."
Rampage
! Shit yes! And if you haven't already heard, Rollie got signed to Epitaph.
Keeping with the YouTube theme, if you were wondering what those puppets that
Beck has on tour with him
get up to on their night's off, you can wonder no more:
You might have also noticed that Viacom "forced" (or perhaps gently pushed) Google's hand, and they've deleted about a billion videos from the site. When writing an article for next month's Discorder, I was searching for the clip of Kanye's tirade at the MTV Europe Awards when Justice took video of the year over "Touch the Sky," and found that it's been pulled (though it's still on
iFilm
). How being able to watch that hurts MTV's bottom line is beyond me, but I thought I'd point out an irony that was revealed to me when I interviewed Xavier of Justice. When the ceremony was taking place, they were on a plane to Chicago for a gig. And when they landed and were shocked by the fury of text messages saying they'd won, they went to their hotel and watched the ceremony on, you guessed it, YouTube.
Thanks to Jason for finding out that Regina Spektor is still on and that you can buy pre-sale tix starting Tuesday from
here
.
Maybe you'll get a sweet deal, like
this one
that Rob got on his Lily Allen pre-sale tix.
During a visit to Zulu to blow far too much money on show tickets (and a used copy of Eric's Trip's
Forever Again
- huzzah!), I found out that
the Frames
show is at the Red Room... even though it's still listed as the Plaza all over the web.
The Game
is doing two shows on March 1st. The guy that's probably creeping Dr. Dre out more and more everyday will do an early all-ager at the Croatian Cultural Centre and a 19+ show at Plush.
In gangsta rap related news, does anyone else find it weird that the people's champ
Paul Wall
is opening for
Fall Out Boy
at the Coliseum on May 6th?
+44
and two other bands you probably don't care about round out the bill.
Is the Swishahouse/Fall Out Boy connection less weird now that the latter's been remixed by
Kanye?
(via buzznet)
Patrick Watson
is in the Gallery on March 23rd.
And Finally, not only is
Goldie
still making music, but he's at the Plaza on March 13th.
Labels: show announcements, youtube
Wednesday, February 21, 2007

they'll make statues out of us
Regina Spektor
is at the Commodore on April 21st with
Only Son
for - believe it or not - her first visit to Vancouver.
Circlesquare
is opening the Girl Talk show.
Canned Hamm
is opening the Bobby Conn show.
Lullabyes.net
has some pretty sweet show recordings up.
Tix for the Ed Banger Party should be on-sale at Zulu any day now (if not already) for $25.
Jarvis Cocker tix are on-sale Friday at 10am.
In a move that's so predictable it's sorta not, the password for Thursday's Lily Allen pre-sale is "lilyallen."
now playing: Tigarah - Japanese Queen
Labels: show announcements
Tuesday, February 20, 2007

the woods
Just running out the door to do an interview, but I had to post this:
Stereogum has the Sasquatch line-up
Saturday 5/26
Björk
Arcade Fire
Manu Chao Radio Bemba Sound System
M.I.A.
Citizen Cope
Neko Case
The Hold Steady
Grizzly Bear
Ghostland Observatory
Electrelane
Two Gallants
The Slip
Loney, Dear
Aqueduct
The Thermals
Viva Voce
The Blow
Gabriel Teodros
Sunday 5/27
Beastie Boys
Interpol
Michael Franti & Spearhead
Spoon
Bad Brains
Ozomatli
Dandy Warhols
The Black Angels
Mirah
Tokyo Police Club
Money Mark
St. Vincent
Jesse Sykes & The Sweet Hereafter
Smoosh
Common Market
Helio Sequence
Minus The Bear
Uhhh... Bjork, Mirah, MIA, the Hold Steady, Arcade Fire... etc etc etc! Goddamn!
Tix are on sale March 3rd.
More
acts to be added.
Labels: show announcements

knock 'em out
Lily Allen
is set to make her Vancouver debut at the Commodore on March 27th. Tickets are on-sale this Friday at 10am, but there's a Georgia Straight pre-sale that starts Thursday at 10am. I'd imagine you'd have to sign up for their newsletter to get the password.
download: Lily Allen -
Oh My God (Kaiser Chiefs Cover)
Mew
is at Richard's on April 3rd.
Peer Pressure
are at
Salbourg
(at the Royal Unicorn) this Saturday.
Lo-Fi-Fnk
is rocking 1/2 Alive (at the Columbia) on March 9th with
Certified Bananas
. My jury's still out on the former, but this thing's probably worth going to for CB alone.
I got the heads up on that last one from
ChalkedUp
, which reminds me to tell you to go over there, because they just relaunched, and the site looks rad.
Sorry for the lack of updates, but I haven't really been to any shows lately, and I've been working on a whole bunch of stuff for next month's Discorder.
now playing: the Fiery Furnaces - Here Comes Summer (KEPX Version)
Labels: show announcements
Thursday, February 15, 2007

nothing is the only thing you ever seem to have
Man Man
are at Richard's on April 1st. They sorta
blew my friggin' mind
at the Media Club. Hopefully things translate as well at Richard's.
Dead Meadow
are at the Plaza on March 25th with
Spindrift
. I saw the headliners in Toronto a few years back, and remember thinking that I probably would've enjoyed myself more if I were the type to indulge in heavy drug use.
Amon Tobin
is at the Commodore on June 22nd.
PFork
reports that Kill Rocks Stars is releasing an
Elliott Smith Rarities
comp on May 8th. I don't really go out of my way to mention such things (since there are a billion other places that do it better and more regularly), but I'm pretty enthused that my absolute favourite Elliott tune, "Angel in the Snow" is track 1 on disc 1 (of the two disc set), which marks the first time that it's received an official release.
If you still have money in your old-dudes-playing-ridiculously-expensive-shows fund after Police tix go on sale this Saturday, you might be interested to know that
Roger Waters
is at GM Place on June 21st.
StatusQ, over at Beyond Robson, thought I'd make an interesting
interview subject
. I think he was mistaken, but his efforts are appreciated.
Anybody make it to Sparklehorse tonight?
now playing: Sipreano - Golden Ears
Labels: show announcements
Wednesday, February 14, 2007

two hearts in 3/4 time

I'll Make You a Tape (Vol. 5 - Extended Valentine's Edition)
download:
be my valentine?
1. Justin Timberlake feat. T.I. - My Love
2. CSS - Let's Make Love and Listen to Death from Above (Spank Rock Remix)
3. Daft Punk vs Yeah Yeah Yeahs - World Maps (Along Came Jones Edit)
4. Annie - Heartbeat (Phones Maximo Remix)
5. Madonna - Hung Up
6. Teddybears - Yours to Keep (Annie Remix)
7. Christina Aguilera - Ain't No Other Man
8. M.I.A. - URAQT (Diplo Mix)
9. Kylie Minogue - Can't Get You Out of My Head (Soulwax Elektronic Remix)
10. the Blow - Parentheses
11. the Stone Roses - She Bangs the Drums
12. John Lennon - Real Love (just the chorus)
And so nobody feels left out, if...
You're fine with VDay, but you don't like dancing...
download: REM -
At My Most Beautiful
(from
Up
)
You reject the crass consumerism of this Hallmark holiday, but still have a life partner who shares your radical values...
download: the Smiths -
Shoplifters of the World Unite
(from
the Singles
)
You prefer to stalk your "objects of affection" from afar...
download: the Stone Roses -
Standing Here
(from
the Complete Stone Roses
)
Those objects of affection are much younger than you. Perhaps you meet them via instant messenger or MySpace or because you're R. Kelly or a Republican congressman...
download: the Affair -
Jailbait Date
(from
Yes, Yes to You
)
You long for the company of someone much younger than you. That someone is also dead, and perhaps played by Kirsten Dunst...
download: Air -
Playground Love
(from
the Virgin Suicides Soundtrack
)
You are in love with the person described above...
download: the Magnetic Fields -
The One You Really Love
(from
69 Love Songs, Vol. 1
)
You are single and relieved...
download: Fiery Furnaces -
I Broke My Mind/Single Again/Here Comes Summer (live in Toronto)
(album version from
EP
)
You are single and lonely...
download: Amy Winehouse -
Love is a Losing Game (acoustic)
(only avail. on the US version. jerks.)
You are rich and lonely...
watch: the Beatles -
Can't Buy Me Love
(from
A Hard Day's Night
)
You are emo and lonely...
download: Bright Eyes -
Lover I Don't Have to Love (live at Bonnaroo 2006)
(album version from
Lifted...
)
You are single and bitter...
download: Swan Lake -
the Freedom
(via Jagjaguwar - from
Beast Moans
)
You take out your bitterness by crafting a nine minute video featuring Scarlett J, that is directed by John Cassavetes less talented son, where you run poor Scarlett of the road in your Porsche...
watch: Justin Timberlake -
What Goes Around Come Around (Director's Cut)
(from
FutureSex/LoveSounds
)
Happy Valentine's. I will spend mine watching
Lost
with my girlfriend, because she doesn't have cable, and therefore, I cannot watch the hockey game. That, my friends, is love.
And if you're my lovely girlfriend...
download: Sam Cooke -
Nothing Can Change This Love (live from the Harlem Square Club)
(from
One Night Stand: Sam Cooke Live at the Harlem Square Club
)
As always, if you like what you hear, go and buy it. I'm sure they'll make great last minute gifts for your significant other.
now playing: Wilco - Jesus, Etc
Labels: crappy holidays, mixtapes
Monday, February 12, 2007

young folks
Everyone's favourite punctuation lacking Swedes,
Peter Bjorn and John
are at the Commodore on May 12th. Do that many people know about them? That's a big room, but if they fill it it'll be great.
I just interviewed
Paul Devro
for an article for next month's
Discorder
that I'm pretty amped about. Among a whole bunch of other exciting stuff he's got lined up, he let me know that the
Ed Banger Records
Party on March 25th will be at Caprice. You can still grab the radio rip of the forthcoming
Justice
single at
Discobelle
to get yourself psyched up. And you can grab a bunch of Paul's older remixes at his
site
or hear him spin every Saturday at
Salon des Bourgeoisie
.
Only
has a swank looking new website up.
And, as you've probably heard, the reunited Police are at GM Place on May 28th. Tix run $50-225. Ouch.
now playing: MIA - Bird Flu
Labels: show announcements
Sunday, February 11, 2007

sound of silver
LCD Soundsystem
are at the Commodore on May 3rd with James Murphy and Pat Mahoney sticking around town for a DJ set at a venue tba the next day. I've been listening to
Sound of Silver
over and over for the last couple days for a review I'm writing, and after being initially impressed, but not blown away, I'm definitely coming around on the record. It certainly doesn't grab you and shake you like their debut (or the singles that preceded it), but once you let it sink in, it's probably a better record overall. Plus the drums on "Get Innocuous" are the time of thing that melts your brain (in a good way).
The Acorn
are at the Gallery on March 28th. I haven't gotten around to checking them out yet, but
Matthew
has sung their praises numerous times.
Lastly (and also probably least), in an ongoing attempt to be cutting edge circa 2002, I was fiddling around with AcidPro and made a mashup using the most ubiquitious indie club night track ever and also the new Avril Lavigne single. Seriously.
download: Le Tigre -
Deceptacon (From Blown Speakers' Robot Girlfriend Edit)
Labels: passing trends, show announcements
Thursday, February 08, 2007

i need a lover with soul power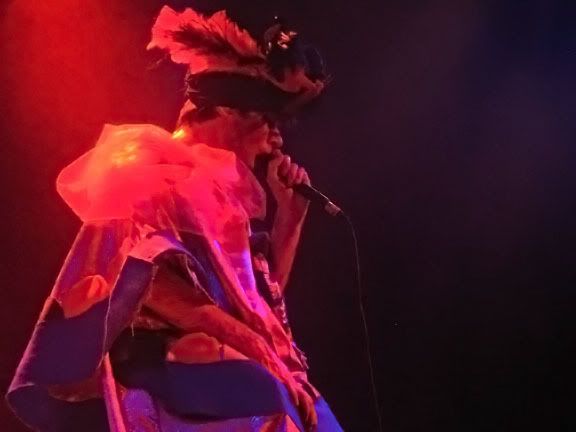 I can understand the split between fans of
Of Montreal
. Depending on my mood, I tend to gravitate between the fuzzy indie pop of the band's earlier releases and the buzzing pulse of their new stuff. Live, however, I can't see how anyone would take the former over the latter. As much as I dig
the Gay Parade
, none of the songs feature a two bass groove or a disco stomp, both of which have featured prominently since
Satanic Panic in the Attic
.
Since the last time they shot through town, the band's picked up a mess of extra stage props, including a couple of odd lighting fixtures, a plastic owl, and a video screen that alternated between shots of the band and animations based on the liners from
Hissing Fauna, Are You the Destroyer?
. The evening also featured its share of requisite Kevin Barnes costume changes. The visuals - while pretty cool - thankfully didn't overshadow the aural portion of the experience though.
The band pulled a lot from their latest, and almost entirely from their last three. The highlights, predictably, were the danciest numbers with "Requiem for O.M.M.2," on the heels of a cover of Love is All's "Make Out. Fall Out. Make Up." being a pretty spectacular one-two punch. That being said, there wasn't a single part of last night that was disappointing in the slightest, except perhaps what they didn't play.
If you're heading down tonight, however, I'm sure you'll hear the few "hits" that we missed yesterday ("Wraith Pinned to the Mist..." and "Disconnect the Dots")
now playing: Jamie Lidell - Game for Fools (Mara Carlyle Ukulady Mix)
Labels: of montreal, show recaps
Wednesday, February 07, 2007

it's high time we stepped outside...
Here is the abridged version of things that have gone down in the last 4-5 days:
Menomena
: great performance, crappy sound. I've never seen Pat's so packed. I was watching the Canucks "play" (or more accurately limp through three periods with) the Flames so I missed Victoria, Victoria! And I brought my camera without recharging the batteries, but I couldn't really see anything from where I was standing anyhow.
Someone Still Loves You Boris Yeltsin
is at Richard's on April 20th with
Mute Math
and
the Cinematics
Apples in Stereo
are at the Media Club on March 27th.
Bobby Conn
is at the Media Club on May 19th.
Klaxons
are at Richard's on April 22nd.
Stereogum
reveals Greg Gillis' (aka Girl Talk) day job in the first of a series.
Jagjaguwar's
set May 22nd for the release date of
Ladyhawk's
Fight for Anarchy
EP (six songs - 12" vinyl only).
Rob
asked for a moratorium on Prince Halftime related posts, but
Aaron's
is pretty great. If you tried to click on that YouTube imbed you'll notice that it's been removed at Universal's request... cause that video wasn't going to remind you that you should probably buy at least one Prince record if you don't already own one.
download: Prince -
Super Bowl Medley
(ripped straight from a capture of the HD feed)
now playing: Pixies - Head On (Jesus and Mary Chain Cover)
Labels: lazy show recaps, show announcements
Monday, February 05, 2007

let's go crazy
The game was boring as hell after the first half (which was more a comedy of errors than anything else - albeit an entertaining one)... but holy jesus, Prince killed it.
In case you somehow miss this everywhere else:
Regular type content tomorrow.
now playing: Prince - Best of You (Foo Fighters Cover)
Labels: guitar gods, nfl football, prince
Friday, February 02, 2007

that's my dj
Girl Talk
hits Richard's on June 9th for a night of ritalin fueled bastard pop that will no doubt culminate in Greg Gillis taking his shirt off and inviting half the crowd on stage.
Electrelane
are at Richard's on May 27th with
the Blow
. I haven't really checked out Electrelane (that is, until right this second), but the openers have me excited enough.
The Ponys
are at Richard's on April 11th with
Deerhunter
Calla
are at the Media Club on April 2nd.
Silversun Pickups
are at Richard's on April 12th.
Keren Ann
is at the Media Club on June 13th.
Lyrics Born
is at Richard's on March 4th with
the Coup
. This just made me realize that I have no idea where my copy of
Party Music
is.
The
Hella
show is March
4th
, not the 3rd. Apologies for any confusion.
McLean's
has a music blog featuring Paul Wells, Adam Radwanski, Dafna Izenberg and Aaron Wherry. I'm not familiar with this Dafna character, but I'm curious about Wells' music tastes.
Congratulations go out to Jenny from Vancouver, Evan from Vancouver, and Evan from Chilliwack, who can all expect a pretty looking
k-os
12" in the mail soon.
For the record, Jenny's favourite rebellion is the Arcade Fire's (clever) and her favourite fictional locale is Asteroid B612 (where Le Petit Prince
resides, with his three volcanoes and his beloved rose). Evan from Van's are the New York Revolt of 1712 and Amaterasu. And Evan from Chilliwack's favourite rebellion is the 1837 rebellion involving Upper and Lower Canada.
In addition to getting some sweet vinyl into people's hands for free, this contest also forced me to look up about a dozen rebellions and a couple dozen fictional places. Learning and giving!
If you missed out, you're SOL on the picture disc, but you can grab the four songs by picking up
Atlantis: Hymns for Disco
pretty much anywhere that sells music. Thanks to EMI for providing the prize.
And finally, if for some reason you haven't seen this, you should check out this
video
of the Arcade Fire doing a very special rendition of "Wake Up."
now playing: Lucinda Williams - Mama You Sweet
Labels: contest winners, show announcements