Friday, December 26, 2008

cause i got wheels and you wanna go for a ride
Hard Feelings
and
Nu Sensae
need a hand moving gear to the Peanut Gallery tonight.
From Al from Hard Feelings (and Taxes):
ATTN: PUNKS with VANS or TRUCKS

hey so Hard Feelings and nu sensae needs a bit of a hand. we are gonna try to play the rent benifit for the peanut gallery. But we need wheels. can anyone help?

thanks

Al.

brofiddle@gmail.com

hopefully we can still play…
Wednesday, December 24, 2008

used up burnt out
The Peanut Gallery is having a bit of trouble making rent this month, so this Friday they're having a fundraising party. Healthy Students (Andy and Greg from Winning/Secret Mommy and Al and Steve from Taxes),
Hard Feelings
,
Nu Sensae
, and Make Love are all donating their talents.
On Sunday,
the SSRIs
,
Brother Nature
, and
the Farley Mowats
are at the Rail.
Lugz Coffee on Main is now hosting live bands (and also serving alcohol) and on January 9th they welcome
Pompoir
,
Stamina Mantis
, and Fortune.
On January 15th,
Falcao and Monashee
are at Pat's with
Fine Mist
and
Chris-a-riffic
.
Adjective
play the Media Club on January 17th with
Sex with Strangers
, the SSRIs, and Accost.
On February 7th, the guys over at
Twee Death
are throwing a show at Little Mountain Studios.
Gregg Kowalsky
,
Darwinsbitch
, and Sade Sade (Gabriel Mindel Saloman, ex-Yellow Swans) all play.
Simian Mobile Disco
is at the Commodore on March 12th. (thanks Nick)
16mm
passed along that they recorded a cover of Mariah Carey's "All I Want for Christmas is You" to get you in the holiday mood. It's on their
MySpace
.
Also, the "Juvie" on all the flyers for NYE at the Biltmore stands for
Juvenile Hall
. They have a
MySpace
, if you were wondering.
And, the Land of Talk show originally scheduled for February 7th at the Biltmore is canceled because Liz Powell needs to get throat surgery. I hope you'll join me in wishing her a quick recovery.
Labels: show announcements
Wednesday, December 17, 2008
Taking a break from music, just for today.
Labels: canucks
Tuesday, December 16, 2008

slow hand of death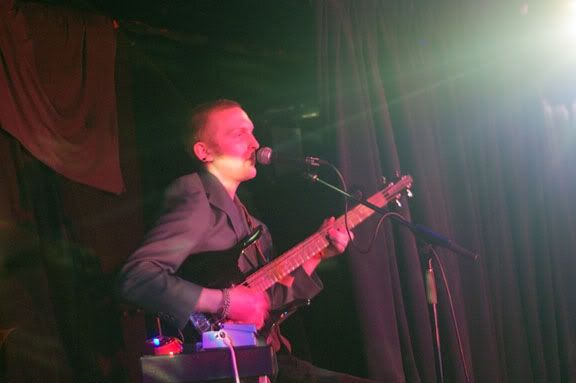 Thanks to everyone who came down to the Biltmore on Sunday. The band situation got a bit mixed up at the last minute, so apologies if you came down to see Edo play (his keyboard was stuck in Little Mountain Studios) or read the posters that said Gang Violence would be on the bill (posters went up and something came up for them). Thanks to the bands who played and everyone who brought stuff down to sell. And a big thanks to the Kitchen Coup for cooking up some amazing snacks. Also, a special thank you to
Jody Glenham
, who filled in for Edo and his MIA equipment at the last minute... and also Edo, who let me help out and did most of the real work.
And now for some catching up...
If you missed night one of the
Mint Records
Christmas party a few weeks ago, you can still catch
Andrew WK
's surprise performance
here
,
here
, and
here
.
My friend Gord did a great interview with
Women
for Narwhal Magazine. You can check that out
here
.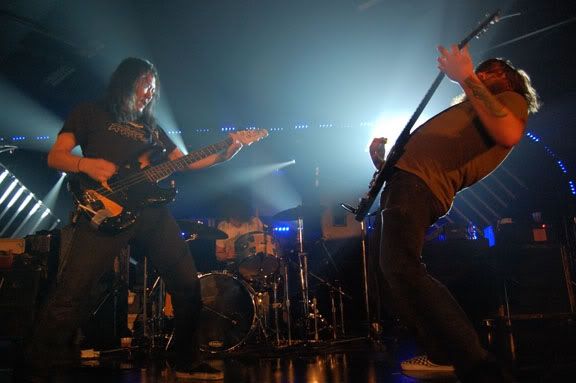 I wrote about Transmission over at
Chart
. Though if you want the short version, the locals really stole the show.
Bison
,
Ladyhawk
, and
Twin Crystals
were all amongst the best performances over three days.
Woodhands
were great as well.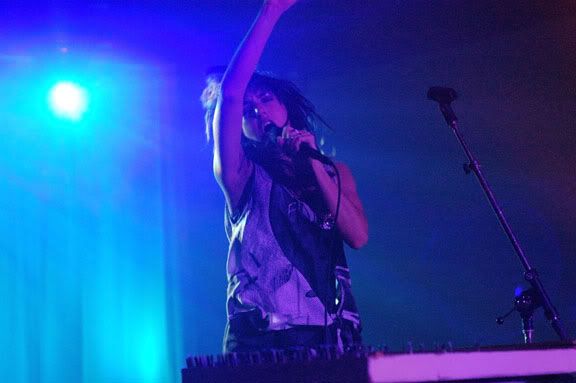 I was also pleasantly surprised by
Wildbirds & Peacedrums
. Pfork already gushed about them earlier this year. But if you didn't take their recommendation, you should really check them out (though the records don't do their live show justice).
Love & Mathematics
is at the Biltmore on December 17th.
Collapsing Opposites
, Aaron Read,
Stefana Fratila
,
Ben & Gorodetsky
, and the brilliantly named
Ghost Face Killers
are at Hoko's on the 18th.
Snailhouse
are at the Peanut Gallery on December 20th with
the Old Familiar
and
Brasstronaut
.
Terrorbird
plays Glory Days at the Biltmore on the 27th, replacing the Clips (who were originally announced on that date).
Speaking of Glory Days, despite the snow, it was pretty good on Saturday.
Gang Violence
were in their usual fine form.
Speaking of the Biltmore, they're hosting "Ice Cream Social vs. the ER" on NYE.
Defektors
,
Gang Violence
, and Juvie all perform and the Ice Cream Social DJs share the turntables with Justin (ex-Mutators, Sex Negatives, the closest thing the ER has to management). Tix are $15 in advance at Zulu, Scratch, Red Cat, and Beatstreet.
The Supersuckers
are at the Biltmore on January 2nd with
Carpenter
.
Wovenhand
is at the Biltmore on January 17th with
Silver Summit
and
Sinoia Caves
.
The Clipse
are at Richard's on January 21st.
Beach House
is at Richard's on January 25th.
The Murder City Devils
have their original line-up back together and they're at the Commodore on February 13th with
Past Lives
.
Kool Keith
is at Richard's on February 17th.
AC Newman
is at the Biltmore on February 20th with
Dent May & His Magnificent Ukelele
.
Antony & the Johnsons
do an all-ager at the Vogue on February 27th.
Hawksley Workman
is at the Commodore the same night with
Chad VanGaalen
.
Turbonegro
is at the Commodore on April 14th.
Cold War Kids
are at the Commodore on April 21st.
And
the Weakerthans
are at the Ballroom with
the Cons
on May 1st and 2nd.
Labels: a fine mist, bison, jody glenham, ladyhawk, lazy show recaps, megacity, show announcements, twin crystals, wildbirds and peacedrums, woodhands, zombie pistolero
Wednesday, December 10, 2008

conduit for sale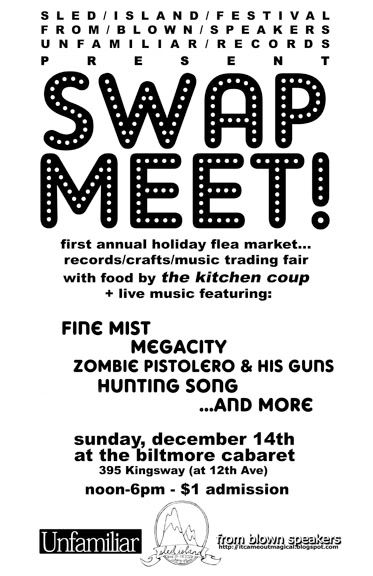 For the first time, I'm helping organize a show. Considering the focus of this blog, I guess that's a long time coming. Needless to say, I'm pretty excited. Plus, this show's a little different than your typical affair.
The whole thing goes down on Sunday, December 14th at the Biltmore from noon-6pm and in addition to bands, there'll be a swap meet featuring some fine local retailers, artists, and craft makers, plus you (well, potentially you) and food (pulled pork sandwiches, burgers, and fries) will be sold by the Kitchen Coup (aka Cohen, formerly of the Clips).
If you have garage-sale type stuff to sell, especially records, cds, tapes, band memorabilia, tshirts, etc. then you don't need to book a table. You can simply come down before noon on Sunday and find a nook or cranny to sell from.
If you are a craft makers, vendor, or Do-It-Yourself-er, wanting a feature table, then please email Edo at edo@areyoufamiliar.com to book one.... for FREE! (till these spots are all filled).
There are a ton of other shows on the horizon, but here's some stuff that's coming up quick (I'll get to the rest later this week):
Tomorrow (Thursday),
Neapolitan
is hosting a benefit for Erin from Shearing Pinx's pet McCaul. Ahna, Gabriel Mindel, Les Beyond, Aerosol Constellations, Mr. Ugly, Dullmoofs, Empty Love, The Holee See, Solars, and Rrkkttss all perform.
Also tomorrow, at Little Mountain Studios, is Tell It On A Mountain, a Christmas pageant that my friend Olivia is helping to organize. In addition to her, Chrismith, Louise Burns, Jody Glenham, Chris-a-rific, Zach Gray, Kerry O'Donovan, Aidan Dee, Steven Donald Robert Nelson, Angela Fama, Cris Derkson, Emmett Hall, and Lise Monique Oakley all perform and Taz and Ryan from the Sunday Service host. Cover is $7, but you can save $2 if you bring a donation for the food bank.
On Friday, the Biltmore hosts "Funderwear." Christer, Dan Mangan, Hannah Georges, and Arctic all perform and attendees are encouraged to bring new underwear and socks that the DTES Women's Centre and the Salvation Army will hand out to Vancouver's less fortunate.
On December 18th, Pompoir and Role Mach play Honey.
And on December 20th, gr8-2000, Aaron Read, and Candles are at Little Mountain.
now playing: Wire - One of Us
Labels: show announcements
Friday, December 05, 2008

set us free
Long time, no posts. Sorry, I've been busy.
Bedouin Soundclash
are going to try to play a rally for
InSite
again. This time
Black Mountain
are on the bill too. Goes down tomorrow at 4:30pm near Main and Hastings.
Weirdness
goes down at the Biltmore on December 11th, featuring
Sex Negatives
, Juvie,
Haunted Beard
, and the resident Weirdness DJs.
Winning
are at the Peanut Gallery on December 14th with Heals and
Piers Whyte
.
Fear of Tomorrow
are at the Cobalt on December 16th with Grown Men and Healthy Students. The latter is Andy Dixon, Gregory Adams (both ex-Red Light Sting/currently in Winning among other things), Al Boyle, and Steve Matheson (both currently in Taxes among other things) playing hardcore punk. Awesome.
Speaking of Andy, another project of his called Make Love will be playing with
Dixie's Death Pool
at Grace Gallery on December 18th. After the bands, they're screening
Rainbow War
, which I remember fondly from Expo 86.
MSTRKRFT
are at the Plaza on December 28th with
Paul Devro
. According to the Facebook event, "the Plaza is closing its doors for bigger and better things in 2009." I don't know what that means for live music, but if their idea of "bigger and better" follows the lead of the rest of the Granville strip, it probably won't be good.
The Clips won't be playing Glory Days on 27th. I'm sure a replacement band will be announced soon though.
And Gang Violence are also on the Monotonix/Twin Crystals bill at the Biltmore on the 29th, making an already great show even better.
now playing: Big Black - The Power of Independent Trucking
Labels: show announcements