Sunday, February 22, 2009

these are my dress clothes
There was a plethora of great shows to try to attend last night, but I opted for a metal fix over summery beach jams (No Gold), noisy pop (Tyvjk), or underground legends (ex-Dead Moon-ers, Pierced Arrows).
What can you really say about
Bison
that Vancouverites don't already know? Save for the awesome surprise of having two friends join them on stage on cello and violin to perform the intro for "Wendigo, Pt. 1 (Quest for Fire)," it was everything that you've probably already come to expect from a Bison show. In a word, awesome.
I didn't get my ass in gear until pretty late, so I missed Haggatha and only caught the very end of
Jaws'
set: a pretty great cover of Nirvana's "Tourette's."
Bob Wiseman
is at the Western Front on March 27th with
Collapsing Opposites
. I've only had the pleasure of seeing Bob perform live once, but I definitely recommend going to check this out if you haven't seen him before. If you have, chances are you're already thinking about it.
Wintersleep
is at the Commodore on April 3rd. (thanks Dmitry)
Brasstronaut
celebrates their return home from their artist's residency at the Banff Centre on April 30th at the Biltmore with
Ohbijou
. This should also mean that the Clips will reconvene as well, which is a double dose of good news.
Speaking of Brasstronaut, check out their new video for "Requiem for a Scene":
Brasstronaut - Requiem for a Scene
from
Alan Miller
on
Vimeo
.
B-Lines
,
Isotopes
,
Hard Feelings
, and
Pretty Vanilla
are at the Cobalt on May 8th.
Obits
(who feature Rick Froberg ex-Drive Like Jehu) play the media club with
the Lights
on May 15th.
And
Grouper
is opening the Animal Collective show on May 24th.
now playing: Test Icicles - Boa vs Python
Labels: bison, jaws, show announcements, show recaps
Friday, February 20, 2009

profession
Let's start with some local news, shall we?
Adjective
celebrates the release of their new EP,
I Am Sorry for Your Loss
, on March 7th at the Media Club.
Twin Crystals
,
the New Values
, and
Against Civilization
support.
I haven't heard the EP yet, but a guy you might have heard of named
Graham Lewis
liked the demos so much he offered to help with production and lent back up vocals to "Profession" (the demo version is up on their MySpace), so really, who am I to judge?
February 24th marks the third night for Weirdness at the Biltmore.
London Drugs
,
Cosmetics
, and Futurehair all perform.
Futurecop
plays the Biltmore on March 10th with
Theophilus London
and
Expendable Youth
.
Stereo Total
are at the Biltmore with
Leslie and the Lys
on March 31st.
Mirah
is at the Biltmore on April 3rd with
Tara Jane O'Neil
.
The next night,
Hot Panda
,
Vincat
, and
Fanshaw
are at the Media Club.
Marissa Nadler
plays an early show at the Media Club on April 11th.
Sebastien Tellier
is at Richard's on April 14th.
Chairlift
supports. As a side note,
Sexuality
was one of the worst records I reviewed last year.
Red Cedar
plays the Railway on April 22nd with
the Greff Band
and
Valerie Graham
.
On April 18th,
Mr. Lif
plays Richard's.
Buraka Som Sistema
are at the Biltmore on April 24th.
Art Bergmann
plays Richard's on
AprilMarch 26th. (thanks g)

Ghosthouse is at the Media Club on April 30th with Listening Party and Chris-a-riffic.

Ladytron and the Faint are at the Commodore on May 3rd.

King Khan & the Shrines are at the Commodore with Mark Sultan on May 22nd.

m83 is at the Commodore on May 25th.

The same night, TV on the Radio are at Malkin Bowl.

There are a ton of shows to check out this weekend. Get out and see some bands.

Labels: show announcements




Tuesday, February 17, 2009


pissing in the wind

Though it was discussed a bit in the comments a couple of posts back, I turn your attention to this article on the "new Richard's."
"When I walked into the basement I couldn't believe the size of it and the height of the ceilings," Alvaro said. "Immediately, I thought this would make a perfect bathroom lounge..."

Alvaro said the new club will likely book some of the same acts as Richard's. "Maybe being a bit more selective with some of the music," he said, "maybe pertaining more to the sort of image we're trying to project."
On the venue bright side, the Astoria should be open in the next few weeks.

Tomorrow, Sylvie has dropped off the DDMMYYYY bill at the Biltmore. Japandroids fill in and the cover's been reduced from $13 to $10. I hadn't really listened to them before, but that new DDMMYYYY record is pretty good too.

On Thursday, One Cool Word is throwing a belated Valentine's party with Fake Shark Real Zombie, Guilty About Girls, the Heard, and Demos at WISE Hall.

On Saturday, Shad K and Fond of Tigers fill the early time slot at the Biltmore.

Later on in the evening, No Gold takes the Biltmore stage for Glory Days.

The same night, Bison are at the Cobalt with Jaws and Haggatha.

Lions in the Street celebrate the release of their Mixtape EP on February 28th at the Media Club. Land and Minto Chipman support. You can snag the LITS EP and pay what you want via their website.

Azeda Booth is at Blim on March 6th.

All Purpose Voltage Heroes play Honey on March 12th with War Baby and Seven Nines & Tens.

Calvin Harris is doing a DJ set at Celebs on March 20th. Expendable Youth lend him a hand behind the decks.

The next night, Canaries, Boogie Monster, and Guests (that's the band's name) play Lugz Coffee on Main St.

Also on March 21st, Hermane Dune and Sun Wizard play the Biltmore early.

On March 28th, Sex Negatives are at the Peanut Gallery with Boogie Monster, Robe and Allied, and Orlando Magic.

Twin Crystals and Shearing Pinx are opening up the AIDS Wolf show on April 4th.

Junior Boys and Max Tundra are at the Biltmore on April 11th.

And the Sasquatch line-up was announced today.

now playing: Sleater-Kinney - You're No Rock 'n' Roll Fun

Labels: richard's, sasquatch, show announcements




Thursday, February 12, 2009


open the heart, just a machine
HEY VANCOUVER,

It is with much anger and a heavy heart that I write this… It appears that "NO FUN CITY" has again become true. The Sweatshop has been shut down! The city and the landlord have terminated our licenses and our lease. We have to exit the premises as of Monday Feb. 16th. I have gone head to head with a couple officers for the past year and have been trying to work with city hall to meet their demands on us as a venue, skate park and gallery space. But in the end the $$$, fines and the cities demands are just too much to fight. They have closed us down!

I will be in contact with all the promoters, bands and events that are booked in the future at the sweatshop. I will do everything I can to find and relocate all of the upcoming shows.

This space has been amazing! And lets be honest this city sucks, venue after venue being closed, space after space being shut down and so many independent promoters, artists and performers being crushed by the corporate machine! This is a very sad day for me. And as much as the fight gets harder and more and more frustrating everyday. I don't really know what else to do but fight and continue on. So stayed tuned… support the underground and I promise you! Another space will soon arise!!!! But for now we are done.

This past year we have had some of the most amazing performances, art shows and parties. And being true to form we are going to go out with one more… So for all of you who have been to the sweatshop and for those who always wanted to…. please come and join us this sat night. Feb. 14th Valentines Day with PRIDE TIGER, THE JOLTS, ADELAIDE and a few surprise deejays keeping the party going. Because in the end its always a party at the sweatshop!!!!

MALICE
Labels: no fun city, the sweatshop




I can't remember if I've mentioned this already or not, but Music Waste is accepting submissions from now until April 15th: submissions@musicwaste.ca.

now playing: Handsome Furs - I'm Confused

Labels: music waste




Monday, February 09, 2009


rockers east vancouver

I don't know if Japandroids got a popularity bump from PFork or not, but the Cobalt was pretty packed on Saturday with a crowd that was a bit more "diverse" looking than usual.

Despite the fact that they haven't played a show in awhile, there wasn't any rust to shake off, and in a fitting move for the venue, the setlist was dominated by their louder stuff.

I got there just in time to catch Tight Solid (I fell asleep on my couch after the hockey game and missed White Owl and Terror Bird). Tight Solid is Ryan Walter Wagner and Burnside (ex-Treacherous Machete) doing a 2-piece drums and guitar thing. Although, unlikes Treacherous Machete, they aren't leaning as hard on the blues as a base for things.

Overall, I came away with a good first impression, but also felt like they could use another player to fill out the sound a little. Coincidentally, they're looking for someone to lend a hand on bass/keys.

Tomorrow (the 10th, in case you're reading this tomorrow), Box Elders and B-Lines are at Little Moutain Studios.

Wednesday, the Racoons play the Biltmore with Maurice and Streetlight.

On Valentine's, the Sound of Love make a timely visit from Edmonton, when they drop in at the Peanut Gallery. Candles and the Jonny Swenson Effort support.

The Railway hosts Rock for Insite 2 on February 15th. There are about a dozen bands playing, so check the Crackbook event page for the full line up.

On February 26th, This Frontier Needs Heroes play Little Mountain Studios with Joel Battle and the Sappers. Partial proceeds from night support Witness.

The next night, Geoff Berner is at the Biltmore to celebrate the release of his latest CD, Klezmer Mongrels. the Whip of the UFO and Joey Only support.

Ladyhawk and Adelaide help Antisocial celebrate it's 7th Anniversary (and I guess their move down the block too) at Glory Days on March 7th.

now playing: the Replacements - Here Comes a Regular

Labels: japandroids, show announcements, show recaps, tight solid




Tuesday, February 03, 2009


run to your grave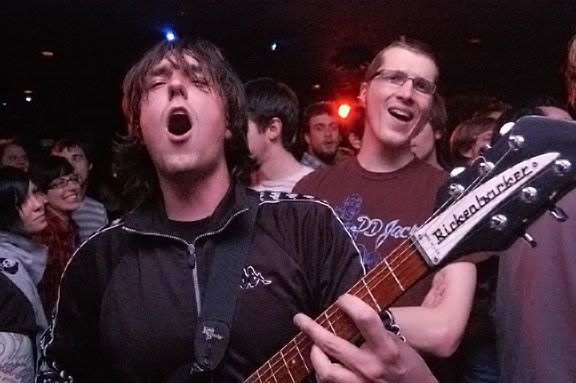 During the time when I'm not updating this blog, I still go to shows once in awhile. Shocking, I know.

That was taken way back on Thursday when the Mae Shi played the Biltmore. In all honesty, I can only handle them in small doses when it comes to the recorded product (like really energetic small dogs), but they were pretty killer live.

I could see Shearing Pinx, who opened, a million times and be happy. I don't think I need to expound on that in writing every time I see them though. I guess I sort of just did.

We were a bit late and missed Certain Breeds and I also bailed before Sex Party, who played last for some reason. It was a weeknight, I was tired, and I imagine I'll be able to catch them sometime soon.

Nick from No Kids dropped me a line about a project he's doing with Juana Molina for the PuSh festival. The short form musical features members of Ladyhawk, the Awkward Stage, and of course, No Kids, among other Vancouver musicians and goes down on Thursday and Friday of this week at Performance Works at Granville Island. Juana Molina will play afterwards on both nights and on Thursday there will also be a performance by Parenthetical Girls.

On Saturday at the Biltmore, Jaws has been added to the Glory Days bill (filling in the now vacant White Lung spot)

On February 12th, Stamina Mantis, Japanese Graffiti, Nihilist Party, and Anju are at Honey.

Really, is there a venue more romantic than Funky Winker Bean's? Well, on Valentine's day, Type to Talk and Keytar Warrior play there.

Also on Valentine's is an interesting event taking place at various ATM rooms around the city. There are lots of people playing and I'm lazy, so here is all the info on a nice flyer:




My friend Darren astutely notes that the three banks in question are right near the Community Policing Station on Hastings... so we'll see how it goes.

Villains are at Republic on the 19th.

On February 20th, Portico celebrate their album release with the Abramson Singers at the End Cafe.

Pierced Arrows (featuring members of Dead Moon) play the Railway on February 21st with Thee Manipulators and the Vicious Cycles.

Also on the 21st, Tjvek, Unnatural Helpers, Vapid, and Sex Church are at the Peanut Gallery.

On March 5th, Clues play the Biltmore with Animal Names.

Chain and the Gang (featuring Ian Svenonious) and Hive Dwellers (Calvin Johnson) are at the Sweatshop on May 30th.

And, the new Japandroids record is out on April 28th in digital formats and on vinyl (which comes with the download).

now playing: the Hold Steady - Girls Like Status

Labels: japandroids, mae shi, shearing pinx, show announcements, show recaps