Friday, May 30, 2008

you won't let those robots defeat me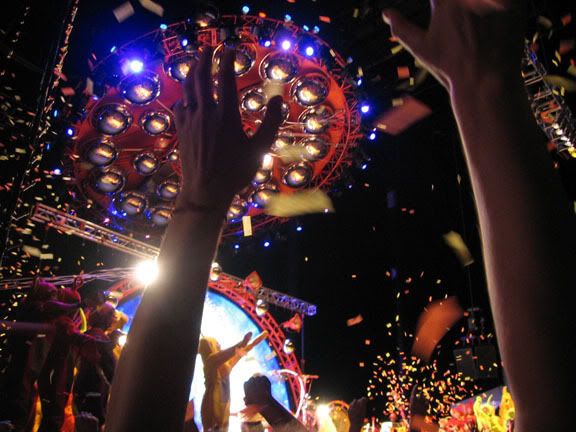 To be completely honest, when it came to
Sasquatch
this year, I was more excited about hanging out with the large group of friends that were also heading down to the Gorge than the music. There were still a lot of bands that I love there, but there weren't that many that I love and had never seen before... that's not to say that the music disappointed though.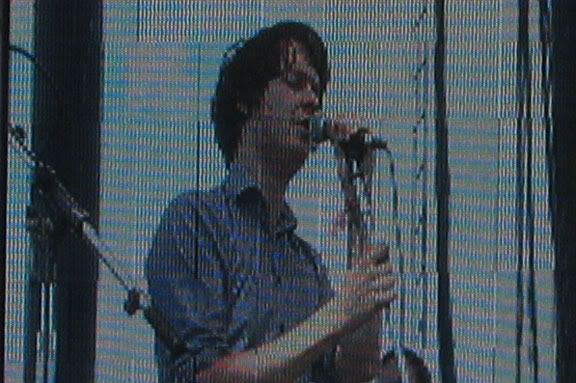 Beirut
were a half decent way to start the fest, but blazing heat didn't really do them any favours. I'm sure the Commodore was a much more appropriate venue.
My interest in
Kathleen Edwards
has been waning since her first record (which was pretty great), but she was alright. talked about filming a video with Marty McSorley, and evidently made it through the experience without getting bashed in the head with his hockey stick.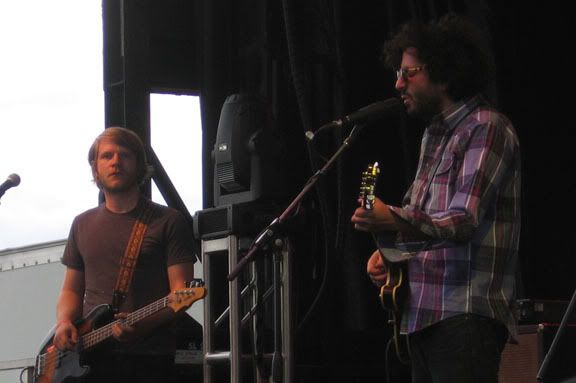 I really want to see Japanther tomorrow, but after
Destroyer
's set at the Gorge, I've got half a mind to track down a ticket to the Commodore tomorrow night. They rocked a set that only deviated from Trouble in Dreams when they closed out with "Hey, Snow White," which meant Nic Bragg was free to riff out for the duration of the performance... which makes me happy.
Destroyer's and the New Pornographers' sets actually overlapped by about 40-minutes, which led me to believe that there was no way that Bejar was going to perform with the NPs. Happily, I was wrong, because when I made it over the hill on my way to the mainstage, they were already partway through "Myriad Harbour." Dan also made his presence felt on "Jackie, Dressed in Cobras" and "Testament to Youth in Verse," but it was an
ELO cover
that sort of stole the show.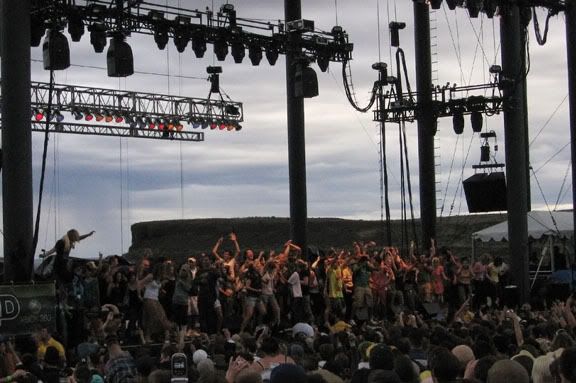 MIA
was actually allowed in the country this year, so she was able to make her Sasquatch debut. Yeah, it was the same set of tricks that she pulled out at the Commodore last time (and also probably at the Forum), but everything was bigger and louder and there were about 10,000 more people miming the gun shots in "Paper Planes." Set of the fest. Maya's somewhere up there in that throng of people... like Where's Waldo.
In my ongoing attempt to prevent myself from ever having to sit through Modest Mouse live again, I whipped up the hill and caught the end of
Okkervil River
. They're sort of hit or miss for me on record, but they're always great live... and they're coming to Richard's on September 18th.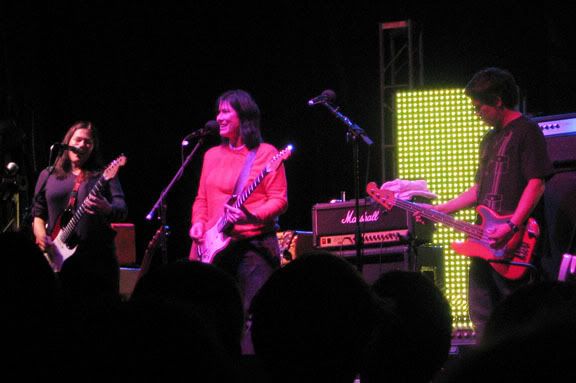 I found the last two
Breeders
records a bit boring, but I wasn't going to miss a chance to catch them live. "Divine Hammer" was a highlight early in the set and "Cannonball," of course, brought the house down, but how lame was it that Kim Deal couldn't tune her own goddamn guitar?
REM
closed out the first day.
Accelerate
is a pretty good record, but I don't think anyone was patiently awaiting "Supernatural Superserious." The band obliged by (mostly) alternating between old and new, and pulling out some semi-obscure old cuts, and if it weren't for the fact that it were pissing rain, I would've been perfectly happy with that set-up. But as it stood, I was more interested in running for cover from the weather.
I started off Sunday by taking in
Cold War Kids
. Dude can sing, "Hang Me Up to Dry" was awesome, but they were also probably more suited to darkness and coziness.
I might be alone, but I find
Tegan and Sara's
stage banter entertaining enough on its own. The music was okay too.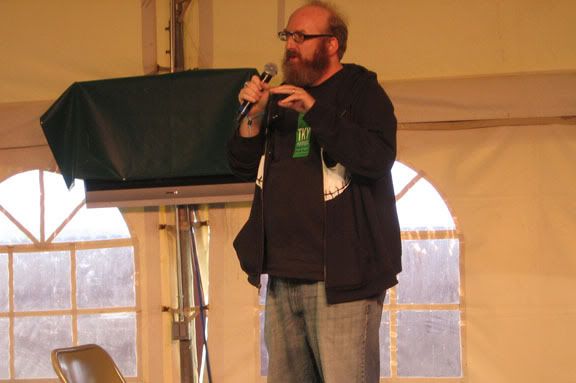 This year instead of a drunk.. err.. I mean "sick" Sarah Silverman going through the motions in between sets on the main stage, there was an actual comedy tent. The line up was huge the entire weekend, but waiting for
Brian Posehn
was more than worth it. I've actually seen him before (and thus, heard some of the jokes he told), but when he finished by sides literally hurt.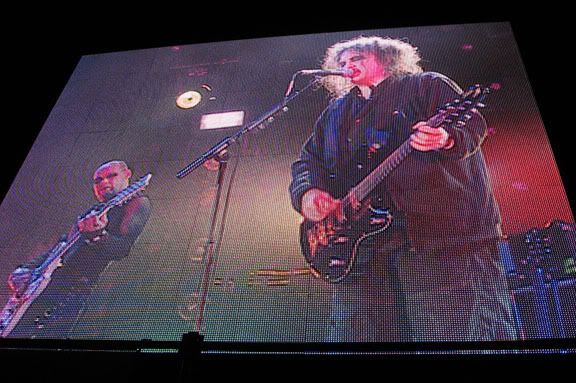 After laughing my ass off, I caught a bit of
Stephen Malkmus
(with his Jicks, of course)/avoided Death Cab, and then made my way to the main stage for
the Cure
.
For the first half of the set, I was bundled up on the hill, lying down (but awake) with my eyes closed. They sounded great, amazing even. And, in my head, it was the Robert Smith that you see in photos up there belting out "Lullaby."
After an hour or so, most of my friends made their way back to camp, so I moved down to the floor (where my girlfriend had stationed herself). They still sounded good, but the visual reality shattered the lovely picture (of Robert, not you) that I had in my head.
People get old, yes... but even the Stones aged more gracefully. Porl Thompson looked like a cross between Max Schreck and Billy Corgan... with worse eye make up. But I digress, I closed my eyes during "Boy Don't Cry," "10:15 Saturday Night," and "Killing an Arab" and all was well.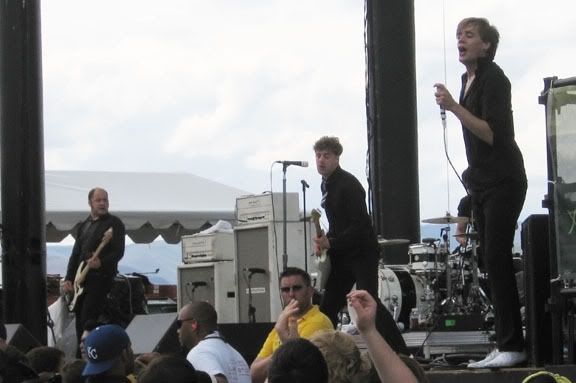 It sort of seems like
the Hives
have just been releasing reasonable (but still inferior) facsimiles of
Veni, Vedi, Vicious
for the last 7 years or so, but they still put on one helluva show. Plus, the first two days were mostly full of polite, well mannered indie rock bands, which was good, but it was nice to see some cocky, rockstar posing, honest to goodness showmen. And the Hives are certainly that.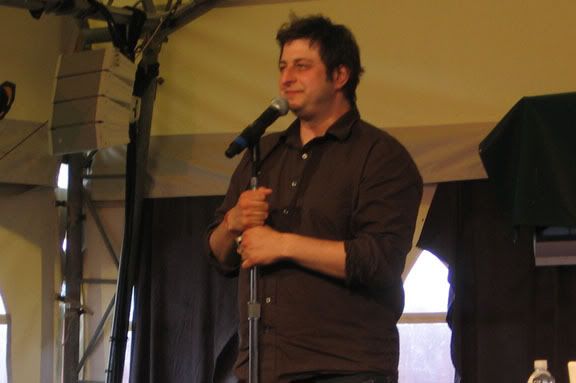 After the Hives, it was back to the comedy tent for
Marc Maron
and
Eugene Mirman
. I've seen Marc Maron before somewhere (I recognized the jokes), but wasn't familiar with Mirman live. Although, even if you had seen him before, it was probably mostly new to you to, since he seemed to be adlibbing half of his set based on audience interaction. Anyone who can make an Ayn Rand joke work, is worth seeing.
I really like the
Flight of the Conchords
TV show, but I don't watch a lot of TV, which means I don't see it all that often. I also don't watch their YouTube clips over and over. And, while I do find them funny, it sort of seemed like to really enjoy them live you had to be really familiar with the material... so I bailed pretty early to check out
Battles
.
...who must've played for about a half hour, because they were finishing up by the time I reached the Wookie stage.
So, left with nothing to do, I followed a deep rumbling sound that was emanating from the Yeti stage.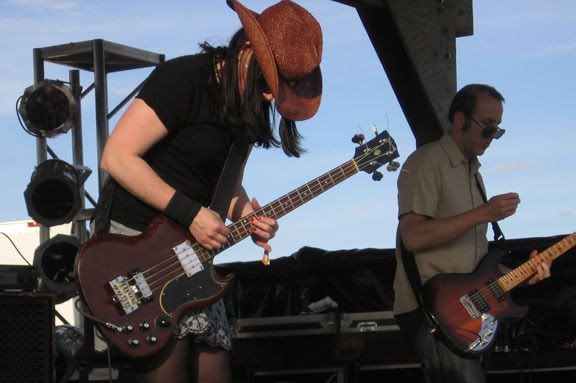 I'm not sure what I thought
Kinski
sounded like before Monday, but it sure wasn't what they do sound like. There were atmospheric bits here and there, but they mostly alternated between loud, fast riffs and loud, white noise. It seems like there's always one really pleasant surprise when I go to Sasquatch, and they were certainly it this year.
I caught
Jamie Lidell
next on the Wookie stage. Unlike the previous time that I saw him, he had a full band in tow. The extra players filled out the arrangements nicely, but the highlight was still when he did his thing solo.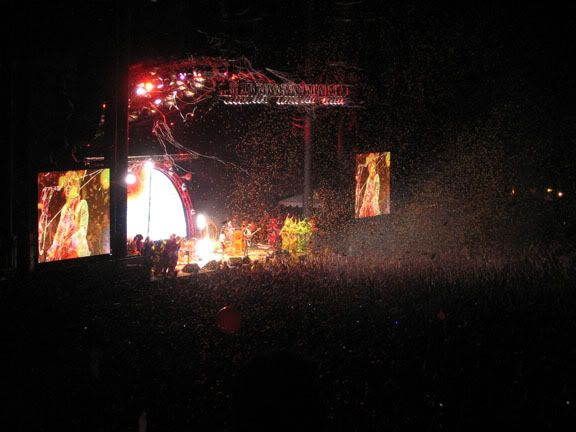 And then there were
the Flaming Lips
.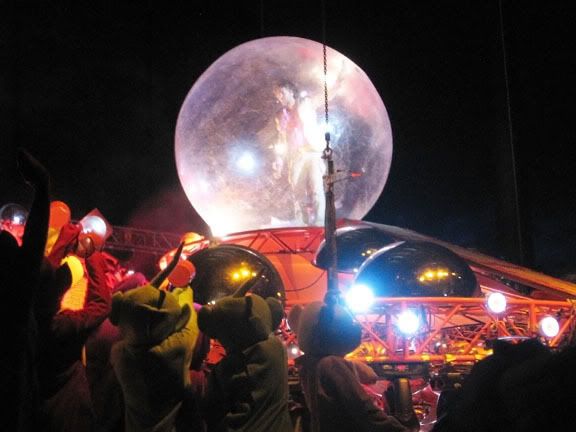 If you've seen them, you probably know most of what went down (although the brand new flying saucer was a nice new edition to the stage show).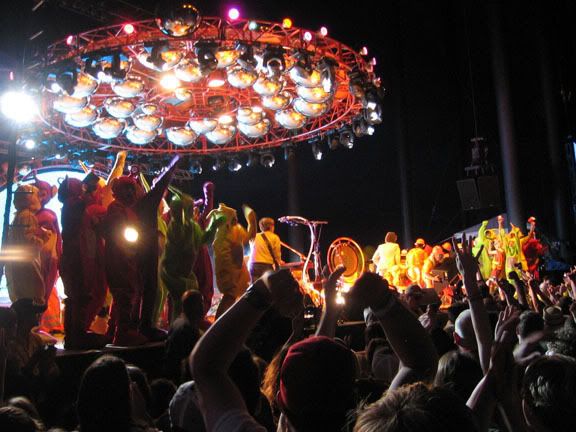 In the lead up to their set, I wasn't all that psyched, since I've seen them more than once, and knew what was going to go down. But when you're in the midst of flashing lights, flying balloons, and tons of confetti, you forget that you've seen most of this before. Plus, this is the first time that they've added
nudity
to their stage show (NSFW, obviously).
I was under the impression that they found the naked dancers at the same time they gathered up the Teletubbies, but apparently they just jumped over the front barricade and hopped up on stage. (thanks Ryan) Before the song in question - a cover of "the Song Remains the Same" - Wayne Coyne had noted that "everyone should get naked and dance around during this one." I bet he didn't expect anyone to actually do it though.
Quick heads up...
Tonight
Felix Cartel
,
Paul Devro
, and
Expendable Youth
are at Celebs... cause there weren't enough things going on.
And, tomorrow night's party at the Sweatshop is postponed until June 14th.
now playing: Uncle Tupelo - the Long Cut
Labels: sasquatch, show announcements, show recaps
Thursday, May 29, 2008

get crazy with the cheeze whiz
Sasquatch
recap tomorrow. Although, if you're anxious for some reason, my
Chart
recaps are up.
Beck
is at the Orpheum on August 28th with
Band of Horses
.
The Dodos
are at the Bourbon on June 26th. (thanks Jess)
Exciting (sort of) news from the
Nasty On
, who sent out a MySpace bulletin the other day promising a "new album soon." The recording they've been sitting on are three or four years old now, but I'm still pretty excited.
Tomorrow night at the Chair Factory
the Clips
,
Nu Sensae
,
Soft Disco
(Jesse from Twin Crystals) play from 10pm til late. The (formerly) Salbourg guys, Ben and Ian from Blastramp, and Manitoba Touch spin tunes before, between, and after the bands.
Also tomorrow night,
Junior Major
,
the Good News
, and
the Buffalo Jump
are at the Biltmore.
And don't forget the CPC Gangbangs/White Lung/Cheerleader Camp show.
On Saturday, those DJ kids who are throwing Friday's Chair Factory party are at the Sweatshop for a "Hee Haw Barn Party." I guess that means country music, but it also means that they'll have a BBQ set up. That sounds like an okay idea now, but post-Japanther and/or post-Destroyer, it'll be an awesome idea. Oh, and there's a separate grill if you're a vegetarian.
Also on Saturday, and also going late into the night is the Royal Rock Revue by
Allies
(who presented No Gold in the woods last year).
Young & Sexy
,
Octoberman
,
Mohawk Lodge
,
Olenka
,
the Rub
,
Chinawoman
, and
Hermetic
all perform. You'll have to check the
MySpace
for the location on Saturday, but word is it'll be relatively close to the Sweatshop.
Labels: show announcements
Friday, May 23, 2008

you set me on fire
I'm off to Sasquatch and I won't be back until Tuesday.
While I'm gone, why not give this track a spin? I've listened to it about 50 times in the last week. You can drop her some money for the single via
MySpace
, but I'd imagine that a good old fashioned record is in the works soon.
download:
Ladyhawke
(not Ladyhawk, obviously) -
Back of the Van
Have a good weekend.
now playing: the Hold Steady - Stay Positive
Wednesday, May 21, 2008

for whom the bells toll
Since last night you got good hip hop news, today you get bad hip hop news:
Rock the Bells
previously TBA Vancouver venue is the Gorge. What's that you say? Isn't that in middle of Washington? Yes, yes it is. On the bright side, if you do make the 5-6 hour drive to the show, you won't have to worry about half of the line-up being detained at the border.
Music Waste
passes are on sale. If you go to three shows in five evenings you get your $15 worth.
The Faint
is at the Commodore on August 1st.
Frog Eyes
are at the Media Club on June
1
29th. (thanks. I can't read, as you can see)
The Supersuckers
are at the Plaza on July 24th.
now playing: Spiritualized - Sweet Talk
Labels: show announcements
Tuesday, May 20, 2008

fifty-two fatal strikes
There is a bunch of other stuff to blog, but I'm just finishing up some stuff for Color that's (over)due, so that will have to wait. This, however, cannot wait.
Via
SWAK
:
GZA
From the Wu Tang Clan - performing Liquid Swords :: at Richard's On Richards :: Advance tickets onsale Friday (10am) at Zulu Records and Ticketmaster
This jumps right up the list past Wire, Radiohead, and Eric's Trip as
the
show that I'm most looking forward to this summer.
For the uninitiated,
Liquid Swords
is - hands down - the best Wu-Tang Clan related solo release (yes, I do own
Supreme Clientele
- thanks for asking). If Wire decides to implausibly announce that they're going to pay
Chairs Missing
front to back, I reserve the right to re-edit the aforementioned list.
Oh, and sorry about the lack of updates, but in case you didn't notice this weekend, summer happened.
now playing: Sun City Girls - Mr. Lonely Viola
Labels: show announcements
Friday, May 16, 2008

forever indebted
If it seems like I haven't gone to a show in awhile, it's because I haven't. But if you're missing that part of this thing, you'll be pleasantly surprised from Sasquatch to the end of June.
Shout Out Out Out Out
are at the Commodore on June 20th.
Battles
are at Richard's on September 2nd. That one is for my friend Neil, who was whining about how Battles and Flight of the Conchords are on the at the same time at Sasquatch.
Speaking of Neil, he's spinning at the Astoria tonight for the last ever
Better than Loneliness
. Come down and buy me a drink... god knows that I'll need one after being cooped up inside on such a gorgeous day.
Stevie Wonder
is at GM Place on July 12th, which once again brings up the question: "
is
it right to judge an artist for their latter day sins?"
Ladyhawk
opens that Cons show on the 26th.
Finally, congrats to Jessica who wins the Black Kids contest. Thanks to Marni at Sneak Attack Media for hooking up the prize. If you know me, and were wondering, no that isn't my girlfriend Jessica. I would never rig a contest and everyone knows that she's racist anyhow.
now playing: Galaxie 500 - Isn't it a Pity
Labels: contest winners, show announcements
Tuesday, May 13, 2008

weird weight
The
Music Waste line up has been announced
. A quick surveying of the landscape reveals that a lot of my favourites are playing at (roughly) the same times, but the fest is always more about seeing bands you don't know anyhow. Although, I'm dead set on catching Mutators before they had back on part two of their epic Spring/Summer tour.
I should also point out that June 5th at Hoko's boasts Mt. Career as the headliner, whom you might know better as
Andy Dixon
. As far as I know, this will be his first show supporting his solo record.
I actually heard that Andy and Greg (also of Winning and ex-Red Light Sting) and Steve and Al from Taxes were going to play a set of hardcore tunes under the name "Healthy Students"... but I guess that didn't pan out.
Stereolab
is at the Commodore on October 19th with
Monade
Since I usually end up talking about shows that those of you under the age of majority can't attend, here's one that turns the tables. Those philanthropic gentlemen in
the Clips
are lending their talents to Urban Aid 2008, which is an annual fundraiser for
Covenant House
. The show goes down on May 22nd at the Jericho Community Centre and ticket info is on the
friendster 3.0 event page
. You've got to show your Go Card to get in. If you don't know what a Go Card is, you're too old to be hanging out with a room full of high school students anyhow.
If you entered the Gnarls Barkley contest, you might have been thinking, "I wonder if he forgot to pick a winner." And you would be right. But I finally did that this morning. So congrats to Ben who gets a bunch of CDs and that sick double vinyl that includes the new Gnarls record in reverse. Thanks to Adam at Warner for hooking up the prize.
Oh, and New Music West is this week. There are a handful of great bands playing... but most of the line up caters to people who think going to the Roxy and hearing the house band play while they play the numbers game is "seeing live music."
now playing: the White Stripes - Black Math
Labels: contest winners, music waste, show announcements
Thursday, May 08, 2008

club action
I guess a crappy PFork rating still carries some cachet, because despite the fact that the similar sounds of Cut Copy and Simian Mobile Disco packed people into Richard's, it was pretty empty for
Does it Offend You, Yeah?
last night, which is a shame, because they were pretty good live.
I went in expecting a couple of dudes with some laptops/sequencers/etc, but the foursome rock a fairly traditional set up of guitar/bass/drums/keys. It took a bit of the sheen off of their songs, but frankly, I find really precisely performed dance music a bit sterile at times, so dirtying things up a bit was fine with me. The only song that was a bit lacking due to the live set-up was "Let's Make Out." The band are pretty ace as showmen, but none of them do a very good Sebastian Grainger (who sings on the studio version). The "encore" cover of "Whip It" made up for that though.
Yo Majesty
were only 2/3rds strong (Jwl B got denied at the border), but Shunda K and her DJ (whose name unfortunately escapes me right now) killed it. A lot of times no frills rap shows can leave a lot to be desired, but even a shorthanded Yo Majesty absolutely slayed. If they come back, make sure you show up, because they deserve to perform for a packed house.
As a side note, after the show, a friend of mine was buying a bargain $10 shirt, when he noted to Shunda that he'd "pay at least double for this shirt." Her reply: "I'm from the ghetto, man. I'm not going to charge you $20 for a t-shirt." That, my friends, is truly keeping it real. Think about that when you're scoping out Jay-Z and Nas merch this summer. For the record, it's a pretty sick t-shirt at any price.
And here are some show announcements, minus hyperlinks, because I have to run:
If you're looking for something to do tonight, Run GMC and Lions in the Street are at the Plaza.
On July 24th, No Age is at Richard's with Abe Vigoda and Mika Miko. Forget about that Girl Talk show now.
And Bison, Spread Eagle, and the Death Rays are at the Astoria on May 24th.
Wednesday, May 07, 2008

word's on the street and it's on the news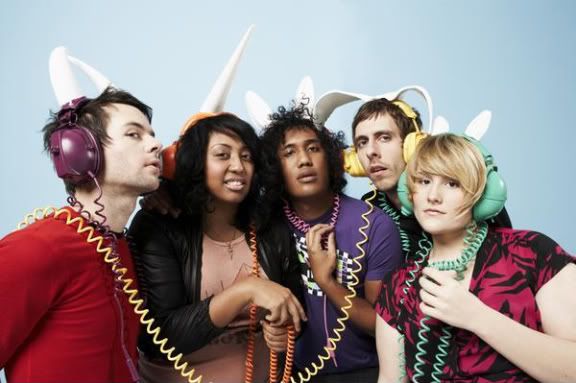 Contest: Black Kids CDS Giveaway
You've probably heard of
these guys
, so I'll keep it brief. After giving away an EP last year, Black Kids are releasing a full-length,
Partie Traumatic
, on July 22nd. And predictably, "I'm Not Gonna Teach Your Boyfriend How to Dance with You" is the lead-off single. They didn't have any records to sell when they came through town with Cut Copy
last week
, but you can just go ahead and win yourself a copy of the CD version of the single right now. In addition to the A-side, the disc features "You Turn Me On" and
Sophie B. Hawkins
cover.
If you want to win, just send an email to quinn.omori [at] gmail.com with the subject line "Black Kids Contest" before Wednesday, May 14th at 8am PST and I'll pick one winner at random. Easy, huh?
In the rare instance that you're reading this from outside the GVRD, you can catch Black Kids here:
May 8 - Detroit, MI at Magic Stick*
May 9 - Toronto, ON at Lees Palace*
May 12 - Boston, MA at Paradise*
May 13 - Brooklyn, NY at Studio B*
May 15 - Washington, DC at Black Cat*
May 16 - Philadelphia, PA at Pure*
May 17 - Baltimore, MD at Sonar*
May 18 - New York, NY at Bowery Ballroom
*with Cut Copy
And everyone can check out the stream of 12" b-side
here
Oh, and congrats to Neil and Robin, who are going to Does it Offend You, Yeah? and Yo Majesty for free tonight, courtesy of Sony/BMG
Labels: contest winners, contests
Monday, May 05, 2008

let the iron in your heart's blood ring
So, as a few people have kindly mentioned in the comments,
Wolf Parade
is at the Commodore on July 12th. As Camillia kindly mentioned, you can grab pre-sale tix right here: http://wolfparade.ducatking.com. Alternately,
SWAK
points out that you can get them at Zulu and Ticketmaster on Friday morning. The odd thing is that the pre-sale link says that the show is all-ages... which, as far as I know, would be a first for an evening show at the Ballroom.
Also on sale Friday (but with no presale and definitely not all-ages) are tickets for
Boris
at Richard's on July 30th.
Torche
supports.
Smile
isn't as good as
Pink
, but this news still brings to mind the words "fuck" and "yes."
Tilly and the Wall
are at Richard's on July 4th.
The Dodos
are at the Bourbon on June 26th... but if you're not in
Calgary
that day like me and apparently
half the bands in this city
, you should really go see the Cons.
The Awkward Stage
is at the Biltmore on June 13th to celebrate the release of their next record,
Slimming Mirrors, Flattering Lights
. Mint's got an mp3 for you:
download: the Awkward Stage -
Anime Eyes
(via Mint)
Labels: mp3, show announcements

lights in the sky
And here you were thinking what Radiohead did was pretty cool
.
Thursday, May 01, 2008

we are rockstars now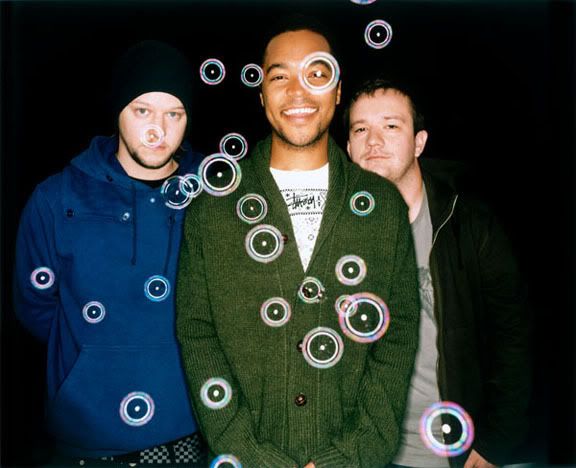 Contest: Does it Offend You, Yeah? Ticket Giveaway
I think I mentioned the show awhile back, but here's a reminder that
Does it Offend You, Yeah?
is hitting Richard's (with
Yo Majesty
) next Wednesday. I'm mentioning it again 1) because I'm pretty stoked for it and 2) because their lovely PR firm is going to hook two people with a pair of tickets for next week's show.
We shall keep it simple for this one. If you want to take a date to the show on May 7th, just shoot me an email at quinn.omori [at] gmail.com with the subject "actually, it does offend me" and your full name before Sunday the 4th at 11:59pm and I'll pick two winners at random. That only gives you 3 1/2 days, so don't sleep.
Easy, huh?
While you're at it, check out the video for "Let's Make Out," which features vocals by that guy that you may remember as the dude from Death from Above who isn't in MSTRKRFT:
Labels: contests, does it offend you yeah