Tuesday, January 27, 2009

basic instructions
The GZA
returns to Vancouver on March 24th. This time around the Genius rocks the Commodore. Unlike last time, he'll be pulling from his entire catalogue throughout, rather than performing
Liquid Swords
front-to-back.
DD/MM/YYYY
are at the Biltmore on February 18th with
Sylvie
and
Twin Crystals
.
Memewar Magazine
celebrates the release of their 8th issue at the Railway on February 19th with
the Creaking Planks
,
Wintermitts
, and
the Ballgag N Chain Gang
.
Jody Glenham
celebrates the release of her latest at the Biltmore on March 3rd with
Analog Bell Service
,
Laura Smith
, and
Bad Moves
The Sadies
do a two night stand at the Biltmore on March 13th and 14th.
Julie Doiron
opens the first night,
Rich Hope
the next.
The Ting Tings
are at the Commodore on April 11th. (thanks Rachel)
Dan Deacon
is at Richard's on April 26th with
Future Islands
and
Teeth Mountain
.
On April 27th, a second
Bloc Party
show's been added. It's also at the Commodore and also features
Hot Hot Heat
as openers.
now playing: TV on the Radio - Wear You Out
Labels: show announcements
Friday, January 23, 2009

fourth of july
Dean Wareham
, currently of Dean and Britta, but perhaps more notably of Galaxie 500, is doing an in-store at Zulu on January 31st at 4pm.
Tonight,
Dylan Thomas
&
Your Vancouver Vipers
play the Know?Show wrap-up party at the Chapel with
Tight Solid
and the Schulz Trio.
Also tonight,
Junior Major
are having a CD release at the Biltmore with
the Paper Cranes
and
the Good News
.
Tomorrow, fittingly,
the Tomorrows
play with
Bad Moves
at the Railway.
On January 26th,
Buffaloswans
play the Beaumont Theatre (at 5th & Alberta).
On February 3rd, they're at the Railway with Make Love (feat. Andy from Secret Mommy, etc) and
Dixie's Death Pool
.
On February 6th:
-
Jackfruit
,
Bend Sinister
(who'll debut their new lead guitarist), and
Adaline
are at Richard's
-
Connect_icut
, David Grove,
Solars
, and Empty Love are at the Western Front for a Friday edition of Fake Jazz
-
Chris Smith
,
Woodpigeon
, and
Jody Glenham
are at Little Mountain
- The Biltmores (featuring members of Gang Violence, CH 3x4, Nu Sensae, Mutators, Sex Negatives and Ian Wyatt) are at... well, guess.
The Good News play Glory Days on Valentine's Day
DJ Skeet Skeet
flies up from LA as the guest DJ for the night.
Steve Aoki
is at Celebs with
Paul Devro
on February 20th.
Great Lake Swimmers
are at St. James Hall on March 29th and at the Norm Theatre on the 30th. (via
Bunkle Life
Crystal Antlers
open the Cold War Kids Show. In addition to taking them on tour, they'll teach them how to cope when the internet stops hyping your band.
Empress open for Gregg Kowalsky.
And White Lung are off the Glory Days bill on February 7th.
now playing: Sleater-Kinney - Get Up
Labels: show announcements
Thursday, January 22, 2009

everybody knows that you're coast to coast kid
The Clips - "Space Kidz" (via
Pitchfork TV
Labels: the clips
Tuesday, January 20, 2009

tokyo eye
Japanese Graffiti,
Nihilist Party
, and Blouse play at Neapolitan on January 23rd.
The Peanut Gallery hosts Luka from Basketball's going away party on January 24th (he's taking off to Spain to meet up with the other 2/3rds of his band).
Luka plays with Andy Dixon
and
No Gold
and Healthy Students round out the bill. Double duty for Andy.
Haunted Beard
do Hoko's on January 30th with
Shipyards
,
Kidnap Kids
, and Loup Garoux.
Shearing Pinx
are at Video-In (which I should really start calling VIVO two years or so late) with
Treasure Mammal
,
Sex Negatives
,
gr8-2000
, and
Stamina Mantis
on January 31st.
The same night,
Keep It Clear
, Dichotomy, Gone But Not Forgotten, Healthy Students, and Vacant State play at 648 Kingsway.
Also on the 31st,
Vapid
play Glory Days at the Biltmore.
Sorcerers
and
Adelaide
are at the Biltmore on February 3rd.
Dylan Thomas
, who's now being backed by
Your Vancouver Vipers
, plays the Biltmore with
Minto Chipman
,
Red Cedar
, and
the Greff Band
on February 5th.
Japandroids
are at the Cobalt on February 7th with
Terror Bird
,
White Owl
, and
Tight Solid
.
Also on the 7th,
White Lung
and
Fornix
play Glory Days at the Biltmore.
O Paon
(aka Genevieve Castree, but probably best known as
Woelv
) brings the romance to St. James Hall for a Valentine's Day all-ager. Aja Rose Bond and Gabriel Saloman (ex-
Yellow Swans
), who play as Diadem, and Aaron Read support.
Helio Sequence
are at the Biltmore on February 19th.
The same night,
You Say Party! We Say Die!
do one for the kids in the 'burbs, when they play Abbotsford's Yale Secondary with
Hard Feelings
.
...And You Will Know Us by the Trail of Dead
are at Richard's on March 13th.
On March 18th,
Plants & Animals
are at the Biltmore.
Ariel Pink
is at the Media Club on March 21st.
AIDS Wolf
are back at the Biltmore on April 4th.
On April 18th,
Black Kids
are at the Commodore with
Mates of State
.
Bloc Party
play the Ballroom on April 26th
Hot Hot Heat
.
And
Animal Collective
are at the Commodore on May 24th. They have the 21st-23rd off. How much do you want to bet they're doing Sasquatch on the 23rd?
now playing: Notorious B.I.G. - Party and Bullshit (Ratatat Remix)
Labels: show announcements
Wednesday, January 14, 2009

golden tombs
Odd strategy, but ultimately good news.
now playing: Death - Politicians in My Eyes
Labels: no gold
Tuesday, January 13, 2009

police and thieves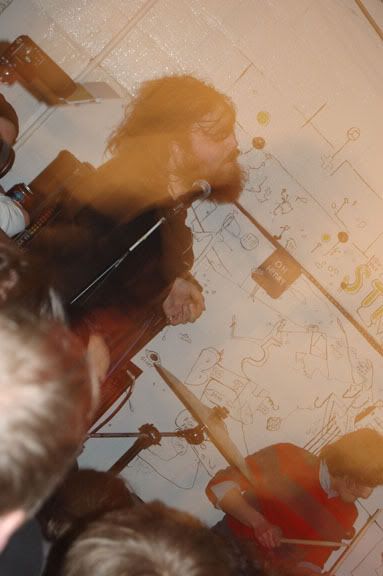 So, as Jonny mentioned in the comments a couple of posts back, the ER show this past Saturday was, in addition to being their 2nd anniversary, also the last show in the space. I was asked not to make a big deal out of that fact, which is why I didn't post it on the main page after he kindly commented about it.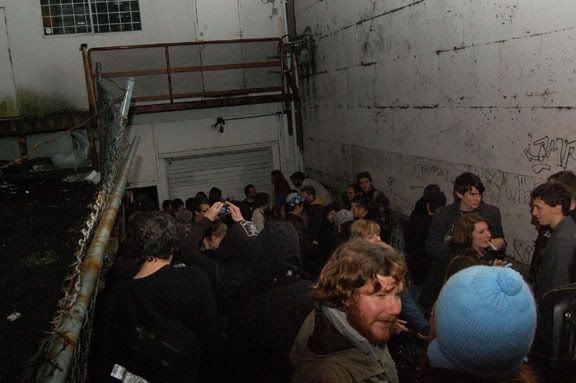 Unfortunately, the cops weren't as pysched about the party as the loads of people who showed up.
I made it down around 11:30pm and had missed
No Gold
, which was a bummer. Although, it wasn't as disappointing as finding out that they announced that it would be their last time performing together. I talked to Liam briefly and he mentioned other projects to come though.
I did catch
White Owl
and
Sex Negatives
before the place got shut down. It was disappointing that so many other great bands didn't get a chance to do their thing there one more time, but it was great that Justin, who took the lead in keeping the place running for the last two years, had one more go behind the kit that night.
A big thank you to him, the bands, and everyone else who made the ER what it was: one of my favourite places to see live music in this city.
Ryan Walter Wagner
has a couple of much nicer pics up on his
flickr
.
Speaking of Ryan, his new band
Tight Solid
, which also features Burnside (ex-
Treacherous Machete
), is playing the Balmoral on the 17th with
the Best Revenge
, and
Elton Bong
.
The same day (from midnight that morning to midnight on the 18th), tune into
CiTR
for
24 Hours of Radio Art
, which is a full day of sound collage, audio experimentation, and noise. For more, check the Facebook event page
here
.
On Sunday, Grace Gallery hosts the release of the book "Fifty One Ways to Make New Friends." In addition to the book release, the evening also features a collaborative performance from
Andy Dixon
and
Basketball
's Luka Rogers. Andy describes it as a cross between Basketball and Secret Mommy. Door and bar proceeds go to the Downtown Eastside Women's Centre.
On January 23rd, Centre A Gallery is home to Up With Hope, featuring
Corbin Murdoch & the Nautical Miles
and Shindig runners-up,
the Sappers
. All the proceeds go to the
Up with Hope Project
.
Low Decibel Festival
goes down at the Shed on January 31st. The evening features over 20 acts doing two songs each without the aid of any electricity, not even batteries, and not even for microphones. Show starts at 7pm, so get there early if you plan on going. Check the full line-up
here
.
Cadence Weapon
is at the Biltmore on February 28th with
Thunderheist
. Seeing as it's a Saturday, I'd imagine it's part of Glory Days.
Bonnie Prince Billy
is at the Vogue on March 25th.
Acid Mother's Temple
is at the Biltmore on April 7th.
And,
Lions in the Street
have a new EP up for download from
their website
for the increasingly popular price point of "whatever you want."
Labels: no gold, sex negatives, show announcements, show recaps, the emergency room, white owl
Friday, January 09, 2009

i don't wanna worry about dying
Pitchfork's On Repeat: Japandroids - "Young Hearts Spark Fire"
Fuck yeah, guys!
If you're interested, the demo versions of the songs from their forthcoming full length (out on
Unfamiliar
in the Spring) are up on their
Facebook page
.
now playing: Japandroids - Young Hearts Spark Fire
Labels: japandroids
Thursday, January 08, 2009

damaged enough
Really short notice, but
Twin Crystals
and
Nu Sensae
are at Honey tonight.
Labels: show announcements
Tuesday, January 06, 2009

no metal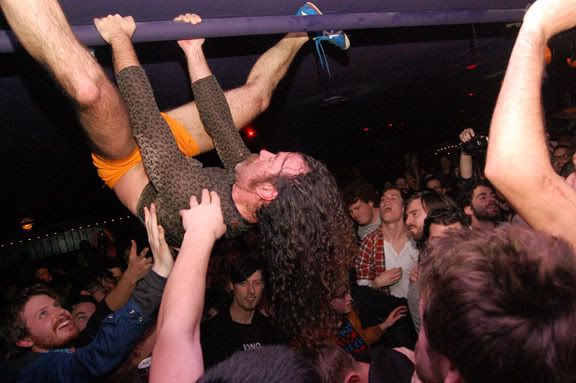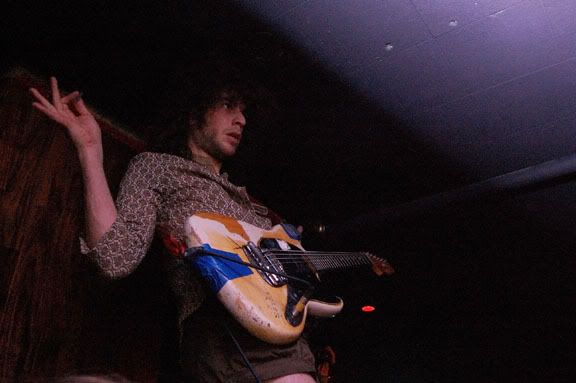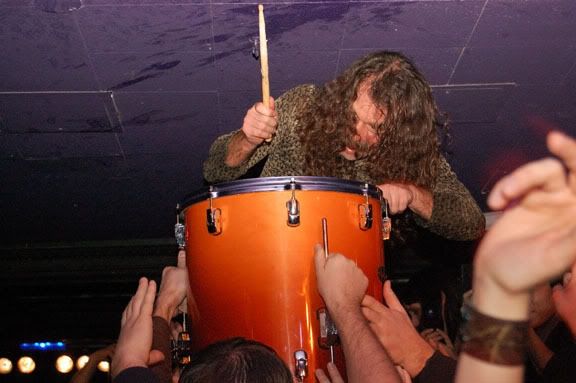 Been a long time. Sorry. My only New Year's resolution is to put a little more time aside for this thing again.
With that in mind, going back to last Tuesday at the Biltmore, there are some photos of
Monotonix
. It was sort of like Girl Talk. Genre-wise, things were obviously really different, but the spectacle was so amazing it sort of pulled your attention away from the music.
And what about the music? Their album certainly indicates that they've got songs--actual songs--but live it seemed like there was a lot of repetitive riffing, a lot of sporadic drumming (between setting up the kit at various places throughout the bar), and a lot of incomprehensible vocals.
Still, when I think about last Tuesday I think about what
Sean
said to me the first time I saw Girl Talk: "it's like Vancouver woke up from it's coma." Never a bad thing.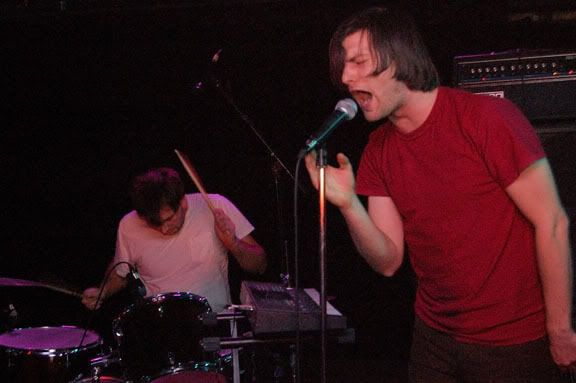 Twin Crystals
and
Gang Violence
took opening duties and were in their usual fine form.
Tomorrow,
Hello Shark
,
Buffalo Swans
,
Chris-a-riffic
, and
Shay Roselip
are at the Peanut Gallery.
On Saturday, the ER re-opens(!) with a show featuring
Twin Crystals
,
Defektors
,
Modern Creatures
,
Nu Sensae
,
Sex Negatives
,
White Owl
, and
No Gold
. Don't call it a comeback.
On January 17th,
Spenking
(sometime Dirty Projector, Spencer Kingman) is playing "the Shed" (815 E. 10th, around the back) with
Ruth, Alice, & Dana
,
the Kidnap Kids
,
Falcao & Monashee
, and
Raw Beast
. If you're so inclined, you can bring a dish for a potluck brunch, because this sucker gets going at 11am.
The Pets
,
Dinosaur + the Missing Link
,
Gape Attack
, and
Timecopz
are at Honey on January 22nd.
Die Rotzz
play the Peanut Gallery on January 23rd with
the Maynards
and
B-Lines
.
The Metronomy show originally scheduled for the Bourbon on the 25th is now at the Biltmore on the 24th (for Glory Days).
Fan Death
opens.
The Mae Shi
are at the Biltmore on January 29th with
Shearing Pinx
,
Certain Breeds
, and Sex Party (good luck googling that band website).
Hercules & Love Affair
drop into Celebs on January 30th to do a DJ set with
LCD Soundsystem
's Pat Mahoney.
Wildbirds & Peacedrums
open the Lykke Li show on February 11th. If you plan on going, make sure you get there in time to catch their opening set.
On February 28th,
Hard Feelings
play the Peanut Gallery with
Defektors
,
B-Lines
, and
the Parallels
.
The Presets
are at the Commodore on April 13th.
If you sign up for the mailing list at
Piper Davis'
website, you'll get a free mp3 every month.
If you head over to Al from
Taxes'
tumblr
, you'll find a whole bunch of new Taxes tunes.
Labels: gang violence, monotonix, show announcements, show recaps, twin crystals