Friday, March 30, 2007

quel est le boeuf?
I've had a lone track by
Yelle
kicking around in my iTunes for the last year or so (two years maybe?). My friend
Martin
sent it over to me after we both heard it on a
My!Gay!Husband!
mixtape, and he emailed Jason to track down the tune. Since then, it's been a mainstay whenever I've put together any playlist or cd that's anything close to dance oriented, but for some reason, I didn't really investigate the song or it's author much further. It was only a couple of weeks ago that I tracked down anything else by the French rapper, and it was only after that that I actually figured out what the song was about (thanks to my sort of bilingual girlfriend).
En anglais, it's called "Short Dick Cuizi," but in France (where it was apparently a minor hit), the people know it as "Je veux te voir." With my limited French, I still caught the jib of the title, but I'd been rocking the song this whole time, oblivious to the fact that it's actually a diss on Cuizinier from
TTC
(which makes the English title make a hell of a lot more sense).
As you ponder whether this beef will reach Biggie/Tupac proportions, culminating in a showdown on the streets of Paris, check out the electro buzz of the track in question, and also the disco pulse of "Ce Jeu."
download: Yelle -
Je Veux Te Voir (aka Short Dick Cuizi)
download: Yelle -
Ce Jeu
Hot Chip
are at the Commodore on June 19th.
Architecture in Helsinki
is at Richard's on June 14th.
Secret Chiefs 3
are at the Plaza on May 31st.
And because I can't let a day go by this week without posting about Ed Banger, Vice gives us a teaser for the forthcoming
Vol. 2 Compilation
.
Finally, a reminder if you were going to wander down to the DTES to go dancing tonight, that
1/2 Alive
is in
new digs
tonight.
now playing: Manic Street Preachers feat. Nina Persson - Your Love Alone is Not Enough
Labels: show announcements, yelle

where you'll find me now
This could be the most exciting thing to happen in music since... I can't remember when.

For those of you who are too lazy to clicky, Tiny Mix Tapes is reporting that Neutral Milk Hotel will reunite for a one off (boo!) gig at - where else? - the inaugural Tiny Mix Fest.

From Blown Speakers is now seeking out sponsors who will buy me a plane ticket to Minneapolis.
I'm a really early April Fool... this is still my favourite NMH song though.
download: Neutral Milk Hotel -
Bucket (Drone Version)
More substantial post to come later today.
edit: Apparently the PFork folks think it's an April Fool's Joke (source)
edit 2: Brooklyn Vegan is reporting that it is an April Fool's joke.
now playing: Neutral Milk Hotel - In the Aeroplane, Over the Sea
Labels: neutral milk hotel
Wednesday, March 28, 2007

us kids know
The rumoured
Arcade Fire
show has finally been
confirmed
. The most popular Montreal export since smoked meat hits Deer Lake Park on May 24th. Tix go on sale on Saturday, April 7th at 10am.
The Bravery
are at the Commodore on May 14th.
Catlow
plays with Sarah Jane (of
the Doers
),
Leah Abramson
, and
Sean Wesley Wood
at an unnamed venue at 51 Powell Street on March 31st.
The Highballs
are at the Lamplighter with
Leslie and the Lys
,
the Elixxxirs
, and the Golden Wedding Band on March 30th.
Speaking of the Lamp, you'll notice that there's a link to their listings (along with half a dozen other venues) underneath the regular listings. I'll still be throwing some of the shows that are taking place there in the regular listings, but I thought I'd link up to the listings on the individual venues' websites, since there are a ton of shows that I never mention for one reason or another.
Nomeansno
is at the Red Room on April 4th.
The Junior Boys show (on April 22nd) is also at the Red Room, which solves the problem of just how both that show and the Klaxons show were going to be at Richard's at the same time that night.
Z-Trip
is behind the decks at Richard's on May 18th.
now playing: Fugazi - Waiting Room
Labels: show announcements
Tuesday, March 27, 2007

another excuse
I often end up eating my words, and while I stand by what I said about hating the Caprice, I'm back pedaling on the "never going back" thing. Why? Because the
2 Many DJs (aka Soulwax) show
is there on April 26th. You can get tickets online right
now
for $27.50 (after charges - not bad) or in person from Beatstreet and Boomtown soon. Paul and Eric from
Salbourg
open.
If the Ed Banger soiree was any indication, you might want to grab tickets for this one soon.
download: Soulwax -
NY Excuse (Justice Remix)
How's that for a tie in?
Thanks to Graham and Chris for the details.
now playing: Spank Rock - Sweet Talk
Labels: show announcements

buzzkill
I can't believe this almost slipped right by me... from the
Hot Loins
camp, comes the sad news that the guys are playing their final show tomorrow at the Cobalt. They're a band that didn't blow me away the first time I saw them, but eventually grew to be one of my favourite local acts. I was going to stay home tomorrow night, but I just might have to venture out instead. (thanks to Mike for the heads up)
From bad news to good news,
Chalked Up
reports that
Salbourg
is bringing
Soulwax
(aka 2 Many DJs) to Vancouver. More details when they're announced, but they're at Coachella at the end of April, so a late April/early May date probably isn't out of the question.
The Hip
are at GM Place on July 12th. There's a presale that starts tomorrow, and the password is 'hockey.'
JT's
in the Garage on September 5th.
now playing: the Who - My Generation
Labels: show announcements
Monday, March 26, 2007

human after all
I woke up this morning and felt like I'd been hit by a train. My ears were ringing, my legs felt like I'd been biking back and forth across town all night, and my head felt groggy and clouded. Normally, I'd chalk up such a sensation to a wicked hangover, but I only had a couple of drinks yesterday. In which case, I can only presume that it was, in fact, Ed Banger that totally destroyed me. If you're feeling the same way (or even if your not), here's a little mix I threw together. 20 odd minutes of pony rockin, glock poppin, and sirens... lots of sirens.
tracklist:
1. Uffie - Pop the Glock (SebastiAn Remix)
2. Justice - D.A.N.C.E. (Demo Version)
3. SebastiAn - Walkman
4. DJ Mehdi - I Am Somebody (Paris Version feat. Chromeo)
5. DJ Mehdi - Pony Rocking (feat. Feadz)
6. Daft Punk - Human After All (Red Foxx's SpankbastiAn Remix)
7. Uffie - Ready to Uff
8. Klaxons - Golden Skans to Interzone (So Me Remix)
9. Fancy - What's Your Name Again? (Busy P Remix)
10. SebastiAn - Ross Ross Ross
11. Justice vs. Simian - Never Be Alone (We Are Your Friends)
download:
From Blown Speakers Ed Bangover Mix
Labels: mixtapes

we are your friends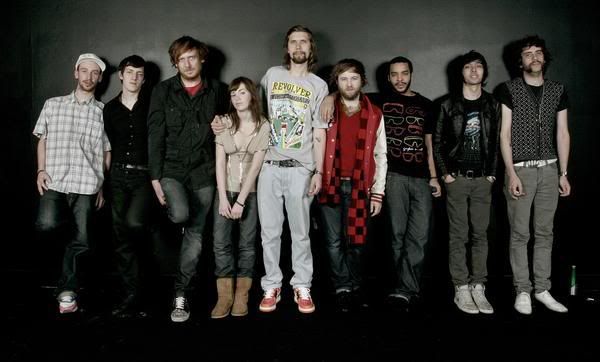 First and foremost, fuck the Caprice. The door situation tonight was beyond stupid. If they reincarnate Ian Curtis and Joy Division plays, it might be the only thing that would make me ever go back to that Hell hole.
With that in mind, I was in a pretty foul mood by the time I headed into the
Ed Banger Records
party tonight, which means it's even more of a testament to the six man team that manned the decks, when I say that I've never been so impressed by a DJ set in my life. In fact, I can't remember the last time I had so much fun at a "show" (maybe the Hold Steady?).
A really good friend of mine is going to school at Sciences Po in Paris, so she's seen the Ed Banger crew a bunch of times. She gave me a rundown of who she thought was best behind the ones and twos, and also who was less inspiring. I can absolutely see what she meant when she said that Mehdi can rock a party like no one else, but a bit of a different itinerary tonight meant that there weren't really any low points in the evening. Rather than playing one fairly long set each, Mehdi, Busy P, Xavier and Gaspard from Justice, So Me, and SebastiAn rotated in and out from behind the turntables every couple of songs. They, of course, played nearly every single their label's put out, but also found time to spin everything from Missy to Three 6 Mafia, the Beatles to Marvin Gaye and Tammi Terrell, and Daft Punk to the Rapture (by way of Simian Mobile Disco). And really, you haven't partied until you've shouted the chorus to "Never Be Alone" with a room full of friends and strangers to end an evening.
Props to
Paul
and the rest of the
Salbourg
crew for putting the whole thing on.
And now I need to sleep.
now playing: My Bloody Valentine - I Only Said
Labels: show recaps
Sunday, March 25, 2007

chances are
New Music West
hasn't really been much to get excited about for the the last 4-5 years, but with a few details leaking out of their website, things look like they might be turning around a bit (I reserve the right to take that back once the full schedule is posted). So far
Last Gang
,
Endearing
, and
Mint
have signed up to do showcases, and they've got a wrap up party scheduled for the Red Room on May 6th that boasts
Apostle of Hustle
(
Memphis
and
Lotus Child
round out the bill).
Andrew from
the Clips
sent me an email to let me know that a show he's been working on putting together has been confirmed for March 30th. He and his band mates are playing first on a bill that also features
Panurge
and
Bend Sinister
. The show will celebrate the opening of an art show called
Vague Undertaking
, and it'll all go down at the Chapel (at 304 Dunlevy - 1 block North of Pat's). If you celebrated Halloween with Vice, you might remember the place from their party. It's a converted funeral parlour.
The Cave Singers
(members of Hint Hint and PGMG) are at the Lamplighter on April 15th with
Lightning Dust
(Josh and Amber from Black Lightning).
Fujiya and Miyagi
open for Peter Bjorn and John.
Victoria, Victoria!
opens for Man Man
Members of
Spank Rock
are at the Bourbon on May 17th to spin some tunes.
Half Alive
presents
Glass Candy
at the Columbia on June 22nd.
Twin Crystals
support.
Dead Meadow is
canceled
tonight.
Long shot, but does anyone have an extra for the Ed Banger thing tonight? Email me, please: quinn.omori [at] gmail
now playing: Ghostface - Be Easy
Labels: nmw, show announcements
Wednesday, March 21, 2007

musique
I don't think I've ever written as much about an out of town show as this one (save for Sasquatch), but it seems like a fair number are as excited as I am about
Daft Punk
in Seattle. The pre-sale starts tomorrow at 10am, and the passwords are 'robots' and 'theend' (one would assume for the internet and radio pre-sales respectively). Good luck, everybody. (thanks to wono, peter, and db)
Frog Eyes
is at the Media Club on June 6th with
Himalayan Bear
.
The Rosebuds
are at the Media Club on June 9th.
Le Blogotheque
(whom I haven't mentioned before for some reason, even though I'm on their mailing list) has two live
videos of the National
up as part of their
Les concerts a emporter
series. The band performs "Ada" and "Start a War," which will both be on the band's upcoming release,
the Boxer
. Make sure you poke around some more, they've captured some pretty fine moments on film. (le concerts a emporter
en anglais
)
now playing: the National - Start a War (live)
Labels: show announcements
Tuesday, March 20, 2007

capitalism stole my virginity
Wow, this guy is a massive asshole
.
now playing: Yeah Yeah Yeahs - Man
Labels: jerks

you know i'm no good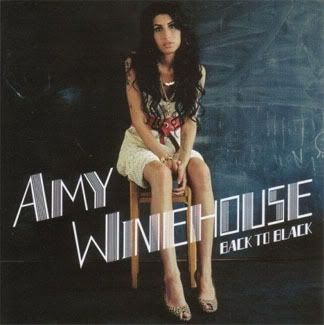 Americans finally got a taste of
Amy Winehouse
, as
Back to Black
finally got a release stateside last week. This also means that Canadians might take notice of the Brit chanteuse, even though her album's been out since December here (although Wikipedia says February). Confusing things, however, is the tracklisting for the stellar record. In the UK, it was eleven tracks long and ended with "Addicted." The version I have, which I can only assume is the Canadian copy based on the copyright info on the back (I got a promo, so maybe the retail is different), is only ten tracks long. However,
the Universal website
claims that the Canadian version has twelve songs, boasting both "Addicted" and an acoustic version of "Love is a Losing Game." By contrast, the American version has twelve tracks, but swaps the latter for the Ghostface remix of "You Know I'm No Good" (which has already been available on
More Fish
since December). I don't get it either. I really think people should go out and buy this... but if you end up missing the last two tracks, here they are.
download: Amy Winehouse -
Love is a Losing Game (acoustic)
download: Amy Winehouse -
Addicted
Arts County Fair
has finally rounded out this year's line up. De La Soul will take the stage right before Sam Roberts, and
Land of Talk
will kick things off (or maybe play second?). De La were actually pretty decent when I saw them last year, but I'm pretty psyched for Land of Talk. Of course, they're playing the coveted "empty stadium" part of the day. If you're planning on attending the Fair this year, show up early.
The Neins Circa
are at Pat's on April 6th with
Abernethy
and
Fanshaw
(Liv from the Choir Practice).
Jump + Dash
are playing a benefit gig for
the Buddha Academy
with
Wintermitts
,
the Ludvico Treatment
,
the Stalls
, and Dren on April 26th at the ANZA Club.
International Falls
are at Hoko's this Friday with
Huge Manatease
and
D. Trevlon
.
now playing: The Notorious B.I.G. - Things Done Changed
Labels: amy winehouse, show announcements
Monday, March 19, 2007

human behaviour
Apparently when 90% of the music world is down in Austin, the flow of news that doesn't include "I watched *insane number of* bands today and I'm totally hungover from free beer and BBQ" slows to a trickle. With that in mind, I hope you'll excuse my absence.
Bjork
is at Deer Lake Park on May 23rd. I heard rumblings that a show pre-Sasquatch would include some acts from the fest (a la the Flaming Lips/Modest Mouse/Destroyer/Liz Phair), but we'll see if the openers will also be joining Bjork at the Gorge the next weekend. (thanks to Nathan for the heads up)
PFork let's us know that
Modest Mouse
is at the Coliseum on April 16th.
They were also kind enough to announce
the White Stripes tour from 2005
as dates for 2007. The NME and Billboard were also duped.
Finally,
Daft Punk
tickets for Seattle are on-sale this Saturday at noon through Ticketmaster ($40USD + charges). There's a pre-sale that starts on Thursday, but I have no idea that the password is. If you do, do tell. (thanks Ken)
now playing: Interpol - Stella Was a Diver and She Was Always Down
Labels: show announcements
Thursday, March 15, 2007

the get away
When
Pretty Girls Make Graves
made the announcement that their upcoming tour would be their last, I found it a bit odd that they weren't ending things in their hometown. Luckily, they've since added a final farewell gig at Neumo's in Seattle on June 9th. I'll be honest, despite the fact that
Good Health
still ranks pretty highly amongst my favourite records, I haven't really found much to cheer about since
the New Romance
. If you'd like to make the trip down the I5 for the band's last show however, you can grab tickets
here
for a mere $17USD including all charges (password = "kexp"). (thanks to Peter for the headsup)
Keeping with the theme of out of town concerts,
Clinic
has been added to Sunday at
Sasquatch
.
Closer to home,
Joel Plaskett
plays the Commodore on May 18th with
Peter Elkas
.
Cut Chemist
is at the Plaza on April 4th.
Frank
has the initial acts for the TO version of
VFest
. They get Bjork, Interpol, Amy Winehouse, and a reunited Smashing Pumpkins (which could be awesome in a train wreck kind of way). In Vancouver we're stuck with My Chemical Romance, Billy Talent, AFI, and Rise Against (note to organizers: Warped Tour is already coming here). This is the kind of thing that fuels Western alienation.
And finally, am I the only person who saw that Tim McGraw and Faith Hill are billing their new tour as "Soul 2 Soul" and thought
"back to life... back to reality?"
Probably.
now playing: Public Enemy - 911 is a Joke
Labels: show announcements
Wednesday, March 14, 2007

perhaps vampires is a bit strong but...
Arctic Monkeys
are at the Commodore on May 4th. Although they were one of the highlights of Sasquatch last year, I wasn't really down with shelling out $35 + charges to see them again. Well, I'm still not down, but I'll begrudgingly pony up the cash because
Be Your Own Pet
is opening.
Interpol
is at the Commodore on April 25th. (thanks to Ryan for the headsup and to the anonymous tipster who corrected the date).
Tickets for both of the above go on sale on Friday at 10am.
Kidz By Colette
has the details about (and some mp3s from) the upcoming
Teki Latex
album. If you're not into to the French hip-hop, you might still be interested in noting that Bitch Lap Lap guests on track 11. And you also might be interested to note that Bitch Lap Lap is the alter ego of
Leslie Feist
. It got my attention, anyhow. That Spank Rock remix of "Disco Dance With You" that features
Amanda Blank
is pretty massive too.
Finally, if you haven't already checked it out, you should head over to
Vice TV
. There's the usual Vice stuff that you probably either love or hate, but they also have some pretty great interviews up, as well as some legitimate news pieces that are really well put together. And, of course, plenty of music content. Rory from Vice emailed to let me know about an Andrew WK interview they have up (because of the talk/dj session announcement), but I was more drawn to the Ian McKaye interview. There's a pretty decent set of episodes on the Sudan as well. Shane Smith isn't Seymour Hersh or anything, but the series held my interest for all five episodes. And, to top it off, the quality is ace for streaming video.
edit: Apparently Daft Punk tix for Seattle are on sale on March 24th. I have no idea where yet, but if anyone has the lowdown, do tell... please.
now playing: Amanda Blank - Get Um Girl
Labels: show announcements
Monday, March 12, 2007

kill the tv screens
1777Rex
just posted an Ex-Dead Teenager song in their MySpace player. "Cowboys in the Rain" is from the long lost, but soon to be released, album from the punk/no-wave band that Steve McBean fronted before the release of the first Jerk with a Bomb record. You can read more about this fabulous record (and the associated fabulous record label) in an
article I penned for this month's Discorder
. And to make up for that shameless self-promotion, here's another track from the record for your listening pleasure. You can hear shades of "It's Only a Three" in countless Vancouver bands that came after, including one of my favourite local acts, the now defunct
Red Light Sting
. Keep in mind that this .mp3 is unmastered, while the 1777rex release was remastered by McBean himself. Needless to say, I'm pretty psyched about getting my hands on a copy.
download: Ex-Dead Teenager -
It's Only a Three (unmastered)
Both the Ex-Dead Teenager CD and the upcoming
Anemones
EP,
Special Times
, should be available at Zulu (and possibly Chroma Books) at the end of the month.
Fluo Kids
has two exclusives from the forthcoming
Ratatat
Remixes, Vol. 2
. After (sort of) reading the post and eagerly devouring the mp3s, I was startled by how little of my terrible French I can remember, and also left with two questions. Are London hipster night clubs populated solely by jetsetting fashion model types (see: the header pic from every second post)? And why is it that I find the beats that Ratatat makes to put behind other people rhymes so much more interesting than the beats that they leave as instrumentals on their records?
Honestly, I gave
Classics
quite a few spins before getting bored with it, and I swear I don't remember hearing anything as good as either of the two songs that Fluo Kids posted. I'm tempted to chalk up my appreciation for the raps over top, but I don't even like that Young Buck track.
Model Citizen... Zero Discipline
traces the path from Slow to Copyright, providing almost every single song that the band(s) put out in mp3 format, including a Slow Christmas number that I'd never even heard of before.
Black Rebel Motorcycle Club
is at Richard's on May 12th.
El-P
is at Richard's on May 15th.
Stereogum
chronicles the saga that was sparked when some guys (who clearly keep it real with their backpacks slung low) failed to see how hilariously awesome it was that El Producto got Diddy to pose for
a pic with his whole crew
.
Ladyhawk
is tipped to open for Tapes and Tapes.
Oh No! Oh My!
open for Mew.
now playing: Slow - Black is Black
Labels: mp3, show announcements
Saturday, March 10, 2007

mo' money, mo' problems
You'd be hard pressed to find anyone (except, perhaps, a shareholder) who has anything nice to say about Ticketmaster. Countless music fans have a story about the website crashing, how they lost out at an outlet because of that infernal random draw system that they employ, or how they battled the automated phone line at 10am on a Saturday, only to be left ticket-less and wanting to strangle the robotic voice on the other end. But the thing that seems to grate on most people is, of course, the service fees.
The solution for Vancouverites has long been to forgo TM in favour of patronizing one of the local independent record stores (something that I've long encouraged). But lately things have been getting way worse on the pricing end of things at the city's most popular
indie record joint
. A quick look at their prices (keep in mind these are their online prices, so I think you can probably knock off
a buck or two
3 bucks in person) and what you'll pay on ticketmaster.ca after the "convenience charge" shows that... well, that someone's making a considerable amount of extra cash (percentage-wise).
Ratatat
will currently run you
$21.25
on TM and at Zulu it's listed at
$27.25
.
CocoRosie
is
$23.25
from TM and
$29.25
from Zulu.
The Zombies
would've run you
$40.25
if you bought them earlier today on TM, but somehow the price was a whopping
$51.50
at Zulu.
LCD Soundsystem
will set you back
$31.55
at TM and
$41
at Zulu.
Now consider that Red Cat has the
Acid Mothers Temple
show listed for $20 + 20% service charges ($24) and Zulu's charging $27.
edit
: Zulu adds $3 a ticket to online charges, so you can subtract $3 from that if you want. Although, keep in mind that the TM prices I used were online and are delivered free by standard mail. (thanks to Scott for the info)
I've heard from several people (and I haven't been able to confirm it) that once Zulu sells out of its original allotment of tickets they can only get more at TM's price, which they then add their own service charge to. Now obviously this type of pricing isn't going to gouge you as badly as the guy standing outside a sold out Commodore the night of a big show, but if that's true and they're selling tickets that you just could've picked up on TM otherwise, how is this much different than scalping? If it's not true, what explains the fairly significant price difference?
The Sea and Cake
are at Richard's on May 14th.
Color Magazine
's presenting an all-ages "evening with" and lecture by
Andrew WK
at the Ridge on April 5th. I don't know if the "evening with" part means he'll be performing as well as talking, but you can catch a performance of some sort later that night at the Bourbon when he'll lead a DJ Session/singalong. You can't make this stuff up.
now playing: Test Icicles - Your Biggest Mistake
Labels: show announcements
Friday, March 09, 2007

robot rock
Pitchfork
confirms the
rumoured Daft Punk
dates, including the stop in Seattle on July 29th. To make things even more exciting, everyone's favourite robots will get support via the humanoid dance party that is
the Rapture
and the misplaced capitalization of
SebastiAn
and
KavinvSky
. Oh, and I'd bet money that the venue in the Emerald City isn't
the WaMu Center
(Seattle's sixth tallest skyscraper) and is actually
the WaMu Theater
(connected to Qwest Field - yes, they can take out those seats). No word on tickets yet.
Rob's
got Daft Punk's Coachella set up to tide you over until July.
If you need another - perhaps more subdued - way to get your electronic fix,
Air
is at Richard's on April 21st.
Maximo Park
is at Richard's on July 23rd.
Gang Gang Dance
is at Richard's on June 15th with
Ariel Pink
.
And finally, if Monday's show isn't enough
Bloc Party
for you, you can head down to the Robson St. Aritzia before the show to catch Kele Okereke spinning records from 6pm-7pm. (thanks Kaitlin)
now playing: You Say Party! We Say Die! - Five Year Plan
Labels: show announcements
Thursday, March 08, 2007

it's just no fun, when you hate the person that you've become
I've sort of given up on posting tracks from leaked records since there are thousands of blogs that do that. But a track from the upcoming
Dntel
album really caught my ear. So much so, in fact, that I'm pretty excited to buy the record when it comes out, and I probably could've cared less about it before that.
"Roll On" is the fourth track on
Dumb Luck
and features Miss
Jenny Lewis
, who lends her country croon (and maybe her acoustic guitar too?) to a number that she's played live under the name "A Warm Bed is Something." I've generally looked fairly favourably on the instrumental part of James Tamborello's Dntel stuff, but I've always been turned off by his hushed vocal delivery, and even more so, Ben Gibbard's hushed guest vocal delivery. I am, however, a big fan of Jenny. If you stripped away all the electronic flourishes you'd be left with a track that would cozy up nicely alongside the songs from
Rabbit Fur Coat
, and Tamborello's knob twiddling and programming does a great job of adding to the composition without overwhelming it. "Happy" jumped out at me from Lewis' solo record because of the way it contrasted very modern lyrics with an old time country vibe, and "Roll On" does the same thing with the acoustic strums and filtered samples.
download: Dntel ft. Jenny Lewis -
Roll On
download: Jenny Lewis -
A Warm Bed is Something (live at the Echo)
Lou Barlow's keeping busy.
Dinosaur Jr.
is at the Commodore on May 23rd.
The National
are at Richard's on June 29th in support of
the Boxer
(out May 29th).
Run Chico Run
headline an all ager at Seylynn Hall on March 17th with Lizard People and
Fake Shark Real Zombie
.
Busdriver
opens for CocoRosie on May 5th.
now playing: Dntel ft. Jenny Lewis - Roll On
Labels: dntel, jenny lewis, mp3, show announcements
Tuesday, March 06, 2007

dirty town
I've been told that objectivity and music criticism go together like oil and water. And to a point, I don't think anyone would argue that that isn't true. On the other hand, passing judgment on something, isn't always directly tied into whether or not you like something or not. There are plenty of acts that I dislike and also think out and out suck, but there are also artists that I'd never go out of my way to listen to who I can recognize as extremely talented. I don't really like M. Ward or My Morning Jacket, but honestly, I think you'd be stupid to call either a "bad band." Well, M. Ward isn't really a "band" at all, but you get my point. With that, here's a record that really didn't do anything for me, but could very likely do a lot for you.
Promo Pile: Vol. 2
Mother Mother
-
Touch Up
I remember reading a claim somewhere that Vancouver's own Mother Mother (formerly just Mother) were like "nothing you've ever heard." The statement's completely untrue, but I can see what they were getting at. The songs on
Touch Up
are like everything you've heard before all at once. And it's that strange blend of the familiar that's certainly positioned the band as something unique. The songs are rooted in country/folk traditions, but they pull from anywhere and everywhere through the record's thirteen tracks. While it's less frantic than Girl Talk (and certainly less dance floor oriented), it's not totally outlandish to say that both acts are the product of the same sort of ADD, mashed up, MTV clip'd culture.
There's really no "you'll like A if you like B" comparison to make. But you can get a pretty good idea of what the record is all about by streaming three songs on their
official site
. It's one of those records that will divide rather than unite, and there's probably an equal chance that you'll love it as there is that you'll hate it. And that means you should at least check it out.
now plaing: Julie Doiron - Me and Julio Down by the Schoolyard (Paul Simon Cover)
Labels: mother mother, promo pile
Monday, March 05, 2007

take me where i've never gone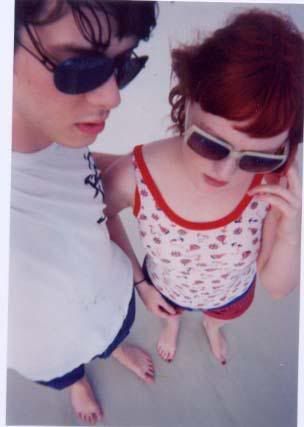 One of my main complaints with the last
Von Bondies
record was that it was way too slick sounding. On the other hand, I was pretty pleased with the increased vocal presence of Marcie Bolen and Lauren Wilcox. While the latter's no longer with the band and presumably up to other things, it's Marcie's new(ish) project that I stumbled upon the other day. The ax slinger teamed up with
Taylor Hollingsworth
to write and record some tunes, and while the duo are currently unsigned and rocking a mere two songs on
MySpace
, the pair of tracks suggests that there's a lot to look forward to in the (hopefully near) future. The instrumentation sits in the same family as her full-time outfit, but the production is down and dirty, instead of spit shined and sanitized. And while Marcie only backs up Taylor's laid back vocals on the bluesy garage-pop of "Turn the Lights Back On," she takes leads and proceeds to let loose on the frantic, "Hey Sailor." I wish I had some more info to share, but alas... If anyone can enlighten me, I'd be much obliged. And if you own a label, maybe sign these two and get a record out.
Speaking of getting records out, Last Gang reports that they'll be releasing
Metric's
"lost" first LP,
Grow Up and Blow Away
, sometime before summer's over. Apparently they're readying the album in "the form the band wants it" right now. I was always under the impression (from interviews and whatnot) that the form they wanted it in was non-existent, and having heard it (it's out there if you want it), I can sort of hear why. It's not terrible, but it's certainly not up to their current standard, and I've only got one track still hanging around in my iTunes.
download: Metric -
On the Sly
My friend Shea was kind enough to let me know that
the Bird and the Bee
is opening for Lily Allen, in what's now a night long ex-boyfriend hate-on, and also that
Sarah Slean
and
Veda Hille
support Ron Sexsmith, who will apparently also get a hand from the CBC Radio Orchestra.
Rumours abound that
Daft Punk will embark on a July/Aug NA Tour
that will see them hit Seattle's
WaMu Theater
on July 29th. Don't start planning that road trip yet. But if this is confirmed, start planning that road trip immediately. I heard some quiet rumblings about a Vancouver date, but if those dates are correct, it doesn't leave much room for the robot rockers to make a cross border sidetrack.
I got squeezed into writing the gratuitious
Arcade Fire
review for Streethawk. But more importantly, Luke Simcoe sat down with Andy Dixon for a marathon interview and parts
one
and
two
are up now. The site actually updates fairly regularly, so check it out and junk.
Finally, you should probably stop reading this blog and go read
this blog
. If for nothing else, at least check out
Sample Wednesdays
.
now playing: Marcie Bolen and Taylor Hollingsworth - Hey Sailor
Labels: marcie bolen, mp3, show announcements, show rumours, taylor hollingsworth
Sunday, March 04, 2007

bring your record player and your raincoats 45s
Despite my love for
Ladyhawk
, my main motivation for heading down to the Plaza last night, was to check out
Saturday Looks Good to Me
. Apparently, I was one of the only people thinking that way, as the place was pretty empty during their set. As anyone who's been to a less than well populated show at the Plaza knows, the sound sucks if the room isn't filled with bodies, and that was sort of compounded by SLGTM's very liberal use of reverb. They also didn't bring any female singers along, which was a bit disappointing. Venue and personnel issues notwithstanding, the set was pretty good. They pulled mostly from their forthcoming record, while throwing in a few from
All Your Summer Songs
(including a great rendition of "Meet Me by the Water," with Fred Thomas tackling the female-on-record vocals). Thomas also ripped threw some pretty rad - and rather unexpected - solos. You know that part in
Back to the Future
where Marty leaves everyone dumbfounded by playing some crazy 80s metal solo during "Johnny B. Goode?" Well, imagine if he had done it in the middle of "Earth Angel" instead. And, instead of being shocked, the crowd realized how awesome that concept is.
Ladyhawk frontman, Duffy Driediger, apologized several times during their set for being "too drunk." I'll take his word for it, but it didn't really show. They played "the Dugout," "Teenage Love Song," and "My Old Jacknife" from their self-titled debut, and spent the rest of the time on new/unreleased songs, including "War" (which you can still grab from Jagjaguwar) and "Faces of Death" (which is still my favourite Ladyhawk song).
Check out the latter in the CBC Radio Session that
Matthew
posted awhile back.
now playing: Elevator to Hell - the Climb
Labels: show recaps
Saturday, March 03, 2007

is that the thanks i get?
Did you miss those three new
Wilco
tracks that got leaked and pulled from various websites yesterday? Well, Jeff and the boys don't want you to feel left out for too long. Starting tonight at 8pm PST, they'll stream
Sky Blue Sky
in its entirety
on their
official site
. The message that's on the site right now says that the stream will go until "the wee hours of the morning," so if you can't get to a computer at 8pm, you can probably rest assured that it'll still be going after you're done with your Saturday night plans.
Tangentally related update:
Warner's put up three old Wilco vids up on YouTube. Whoa... wait... they want to promote a record? with a video? aren't they supposed to be taking these down from YouTube?
Probably the only time you've been able to see the "Outtasite (Outtamind)" clip in decent quality in years (unless you have that bootleg dvd that's floating around):
more:
I Must Be High
and
Box Full of Letters
and
a crapload of other Warner vids
Tangentally related update #2:
Flaming Lips - Phoebe Battles the Pink Robots
... who the hell is Phoebe and what did she do with Yoshimi?
now playing: Wilco - Cars Can't Escape
Labels: wilco
Friday, March 02, 2007

the waiting is the hardest part
After avoiding it for the longest time, then relenting and embracing it head on, I'm starting to reconsider downloading things before their release date. It's still a bit of a double edged sword though.
On one hand, I've checked out a ton of records that I wouldn't have otherwise bought, and ended up purchasing them and going to shows as a result. The only bad part about that is the effect on my bank account.
On the other hand, the whole process kind of takes the magic out of record stores. My copy of the Rapture's latest is still in its shrink rap. I snagged a nice VO rip a week before the album's release, and then picked up the actual CD the week after it came out, but haven't really felt compelled to throw it in my actual stereo. Plus, while the cover is ok looking, I doubt I'm missing out on some especially interesting artwork or liners. Ditto for the last two Sonic Youth releases. I actually did open them up to look at the liners, but they haven't seen a lot of stereo time, since my discman's been out of commission and I really prefer my SY via headphones while walking/biking around. I certainly appreciate the fact that I can avoid spending money on crap records (and instead spend that and more on good ones), but I've got a bit of nostalgia for the days when I rushed down to the record store after school/work on a Tuesday, ripped open the package and threw it blissfully into my discman.
On that note, the new
Feist
record leaked, and it's absolutely wonderful. While it's still soft enough for mom, some of the slick sheen's been sanded off of the production. The results are a record that sounds just a touch more ornate than the very stripped down Apostle of Hustle "UnMix" of Inside+Out, and at times shares some sonic territory with Julie Doiron's guitar/voice arrangements. If you search around, I'm sure you can sample some of it for yourself. Despite the fact that it just might be my favourite thing of the year so far, I still couldn't bring myself to shell out the $95(!) for a pair of tix for her show this morning.
Somewhat related to downloading, and coming from the opposite perspective, I want to give a shout out to
Team Clermont
. The publicity co. has started delivering promos via YouSendIt. While I'm sure it saves them money, the move also cuts down on padded mailers, unnecessary shipping, and perhaps most importantly, a lot of hunks of plastic that end up sitting in piles in the offices of writers and bloggers from all over. There's no way that someone's going to like every disc they get, and this definitely cuts down on a lot of waste. They're also perfectly willing to ship out a physical disc when something really turns your crank, which is nice...
Speaking of, they sent out the new
Sister Vanilla
record, and it's the first really great surprise I've heard all year. The news that Jim and William Reid were getting back together on record got overshadowed by their pending reunion as of late, so I'd forgotten all about this album. It's really their sister, Linda, who's taking centre stage, but the influence of her brothers is all over the 13 tracks. Her voice is a bit less dreamy and a little more forceful, but on the whole
Little Pop Rock
is like an album's worth of Jesus and Mary Chain and Hope Sandoval collaborations. And those were gold. On a side note, if you're a JaMC freak like me, you might be interested in noting that she did the cover of the "April Skies" 7".
PFork posted these a little while ago, but if you missed them, do yourself a favour and grab them now. The record's in stores on April 3rd (unless you're in Japan, then you can get it right now).
download: Sister Vanilla -
Jamcolas
download: Sister Vanilla -
Can't Stop the Rock
Three tracks from
Wilco's
forthcoming record leaked. I'll refrain from putting in my two cents on the music, but will point out that the blog that posted them got its account suspended for "breaking WordPress.com's terms of service." Apparently it's been happening with other mp3s as well.
Idolator
has more.
CSS
is at Richard's on June 6th with
Bonde do Role
. If you were at Celebs when both bands rolled through opening for Diplo in August, you know that you absolutely do not want to miss this. CSS were amazing.
Lavender Diamond
is at Richard's on May 23rd.
Last but certainly note least, David from the
Lamplighter
emailed me to let me know that he's now booking the room. He also hasn't hesitated to immediately fill up the schedule for March with 19 shows over 15 days. I'm just about to head out for the evening, so I'll pick out some of the gigs that jump out at me soon. But in the meantime, you can form your own opinion (which is probably more refined anyhow) by checking out the full line up on the Lamp's
website
.
now playing: the Blow - the Sky Opened Wide Like the Tide
Labels: feist, riaa, show announcements, sister vanilla