Friday, November 30, 2007

crimewave
I haven't even listened to
White Williams
yet, but I'm psyched about his show at the Media Club on January 23rd because
HEALTH
is opening.
Teenagers
are at 1/2 Alive on January 18th.
Feist
and
Ron Sexsmith
play some Olympic soiree at the Orpheum on February 12th.
tickets
go onsale Saturday, and will run you enough so that if this thing sells out they might be able to cover the inevitable cost overruns. (thanks Kevin and Jeff)
Editors
and
Hot Hot Heat
play the Commodore on February 5th. Whenever I see Steve Bays around town he's drinking white wine... even in bars that are sort of scuzzy. What's up with that?
Dean & Britta
and
Keren Ann
are at Richard's on Valentine's for all you lovey-dovey jerks out there. (thanks to giselle for the last two)
Streetlight
is at Pat's on Saturday with
White Owl
and
Greenbelt Collective
.
And there's a bunch of other local shows that I haven't listed, but just peep
Only
for the details.
You should probably go to see No Gold/Basketball/Colorbook/Int'l Falls at Pat's. I would, but I'm packing my stuff up to move. Speaking of, I needed to order a new modem at home, and unless it's sitting there when I get home tonight, I won't have internet on the weekend (unless I can steal it from someone in my building... by "steal," I mean "borrow")... so things might be quiet until Monday.
Frank's
giving away some passes to
I'm Not There
, and even though he's in TO, the freebies are good anywhere in Canada.
Labels: show announcements
Thursday, November 29, 2007

i'll feast on her eyes, but i'll dream about the door
Typically, I don't post about movies, mostly because I don't watch that many... or comparatively, anyhow. With that in mind, take my opinion for what it's worth, but
I'm Not There
was probably the best new movie that I've seen since Children of Men.
Sometimes based on fact, sometimes purely fiction, and usually in between, the movie is probably a more rewarding watch for Dylan fans (or music fans in general), but there's enough going on to satisfy most anybody. If for nothing else, it's worth seeing for Cate Blanchett's performance and the Jim James cameoing with his rendition of "Goin' to Acapulco."
Todd Hayes, interestingly, opted to use music from the soundtrack - a rather large collection of Dylan covers - to voice the seven (well, five, two didn't do any singing) "Bob's" when they were performing music in various scenes. While the singers they chose fit with the voices of the respective actors, mostly due to the sound, the lip syncing is really obvious. It was a bit jarring at first, but by about halfway through it seemed to fit with the rather surreal nature of film as a whole.
My only complaint (complaint is a bad word... more like "mild, mild disappointment") is that in recreating the scene when Dylan gets called "Judas" in the UK by uptight folkies, they didn't include him (or her at that point - it was Cate Blanchett) turning to the Band and telling them to "play fucking loud."
Kid Koala
is at the Biltmore on December 28th.
Scottie B
spins at 7 Alexander with
Paul Devro
on December 20th.
Devro's with
Catchdubs
at the Modern on December 6th.
Fond of Tigers
celebrate the release of their new record,
Release the Saviours
on December 13th at the Biltmore.
And finally, I have to make up for not mentioning it yesterday, but Fanshaw's cover of "Love Hurts" (which was closer to the Gram Parson/Emmylou Harris version than anything else) was pretty sweet... and that song sucks, so it was an achievement and a half.
Labels: i'm not there, movies, show announcements
Wednesday, November 28, 2007

checkerboard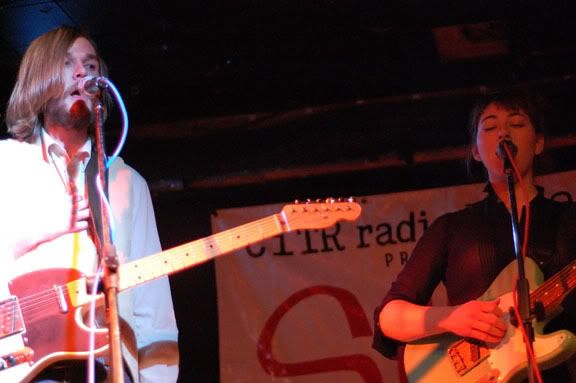 The thing about my picture taking (ne photography) is that I'm lazy. As you can see above, if I had bothered to move back two feet that photo of Liv and Johnny might be half way decent. I illustrate this point to help explain why there are only
Fanshaw
photos up. When
Adjective.
(don't you forget the period) and
Broken Greenbelt Schools Music ProjectCollective Scene
were on the front of the stage was kind of crowded, and so while both bands are generally fairly easy on the eyes, I was sitting too far back to take any snaps, and I couldn't be bothered to wade my way any closer.
Adjective have chops, but they also wear their influences prominently on their sleeves. Whether or not that's okay with you probably hinges on how much you like Joy Division... if they had a girl in the band. Although, it should be noted that I haven't seen Ryan break into seizures on stage yet.
Perhaps it points to the fact that I'm a miserable, misanthropic curmudgeon, but I can't really get into the Greenbelt Collective. My patience for bands that project unrequited, childlike joy for more than 5 minutes at a time is reserved for few acts, and the quota for cuteness at Shindig got used up by Petroleum By-Products (like seriously, those kids are adorable
and
they rock). And speaking of bands sounding like other bands, someone give them a copy of "Space Oddity" for Xmas.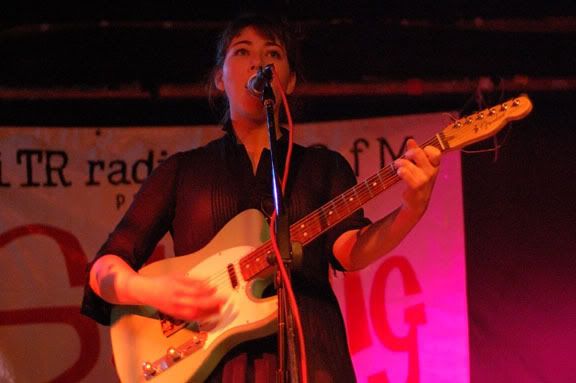 I was informed when I arrived to work this morning that Fanshaw won. I actually hadn't seen Liv play her solo material before last night, and to be completely honest, I didn't think that it would excite me all that much live. Her soft delivery and muted arrangements (at least recorded) seemed to lend themselves more to at-home-hungover-on-sunday listening than live performance, but I was rather pleasantly surprised. She could probably get by on being a cute girl with a (very) pretty voice, but her songs are good, her usually coy lyrics are better, and with a little help from her friends (including Johnny from Victoria, Victoria, who seem to be suffering from the Shindig winners' curse) the proceedings had a enough energy to hold your attention for the duration of her/their set.
Finals go on December 4th. The resident From Blown Speakers bookie is giving 5:4 on a Petroleum By-Products win.
Labels: adjective, fanshaw, greenbelt collective, shindig
Tuesday, November 27, 2007

spit tastes like metal
From Saturday:
I don't know what these sound like, because I don't think my office would appreciate AIDS Wolf/Mutators coming out of my speakers. Courtesy of
this guy
.
Monday, November 26, 2007

we multiply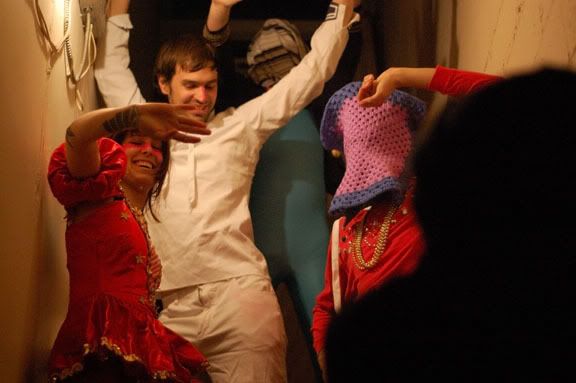 I quite like
Lovvers
,
AIDS Wolf's
most well known release, but I honestly wasn't expecting the band to be all that great live. I figured they'd be good, and definitely worth seeing (especially with
Mutators
and
Shearing Pinx
opening), but they were far, far better than that.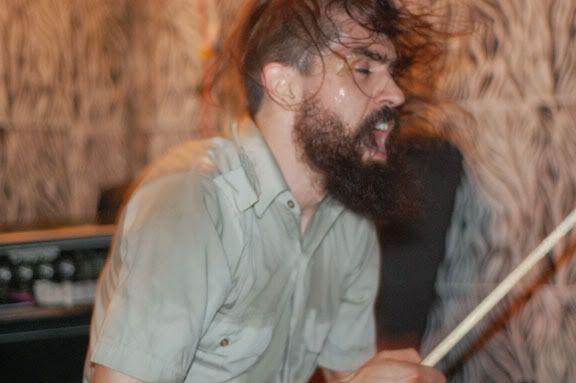 The Emergency Room was packed (if you were there on Halloween, it was almost like that), and the band came ready to throw down. If you've seen any promo photos of the foursome, you'd expect that they're well aware of how to make a spectacle out of something, but there was more to things than just some style over substance. Aurally, the performance was sort of like being assaulted for an hour... if being assaulted were one of the more enjoyable things that could ever happen to you. I've always been drawn more to guitar sounds than anything else when it comes to instrumentation, but Yannick's drumming was something fierce. Again, I like the recordings, but no matter how much I crank up my turntable/ipod, the studio versions can't touch the live experience. The crowd, who were amped and unruly seemed to agree, and Chloe spent most of the set "singing" amongst them.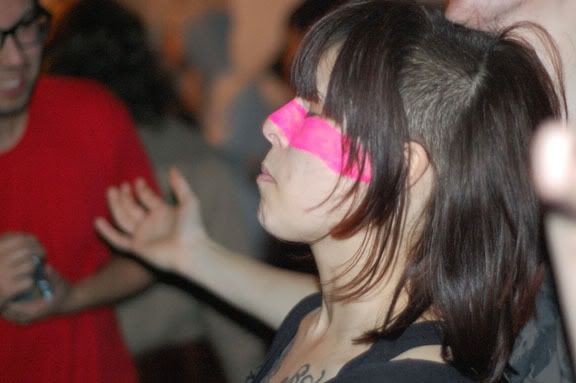 Before the show started, I interviewed Chloe for
ChalkedUp
so look for that (and some proper photos from the shoot in the first picture) in the next little while.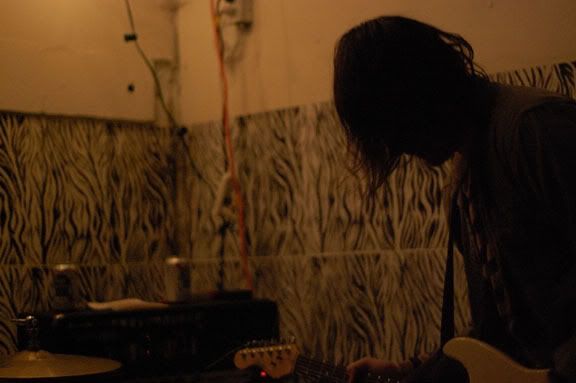 Mutators (like JPNDRDS, Bison, the Clips, and a few others) have been talked up so much here that I probably can't say anything positive about them that I haven't already said. If you're reading this from the West Coast of the US, check out their
tour dates though
. They're coming to a town near you (with Shearing Pinx). Don't miss them.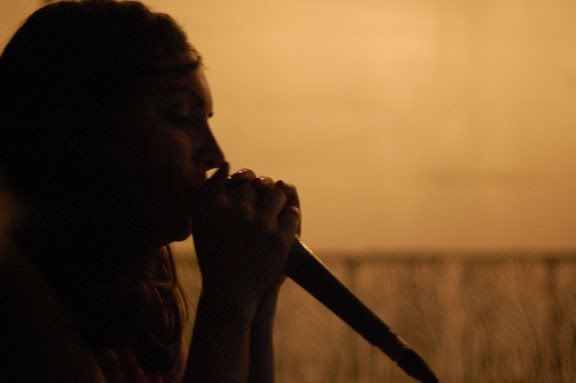 Leif was sans oscillator belt, but her, Justin, and Brody had contact mics running through a bunch of amps/effects fill in in the gyrating noise department.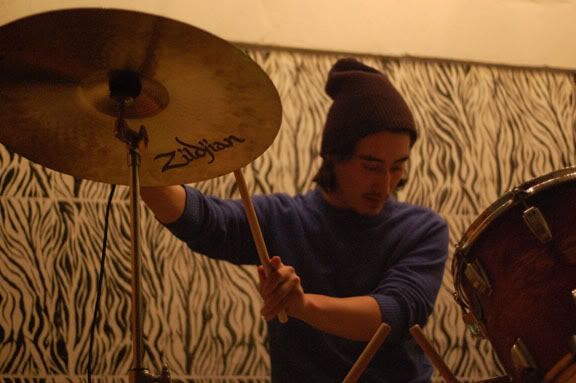 I was hanging back during Shearing Pinx, and didn't want to shove my way to the front (because I never like to shove my way to anywhere), but even though I couldn't see them, I could hear them, and what I heard was ace. I haven't seen them in months, and the last time I was nursing a nasty headache. As much as I like them, they didn't really help my headache (neither did the decision to drink a double Jameson's), so needless to say, Saturday was a much more pleasurable experience.
As per usual,
Steve has some nice photos up
.
Shout out to
Kristin
for bringing AIDS Wolf to town.
Mutators, Shearing Pinx, and
Twin Crystals
are at 340 on December 20th.
The day after that, my friend Neil is spinning at the Astoria. We're having a joint
birthday party
. 1981 was a good year... or maybe bad, depending on whether you like either of us.
Twin Crystals open for Glass Candy at 1/2 Alive on the 14th.
DJ Shadow
and
Cut Chemist
are at the Commodore on February 11th.
Ministry
are at the Commodore on March 28th. (thanks DB)
The Devlin & Darko (Spank Rock) DJ set is off tomorrow.
Edit:
this
is just do ridiculous not to post. Keep in mind that this idiot makes more money in a year than most of us will see in a decade (maybe two decades), and you can stop wondering why the (major) music industry is going down the tubes.
Labels: aids wolf, mutators, shearing pinx, show announcements, show recaps
Saturday, November 24, 2007

sensing owls
Sort of short notice, but apparently Jose Gonzalez is doing an in-store for all you all-agers and slow-ticket-buyers at Zulu today at 4pm.
now playing: Wu-Tang Clan - 16th Chamber (ODB Special)
Labels: show announcements
Friday, November 23, 2007

1992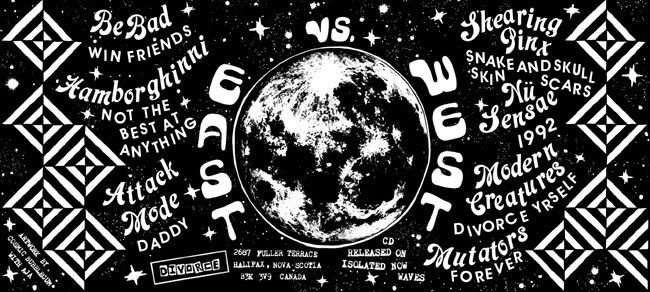 I got
this
in that mail the other day. I thought I would mention it because 1) it's pretty sweet 2) there's only a "handful" left and 3) with Shearing Pinx, Mutators, and 1/2 of AIDS Wolf (via Hamborghinni) represented it segues nicely into...
Better Than Loneliness
at the Astoria tomorrow night. It's free, my friend Neil is behind the decks, and it's now being billed as the "official AIDS Wolf After Party."
Also tomorrow night, SK Robot present their annual tribute to the late great, Guided by Voices, "Guided by Robots" at the ANZA. Admission is by donation, with proceeds going to the Vancouver Rape Relief & Women's Shelter.
Longwalkshortdock
,
Artemis Jackson
,
the Square Root of Evil
, Hyperion, and
Davidsmind
are the Unicorn for Technotown Boogiedown on December 6th.
The
Circle Jerks
are at Richard's on January 17th.
Labels: show announcements
Wednesday, November 21, 2007

rat face
The fact that I don't have a picture of
Petroleum By-Products
speaks to how much the crowd was feeling them at
Shindig
last night. The area in front of the stage was crammed about 5-minutes into their winning set.
If you haven't had a chance to see them, they're (roughly) the same age Be Your Own Pet, dress like the Polysics, and sound like the B-52s, and that ain't half bad. In fact, it's quite good.
They play Library Square (for Casbah!) with
Culte du Cargo
(whose record is sitting perpetually on top of my growing "must listen to" stack of CDs) and
Stolen Bicycles Gang
on November 30th and at Unicorn on December 14th with
Hallmark
and
Ladies Night
. I don't know the actual order for either of those shows... so just show up on time for once.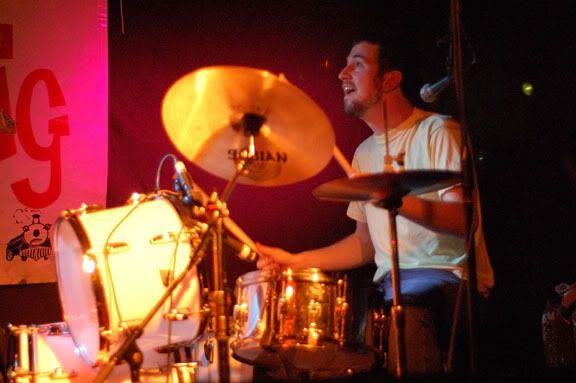 Japandroids
played what was apparently the "latest set ever" at Shindig, which unfortunately resulted in half the room being cleared by the time they played. They're still one of the - or perhaps the - local act(s) that I most enjoy live, but there was a drunk girl in front of stage who was having a better time than anybody... maybe ever. They closed with a cover of my favourite Wire song.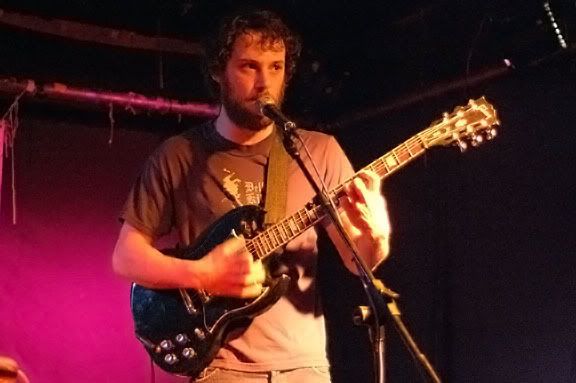 Today a coworker of mine noted that he "enjoyed that middle band (
Treacherous Machete
) more this time, because that guy (Burnside) wasn't drunk - or so drunk, anyway." I suppose I would agree. Although, drunk or sober, the duo are more entertaining than when the same people say/write the same "
Blues Hammer
" joke about six times. I mean, don't get me wrong, I dig
Ghostworld
too, but at least throw in another racist joke or something (just kidding. I love you,
Only
).
Liam from
No Gold
was kind enough to email to let me know that they're playing Pat's on November 30th with
Colorbook
, Basketball (formerly
Raking Bombs
), who are playing their first show in ages, and
International Falls
(whose CD I also need to give some proper spins to). I'm moving the next morning, but I'm still going to try to check this out after Cadence Weapon.
I finally picked up a copy of the
Mutators
7" that's out on
the Broadway to Boundary
(the fine gentleman who also brought you the Hot Loins 7"). If you've ever seen them play, then hearing me tell you that it slays will come as no surprise. Expect a "proper" (you know, as in, I expand that previous sentence with a bunch of descriptors and unrelated anecdotes you didn't need to know) review on
Streethawk
soon-ish (there's a White Lung one up right now - surprise: also slays). Each side of the 45 ends on a locked groove so the blissful noise goes forever and ever and ever and ever and ever and ever and yougetthepoint.
In case you forgot, they're playing on Saturday with AIDS Wolf and Shearing Pinx for an early show at the ER.
Twin Crystals are playing Fake Jazz tonight at the Cobalt, which is where I'm going right now...
now playing: Nurse & Solider - Satellightning (thanks Luke!)
Labels: (excessive use of brackets), japandroids, mutators, petroleum by-products, shindig, show announcements, show recaps, treacherous machete
Monday, November 19, 2007

good girl
This maybe old news to some people, but what's with the random (but probably carefully placed)
Wale
cameo in the video for Amy Winehouse's (via Mark Ronson) cover of "Valerie" by the Zutons?
For the record, I like the laid back version from the "Back to Black" single infinitely better.
Hype Machine
it.
And you can still grab the Wale mixtape that Catchdubs mixed:
here
... and a whole bunch of other stuff:
here
.
now playing: Sleater-Kinney - Get Up
Labels: amy winehouse, wale

cheque to cheque, week to week...
So, I was so hungover yesterday that I neglected to mention that there was a show at the original Emergency Room that looked pretty sweet last night. If such things interest you, you probably (hopefully) knew about it already though.
Japandroids
weren't kidding about those Wire covers last week. They played about a third of
Pink Flag
on CiTR last Thursday. If you missed it, you can download the podcast
right here
. The guys are also putting on a show on December 15th at the Ukrainian Hall with
They Shoot Horses, Don't They?
,
Mohawk Lodge
, and
Greenbelt Collective
. It's at the Ukrainian Hall, but it won't be an all-ager, and therefore, there will be booze on hand. I just want to point out that it's 3 days before my birthday... you know, if you want to buy me a drink or something. Only kidding. Mostly.
Japandroids play Shindig tomorrow with Petroleum By-Products and Treacherous Machete in the should-have-been-the-final semi-final.
The Cribs show is postponed until early next year. Tickets will be honoured at the new date, but I presume you can refund them if you want at your point of purchase as well.
Datarock
performs at the soon to be reopened
Biltmore
on December 14th.
DJ Craze
battles
DJ Klever
on December 23rd... at the Wild Coyote. (thanks Jordon)
And finally,
the Boss
is in town with the E Street Band on March 31st. If you have a rich relative who wants to relive their glory days (go, bad puns, go), maybe they'll pony up the massive chunk of coin and take you to the Garage for this one.
Labels: show announcements
Saturday, November 17, 2007

tonight will be better, i swear!
If anyone out there needs a ticket to the 19+ Stars show tonight (Saturday) at the Commodore, my friend Steve has an extra. Email him at
emo_lou AT hotmail.com
. $40, which is cost (or maybe less) after the service charges.
Thursday, November 15, 2007

our hearts don't change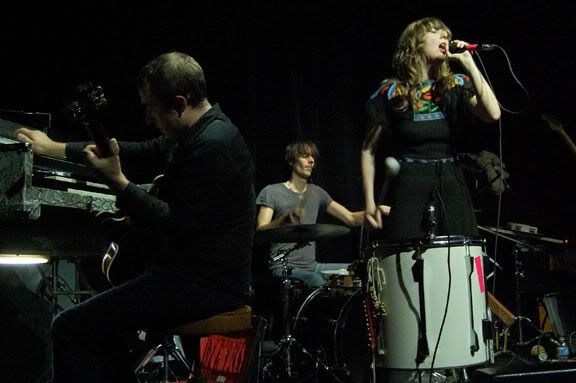 Last night I ended up seeing
Said the Whale
,
Land of Talk
,
Celebration
, and
Cuff the Duke
, across two different venues (Richard's and the Plaza) due to a combination of pretty wonderful timing and my friend Mark hooking me up with free tix to Celebration.
When Mark gave me the tickets he told me that the freebies were given away because the show was selling so poorly. I figured that with MIA, Ween, and Cuff the Duke all headlining shows that it would be a little undersold, but I was still a surprised to walk into the Plaza partway into the band's set to find about two dozen people watching. Ouch.
It had to have dampened the spirits of the band, but they certainly didn't let it show. In fact, of the four acts I saw last night, their performance was the best. It's shame that it'll probably be their last visit for awhile - headlining, anyhow.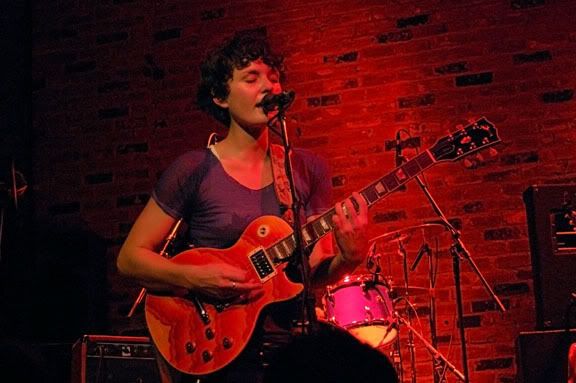 To compound the entire band's gear getting lifted about a month ago, Liz from Land of Talk's distortion pedal also decided to kick the bucket, so she was using a borrowed Blues Driver - affectionately referred to as the "Blues Traveler" during their set - and seemed a bit uneasy about the sound coming out of her amp. The breakdown of "All My Friends" sounded a bit weird, which seemed to amuse Liz and Chris, but other than that their set was pretty great, just as I've now come to expect. They played some new tunes that have me even more excited for their debut full-length, out sometime next year.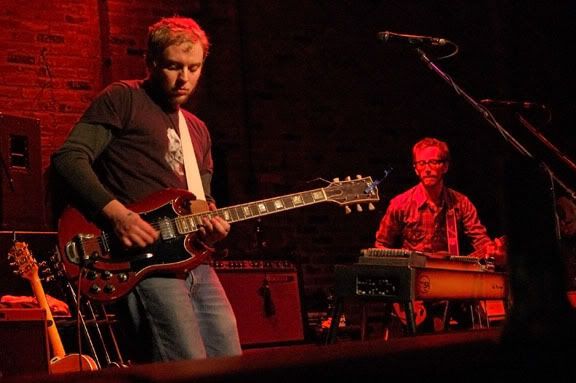 Cuff the Duke, and especially Wayne Petti, certainly have chops when it comes to playing live, but I wasn't really feeling their songs. That put me in the minority, of course, seeing as it was their show. The band had the crowd eating out of the palm of their hands for the duration, and you could see about 75% of the audience mouthing the words.
It was the first time that I've caught Said the Whale. I wasn't floored, but I wasn't bored either. I'd see them again before making up my mind, anyhow.
If you read this in the next hour or so,
Japandroids
are on
CiTR
for Thunderbird Radio Hell. If you don't read this in the next hour or so, you can find their in studio set, along with a bunch from the last year,
right here
(probably about a week or so from now). David told me they're doing a bunch of Wire covers. Maybe he was messing with me, but either way, it should be awesome. Edit: totally not messing with me. We clearly agree that Wire is not a thing to joke about. And they're going to do a show where they play Pink Flag in its entirety soon. Goddamn. "Reuters" is totally my favourite Wire track.
They're playing Shindig on Tuesday with Only faves Petroleum By-Products and Treacherous Machete. I think this is the first time in recent memory that I've known going in that I'm going to like all three bands on the bill. A shame that they had to meet up before the finals.
Hayden
is at the Norm Theatre on February 12th for a stop on his first tour in a long, long time.
Stereogum
has a new mp3.
Stars
play the first MySpace Canada Secret Show that Vancouver is playing host to. The all-ager at the Media Club opens up at 6:30pm on Sunday. Although, if you plan on getting in, you're going to have to show up way before that.
If you're not keen on hanging out in the rain on Cambie all Sunday afternoon,
the Buttless Chaps
,
Herald Nix
,
the Pack AD
, the Furies,
Swank
,
Great Aunt Ida
, the Fits,
the Bughouse 5
, and
Pawnshop Diamond
are packing into the Railway for a marathon show (1pm-8pm) for
Insite
.
Small Fame,
the Wind Whistles
,
Greenbelt Collective
, and
Language Arts
play a benefit for
DERA
at the Wise Hall on December 7th.
Canaries
are at Hoko's on Friday with
Dustin & Garret
,
Suspiria
, and
Hawaiian Bibles
.
now playing: Bon Iver - Skinny Love
Labels: celebration, cuff the duke, land of talk, said the whale, show announcements, show recaps
Wednesday, November 14, 2007

fly like paper, get high like planes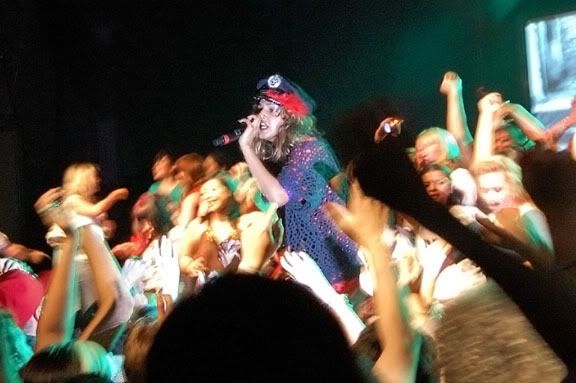 The performance was better the last couple times
MIA
played the Commodore (opening for LCD Soundsystem and then headlining), but last night was the bigger party. The first time she was backed by Diplo for a tightly organized set that featured Maya doing her thing over a constantly shifting musical backdrop. The second time around, Diplo wasn't behind the decks, but whoever was did a bang on aural impersonation. Things were a bit more laid back last night in the Ballroom.
Low Budget
was behind the tables, and while he's technically slick on the ones and twos, he kept the proceedings a bit more loose, following MIA's lead.
The show got a bit bogged down when anyone who could possibly clamour their way onto the stage was invited up to dance (although it was all girls, save for one guy sporting a Tamil Tigers [?] flag), but the crowd went off throughout. She played all the "hits," some non-single standouts from both albums, the Diplo remix of "URAQT," and it was all stellar. Also, I'm now further convinced that "Paper Planes" is the best song I'll hear all year.
Shouldn't MIA be massive by now? She's pop enough for the mainstream. She's weird enough for music snobs. She's a critical darling. She puts on a great live show. She has cross-genre appeal. She looks good. Isn't that the recipe for the perfect popstar?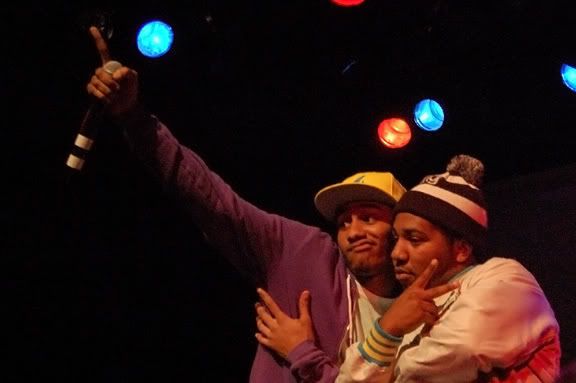 I was really jacked to see
Cool Kids
, but I was really disappointed in their live show. The songs are tight, but they were buried under the cliche "let's yell everything in unison instead of actually rapping" hip hop performance that they trotted out. It was terribly mediocre, which sucks for guys that have some decent tunes to show off.
Corb Lund
(and presumably also his Hurtin' Albertans) is at the Commodore on February 21st.
Sex Attack's warehouse party this Saturday is now a art studio party. It's at No Tofu Studios. You can still sign up to lip synch and win an iPod (or money for booze)
here
.
Labels: cool kids, m.i.a., show announcements, show recaps
Tuesday, November 13, 2007

such a little thing makes such a big difference
A minor quibble, since I was going to buy the 12" anyhow and the downloads are a bonus, but when the little piece of paper inside the record sleeve of Black Mountain's new tour EP that entitles you to some free mp3s says, "...including a free preview
of
the band's second full-length album," doesn't that mean something different than "
special early preview from In the Future
"? Am I out to lunch for thinking that they'd at least be streaming the whole record, rather than giving you one song (which Jag does with every release anyhow)?
now playing: TV on the Radio - Modern Romance (YYYs Cover)
Labels: black mountain, jagjaguwar, whining
Monday, November 12, 2007

you've got to learn to love what you own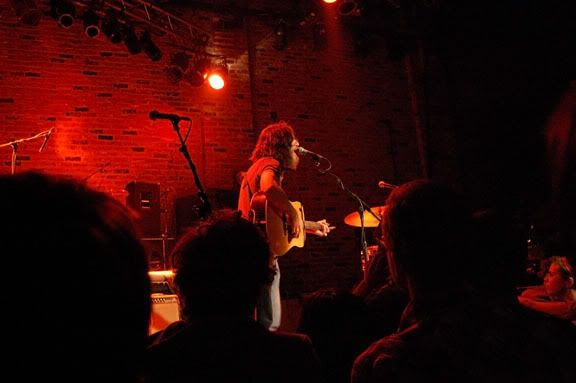 Scratch closed out their birthday celebrations on Saturday with a five (I think) band bill that featured a
Destroyer
headlining set.
I sauntered in rather late, but I caught a smidgen of
the Riff Randells
(who you will notice, still have a geocities page - for you young'ns, that's like old school MySpace), before catching all of
Pink Mountaintops
and Destroyer.
For the evening, Pink Mountaintops consisted of Steve McBean doing some solo numbers, including a sweet version of "Single Life," before being joined by Josh Wells for a few Jerk with a Bomb tunes.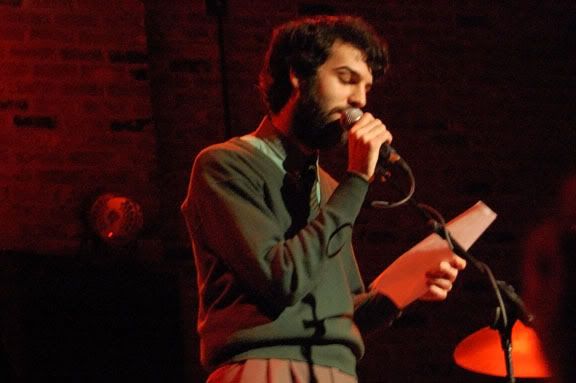 Between PM and Destroyer, this dude - billed as Hilarity, I think - came out and delivered a monologue detailing the trials and tribulations of 20 years of Scratch. People weren't really that into it, but it made it even funnier when the guy got to the tongue-in-cheek part about Scratch employees guiding the purchases of the ignorant masses.
Destroyer was represented by what Dan Bejar's apparently now calling the "definitive and permanent" line-up. They pulled heavily (almost entirely, in fact) from
This Night
for a somewhat brief set that also featured a couple new songs. The new ones were a nice treat, but I have to point to an epic and loud "Hey, Snow White" as the best part of the evening for me. Nic Bragg was on fire, and I'm even more disappointed that I opted not to take in his Guitar Festival performance last month. People were really chatty, but the band was really loud, thankfully. Bejar encored with "Don't Become the Thing You Hated," solo.
Great Lake Swimmers are no longer opening for Jose Gonzalez.
Attics and Cellars
take over warm up duties. (thanks Jeff)
Dan Deacon
is at Richard's on January 21st, proving that there will, in fact, be shows booked beyond December in this city... I was getting worried for a second there.
Mint Records continues their Xmas Party tradition, which I will quote them on, since I'm feeling lazy all of a sudden:
Friday December 14
@ The Railway Club
The Pack A.D.
Bella
Immaculate Machine
Young and Sexy
* but not in this order

Saturday December 15
@ The Railway Club
Vancougar
The Choir Practice
The Awkward Stage
Carolyn Mark
Ramblin' Ambassadors
* but not in this order

with DJ Bryce Dunn spinning tunes in the back lounge for both nights
Oh, and ODB, RIP.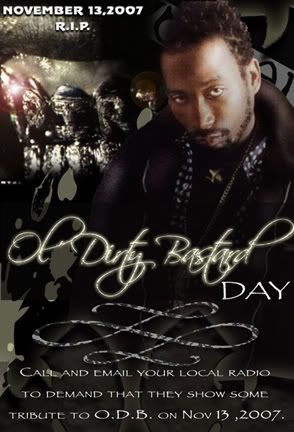 now playing: Emiliana Torrini - Sunny Road
Labels: destroyer, pink mountaintops, show announcements, show recaps
Friday, November 09, 2007

if i skip town in the middle of the night, it'll be after a drink or two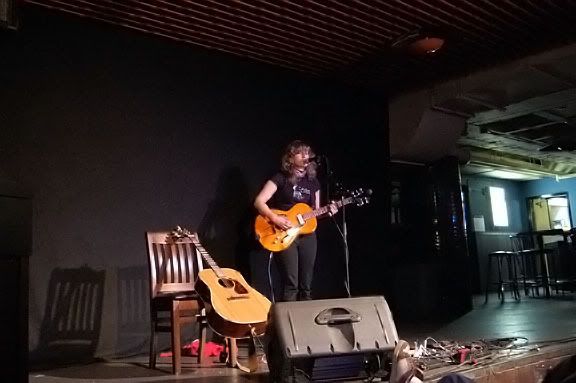 I forgot to mention that
Leah Abramson
was playing out at UBC last night, although she was sandwiched between some irritating female singer-songwriter and Craig Cardiff, so maybe that was just as well.
The aforementioned opening act was a bit of a ham, and my friend Shea - who works booking shows for the Student Union - mentioned that before she went on, Leah quipped that she would be "more of a downer than that." I guess that was true, but she was also a lot better, and that's what counts. The crowd was a bit inattentive, but her performance was, as per usual, understated and beautiful.
I took off before Craig Cardiff started, but did get to see him stall until they turned all the bar lights off. He also had one of the staff go around - before he started playing - to ask the crowd to quiet down. Last time he played in the Pit, he actually stopped mid-set and refused to continue until they killed the lights. He wasn't the headliner that night, and someone yelling "you're not the opener. Finish your set," got him going again. Dude thinks he's Bob Dylan or something.
Glass Candy
does 1/2 Alive on December 14th.
Good News
: not playing with the Clips at Blastramp on the 29th, are playing themselves on the 22nd. (thanks Andrew)
Great Lake Swimmers
open the Jose Gonzalez show... bring a pillow.
The Carpenter (et al) show originally scheduled for the now defunct Sweatshop (RIP), is at the Waldorf. (thanks Dustin)
Apostle of Hustle
are at the Plaza on December 8th. (thanks Scott)
I don't usually talk about visual art, because that's not really my thing (to blog about, not in a general sense), but my very good friend Jen is part of a show at the old Sam the Record Man location. Check the details on
guess where
. If you're heading to Gaff for the
Only show
, this starts at 7pm, so you can hit up both.
Speaking Only,
this is awesome
.
Labels: leah abramson, show announcements, show recaps
Monday, November 05, 2007

steal this record
An economic study by the Canadian Government concludes that heavy p2p users
buy more music
. This doesn't exactly put the argument
here
to rest... but it certainly helps. (via... I actually can't remember where I read this the first time in the morning. Apologies)
Cool Kids
are rocking an after party at Republic on the evening of their first opening slot for MIA (Nov. 13th). The ladies from the Makeout and Rico Uno support.
Low B
spins the next night at the same place for the day two post-show soiree.
Blastramp hosts
Good News
on November 22nd. I'm proud of myself for not using a shitty pun in that sentence.
Boats
are at the Unicorn on November 13th with
Brasstronaut
, and
the Old Familiar
.
Also at the Royal Unicorn, Winnie the Shit, Edo (from the Clips and Brasstronaut), and
Piper Davis
play the monthly Technotown Boogiedown this Thursday.
Lindsays are your friend dot com
Lindsays Diet
is celebrating it's one year anniversary by hosting a party with
Tyler Fedchuk
,
Tony X
, Crooks & Gunn (who made
remix sunday
on PalmsOut the other week), and
Sex Attack
on November 23rd. Venue tba.
Speaking of Sex Attack, since they fake dj, they'd like to see you fake sing. At their Nov. 17th warehouse party they'll be a lip sync contest. You're supposed to email Dustin to enter, but I don't know if he wants his gmail up here... so if you're interested, get in contact with them via
Facebook
(you've probably got it open right now anyhow).
Labels: show announcements
Sunday, November 04, 2007

the kids twist and shout...
You know, I would usually lead with a little something on Black Mountain last night (short version if you don't want to read after the following pics: they were good), but my friend Laura just sent me these photos from
Fun Fun Fun Fest
in Austin.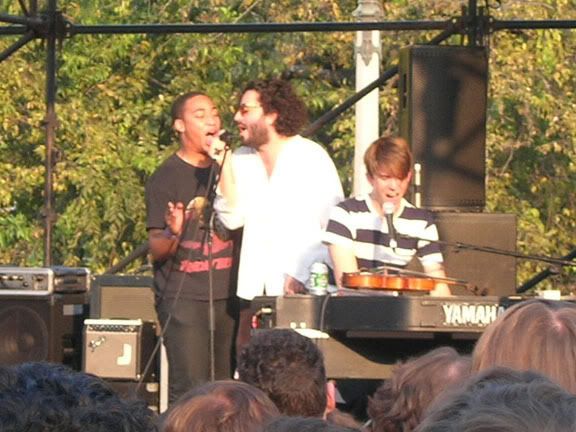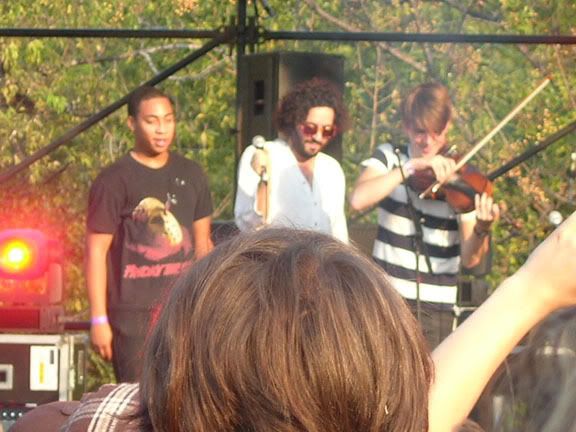 Owen, Rollie, and Dan, bka
Final Fantasy
,
Cadence Weapon
, and
Destroyer
doing Dan's "An Actor's Revenge," which you may remember Final Fantasy doing by his lonesome here a couple weeks ago. Dammmmmmmmn.
According to Laura, Owen had already played "An Actor's Revenge" when, a little later in the set, someone yelled something to him from the side of the stage, to which he replied, "he's here? He's going to come on-stage? And Rollie too?"... and they played it again together.
Nothing like that happened at
Black Mountain
last night, but it was still pretty good.
They were a little too jammy for my tastes at times, although I've seen them before, so I knew what I was getting into. It was nice to hear a bunch of new stuff (and also pick up a couple new tracks - that won't be on the next album - on the tour 12"), and the old stuff sounded pretty stellar as well. "Don't Run Our Hearts Around" was particularly impressive, as was "No Hits."
On a side note, Richard's has only been giving out plastic cups the last couple times I've been there. I presume this is to avoid having to pick up large amounts of broken glass, not so dudes who are assholes can throw their plastic cups indiscriminately at people.
now playing: Yeah Yeah Yeahs - Y Control
Labels: black mountain, cadence weapon, destroyer, final fantasy, lazy show recaps
Saturday, November 03, 2007

i cut my fingers on the way
Has anyone noticed that the theme song to "the Main" on the Food Network (see:
here
) is exactly the same as "I Turn My Camera On" (see above), minus the vocals?
That's either a really strange licensing agreement, or a really lazy attempt at disguising plagiarism.
now playing: AIDS Wolf - The Hat Collectors
Labels: spoon, the food network
Friday, November 02, 2007

our hearts are cagey, but we're not wasting time
I haven't felt much like blogging in the last couple of days, though I'm sure you have found other, more superior methods of slacking off from work/school/vacation on other corners of the internet, so it's no biggie.
I do apologize for not mentioning that the Octoberman/Mohawk Lodge/Leah Abramson musical caravan returned home this week and played a celebratory show at the railway last night. I bet it was good. Leah played solo.
I, however, was at the ANZA for the Clips CD release. I won't go heavy on details, but Small Fame opened and it was pretty much what you would expect from a Dan Moxon fronted project. Less metal riffage than Bend Sinister. The Paper Cranes actually closed out the night, which was gracious of them, since the weeknight show date meant a lot of people called it a night rather early, and checked out after the Clips. Those early-to-bed people missed out on a pretty great set that was highlighted by a Jam cover.
The Clips, as you'd expect, came to party. They also filled the room with their friends, who gave them a proper album kick off.
You can check out my thoughts on their newie,
Matterhorn
(sort of), at
Streethawk
. Luisa also had a nice chat with Andrew and Edo:
here
.
Nardwuar's now been
on the air
for about 12 hours already. He'll rock the UBC SUB Ballroom tonight. It's all-ages and free.
Matt
did his annual
Hottest Canadian Bands Poll
. It's not that I haven't been excited by a lot of Canadian acts this year, but I wouldn't exactly call them "hot." I felt a bit out of touch with the rest of the blogosphere, although 8 of my 9 picks made the list. Here's my ballot, if you were curious. Note the overuse of the word "someone" in the comments for AF:
1. Feist
People who don't like Feist are the same people who don't like kittens and world peace and things like that.

2. Arcade Fire
Neon Bible isn't as good as Funeral, and I honestly haven't listened to either very much this year, but denying that they're "hotter" than someone like Crystal Castles or someone like that is a bit delusional, no?

3. Julie Doiron
She didn't win the Polaris Prize, but at least her record wasn't boring as hell. In fact, with her Eric's Trip colleagues backing her, it was anything but. I would've ranked her higher if the Trip reunion tour had actually made it further West than Ontario.

4. Sunset Rubdown
I was actually a bit underwhelmed by their live performance, but the record is pretty amazing. Plus, everyone always loses their shit over anything Spencer Krug does (rightfully so).

5. New Pornographers
Challengers is probably their weakest effort to date, but the first full scale tour with both Neko and Dan is worth celebrating.

6. Pride Tiger
The guys in this band have always been pretty integral parts of the scene here in Vancouver, but Pride Tiger is probably their first opportunity to reach a bigger audience. And by "bigger," I mean "huge." The Lucky Ones is full of the kind of no frills rock that could score them points with absolutely anybody who appreciates a good guitar riff.

7. Neil Young
Honestly, I haven't even heard Chrome Dreams II yet, but it's Neil Young.

8. Crystal Castles
If blogs were really as influential as people seem to think, these guys would be Daft Punk or something. They're not, but they're still pretty good.

9. Basia Bulat
I mean, just look at her. Of course she's hot. Only kidding. But if we want to talk about names that were on everyones lips, Basia's is probably right up there.

There's a bunch of stuff going on this weekend. Get out there and at least look like you're having fun.
Labels: lazy show recaps, paper cranes, small fame, the clips