Tuesday, September 30, 2008

let's all be ian curtis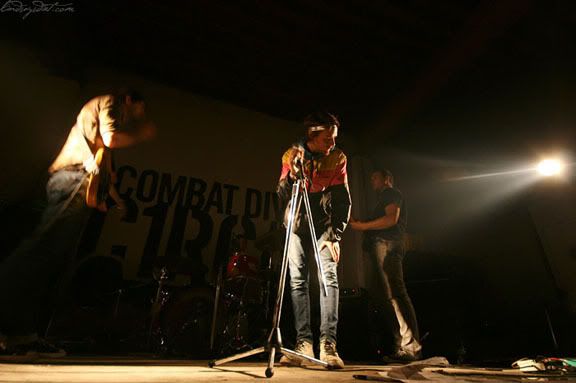 Photo by
Lindsay Elliott
On Saturday, I made my way down to the Sweatshop to check out
Taxes
. The sound wasn't stellar, but the band was in their usual fine form.
We Are Wolves
dropped in after their show for a DJ set, which wasn't like A-Trak dropping in for a DJ set or anything, but I've heard much worse from bands behind turntables.
Fake Shark-Real Zombie
are at the Biltmore on October 16th with
the Green Hour
and
Sports
.
The Doers
and
gr8-2000
play at
Budgie's
on October 17th. The evening also features a burrito eating contest.
The Emergency Room hosts a Black Sabbath tribute night on Halloween. Speaking of, if you're having trouble finding it, you can email me for directions.
AIDS Wolf
is at the Biltmore with
Shearing Pinx
on November 24th.
And,
Twin Crystals
are at Geronimo Wednesday at Pub 340 tomorrow to kick of their tour. You may or may not have noticed that I haven't been posting any shows at 340, despite the fact that some good people are still doing good things there. A few friends of mine got fired, with zero notice, for essentially no reason, when the bar cleaned house, so while I've got nothing against anyone who finds themselves patronizing the place or playing, especially when you think of the lack of venues in the city, barring a change of management, you're still not going to read a lot about the place here. But, Jesse went out of his way to ask me to post about their show tomorrow. And hey, if you're going to go there, tomorrow is a good night to do it.
Before anyone brings it up, I'm aware that there are
plenty of good reasons
to boycott other venues around town, but this one hit a bit closer to home.
Labels: pub 340, show announcements, show recaps, taxes
Friday, September 26, 2008

nightsong
I opted for the
A Place to Bury Strangers
show over Cadence Weapon/Woodhands last night. I've already seen the latter, but the Biltmore is also way closer to my house.
Anyhow, I was intrigued by the headliners after listening to a couple of songs on their Myspace. And, true to my expectations, they came out, cranked up their amps and almost blew my head off with a wall of distortion and feedback... but then they did the same thing for another five songs and the charm diminished as they went. You can buy up all of the Jesus & Mary Chain's effects pedals, but you can't buy their knack for melody, it seems. A little attention to dynamics wouldn't hurt either.
Sian Alice Group
, who were the main reason I showed up, were wonderful. Shoe gazey and reminiscent of Mazzy Star at some points and shoe gazey and reminiscent of My Bloody Valentine the next. Like the headliners, they weren't terribly original, but they executed well.
Japandroids
opened up the show. Seeing that I saw them a week ago, I don't have much to add, except for noting that the guys' spirits were a bit low after hearing the news that their friends in
the Hotel Lobbyists
were in a pretty bad car accident earlier in the evening. I hope you'll join me in wishing all four of the Hotel Lobbyists a speedy recovery.
To follow that terrible news, here is some happier news. Congratulations go out to Rose, who won the Tiny Vipers contest. Thanks to the guys at
Twee Death
for hooking up the prize.
Ora Corgan
kicks off her tour on Sunday at the Sweatshop with
Adult Books
, Frazey Ford (from
the Be Good Tanyas
), and Anju (from
i/i
).
October 2nd and 3rd sees the
Accordion Noir
festival at Spartacus Book and the Railway (respectively). Full details on their
webpage
.
Colourbook
are at the Peanut Gallery on October 4th with
No Gold
,
Greenbelt Collective
, and Candles.
Bend Sinister
play a very special performance on October 25th at the Rio Theatre to celebrate the release of their new LP,
Stories of Brothers, Tales of Lovers
. The band will be joined extra musicians, including a horn and string section.
the Green Hour
open.
Soulwax
is at the Plaza on October 29th to show their documentary
Part of the Weekend Never Dies
and play a "Soulwax Live" set.
Paul Devro
opens.
Eagles of Death Metal
are at the Commodore on November 2nd.
El Guincho
are at the Red Room for an early show on November 22nd.
And last, but not least, congratulations to
Rob
, who gets married this weekend.
Labels: a place to bury strangers, contest winners, japandroids, show announcements, sian alice group
Tuesday, September 23, 2008

inside the molecules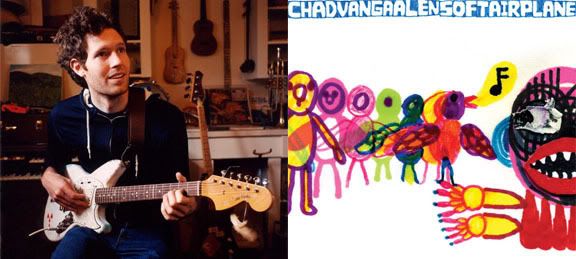 Contest: Chad VanGaalen Ticket & CD Giveaway
Chad VanGaalen
's new record,
Soft Airplane
is one of my favourite releases this year, so even if you don't win the free CD in this contest, you should run out to your favourite record store to buy it... but you can wait to see if you win it first.
Since Chad's known for his use of toys and other weird noisemakers when recording his songs, if you want to score this stunner of an album
and
two tix to see him live at Richard's on October 9th, send me an email with the subject line "Chad VanGaalen Contest" with your full name and tell me what your favourite childhood toy was. You can email answers to quinn.omori [at] gmail.com until noon on Monday October 6th, after which, I'll pick a winner at random.
download: Chad VanGaalen -
"Willow Tree"
Labels: chad vangaalen, contests
Monday, September 22, 2008

calm down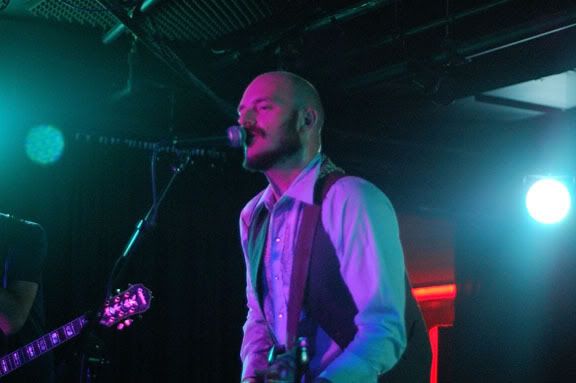 On Friday, I made it out to the Biltmore for the last
Mohawk Lodge
show in Vancouver for awhile (Ryder's moving to TO). The current incarnation of the band were also playing for the last time, but there was celebratory mood in the air for what turned out to be a great set. I hope you'll join me in wishing Ryder all the best out East.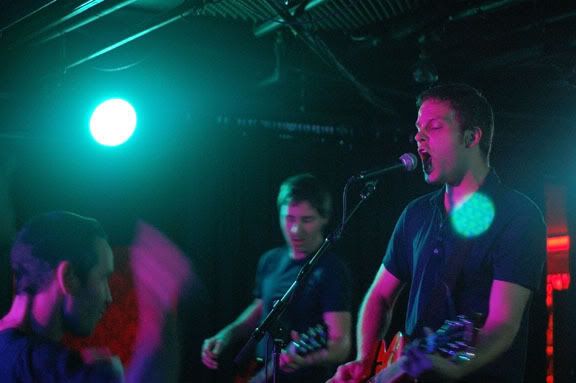 Poorfolk
opened up. Their music seems indebted to a lot of the same things that the Mohawk Lodge's is, which wasn't the worst thing that could have happened. They did a rad cover of Guided By Voices' "Motor Away."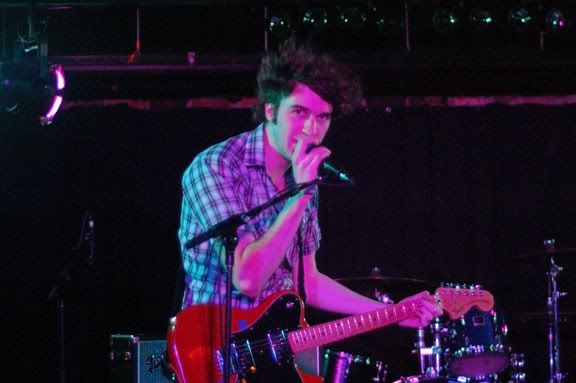 Those
Japandroids
guys opened up. They played a pretty good chunk of their new record, which should be out "soon."
Bob Dylan
is at GM Place on October 24th. The cheapest seats are $45 and apparently the balcony is closed... not too bad, considering. Tix go on sale this Friday.
This Friday at the Western Front
Fake Jazz Wednesdays
presents Fake Jazz Friday.
Bird Costumes
are at the Secret Space (down the alley from the Emergency Room) on October 3rd with
Nu Sensae
, Aja Rose Bond, and Mom Jeans.
The Astoria renovations are taking a little longer than expected, so Better than Nothing is at the Sweatshop on Saturday.
now playing: Sian Alice Group - Kirilov
Labels: japandroids, mohawk lodge, poorfolk, show announcements, show recaps
Thursday, September 18, 2008

trapped in an elevator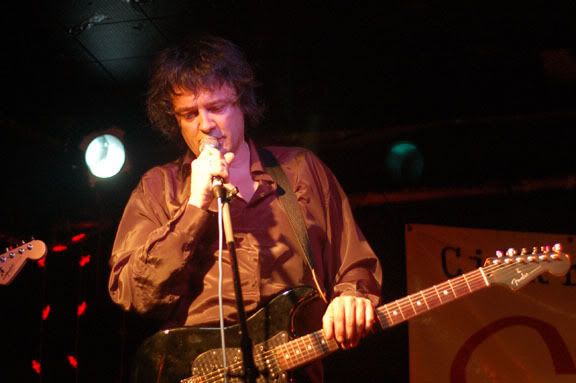 Shindig
sort of kicked off with more of a whimper than a bang on Tuesday. None of the bands were out and out terrible (someone might argue with me on that one), but nothing really blew me away either. I should note that a late (they were running behind) set in a bar setting wasn't the best place to get introduced to eventual winner (and Petroleum By-Products member)
Zombie Pistolero
, so I'll definitely reserve final judgment on his solo stuff. I have a feeling that I would've enjoyed the show at Cafe Montmartre more.
For the record, that photo is of some old dudes who sounded like they listened to a lot of Wire, not Zombie Pistolero. I think I liked them more than most people there.
Dead Ghosts
and
Manic Attracts
are at Psych Night at the ANZA on the 25th of this month.
K-Os
plays the Pit Pub at UBC with
the Good News
on the same night.
Taxes
are at the Astoria (which will be open again) on the 27th for Better than Nothing.
We Are Wolves
will be their for a DJ set after their show, while locals
Sex Attack!
and
Tyler Fedchuk
hold things down for the rest of the evening. It's also Dustin's birthday. I would say to buy him a drink, but he gets a bar tab for running the night... and he's a jerk. Taxes are on at "11:30pm sharp."
Stamina Mantis
kick of their tour on October 1st at Fake Jazz Wednesday at the Cobalt.
gr8-2000
,
Blackmage
, and
Bird Costumes
round out the bill.
Quintron & Miss Pussycat
are at the Biltmore on October 18th. (thanks Carmen)
Land of Talk
are at the Media Club on November 12th with
Josh Reichmann
. (thanks
Jeff
)
now playing: Wire - Heartbeat
Labels: lazy show recaps, shindig, show announcements
Wednesday, September 17, 2008

they might follow you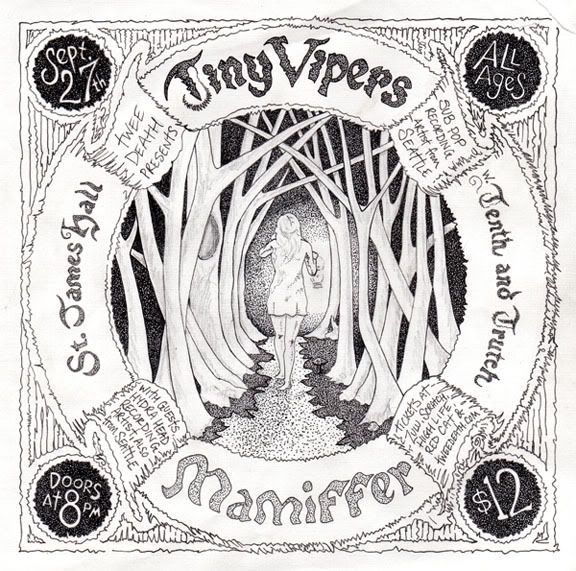 Contest: Tiny Vipers Ticket Giveaway
The lovely gentleman over at
Twee Death
would like to give you a pair of tickets to the
Tiny Vipers
/
Mamiffer
show that they're putting on at St. James Hall on September 27th.
We'll make this one easy. If you want to see this show for free, just email me with the subject line "Tiny Vipers Contest" and your full name by noon on September 25th and I'll draw a winner at random.
download: Tiny Vipers -
On This Side
(via Sub Pop)
Labels: contests, tiny vipers, twee death
Monday, September 15, 2008

the sound of confusion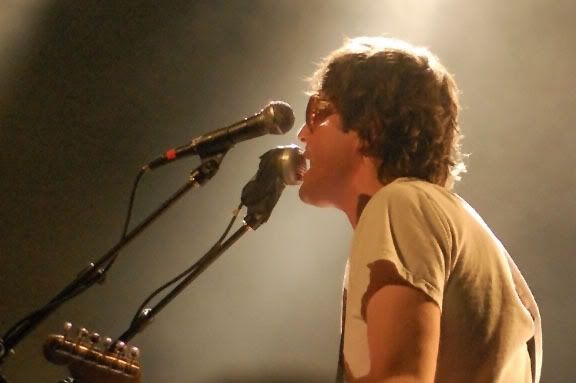 It's a shame that the Commodore wasn't anywhere close to full on Saturday, because
Spiritualized
put on one of the best shows I've seen all year.
Starting off with a noisy, droney version of "Amazing Grace," the band (J. Spaceman + lead guitar, keys, bass, drums, and two back-up singers) followed with a set that did a great job of showing off
Songs in A&E
amongst a healthy dose of the Spiritualized and quite a bit of Spacemen 3 material.
Things were pretty great from the get go, with "Shine a Light" being an early highlight, but things
really
got going when they launched into "Good Dope, Good Fun." The main set closing combo of "Come Together" and then "Take Me to the Other Side" was amazing, but a country-ish version of "Walking with Jesus" and the original "Elvis" version of "Ladies and Gentlemen We Are Floating in Space" were both highlights as well.
I would've loved to hear "Stop Your Crying" or a wickedly long version of "Cop Shoot Cop," but those are hardly complaints. It was a pretty perfect evening.
Speaking of the original version of "Ladies and Gentlemen We Are Floating in Space," you should really hear that, if you haven't. Elvis' - or more correctly, whoever controls his catalogue's - lawyers weren't too keen on the parts that were nicked from "Can't Help Falling in Love." More proof that lawyers and music don't mix.
download: Spirtualized -
Ladies and Gentlemen We Are Floating in Space (Original Version)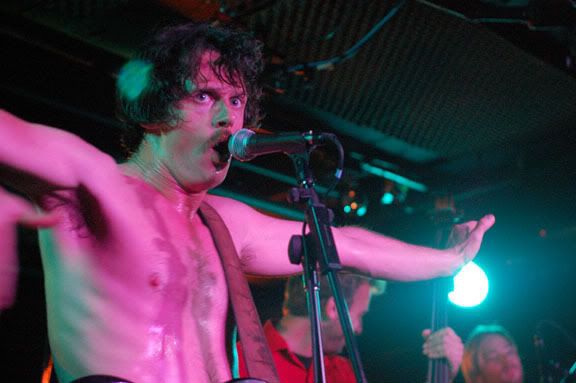 On Thursday, I walked down to the Biltmore to catch
Old Time Relijun
. While I really like most of the recorded stuff I've heard from, I've never really sat down with one of their records before. Doing that was already in the plans, but it's been bumped ahead on the priority list after seeing them live.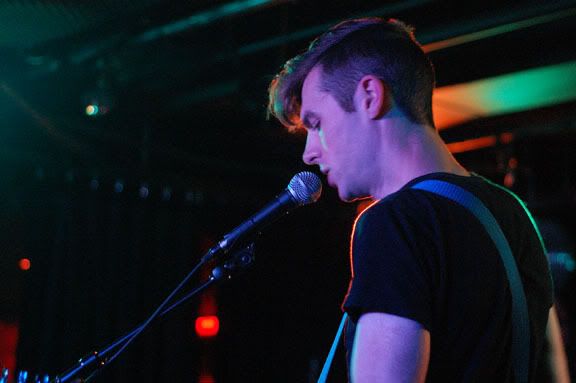 While
Shearing Pinx
are perfectly capable headliners, I found it a little weird that they were on after OTR. Their music is awesome, but you can also see them every second week or so (when they're not jaunting around tearing up stages on tour, of course). That, coupled with the fact that it was a weeknight, meant that a noticeable part of the crowd left before their set. They still brought it, as usual, though.
Sinden
and
Nacho Lovers
are at the Modern on September 22nd with
Paul Devro
.
Brasstronaut
are having an "official" EP release with
Language Arts
at the Biltmore on the 23rd of September.
Sun Burned Hand of the Man
is at the Media Club on November 2nd.
Secret Machines
are at Richard's on November 7th.
The Breeders
are at Richard's on November 10th.
And, I was going to say that Taxes were at the Astoria on Saturday for BtN, but the Astoria is closed for 10 days so they can do some soundproofing.
Shindig! tonight! and a rad contest... actually, a couple of rad contests coming. But the first one is coming later today.
now playing: Neil Young - Don't Be Denied
Labels: old time relijun, shearing pinx, show announcements, show recaps, spiritualized
Friday, September 12, 2008
Shearing Pinx/Mutators on Debunk Punk
Thursday, September 11, 2008

water under the bridge
A little while ago, record companies decided that they could dissuade people they send promo CDs to from uploading pre-release material if they watermarked the data with the name of the person who would receive the disc. It hasn't really worked, although
this dude
got a finger wag for selling a Beirut CD to a used record store before its release (which is sort of an uncool thing to do), and apparently some other critics/bloggers/etc got phone calls after uploading albums to OiNK.
The actual idea, of course, was that the record company could keep tabs on who was leaking their promo material and either a) stop sending them stuff or b) get litigious.
Of course, this only works if the watermarked CD goes to the right person.
Which is why I found it quite funny when Frank from
Chromewaves
sent me a message to let me know that he received a copy of the new Rachel Yamagata CD and that if he ripped and uploaded it (which he wouldn't, for the record) the files would have my name all over them.
It's because all of us Asians look alike, right?
The
Wintermitts
are having a CD release show at 1114 E. Pender (just East of Glen) on Saturday with
Hannah Georgas & her Sisters
and
Adelaide
.
Collapsing Opposites
and
Bible Belts
are at the Railway on September 20th to celebrate the release of their split 7" with
Greenbelt Collective
,
Lala
, and
Payday Millionaire
.
The same night,
Vapid
,
Nu Sensae
(who have a record that I've bought, but haven't had a chance to listen to yet), and Juvie are at the Peanut Gallery.
Novillero
are at the Bourbon on September 24th. The Details and
the Good News
support.
The Stolen Minks
are at Casbah! at the Astoria on September 26th with
the Tranzmitors
,
the B-Lines
, and
the Mean Jeans
.
On September 27th,
Defektors
are celebrating the release of a pair of records at the Emergency Room,
White Lung
are celebrating the release of one, and the B-Lines and Vapid are there to help them.
And, on Remembrance Day,
Gang Gang Dance
and
Marnie Stern
are at the Biltmore.
now playing: Marnie Stern - Shea Stadium
Labels: show announcements
Monday, September 08, 2008

dead friends
Fake Jazz Wednesday
celebrates their second year anniversary on Wednesday. Hats go off to Bill and Jeremy (and everyone else involved) for putting on one of the best weekly music events that this city's ever seen.
Zombie Pistolero & His Guns
is at Cafe Montmartre with Nikki from
Terror Bird
and
Burnside
from Treacherous Machete on Thursday.
Adjective
is at BtN on Saturday at the Astoria.
Tiny Vipers
are at St. James Hall with
Mamiffer
on September 27th. The fine gentlemen over at
Twee Death
are putting it on. Check their website for a bunch of other cool stuff.
Rae Spoon
is at the Railway Club on October 19th.
King Khan & His BBQ Show
are at the Biltmore on November 7th with
the Dutchess and the Duke
. (thanks Brad)
Labels: show announcements
Saturday, September 06, 2008

the new stone age
Real update with more shows later...
But tonight:
The Pink Noise celebrate their record release with Nu Sensae, Golden Touch, Terror Bird, and Jesse Taylor at the Sweatshop
Labels: show announcements
Friday, September 05, 2008

back to school
Today,
the Clips
,
No Gold
, and
the Matinee
welcome UBC students back to school on McInnes field. It's free. I don't know if they'll be checking for student IDs or not.
Cosmetics
are at the Astoria for BtN on Saturday.
Also tomorrow,
Brasstronaut
,
Baboon Torture Division
, and Steven James play on a bus. You read that right. It'll be parked at 345 E. 1st Ave.
Wendy McNeil
is at the Railway with
Ford Pier
and
Piper Davis
on September 10th.
The second edition of
Fake Sleep
is at Video In on September 12th.
Mohawk Lodge
are at the Biltmore with
JPNDRDS
and
Poorfolk
on September 19th. It's a tour kick off for Mohawk Lodge and Poorfolk and apparently Ryder is moving to TO after, so it might be the Lodge's last show here for awhile.
MSTRKRFT
,
Felix Cartel
and
Paul Devro
are at Celebs on October 3rd.
Bells Clanging
and
the Creaking Planks
help
Memewar Magazine
celebrate the release of their 7th issue on October 9th at the Rail.
Chromeo
,
Calvin Harris
,
Dirty South
, and
Skratch Bastid
are at the Commodore on October 12th.
Jeffrey Lewis
is at the Media Club on October 23rd.
Asobi Seksu
are at the Media Club on October 28th.
Yeasayer
are at Richard's on November 19th.
now playing: BSS w/Liz Powell -
Shorelines
Labels: show announcements
Wednesday, September 03, 2008

winner's blues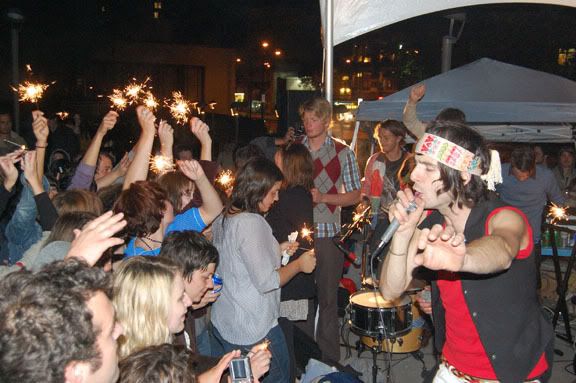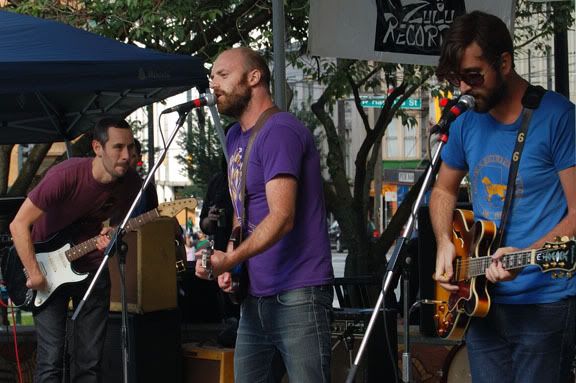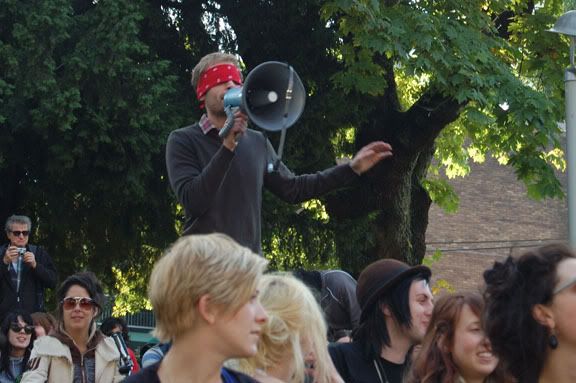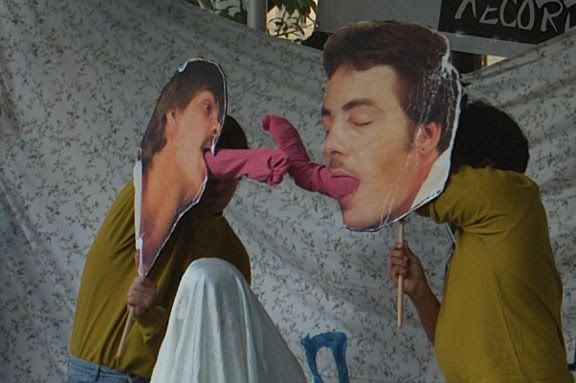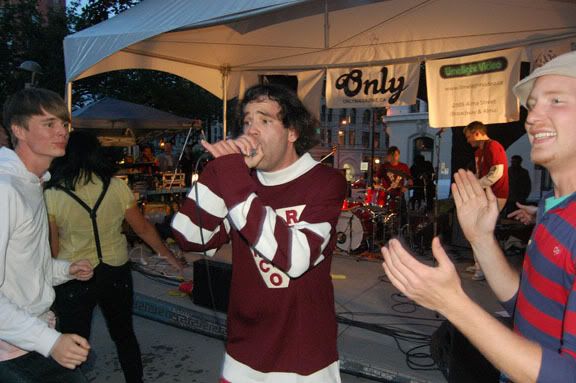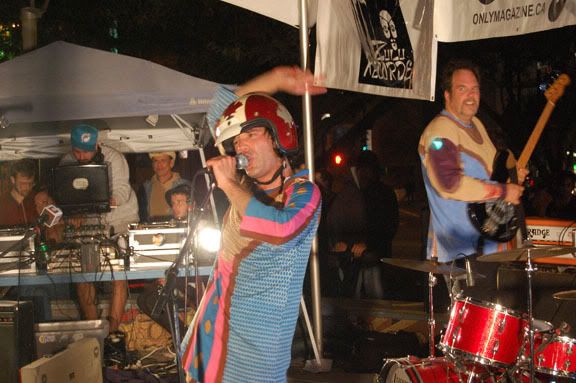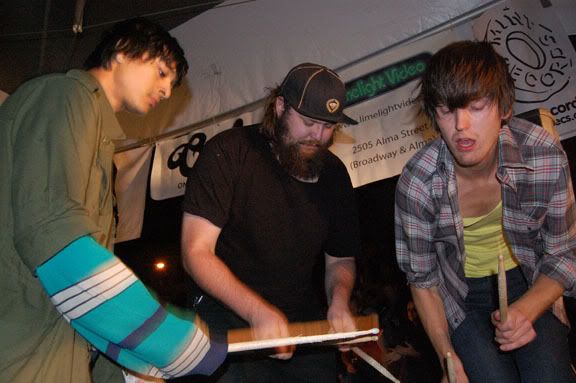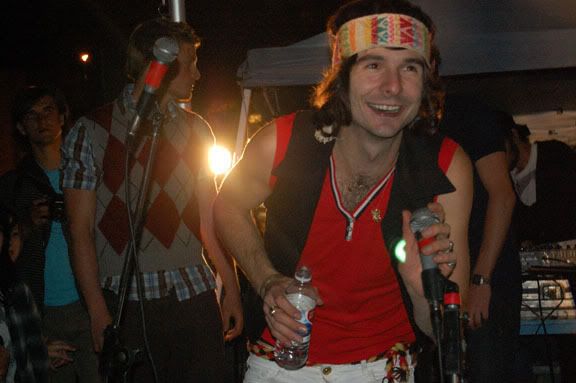 Not a bad way to end the summer.
Labels: basketball, bronx cheer, lazy show recaps, man hussy, mohawk lodge, the evaporators, victory square block party