Tuesday, January 31, 2006

desert sessions
The complete
Coachella
lineup is up
here
and
here
. Though I recommend checking out the lineup
here
, because ProductShop has some info about who they offered on and
couldn't
get... Smiths and MBV!?... whoa.
Mike Relm
is at Richard's on February 25th. He's playing late, so you can watch Nada Surf/Rogue Wave walk outside, line up again, and go right back in Richard's. If you've never seen him, go to his website and check out some of the videos. He is, without a doubt, the most amazing thing with two turntables that I've ever seen.
now playing: Calexico - Rose Parade (Elliott Smith Cover)
Monday, January 30, 2006

drain cosmetics
One of my favourite discoveries of 2005,
Sereena Maneesh
, are set to play Richard's on March 25th. If you haven't heard them and are a fan of My Blood Valentine, you should do yourself a favour and check out the mp3 below. If such things sway you, I will also note that
the PFork
gave them a glowing review.
download: Serena Maneesh -
Selina's Melodie Fountain
On a completely unrelated note, did anybody catch
Shaking All Over
on ye olde CBC tonight? If you didn't, I highly recommend trying to watch/tivo the inevitable re-run. It's a stellar documentary about the beginnings of modern Canadian popular music. I personally loved Matt Good's summation of the Band: "they're the Band, what else do you need to say?"
now playing: Neil Young - Helpless

teen heat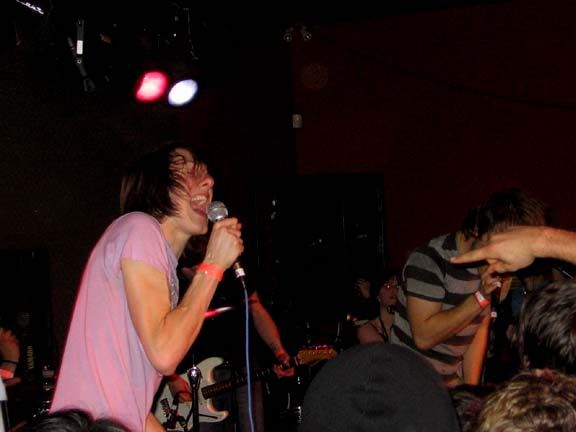 Fact:
The Blood Brothers
are my very favourite band that has two singers, of which neither can really sing.
Singing is overrated anyhow, especially when you can scream your ass off.
The Blood Brothers don't play for audiences, so much as they sonically assault them, and a packed Mesa Luna was more than happy to play the victim tonight. Say what you will about all-ages gigs, but despite the fact that a handful of youngsters were a little too fond of standing on the stage, I'll take youthful enthusiasm over jaded (or worse, drunk and obnoxious) adults any day of the week. There's something a little special about a show when both the band
and
the fans didn't show up for any other reason than to get in eachother's faces and rock out as hard as they could, and I've rarely been to a 19+ gig where that's happened. If you've seen them on any of their previous visits you know what you missed.
You Say Party! We Say Die!
opened and were their usual charming selves, if you are charmed by wanting to dance... and let's be real, if you aren't charmed by music that makes you want to shake it, you probably aren't charmed by much.
now playing: Gang of Four - Anthrax (Blood Brothers Remix)
Sunday, January 29, 2006

we'll build a fire in your eyes
The new
Yeah Yeah Yeahs
single has leaked!... sorta. The original mix of "Gold Lion" is still locked up safely in some record company office, but the
Diplo
remix has surfaced. Considering how much Diplo will rework a track, it still won't give you any idea of the direction the YYYs are headed on
Show Your Bones
, but it's damn fine in its own right.
download: Yeah Yeah Yeahs -
Gold Lion (Diplo's Optimo Remix)
Jamie Lidell
plays the Plaza on April 16th with Warp labelmate
Jimmy Edgar
. I bailed on seeing him last time, because I wasn't that big on seeing Fourtet, but I'll definitely check out a show where he's headlining.
Liars
hit Richard's on June 9th. I know it's pretty much accepted that dumping the dance punk for forward looking whatever-it-is was a good move... but I found their last album unlistenable. I think its the fact that some of the tracks reminded me of being at bad university pseudo hippy parties where drum circles spontaneously break out.
Hawksley Workman
is at the VECC on April 3rd and 4th. (thanks Rachel) I'm quite fond of Hawksley, but it's still funny that when you google him, his website is described as "the official website of
Canadian rock icon
Hawksley Workman."
The Sisters of Mercy
hit the Commodore on March 26th. (thanks DB)
I don't know how any of you who need a B&S ticket are gonna get one, but I humbly suggest that you snap up an Art Brut ticket before that sells out, because it's the same night and roughly $35 cheaper.
Finally, YouTube goodness via
ILM
and
Via Chicago
.
Wait... I lied... one more thing...
So, in addition to the Cons and Neko Case, the Shins are apparently going to rock the Gorge for Sasquatch this year.
now playing: Yeah Yeah Yeahs - Gold Lion (Diplo's Optimo Remix)
Tuesday, January 24, 2006

shake your head, it's empty
Metric
hits town for two shows on April Fool's at the Commodore, and all ager in the afternoon and a 19+ in the evening. Look for another one either the day before or the day after if/when the other shows sell out. Islands (former members of the Unicorns) are scheduled to open both shows.
Sunset Rubdown
(Spencer from Frog Eyes/Wolf Parade)hits Richard's on May 7th. This seems a little ambitious (room size wise) to me, but SWAK rarely missteps, so what do I know?
How utterly awesome is Feist?
The answer is very. If anybody has a download of that there Kimmel Live video and would like to pass it on, I would be indebted to you. (video link via
For The Records
)
Some opener clarification...
Magnolia Elec. Co. is NOT opening for Destroyer for the Vancouver date.
Ladyhawk
and
The Christa Min
(are the Nasty On ever coming back???) support Dan on April 12th. Also,
Frog Eyes
is opening for Pink Mountaintops.
now playing: Jimi Hendrix - Crosstown Traffic
Sunday, January 22, 2006

destroy everything you touch
Ladytron
plays at Richard's on April 25th. (via
Tiny Mix Tapes
)
Even more exciting (for me, anyhow)...
Jason Collett
plays Richard's on March 27th. If you read this blog with any frequency you know that I'm a huge fan of his latest,
Idols of Exile
.
While I'm less than thrilled about our new PM (although I was less than thrilled about our old PM), I'm very happy that
Sam Bulte got turfed out on her ass
. For those of you who are wondering how this relates to music, Ms. Bulte was the sponsor of
Bill C-60
. Head over and give
Aaron
some love for exercising his democratic right in the riding to help give Sam the boot.
Finally, if you're a Conor Oberst devotee, you might want to consider bidding on
this guitar he smashed (and then autographed)
. All the proceeds go help a double lung transplant recipient from Omaha pay for his hefty hospital bills.
now playing: Lewis & Clarke - Underwater, Man
Friday, January 20, 2006

desperate youth, blood thirsty babes
TV on the Radio
play Richard's at May 6th. I *think* their new one should be out by then. At any rate, you can almost guarantee that it'll be leaked onto the internet by then. Tickets are on sale next Friday for a mere $17 + charges. (thanks Shea)
Isis
is set to tear your head right off of your body at Richard's on April Fool's Today.
If you were too slow on the
Animal Collective
ticket buying front, fear not. The show's been moved to the Commodore, and also has a new date (March 1st). Tickets for Richard's will be honoured at the Commodore, and more tickets will be released on Tuesday.
Most Serene Republic
are at UBC's Pit Pub on March 11th.
My (second) favourite Vancouver club night, "The Kids," is migrating further East on February 11th. And, to celebrate the move from the Met to the Columbia, Romance (Ladyhawk side project) are going to play a set (in addition to the usually stellar DJ lineup of My!Gay!Husband! and AndrewAndrewAndrew).
My
music picks
are up at the Tyee this week. Free and legal mp3s from Ladyhawk, Someone Still Loves You Borist Yeltsin, Jenny Lewis and the Watson Twins, Jose Gonzalez, and Tapes N Tapes. Don't forget to check it out every Friday, to get some more suggestions from various other contributors.
Last, but most certainly not least, don't forget to go vote tomorrow. While you're at it, ponder the question of what is more embarrassing of the two inevitable options? A government of theives, or a government whose pegged Foreign Minister (among others) doesn't have a firm grip on science? Go democracy, go! At the very least, an election means a special edition of the Mercer Report tomorrow, and that will be pure comedy gold.
now playing: Akron/Family - Sorrow Boy
Thursday, January 19, 2006

pixel revolt
More shows...
John Vanderslice
plays the Media Club on April 6th.
Cuff the Duke
is at the Red Room on March 30th.
Sarah Harmer
plays the Stanley Theatre on April 10th.
Dilated Peoples
are at the Commodore on February 27th.
More Cowbell
has the first couple of Sasquatch '06 confirmations up (Cons, Neko Case)
something a little more substantial coming soon... I've been busy this week.
now playing: Kylie - Can't Get You Out Of My Head (Soulwax Elektronic Remix)
Tuesday, January 17, 2006

run, devil, run
Jenny Lewis and the Watson Twins
, who've (almost) released my favourite record of 2006 thus far, play Richard's on March 7th (
Rabbit Fur Coat
is out officially on January 24th). (thanks Shea)
Beth Orton
plays the Commodore on March 29th. I haven't really been that interested by her much since
Central Reservation
, but the fact that she worked with Jim O'Rourke on her latest makes me curious, at least. (thanks Graham)
Arab Strap
play the Media Club the same day.
We Are Wolves
play Richard's on March 6th, which means, if you're so inclined, you can catch 8 shows in 9 days from March 2nd-10th. Except you better have picked up an Animal Collective ticket, if that's your plan, because it's completely sold out.
Despite
Pollstar's
listing of
Magnolia Electric Co.
playing on April 12th with Destroyer, the promoters that booked the show still have it listed as Destroyer
and guests
. In other words, you should go, because Dan Bejar is a musical genius, but don't be disappointed if MEC aren't opening.
The Joel Plaskett Emergency
plays the Roundhouse on January 31st.
Youth Group
(who opened for DeathCab on their last visit) play the Red Room with
Matt Pond PA
on March 2nd. (thanks Shea)
In out of town show
news
rumours, both
Product Shop
and
The SanFran Gate
are reporting that there are whispers abound that My Bloody Valentine may reunite to play Coachella this year. The other Coachella rumours didn't get me all that exciting (Depeche Mode headlining? yawn), but if this is true, it would be amazing.
Finally, my favourite local act,
Ladyhawk
, finally have a website. It's still under construction, but you can head over there and grab mp3s of "Came In Brave" and "Sad Eyes/Blue Eyes."
now playing: Ladyhawk - Came In Brave
Sunday, January 15, 2006

we desire disorder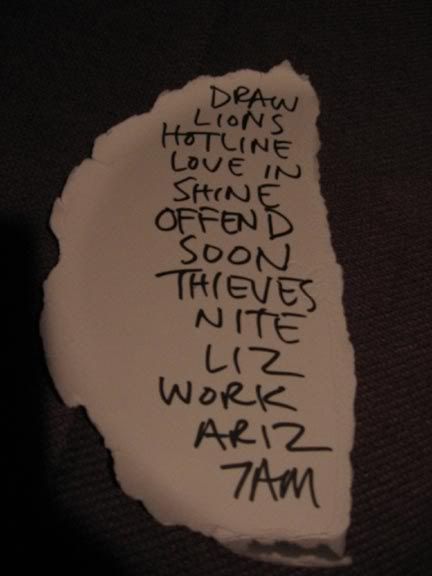 The Constantines
didn't put out the best release of 2005. In fact, I was a little disappointed with
Tournament of Hearts
. It was a good record, but by comparison, I still don't think it stands up to
Shine A Light
or their self-titled debut. That being said, the tracks from their latest were apparently written so the song arrangements were easily altered or tweaked on stage, and it shows; the tunes are monsterous live. Tonite was the fourth show I've seen them open with "Draw Us Lines," and I wouldn't have it any other way. It's one of the record's highlights, but the pounding drums and squealing guitars are so much more in a live setting. Not only do the Cons sound loads better live, but when they play they're clearly having a blast. And, when the five guys on stage are clapping, swinging guitars, and climbing onto ledges (all within the first four songs), it's almost impossible to sit still as a member of the audience. Say what you will about a drunken university crowd, but they were definitely ready to show their affection for the band tonight. "Soon Enough" was even greeted with a sing along.
The last couple of times they rolled into town (at Richard's) they were fantastic as well, but the cramped stage and the slightly smaller room serve the band well. If you managed to snag tickets for tomorrow's Media Club appearance, consider yourself lucky. I remember seeing the Cons live at the Pic for the first time, and while I'm ecstatic that they're popular enough to play bigger rooms now, there's something about being packed into a cozier club with a couple hundred people all clapping and throwing fists in the air to "Arizona."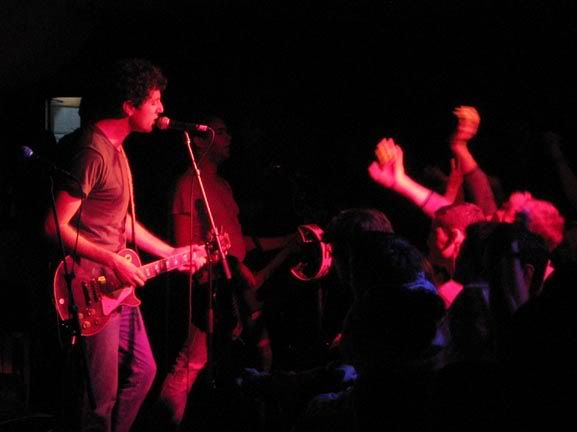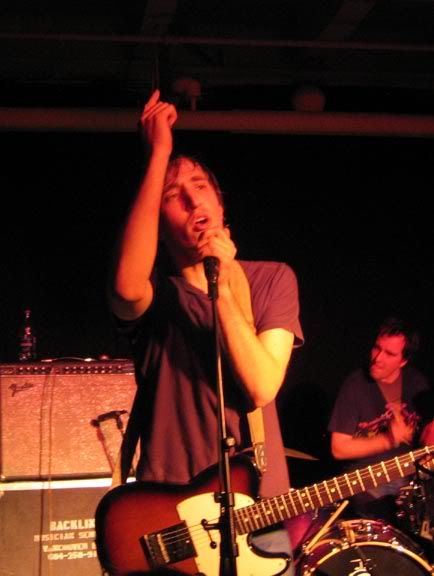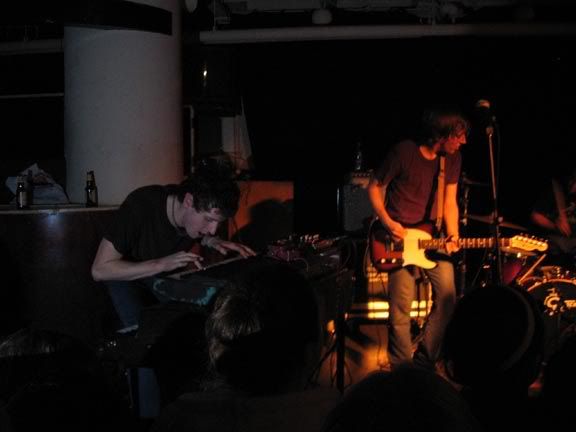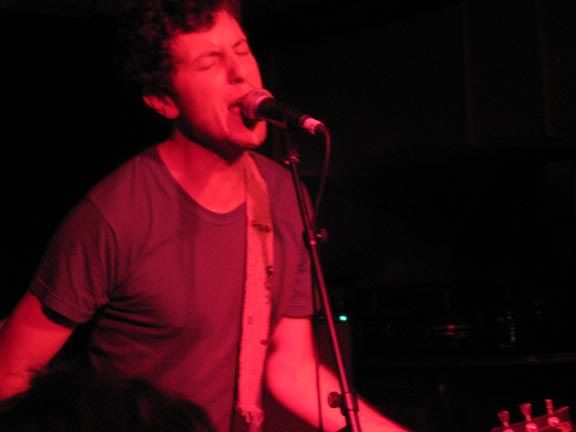 now playing: The Constantines - Young Offenders
Thursday, January 12, 2006

such hawks, such hounds
Dead Meadow
plays the Red Room on February 8th with
Pink Mountaintops
and
Blood Meridian
Afrika Bambaataa
plays Atlantis on February 2nd
Ladyhawk
and
Pride Tiger
play a show at Bloodstone Press (642 Clark Dr.) on January 21st.
The Subways
play Richard's on March 29th. (via
Vanmega
)
The Greenhornes
play Richard's on March 25th
Ariel Pink
plays Richard's on Valentine's Day. How romantic. (thanks Kara)
Blixa Bargeld
(of Einsturzende Neubauten, and a former Bad Seed with Nick Cave) plays the Red Room on February 4th with
Savage Republic.
(thanks to G for the headsup, and subsequent lowdown)
Nina Hagen
is at Video In on February 26th.
Lavender Diamond
is the opener for the upcoming Low show on March 9th.
The
Oneida
show now has a venue. Check them out at Pat's, if you're so inclined.
Finally, the
Mates of State
date listed for April 20th, has been removed from their booking agency's website.
now playing: The Constantines - Some Party
Sunday, January 08, 2006

waiting for superman
The Soma Cafe (2528 Main St.) will have a listening party for the
Flaming Lips'
Zaireeka
on February 10th. Although you can easily search out a "mixed" copy of the record, it was released as a four disc set, with each disc meant to be played simultaneously.
Pitchfork gave a 0.0 to
, because no Lips fan has "the money for four CD players and, if they did, they'd spend it all on - you guessed it - inhalants and detox. And then retox. But not three more CD players." I'm inclined to agree. That makes this even more of a novel opportunity. They're even giving away Lips prizes.
Everyone gives away IPods these days, and you might have to be from the UK to win this one, but don't let that stop you from checking out
ClickMusic's IPod giveaway
. If anything you can exercise your music muscle by trying to name each and every pictured musician, and the band they're from. I only managed a paltry 43 (you need 60 to even qualify for the contest).
Check out this preview of
Bloc Party's forthcoming God Bless Bloc Party DVD
. It's going to be sold at Virgin, Tower, and various American indie stores South of the border. No word on what Canadian availability will be like yet, but I'll keep you posted.
The Yeah Yeah Yeahs
have updated their website, revealing that their forthcoming LP (which isn't titled after Karen's cat) will be out at the end of March with a N.A. tour to follow in April.
Finally, while I rarely talk tech stuff, I have to ask: Just how awesome is the new
MacBook Pro
? Four times faster than the PowerBook??? Shouldn't it just spontaneously combust on startup? Goddamn.
now playing: Neutral Milk Hotel - Two Headed Boy
Saturday, January 07, 2006

first time i saw her, i wanted more than just to hold her
The folks over at
Sealed With A Kiss
are doing their best to ensure that my bank account slowly dwindles into oblivion in the next couple of months. They just announced a quartet of shows that, in all likelihood, you do not want to miss.
Art Brut
makes its Vancouver debut, playing an early show at Richard's on March 24th (read: you can probably make it to this
and
Belle and Sebastian - and you might as well try, since the New Pornos aren't opening in Vancouver).
Isobel Campbell
won't be gracing the Commodore stage with her presence that night, but the estranged former B$Ser rolls into town for a solo (and also early) show at Richard's on March 10th. Anybody checked out the leak of her new one with Mark Lanegan? Give me the lowdown.
Controller.Controller
return to Vancouver for an(other) early show at Richard's. They play March 3rd, and this time don't conflict with Deerhoof and Okkervil River.
And, last but not least, a month after the release of their cleverly titled,
Axis of Evol
,
Pink Mountaintops
play Richard's. Check them out on April 5th.
In non SWAK related events,
Leeroy Stagger
plays my favourite place to go whilst skipping class, UBC's Gallery Lounge (main floor of the Student Union Building) on January 18th. Thanks to Shea, who booked the show, for the headsup.
Oh... and for the benefit of our underage, and fake-id-less friends out there, any all ages show will now be marked as so in the sidebar.
now playing: Idlewild - Everyone Says That You're So Fragile
Thursday, January 05, 2006

another sunny day
Look at that. Two posts in one day. This news was too awesome, not to post right away.
Belle and Sebastian
hit the Commodore on March 24th.
If that's not enough for you (and it should be), a little band called, The New Pornographers share the bill with them.
Ticket info when it arrives.
Edit: Pitchfork is now reporting that The New Pornographers
will not
be playing the Vancouver date. Sorry if I got your hopes up... I got my hopes up too, if that's any consolation. Thanks to Frank for the headsup, and to quote the PFork,
"The New Pornos drop off the tour one random random show in Vancouver. Wait, aren't Carl Newman and co. from Vancouver? What gives?"
now playing: Belle and Sebastian - I Fought In A War

i guess i break hearts
don't call it a comeback...
My computer is back in action, so now that you've all deleted your bookmarks, why don't we get this blog thing going again? We've got some catching up to do...
Let's start with some local news. The fine people over at
Boompa
sent me his forthcoming (UK only) EP awhile ago, and I hadn't had the chance to talk about it, but now that
Leeroy Stagger
is set to play the Media Club on February 16th (after what is sure to be a triumphant invasion of Britain), it seemed like a good time to do just that. If you've read this blog with any frequency, you know that I'm a sucker for a bit of twang, and with
Tales From The Back Porch
sounding just like it's title suggests, I was wonover pretty easily. Since he plays fairly often in Vancouver, I'd actually been meaning to check out Leeroy for quite awhile, and I'm sure many of you already have. But, if you haven't, and you're a fan of Jason Collett, Whiskeytown, etc, do yourself a favour and check out some downloads
here
. Then do yourself another favour and show the Vic native some love on February 16th (or alternately, pick up his domestically available full-length
Beautiful House
, which features all the songs and more from
Tales...
, at most finer record stores right now).
Destroyer
plays Richard's on April 12th. If you're not totally excited about this (despite his lacklustre performance opening for the New Pornographers), I don't think we can be friends. This show also comes hot on the heals (sorta) of the release of Dan's newie,
Rubies
, on February 21st. Until then, why not tide yourself over/get yourself psyched up for both dates by listening to this track...
download: Destroyer -
3000 Flowers
You Say Party! We Say Die!
opens the Blood Brothers show on January 29th. They also played a show on New Year's, that I couldn't give you the headsup on, because I was internetless... sorry if your New Year's was lacking the good music department.
Good news:
Ladyhawk
have finished re-recording their debut LP (out on Storyboard here, Jagjaguwar down South). Bad news: it won't be out til May. In the meantime, if you're up for a drive, you can check out the band at the Boot Pub in Whistler on January 22nd.
Last, but certainly not least, on the local front... Vancouver turntable hero,
Paul Devro
, provides this month's
Lemon Red Mix
.
The Stills
play UBC's Pit Pub on February 4th. I can't say that I've been too huge on them in the past, but they've had a bit of a line up shake down, and are moving in a "new creative direction." Should be interesting.
Jets Overhead
open. Tix are on sale now at Zulu and in UBC's Student Union Building.
Tix for the first of the two
Cons
shows are also being sold in the SUB now.
According to the NME,
Meg White
is doing some modelling.
Sean
is totally psyched right now.
Finally, if you picked up an IPod Video over the Winter Break (and then didn't subsequently crash your computer installing a video converter for it) you'll want to head over to
Vanmega
, where Rob has graciously converted and is now hosting ten Pod-ready vids for your viewing pleasure.
now playing: Leeroy Stagger - Beautiful House