Friday, March 31, 2006

i'm drowning in the rain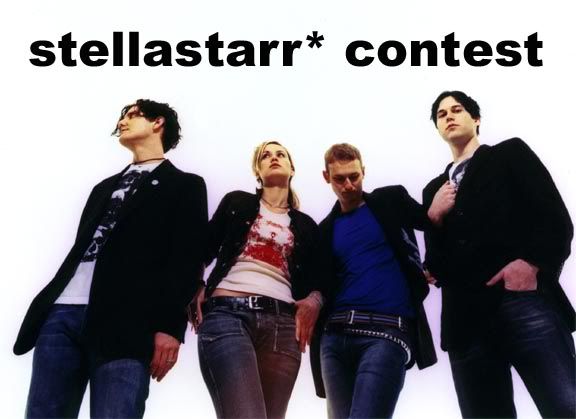 Stellastarr*
are playing Richard's on April 25th (they're opening for
Editors
), and the fine people at
WiredSet
are going to get you and a friend into the show. Not only do you get to see both bands for free, but you can be one of those poncy people who go up to the table where they sell tickets and announce "I'm on the list."
To enter just email your name and contact info with the subject header "Stellastarr Contest" to
me
before April 14th at noon, when I'll draw a winner at random. I won't share your contact info with anyone. In fact, I'll probably delete all the emails afterward.
If you win, and you could write a guest review, that would be swell to... but since you get to go to the show before you write the review, there's nothing I can do but call you a "jerk" via the internet afterward if you don't write the review.
To recap. You, Stellastar*, Editors. Dick's on Dicks. April 25th. For free.
download: Stellastarr* -
Love and Longing
now playing: Cansei de Ser Sexy - Let's Make Love And Listen Death From Above
Thursday, March 30, 2006

keep it quiet, we'll kiss in the deep end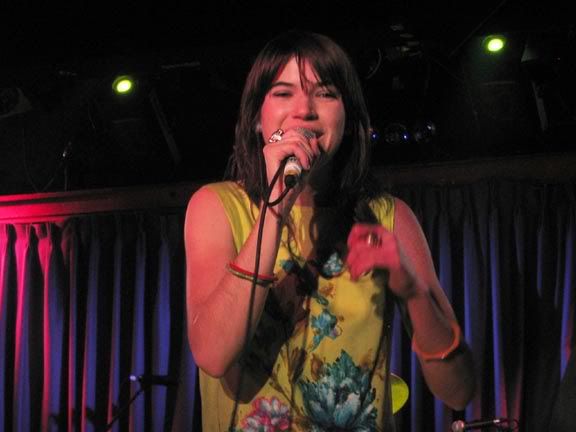 Despite being bogged down with papers, I managed to escape my house today to check out
the Grates
at the Red Room. I was attending on the strength of
Sean's
recommendation, my friend Shea's recommendation (and the fact that he got us in for free - thanks!), and the strength of their current single "19-20-20."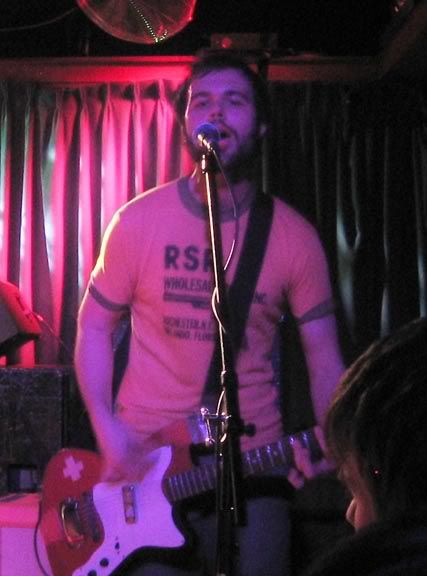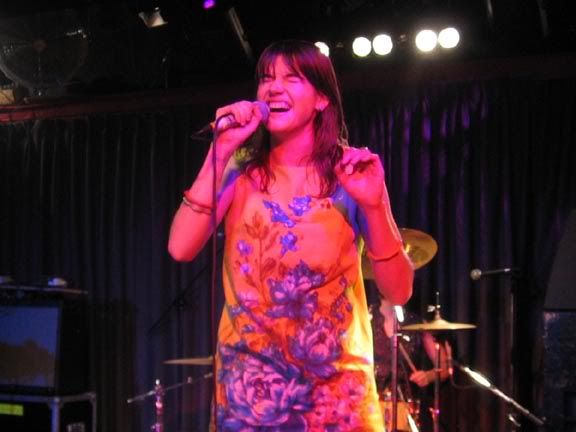 I have to admit, when their lead singer, Patience Hodgson, strolled out, I was wondering where the oodles of charisma that I had heard so much about were. About two songs in, however, and I could see what all the fuss was about. I don't think I've ever seen a performer who exuded such unabashed happiness. And, rather than coming off as hokey or lame, the joy was infectious. It wasn't all about the frontwoman, however. Alana Skyring bashed out some crashing rhythms, and John Patterson's guitar riffage was razor sharp.
If you've read about the Grates already, you've probably heard the Yeah Yeah Yeahs comparisons. And, while overstated, they're definitely warranted. Although I will be so bold as to say that, while I'm pretty fond of
Show Your Bones
, songs like "Message" and the afermentioned single, would make the album that you
thought
the NYC trio were going to follow
Fever to Tell
with.
The Broolyn Vegan
has some .mp3 links.
Sean's
got some YouTube action covered.
"19-20-20" is currently only available as an
Australian
Itunes Only single, but you can stream it from the band's
MySpace
. I know the traditional marketing plan is one region at a time, but do labels not understand how the internet spreads hype like the plague across borders?
I came home early to work on school stuff, so I can't tell you what
We Are Scientists
were like, though I will note that
Foreign Born
seemed like a synthesis of that dancy NYC sound that everyone is trying to do these days mixed with Coldplayesque vocals... at first. Their last song, however, had a little more grit, and was pretty damn good.
now playing: the Grates - Message
Wednesday, March 29, 2006

angels' share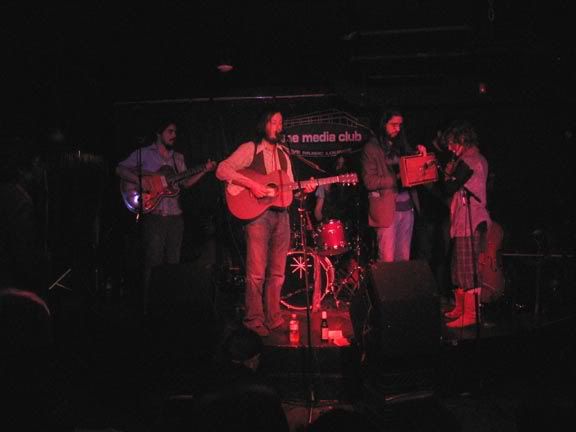 The Media Club hosted an unfortunately small crowd who gathered to see
Vetiver
last night. The fact that it was a late show on a Tuesday might have had something to do with attendance being on the sparse side (and people leaving periodically), but those who braved some bags under their eyes at work/school this morning (alternately, I just skipped class) were rewarded with just over an hour of "outsider folk" that ranged from soft and delicate to bluesy and rocking. None of Andy Cabic's most famous collaborators were on hand (Joanna Newsom, Devendra Banhart, Hope Sandoval), but the musicians he did share the stage with filled out the song's arranements nicely... although Alissa Anderson's cello was a little low in the mix (through no fault of her own). They also brought out opener, and folk legend in his own right, Michael Hurley, for their second last number.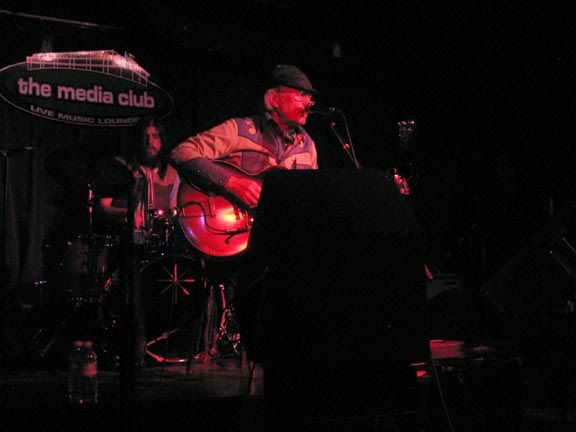 Michael Hurley is to Andy Cabic (or Devendra, or *insert similar artist here*), as Gram Parsons is to Ryan Adams. While he's noticably getting on in his years, his set was just under an hour of timeless folk. Hurley exists in a rare space: he has some musical notoriety, minus any trappings or expectations of widespread fame.
now playing: Jose Gonzalez - Heartbeats (the Knife Cover)
Tuesday, March 28, 2006

It's 5!
Actually, I think it's visit number three. At any rate,
Architecture In Helsinki
is back on May 26th at Richard's. (thanks Chris)
I Love You But I've Chosen Darkness
is at the Media Club the very next day.
For no particular reason, how about some live, unreleased
Jenny Lewis with the Watson Twins
?
download: Jenny Lewis with the Watson Twins -
Jack Killed Mom (live at the Sommerville)
download: Jenny Lewis with the Watson Twins -
I Met Him On A Sunday (Shirelles Cover, live at the Sommerville)
Rainer Maria
are at a venue TBA on May 7th.
If you're like me, you're waiting with baited breath for
Pearl Jam
to announce leg 2 of their North American tour dates. Well, you can anticipate even more, as
Sonic Youth
is tipped as the opener on the West Coast.
Finally, fuck Morrissey. I'm not going to get into the holocaust analogy or the China comparisons... but if the Mozzer is willing to
not play in Canada
over the seal hunt, he might want to take a look in his own LA backyard and realize he lives in a country that illegally invaded another country, resulting in the deaths of thousands of
people
. Of course, innocent Iraqis aren't as cute as baby seals, are they, Stephen?
now playing: Wilco - Misunderstood

bring on the blue skies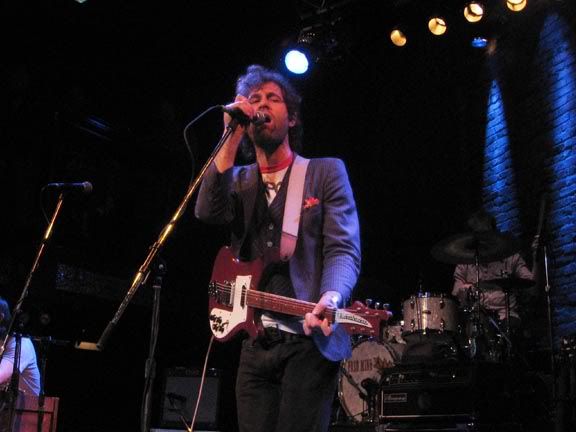 Jason Collett
played his first headlining show in Vancouver in... ever? I'm going to say "ever," unless you count that mostly industry type people affair at the Media Club last summer. The sometimes BSS axe-slinger was in good spirits, despite noticably suffering from a sore throat. And, a bit of hoarseness wasn't enough to keep him from getting through quite a few from last year's
Idols of Exile
(one of my favourites of 2005), one number from
Motor Motel Love Songs
, and 4 or 5 new tunes (including "Not Over You" and "Waiting For The World," which are currently up in video form at
Schedule Two
). The crowd, while a little small (I know it's a Monday, but c'mon Vancouver), was enthusiastic, and at least one member of the audience was "too drunk to notice" that Jason was having vocal issues.
Semi-Related Question #1: is "MORE COWBELL!" the new "FREE BIRD!?" I say yes.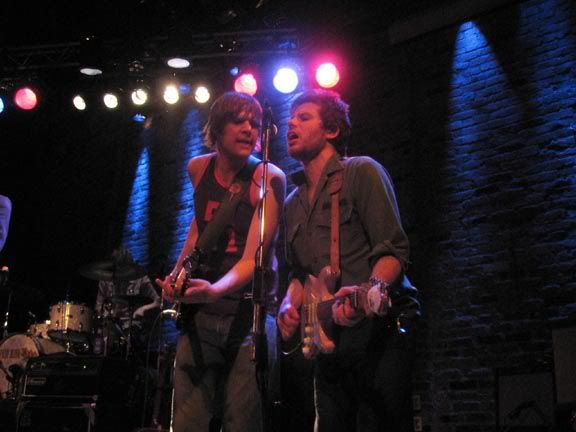 Paso Mino
, Collett's backing band on his last couple of tours, also took opening duties. As a backing band, they're pretty tight... actually, as a band they're a pretty tight group of musicians, but I wasn't really feeling their songs (and not just because I was keeping half an eye on the hockey game). At times when the organ would swell up and the harmonies would kick in, it sounded like it was all about to click, but I was never quite won over.
Semi-Related Question #2: do you ever wonder why shows don't start earlier on weekdays? This one was over at a reasonable hour, but in general, on a weekday, wouldn't you prefer to show up at 7:30, have the first band hit the stage at 8:30 and get out of there by midnight all the time? The bar's open for the same amount of time, and the early ending might even pursuade some people who have to work in the morning to polish off a few more drinks.
now playing: Jason Collett - I'll Bring The Sun
Monday, March 27, 2006

smitten
Every once in awhile I hear this from a friend: "You're going to see (insert band keyshere)? I thought you hated them." And my reply is often that, "yeah, I do." But there's a reason that I'll check out a band that I haven't thought much of in the past. And, that's because (especially when it comes to local bands that I've seen very early on in their lifespan), things change; my tastes for one, but also, bands get better. I'm not sure which is responsible for my reformed opinion on
Run Chico Run
, but I'd imagine it's a bit of both. The first time I saw the Victoria based twosome was almost three years ago, opening for the Constantines at the Brickyard. I was significantly underwhelmed. Lucky for me, the kind folks at
Boompa
were gracious enough to send a copy of their brand spankin' new cd,
Slow Action
, to me.
Matt Skillings and Thomas Shields definitely sound as though they've honed their craft a bit, but (as much as I love them) the muffled confines of the Brickyard might not have been the best place for a first date with their music. There's a lot of stuff going on here. Guitars, drums, synth stabs, piano, seemingly random sounds, and harmonized vocals all compete for air on
Slow Action
's densely layered tracks. The tunes also resist easy categorization. Yes, there is a unifying "sound," but the boys jump around a bit. "Clockwork Crows" and "Oneanotherwell" feature that jagged rhythmic action that I was complaining Hot Hot Heat had lost, a couple of posts back. Opener, "Broadcast," will probably impress the "freak folk" fan in your life. And, closer and sorta title track, "Slow Action Is The Best Action," sounds like it could soundtrack a spooky, Tim Burton directed, animated film. I'm still digesting it, but thus far, I'm suitably impressed.
download: Run Chico Run -
Clockwork Crows
(via Boompa)
As a funny aside, when I popped the cd into my computer ITunes displayed track 3, as "Smitten (Visit Http://www.tower.com/theconnection)." The URL takes you to some Tower Records podcast. Weird.
For the record, if you're employment involves sending people CDs, I do promise to
listen
to everything I get, but I'm probably only going to write about things that I like.
For the record, if you're from
Jagjaguwar
and you email me a headsup that you've posted a new
Ladyhawk
.mp3, I will most definitely write about it. I can't wait to hear a recording of "Teenage Love Song," which I'm assuming, is my favourite Ladyhawk liveshow sing along song ("I don't believe in endless love..." You know the one). This blog is going to to turn into a Ladyhawk fansite or something soon.
download: Ladyhawk -
The Dugout
Vice's blog
has a
Chromeo
mixtape (yes, tape) up for download. This is all kinds of awesome, as I would venture to say that most of these remixes are better than the album versions (and I like those quite a bit). They're also giving away 50 actual cassettes. Head over there to find out how to get your hands on one.
Finally, head over to my buddy Martin's
MySpace
to check out his absolutely slammin' DFA1979 vs. Purple Ribbon AllStars blend.
now playing: DJ K. - Romantic Kryptonites (DFA 1979 vs. PRA)
Saturday, March 25, 2006

kid, you've got some shit to learn
It may seem redundant to sing the praises of someone after both
FluxBlog
and
Said The Gramophone
already have, but I just had to. If, for some reason, you don't check those two sites much more often than you drop by here, I implore you to check out
Casey Dienel
. Sean (from StG) mentions Mirah, Sarah Harmer, Regina Spektor, and Feist in his description of Dienel's whimsical piano based tunes, and I'm not one to argue with that. I actually haven't heard the whole album, as I just found out about her a couple of days ago, but the five songs I have managed to track down are all winners. I'll be picking up the album very soon, I suggest you do too.
linkage:
Said the Gramophone has "The La La Song" up
(highly recommended)
FluxBlog has "Everything" up for download
The Boston Pheonix has a story and "Frankie and Annette" up.
Hush Records has "Dr. Monroe" up
"Tundra" is downloadable at Casey's MySpace
And, Providence Community Radio has a streaming live set
buy it direct from
Hush
Built to Spill
have rescheduled their postponed East Coast dates and have added some West Coast dates. They hit the Commodore on June 12th. (via
More Cowbell
- Kyle is also running a
BtS contest
)
The Black Crowes
are at the QE Theatre for "an evening with..." on May 4th.
The Joel Plaskett Emergency
is at Richard's on May 5th.
And, finally,
Jello Biafra
is at the Van East Cultural Centre on April 7th to do his spoken word thing.
now playing: Casey Dienel - Frankie and Annette
Friday, March 24, 2006

bang bang rock n roll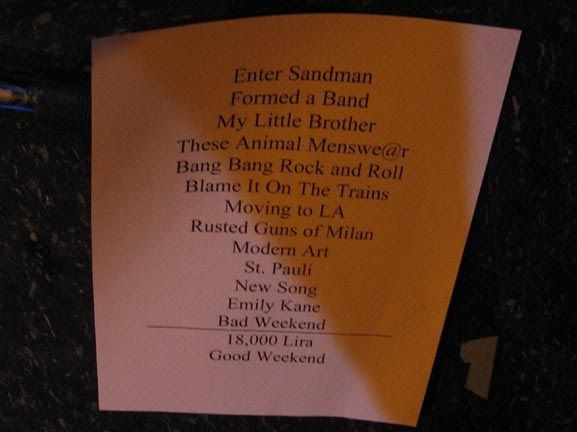 If you weren't at Belle and Sebastian tonight, you hopefully made it down to Richard's. If you did, you'll share my happiness that the boys (and girl) in
Art Brut
did decide to "form a band." I suppose I could open up the debate about whether they're a joke or for real, but frankly, when something is this much fun, it doesn't matter. Opening with the instrumental intro from "Enter Sandman," the quintet launched straight into "Formed A Band" and never let up. The set included a couple new numbers and a b-side, and was a rocking rolling good time throughout. Both the end of the mainset and the encore, however, were a near perfect climax for the raucous evening. "Emily Kane" was met with the predictable enthusiasm, and even contained an updated bridge where lead singer, Eddie Argos, informed us that he had, despite the recorded lyrics, actually seen her "over Christmas break." "Good Weekend," which was introduced as "currently number one in Japan, Australia... Disneyland, Narnia...," and featured a snippet of the Kinks, as well as the chant "Art! Brut! Top of the Pops!," closed out the evening in perfect fashion, as it encapsulated everything that was great about the set. They were only on for an hour, but when a band with only one album to their name turns out fifteen songs, there's not much to complain about; short and very sweet. You can tell it was good, because until just now, I had completely forgotten about my disappointment that the Serena Maneesh were supposed to have played (they had visa problems).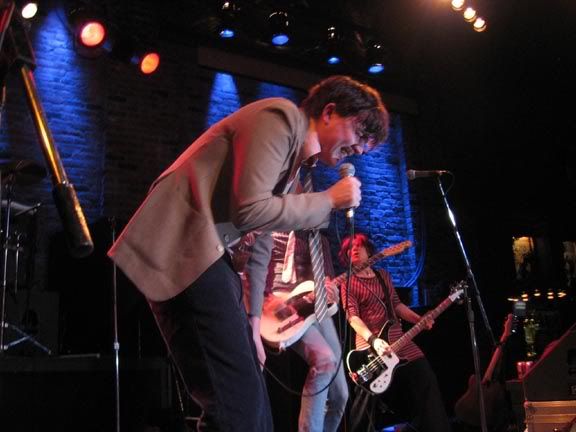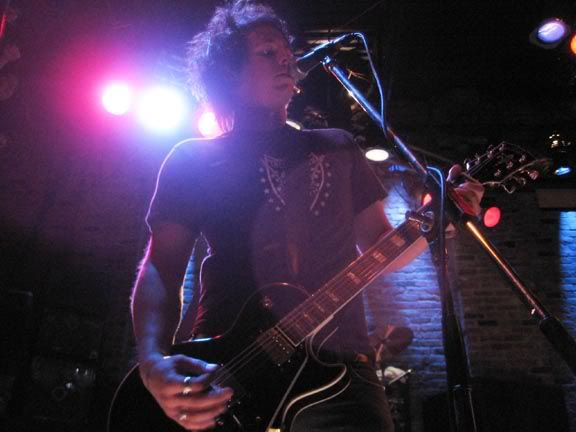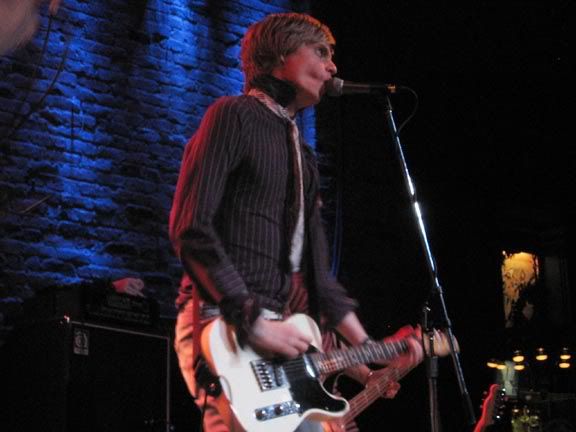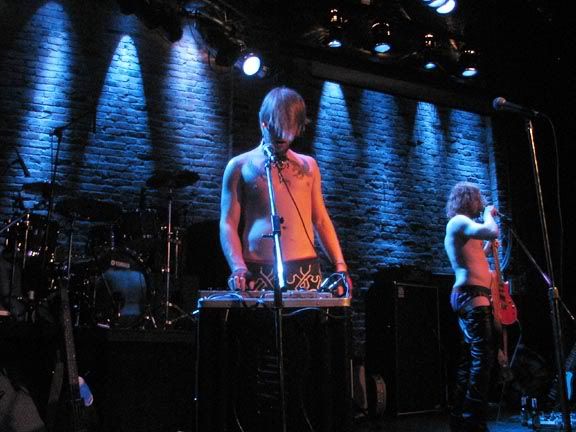 While the Maneesh were stuck in the US of A,
Gil Mantera's Party Dream
definitely turned it up enough to warm up tonight's crowd. I actually didn't make it in until they had a mere three songs left, and I definitely regret it. Again, there could be a debate on whether or not it's tongue and cheek, but either way they're goddamn entertaining. How entertaining? Well, the Village Voice decided to call their SXSW show the
best of the weekend
. Now, one could also probably debate the level of humour in that award as well, but if you want debate you can tune into CPAC. Hilarious doesn't begin to explain the spectacle, but if they ever come back to town, make sure you check them out and see for yourself.
now playing: Casey Dienel - The La La Song
Wednesday, March 22, 2006

le le low
Last time I saw
Hot Hot Heat
, I came away disappointed... the last two times, in fact. But, for some reason, I thought that would change tonight. I used to adore this band, and it's unfortunate that my distaste for their music has coincided with their steady (and well deserved) gains in popularity, as it makes me feel a bit snobby. Let me be absolutely clear though, I'm immensely happy that they've gotten popular, and can fill the venues they used to play about 20 times over. The music just doesn't do it for me anymore.
It's as if they've lost their groove or something. The jerky, frantic, rhythms that used to come between the big, hooky choruses are glossed over for a much more pedestrian straight ahead 4/4. And the keyboards (even on the older tracks) are pushed further and further down in the mix, and further and further out of the picture. I guess its a consequence of Steve becoming a bit more of a frontman. Everything is so glossy sounding.
Bend Sinister
played second. I know they're held in quite high esteem among some folks in Vancouver (and elsewhere), but I just don't get it. Half the songs seem like subpar Muse, and the other half are like subpar Queen. Also, while they're fairly competent musicians, they really don't have the technical chops to wow with the proggy stuff.
You Say Party! We Say Die!
opened. Despite the fact that they had just driven in from SXSW, they all seemed amped. While they're a little rough around the edges musically (ie. there's some room to grow), they possess that sort of franticness that Hot Hot Heat have kinda lost. As per usual, I was pleased to be there.
I was too far back to get any decent shots of the headliners or Bend Sinister, but here's a YSP shot...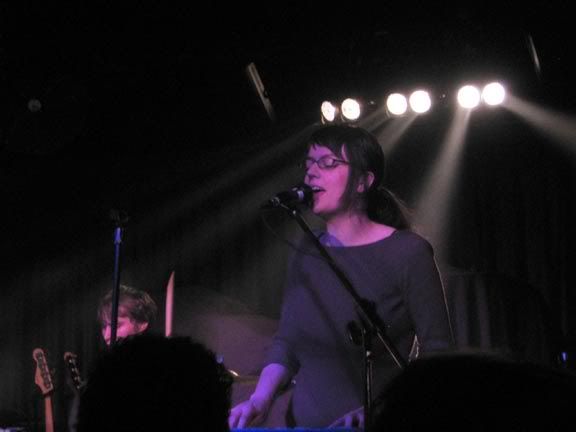 now playing: TV On The Radio - Wash The Day Away
Tuesday, March 21, 2006

easy love
MSTRKRFT
and
Tiga
are set to bring what will, undoubtedly, be a night of electro madness to Richard's on April 29th. Get out your dancing shoes.
The Fall are at Richard's on May 20th. Does anyone out there no what kind of sets they play? Do they draw from the full catalogue, or just stick to new stuff? (thanks to
Kyle
for the headsup)
Feist
will return to the Vancouver FolkFest on July 15th. If you've been reading since last summer, you know I can't stand the FolkFest, but depending on who else plays that day, I may cave. (thanks to Jason for the headsup)
Julie Doiron
is playing an in-store at Zulu Records the day before her Media Club gig.
Shotgun and Jaybird
, who are opening the Media Club show, will backup Julie. Time tba.
The Strokes
are at the Plaza of Nations on May 17th. I've always felt like they were so suited to bars, but I suppose this is better than playing a theatre. At any rate, I'll be at the Concretes that night.
The absolutely fabulous
Schedule Two
has (in my mind) one upped the
Tapes 'N Tapes
videos they posted last week, by posting five
Jason Collett
videos. These include Feist taking Emily Haines' part on "Hangover Days," and two new tunes, including "Not Over You." I've been looking for a decent copy of the latter for months. The perfect primer for Jason's first headlining show here in ages, next Monday. Those Schedule Two folks are going to keep the amazing live music recordings coming too... Akron/Family, Metric, and Mates of States (among other) goodies are already lined up. While you're there, check out the full Julie Doiron set they have up in .mp3. It features her cover of "Me and Julio Down By the Schoolyard."
Boots Riley (of
the Coup
) is doing a speaking engagement at Tokyo Lounge this Thursday (the 23rd). The outspoken activist, will also be spinning tracks from the Coup's forthcoming record,
Pick A Bigger Weapon
. Entry is free, RSVP to: info@spectrum-events.com to confirm your spot. You may only know the Coup from the unfortunately timed
original cover
of their previous effort,
Party Music
, but I assure you, they're stellar.
The Nasty On
are back! In addition to the new songs up on their MySpace, they'll be the first band on the bill of the Dirtbombs show on April 2nd.
Biz Markie's
DJ set is postponed until further notice.
Finally,
Billboard
reports that Epitaph will release the
Refused Are Fucking Dead
DVD on April 25th. In addition to the requisite interviews and videos, it will also feature footage of
every
single song from
the Shape of Punk to Come
performed live. Hot damn.
now playing: Jason Collett - Not Over You (live)
Monday, March 20, 2006

decorate, round the base, all the graves of our lost loves
One Song: Perfect Songs for an Imperfect World

download: Final Fantasy:
The CN Tower Belongs To The Dead
I like to share a lot of music. I'm constantly either sending songs to, or shoving headphones in the hands of friends with the exclaimation, "you've got to hear this!" And, I didn't realize just how great this song was until I started sharing it with a lot of people. You see, I'm a huge sucker for violins, so initially, I chalked up some of my affection for the centre piece of Owen Pallet's glorious debut LP to that unquivocal love of the instrument. I'm sure a lot of the .mp3s I've inflicted on friends go unlistened, and I'm certain a lot of the mixCD tracks get skipped, but this song almost always illicits a positive reaction... "thanks for the CD, that 'CN Tower' song is amazing." It's even more amazing, because it's so very, well, weird. There are, of course, pop sensibilities buried in the track's three and a half odd minutes, but Owen's love of Xiu Xiu and Destroyer is evident in both the off-kilter delivery and story telling. That being said, you're never going to sell everyone on "Crank Heart," but for some reason "The CN Tower Belongs To The Dead" seems to click in the minds of the majority who are lucky enough to hear it.
Andrew Bird may still be independent music's most celebrated track looping fiddler, but he also, for better or worse, fills out his sound with guitar, xylophone, his awe inspiring whistling, and Nora O'Connor's very sweet croon. Conversely, while Pallett will sometimes be joined on stage by a drummer or string quartet, on record, he truly stretches a single instrument to its limits. "Bass" lines, descending pizzacato melodies, layer upon layer of bowed lines, and even an uncanny mimicry of a drum machine are all coaxed out of a violin throughout "Has A Good Home." And, while not all of the elements that pop up on the album are present on "The CN Tower...," it may be the best example of how each part builds to make the final, glorious, whole.
The song begins with a sonar-ping like set of stacatto notes that are soon joined by a deeper bowed figure that creeps underneath. Then comes Owen's voice, dried out almost to the point where it sounds like he's being recorded through a radio or telephone, mingling with further flourishes of violin. The whole thing builds remarkably fast, but it isn't until the two-minute mark that the song really hits its stride. It's then when a descending violin streaks in, then another, then another; a torrent of strings all threatening to collapse on eachother. And, just when you think the swirl of notes just might fall apart, it all ends just as it began, settling back down to earth with a lone violin.
now playing: Final Fantasy - The CN Tower Belongs To The Dead
Labels: final fantasy, one song
Saturday, March 18, 2006

digital bath
The Deftones
are squeezing their touring metal beast into the Commodore for a show on April 3rd.
Tix are on sale right now, and I would imagine that they will go fast.
It's sold out. I wasn't big on their last album, but I still think
White Pony
is fabulous.
Drive-By Truckers
hit the Commodore on May 10th. I keep hearing that they're stellar live, so it's probably about time I checked them out.
The Cons
show on May 25th will be at Richard's.
Chad VanGaalen
and
Blood Meridian
take on opening duties.
From Blown Speakers favourites,
Ladyhawk
are featured in a
Tiny Mix Tapes
article, where TMT fills us in on some album details. Have I mentioned how psyched I am for this? Well, I'm doing it again. If anyone from
Storyboard
is reading this, please, please, please send me an advance, an mp3, anything!
When
A Reminder
and
For the 'Records'
both recommend a band, chances are it's a winner, so I was not surprised that my first taste of
Guillemots
was a pleasant one. Sean was even kind enough to link us to
Good Weather For Airstrikes
, who've kindly prepared about as comprehensive introduction as you're likely to see (complete with audio, of course). Michael notes that their debut EP,
From The Cliffs
, is out in Canada now. So, head over and download some .mp3s, and once you're convinced, run down to your favourite independent record outlet and pick that bad boy up.
While were on the topic of music that the internets introduced me to in the past couple of days, let's talk about
the Pipettes
. You may have already read
the PFork's
glowing review of "Your Kisses Are Wasted On Me." And, if you did, hopefully you watched the linked video. If you didn't, then you probably haven't already fallen in love with the UK trio's girl group ultra goodness, so here are some samples that will hopefully remedy that situation. Both of these tracks are culled from 7"s that are no longer available, but the "Dirty Mind" 7" is out now, and the "Your Kisses..." 7" is out on March 27th. If anyone knows where I can find any of said records in Vancouver, if you could let me know, I would be much obliged... if not, I'll suck it up and pay the exchange/shipping/etc and get'em via their webstore.
download: the Pipettes -
ABC
download: the Pipettes -
I Like A Boy In Uniform (School Uniform)
Finally, my picks are up at
the Tyee
this week. Two Gallants, Vetiver, the Hold Steady, the Affair, and Land of Talk, all for your free and legal listening pleasure.
now playing: Six By Seven - America
Friday, March 17, 2006

home taping is killing music...
As you've probably already read,
the Feds have decided to unleash a fury
(read: indictment) on two men who made Ryan Adams' 2nd record of 2005,
Jacksonville City Nights
available via the internet, ahead of its scheduled release date. Now, I'm not here to argue that the government isn't within its right, as clearly what Robert Thomas and Jared Bowser did was illegal. But, the fact that the RIAA has applauded the move sheds even more light on the major labels' failure to understand changing technology; an understanding they'll never reach as long as they continue to view music as a commodity.
That brings us to the first interesting thing about the Thomas/Bowser case. They weren't posting it on torrentspy or putting it up on limewire. The album was leaked via the messageboard on the fansite they (used to) run,
tobeyoung.org
(named for the proper first track on Ryan's solo debut). If anyone was putting in (free) legwork to promote the purchase of Ryan's music, it was these two. Also, chances are that the people clamouring to hear
JCN
so much that they spent hours frequently visiting the site just to get a listen a mere few weeks ahead of schedule are the same people who own copies of the "Answering Bell" single (both versions... and the import). Now, I don't want to give the impression that I believe fandom entitles anyone to something. And, though I'm guilty of it myself on occassion, I hate it when people complain that something "hasn't leaked yet." That being said, I question the wisdom of actively supporting litigation against your most loyal customers, especially when they're doing something that might create new customers.
Which brings me to my second point. And, that point is: Arctic Monkeys, Arcade Fire, Clap Your Hands Say Yeah, and Jenny Lewis. If you're putting out a quality product, you've got nothing to fear from file sharing. JLew's record label still has
her entire record
(minus the
one song Warner owns the rights to
) up for free download. Both the Arcade Fire and CYHSY inarguably made huge gains from the prerelease .mp3 driven buzz around their respective records.
Arts & Crafts
streams (at least) the latest record from
every one of their artists
from their official site. And, in perhaps the biggest internet coup d'etat, Arctic Monkeys (who, let's be real, are only decent, and not superspectacularOMG!!) actively encouraged the sharing of their demos and EPs via the internet, and were rewarded with
the fastest selling debut in UK history
. So, what exactly, are the major labels so terrified of?
I can still remember being in Jr. High and saving my $10 allowance for two weeks straight, hitching a ride with someone's mother or older sibling to the mall, and gleefully blowing all of that $20 on a new release. And, I can still remember getting home, throwing it into my cd player, and, more often than not, being painfully disappointed upon hearing two or three quality tracks (one of which was the oversaturated radio single) and eight or ten tracks of filler. Now, I'm a complete sucker, so I kept buying those records - even more of them once I got my first part-time job - hoping every one would be the one out of five CDs that was an actual album. Most of my friends gave up. Do you ever notice how every teenager goes through a phase where they listen to nothing but the Beatles, Queen, and Zeppelin? It's not, despite what my uncle will sometimes say, that music has gone downhill as a whole since then, but rather that
Abbey Road
,
II
, and
A Night At the Opera
, have already been filtered out from the rest of the crap albums (and there were a lot of them - just check out the dollar bin at any record store) of the era. With new music you often didn't have that benefit... until now.
Why is file sharing so threatening to the major labels? Well, for one, they obviously don't understand the potential benefits to artists making quality albums. But, more importantly, they don't have an interest in pushing quality albums (although they sometimes stumble upon one). Let me clarify that this isn't some kind of tirade against mainstream pop. A Kelly Clarkson record full of potential "Since U Been Gone's" and "Behind These Hazel Eyes'" would, from the perspective of this argument, be just as "quality" as the latest Shins, Ariel Pink, or Ghostface record - conceivably, if you enjoy one or two tracks, you'll enjoy the majority of the rest. Thing is, that's not what's happening, and file sharing is a threat, not to quality records, but to records full of filler. In short, they can't rip you off anymore. File sharing goes a step beyond the 10-minute preview you get from an HMV listening station. You don't get a glimpse, you get to live with an album. And, when you live with an album you aren't going to get suckered into buying a shitty one. Major labels have made a habit out of pushing albums that are mostly disposable, and they're reaping exactly what they've sowed. At long last, those records that once cluttered up bedroom floors and used CD bins are going exactly where they belong: the recycle bin.
I've taken a lot of shots at the majors, but let me clarify that, yes, there is no doubt that there are a lot of independent releases that I would consider pretty shitty... unlistenable even. But there's a difference. By in large an independent label wants to be financially viable, but more importantly they want to put out records they believe in. Will the newest Ex-Models record resonate with everyone? Certainly not. But, their label isn't promoting it like it should. You are never gong to find an absolute consensus on a piece of art (take the diverging views about this month's Animal Collective show as the perfect example). But, there is art and there is commodity, and to most indie labels it's the former first and the latter second, and ultimately that's the difference. And that's why you see Nettwerk
helping to defend RIAA lawsuits
, and why you don't see
Matador Records
cheering, much less launching, their own similar legal battles.
Since file sharing exploded I have downloaded a ton of records. A lot of them have been deleted, but there is no question that I've discovered dozens of bands that I never would have taken a chance on otherwise, and I've bought dozens (maybe even hundreds) more records and concert tickets than I would have if it weren't for file sharing. Maybe I'm alone on this one, but I like to think I'm not, since it's part of the reason I started this site... at any rate, I like to think I'm on the right track.
Field Music - You're So Pretty...
Wednesday, March 15, 2006

you can't hurry love
Swedish popsters,
The Concretes
, make their Vancouver debut on May 17th at Richard's. Tix are on sale Friday for a mere $12.50. Their take on the Stones' "Miss You" is one of my all time favourite cover songs.
The Magic Numbers
are at Richard's on April 24th.
It appears
Bauhaus
are the "special guest" for the Friday of
Sasquatch
. Wow... that was anticlimactic.
Tiny Mix Tapes
points us towards
PodBop
, which is like Pollstar on steroids. The website lists the week's upcoming shows in the city of your choice and automatically links to mp3s of the bands playing.
Finally,
Ladyhawk
have a firm release date for their debut record. The album, which is out on
Storyboard
in Canada and
Jagjaguwar
everywhere else, hits store shelves on the very satanic, June 6th (6/6/6).
now playing: Vetiver - Angel's Share
Saturday, March 11, 2006

we've been had
The Walkmen
make their triumphant return to Vancouver on June 10th. They'll be playing a Richard's show that, awesomely, will be at a normal time (not one of those ridiculous early shows). Tix are $18, and on sale this Friday from all the usual finer independent record outlets. Why haven't these guys blown up (like, in an indie sense) yet?
The Diableros
who are apparently the "next big thing" out of Toronto, are opening up the Stills show on the 26th of April. It's a
New Music West
affair, but is also a "premium" show, so don't go thinking you can use your wristband to waltz right in (although, if you're willing to lineup early, they usually let in at least a few wristbands). That being said, with the partial line up available already, here's hoping they announce some more bands, to make it worth picking up a wristband this year. You can stream the entire Diableros album from
their website
.
The Mountain Goats
are at Richard's on June 8th. I just can't get into them, but I'm pretty sure I'm in the minority, on that one.
Wilco
axe slinger,
Nels Cline
brings the Nels Cline Singers to Vancouver on June 23rd as part of the
2006 Vancouver International Jazz Fest
. Venue TBA.
Finally, here's that
Stanton Warriors
track I was raving about on Friday.
download: Stanton Warriors feat. Twista -
Pop Ya Cork
now playing: Stars - Ageless Beauty (Most Serene Mix)
Friday, March 10, 2006

xmas steps
Pitchfork
reports that
Mogwai
have added more dates to their NA tour, including a stop at the Commodore on May 24th. Hopefully Vancouverites will pay a little more attention to the music this time around, as I still recall "My Father, My King" dropping out into that final quiet bit and hearing nothing but chatter and clinking bottles. Mogwai, of course, got the noisy people back by blowing out the ear drums of
everybody
.
Boompa
artist, and now AstralWorks signee,
Small Sins
(whom you may remember as Ladies and Gentlemen) are at the Lamplighter on April 20th.
Magneta Lane
, whose new album ain't too shabby, supports. I knew I should've passed on those Matt Good tickets.
Speaking of Boompa, they're now home to Toronto's
Hylozoists
. The instrumental outfit boasts quite the past/present lineup (members of the Sadies, BSS, Weakerthans, Cuff the Duke, Final Fantasy, and many many others), and you can check them out on March 30th, when they hit town in an opening slot for
Cuff the Duke
and
the Fembots
at the Red Room. Check out their MySpace page (linked above) for a couple of mp3s.
Biz Markie
is at Atlantis on March 28th. He got what I need, but he say he just a friend. I hereby apologize for the terribleness and obviousness of that joke.
Peter Hook is doing a DJ set at Richard's on March 31st. These celebrity DJ sets always sketch me out. Does Peter Hook actually know how to blend tracks? Or are you just paying to go see a famous dude press play on some records? If Peter Hook is going to be juggling beats and re-remixing "Blue Monday" to 20-minutes, then it might be worth the $20.
Stanton Warriors are at Richard's on March 30th and April 1st, surrounding Peter in a hug of breakbeats. I actually no very very little about them, other than one mp3 that I aquired somewhere (maybe the Hollertronix board) that features Twista... and it slays. Party starter, as they say. I'm running late for class, but I'll post it up tomorrow for y'all.
Finally, thanks to Jen for reminding me that
Cadence Weapon
will be rounding out the Arts County Fair XV bill. No word on whether Rollie is going to stick around town for his own underground, headlining affair, but if I hear anything, I shall keep ye posted. This year's bill is totally a downer for those dudes who you lived in rez with who keep whatever Jack Johnson's latest record is on repeat and think Dave Matthews invented music around 1996.
now playing: Stanton Warriors feat. Twista - Pop Ya Cork
Thursday, March 09, 2006

furnace room lullaby
Everyone's favourite some times New Pornographers (actually, truth be told, I like Dan best),
Neko Case
, is at the Centre for Performing Arts on July 2nd. She also has a snappy looking new website.
Ice Cube
is set to hit the Commodore on April 30th. Has Ice Cube's movie career totally made him into a bit of a caricature of himself? kinda. Is Ice Cube still unquestionably awesome? probably.
Hot Hot Heat
are at the Red Room for two warm up shows on March 21st/22nd before they head off to open for the Killers. Tix are only $13+charges, and are on-sale now.
A solo track from the long awaited (at least by me) Amy Millan record is up on Arts & Crafts as a
free download
.
Honey For The Tombs
is out on May 30th. That makeup job is intense. (via
Sean
)
Stereogum
points us to this trailer of
Om Gud vill
, a new film that Nina Persson co-stars in. Peep the trailer for a clip of Nina singing a cover of "Dead Leaves And The Dirty Ground." Hot damn.
now playing: emynd & Bo Bliz - Lemon Red Mix Series March 2006 Mix
Wednesday, March 08, 2006

rise up with fists!!!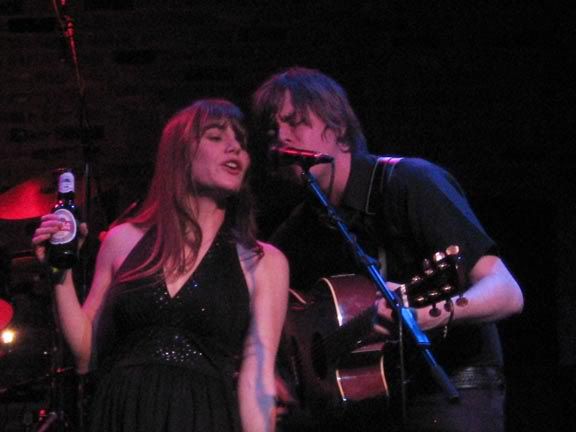 Jenny Lewis and the Watson Twins
(and a tight backing band) turned in a pretty stellar performance at Richard's this evening. The band hit the stage first, followed by Jenny and the twins, who sauntered on while singing "Run, Devil, Run." They played pretty much everything from JLew's solo debut, as well as a couple of new songs, before encoring with two covers. If you've heard
Rabbit Fur Coat
or any Rilo Kiley record, you already know that Lewis' voice is a strength, whether she's solo or avec her band, but live you
really
realize that the gal's got one hell of a set of pipes. Think Neko Case... seriously... that good.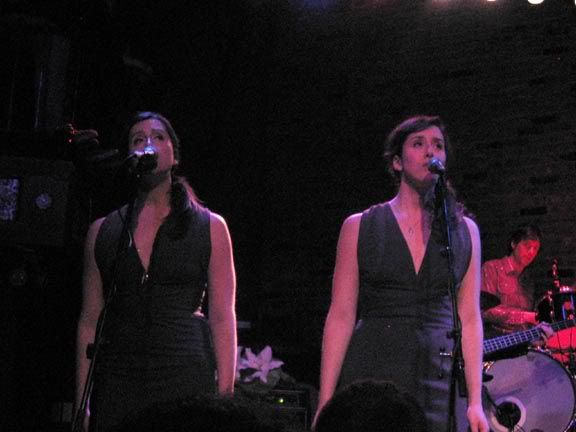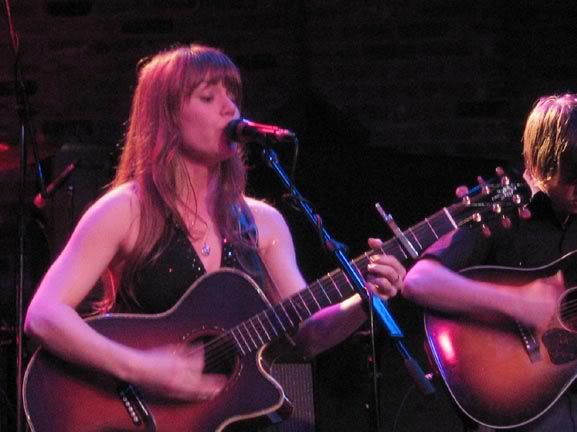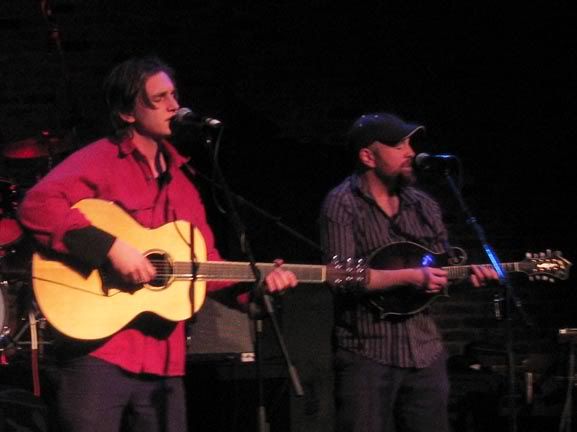 Willy Mason
opened. His set was a family affair, with his cousin helping out by backing Willy's classic sounding country with some tasteful mandolin licks. I wasn't wowed, but, other than the last song (which was a little hokey), he was an entertaining enough opener. He also covered one of his mother's songs (and I can't remember her name for the life of me), which was especially strong.
now playing: Wu-Tang Clan - Wu-Tang Clan Ain't Nuthin' To Fuck Wit
Monday, March 06, 2006

before and again
This is almost a day later, and is also going to be quite unsubstantial (as I'm currently on merely page 4 of a 15 page essay due in 13 hours), but I had to mention the Akron/Family show last night (plus I will procrastinate til the bitter end).
If you were there, you already know that you were lucky enough to catch one of the best performances thus far, and that you're likely to see this year. I'd read quite a number of glowing reviews, amd they lived up, and even surpassed my high hopes. The seamless transition between genres, and from glorious sounding cascades of white noise to classic, timeless sounding folk arrangements was nothing short of amazing. It's the sort of thing that I thought Animal Collective was going to be. Also, the encore of "Before and Again," and then a cover (of Neil Young??) sans P.A. was a perfect way to end the evening. I've read a couple of people's takes on the evening, and nobody mentioned that the dude on saxophone was, despite introductions of "twinkles" and "hot pocket," none other than Blood Brothers bass slinger, Morgan Henderson... which was an unexpected cameo, but considering the amount of musical surprise packed into Akron/Family, quite fitting. You really shouldn't have missed this one.
PS:
Tyee Music Picks
... Leeroy Stagger, Final Fantasy, Mirah, Saturday Looks Good To Me, and the Seconds
now playing: Final Fantasy - Learn To Keep Your Mouth Shut, Owen Pallett
Friday, March 03, 2006

it's a cool world
No offense to Kevin Drew, but while the "Ibi Dreams of Pavement (A Better Day)" video was pretty rad, I could've done without him in tighty whities. What I can always do with more of though, is Ms. Leslie Feist, and lucky for me (and you?) she features quite prominently with a fully clothed Drew in the brand new BSS vid for
7/4 (Shorelines)
. Click that last link to stream the quicktime file, or if you prefer...
download: Broken Social Scene -
7/4 (Shorelines) (video)
It's hosted at the Bijou Media site, so the link won't run out. (via
BrokenSocialite
Jurassic 5
are at the Commodore on April 22nd. I can't say I've been that into them lately, but when I saw them live a couple of years back they were stellar.
My friend Kaitlin uprooted and took off to the Big Apple a couple of months ago to intern for Spin. Despite their recent upheaval, she still managed to get them to give a shout out to her real home. Check out here piece on Vancouver bands right
here
.
Stereogum
has a rather appropriate .mp3 of a song called "(I Was An) Intern At Spin."
Is this
Tiny Mix Tapes
article for real? I can never really tell with them. But Bikini Kill getting back together would be a lot better than another crappy Le Tigre record. I was thinking about Le Tigre the other day and came to the conclusion that they really only have 4-5 good songs ("Deceptacon, Let's Run, My Metrocard, Mediocrity Rules?). Think about it. Can you even listen to the s/t album all the way through? I think I just tricked myself into thinking they were awesome. Bikini Kill on the other hand, is unquestionably awesome.
The Singles
comp is one of the best 17 1/2 minutes in rock and/or roll.
While I'm not at CMW this week, my friend Shea (whom you may recognize as the guy who is always giving the 411 on upcoming shows in the comments) is there, and has been giving me periodic text message updates. And, may I just say Torontopia (or uTOpia), y'all dropped the ball last night. Clearing out a club
before
Mike Relm? Was Dollarama doing a Thrush Hermit tribute at Sneaky Dee's or something?
Finally, here's that
Cat Power
cover of the Nerve's "Hanging On The Telephone," that Chan recorded with
Sam Bisbee
for a Cingular commercial. If you were one of the people who requested a re-post, I wasn't ignoring you until now because I'm a jerk, I just don't typically read comments on posts from months ago. In future, if anybody missed something shoot me an email (quinnDOTomoriATgmail). As a reminder though, this only goes for unreleased stuff and rarities. If it's something that's officially released and fairly easily available, if you miss it, you'll have to head to the record store (which isn't really a hardship anyhow).
download: Cat Power and Sam Bisbee -
"Hanging On The Telephone (Nerves Cover)"
It's ripped from the web and edited a little to get around the talking. As far as I know, there's no plans to release a full version (but c'mon dudes! it worked for Karen O and Adidas!).
Someone set up a
"Cat Power Day Flickr Group"
, where you can send some get well soon images to Chan (keep that shit SFW, yo). Some Matador guys are hip to it to, so chances are it'll even get to her. You want Chan to get well don't you? Good.
edit: according the SWAK website, Serena Maneesh is no longer playing with Art Brut on the 24th. %#&*!
now playing: Bikini Kill - New Radio
Thursday, March 02, 2006

awesomer
Blood On The Wall
play the Media Club with the Psychic Ills on May 5th. If I'm not mistaken the latter were supposed to be on the bill of the on again/off again/definitely off Ariel Pink non-show.
Yeah Yeah Yeahs
tix are on sale this Saturday at 10am, which is an ongodly hour when I am attending a friend's alcohol soaked birthday celebration on Friday night. But I'm sure you care not about the damage I'm doing to my liver. Seeing the New Yorkers will put you back $32.50 plus charges. It's
reserved
in the orchaestra section (GA everywhere else), so if you want to be close enough to Karen O so that she can spit beer into your mouth in a really fancy place, jump on those tix bright and early.
The Stills
are at Richard's on April 26th, and according to the email that addVice sent me you can download the opening track of their newie,
Without Feathers
, at their
MySpace
. They said they could get me and an "attractive friend" into the show if I posted this. Luckily I was going to post it anyways. If they don't look down upon my sarcasm, why don't I see if I can wrangle two tickets for somebody out there instead? No promises, but there'll be an update if things work out. You reading this Daniel? Hook somebody up.
Spank Rock
are at the Plaza on June 7th. I'm going to go ahead and say they're probably opening for somebody, so look for further details to be confirmed, whenever they're confirmed.
You Say Party! We Say Die!
, who are getting ink all over the place, are playing the Lamplighter on April 15th with
Cadeaux
.
Pearl Jam
have a brand spankin' new website to go along with their forthcoming brand spankin' new album. On March 7th, they'll announce their tour in support of the self-titled effort, and on March 8th, they'll give away (like, for free) a download of the album's first single, World Wide Suicide, via their website, for two days.
The Cowboy Junkies
are at Richmond's River Rock Casino on May 18th. That may sound all washed up and lame, but that doesn't make
The Trinity Session
any less awesome.
Finally,
Between Thought and Expression
points us to a whole bunch of
Neutral Milk Hotel rarities, demos, live stuff
.
now playing: the Stills - In The Beginning

i would like to see you often, but i don't need to see you often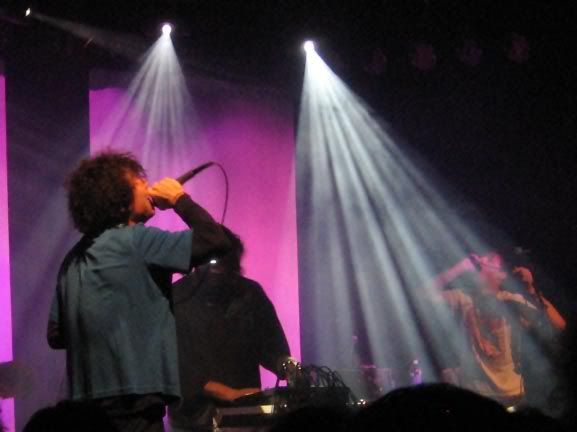 Let me start talking about tonight's
Animal Collective
show by saying that the openers soldified in my mind, that I'm wasting my time in University, when I could just be making totally mundane "noise-rock" and be playing rooms like the Commodore.
What about the headliners though?
Last year saw le Collective release
Feels
, and while I'm sure that more than one person out there is going to disagree when I say it's their best work to date, I'm going to go ahead and say it anyhow.
Feels
was a near perfect balance of the band's tendency to push boundaries and their natural tendency towards pop melody. Tonight there was a little too much of the former and not enough of the latter. That's not to say there weren't some rather sublime moments. "Grass" was tremendous, and when "The Purple Bottle" emerged headlong from a buildup of tapping percussion, echoing voices, and almost random guitar noise, you got a feel for what the band are capable of. At their best, Animal Collective is sort of like taking the Jesus and Mary Chain to their logical conclusion. That's not to say that the two bands sound alike, but the Mary Chain owed as much to Girl Groups as they did to Punk Rock. Take pop music and drench it in abrasive, soaring, feedback. By the same token, Animal Collective sort of sound like the Beach Boys chained up in a padded room, all screaming to get out. Tonight, the asylum kept them under pretty firm lock and key.
Here's something that's still puzzling me though. Even if the album shows a little more restraint and a little more structure, just how the hell did they sell out the Commodore? That's over a thousand people. When the Arcade Fire did it before they really blew up it was a little surprising, but not completely. They weren't especially well known, and the hype machine wasn't rolling full steam yet, but if you played someone
Funeral
, and they had any sort of affinity for guitar based music, they'd probably enjoy it. Conversely, and while I love
Feels
to death (
Sung Tongs
ain't no pushover of a record either), I fully expect that only one out of every two or three people I play it for will actually enjoy it enough to want to check out a live show. I blame/credit the internet.
now playing: Akron/Family - I'll Be On The Water