Monday, July 31, 2006

fading trails
Here is a quick synopsis of Sunday evening:
Attempted to catch Magnolia Electric Co. and Ladyhawk, getting to Richard's just in time to catch the last three from Silversun Pickups (they were good, wish I had watched less Family Guy and more of them). The place starts flooding, show gets cancelled. In an attempt to ensure that the entire evening isn't a bust, run over to the Media Club, find that I have missed the Christa Min, but catch Six Organs of Admittance. Six Organs are horribly boring. On record the noisy bits and the folky bits fit together so nicely, yesterday it seemed like they only had two gears: boring with finger-picking and meandering noise jam... always one or the other, never any interplay (well, rarely). Then this morning I found out that Ladyhawk (and I think Magnolia) moved to the Marine Club and played. I'm not a happy camper, but here are a crapload of shows:
Silver Jews
are at Richard's on September 6th. (thanks Shea)
...And You Will Know Us By The Trail Of Dead
are at the Croatian Cultural Centre for an all ages romp with
The Blood Brothers
on December 10th. Did ToD's last album suck? yup. Are they still incredibly amazing live though? yup. I'm going to be crammed up close with the kids for this one.
Speaking of the kids,
Kyle and Khol
are throwing a bunch of all agers that those of any demographic can enjoy...
-
You Say Party! We Say Die!
are at the Ukranian Hall this Saturday with
Bella
and
Love and Mathematics
.
-
Ninja High School
are at Video In on August 9th with
Hot Loins
and
Blue Grey Dots
.
...and one for those with reliable ID only...
-
Book of Lists
do the Lamplighter with
The Basement Sweets
,
Shearing Pinx
, and
The People Vs
on August 18th (it's a benefit show - for what? I'm not sure).
The Book of Lists are also playing at the VAG on August 25th with
The Battles
and Sinoia Caves.
Didn't get Sufjan tix? Why not check out
Yo La Tengo
at Richard's on October 14th instead. (thanks Chris)
Danny Michel
is doing a two night stand at the Railway on September 28th and 29th. If you've never heard him before, don't listen to one of his records and then decide that you don't like him. In fact, just take my word for it and go to the show. I've tried to listen to a bunch of his recorded output and haven't thought much of any of the albums, but he's one of the most engaging live performers I've ever seen.
The Hylozoists
will play UBC's Gallery Lounge on September 27th. If you've ever been to "the Gal" (as those who skip class to frequent affectionately call it), you know that the band will probably take up half of the room. Should be interesting.
Geoff Berner
is playing at Sunset Beach on August 6th as part of next weekends Pride festivities. He'll also be at the Railway on the 18th for the release party for his upcoming instructional booklet,
How To Be An Accordian Player
.
The
Pride Tiger
w/
Lions in the Street
show has been moved to August 19th. It's still at the Cobalt. Now you only have to choose between Diplo and the Coup.
Non-show stuff across the interweb:
Jason Groth of Magnolia Electric Co. is writing a tour diary for
MarathonPacks
. Check in tomorrow, when he no doubt talks about how the show got cancelled and then resurrected.
Tomorrow's
Sleater-Kinney
show at the 9:30 Club in Washington will be streamed live at
NPR
. If you can't check it out as it happens, you can stream it on demand or download the mp3 file starting Wednesday.
You can also stream much of Lollapalooza this weekend right
here
.
Stereogum
posted the brand new Beck video (not "Cell Phones Dead"... newer, even).
Did you catch all of that?
now playing: The Magnetic Fields - Kiss Me Like You Mean It
Sunday, July 30, 2006

idiot box
Lazy Sunday fun with YouTube:
Elliott Smith @ the Oscars
Aaron North attempts to "liberate" and play Stevie Ray Vaughan's guitar during an Icarus Line show at the Hard Rock Cafe.
Refused - New Noise (live)
Prince is awesome
Big Black - Bad Penny (live).
There are three potentially awesome shows in Vancouver tonight, you better be going to one of them.
now playing: Silver Apples - Confusion
Thursday, July 27, 2006

i think i've heard this one before
The Hold Steady
play an early show at the Plaza on October 20th, two weeks after the release of their forthcoming 3rd LP,
Boys and Girls in America
. You can't imagine how amped I am for this.
Memphis
(Torquil Campbell's other band) is at Richard's on August 24th.
Junior Boys
are at the Plaza on September 30th.
Wolf Eyes
are set to make one helluva noise at Pat's on November 8th.
Miss Kittin
is at Celebs on September 22nd.
Schedule Two
has the
mp3s
of the Jason Collett show that they are still hosting
5 videos
from.
addendum: Sufjan and Wolf Parade are now sold out. There are still some tix left for MSTRKRFT tomorrow at Beat Street/Scratch/Zulu, but those will probably be gone soon.
now playing: the Cardigans - I Need Some Fine Wine and You, You Need to be Nicer
Wednesday, July 26, 2006

don't just tag along, start a war if you want to
I know I just posted about 10 minutes ago, but this is worth bumping the BSS/Rentals pics down a bit...
The fine folks at
Jagjaguwar
were nice enough to put up some brand spankin' new
Ladyhawk
for your listening pleasure. This one's another tune that begs for a crowd singalong. Download it and listen to it so you can do just that when they open for Magnolia Electric Co. this Sunday. "War" is from a six song session the boys hammered out in one day between tours last month. Hopefully Jag gets it out soon.
download: Ladyhawk -
War
(via Jagjaguwar)
Not to be outdone,
WiredSet
graciously provides an official/final/mastered version of
the Rapture's
"Get Myself Into It." You've probably heard this one already, but it's nice to have a file that's not ripped from the MySpace stream. This song killed at the Columbia a couple weeks ago.
download: the Rapture -
Get Myself Into It
(via WiredSet)
now playing: Ladyhawk - War

looks just like the sun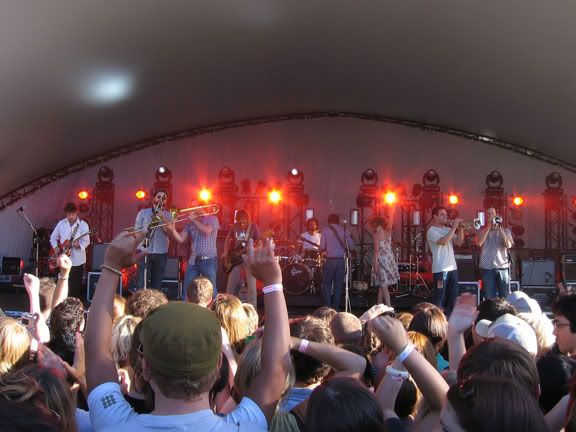 They didn't actually play "Looks Just Like The Sun," but I can't think of a more apt title than that. Going to Burnaby for a show is a pain in the ass, but at least Deer Lake is a pretty nice venue. Arrived onsite to catch most of
the Stills
. I've always been take-it-or-leave-it about them, but they sounded pretty decent from my vantage point back on the lawn. After they finished, we moved up for a closer look at BSS.
Depending on how serious they are about this hiatus, this might have been the last opportunity to see
Broken Social Scene
for awhile. Happily, despite the vocals being really low in the mix for the first half of the set, they didn't disappoint. I would've loved to hear "Anthems for a 17 Year-Old Girl," but other than that, everything was absolutely wonderful. I don't know what happened at their last gig (an electronic music festival, apparently), but Kevin Drew seemed very relieved that the crowd was so receptive and stating, "thanks, we needed this" several times. Lisa Lobsinger was the lone female voice (save for some help from violinist Julie Penner on "Bandwitch"), and seems to have picked up a bit more confidence since the Scene's last visit. K-Os didn't show up (at least not on stage), but Torq from
Stars
- who calls Vancouver home - showed up to beef up the horn section with his trumpet. He also led the clapping in "Stars and Sons." Tickets were a tad pricey, but sunshine and one of the best bands on the planet is a priceless thing sometimes.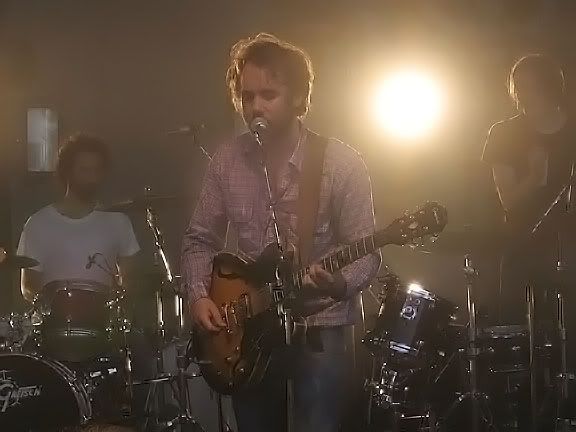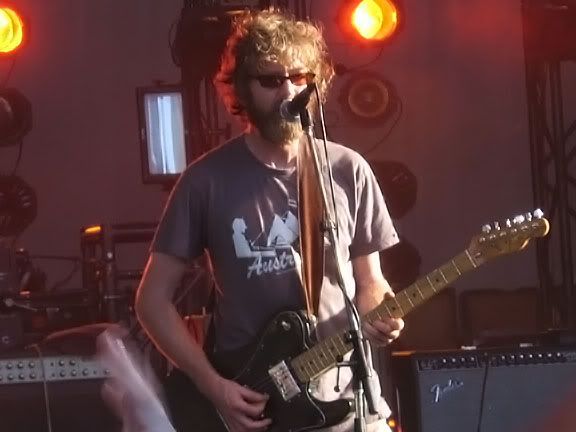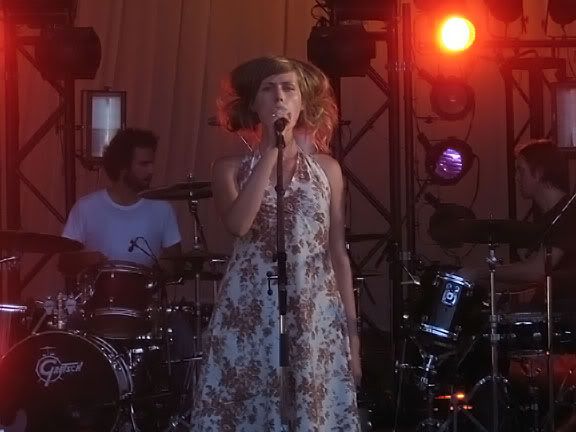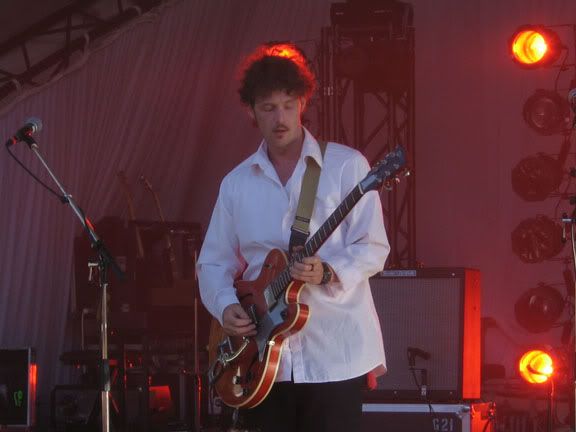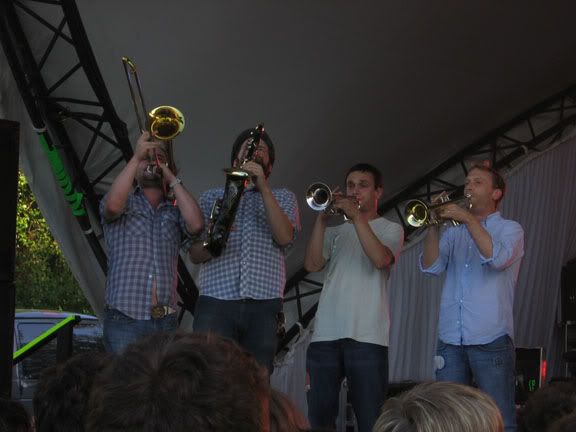 I left about two songs into Sam Roberts' set so I could catch
the Salteens
open for
the Rentals.
If you live in Vancouver, chances are you've seen the Salteens before. Their brand of sugary pop is something you'll either dig or you won't, so I'll leave it at that, noting that I definitely do dig it.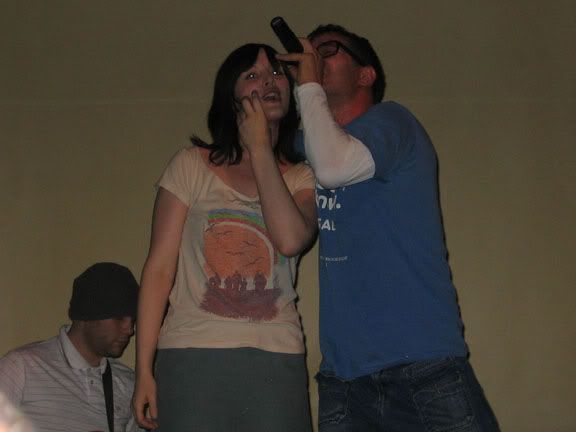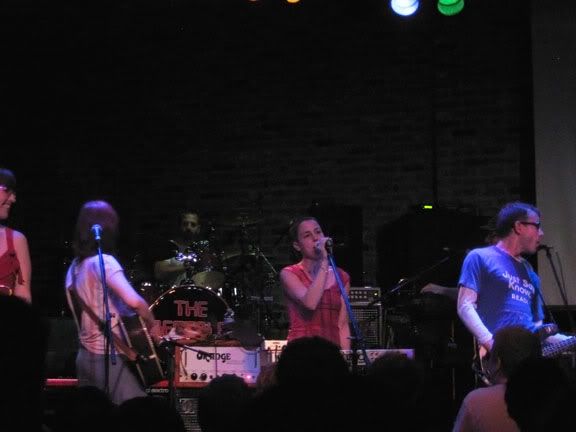 I didn't really have huge expectations for the Rentals set. I don't think I've listened to any of their songs for 6 or 7 years, and was never really that into them. Last night they were fantastic though. The 1-2 punch of a cover of Lou Reed's "Wild Side" seguing into "Friends of P" was pretty stellar, but, for me at least, the highlight had to be Rachel Hayden taking over lead vocals as the band performed Weezer's "I Just Threw Out the Love of My Dreams" (she sang on the recording of "the Good Life" BSide). If nothing else, last night helped confirm my long held belief that Matt Sharp was the piece of the puzzle that kept Weezer from sucking on their first two records.
Unrelated musing... I'm not going, but I'm curious about whether the Raconteurs will be done playing before a ton of explosives goes off around the corner tonight.
now playing: Cerys Matthews - Open Roads
Tuesday, July 25, 2006

i know you can stay a girl by holding a boy's hand
This is not to say that any of the members of
Camera Obscura
are particularly old, but having never bothered to look at any press photos, I expected them to be younger. Though not quite as strange as hearing Roger Daltrey bust out "I hope I die before I get old" when pushing well past 60, it's a touch disheartening to hear "what will I do? Must it always be you?" leap out of the mouth of someone who is pushing 40. It's just that those kinds of sentiments - that pepper themselves throughout the band's catalogue - are the type of thing I always envisioned having sorted out 10-15 years from now. It's sort of High Fidelity-esque, isn't it? Hopefully that didn't offend anyone.
The band were really tight, and the show was quite enjoyable. With few exceptions, there wasn't really anything particularly spectacular about the live performance vs. the album though. They play their songs very well, but they don't really do all that much else. It was great to see, but if you weren't already a fan of the band, I doubt it would've won you over. It was, however, spectacularly awesome when Tracyanne Campbell called out some asshole who was in the very front and spent an entire song talking with his buddy, and then had the audacity to yell for them to play "Books Written for Girls" ("well, if we play it you're just going to talk the whole way through... you just shoved those girls right out the way and talked the whole time..."). Can we get more of that from frontpeople please?
Shapes and Sizes
opened the show. If you have been away from the internet for the last couple of weeks, you should know that they've been written up with much fanfare in most of the major publications/blogs. Honestly (and I'm sure this will just sound like backlash, but whatever), they were a bit boring. I still want to hear their latest, but that's still because of all the buzz. If I had just shown up and saw them last night without any prior knowledge, I probably wouldn't have cared if I ever heard their record or not. Anybody out there given it a spin? Is the recorded material going to blow me away?
Here is some stuff to keep in mind if you're heading out to Sam Roberts/BSS tonight (or are contemplating). Evan Cranley is in town, so he should be bass slinging and trumpet playing, and that man can play bass. K-Os is in town (he's even spinning the after party), which means that they could play "Windsurfing Nation" tonight, and that would be awesome.
now playing: the Verve - Space and Time
Monday, July 24, 2006

i was meant for the stage
The Decemberists
are at the Commodore Ballroom on November 18th. They've also released the details of their forthcoming major label debut,
The Crane Wife
. Hopefully it's not as mediocre as their last one (except the "The Bagman's Gambit" - that song is awesome). (thanks to Josh)
Mojave 3
are at the Plaza on September 24th.
The Clientele
are apparently at Pat's on August 25th...
Fireball
are usually pretty good about keeping their website up to date, and it's still up there, but it's the first I've heard about it. (thanks to apl for the last two)
K-Os, Justin Peroff (of BSS), and Lil Jaz are djing at Ginger Sixty-Two after the Sam Roberts/BSS/Stills/Jets Overhead show on Tuesday. Have I mentioned how thrilled I am about having to endure Jets Overhead in hopes of getting a decent spot for BSS? You can't even imagine.
Finally, this interview with the Jesus and Mary Chain may be my favourite thing on YouTube:
now playing: Rose Melberg - Cold Sea
Friday, July 21, 2006

up with people
My new computer is still mostly devoid of the files from my old computer, as well as any sort of useful software (oh yay! preloaded Roxio DVD creator... eww). This means that I've been half-assing it between the two, and updates might continue to be a bit sparse. Sorry if that bums you out, but sunshine and good company are much more enticing than setting up the new internerd machine. I mean really, all us Vancouverites sit around for nine months out of the year waiting for these three to come so we can justify the fact that we live here... might as well make the most of it. But I digress...
I made the last minute decision to check out
Oneida
last night. I've never been really huge on them, and was only pushed into going when I found out that it would be Anemones last show for a long while. That being said, they were great live. Usually I would complain about vocals being buried in the mix, but if you ask me, it made things sound better. Less vox, more rox.
As noted, it was
Anemones
last show for a long time, last night, since Grimmer is moving to Montreal. I think I've listened to their EP about 20 times in the last couple of weeks, so I was psyched to see them, and left very satisfied. Everything is so droney and Spaceman 3 on record, and they maintain that, while simultaenously kicking things up a notch live. Speaking of the EP, you should head down to Zulu or Redcat (not sure if they've got it at Scratch) to pick up that badboy before they sell out.
download: Anemones -
Vicious Attack
I had to book it down to the show after work, so I was pleasantly surprised to find that
Run Chico Run
were only halfway through their set. They were pretty good, but think I prefer them on record. Their latest seems so careful and intricate, and a lot of that seems to get lost in a live setting.
Show news...
Rogue Wave
will bring pure pop joy to the Plaza on September 3rd. Currently debating this and Corb Lund in the park.
Richard Buckner
co-headlines Richard's on September 10th with
Crooked Fingers
' main man Eric Bachmann.
You Say Party! We Say Die!
are actually headlining the show with
Thunderbirds Are Now!
. I can't see either band playing all that long, so I doubt this will effect set lengths, and YSP!WSD! have hometown advantage.
Were you psyched about
Do Make Say Think
? Yeah, me too. Unfortunately they've
cancelled their tour
(via Brooklyn Vegan)
Edit: go vote in this
CKNW poll
about the safe injection site. It's a small step, I know, but maybe George's bro Steve will get the message that he'll never win votes in the city unless he understands the city.
now playing: Mazarin - Another One Goes By
Tuesday, July 18, 2006

drink up baby, stay up all night
Brooklyn Vegan
was kind enough to link to
this acoustic performance
that Emily Haines and James Shaw did for Rolling Stone.
If figured y'all might be interested in an .mp3 of the Elliott Smith Cover. The original stream wasn't that high quality, so the resulting .mp3 is a similarly low bitrate (I suppose I could've ripped it at CBR 192 Kbps, but it wouldn't have made it actually sound any better).
download: Emily Haines and James Shaw of Metric -
Between the Bars (Elliott Smith Cover)
My new computer just came from Purolator and I still have some stuff to finish for Discorder, so you won't hear much out of me for a couple days... unless something absolutely crazy happens.
now playing: Radiohead - Fog (live)
Sunday, July 16, 2006

feels like a long time
Or it did. It seems that even when you're quite fond of a band, if they're local, there's the ever present excuse of "well, I'll just see them next time." So, it had been awhile since I'd checked out
Lions in the Street
. I was actually considering sitting on the beach and listening to Feist play over the hill at FolkFest and "seeing them next time," but being inside meant a lot fewer mosquito bites, I'm sure.
The Red Room was unfortunately quite empty when the band took the stage. Lions' 9pm set time probably had something to do with it. Going to a rock show when it's still light out is a bit weird. Despite the crowd's small numbers the guys were in good spirits. Less talk, more rock; not really saying much, but tearing through the
Cat Got Your Tongue EP
plus a few more. It was a great way to start a Saturday night, it's too bad that you missed it, Vancouver.
Bend Sinister
headlined. I was more into them then I was last time I saw them, but still don't get the adoration that their live shows inspire. Kinda sounds like Muse, minus the faux darkness, but plus a jazz influence. After Dan Moxan asked "anyone like metal?" they did play a stunner of a song, but for the most part I was left scratching my head. Don't take my word for it though, I think the problem is more me than them. They're clearly a good band, I've just never been keen on the prog-rock opus'.
The Red Room has wicked lighting for phototaking, but I was heading over to the Columbia later on, and didn't feel like packing my camera around with me.
Anemones - Vicious Attack
Thursday, July 13, 2006

they say an end can be a start
While down at Zulu today, I was pleasantly surprised to find out that
Phoenix
is playing at Richard's on September 26th. The new album doesn't boast anything as wonderful as "If I Ever Feel Better" (although, how many albums do?), but it's definitely climbing up my list of favourites for 2006... except that dodgy instrumental. Why don't you head over to YouTube to check out the video for "Long Distance Call."
Art Brut
and
We Are Scientists
are set to make their return to Vancouver together. They're at the Commodore on October 6th. I'm still not sold on We Are Scientists, and unless Art Brut have updated their setlist, I think I'll take a pass on this one.
Brian Jonestown Massacre
is at Richard's on September 9th. The last one sold completely out pretty early, so jump on these if you're thinking of going. Tix are onsale on July 21st.
The full
Bumbershoot
lineup is out. I'm already taking quite a few concert inspired weekend getaways this summer, but this is pretty tempting now. Blondie, Spoon, New Pornographers, the Gossip, Kanye, Atmosphere, Tribe, 3 Inches of Blood, Bettye LaVette, Jamie Lidell, Feist, Lady Sovereign, Erase Errata, Nouvelle Vague, Mates of State, Metric, Deerhoof, the Blood Brothers, Vashti Bunyan, Jose Gonzalez, Rogue Wave, Of Montreal, Romance, and P:ano all for $50usd. Damn.
Not only does
Sean Lennon
have a new album coming out, but he's also created a "short film" (what's the difference between that and a video?) for each song. Check out the trailer:
here
Out Hud
broke up. This is unfortunate.
Weezer
broke up (or are on indefinite hiatus, at least). This is unfortunate circa 1996.
I went down to the Railway last night, but my jury is still out on Run, Chico, Run. The evening started slow, and the bands sorta got progressively better, but by the time the Chico's took the stage I was ready for bed, so I only caught three songs or so. It only cost me $8, so it wasn't a huge deal, but I really wasn't in the mood. I have to ask though, what's with the adoration for Yukon? They weren't bad, but dude from Yukon was signing autographs. They definitely weren't that good.
Not only is
Paul Devro
throwing a Jon Hughes themed party at the Met on August 10th, but on August 3rd he's putting on a fundraiser for the
Two Brothers Foundation
. Two Bros works to provide educational opportunities in the favela of Rochina in Rio De Janeiro. All proceeds (including sales of Paul D's forthcoming
Toma 3
mixcd) from the evening are going to help to Brothers purchase a new school house in Rochina. Cover is by donation, but don't be cheap, it's a good cause. Paul runs the show every Thursday at the Met with DJ brother,
Eric
.
now playing: Lifter Puller - Secret Santa Cruz
Tuesday, July 11, 2006

secret meeting
The National
is at Richard's on October 5th. I wasn't initially keen on
Alligator
, but it definitely grew on me. As a live act they're instantaneously impressive, however. They (re)stole the show from CYHSY last time they came through town. This recording doesn't really do the live show justice, but I do like how the violin is a little more unhinged near the end (although still too quiet).
download: The National -
Lit Up (live in Paris)
The Mutators
are at Pat's on July 29th with
Blue Grey Dots
and Modern Creatures. I would like to see this, but I'd also like to see Immaculate Machine and the Paper Cranes that night. Decisions... decisions.
Rodney Graham is at the Plaza on September 14th with
Book of Lists
. If you would like to know more about Mr. Graham, I suggest checking out this 2002 interview from
Discorder
.
I may be the only person excited about this, but
the Icarus Line
have a new album coming out this Fall (and here I thought they were AWOL after Aaron left for NIN). You can stream and download new tune "Fashion Fever" from their
MySpace
.
It would be wrong to let the day slip away without mentioning Syd Barrett's passing. People who are much more knowledgable and articulate have already said most everything that could be said, and rather than add anything else, I'll just encourage you to tune in to ANoiZE on
CiTR
tomorrow (July 12th) at Noon, when Luke Meat will broadcast a 45-minute audio documentary on Syd, that he put together.
now playing: Ratatat - Swisha
Monday, July 10, 2006

singing's always easy when you're drinkin'
Amy Millan
is at Richard's on September 20th. September's shaping up to be quite the month. Amy and Final Fantasy back-to-back will certainly be the highlight (although, Andrew Bird at the Media Club will be pretty goddamn amazing, as well).
download: Amy Millan -
Pour Me Up Another
It's been over a week since I posted any
Ladyhawk
news. Why don't we remedy that, by pointing out that "the Dugout" has made its way on to the inaugural edition of Pitchfork's new
Infinite Mixtape
feature, and that they're getting some love from the
blog
-
o
-
sphere.
Dudes are back in town with Magnolia Electric Co. on July 30th, but will also be rocking the Columbia on August 26th for a back to school edition of
the Kids.
Speaking of the Kids, Jason's also got
Certified Bananas
and
Caps and Jones
lined up as guest DJs (on August 5th and September 30th, respectively). He also got kicked off MySpace, because some social conservative douchebag was offended by the word "gay" matched with "husband" in his user name, so he had to re-signup. Hit him up at the
new profile
(same address as the old one) and re-friend him.
now playing: Bjork - Hyperballad (DJ Ayres Remix)
Saturday, July 08, 2006

the nightlife is mad crazy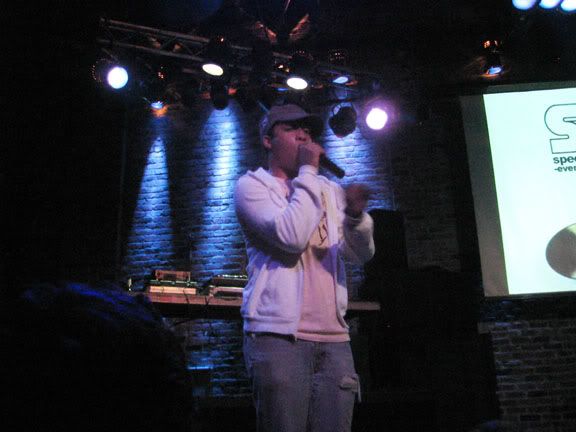 I guess it ain't at 8pm though. Richard's was half empty last night at
Cadence Weapon's
scheduled set time. Luckily, the promoter was AWOL, so Rollie was able to delay his start for 45-minutes or so. When things got started the place had filled up a bit, but it was still a damn shame that the crowd wasn't less sparse. Those who were smart enough to attend were treated the kind of thing that (at least in my opinion) you rarely see these days: a grade A live set from one MC and one DJ. No other instruments, no fancy staging, no side show, just Weez-El on the ones and twos and Cadence-fuckin-Weapon rocking the mic. The place may have been half full at best, but Rollie worked the stage like he was playing for thousands. And, when the stage got to small for him, he worked the crowd from the floor, jumping into the audience at one point to lead a chant of the hook to T.I.'s "What You Know."
He, of course, pulled from
Breaking Kayfabe
, but also rolled out quite a few newer tracks. According to recent interviews, he's got two records mostly written; one about housing in Texas and one about the "hipster condition." I definitely caught a Pete Doherty reference last night, so maybe that'll show up on the latter. My friend Chris made the point that he's good now, but there's greatness in the future. I'd actually contend that he's really good now, but that's just nitpicking. At any rate, when the next couple records hit the streets, it's going to be some serious next level shit.
I left to make a friend's birthay soiree, so I missed Omni and Fatlip. Though, I heard Fatlip was stuck at the border, so I may not have missed much.
Head over to
Rollie's blog
and grab his remix/mash of Rick Ross' "Hustlin."
I'm certainly not a diehard of either team, but when the World Cup final rolls around, it's time to drop the "well, as long as the football is good, I'm happy" attitude and pick a side. So,
Forza Azzurri!
See you on the drive - bright and early - tomorrow.
now playing: Phoenix - Long Distance Call
Thursday, July 06, 2006

a nervous tic motion of the head to the left
This post begins with what they call a "shit sandwhich." For those of you who are uninitiated, the shit sandwhich is usually used when dumping someone, but the same premise can be used for most anything, when one needs to break potentially bad news. Basically, you start with some good news, then you break the band news, and then you come back with good news really quickly. So, here we go Vancouver...
Andrew Bird
plays the Media Club on September 29th with
Cass McCombs
. This is Andrew's first visit to Vancouver, but if you've been lucky enough to see him elsewhere, you share my excitement. My first exposure to him was when he opened for the Magnetic Fields in Toronto. In all honesty, I think it was the first (and only) time that I've been so taken by an opening act that I couldn't wait til the end of the show to pick up their record, and I bolted to the merch table between sets. If you have written off every suggestion I've ever made on this blog, I implore you to take this one to heart, and pick up a ticket for this show (they're onsale on July 14th).
download: Andrew Bird -
Dark Matter (live on MPR)
Jason Grimmer is moving to Montreal. Now, I have zero interest in the personal lives of musicians, but this information is of note because it affects not one, but four local acts.
The Nasty On
have been sort of AWOL for awhile, and I have no idea if the most recent
Countless Jibes
show was their last in their current configuration (actually, it was Saelan's debut... so first and last in their current configuration), but I know for a fact that you have one more chance to see the
Anemones
and two more to see the
Christa Min
in their current forms. The Min open for the Battles this Friday (which should've been up in the listings, but probably got eaten when I screwed up the template a couple weeks ago) and for Six Organs of Admittance on the 30th. Anemones are now going to open for Oneida at the Red Room on the 20th. Anemones are all set to continue with a retuned lineup, I have no idea what's up with the Min or the Countless Jibes. I think its safe to assume that this is the final nail in the coffin for the Nasty On though. Head over to their
MySpace
and mourn the fact that those demos are rad, and are never going to be on a proper album.
Sufjan Stevens
returns to Vancouver on October 14th with Asthmatic Kitty labelmate,
My Brightest Diamond
. They're playing at St. Andrews Wesley Church, which is one of the nicest places to see a show in the whole damn city.
That, my friends, was a shit sandwhich. Here are a couple of more good things though...
In anticipation of the September release of
Fading Trails
from
Magnolia Electric Co.
, the fine people at Secretly Canadian have sent along this preview .mp3 to whet your collective appetites.
download: Magnolia Electric Co. -
Lonesome Valley
(via Secretly Canadian)
You're also reminded that they play Richard's on the very busy night of July 30th with Ladyhawk. So, if you're not going to Six Organs of Admittance or the Buzzcocks, definitely check this out. I'll be at MEC... I think.
The Immaculate Machine show on July 29th is being opened by
The Paper Cranes
. Which is awesome, though it ruins my plans to roll in to the Media Club late after work that night.
Finally, if you happen to come here because you mistakenly think I'm on top of things, musically speaking, here is another example of why you're wrong. I think I heard one song by
Voxtrot
("Mothers, Sisters, Daughters & Wives"), which I then proceeded to delete without any further investigation into the band. Then, late last night, I'm hit with 20 seconds of lo-fi streaming audio on the Kork Agency website, and now I have a new favourite song of the moment. I bet a lot of you have heard this already, but if you haven't, take a listen to this four-and-a-half minute slice of perfect pop from Voxtrot's
Raised By Wolves EP
.
download: Voxtrot -
The Start Of Something
(via Voxtrot.net)
now playing: Voxtrot - The Start Of Something
Monday, July 03, 2006

doctor, lawyer, indian chief
Thunderbirds Are Now!
are at Richard's on October 7th with
You Say Party! We Say Die!
I'm going to say that this is their first time in Vancouver, although I'm sure someone will correct me to say they played some obscure opening spot several years ago. Either way, I'm pretty excited.
download: Thunderbirds Are Now! -
Pink Motorcycle Helmet
The Polaris Music Prize
(Canada's equivalent to UK's Mercury or America's Shortlist) nominees have been announced:
1. Broken Social Scene for Broken Social Scene (Arts & Crafts/EMI)
2. Cadence Weapon for Breaking Kayfabe (Upper Class/EMI)
3. The Deadly Snakes for Porcella (Paper Bag/Universal)
4. Final Fantasy for He Poos Clouds (Blocks Recording Club/Sonic Unyon)
5. Sarah Harmer for Im A Mountain (Cold Snap/Universal)
6. Knaan for The Dusty Foot Philosopher (Track & Field/Sony BMG)
7. Malajube for Trompe Loeil (Dare to Care/Outside)
8. Metric for Live It Out (Last Gang/Universal)
9. The New Pornographers for Twin Cinema (Mint/Outside)
10. Wolf Parade for Apologies to the Queen Mary (Sub Pop/Outside)
If I were a betting man, my money would be on BSS. If I were to pick my favourite, it would be Wolf Parade. But, I kinda want to see Rollie take home the prize. I'll also note that
Graham
and I were
all over giving CW props in polls
last year. Some quick questions though... How the hell did K'Naan and Malajube get on there. You could call K'Naan the token hip-hop act, except you'd be forgetting
Breaking Kayfabe
. And, you could call Malajube the token francophone act, except almost the entire panel was anglo. They aren't terrible, but if those dudes sang in english, they'd be another one of many okay sounding Canadian indie bands.
now playing: Be Your Own Pet - Adventure
Sunday, July 02, 2006

what's a grown up girl like you to do?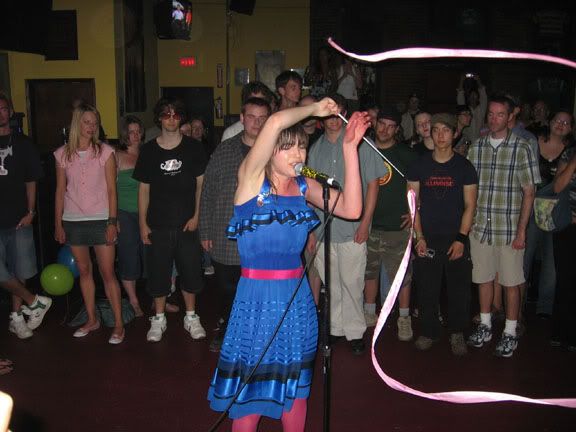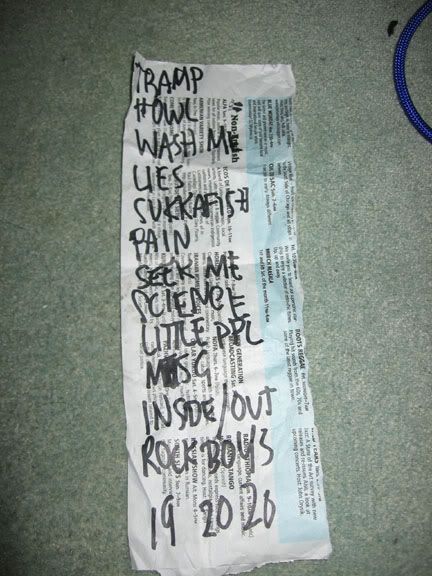 Apparently,
the Grates
label paid to fly them to "every major city in North American" on their most recent jaunt around our country. You'd think if they were so intent on promoting the album they might have put a little more muscle behind promoting the actual show on Friday. At any rate, despite the sparse attendence, the band was in very good spirits, and delivered a short but sweet set of their brand of gritty guitar-pop. You really have to just take my word for it and see them next time they roll through town, to understand why they're so great. There may not have been many people who made it out to the show on Friday, but I guarantee that all of them left smiling.
Hot Loins
opened. Cameron wasn't very thrilled with the unattentive crowd, and spent most of the between song banter heckling the audience, which was actually pretty funny. Although, no offense, but, if you're in a Vancouver band with discordant keyboard stabs, rhythmic guitar, and wailing vocals, it's a touch ironic to quip, "I guess you guys haven't heard stuff like this before"... yeah, except every second other band in the city.
On an unrelated show front, Erin from
Boompa
was kind enough to drop me a line to let me know that
the Salteens
are not only playing on the Rentals show bill, but are also on second. Regardless of order, that's almost more indie pop than you can cram into one night. If your tastes run to that realm of saccharine, you certainly shouldn't miss this one.
The Coup
are at Richard's on August 4th... which makes three shows that all have the potential to be awesome on that day.
now playing: Uffie - Pop the Glock (Sebastian Remix)