Sunday, June 29, 2008

you all want the lovely music to save your lives
Started the last day of Sled Island with Still Flyin' at the mainstage. I'm not huge on the uber-happy giant pop groups, but they were pretty good.
Drive By-Truckers followed. I've heard a ton of good things about their live show. They didn't blow my mind, but I can see where they got the rep.
We took an ill-advised midday C-train trip and got lost when attempting to find a restaurant that no longer existed, so we didn't make it back to the field until Of Montreal. They were their usually entertaining selves, but mostly stuck to pretty new stuff, which was a touch disappointing.
Wire wasn't as good yesterday as they were on Friday night at the Legion. The crowd wasn't as amped, which might have been part of it, and they didn't seem to have as much energy either. Still great though.
Mogwai finished things up on the big stage. Honestly, the soundsystem didn't really do them justice. Mogwai shows are all about making your insides rattle, and they couldn't really reach that level of volume... though they tried.
From Mogwai I booked it over to Broken City to give Bend Sinister some hometown support, not that the guys needed it, as the crowd was pretty into them.
And from Broken City it was back to the Legion for the BSS/Spiral Stairs' collaboration entitled Human Milk. Honestly, the new songs they played weren't all that special, and Stephen Malkmus' former right hand man was a bit disappointing, but the set closing take on "It's All Gonna Break" was phenomenal. Great end to a great weekend.
Show announcements and photos and other catch up when I get back to Vancouver.
Labels: bend sinister, broken social scene, drive by truckers, mogwai, sled island, spiral stairs, still flyin, wire
Saturday, June 28, 2008

12XU
I'm running late, and I have to book it to the mainstage to interview Women, so I'll keep it brief (PS: Jon, that's where I'll be all day... my phone is out of juice though).
Caught Yo La Tengo fully plugged in last night, they were way more Sonic Youth-like than I expected, but that's a good thing.
I really like Tegan and Sara, so I'm always down with seeing them. Actually, I should re-phrase. I really like
If It Was You
, but I'm still down to see them, even if they only rock "Living Room." They're Calgarians, so it was a homecoming show of sorts.
Chixdiggit played the sidestage. I didnt' know they still existed.
I had, perhaps, the
best hot dog ever
.
BSS were woman-less, which is always kind of a downer, they also played some songs from their various solo joints, which, frankly, was also kind of a downer. But we had to take off early anyhow, to catch...
The RZA! He was in a tiny room packed with, as one would expect, hardcore Wu fans. And, while I'm the first to admit that when I'm jonesing for a Wu solo record, his aren't the first that come to mind, his live show was awesome.
Caught the tail end of Secret Machines, who I loved instrumentally, but could take or leave when the vocals kick in, but we were at the Legion for one reason only: Wire.
When I saw the Cure last month, all I wanted to hear were old songs. When they did play new songs, I hoped they would change my mind, but all I could think about was how fast they would end the stuff from the latter half of their catalogue and get to "Killing an Arab" (and etc). But while Pink Flag and Chairs Missing are two of my absolute favourite records, Wire's new material stands up well alongside their "classics." They look their age, for sure, but they sound incredible, and they're still making songs that are better than what 99.9% of "young" bands are putting out.
CL from the National Shield/Octoberman was hanging around after the show, and while neither of his outfits are particularly Wire-esque, you get a bit of a sense of just how influential the group was by his admission that "everything I try to do on guitar is from that band."
I don't think tonight can top yesterday, but we're sure as hell going to try.
Hope the weekend's going strong in Vancouver. Between the Cons/amillionthingsonfriday/the ER, it's a great few days for shows.
Labels: broken social scene, chixdiggit, secret machines, sled island, tegan and sara, the rza, wire, yo la tengo
Friday, June 27, 2008

the damage is done
Hello from Calgary.
I decided that I'm going to do all the recap stuff for Sled Island on the fly, and I'll just upload some photos when I get home, so if you're killing time at work today (*high five, Neil), this one is for you.
After 11 hours of driving and zero sleep the night before, we picked up our passes, checked in, and ripped back to the Pumphouse Theatre as fast as we could for the Yo La Tengo "Freewheelin' Retrospective Q&A."
I like YLT quite a bit, but I'm not a die hard fan. Last night's show (that they've been doing on and off for awhile), was a treat though. The band took questions from the crowd (and even turned the rather boring ones into entertaining anecdotes) and then performed songs that tied in to their answers.
Highlights included a wild version of "For the Turnstiles" where Ira laid some echo-y distortion on his acoustic and whipped out a noisy solo that would've made Neil proud, "Let's Save Tony Orlando's House," "Mr. Tough," and also an awesome version of "Damage" ("we don't play this one very often").
I also can't stress how fun the Q&A part of the evening was, and I'm usually a bit lukewarm on those types of things.
If you have the slightest interest in the band and can see them do this show, definitely do it.
From YLT, we headed over to Broken City and caught Women. Maybe it was the hometown audience, but they were even better than at Hoko's. I can't say enough good things about this band. Check out their album as soon as you can.
We stuck around at Broken City and gave Basketball a little hometown love. Cam (ex-Hot Loins, Music Waste, Vic Square) lent them a hand on percussion. I know I rave about them all the time, but the Calgary crowd was loving them, and when we were leaving I overheard a guy say "see, that's why Vancouver's music scene is so much better than ours."
We tried to see Crookers at Hi-Fi, but it was slammed, so I caught Elliot Brood (who was ok) and then a bit of Okkervil River at the Legion before completely crashing.
Not a bad first night.
Today: mystery bands>BSS>Deerhunter>the RZA>WIRE(!!!)
Oh, and while I usually don't list Seattle shows (other than festival), Matt won't let me get away without letting you know that the Jesus and fuckin' Mary Chain are in Seattle (at the Showbox) on July 16th.
If I can somehow swing MBV this summer, it'll make all my post-punk dreams come true.
I have to go drink some rye or eat beef or something Albertan now.
Labels: basketball, elliott brood, okkervil river, sled island, women, yo la tengo
Wednesday, June 25, 2008

black rice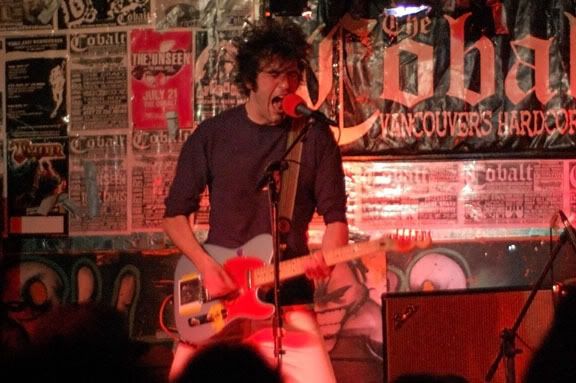 Since it's already the middle of the week, here's a ultra quick recap of the last few little while...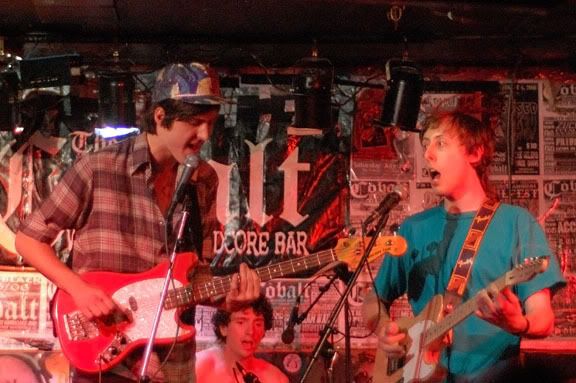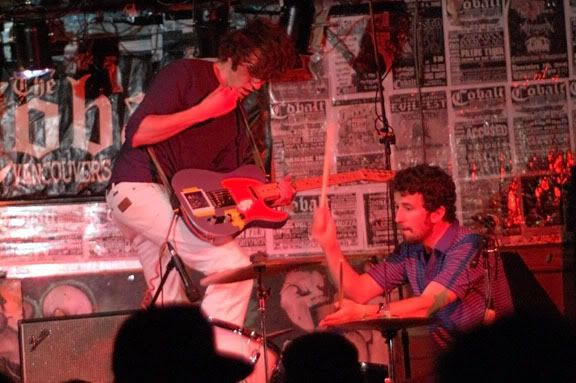 On Saturday, I caught
No Gold
and
Japandroids
at the Cobalt. The crusty punks weren't feeling No Gold, and let it be known. Tip to hecklers: at least be funny. The band weren't phased by it, and were their usually great selves.
Japandroids were a little loose sounding. I think Brian was pretty drunk. The songs still sounded great though, and the libations produced a great response to the more hostile elements in the crowd: "Oh, you wanna hear a punk rock song? Well, too bad, this is a metal song asshole."
I bailed before DD/MM/YYYY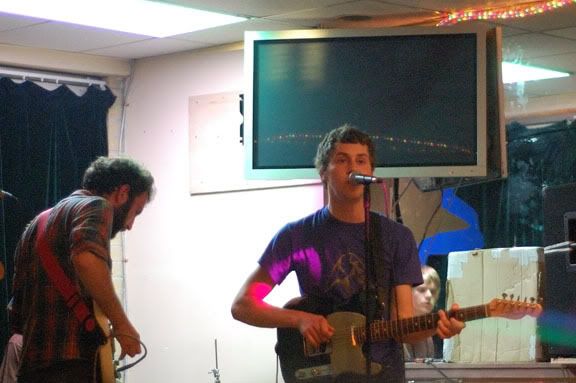 Earlier in on Saturday, I caught
Women
, who I'd been looking forward to seeing since I got their album about a month ago. Hopefully, you managed to check them out at one of the two shows they played, because, despite rather short set times, they were awesome. At time they were poppy and melodic and at other times they were noisy and experimental, but they were tight as hell throughout. They used to be a metal band called Veritas. And while the music is more than a few steps removed now, the guys still have serious chops.
On Monday, I caught the songwriter's showcase that
Leah Abramson
organized at the Rail. The crowd was a bit sparse, but they were also ultra attentive, and for this type of thing, having a smaller crowd that's paying attention is loads better than a packed room full of side chatter and clinking glasses anyhow.
The whole thing was pretty great, but there were some highlights. Leah is one of my favourite songwriters, so she was up there on that list. But, it was - and I'm not sure how it could possibly be - my first time seeing Marc from
Octoberman
playing (solo or otherwise). Better late than never, but I definitely should have gone out of my way to see him before this week.
The big surprise for me was
Jesse Matheson
, who was hilarious (on purpose). The songs on his MySpace really don't come close to how entertaining he was live.
I'll be in Calgary this weekend for Sled Island, but there's a ton of stuff going on:
On Friday...
White Lung
is at Pub 340 on for 1/2 Alive.
Crookers
are at the Plaza with
Paul Devro
and
Expendable Youth
.
And
the SSRIs
are at Hoko's with ABCDEFG,
Boogie Monster
, and
gr8-2000
.
Looking ahead,
Lil Wayne
is at Plush on July 6th.
Nicole Atkins
is at the Plaza on July 27th.
Black Francis
is at the Media Club on August 6th.
Mirah
is at the Biltmore for an early show on August 23rd.
Sondre Lerche
is at St. James Hall on August 30th for an all-ager.
Cold War Kids
are at Richard's on September 28th.
Silver Jews
are at Richard's on October 1st with
Monotonix
.
Hayden
is now at the Vogue on October 11th.
And
Mehdi
is at the Bourbon on October 2nd.
Labels: japandroids, jesse matheson, leah abramson, no gold, octoberman, show announcements, show recaps, women
Monday, June 23, 2008
It takes a special kind of talent to pull off both this:
and this:
and leave me with fond memories of both.
RIP, George.
Friday, June 20, 2008

raining blood
I won passes to see the preview screening of
Global Metal
last night. If you even have a passing interest in metal, I highly suggest that you check it out (regular release opens today). I was going to describe it, but you can get a better idea by clicking the link up there and checking out the trailer. The only downside to watching it was that all I want to listen to today is Slayer, and that's not really work appropriate.
Also worth a note is District 319, which was where the screened the film. Located in
this familiar part of town
, the place sticks out like a sore thumb. In fact, I've been wondering what the building was for awhile. Inside, in addition to a bar, the theatre boasts loungers and footrests. The screen was no hell (though also not a detriment), but it was definitely the most comfortable movie going experience I've had.
Entropia
played a few songs before/after. The songs on their MySpace aren't really doing anything for me, but they sounded pretty good live.
Sigur Ros
are at the Chan Centre on October 7th. My interest in them sort of waned, but they'll sound amazing in there.
John Vanderslice
is at the Media Club on September 3rd.
Chad VanGaalen
is at Richard's on October 9th.
In opening band news,
No Gold
supports the Dodos show on June 26th and
Twin Crystals
start things off before Girl Talk on July 24th. If you've got tickets to either, make sure you show up early.
now playing: the NHL entry draft
Labels: global metal, movies, show announcements
Wednesday, June 18, 2008

lounge act
Next Tuesday (June 24th), the City of Vancouver is hosting an open house from 4pm to 8pm in the Alma Van Dusen and Peter Kaye rooms of the VPL where they'll be collecting feedback for a review of liquor licensing in restaurants in Vancouver. Not specifically music related, but depending on how licenses that aren't liquor primary get revamped, it could be.
Tonight at 1114 E. Pender the Chris Bland Experience, Beggars & Chairs,
Chris-a-riffic
,
Role Mach
, Peter Plett,
gr8-2000
, and Leigh Hewitt play.
I also want to note that gr8-2000 is playing at Fake Disco at the Cobalt tonight, so that's triple duty for Tom. Youthful energy!
Tomorrow night
Bend Sinister
,
Alphababy
, and
We Are the City
are at the Media Club for a Kelowna ex-pat-stravaganza (I promise to never use that made up word again).
On Friday,
Rich Aucoin
is at the Peanut Gallery. Edo from the Clips and Brasstronaut supports with a solo set.
Also on Friday,
the Doers
,
Cheerleader Camp
,
Mount Royal
,
Women
, and
Search Parties
are at Little Mountain Studios.
You should
really
go check out Women at this show or Saturday (at Hoko's). Granted I haven't seen them live, but their record is one of my favourite's of the year... and it's been a pretty okay year thus far.
Also on Saturday,
Defektors
play the Sweatshop with
Taxes
and
White Owl
.
Flosstradamus
are at the Sweatshop with those
Half Alive
guys on July 15th.
Conor Oberst
brings supports his upcoming solo disc at Richard's on July 29th.
And,
Lykke Li
returns to town on October 28th at Richard's.
Labels: show announcements
Monday, June 16, 2008

don't panic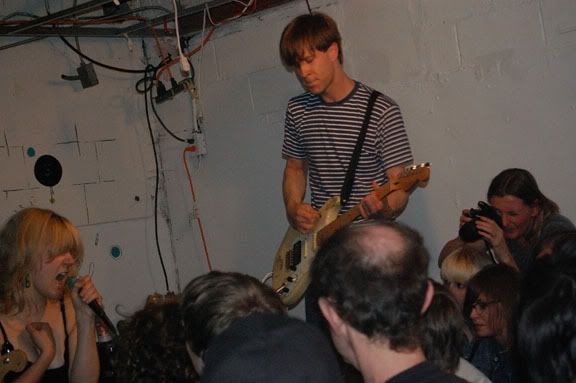 I was going to start off by saying that
the Emergency Room Compilation, Vol. 1
is the most important collection of local underground music since "X"... but I can't really think of another truly notable document of Vancouver music other than
this one
that sort of slipped under the radar a few years ago (and that one included some acts that had very deservedly become relatively well known already).
While it's certainly not exhaustive, the LP is a snapshot of some of the most exciting things going on musically in this city that, largely, have yet to be noticed outside of the Lower Mainland. Plus, it shines a light on the locale that doesn't just serve as your primary place to see these bands play, but also as a practice space/recording studio/and hangout for many of the artists involved.
It's also one of my favourite places to see a show.
On Saturday, the eight bands on the comp all played the DIY space to celebrate the record's release.
I actually thought I was going to be late, but in typical ER fashion, despite the lengthy bill,
Nu Sensae
was just getting ready to go on when I arrived at midnight. The place was packed, so I didn't snap any pics of them (or that many in general), but my "photography" leaves much to be desired anyhow.
Daniel and Andrea were awesome, as per usual.
Petroleum By-Products
were up next, but I actually missed them, when I stepped out for a bit (everyone played pretty short sets, due to the number of bands).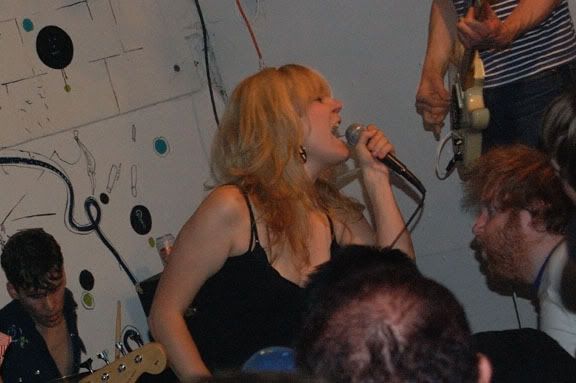 This was second time that I've seen
Vapid
, and while I thought they were pretty good the first time, I wasn't dying to see them again. They were great on Saturday though, and I'm looking forward to checking them out again soon now.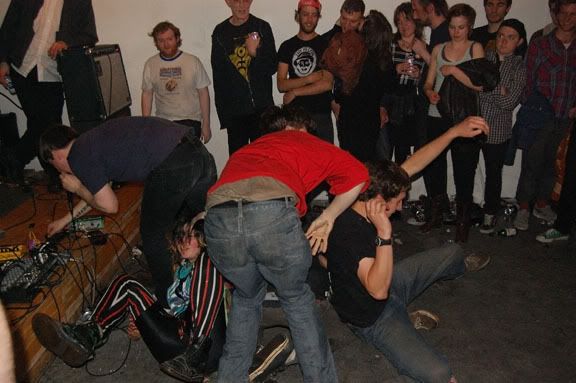 Sick Buildings
were amazing. I'm bummed that I missed them at Wolf Eyes, as their "set" was completely different at Pat's (
it involved eight people amongst the crowd blowing on rape whistles while Josh Rose fired sampled whistles back at them
).
I knew Josh ran
Run Down Sun
, but beyond that, I only recognized him as the very polite, soft spoken guy at Zulu, so it was a bit of a surprise to see him looking rather surly on stage and then spitting out, "I call myself Sick Buildlings... this is the last harsh noise set I'm going to do, so consider yourselves lucky."
And then he did what was, quite frankly, the most "punk rock" thing that you could do at a noisy, avant garde, punk rock show, and jumped into a monologue about a plane ride, keeping things going long enough to illicit a fair amount of groans, calls of "you suck," and "play some fucking music," before leaving the story hanging with "and then she said..." and launching into the sickest, nastiest sounding "music" I've heard in ages. The contrast made the latter half of the performance sound even more powerful.
I sincerely hope that the "last harsh noise set" admission was just stage banter, and if not, I hope he reconsiders. If you're a fan of this type of thing, and you see "Sick Buildings" on a show poster, do yourself a favour and get your ass to wherever Josh is playing.
White Lung
were nothing out of the ordinary for them, meaning they were great. Hopefully, we get some more recorded output out of them soon, because the songs seem to be coming at a fairly rapid clip.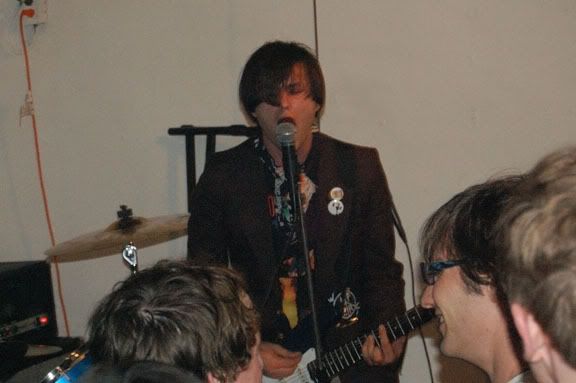 Twin Crystals
continue to get better every time I see them, and considering that they started out pretty goddamn good, that's saying quite a bit. They sounded amazing and Jesse was full of energy to the point where I thought he might knock out a ceiling panel or two with his guitar.
You probably know what I'm going ot say about
Mutators
, so I'll leave it at that (it was 4am already, so I bailed before Defektors).
But here's a Mutators update. Their was a mastering problem with their full-length, so the 28th won't be an LP release party. It will be a tour fundraiser though. So go down and check out one of Vancouver's best bands before they head out on tour for the rest of the Summer.
Oh, and if you didn't pick up a copy on Saturday, you can get your hands on the ER comp at Scratch (and I presume also Zulu and RedCat) now.
This Friday,
Octoberman
,
Katie Stelmanis
, and
Chris-a-riffic
are at Grace Gallery. This show was originally scheduled for Astoria, as you may or may not recall. And it's worth noting, since galleries usually don't have such restrictions, that this one is licensed and therefore 19+. Sorry kids.
This Saturday,
DD/MM/YYYY
are at the Cobalt with
JPNDRDS
,
No Gold
, and
the SSRIs
.
Also this Saturday, Basketball plays a Saturday edition of
Friendship
at the Astoria.
Forest City Lovers
are at Little Mountain Studios with
Aaron Beckum
on June 26th.
And last, but definitely not least (not even close),
Spiritualized
are at the Commodore on September 13th. Tix are on sale Friday at 10am. Shit yes! (thanks Brian)
now playing: My Bloody Valentine - live in London, 06-18-2008
Labels: mutators, nu sensae, petroleum by-products, show announcements, show recaps, sick buildings, the emergency room, twin crystals, vapid, white lung
Friday, June 13, 2008

fuck vancouver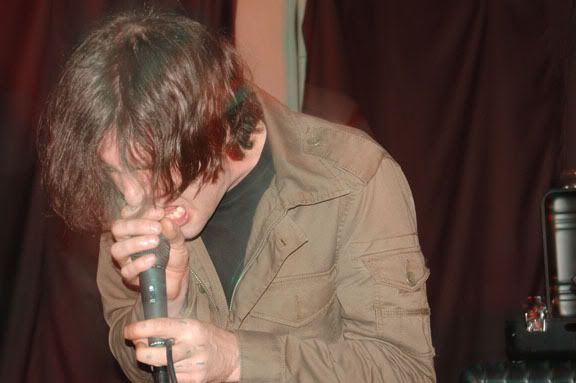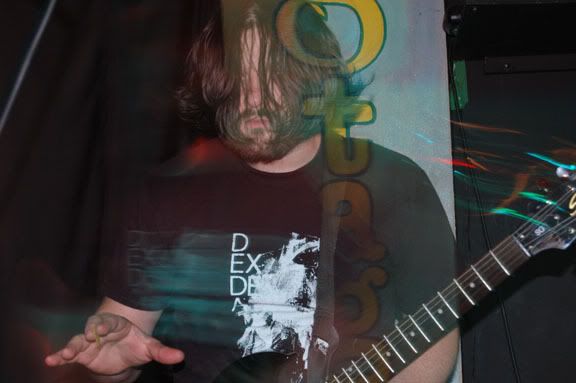 Lately, when the term "noise" has been thrown around by music websites/mags it's usually paired with names like HEALTH or No Age, which sort of makes you forget that while bands like that do like to bang and clatter, they're pretty tuneful for something called "noise." And while I like a little melody amidst the mayhem, I also love the fact that
Wolf Eyes
forgoes the former completely for the latter. It's the kind of sound that makes nagging parents exclaim, "that's not even music." And they're right, but there's absolutely nothing wrong with that.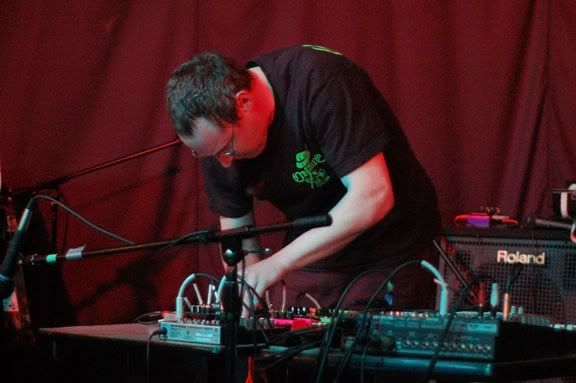 The Rita
was the first act that I caught (missed Sick Buildings). He created these heavy drones at a volume that made your chest shake and also kept it short and sweet... probably too short.
That was Wednesday. Last night I attempted to catch
the Jealous Girlfriends
.
I got to the Media Club at 10pm, since I can't remember when I two-band bill has started there before then, and since the rep from Last Gang said, "I can't seem them playing before 10pm."
But I only caught two songs. The first one was okay, though to be fair, I was under them impression that I'd walked in during the beginning of their set, and was in line for beer. The second song was about twice as intense (which was to be expected, since it was their last), noisy, and shoegazey at times. Good stuff.
Sea Wolf
headlined. At their best, they sort of sounded like the Shins, but without any harmonies. No offense Sea Wolf fans, but I bailed after about five songs.
Black Kids
are back at Richard's on October 11th. Hopefully the mix sounds a bit nicer, since they'll be headlining this time around.
And a bit of a correction via
Dustin
:
There will still be live music at the Astoria.
John Cougar
is now booking live acts on Fridays and while Dustin is in charge of getting DJs for Saturdays, he's aiming to have at least one live band play as well. Still shitty about MJ no longer working out of the room. And hopefully there's no hard feelings between these three, because they're all doing a ton for music in this city (and are all pretty great people as well).
I'm psyched for the ER tomorrow. Hopefully, you are too.
now playing: Women - Sag Harbor Bridge
Labels: astoria, lazy show recaps, sea wolf, show announcements, the jealous girlfriends, the rita, wolf eyes
Thursday, June 12, 2008

kick out the lights
Wolf Eyes recap coming up tonight (short version: they slayed and jumping off of Pat's stage into a crowd of about 20 people is a bad idea if you cherish your health).
But in the meantime, bad news via
Cam
:

The Astoria Is Scrapping Live Music For DJ Nights

Fuck it, I quit.

Sorry to hear you got fired MJ. Your shows are always awesome. Hope you find a new gig.

Suggestion for the future DJs of the Astoria or anywhere: Book one live band a night. Show your support for those making music that you might want to play.

I enjoy some - well, most - of their current DJ nights and also have some friends who spin there, so I hope they don't take it personally when I say, fuck that place, I'll take my overspending on alcohol somewhere else.
Some shows already booked for the next couple months are also off now.
I hope you'll join me in thanking MJ for turning a total dive into a pretty great little live venue (in a city that so desperately lacks them) for the last 9 months
Labels: astoria
Wednesday, June 11, 2008

darkness on the edge of gastown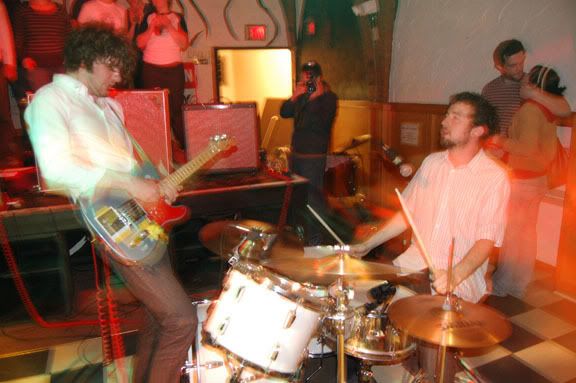 I hope you'll excuse my recapping the last night of
Music Waste
two days late, but I had to finish up some other writing and also recover from five nights of running around, fueled on beer and sketchy eats.
Words about Sunday will be short and sweet, since I mostly caught bands that I've praised here many a time.
Japandroids
were the first and only thing that brought me out to the Astoria during Music Waste (though I wanted to check out Mohawk Lodge before Crystal Castles got pushed back). They threw in a few new songs that I imagine will be on the LP they're recording next week(!) and also played on the floor for some reason. They were also loud. Really loud.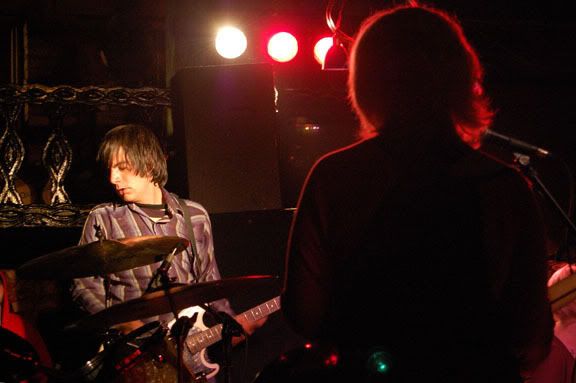 After Japandroids finished up, I bussed up to 340 for
Modern Creatures
. In case you were wondering, they're still pretty awesome.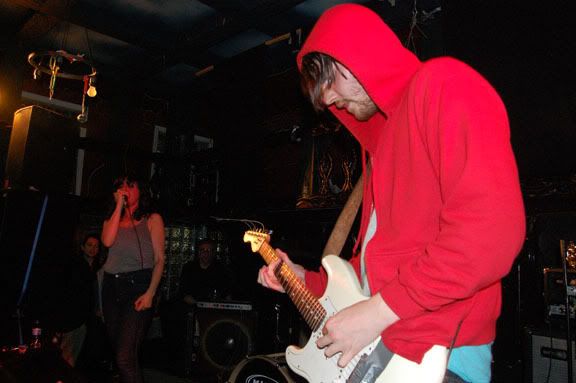 Mutators
had the honour of closing out Music Waste (the official part, anyhow). I think I flip flop every week, but for now, I'm going to go ahead and proclaim them my favourite live band in Vancouver (although Bison, JPNDRDS, the Clips, and Twin Crystals are up there).
Thanks to the dude who found my glasses on the ground after I got elbowed in the face during their set.
Annnnnnd...
A huge thanks to
Cam
and
Sarah
for once again organizing one my favourite local events of the year.
Speaking of Japandroids, they're at Pub 340 on August 13th with
Casy & Brian
and
Twin Crystals
. They play with Twin Crystals again on August 23rd at the Cobalt.
Shearing Pinx
and
Adjective
round out the bill.
Speaking of Modern Creatures, they're at 340 on June 30th with
Meth Teeth
.
Bad Moves
(who share a member with, but don't sound much like Gang Violence) are at the Astoria on June 21st for CD release show with
Dylan Thomas
,
Your Vancouver Vipers
, and
Animal Names
.
now playing: Cat Power - Say
Labels: japandroids, modern creatures, music waste, mutators, show announcements, show recaps
Sunday, June 08, 2008

amy white out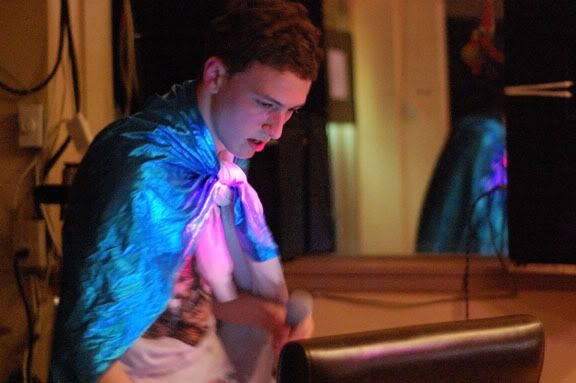 I got to Hoko's for day four of
Music Waste
just in time to catch the last two songs from
gr8-2000
. Tom was his usually rambunctious self, even donning a cape before a set closing cover of Kraftwerk's "Pocket Calculator."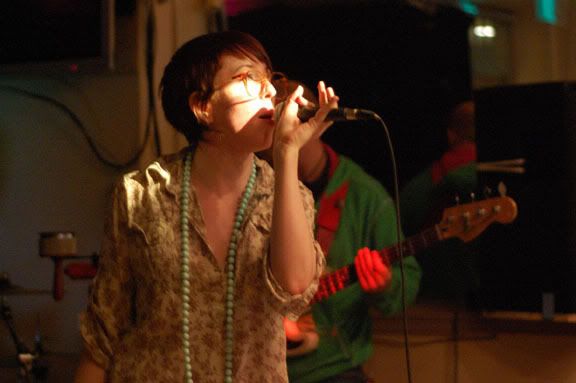 Piper Davis
followed things up. She (and her band) sort of stuck out on the bill. All the acts at Hoko's shared an electronic element, but Piper's set injected a welcomed dosage of soul into the evening's proceedings. It's been about a year since the first time I saw her perform, but I'm still amped to hear "Academics" - which she closed with - any day.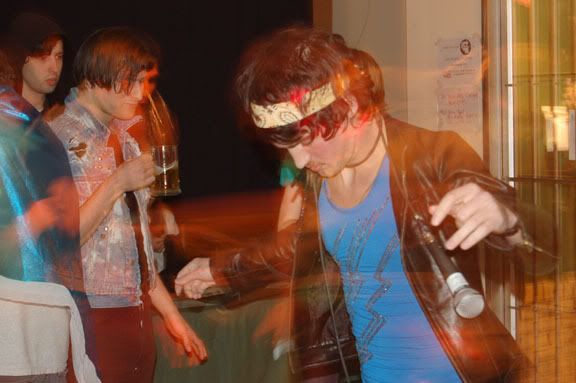 Onomatopoeia
is Dustin's (from Sex Attack/Adjective) "retired" solo project. It consists of Dustin singing over electro tracks he plays off of an ibook. Half the room seemed to love it (myself included) and half the room seemed to hate it and Tom (gr8-2000) really fucking loved it.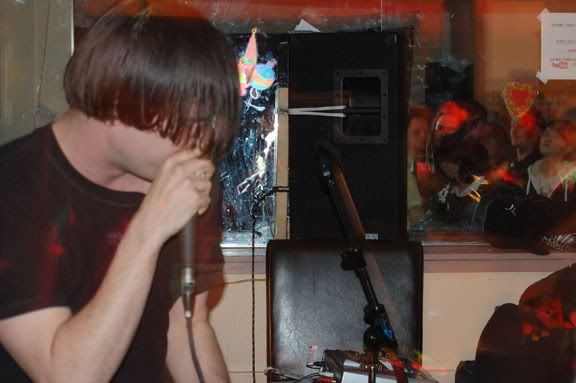 I think Music Waste billed the headliner as Jesse Taylor, and the last time they played they were Soft Disco, but right now they're playing as
Reflektions
. I really wanted to attempt to catch the entire bill over at 340, so I only caught a couple songs, but the eletronic joints are familiar sounding Jesse songs (since he's singing) backed by music that's a little more dance floor friendly than Twin Crystals or Channels 3+4.
I got to 340 in time to catch the very end of Gang Violence's set and spent large parts of the evening cursing the scheduling, because they were awesome. Rocking guitar and drums with a healthy dose of noisy electronics over top, the pair were one of the best surprises of the fest so far for me. They're looking for a singer. Hopefully they find a good one, because the rest is already great.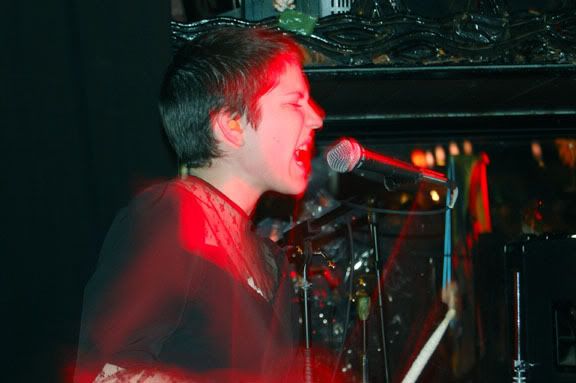 Golden Touch
, who were another two-piece, followed up. They didn't blow me away like Gang Violence, but their straight ahead punk wasn't anything to complain about. And there were a few tunes that stuck out as pretty great.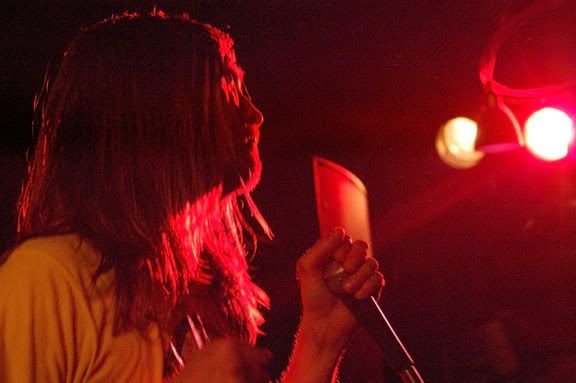 I'd heard good things about
Sorcerers
, so I was excited about seeing them. They sound a
lot
like Bad Brains (early Bad Brains), which certainly isn't the worst thing that could happen to a band. As with Bad Brains, I liked the songs that leaned a little further from reggae and more towards the hardcore side of things, but they're whole set was pretty sweet. Plus, their lead singer looks like Axl before he went crazy, got fat, and stopped working with Slash and how awesome is that?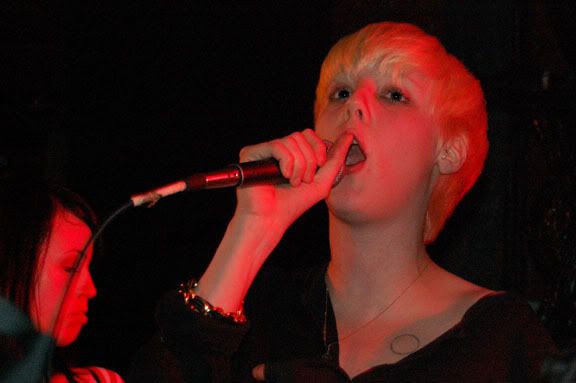 White Lung
: still awesome (in case you were wondering). Yeah, not much more to say than that.
See you out there for the final night of Music Waste!
now playing: Guns n Roses - Nightrain
Labels: gr8-2000, music waste, onomatopoeia, piper davis, show recaps
Saturday, June 07, 2008

alice practice
So, originally, the actual band performances at Richard's were supposed to go between 9-11pm with the 1/2 Alive guys doing their last night at Dick's from 11pm onward (they're at Pub 340 every second week starting next Friday). But sometime yesterday someone decided to switch things up, so
Crystal Castles
didn't end up going on until after midnight.
I tempered my disappointment over missing Mohawk Lodge at the Astoria by continuing to sit in my apartment drinking since we didn't have to be at the show at 10pm anymore, so you are free to take that into consideration when I say that Crystal Castles were awesome live. I'm pretty into the album, but with a live drummer, and perhaps more importantly, with the sound cranked way up, their songs sounded about twice as good.
When the record was released, I know there were a few people who felt that, while it was good, it didn't deliver on the massive amount of pre-release buzz. I don't really see how anyone could, but regardless, when it comes to their live show, believe the hype.
Thanks to Trevor at Last Gang for the ticket hook-up.
Since we weren't going to make it to the Astoria until there was only about 20-minutes left in Mohawk Lodge's set, we went straight to 340 for Basketball. I've been pretty big on these guys for awhile, but they get better and better every time I see them.
When I was at 340, I ran into Justin from
Mutators
, who just got back from an epically long tour. He let me know that his band will be at the ER next Saturday to celebrate the release of the Emergency Room compilation. It's an LP and comes with a booklet that sounds amazing.
Nu Sensae
,
White Lung
,
Sick Buildings
,
Petroleum By-Products
,
Twin Crystals
,
Vapid
, and
Defektors
also perform and feature on the comp. This show, and the accompanying record, will be amazing.
Mutators are also having an LP (!) release at the Emergency Room on June 28th.
Certain Breeds
,
Josh Rose
, and Dozell Brothers help them celebrate. As excited as I am for Sled Island, I'm pretty bummed that I'll be in Calgary when this goes down.
Music Waste day 4 tonight!
Labels: basketball, crystal castles, music waste, show announcements, show recaps
Friday, June 06, 2008

ostrich fight song
I Spent most of night two of
Music Waste
at Hoko's. I was in the mood for sushi, but I chose it over Radha because I wanted to make sure I didn't miss
Andy Dixon
.
I was actually wrong about it being their first show. Andy did one in NYC, there was one for friends, and another one last week here in town, as Greg from Winning kindly pointed out. But regardless, as of now, it was a relatively rare performance. More importantly, it was a great performance. Musically, it seems like the guy can do no wrong, and the two-piece interpretations of songs from
the Mice of Mt. Career
drove that point home once again.
I just can't get into
Greenbelt Collective
. Perhaps their bursting-with-joy nature bums out my bitter self.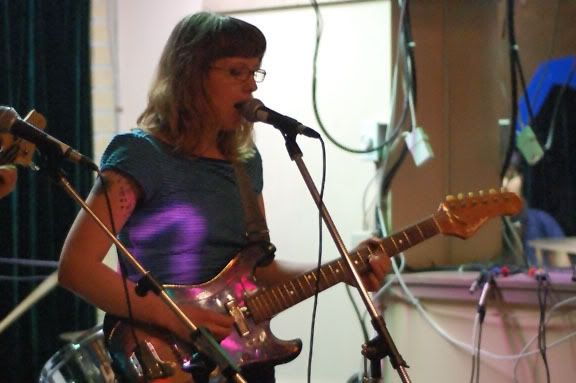 Catamaran
started things off. They didn't blow me out of the water, but their no-frills pop was pretty good.
After Hoko's I walked over to 340 and caught a bit of
Dead Ghosts
. They sort of remind me of a messier Exploding Hearts, which isn't too shabby at all.
Mogwai
are at the Commodore on September 6th with
Fuck Buttons
. Psyched.
The Walkmen
are at Richard's on August 28th with
Man Man
for another sweet double bill. (thanks Mike)
Band of Horses
are at the Orpheum on the same night
. Does that seem a bit large for them to anyone else?
opening for Beck. (thanks Neil)
now playing: Kenny Loggins - Danger Zone
Labels: andy dixon, catamaran, dead ghost, greenbelt collective, lazy show recaps, music waste, show announcements
Thursday, June 05, 2008

all the boys with the homemade microphones make very interesting sounds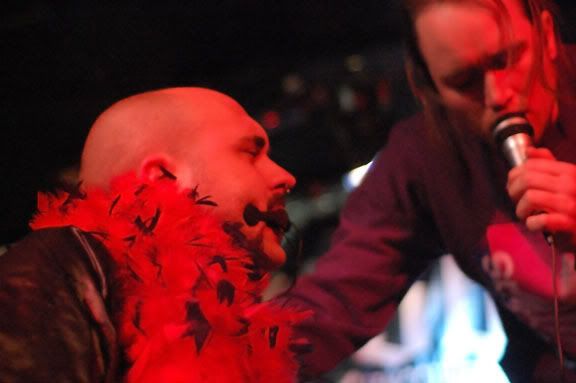 When it comes to music that get labeled (rightly or wrongly) as "noise," I tend to lean towards the kind that aims to peel the paint off of the walls. So, the
Music Waste
edition of Fake Jazz Wednesday was hit or miss for me. Of course, a night of audio experimentation is bound to be that way, especially if it's so eclectically curated. Personal preferences aside, and while I do like to just hang out and chat between acts during regular editions of Fake Jazz, the (nearly) non-stop action due to the use of the second "stage" at the Cobalt was pretty awesome.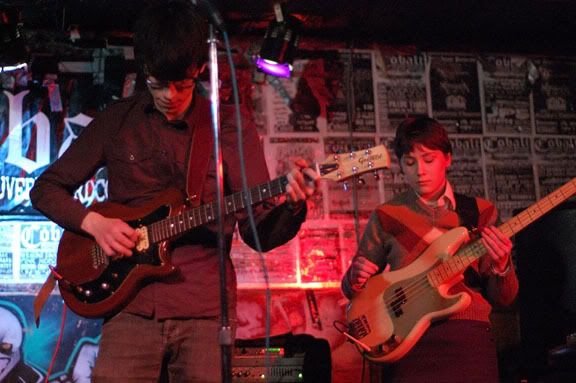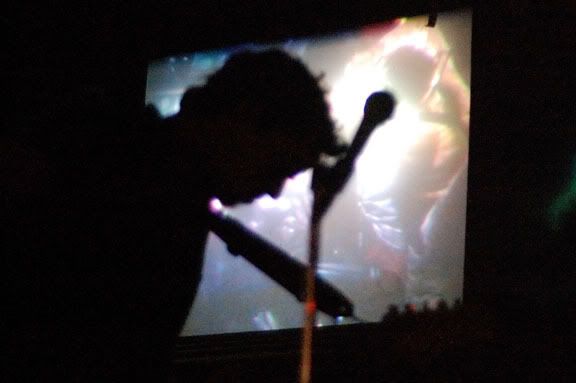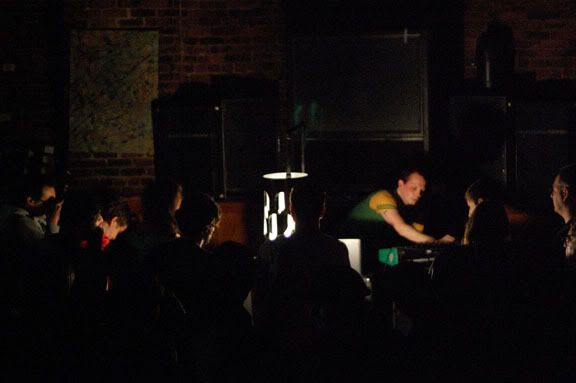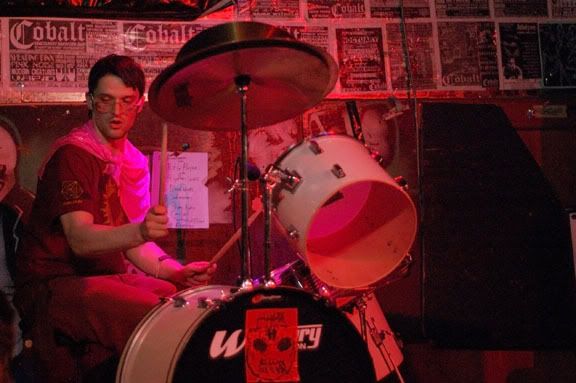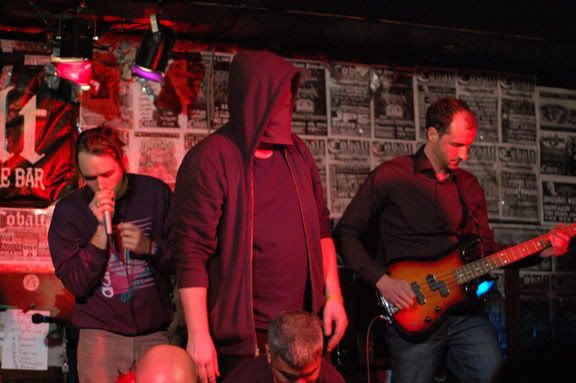 I'll save the act by act breakdown, but I've got to mention that the headliners,
Ejaculation Death Rattle
, were worth watching for spectacle alone. They also created some pretty interesting sounds to go along with the boas, dance contest (complete with prizes), and executioner-masked band masseuse.
That
!!!
show on August 31st has a venue and an opener. The band will be sharing the stage at Richard's with
Handsome Furs
. Strange (but awesome) combination.
Hayden
is at the Orpheum on October 8th.
Collapsing Opposites
,
Women
, and
Mt. Royal
are at Hoko's on June 21st. I got Women's forthcoming album in the mail and didn't listen to it, because frankly, I think "Women" is a dumb name for a bunch of dudes (though not as bad as "the Feminists"). Anyhow, as with Fuck Buttons, other people recommending them made me crack the plastic on the CD and give it a spin. And it's pretty rad. Definitely worth checking out if they can reassemble their sound live.
Speaking of Hoko's, see you there/340/Radha tonight.
Labels: music waste, show announcements, show recaps
Wednesday, June 04, 2008

we hate this city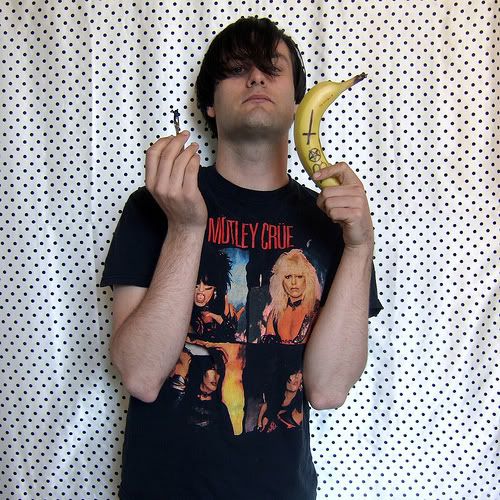 Jesse Taylor by Sarah Cordingley
So, I was going to do up a
Music Waste
guide of sorts. In fact, I had already written part of it. But then I scrapped it.
If I were to write up my picks for the fest, they'd be plucked out of the bands I know, and if you've been here with any regularity, they'd be bands that you've likely already read about. And you know what? That sort of betrays what I think is one of the beautiful things about Music Waste: seeing things that you've never seen and even seeing things that you maybe wouldn't normally see.
So, while there are a few live favourites that I don't plan on missing (Mutators, White Lung, Mohawk Lodge) and I'm definitely catching the live debut of
Mt. Career
, my Music Waste pick is to buy a pass, put on your favourite walking shoes, and hit as many different shows as possible.
Vancouver is building a rep for it's noise/punk scene, but there's something for everybody at this year's fest, from the most docile of folk bands (Dyad) to good old fashioned heart on your sleeve rock (Mohawk Lodge) to glitchy electronic (gr8-2000) to the harshest of the aforementioned noise (check the Cobalt tonight for 2[!] stages of non-stop action)
And about those passes, they're only $15 and you can still grab them at Zulu, Scratch, Limelight, RedCat, and Audiopile... and you should, because there's not a Hell of a lot else going on this weekend anyhow.
Chalked Up
has an interview with half of the organizing duo, Cam Reed (the other half took that striking portrait of Jesse up there).
Oh, and while we're talking about one of my favourite musical happenings that this city has to offer, let's also mention one of the other ones:
Shindig
is accepting submissions for this year. I can already hear the awkward silence when I tank my first joke for beer.
now playing: Wilco - She's a Jar
Labels: music waste, shindig
Tuesday, June 03, 2008

maybe sparrow
I was going to wait until next time I updated the listings to mention these things, but seeing as this little corner of the internet will be wrapped up in
Music Waste
fever for the next 5-days, here are some things not happening this (extended) weekend, that might tickle your fancy...
SWAK and LiveNation are teaming up for what they're dubbing the "Stanley Park Singing Exhibition." The two day event at Malkin Bowl drops August 31st and September 1st, with the first day boasting
Neko Case
,
Destroyer
,
Andrew Bird
,
Deerhoof
, and
the Evaporators
and the second day featuring
the New Pornographers
,
Stevie Jackson
of Belle and Sebastian fame,
the 1900s
, and
Visqueen
.
Tickets are $35 per day and they're on sale separately this Friday.
EDIT: via Pfork:
Additionally, the Pornographers will be peddling exclusive merch at the fest, with an advanced sale of the stuff through their website. And all proceeds from the ticket and merchandise sales go to two very worthy causes: the ALS Society of Canada, an organization that supports research and care for people with Lou Gehrig's disease, and the Urban Native Youth Association, a group dedicated to assisting Canada's indigenous young people.
Here is some
Leah Abramson
news:
She's got four shows coming up with
Dyad
. June 5th at the aforementioned Music Waste, June 6th opening for
Tarkin
at St. James Hall, June 8th at the
In the House Festival
, and later that night with
Ora Corgan
at Lime.
With no disrespect to her bandmates, I'm most excited about Leah playing solo at the Railway on June 23rd (which is my favourite way to see her perform). She joins Marc from
Octoberman
,
Karma Sohn
,
Jesse Matheson
,
Eliza Rosback
, and
Aaron Beckum
at a songwriters showcase that she curated.
Pat Mahoney (aka one of the other dudes in
LCD Soundsystem
),
Hercules & Love Affair
, and
Paul
(who isn't now a Christian bookstore, despite where PaulDevro.com points) dj at Celebs on June 13th.
Paul (along with
Expendable Youth
) is also supporting
Crookers
at the Plaza on June 27th and
2 Many DJs
on August 1st at Celebs.
On June 18th Fake Jazz goes dance... sorta... for the second edition of Fake Disco.
The Emotron
,
Mose Giganticus
,
Nihilist Party
,
Stamina Mantis
,
gr8-2000
, and Eagle Road all bring a bit of extra rhythm to the weekly noisefest.
Ghost House
,
A Relative Distance
,
Blind Tiger Tiger
, and
My Robot Unicorn
are at Hoko's on June 20th.
Oh, and I took a pass on Crystal Castles because of Music Waste, but upon actually reading (a helpful skill when one is looking for information) the info for the show, I now see that the bands are done at 11pm... so, anybody got an extra ticket kicking around that they might want to sell to their 53rd favourite blogger?
now playing: Black Mountain - Angels
Labels: show announcements

wild eyes
Hey, you know what's totally brutal move? Booking a show in Vancouver, getting to the border on the day of said show, and then deciding, "you know what? I don't think I want to try to go to Canada after all," and canceling. Which is apparently why
Japanther
didn't show up to play at the Astoria on Saturday. Getting denied at the border is one thing. Hell, not wanting to play Vancouver is one thing, but it wouldn't kill you to make that decision more than half a day before show time. I mean, I'm not the most reliable guy in the world, but nobody pays money to see me do anything.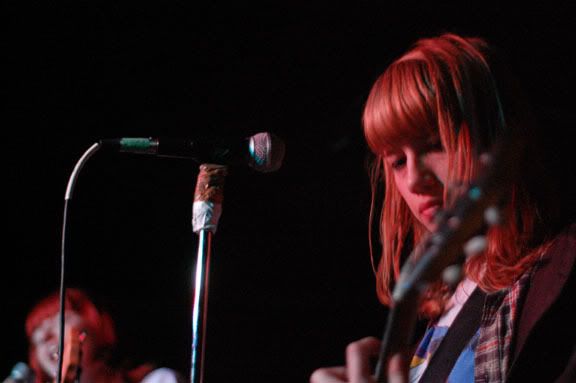 Vivian Girls
, who also hail from Brooklyn, and happened to be in town already, stepped in to fill out the bill. They played pretty enjoyable pop-punk (and I don't mean that in the pejorative sense), but it wasn't exactly what I showed up to see.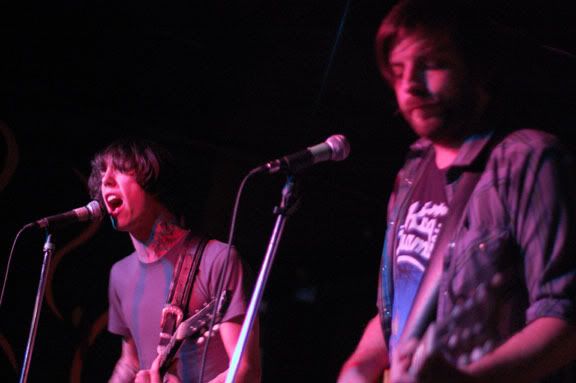 Manic Attracts
opened things up. Their throwback punk wasn't terribly original (but then, what is these days?), but they do what they do well.
I bailed before Vapid, who moved up the bill to headline, played.
Kudos to Erin at the Astoria and also the bands for making the best of things, but this ultimately proves that the mantra, "always choose Destroyer" is one to live by.
Okkervil River
are at Richard's on September 18th.
The Raconteurs
are at Malkin Bowl on the same night. They'll have
the Kills
in tow for the outdoor all-ager.
The Dandy Warhols
are at the Vogue for an all-ager on June 18th. (thanks Nick)
Paul Devro
is teaming up with his brother
Erik
every Tuesday night at 66 Water Street.
Dandi Wind
will be with them on June 24th, though I'm not sure if it's a live or DJ set yet.
Also on Tuesdays is
Weirdness
at the Biltmore. The music won't be your run of the mill dance night thing, so if you like dancing on weeknights, but are also... err... weird, you may want to check it out.
Oh, and something resembling a (way less funny than the official) Music Waste guide will be up before Fake Jazz tomorrow night, as per Kyle's request.
Labels: manic attracts, show announcements, show recaps, vivian girls
Monday, June 02, 2008

who do you love?
I was a bit under the weather today, but you can expect a real post tomorrow.
In the meantime, RIP Bo Diddley.
Perhaps you never listened to the man himself. I can't say that I did all that often. But if you enjoy anything that falls under the wide umbrella of "rock n roll" you owe him a debt of gratitude.
In times like these, it's always a good idea to defer to the experts...
download: the Jesus and Mary Chain -
Bo Diddley is Jesus
now playing: the Jesus and Mary Chain - Who Do You Love? (Bo Diddley cover)
Labels: mp3