Thursday, August 31, 2006

new radio
Bad news: It seemed to be coming for the past little while, but now it's official: the final nail is about to be hammered into the
WOXY
coffin. An unfortunate end for such a great thing. WOXY goes stops broadcasting for good on September 15th.
Good news:
Sean at A Reminder
has graciously put up some very nice live recordings of all the new
Radiohead
songs that they debuted on their recent world tour (that didn't include Vancouver or Seattle, jerks)
Funny news (also good): The new
Joanna Newsom
record,
Ys
(pronounced "ees") leaked, and it's fabulous (that's not the funny part). How did this musical gem escape almost three full months ahead of its release date?
Pitchfork
left their download server unsecured. I believe the term is "pwned." Normally, I would post up a sample .mp3, but seeing as there are only 5 tracks, that would be like 20% of the record, and that prospect makes me uncomfortable. If you look around you can find it, I'm sure.
now playing: My!Gay!Husband! - That B.I.G. August Mixtape
Wednesday, August 30, 2006

kill the orcs
3 Inches of Blood
are at Lamplighter on October 14th with
The Illuminati
,
A Javelin Reign
, and
Goats Blood
. That pretty much leaves you no excuse for not getting out to a show on that day. You can choose from quiet, christian infused folk, several doses of indie rock, robot dance music/s. american dance punk, and lots of metal... actually, someone needs to book a decent hip-hop show that night.
Lions in the Street
are at Limerick Junction tomorrow.
Handsome Furs (Dan Boeckner of Wold Parade's other band) are opening the Subtle show on September 17th. Here's a demo track that
Said the Gramophone
posted back in May to give you an idea of what they're all about.
download: Handsome Furs -
demo (unknown title)
Book of Lists
are opening the Brian Jonestown Massacre show on September 9th.
now playing: the Rapture - the Sound
Tuesday, August 29, 2006

pink night
Jason Collett
is at the Van East Cultural Centre on October 3rd. I - like everyone else - am quite fond of the new TVotR... but I'm seriously considering selling my ticket and getting one to this instead.
For those who like their music spontaneous,
Damo Suzuki
is at the ANZA on September 7th. (thanks Kara)
Also on September 7th, if you prefer your compositions a touch more traditional,
Blood Meridian
plays the Gallery Lounge out at UBC with
Leeroy Stagger
.
Mew
is at the Commodore on October 15th, as a couple people have kindly mentioned... but they're opening for
Kasabian
. You Mew fans have my condolences.
Andrew Bird
has an added early show to compliment his already scheduled late show at the Media Club on September 29th. This means you could now conceivably see Andrew and then either Danny Michel or Billy Bragg/Geoff Berner, which would be one hell of a night of singer/songwriters.
Speaking of Danny Michel,
Lullaby Baxter
, who got
Pitchforked
today, is opening his September 28th show.
Stylus reviewed
Ladyhawk
. Grunge? huh?
Finally, I found this amusing:
make your own concert ticket
(via
Stereogum
)
now playing: the Beach Boys - God Only Knows (stereo)
Monday, August 28, 2006

last time i saw you, you were on stage
I think I may have been the only person stupid/dorky/brilliant enough to do it, but yesterday I spent the hours of 5pm-11:30pm (minus a break for dinner) watching
Cat Power
at Richard's.
Last time I saw Miss Marshall, it was in Seattle with the Memphis Rhythm band providing, not only musical back up, but also emotional support, rendering fears of aborted numbers, crying, or otherwise erratic behaviour null. Last time I saw her solo - in Seattle back in 2003 - she only managed to make it through two or three songs in full, and then left after muttering "goodnight, my name is shit head." Which, in part, was the reason I decided to attend both "An afternoon with..." and "An evening with...;" Unlike the evening at the Showbox, Sleater-Kinney wasn't going to save the night with a headlining set, and I figured one of the two had to go off without some sort of breakdown. It seems that her much publicized drying out has done wonders for her "quirky" stage manner, as both shows went off smooth as silk... by Cat Power standards.
As
Rob
illuminated for me in his take on the early show, as a pretty huge Cat Power fan, my view of "without a hitch" is probably much different from your casual fan's. Actually, the differing views can probably be summed up in the following conversation I had with my friend Shea following the afternoon show:
Me: Wow, that was great, she barely stopped any songs.
Shea: It was great... but she stopped, like, every third song.
Me: Yeah, hardly at all.
My other favourite singer/songwriter is Ryan Adams, so my standards are pretty low on the reliability front.
Chan played for about an hour and 45 minutes for the afternoon set, only stopping because the "kids" (who were mostly adults who were to slow to snag tix for the evening's proceedings) had to be out of Richard's at 7pm sharp. The evening show went for an extra half hour or so, and the setlist mirrored the afternoon, with about a half dozen extra songs, and a couple swaps of tracks from
the Greatest
.
She pulled mostly from her latest long-player, making it through eight (i think) of its twelve songs. As much as I love the Chan-in-Memphis type arrangements, I like my Cat Power stripped down, so the sparse arrangements (either piano/vox or guitar/vox) were welcomed. The set was rounded out by a handful of tracks from
You Are Free
("Maybe Not," "I Don't Blame You," "Good Woman" twice each, and "Names" during the evening show), a handful from
The Covers Record
("Satisfaction," "Wild is the Wind," "Kingsport Town," "Paths of Victory"), two new songs, and a ton of covers. Amongst the latter, highlights included a slightly altered version of Juvenile's verse from the Hot Boys' "I Feel" (dead serious) and a medley of "Blue Moon/(All I Have To Do Is) Dream/Try A Little Tenderness."
I was packing my film camera with me, but the room was dead silent, so after snapping one shot in the afternoon and being appalled by how audible the shutter was, I shelved the camera.
Rob's
got a couple of snaps up.
Unrelated question... my iPod Shuffle stopped working. It won't mount in the updater, I can't format it through windows (although I can see it in explorer), and it doesn't show up in iTunes. My iTunes is fine, because my Video iPod works without a hitch. I got it for free, so I suppose it's not the end of the world if its busted, but if anyone has any miracle cure, I'd be much obliged if you'd let me know.
now playing: Dead Kennedys - MTV - Get Off The Air
Sunday, August 27, 2006

tell me the truth of your heart
Ladyhawk
went on late and were short and sweet tonight. 45 minutes of half songs you know, and half songs you recognize from other live shows. It was pretty great. Maybe the last time you'll see them in such a cozy confine? We can only hope that they boys get their due.
The
Islands
show's been moved to the 4th of November... something about a conflict with their show in Vic.
For the Records
points us to a treasure trove of Owen Pallett
YouTube action
.
now playing: Swan Lake - All Fires
Friday, August 25, 2006

what's mine is yours
Head over to
RySpace
to download a recording of
Sleater-Kinney's
last show. Alternately, if you're a torrent user you could grab it from
SleaterKinneyTorrents.com
and save Ryan some bandwith (but head over to RySpace to thank him for taping/sharing). SKTorrents has a ton of other audio/visual treasures for the Sleater-Kinney fan in your life.
There's a radio interview with
Geoff Berner
up
here
(click on August 23rd, then 8am. It's right after the BBC news break).
Geoff's at Rime on September 30th with the lovely
Carolyn Mark
and
Dave Lang
(who may also be lovely, although I have never heard his music, so I'd just be guessing). In retrospect, I think Carolyn is headlining. She's also bringing her Hootenanny Revue home to the West Coast in October. The Central Canada rendition featured Miss Mark, Luther Wright, Hank & Lily, and Jenny Whitely, among others. At SXSW, Sarah Harmer joined them onstage and did a couple Shins covers. In other words, keep an eye out for those dates.
Wilco is awesome.
If you buy the forthcoming Jeff Tweedy live DVD you'll also receive a link to download the corresponding .mp3s
for free.
now playing: Sleater-Kinney - One Beat (live in Portland 8/12/06)
Thursday, August 24, 2006

don't think twice, it's alright
As you've probably read elsewhere,
Bob Dylan
hits the Pacific Coliseum on October 11th with
Kings of Leon
in tow. I passed on those Queen E. shows, because they cost a small fortune, but I think I might check this out if its not astronomically pricey.
Also (sorta) rocking the Coliseum are
Panic! at the Disco
, who play with
Bloc Party
on December 2nd. Do you hear that? The indie kids are sharpening their knives. Say what you will about the boys in Panic! (and don't you dare forget the exclaimation point), but they sure know how to pick opening acts.
Hawksley Workman
is at the Commodore on September 26th.
The Presets
are at the Plaza the next day.
Jurassic 5
are at the Commodore for a two night stand October 29th and 30th. Considering the quality of their latest, I hope tickets aren't as friggin' expensive as last time they came to town... although I'm sure they're still great live.
The Evaporators
are playing a free show on September 9th on the Downtown VPL's South Plaza. Show starts at 1pm and is, obviously, all-ages.
Oh, and for those who were wondering,
Decemberists
tix go on-sale this Saturday at 10am. $28+charges at all the usual outlets.
now playing: Public Enemy - 911 Is A Joke
Tuesday, August 22, 2006

i dreamt we fell apart
The
Memphis
show originally scheduled for Thursday has been postponed. According to
SWAK
it'll be rescheduled soon, but if you don't want to wait around for that, you can get a refund at your point of purchase.
Mike Relm
is off the bill for the De La show out at UBC.
Sorry, only bad news tonight.
Scratch that.
The
Islands
show reported on their MySpace as "tba" has a venue... well, it had a venue for awhile, but now its confirmed. The band will play an all ager on November 3rd in UBC's SUB Ballroom. Islands are for the children, or something.
now playing: Kanye West feat. TI - Drive Slow (Remix)

sunlight
Vic Square Block Party Details:
Only Magazine presents...

Victory Square Block Party
on Monday, September 4th

They Shoot Horses
Hot Loins
The Battles
The Doers
The Nons
The Winks
No Feeling
Precious Fathers

Hosted by MC Babyduck.
DJ's provided by Vinyl Records.

Monday, Sept. 4th
Victory Square (Cambie and Hastings)
2-9pm


There will be a raffle for tons of shit from records stores, clothing shops, restaurants, etc. All proceeds will go towards PIVOT Legal Cooperative and the Downtown Eastside Seniors Center.

There will also be a ridiculous amount of True Blue Blueberry Juice. For Free. I know, it's the best.

Mark your calender.

To donate: go here.

For sponsorship inquiries email: camreed@gmail.com

Only will be back September 1st!!!
now playing: Of Montreal - My British Tour Diary
Monday, August 21, 2006

shine a light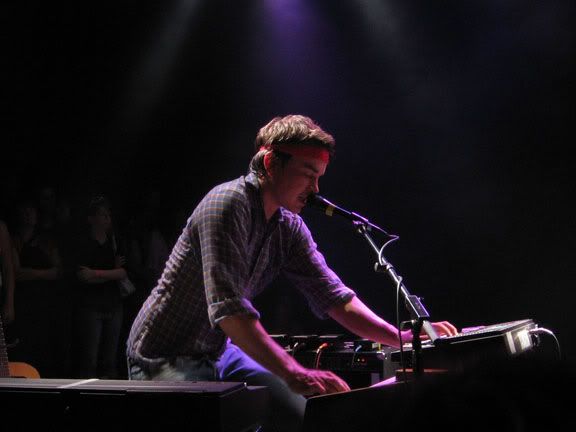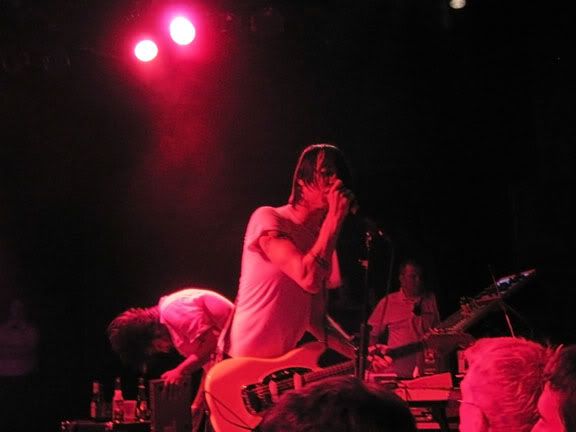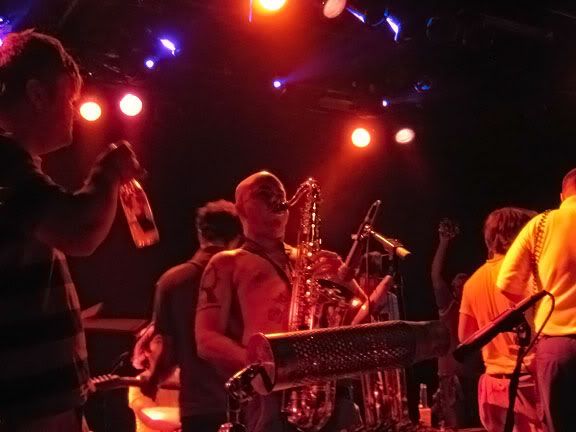 I guess I shouldn't be all that surprised that they sold the place out, but it was a touch surprising to show up an hour and a half after doors and find that there was still a line up outside the Commodore of both people wanting to buy tix, and people with tickets just waiting to get in to see
Wolf Parade
. Not only was the place packed, but it was filled with people who were absolutely amped to be there.
The guys still aren't overly tight live, but I'll take loose, sweaty, and four-to-the-floor over precise and sterile any day. They played most of
Apologies...
and a couple new ones. The encore sort of disintegrated when what looked like half of Main St. emerged from backstage. It was great.
Oh, and kudos to the guy that yelled for "Shine A Light" two songs after they had already played it, and still didn't believe Dan when he picked up the setlist and showed it to him. Definitely the comedy highlight of the evening.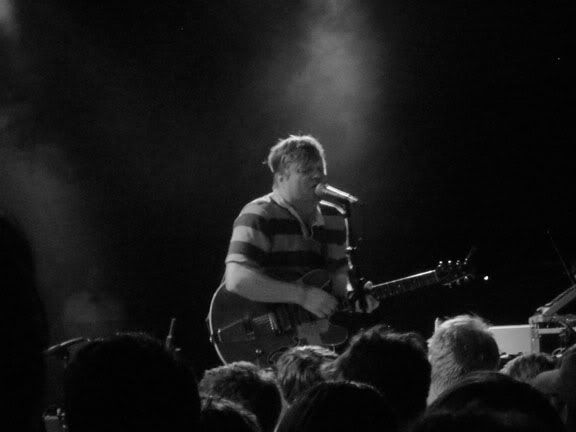 Frog Eyes
opened. It actually took me awhile to warm up to them (like overall, not tonight), but ever since they opened for Destroyer a year or so ago, they've always been a treat live. Tonight was no different. As an added bonus, they successfully weirded enough people out that we started standing pretty far back and ended up with a sweet view by the time their set was over as person after person left for the bar.
Rob
put together a podcast of the bands from that little poll down there. It's full of different songs from the ones I posted, so do yourself a favour and go
check it out.
Celebration
is also on the bill for the Trail of Dead/Blood Bros all ages extravaganza. If you were at TV on the Radio in May, you already know that they make this already great line up even better.
now playing: Akron/Family - Love and Space
Friday, August 18, 2006

slang of the city: a poll of local favourites
Inspired by I (Heart) Music's
33 Hottest Bands in Canada
poll, I put out the call via email last week to some folks asking them to put together a list of their favourite local acts. Eleven responded (and I did one) and the results are tabulated below. Everyone made a list of (up to) ten bands, with ten points to first, nine to second, and so on.
I hesitate to call this "best" or "hottest" list or anything like that, as its mostly for fun and its far from exhaustive. Hopefully it a) introduces you to some local acts you haven't heard and b) generates some friendly discussion though. There was surprisingly little consensus after the first eight or so artists, and 64 different acts got a nod of some sort, proving something that most of you probably already knew: that the local scene is both diverse and awesome.
Most blogs leave you a link to buy a band's record online, I never do. Nothing against InSound, but in my humble opinion it's much better to either trek your way down to one of the city's many fine independent music retailers or head out to a show and get the album straight from the source... although, however you want to do it, I do strongly support putting some money in the pockets of these fabulous artists in some way.
Some things to note:
- "local" was very loosely defined. Some people included the Island, others didn't. I didn't specify either/or, although I'm sure if I'd said it counted a lot of ferry commuting bands would've received more votes.
- Some people separated Black Mountain and Pink Mountaintops, some people didn't. Their individual votes were really close anyhow, so everything worked out... but just so you know.
- I swear I didn't rig the winner. In fact, I had Bejar at #1.
A big thank you to the pollsters: Sean from
Beyond Robson
, Andrew from
Red Cat Records
, Shea from
AMS Events
, Ed from
CJSF
, Rob from
Vanmega
, Pinder from
Deftone
, Hanson from
My Indie World
, David and Jordie from
Discorder
, Ben from
CiTR/Shindig!
, and Graham from
Regulate the Voice
.
I didn't ask all dudes, but apparently the women I asked don't like me or something.
And with that, the top 23 (it would've been 20, but as you can see there was a tie) local acts...
23-17. (9 points each)
Basketball
(formerly Raking Bombs)
These kids marry their previous influences of Mars Volta style-prog rock to Liars-style percussive Krautrock. (Sean)
Bend Sinister
If Mars Volta covered Queen. (Sean)
download:
Through The Broken City
Bontempi
Channels 3+4
Vancouver needs more noise bands that don't suck. (Pinder)
spazzzzzzzzzzzz. (Sean)
Channels 3+4 play 'the Kids' on September 2nd at the Columbia
Maplewood Lane
Vancouver's answer to The Innocence Mission. Gorgeous dream-pop delivered prettily. I'm just a sucker for a voice like Rebecca Rowan's. (Hanson)
download:
Candian Winter
16-12. (10 points each)
Geoff Berner
download:
Whiskey Rabbi
Geoff plays the Railway tonight! (Friday the 18th)
Ghost House
Ghost house are at the Waldorf tonight with Fun 100 and Joel and the Last of the Neighbours.
Hank Pine & Lily Fawn
Their debut album is a two disc long ridiculous rock opera that sounds more like something Zappa or the Pixies dreamed up bringing in some of the areas most talented artists. Their ability to find so many collaborators is impressive, but it's the bizarre and hilarious stories their music tells that really gets me. (Jordie)
download:
Angel on the West Wing
No Luck Club
Their second album happiness was great and memorable. (Ed)
The Parallels
While they do the angular indie rock thing like many other bands they bring a 1950's style aesthetic to their work (this is in contrast to the norm of using 70's - 80's influences). Their sound is kinda bluesy, kinda jittery, and kinda urgent. (Rob)
11.
Run Chico Run
(11 points)
download:
Clockwork Crows
The Chicos are at the Media Club on August 26th.
...and the top ten

10.
Blue Grey Dots
(14 points)
From what I can tell these guys are young, but have a purposefully reckless synth-rock sound that more seasoned groups would strive for. "Turtles" will be on my best of 2005 list. (Rob)

9.
3 Inches of Blood
(15 points)
In metal it's so easy to dismiss a band for the vocals alone. If they suck, they'll either eat the mic and do the Cookie Monster thing, or bury the vocals low in the mix. But in 3 Inches of Blood the vocals stand out the clearest. Cam Pipes (apparently his real name too) has one of the best metal vocals I've heard in years. This is really an under-rated metal band. The nerdy, but sincere, lyrics about orcs and stuff make me smile every time. How can you not like a song where the first line is "In the year 4055, Wykydtron came to life". And if you don't like Deadly Sinners, you don't like metal. Enemies of metal: your death is our reward. (Pinder)
Loud and fun. (Shea)
download: 3 Inches of Blood -
Deadly Sinner

8.
P:ano
(17 points)
Lords of the dark twee carnival. (Sean)
P:ano always make me smile. (Ed)
P:ano open for Vashti Bunyan at Richard's on September 1st.

7.
You Say Party! We Say Die!
(22 points)
These kids do dance-punk with the reckless abandonment of early Pretty Girls Make Graves. The result is the catchiest espousing of leftist politics I've ever heard. (Hanson)
download:
The Gap
YSP!WSD! are at Richard's on October 7th.

6.
They Shoot Horses, Don't They?
(29 points)
Oompah stomping craziness sets them up as one of the most unique sounding bands in town. This is the last of the local bands that I'd say I actually love. Everything below this on my list is not something I'd be willing to marry. (Jordie)
download:
Emptyhead
They Shoot Horses play the Vic Square Block Party on September 4th. (No word on the rest of the lineup yet).

5.
Destroyer
(45 points)
It usually takes a couple years before declaring an album as solid. It takes me about 2 days for Destroyer records. And in that time I've declared a new "favourite song on the album" about 6 different times. (Pinder)
Bejar is the best songwriter in the city. (Shea)

4.
The New Pornographers
(46 points)
Yeah, you might've heard of these guys. They're kind of good if you're into music. (Hanson)
Possibly the most individually talented band in the city. Hard not to like. Success shouldn't knock them off this list. (Shea)
Any other songwriter writing indie pop songs as good as this? Nope. (Pinder)
download:
Mass Romantic
The NPs are doing a two night stand at the Plaza on October 21st and 22nd.

3/2.
Pink Mountaintops/Black (48/46 pts) Mountain
Obvious choice. (Sean)
If there is a definitive East Van sound, this is it. (Shea on Blk Mtn)
Ironically, I've never seen my number one choice live so this position is based on the strength of their records. Which are pretty damn good. I can't count how many times I've listened through their self-titled. (Jordie on PM)
Obvious enough/Less obvious, but still pretty obvious. (Ed on Blk Mtn/PM, respectively)
When I heard the new PM album, I thought McBean had mixed up his Pinks and Blacks. Instead of songs about fucking, there were songs about war and drugs. So I ignored it for a while but came back to it a couple months ago and am really enjoying it now. Just took a while to ditch the expectations. Black Mountain is still doing it's thing really, really well. They just put out a 7" on Suicide Squeeze that has 2 new songs that no one's really heard, but are some of the best they've done. (Pinder)
download: Pink Mountaintops -
New Drug Queens
download: Black Mountain -
Druganaut

1.
Ladyhawk
(54 points)
Ladyhawk is THE Vancouver band I most want to be HUGE. "The Dugout" is still my top contender for Song of the Year. (Pinder)
Crowd sing alongs before releasing an album! (Shea)
No hipster irony here, these guys pour their hearts out. Part Foghat, part Weezer, these Kelowna ex-Pats are the best thing to come from the interior since, I don't know, probably wine. (Sean)
download:
The Dugout
download:
War
Ladyhawk play 'the Kids' at the Columbia on August 26th.
The other 41 bands that received votes, in no particular order:
Vancougar, Raised By Wolves, Joel and the Last of the Neighbours, Hejira, Mohawk Lodge, Secret Mommy, the Salteens, Catlow, Gangbang, the Battles, Anemones, Memphis, Neins Circa, the Buttless Chaps, David P. Smith, the Organ, the Doers, the Winks, Josh Martinez, Bella, the Be Good Tanyas, Blood Meridian, Swank, Trail vs. Russia, Neko Case, Nomeansno, In Medias Res, Loscil, Book of Lists, Leeroy Stagger, My Project: Blue, Rose Melburg, Leeroy Stagger, Loscil, Carolyn Mark, Pride Tiger, Circlesquare, the Weather, Rob Wilson, Robosexuals, the Safety Show, and Frog Eyes.
now playing: Slow - Have Not Been The Same
Labels: polls
Thursday, August 17, 2006

some hearts are true
Was anybody else a bit shocked that tonight's
A Silver Mt Zion
(or Silver Mt Zion, or ... Memorial Orchaestra or ...and Tra-la-la-band or whatever they like being called now) sold out? They're a great band, but I didn't think they were far enough above the radar to pack Richard's. Score one for Vancouver for filling the place.
I haven't spent a ton of time with any of their records after
He Has Left Us...
, although it's not because the albums that followed their debut were any weaker (in fact, a couple of them are probably better). At any rate, the band's taken big strides to evolve their sound. I couldn't tell you what they were like live earlier in their existence, but if you read the very wonderful article in this month's
Discorder
, you'll know that Efrim wasn't to fond of their early live shows, and they've purposely tried to become a live act that could "win any audience in any bar anywhere." They weren't perfect tonight, but if it was any indication of the usual level of quality of their live show, they sure as hell come close to living up to that aspiration. It was a powerful performance. The mainset closer in particular (a new track called "Blind, Blind, Blind") was phenomenal. Here's a link to a recording on the
Archive
of the song from one of the band's shows at La Salla Rosa in Montreal (there are a twenty or so full shows up as well).
download: Silver Mount Zion -
Blind, Blind, Blind (live in Montreal)
(
full show
)
I got to Richard's just in time to catch
Carla Bozulich
. At times the noisy soundscapes threatened to fall into the realm of meandering, and the lyrics occassionally got a bit wince inducing, but for the most part Carla's vocals overtop of the thick orchaestrations added up to make a pretty enjoyable time.
And now, a whole bunch of shows announcements:
Short notice on this one:
Gentlemen Reg
is at Lotus with
Stinkmitt
for part of
Out On Screen
on August 23rd. (thanks Shea)
Asobi Seksu
is at the Media Club on September 28th.
Chad VanGaalen
is at the Media Club on October 7th.
Tokyo Police Club
plays UBC's Gallery Lounge on November
27th
17th (sorry, typo).
James Murphy
and
The Juan MacLean
are spinning at Celebs on September 22nd. Well, Juan might show and I may stay sober enough to notice. I won't get into the argument of why or why not he doesn't tend to show up for his gigs here, but I will agree with the point that even if its just James Murphy, I'll take this over that cancelled Ms. Kittin gig any day. (thanks Chris)
Detroit Cobras
are at Richard's on October 16th.
The Black Angels
are at Richard's on October 22nd. I was thinking of attending the second New Pornos show that night, but maybe I'll hit the one on the 21st now.
Man Man
are the Media Club on September 30th.
Geoff Berner
is opening the Billy Bragg show on September 29th. Shame that this is the same night as Andrew Bird.
The Watson Twins
(sans JLew) are opening for Matt Costa's Commodore date.
Blood Meridian
(who just got
PForked
) are opening for the Clientele on the 25th of this month.
now playing: A Silver Mount Zion - Blind, Blind, Blind (live in Montreal)
Tuesday, August 15, 2006

jackie's dressed in cobras
The New Pornographers
are doing two nights at the Plaza (which is half the capacity of the Commodore) in celebration of the anniverseries of
Mint Records
and
Exclaim! Magazine
on October 21st and 22nd.
Immaculate Machine
and
Novillero
open the first show, while openers for night two are still TBA. Tix go on sale this Friday at all your favourite non-TM locations.
TV on the Radio
are at the Commodore on October 3rd. (via
Brooklyn Vegan
)
Hidden Cameras
will be in town on December 3rd. Venue confirmation TBA.
Les Georges Leningrad
are at the Media Club with
Duchess Says
on November 29th.
To the guy who seemed insulted because I haven't listed that
Jeremy Enigk
is playing Richard's on September 2nd, it's because I had no idea who he was. Then I googled his name and found out he was the lead dude from Sunny Day Real Estate and the Fire Theft. So if you're into that, there is the info.
Those wonderful folks over at
Discorder
have taken a page from
The Chicago Tapes Project
and created
Mixed Apes
. The basic concept: make a mix, plant a mix, post where you put it, go get someone elses mix. Hit the
website
for more details, then go out and fill the streets with beautiful music.
Some Velvet Blog
and
I Am Fuel, You Are Friends
have teamed up to deconstruct
Girl Talk
, posting the mp3s of the tracks that were cut and pasted into
Night Ripper
. Very cool.
Matthew
put up mp3s of Sleater-Kinney's last show in Vancouver (from February 2005). I think they were up at
RBally
at some point, but if you missed them you can grab them now... and you should, because that show was awesome.
now playing: Supersuckers - Born With A Tail
Monday, August 14, 2006

some things you lose, some things you give away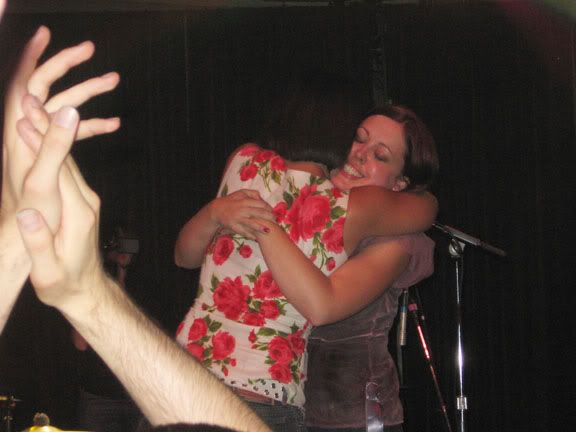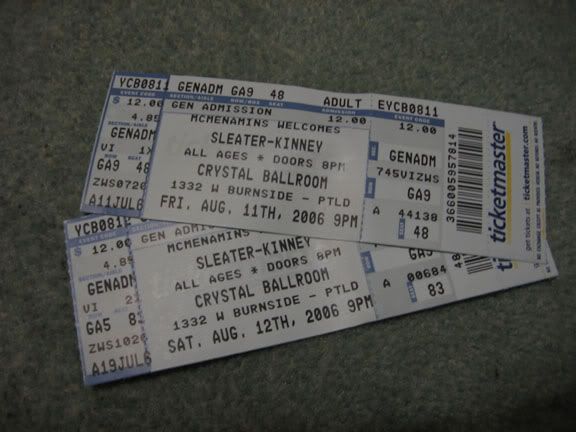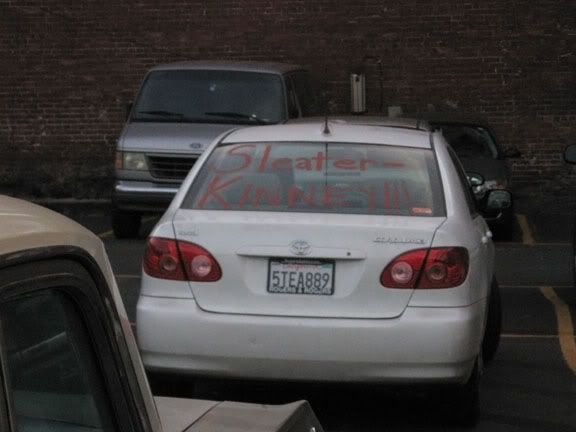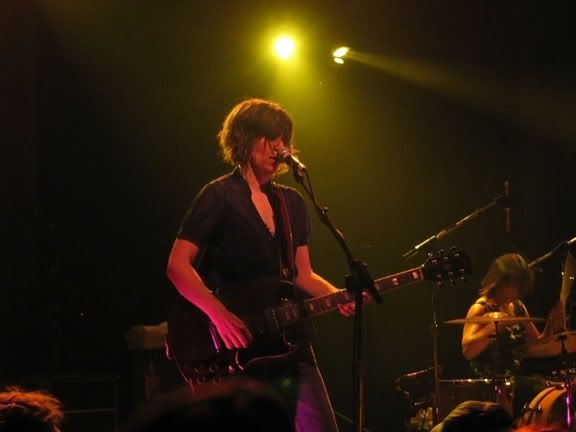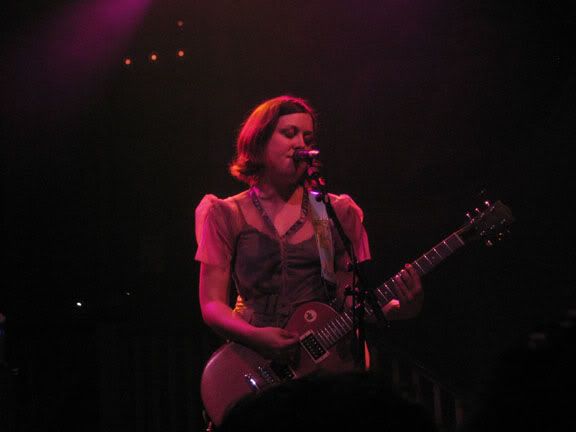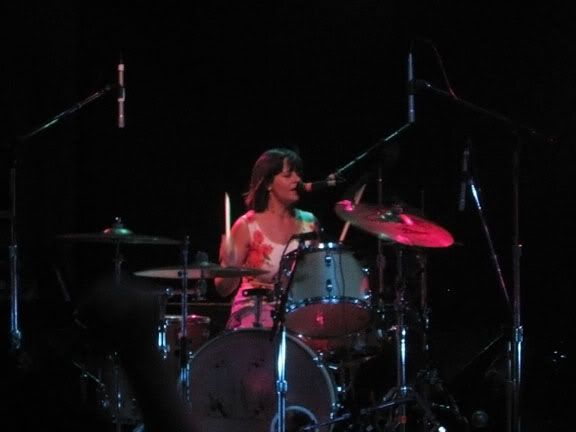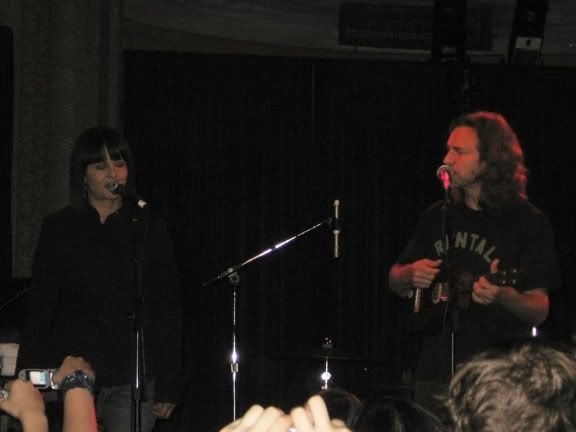 I spent Friday to Sunday in the Rose City for
Sleater-Kinney
's last two shows. Technically the door is open for them to come back, but if those performances turn out to be their last, they've certainly gone out on top. The band turned out 24 and 27 song sets on Saturday and Sunday (respectively) with only ten tracks overlapping and being played both nights. They ended up performing pretty much everything I've ever wanted to see them play.
The first night was absolutely intense. With one more show left to go the next evening, there was no meloncholy vibe hanging over the night's proceedings. Carrie, in particular, was on a mission. If I hadn't had abandoned aspirations to become a great lead guitarist long ago, she'd be my guitar hero. She came in with some monster riffage during "Little Babies" that morphed the post-chorus of the
Dig Me Out
fave into something that would be right at home on
the Woods
. "Little Mouth" and "I Wanna Be Your Joey Ramone" were delivered with a feverish energy, with the crowd giving as much as the band was. The first night sold out ridiculously fast, and the place was filled with hardcore fans, so all those "appropriate" crowd participation moments were huge. Hundreds of fists pumped in unison when Carrie shouted "let's go!" during "Jumpers" and those same voices and hands were there to back Corin's shouts of "Get Up!" during the next number. I've seen S-K six times, and this one was definitely the best. In fact, I wouldn't hesitate to say it's one of the best shows I've ever seen... and I go to a lot of shows.
Night two rocked hard, but you definitely got the feeling that everyone realized that the end was near. The setlist also featured more slower numbers (including a couple that they haven't played all that often in the last couple years). People were there to celebrate, but by the time the band came out for their last three songs, there were more than a few people who were visibly crying (I was a little choked up myself). "Good Things" was very sweetly dedicated to Corin's husband Lance Bangs (who's worked on a ton of great music videos, and was on-hand as part of the crew taping the show for a forthcoming DVD). Carrie thanked her bandmates and was moved to tears before ripping into "Turn It On." Then they played "One More Hour," had a band hug, shook some hands in the front row, and walked off stage arm in arm. Eddie Vedder (who dropped in to do two songs as the surprise opener) was right on the mark when he noted, "You hear about people who say they wish they were there: the Beatles, Led Zeppelin... the Who with Keith Moon, Hendrix... well, I'm happy that I can say I saw Sleater-Kinney in their prime, which is tonight."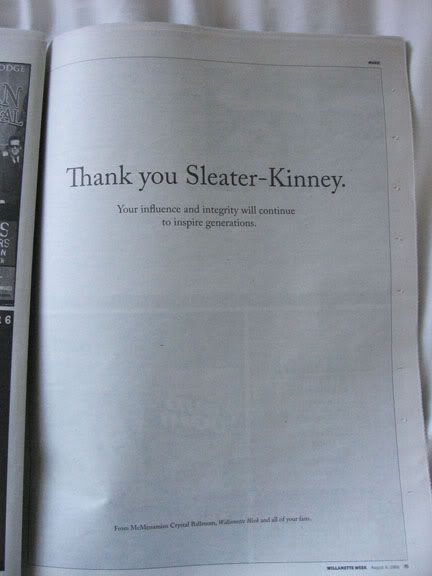 This full page ad ran in the
Willamette Week
(PDX's Georgia Straight), which says a lot about the esteem in which the band is held in their hometown.
I'm sure the whole show will show up as a bootleg sometime soon, but for now take a listen to Eddie and Janet dueting on Billy Rose and Lee David's "Tonight You Belong To Me."
download: Eddie Vedder and Janet Weiss -
Tonight You Belong To Me
(thanks to Jcrab66 from
Red Mosquito
for sharing this)
Oh... and why didn't anybody tell me Portland was such a wonderful city? if You've never been, I highly recommend making it a future vacation stop.
Tommorrow I'll catch up on all the show announcements I missed while I was gone.
now playing: Sleater-Kinney - I Wanna Be Your Joey Ramone
Thursday, August 10, 2006

small children in the background
apl has made an excellent point in the comments a couple of posts down: namely that the Toronto Cat Power shows are both 19+. He also makes the excellent point that I can never remember an all-ager at Richard's, can you? That being said, the Minneapolis shows are one all-ager and one 18+. Also, it begs the question as to why she wouldn't just play the Commodore once instead, as I doubt there are many people like me who are clamouring to go to both shows.
But, I suppose we shall see what the arrangement here is soon. Sorry if it ends up that I got some people excited for no reason.
edit: The early show
is
all ages. The shows are at 4pm/8pm respectively, and tix are onsale
right now
at Scratch and Zulu. (thanks Mark)
Uffie
is at the Library Square Public House on August 23rd. It's a "the Kids presents..." show, which means she'll get support from your favourite local DJs, I'm sure.
I'm away in Portland from tomorrow morning until Sunday evening. I'm watching Sleater-Kinney. I won't be one of those people who blogs while on road trips, so have a good weekend.
now playing: the Grates - Howl

"we've got one more, and then it's time for some super positive laptop hiphop"
I listened to a couple of recorded
Ninja High School
songs awhile back and, to be 100% honest, found them to be a bit ridiculous. After seeing them tonight - where they were, at the very least, pretty enjoyable - I could see how they've built up a rep in Torontopia as being the ultimate party band. If Video In had been about two and a half times as full with everyone cramped, sweaty and jumping around, it would've been a blast. In a half empty venue, even with the enthusiasm and energy that the band exuded, they weren't all that exciting though. If you're the type of person who has zero inhibitions about getting completely lost in sound and dancing spastically, I'm sure you would've had a blast, but for me the music's got to be absolutely mindblowing or the environment just has to be right. You know those house parties you've been to where everyone is crammed into the living room dancing up a storm? Ninja High School is the perfect band to play that party.
Hot Loins
played before NHS. I definitely don't dislike them, but they don't excite me all that much either. I dig noisy guitars and keys and frenetic drumming, so if they open a show I'm attending, I'm happy to watch, but I don't think I'd ever go out of my way just to see them specifically.
I would definitely go out of my way to see
Blue Grey Dots
again. After much raving about a handful of mp3s I finally got around to catching them live, and I'm happy to say they didn't disappoint. They're a little messier and a little noisier in the flesh, but I definitely don't have a problem with that. It's strange, because Hot Loins and BGD both have that characteristic Vancouver "sound" (blippy keyboards, dancy beats, yelling, etc), and while Hot Loins are pretty good, Blue Grey Dots have a that extra something that makes them stand out from the rest of the no-wavers in the city. Nicola from Blue Grey Dots also gave me a couple of free buttons, and really, who doesn't like free buttons? What can I say, I'm easy to buy off. Seriously though, they're great, so go and check them out.
now playing: Mirah - The Garden
Wednesday, August 09, 2006

the greatest
You know what happens when you forget to read the comments of your own blog? You realize that lovely people have told you about amazing shows, and then you post twice in a row like a giant internet loving dork.
Cat Power
will play two solo(!) shows at Richard's on August 27th. Chan will do an early show and a late one, so it's probably safe to assume that the first is all ages and the second is 19+. If you're like me, you'll probably go to both. I'm so excited right now, it's actually a touch embrassing. The best part about this? It's only a three week wait! (thanks to apl)
In more multi-show news,
Bonnie "Prince" Billy
will do two shows (originally announced as three on Pollstar) at St James Hall on November 10th and 11th. Another all-ager! (thanks William)
Betty LaVette
is at the Yale on September 5th.
now playing: Dani Siciliano - Too Young

the private press
Dj Shadow
is at the Commodore on September 19th. Tix are $40+charges. Perhaps this is so he can afford some bling to go with the sound of his new record... which I'm not feeling (except for that David Banner track).
Panurge
is at the Media Club on August 26th with
The Old Soul
and
Run Chico Run
.
The wonderful Miss
Casey Dienel
has a
website
again. There's a demo version of "the Tundra" up for download.
If you were at Celebs last Friday, you probably noticed that Marina from
Bonde do Role
was nursing a broken wing (that she suffered at PFork's festival while crowd surfing). Well, if you're so inclined, you can help her out with her hospital bills by
bidding on this eBay auction
for her x-rays, Pitchfork fest artist pass, and a Diplo autographed copy of their debut EP.
Finally, not that I like them all that much anymore, but when Ticketmaster announced they would start auctioning off the best seats in the house on certain shows, I certainly didn't expect
Tool to jump on board
. This is the type of thing you'd expect at the Who show, but I was a touch surprised by this. By "touch surprised" I mean "a touch surprised that Tool are such massive dicks." Remember when Maynard lent his pipes to the first Rage Against the Machine record?
now playing: Dani Siciliano - Didn't Anybody Tell You?
Monday, August 07, 2006

you and i are gonna live forever
Stereoboard
has the details about the Oasis greatest hits package,
Stop the Clocks
. (via
Adam Radwanski
)
Now, normally I wouldn't even bother to post news like this, because as much as I love the band's first two records, I don't really care what they're up to now (and I'm sure most of you don't either). But this is just... a gross misunderstanding of one's own work, even for the Gallagher's.
The tracklist:
1 Some Might Say
2 Don't Look Back In Anger
3 D'You Know What I Mean?
4 All Around The World
5 Go Let It Out
6 The Hindu Times
7 Lyla
8 The Importance Of Being Idle
9 Masterplan
10 Half The World Away
11 Acquiesce
12 Champagne Supernova
13 Rock 'n' Roll Star
14 Supersonic
15 Wonderwall
16 Whatever
17 Boy With The Blues
18 Stop The Clocks
You will notice there are three b-sides, a one-off single, two from that piece of crap
Be Here Now
and a mere two tracks from
Definitely Maybe
and one of them isn't "Live Forever." That's like R.E.M. leaving off "Losing My Religion" or if the Nirvana best of was missing "Smells Like Teen Spirit." For serious.
now playing: Oasis - Live Forever

crank heart
Xiu Xiu
is at the ANZA Club on November 2nd. I was a little underwhelmed last time I saw them, but I think I might check this out.
Frank Black
is at the Commodore on November 12th.
More Cowbell
has the rest of the tour dates.
Miss Kittin
's tour is cancelled.
If you have been blinded by sunshine and summer, you should know that it's been a tough week for rock 'n roll
Arthur Lee
passed away,
Death From Above 1979
broke up, and
The Deadly Snakes
also called it quits.
now playing: Destroyer - Makin Angels
Friday, August 04, 2006

think i was blind before i met you

I'll Make You A Tape (Vol. 3)
download:
love songs
Two very dear friends of mine just got engaged, so to celebrate here's a collection of some of my very favourite songs about being in love. Usually I tend to gravitate towards songs d'amour that have a bittersweet edge - because I'm a cynic like that with myself - but these are all unabashed, sugary sweet, pure and simple love songs. My peer group is still at that age where the announcement of a friend's marriage usually makes us collectively gasp and think "crazy." But, I know I speak for most everyone I know when I say we're all super excited about this one.
Congratulations, Jess and Alan!
1. The Brunettes - Holding Hands, Feeding Ducks
2. Feist - Mushaboom
3. Esthero - Everyday is a Holiday (With You)
4. Magnetic Fields - When My Boy Walks Down The Street
5. Math and Physics Club - You're So Good To Me
6. Sarah Harmer - Open Window (The Wedding Song)
7. Whiskeytown - Paper Moon
8. Bright Eyes - First Day Of My Life
9. Stars - The Aspidistra Flies
10. R.E.M. - Nightswimming
11. John Lennon - Real Love
12. The Zombies - This Will Be Our Year
13. Hello Saferide - Get Sick Soon
14. New Buffalo - I've Got You and You've Got Me (Song of Contentment)
15. Jeff Magnum - I Love How You Love Me (Phil Spector Cover, Live)
now playing: R.E.M. - Bittersweet Me
Labels: mixtapes
Thursday, August 03, 2006

all fires have to burn alive to live
Those folks at
Jagjaguwar
are the best. I mean that. Last week they hooked us up with
new Ladyhawk
, and this week they've been kind enough to send out a link to a song from the new
Swan Lake
album,
Beast Moans
. If you've been away from the internet for the last month or so, Swan Lake is Dan Bejar (Destroyer, New Pornographers), Spencer Krug (Wolf Parade, Sunset Rubdown, Frog Eyes), and Carey Mercer (Frog Eyes). Sounds like Spencer's taking leads on this one, which makes it very Rubdown-esque. Are you pysched? Me too. Maintain that excitement until the November 21st release date. All the album info is:
here
.
download: Swan Lake -
All Fires
(via Jagjaguwar)
now playing: Swan Lake - All Fires

everybody get random
Lady Sovereign
is at the Commodore on November 10th. Rather than throw up an mp3, why don't I direct you to these behind-the-scene pics of the "Hoodie"
videoshoot
that my dear friend Aleks took (she's in the video, even). (thanks Shea)
Magnolia Electric Co.
is back in town on October 11th. They're doing Richard's again. Hopefully it doesn't turn into a lake.
Califone
is at the Media Club on October 14th. Yet another non-Sufjan event for you on that night.
The (sorta) long lost Points Gray LP (featuring one Dan Bejar and also Robert Dayton) should be available at most of Vancouver's fine retailers of independent music soon. There's one song streaming on
1777Rex's MySpace
.
All
of
these
people
saw
Sleater-Kinney
last night, which is getting me even more excited for my own trip to Portland to see the band's two farewell (hopefully, "see you later") shows. If you couldn't make it to any of the final shows (or even if you did/are), you should know that the DC show - which was cancelled a couple days ago due to a blown transfomer - is streaming live on
NPR
tonight at 6pm PST.
edit:
Pfork reviewed Ladyhawk today
.
now playing: The Hold Steady - Sweet Payne
Tuesday, August 01, 2006

fuuuuun
The shows keep coming...
Be Your Own Pet
are at Richard's on October 27th. (thanks
Hanson
)
download: Be Your Own Pet -
Girls On TV
Viva Voce
are at the Media Club on September 22nd.
download: Viva Voce -
We Do Not Fuck Around
De La Soul (who don't seem to have an official site) play UBC's Pit Pub on September 10th with
Mike Relm
and
Cadence Weapon
.
download: Lil' Wayne -
Fireman (Cadence Weapon's Snow in Edmonton Remix)
Two Gallants
are at Pat's on September 22nd... toss up between that and Viva Voce.
Daytrotter
has four new Two Gallants' tracks up.
The Clientele
are at Pat's on August 25th... good promo for that one. (thanks to apl for the last two)
Kid Koala
is at Richard's on November 5th. Doesn't he usually do the Commodore?
Shameless self promo: I did
Music Pix
for the Tyee this week and have a bunch of stuff in
Discorder
this month. Discorder also features interviews with
Casey Mercer
of Frog Eyes and
Efrim from Godspeed/ASMZ and Carla Bozulich
that I enjoyed immensely.
now playing: Black Rebel Motorcycle Club - Rifles