Tuesday, February 28, 2006

late breaking story on the CBC
One Song: Perfect Songs for an Imperfect World Nation

download: The Tragically Hip -
Wheat Kings
After a
recent Stylus article
posited that
the Tragically Hip's
mass appeal on this side of the 49th may be largely due to the fact that they are quintissentially Canadian, I had a debate with a friend of mine on the very subject. She countered that their popularity here might be due, in large part, to the fact that they never caught on South of the border. There's certainly something to that argument. Canucks are apt to distance ourselves from our American brethren in any way that we can. However, there is a significant part of the Hip's catalogue that, in all likelihood, will resonate with the kid from Kingston (Churchill, Prince George, Amherst, etc) more than it will with someone born and raised in Houston or Chicago. "You said you didn't give a fuck about hockey, well I've never heard someone say that before," is a line that probably comes off as some sort of ironic joke in Kentucky. Similar tales of of on-ice legend, historical references, and distinctly Canadian cultural and political themes seep their way into much of Gord Downie's brilliant, often dense, lyricism, producing songs that, for lack of a better phrase, hit close to home for those brought up in the true North, strong and free. "Wheat Kings" is one of those songs.
David Milgaard's
wrongful conviction, and his ensuing fight to clear his name, is a drama that is engrained in this Nation's consciousness. And, as with Dylan's chronicling of Hurricane Carter's struggle for justice, "Wheat Kings" creates a snapshot, not only of events, but of how the events fit into the socio-political landscape. There is, however, much more to the song than the history, as Downie's retelling weaves its way around imagery that conjures up, quite fittingly, both the hope and hopelessness that pervades through the expanse of the Prairies. At the same time, whether it be Saskatoon or Toronto (or any place East, West, or in between), "Wheat Kings" is one of those rare tunes that manages to strike an even rarer chord, hitting on the very fragile pan-Canadian sense of identity that, quite infrequently, shows itself. Perhaps I'm at the tail end of the last generation who can relate to walls "lined all yellow, grey, and sinister, hung with pictures of our parents Prime Minister." But, the phrasing still evokes memories of mine: doddling through underfunded public elementary school buildings, looking up at Turner, Diefenbaker, Trudeau, at the time just anonymous old men to me. More than anything, Downie's lyrics create in the listener, the feeling of so many parts that add up to become the natural whole of a typical Canadian upbringing. Those lyrics, however, have always been underpinned by the Hip's collective, very underrated, musicianship.
Without the band, Gord would still be quite the poet. But, if it's his words that draw the picture, it's the instrumentation that fills in the colour. A couple of acoustic guitars, bass, drums, and a subdued recording culled from the prairie wilderness, "Wheat Kings" is remarkable, not for what it does, but what it doesn't do. There is nothing showy. The solo and leadlines are tasteful, adding to, but never overshadowing the whole. The entire peice is so politely restrained. How very Canadian.
now playing: The Tragically Hip - Wheat Kings
Labels: one song, tragically hip
Monday, February 27, 2006

takin' takin' takin' takin' takin' it off
No
Yeah Yeah Yeahs
ticket info yet, but here's a little something to tide you over.
Show Your Bones
definitely hasn't hit me like
Fever to Tell
did... but we'll see what happens after more than one listen.
download: Yeah Yeah Yeahs -
Cheated Hearts
The Constantines
drop back in on Vancouver before heading down to Sasquatch. The Cons are set to rock a venue TBA on May 25th, with
Blood Meridian
.
Way in advance, but... Jason Molina brings
Magnolia Electric Co.
back to town on July 30th at another undetermined venue. If you are one of the people who insisted on yelling "Songs: Ohia!!!" over and over again last time they played here, please make alternate plans for that evening now.
A-Trak
spins at Tokyo Lounge on May 15th.
According to their booking agency,
Frog Eyes
support the Sunset Rubdown on May 7th. Busy night for Spencer.
Matthew Good
has added two more acoustic dates, one before and one after, the originally scheduled April 21st show.
now playing: Yeah Yeah Yeahs - Honey Bear
Sunday, February 26, 2006

dj kicks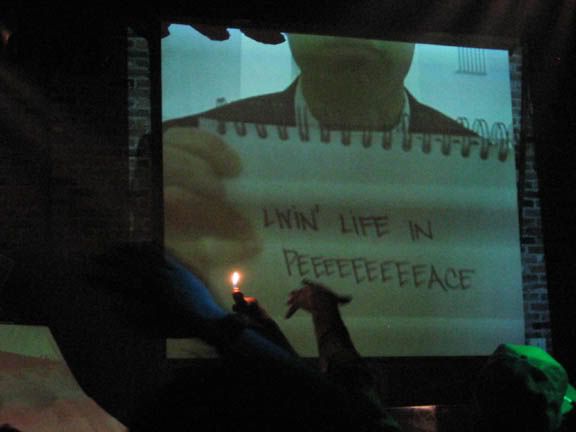 The utter and complete insanity that is
Mike Relm
was summed up quite aptly by a guy a met at the show last night. He was talking about seeing him last year at the 604 Hip Hop Expo, where Mike opened for former DMC Champion (and now Kanye West DJ) A-Trak, and recalled, "A-Trak came on to do his thing and people just sorta shrugged, like "what? that's it?" No dispresect to A-Trak, because he's an amazing DJ. But there are DJ's and there are spectacles, and a Mike Relm show is a spectacle. If you have even a passing interest in turntablism and were not in attendance last night you severely dropped the ball. We're talking "down by 6 at the superbowl, unforced fumble on the 1 yard line" type ball dropping. It's hard to pick a place to start, it's near impossible to pick a highlight. But the thing that would have won over absolutely everyone was scratching his visuals. Yeah, you read that right. He scratches DVDs. I know that sounds gimmicky... and it is. But, it's also utterly amazing. It's really quite difficult to write about what a great audio/visual experience it was. You really had to be there. Luckily, every single person in the very diverse crowd will be raving about the show for the next week or so. If you know anybody at all who went, you can guarantee that next time Mike Relm comes to town, someone will implore you to go. Take their advice. That pic up there is from the finale. A remixed, lighters (and cellphones) up, singalong of "Imagine."
Vancouver's own
No Luck Club
came on right before Mike Relm. And, while I quite enjoy their unique brand of instrumental hip-hop, their set seemed to drag a bit. Plus, they were sandwiched in betwee two sets of unabashed party music, making them seem like a bit of a lull. It was more a time/place thing, than a quality thing.
Montreal's
Skratch Bastid
started off the evening's proceedings, and quickly warmed up the crowd. For one, the guy's a pretty damn good scratch DJ (you pretty much have to be to have that pseudonym). But, in addition, he also spun one of the most fun (mainly) hip hop sets that I've heard in ages. Maybe it's just that I'm a sucker for the old "drop the sampled track before track that used the sample," but judging from the sheer number of people dancing, it wasn't just me.
now playing: The National - The Thrilling of Claire
Saturday, February 25, 2006

all their broken hearts
I was out of town, and then working overtime finishing an essay, but here is some stuff that you may or may not have already heard about that happened since I left...
Julie Doiron
is at the Media Club on April 19th. If you would like to get yourself as excited as I am for seeing Julie live, you should head over to the fabulous
Section Two
, who have a live set by Julie up in mp3 for your downloading pleasure. While you're at it, check out video of John K. Samson (of Weakerthans fame), Christine Fellows, and others. (thanks to Shea for the show headsup, thanks to the also fabulous
B(oot)log
for the link to Section Two)
Need to keep up to date with all those local shows that I a) don't hear about or b) don't mention? (it's not because I'm some scene hating curmudgeon, it's just hard to keep track of them all) Well, check out
The City Is Here For You To Use
, and sign up for their online zine, which will be delivered promptly to your inbox every two weeks, chock full of VanCity happenings (music and otherwise) to keep you occupied.
Blackalicious
is at the Commodore on April 21st. If you're not into spending the $25, but are into spending some gas money to get up to Whistler, you can check them out at
the Whistler Ski and Snowboard Fest Outdoor Concert Series
for free on the 22nd. J5 plays on the 22nd, and Metric rocks the mountiain on April 18th.
You should read
this article
(
login/pass
) about
Broken Social Scene
(and the Toronto "scene") right now. You probably want to avoid the bickering over at stillepost about said scene, however. (via
Chromewaves
)
In more BSS linkage,
Stereogum
has the original version of the band's cover of "Puff the Magic Dragon" up for download. Paper Bag Records couldn't get the songs publishers to sign off on the ultra wierd tale of reunion at the end.
Hard-Fi
hits the Plaza with
the Rakes
on April 22nd.
This has been posted all over the place, but if you didn't already know,
Team Love
is very graciously hosting the
Jenny Lewis and the Watson Twins
record up on their site. I would assume they don't have the rights to give away the cover, but everything else is there. If you haven't already bought the record, go forth, download, listen, fall in love, and then (and this is the important part) help the fine people at Team Love prove that if you put out quality releases you have nothing to fear from file sharing by running down to your favourite independent record store to buy
Rabbit Fur Coat
.
Finally, the
TV On The Radio
show has gone from "venue TBA, surprise coming!" to back at Richard's. We, of course, will not hold this against
SWAK
, because they are unquestionably awesome. In lieu of any surprise on May 6th, here's the leadoff track to their forthcoming record. This is unmastered, but its a bit of a taste of what to expect when the real deal hits the streets.
download: TV On The Radio -
Playhouses (unmastered)
now playing: Animal Collective - Turn Into Something
Wednesday, February 22, 2006

sometimes i think that im bigger than the sound
Yeah Yeah Yeahs
are coming! Mark your calendars boys and girls... April 24th at the Orpheum. I usually avoid rock bands in theatres with seats, but my love for the YYYs is deeper than... something really deep. (via
Brooklyn Vegan
).
Nothing new from
Show Your Bones
to share, but why not check out this live version of "Cheated Hearts" (from Zane Lowe's show), which could be, according to
Sasha Frere-Jones
the album's "hit."
download: Yeah Yeah Yeahs -
Cheated Hearts (live acoustic)
He of many a CanRock hit, and many more opinions,
Matthew Good
, will be playing a solo acoustic show at the Van East Cultural Centre on April 21st. Tix are on-sale on Friday. My interest in Mr. Good (which reached it's fervor around 1999/2000) has wained, but I'll admit that this gets me kinda interested.
Editors
play Richard's on April 25th with
Stellastar
in tow. The Ladytron show is now at the Commodore (actually, I think it's been there for awhile, I just kept forgetting to update). (via
More Cowbell
)
Sean
has some Radiohead news. It appears that Oxford's finest are making another go at recording fan favourite, "Nude." If you're unaquainted with the popular (thus far only) live track, he's also been gracious enough to throw up a bunch of mp3s.
Finally, in the "nobody who reads this cares anymore, but goddamnit I do" category,
Pearl Jam have new single and album release dates
. "World Wide Suicide" is out on March 14th, and their new, self-titled record is out on May 2nd.
now playing: Catatonia - I Am The Mob
Tuesday, February 21, 2006

so says i
So, according to
this graphic,
Sasquatch
is
three days(!)
this year. Now maybe, I'm just getting myself worked up to be let down, but if you're having a three day festival, it's gotta be friggin' good. And, considering how amazing last year's lineup was, this year should prove tremendous. So far, rumours abound that the Shins, Rogue Wave, Constantines, Neko Case, Pretty Girls Make Graves, and Sam Roberts we'll be playing the Gorge on Memorial Day long weekend.
The official announcement is tomorrow (technically today) at 5pm on Seattle's
The End
.
edit: The PFork has the bulk of the lineup. The headliners don't excite me that much, but the rest of the lineup is enough to drag me down to the desert.
now playing: Uncle Tupelo - I Wanna Destroy You (Soft Boys Cover)
Monday, February 20, 2006

the slow descent into alcoholism
If you head over to
The New Pornographers
website, you'll notice that they have a date for April 7th listed at UBC's T-Bird stadium. You'll also notice that
Corb Lund
,
the Weakerthans
, and local popsters,
the Salteens
are on the bill as well. If you're one of us student folk, you'll note that April 7th is the last day of classes, which only means one thing: the concert/gigantic beer garden better known as,
Arts County Fair.
Look for a fifth act to round out the bill. I can't devulge who it is, but
holy smoke.
The lineup gets its official unveiling in a couple of weeks, with ticket sales to follow.
Microhouse hero,
Matthew Dear
is at the Plaza on April 20th.
Lyrics Born
are at the same place, six days later. The Plaza's really stepping it up on the live shows, eh?
Head over to
Stylus
for Matt Sheardown's great article on the Canadian institution that is
the Tragically Hip
.
Finally... it's been exactly one year since I decided to make the jump into the "blogosphere, and what started as me writing for nobody, has surprisingly resulted in things like being introduced as "Quinn... he does From Blown Speakers" on occasion. Which, is wierd, but kinda cool. So, thanks for reading.
Wait.. I lied. One more thing.
See You On The Moon! Songs For Kids Of All Ages
just leaked. I'm sure everyone is waiting on
Broken Social Scene's
rendition of "Puff the Magic Dragon," or maybe the
Sufjan Stevens
track, but on first listen, the title track, by
Great Lake Swimmers
, is sticking out for me. You can't mistake Tony Dekker's voice, but instead of the usual somber number, it sounds like he's fronting the Shins, and that, my friends, is awesome. Junior Boys, Mark Kozelek, and Apostle of Hustle (among others) contribute. So far, the entire thing is really enjoyable, and not just from a novelty standpoint. Pick it up in stores on March 21st.
download: Great Lake Swimmers -
See You On The Moon!
now playing: Apostle of Hustle w/the Huskies - 24 Robbers
Sunday, February 19, 2006

come on die young
linkage:
Coldplay aren't splitting up (dammnit).
But really, if they did split up, then how would the world get such great soundbites from Mogwai:
"Coldplay's Chris Martin hinted he may avoid the limelight. 'People are fed up with us and so are we,' he said. No shit fuckface."
Although, that's not as good as what they had to say about James Blunt... or what
Paul Weller had to say about James Blunt.
Beautiful.
If you scroll through this thread on
RyanAdams.org
you can find some YouTube videos from his show last night in Liverpool. YouTube is definitely awesome, and I don't want to sound like a thankless internet-era whiner... but it seems like since it took off, you very often get videos uploaded there, but are very rarely getting a decent quality vid circulating. At any rate, if nothing else, check out the performance of "Call Me On Your Way Back Home."
Matthew
has part 1 of his excellent interview with
Cadence Weapon
up. Part two goes up tomorrow.
These people are awesome.
(via
Brooklyn Vegan
)
now playing: Blind Willie Johnson - John the Revelator
Friday, February 17, 2006

red is my favourite colour
So... I neglected to mention that Sparrow is playing tonight at Richard's (it's a CD release), because... well, initially I just kept forgetting, and also because, I really don't care for Sparrow very much (musically, I'm sure he's a nice dude). What I do care for very much, however, is
Okkervil River
. And, word on the street is that Okkervil frontman, Will Sheff, will be performing solo right after Romance (featuring members of Ladyhawk). So... tonight (from first to last): Love & Mathematics, Great Aunt Ida, Romance, Will Sheff, and Sparrow all at Richard's for $10. Drs. at 8pm, the first show at Richard's that isn't one of those that has to end at 10:30pm so barstars can tear the club up. I got this info second hand, so it's not a guarantee... but I'm probably going to head down now.
Tiny Mix Tapes
has info on a forthcoming Serge Gainsbourg tribute album.
Filles Sourires
has an .mp3 of Cat Power and Karen Elson's cover of "I Love You (je t'aime... moi non plus)."
The RIAA thinks ripping CDs you purchased and putting them onto your IPod should be illegal.
One day, all of these people will be out of jobs, and the world will be a better place.
Something Awful
blesses us with Volume 2 of their "Field Guide to North American Hipsters." (thanks to Graham for the link)
now playing: Two Gallants - Las Cruces Jail (Radio Edit)

100 million reasons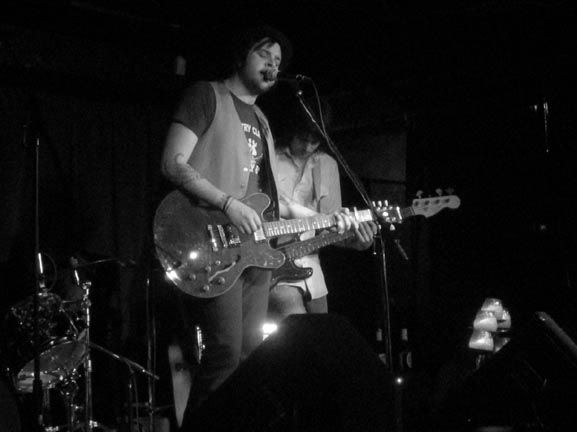 Went down to the Media Club to check out
Leeroy Stagger
tonight. Last month, when he played at UBC, it was definitely more of a mellow set. Tonight Leeroy and the Sinking Hearts came to rock. I haven't had any of his records for very long, but both this time around and in January, I was surprised at how familiar the songs felt. The new tunes were pretty ace too. Oh, and I didn't really notice it the first time I saw him (again, probably due to the mellower set), but jesus christ can his lead guitarist wail... and that's wail in a tasteful bluesy-country way, not "wail" in some shitty cock rock way.
Matt Camirand opened the show playing a solo
Blood Meridian
set, which was a cool change of pace.
now playing: Leeroy Stagger - Two Night, One Night Stand
Thursday, February 16, 2006

arkless
Wilderness
play the Media Club on April 23rd.
Parts and Labor
and
Ladyhawk
open. Jagjaguwar, represent.
Josh Rouse
is at the Red Room on April 22nd.
The
TV On The Radio
show venue is now TBA. Apparently, "exciting news will be announced soon" though. Hopefully this means another SWAK we're-combining-multiple-shows-to-make-one-ridiculously-awesome-show show.
P.O.S.
is now at the Buffalo Club, which is being touted as "a new hip-hop friendly live spot." Good to hear.
Redneck, macho, country singers:
Willie Nelson pwns you.
As you've probably already notices, a pair of
Guns N Roses
demos have surfaced on the internet, meaning
The Chinese Democracy
might actually see a release before the Chinese see democracy. They suck... not as hard as I thought they would, but they suck. If you want'em you they're all over the place though.
Last, but not least, if you were looking for a way to maintain your vow of abstinence, look no further than this
Kid Rock and Scott Stapp (not doing it together) sex tape
. (via
Stereogum
Good thing Creed broke up, because Scott's Focus on the Family endorsement just expired.
now playing: Leeroy Stagger - Just In Case
Wednesday, February 15, 2006

can't you see, i'm in misery
Here is what I know about
Vetiver
: they record with Devendra Banhart and Joanna Newsom, and they covered "Be Kind To Me" by Michael Hurley. I had decided to download some of their music to check them out, and will probably pick up the record later today (are you reading that RIAA? people do that. download things and then buy them if they don't suck).
Here is what I know about Michael Hurley: he recorded his first record (which I'm also previewing in mp3 format right now) in 1965, and has been covered by a bunch of indie-folk contemporaries, like Vetiver and Cat Power ("Werewolf," from
You Are Free
).
Here is something new that I know about them: they are both coming to Vancouver on March 28th, and are playing the Media Club. You should go. Also on the bill is Currituck Co., whom I know little about, other than the fact that Kevin Barker (who is essentially the band) plays with Antony from time to time.
Check out the afermentioned Vetiver recording of "Be Kind To Me" (taken from last year's Believer Magazine Comp) to get yourself psyched up. This is what I wish every party I went to turned into... some kind of hootenany, where everyone sings semi-obscure folk stompers.
download: Vetiver -
Be Kind To Me (Michael Hurley Cover)
The previously mentioned
Ladyhawk
show on March 3rd, is actually being headlined by
S.T.R.E.E.T.S.
, and is their
farewell
show.
Pinback
are at the Plaza on April 24th.
Yesterday the Province reviewed the latest Ariel Pink record and said that he actually was playing Richard's. Of course, it is the Province, so chances are they were wrong. Did anyone try to go down to Richard's last night? I just figured it was off and went to Celeb's instead.
As you have probably already heard, the Franz/DCFC extravaganza is taking place in the massive confines of the Pacific Coliseum. Tix are on presale now for $35/$45, though the presale's now been going on for 2 hours, so you may want to wait til the regular on-sale on Friday at 10am if there are no floor tix left right now. At any rate, Cy has kindly provided the presale passwords, CUTIE for the HoB one, FRANZ for the CFOX one.
Lastly, if you were planning on going to Seattle to check out Cat Power before she cancelled, take this as small consolation. Check out this video of
the Flaming Lips and Chan Marshall covering "War Pigs"
on Austin City Limits. Also note, one Conrad Keely (of ...And You Will Know Us By The Trail Of Dead fame), who is totally psyched in the front row.
now playing: Cat Power - The Greatest
Tuesday, February 14, 2006

metal heart
Happy Valentine's...
download:
From Blown Speakers VD Mix
1. Hot Hot Heat - Keep My Name Out Of Your Mouth
2. The Blood Brothers - Love Rhymes With Hideous Car Wreck
3. The Icarus Line - Kill Cupid With A Nail File
4. X Lover - Faking It
5. The Streets (feat. Kano, Donae'O, Lady Sovereign, and Tinchy Stryder) - Fit But You Know It (Remix)
6. The Constantines - Why I Didn't Like August '93 (Elevator to Hell Cover)
7. The Cardigans - I Need Some Fine Wine And You, You Need To Be Nicer
8. Ryan Adams - Love Is Hell
9. The Smiths - Bigmouth Strikes Again
10. Leeroy Stagger - I Break Hearts
11. Whiskeytown - What May Seem Like Love
12. Saturday Looks Good To Me - We Can't Work It Out
More Valentine's related music at
Soviet Panda
More non-Valentine's related music at
the Tyee
. This week features Siik, Cadence Weapon, Nick Catchdubs, McSleazy, and Cosmo Baker remixing Amerie, Ghostface, Jay-Z, Kelis, and The Temptations, respectively.
now playing: Six By Seven - Overnight Success
Monday, February 13, 2006

baby baby make that sound
I was pleasantly surprised to read on the
the Pfork
that
the Seconds
are releasing a new album,
Kratitude
, on March 21st. Featuring the Yeah Yeah Yeahs' Brian Chase and the Ex-Models' Zach Max (and rounded out by bassist Jennie Kwon), the band's debut,
Y
, was one of my favourite discoveries of 2002 (though it came out in 2001). Frenetic, jerky, noisy, and (forgive the term) "angular;" if you like to shake it, check out the mp3 below. Come to think of it, they sound, unsurprisingly, kinda like the Ex-Models crossed with the Yeah Yeah Yeahs. And yes, that is a Madonna cover. Check out some more mp3s at the bands official site.
download: the Seconds -
Burning Up
Seu Jorge
is at the Centre for the Performing Arts on June 23rd. I don't watch a lot of movies, and people send me a lot of music, so I think I may be one of the few people who don't recognize him as "the guy who sang Bowie in Portuguese in Life Aquatic," and instead saw
Life Aquatic
for the first time (only recently) and commented to my ex-gf that "I swear I know that guy singing the Bowie in Portuguese from somewhere." Evidentally, I don't pay attention when people are telling me the backstory behind the music they send me, because I'm sure the
Life Aquatic
thing must've come up.
Michael Franti
plays acoustic at the Commodore on April 2nd. The evening will also include a screening of his film,
I Know I'm Not Alone
, which chronicles his travels through Iraq, Israel, and Palestine.
The Book of Lists
are at Pat's on February 24th. Guitarist Trevor Larson also has some of his art on display right now at the Helen Pitt Gallery.
Ladyhawk
plays the art space at 156 W. Hastings on March 3rd. Apparently this its also the new home of Misanthropy. (thanks to Shea for the last two)
now playing: the Seconds - Dedicated
Sunday, February 12, 2006

we assure you, we're open
Clerks 2 Teaser
I don't care if his last couple of movies sucked. I am still totally psyched.
now playing: Saturday Looks Good To Me - Summer Doesn't Count, Unless You're Here With Me
Saturday, February 11, 2006

if you walk away, i'll walk away
One Song: Perfect Songs for an Imperfect World

download: Bright Eyes -
Landlocked Blues
I never "got" Conor Oberst before 2005. Sure, he had a great tune in him here or there, but the overemotional crap and the vocal "quirks" that peppered the material between every "Make War" and "Lover, I Don't Have To Love" were a little too much for my liking. He's always been divisive. Either he's the next Dylan in your eyes, or you think he's a complete write off, and by in large, I fell into the latter camp.
I'm Wide Awake, It's Morning
changed all of that.
I actually remember ribbing a friend who went out to pick up the record the day of it's release, even before I'd heard it. (sorry Shea) It was just another Bright Eyes record, right? Not quite.
I'm Wide Awake...
was consistent; consistentally strong, in fact. All those things that annoyed me about Oberst before (mostly how "emotion" translated into a gutteral wail) were gone. And, while it's still hyperbole, those Dylan comparisons weren't totally laughable anymore. I fell in love with the entire album, in fact, I'm listening to it right now, and I listened to it yesterday, and once the day before that. The record is great as a whole, but it's track 8, three songs from the end, that makes this album. That song is "Landlocked Blues."
The structure is a simple one, but it's also got that feel to it. It's simple in the way that "The Time They Are A Changin'" or "Ringing of Revolution" (Phil Ochs) or "Helpless" is simple. There's no Brian Wilsonesque genius chord changes, but the sound is undeniably classic. The lyrics seem effortless, instinctual even, but at the same time so carefully and meticulously crafted - deeply personal, but with some strangely wide scope, personal and political, with a feeling of loss that ties them both together - all crammed into five and a half odd minutes. Whenever I sit down with my guitar, this is the kind of song I wish I could write, but I never do. It's the type of song that could stand alone as just guitar and vocals, but the arrangement is very much a part of the larger, glorious, whole.
Tasteful acoustic leads fill in the space between the verses, and those magnificent sounding horns blare out what sounds like "Taps," which isn't so much odd, as it is incredibly fitting. And then there's Emmylou Harris. I've read some people opine that the country Miss took away from this song (that was widely known via live recordings before it's official release), but, if you ask me, the ragged harmony that she provides is the final bit of icing on the cake.
now playing: Bright Eyes - Landlocked Blues
Labels: bright eyes, one song
Thursday, February 09, 2006

the fallen
Franz Ferdinand
is
on the bill for the
Death Cab
show on April 28th. It'll be all ages. More info when it's announced.
Mates of State
have reworked their West Coast tour schedule, and will hit the Plaza on April 21st. (thanks Shea)
What's with the Plaza actually becoming a regular live venue?
The Ariel Pink show is definitely
off
... sorry if this blog contributed to the widespread confusion around the whole thing, but super wierd, super arty dudes generally aren't exceptional at getting reliable information out.
The Grates
are opening the We Are Scientists show. I don't know anything about them, but
Sean
says they're swell, and he rarely leads me astray... even though he has an undying love for U2. (zing!)
City and Colour
are at the Mesa Luna on March 26th. I just realized this is the dude from Alexisonfire, and am now trying not to say anything rude.
Secret Mommy
is also on the Jason Forrest/We Are Wolves bill.
My!Gay!Husband!
is spinning rekkids. This show has quickly gone from an easy pass for me (when it was only a We Are Wolves show) to really goddamn impressive.
Last but not least, you might be sick of Grammy punditry, but I feel the need to note that while watching the replay of the Gorillaz/Madonna extravaganza, it was the time in my life when I've felt most in tune with a cartoon character, as I too, am motivated to look bored and fiddle with my cell phone, a la 2d, whenever De La Soul has started rapping... at least in the last decade or so.
now playing: Cat Power - Colors and the Kids
Tuesday, February 07, 2006

some white boys surely imitate that
As they say, if you snooze, you lose...
I was going to post the new
Yeah Yeah Yeahs
single for you today, but sleeping in and being on the West Coast means that everyone else has posted it already. So jump over to the sidebar and go find it before people get cease and desist orders. According to
Stereogum
, "Gold Lion" was produced by Sam Spiegel (aka Squeak E. Clean), who you may remember from his wonderful collaboration with Karen O. for that Adidas-commercial-come-Itunes-mini-hit.
Instead of that, why don't we talk about
Spank Rock
? Think about how excited you were when you heard grime for the first time, because that's how excited you should be about this. Hip Hop that is anything but generic sonically, though lyrically it might remind you of crunk (ie. if you're easily offended by dirty lyrics, you might want to avoid it). Apparently the genre is
"Baltimore Club"
. Don't ask me to elaborate on that... but the mention of
Hollertronix
(Diplo and Low Budget) in the wikipedia entry is something you can probably relate to. Lots of bass, off kilter samples, stabbing synths, and 8 bit video game blips.
download: Spank Rock -
Touch Me
download: Spank Rock -
Put That Pussy On Me (Diplo Tonite Remix)
Death Cab
will be back on April 28th at a venue TBA. They're going to be touring with
Franz Ferdinand
, but apparently that co-headlining venture ends a couple of days before in Calgary, before the Franzy boys head south for Coachella. Either way you'll have to tape the OC that night, in order to further reflect on Ben Gibbard's insightfulness in live setting. (thanks Lauren)
We Are Scientists
are at the Red Room on March 29th. (thanks Shea)
In, you might care about the openers, but you probably (hopefully?) don't care about the headliners news,
The Boy Least Likely To
are in town on April 2nd... with James Blunt, and
Minus the Bear
play April 3rd at the Croatian Cultural Centre... with Thursday.
Finally, apologies... but I have no idea what's up with the Ariel Pink (non?)show on Valentine's Day. It was up on his touring agency site (and a couple of other places), but has now been unceremoniously removed, which sucks, as this tour he's letting
anybody
play in his backing band, provided they show up for soundcheck.
now playing: LL Cool J - Two Bit Rhythm (M.I.A. Mix)
Thursday, February 02, 2006

your blood in mine
Forget what I said about
Serena Maneesh
playing on March 25th, because
SWAK
has one upped themselves and booked them a day earlier with
Art Brut
. If you don't already have a ticket for Art Brut, and are not currently skipping work/school/running for your door to get a ticket for this, you are a foolish human being. No "I'm going to Belle and Sebastian" excuses, this is an early show, you can do both.
In other SWAK related, "we're putting two artists together to make one superduper show" news,
Jason Forrest
is now set to headline the show previously announced as a
We Are Wolves
affair (though they're still on the bill).
Are you excited for upcoming shows yet?
Dungen
plays Richard's on April 23rd.
How about now?
Wintersleep
are at the Media Club on March 31st.
Ok, that last one didn't really excite me either, but I was already excited.
I went to see Jeff Tweedy again last night. Since I'm a fairly massive
Wilco
fan I usually try to see them twice when they do a West Coast swing as well, though they don't vary the setlist up that much, so I wouldn't recommend it for casual fans. That being said, of the 20 or 22 songs that Tweedy played both nights, 10 or so varied from night to night... well worth the trip down.
now playing: Wilco - ELT
Wednesday, February 01, 2006

i was tamed by rock n roll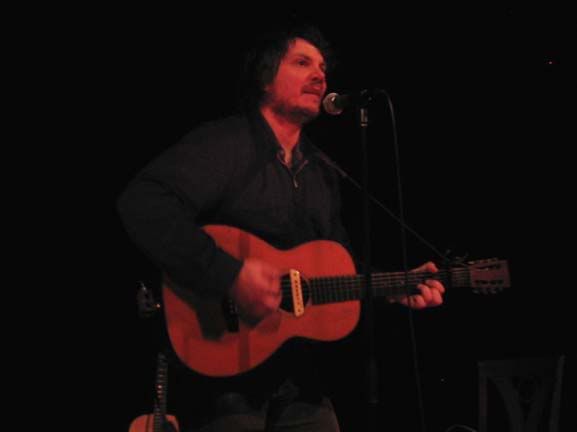 Wilco
is one of my favourite bands, so suffice to say, Jeff Tweedy could've come on stage, went through the motions on a couple of numbers and left, and I still would've left satisfied. So, after witnessing nearly two hours of Jeff doing songs by Wilco, Uncle Tupelo, Loose Fur, from the Mermaid Aveneue Project, and some cover tunes I'm still a bit awestruck. On any given tour, Wilco's setlist becomes fairly predictable (notwithstanding a one or two song change from night to night), but a Tweedy solo outing is a little more adventurous. It's also a chance to hear songs that the band rarely (if ever) plays. If you're a fan of the band, you've heard him wail during the solos from songs like "Spiders (Kidsmoke)," but I think I'm honestly more impressed with his acoustic chops. The end of the set closing "Acuff Rose" (from Uncle Tupelo's swan song,
Anodyne
) was amazing. And, in addition to the music, the stage banter was almost worth the price of admission in and of itself. If you missed out on this one, you totally dropped the ball. I, on the other hand, will be heading down to Seattle on Thursday for Jeff's show at the Moore, and if it's anything like tonight, it'll be well worth the drive.
now playing: Wilco - Summerteeth