Tuesday, November 29, 2005

the bronze medal
Voting is open for the
Canadian Blog Awards
. Two of my very favourite blogs,
Chromewaves
and
Said The Gramophone
are both nominated in the "Culture" section... go vote for one of them.
Pop (All Love)
is nominated in the "Media" section. And, while I understand that Aaron writes for the Post, clearly he should be in the "Culture" section. Regardless of classification, go vote for him too.
Merge
is selling some autographed posters on EBay. All the proceeds go to
Oxfam
and
the North Carolina Foodbank
. If you've got some extra money to spend on such things, please do.
It's not even December, but
My Old Kentucky Blog
,
Gorilla vs. Bear
and
The Catbirdseat
all have their year-end lists up.
Those fine folks at
Matador
have posted a track from the forthcoming
Belle and Sebastian
album. Head over there post haste to download,
"Another Sunny Day."
If you live in Edmonton, and aren't doing anything tonight (or any Tuesday, for that matter), head down to Wunderbar. My friend Eric puts on a
club night
there. As I have never been to Edmonton, I can't speak much more to it... but it involves good music and twister. What more do you want?
Last, but not least, my good friend Sean has started a music blog.
Go there
and pressure him into commissioning the Australian version of the "Top Bands" poll that has been spreading like bird flu across the blogosphere.
now playing: Julie Doiron - Snow Falls In November
Sunday, November 27, 2005

we dance to all the wrong songs
One Song: Perfect Songs for an Imperfect World
download: Refused -
New Noise
The first two tunes in what's now a regular feature here have been fairly down tempo, morose, little numbers, so I figured I'd change it up a bit and talk about the very loudest of my favourite songs.
You may now know the members of Refused from
the (International) Noise Conspiracy
and Text. But, before Dennis split to make "garage rock," and the other three guys made do with what they had left, the foursome were the closest thing to some kind of real progress in hardcore that you could find. "New Noise," is without question, their finest moment.
The opening riff is razor sharp, starting alone, and being joined by another guitar and thundering drums, before the drums pull back and everything stops dead, save for a spare keyboard effect. Then Dennis' voice breaks through with, "Can I Scream???" - making you wonder why he asked in the first place. From there it alternates... a sort of subdued half spoken word and then a strained yell. This goes on til about 3:30, when one of my favourite bridges in rock n' roll (which was unfortunately stolen by those hacks in Hoobastank) leads into another call to arms ("here we go!) and a wash of crowd noise and guitar. By the time it gets to the outro, it's enough to concuss you. And to top it all off, it ends with a polite, "thank you."
Crank this one up.
On an entirely unrelated note... anybody been to The Met on a Saturday? Or alternately, have any suggestions for a place to go? I'm looking for a birthday party venue in the next couple of weeks... I wanted to go to the Arch, but apparently they're closed due to a flood.
now playing: Refused - New Noise
Thursday, November 24, 2005

this charming man standing here in a bizarre love triangle?
The NME
reports that Peter Hook (New Order), Andy Rourke (The Smiths), and Mani (Stone Roses/Primal Scream) have started a band together, and are looking for a singer. Now, those of you familiar with these three fine musicians are no doubt asking yourself the following question: "But Quinn, don't they all play bass?" And you, sir or madaam, would be correct. Now, your next question is probably: "But Quinn, doesn't this have car wreck written all over it?" And you, sir or madaam, would probably be correct again. This is not the Andy Rourke news I was hoping for... as the Andy Rourke news I'm hoping for is that he joined up with Johnny Marr and Mike Joyce, and they are looking for a singer... named Morrissey. It'll be a cold day in Hell, I know... but a boy can dream.
In other news that is either awesome or terrible... or so terrible it's awesome,
Chartattack
reports that Tom Green will make his triumphant return to Hip Hop. Look for his guest spot on a remix of Ma$e's "Welcome Back" real soon.... but don't call it a comeback, he's been here for years. You've gotta admit, the one liner of "I lay more chicks than Mother Goose," from "Check the OR," is ridiculously sweet.
The lists just don't stop. First
Information Leafblower
did the Top 40 American bands of 2005, then Matthew over at
I (Heart) Music
did the Top 33 Canuck outfits of the year, and now
Take Your Medicine
presents the Top 47 UK acts of the OhFive. And yes, you're reading that correctly, the mighty pop princesses in
Girls Aloud
have taken the crown. Everyone is going to call blasphemy, because they're two spots ahead of the untouchable
Radiohead
, but let's be real here. Thom and Co. put out one piece of music this year ("I Want None of This), and it wasn't even that great. They also played a grand total of three shows (Thom solo, Johnny w/Thom and an orchaestra twice)... by contrast, Girls Aloud, are probably the most consistent singles band of the last couple of years (ok, the new one kinda sucks, but "Biology" was aces and "the Show" is tremendous). Before someone insinuates it, no, I'm not saying Girls Aloud are better than Radiohead... but they definitely had a better year than Radiohead.
Rob
has his November Mixtape up, which is probably (no, not probably, it is) the most exciting thing about this whole post.
Finally, is it just me, or
the Organ
show set for tomorrow, really terribly hyped?
now playing: Neutral Milk Hotel - Bucket (Drone Version)
Tuesday, November 22, 2005

magic numbers
Matthew
has the results of his poll of 21 Canadian music bloggers up. The mighty
Arcade Fire
nudge out
Broken Social Scene
, in what was apparently, a squeaker.
If youre curious, here's the list I sent in:
1. Broken Social Scene
2. Wolf Parade
3. The New Pornographers
4. Feist
5. Jason Collett
6. Death From Above 1979
7. Stars
8. Final Fantasy
9. The Constantines
10. Cadence Weapon
If you missed
Rogue Wave
like I did last weekend, you can catch them in February, as they're not slotted in as the openers for
Nada Surf
. While you're at it, why not head over to
Copy, Right
, where you can take a listen to Rogue Wave's take on Buddy Holly's "Everyday."
You Say Party! We Say Die!
plays the Sound Document Xmas Party with
Cadeaux
on December 13th. There'll be a indie music and art sale, cheap pints of Granville Island, and noneother than Mr. Grant Lawrence will be DJing.
Last but not least, if you were like one of my best friends in highschool, and had/have a crush on
Lisa Loeb
, now is your chance! The bespectacled temptress will be
starring in a new reality show where she "looks for a mate."
Just make sure you don't tell her she only hears what she wants to, and you're shoe-in.
now playing: Damian Marley - Welcome to Jamrock

sleep tonight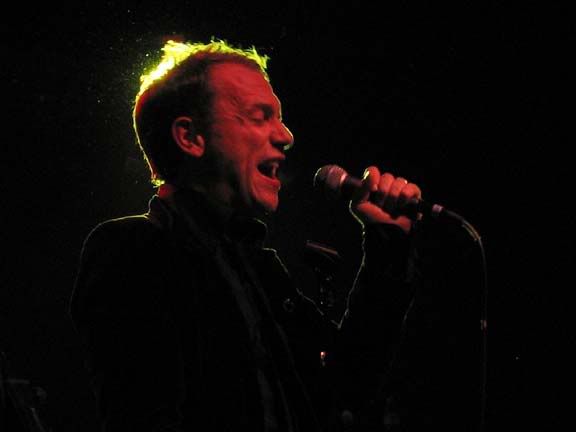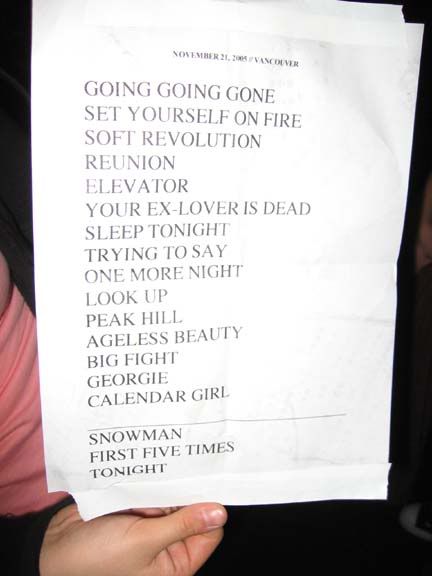 I had much more to say about
Stars
about two hours ago, but I've spent the last hour and a half trying to figure out why my ITunes decided to crash and take all my playlists with it (which is, not surpisingly, difficult when I can't seem to connect to Apple.com - thankfully all my actual music files are safe and sound - knock on wood). They played for about an hour and a half... they were really good. If you didn't go, you totally dropped the ball.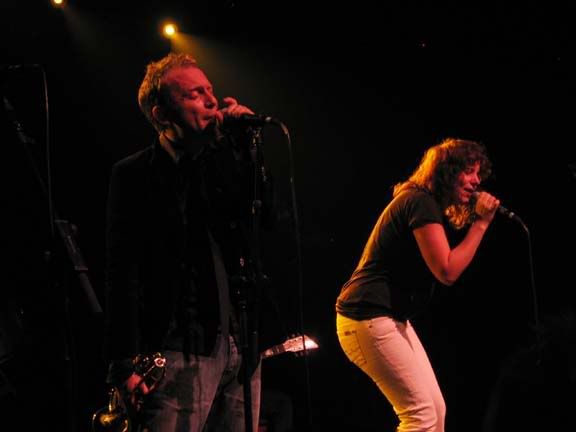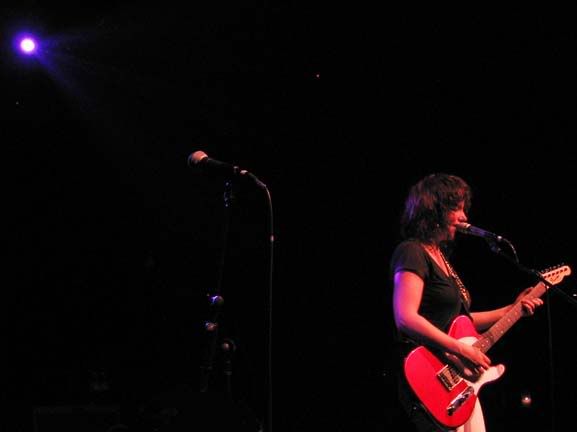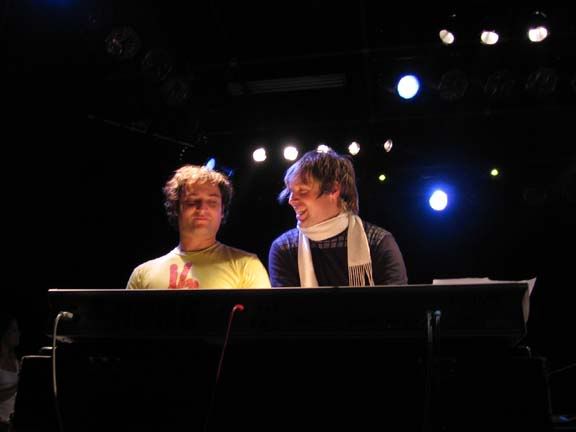 The Thurston Revival played first... think new-wave rockabilly (I think I just made up a genre name there).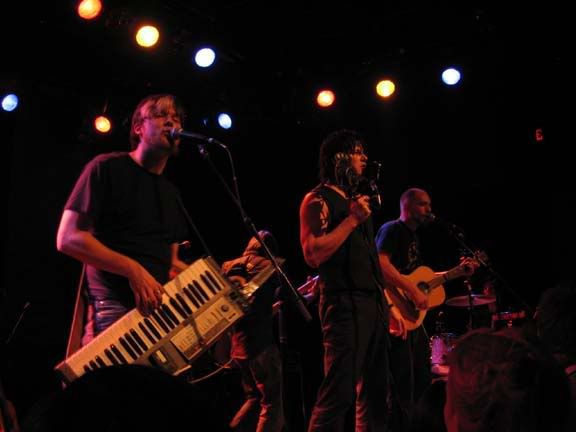 Bontempi played second... think Tegan and Sara... but with one guitar and more keys... and with vaguely Carrie Brownstein-esque riffage on occassion. Their fast ones were much more engaging than there slow ones.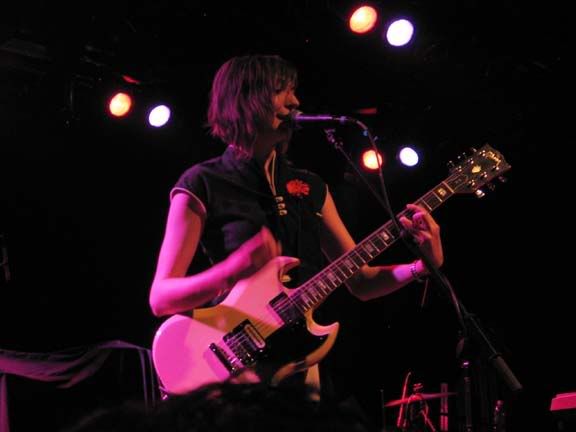 That's it for now. I'm going to go to bed. Then tomorrow I'm going to fix my ITunes.
now playing: Stars - Reunion
Monday, November 21, 2005

all the girls stomp your feet like this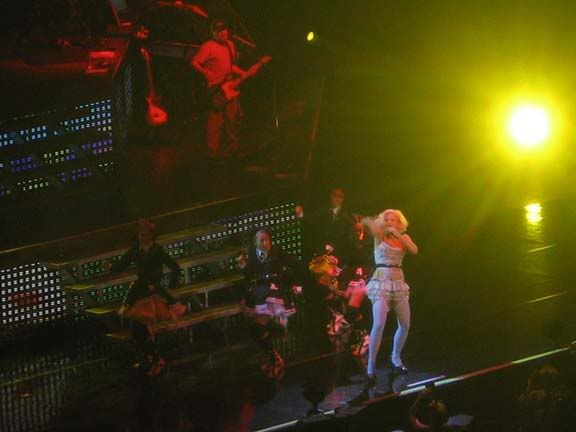 A very fuzzy picture of
Gwen Stefani
... but passable for first row of the Garage's balcony. Yes, today I left any indie pretension I might have had at home and took in Mrs. Rossdale's Harajuku Lover's Tour 2005. I believe this is the very first show I've attended that included costume changes, but that's not a dig. It was well worth the very hefty price tag. In fact, when you think about it, at least at these big pop productions you know where your money is going. I'm sure Gwen is taking home a fair chunk of change, but there's also all the costumes, a half a dozen moving video screens, and a rather elaborate looking multilevel moving stage. I've been to some really expensive rock shows, where there was a band, a stage, and some lights. But I digress...
For someone who claims that they "just wanted to make a stupid dance record," she sure rocks it live. It
was
more of a spectical than a concert, but it was goddamn fun... and what more do you want from pop music? The big singles were the obvious highlights, the culmination being the almost-too-obvious encore of the year's best single (yeah, I'm going to make that claim), "Hollaback Girl," but the rest of the show was nothing to scoff at either. I do have to say though, her band was pretty good, but the records so tightly produced, they did sound a little thin on occassion. Speaking of the band, I swear during the vamp half way through "Serious," the keyboardist was dropping in the opening riff from Bowie's "Ashes to Ashes." If by some chance any of you out there reading this were there and confirm I'm not just insane, that would be swell.
To top things off, rather than the Black Eyed Peas (thank god),
M.I.A.
opened the show. I was curious to see whether she could carry herself in such a big venue, and while I'm sure there were a lot of people there who didn't get it, quite a sizeable chunk of the floor were on their feet and moving by her set's end. Her set itself also included some tricks that Vancouver didn't get to see when Maya headlined the Commmodore last month. I wasn't all that impressed with DJ Contra last time around - he just seemed like a decent Diplo copycat - but dropping "Lose Control" into "Bucky Done Gun," and the beat to "Drop It Like It's Hot" behind the outro to "Galang" was hot.
Immediately after the show, my concert mate rushed off to do Spanish homework (thanks again for the ticket Marina... sorry I couldn't drive you home), while I booked it through the DTES and into Gastown to catch
Great Lake Swimmers
. I'm reviewing the show for
Discorder
, and know my editor is going to be upset that I narrowly missed openers,
Jonathan Inc
, but I've caught them three or four times previously, and they really haven't done anything for me. I'm willing to give them another chance, but I doubt today would've changed my mind at all.
This evening, Great Lake Swimmers consisted of a solo Tony Dekker, which was probably as far from the first show I saw as you could get. Dekker made his way through his sweet sounding folkpop for just over an hour, and sounded amazing. I've always felt like his voice makes up for what can sometimes be inadequacies in his straight ahead lyrics, and today was no different. Things that might be passable out of someone else's mouth, sounded like gold... And, quite a bit like the record, right down to the soft buzz from his guitar, mimicking that comforting tape hiss that creeps in the background on GLS records. There were some moments that were a cut above though. "Moving Pictures, Silent Films," which saw Jonathan from Jonathan Inc. helping out on some very tasteful lead guitar, was a definite highlight. Dekker addressed the crowd a couple of times, but mostly stayed quiet... When he did talk, he was very reserved, kinda stumbly. And that's part of the reason I didn't snap any photos; it just didn't seem right to shove a camera in his face.
now playing: The Smiths - Asleep
Thursday, November 17, 2005

book of lists
As anybody who's seen
High Fidelity
knows, music geeks love to meticulously list things, and then assign numbers to them. This is probably why
Information Leafblower's
list of
The Top 40 Bands in America Today
is getting so much blogosphere attention. (see
Brooklyn Vegan
,
Chromewaves
,
Product Shop
, among others). Kyle polled 40 music bloggers, getting them to list their own top 10, and compiled the results.
Sufjan
takes home the #1 spot. When you think back to all the hype around
Illinoise's
release (and then recall, and then release), it's not surprising. Interesting that
the National
come in at the runner-up position though... must be that live show of their's. Not to be outdone, Matthew, over at
I Heart Music
is running his own poll of Canadian music bloggers, and will compile the canuck equivalent next week. I'm still playing around with my own list (which is currently the bulk of the
Arts and Crafts
roster), so any suggestions are welcome.
Speaking of I Heart Music, Matthew's most recent post mentions
Someone Still Loves You Boris Yeltsin
, who have been getting a bit of a buzz lately (in fact, they're #29 on the Information Leafblower list - take that Clap Your Hands Say Yeah!). I finally got around to checking out their music, and I've gotta say, it's impressive. Is it groundbreaking or "forward looking?" No. But it's a pretty damn fine little indie pop album. If you're a Shins/RogueWave/NewPornographers/oldSloan fan, you'll probably find something to like on their debut,
Broom
. They're labelless right now, but you can pick up the record direct from the band,
here
. For now, check out this .mp3 of "What'll We Do," which is my favourite from the album after a couple of spins.
download: Someone Still Loves You Boris Yeltsin -
What'll We Do
Mark Gardener
, who you may remember from his old band, shoe-gaze legends
Ride
, will be playing at the Media Club on Decemeber 16th.
Supergrass
play the Commodore on February 26th.
And...
Nada Surf
plays the day before. They're at Richard's again.
Last but not least, thanks to P for posting the acoustic version of "Maps" in the comments of the last post (go look, you can still find it). While I'm quite fond of the performance, it doesn't quite live up to the original. In fact, it illuminates the fact that "Maps" is very much the sum of its parts. In that vein, check out this
Diplo
live mix of the tune. Same deal. It's nice that you can rock it on a dancefloor now, but it just doesn't have that same unnameable thing that the original does.
download: Yeah Yeah Yeahs -
Maps (Diplo's live mix)
now playing: Someone Still Loves You Boris Yeltsin - I Am Warm + Powerful
Wednesday, November 16, 2005

they don't love you like i love you
One Song: Perfect Songs for an Imperfect World
download: Yeah Yeah Yeahs -
Maps
I remember reading an interview with Yeah Yeah Yeahs lead singer, Karen O, where she said that when the band put out their first full length,
Fever to Tell
, they wouldn't have cared if the record flopped, as long as people got to hear "Maps." Which is an odd thing, when you think about the fact that it's the one song in the band's repetoire that seems to stick out like a sore thumb. For one thing, Karen actually sings, her combination yelp/growl, nowhere to be found. "Modern Romance" may come close with the softened vocals, but the plodding guitar is nothing like the swirling notes that Nick Zinner coaxes out of his guitar on "Maps." At the same time, the drums - thundering toms - keep all those guitar lines from flying too far.
Then there's the lyrics. Simple, somewhat nonsensical during the verses. Just what the hell is she trying to say? There's some vague sense of loss, of longing, of regrets. It's only obstuse sounding til the chorus. "Wait. They don't love you like I love you." There's nothing subtle there.
"Maps" is near perfect in its own right. But there's also the juxtiposition that it creates with the rest of the Yeah Yeah Yeahs catalogue. The Yeah Yeah Yeahs are rough sounding: just guitar, drums, and often primal sounding vocals. On the other hand, those qualities - those abrasive sounds - are the kind you can hide behind. By contrast, the drums on "Maps" are big and epic, the guitars delayed and layered all over eachother, and the vocals are soft and restrained. And, ironically, it's the band at its most raw. Songs like "Art Star" and "Date With A Night" can pummel you into submission, but not "Maps." "Maps" is the Yeah Yeah Yeahs at their most vulnerable, and arguably that vulnerability puts them at their very best.
now playing: Yeah Yeah Yeahs - Maps
Labels: one song, yeah yeah yeahs
Tuesday, November 15, 2005

fire in the disco
2006 show dates continute to trickle in...
Electric Six
play Richard's on March 14th. I'll admit to only liking maybe three of their songs... but I
really
like those three songs.
Low
have a brand new bass player that they're set to show off when they too play Richard's on March 9th. (via
More Cowbell
)
The Futureheads
are set to release the stop gap EP,
Area
, on November 28th to tide fans over until they ready their next full length for 2006. Check out the video for the title track:
here
Not only are the fine people at
Matador
offering up a free mp3 of the title track from
Cat Power's
forthcoming LP, but they're also releasing "the Greatest" as a 7" single on December 6th, with album cut, "Hate" as the b-side.
Speaking of b-sides,
Stylus' Non-Definitive Guide
to tunes that grace the flipside of 45s, is the best music related article I've read in quite awhile.
Billboard
reports that the forthcoming
Outkast
record, which was originally slated for a December release, has been pushed back to 2006. Boo.
If I'm ever this desperate for a date, please shoot me.
(via
Miss Modern Age
)
Finally,
Chartattack
reports that Sonar may be changing back from dance club to rock club. Hopefully this means they'll get a better PA setup too, but it's encouraging regardless. I still miss the Starfish though.
now playing: DJ Eleven - Houston Rocks It Mixtape
Monday, November 14, 2005

the incinerator mastered our hearts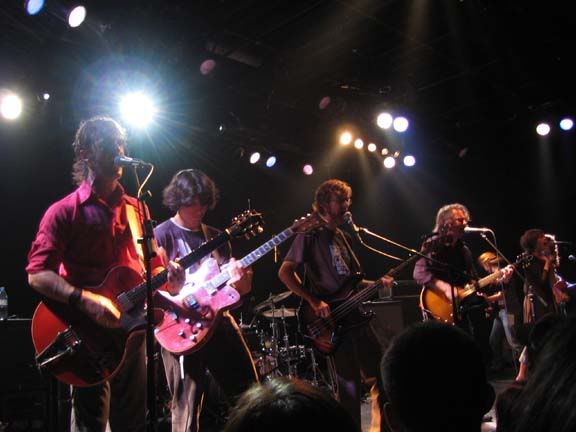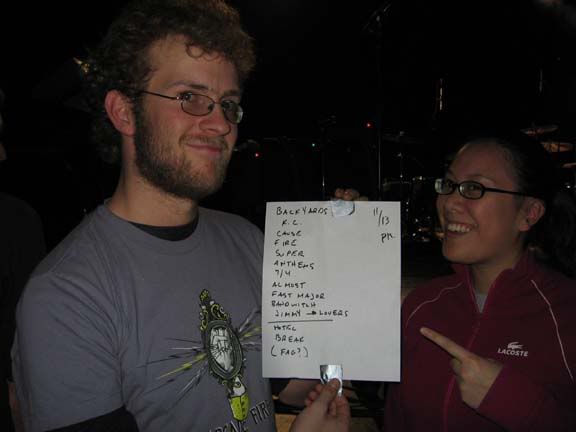 The last time
Broken Social Scene
graced our fair city, I'll admit, I was fairly underwhelmed. No female singers (although Dani from Cadeaux filled in on "Almost Crimes") and no horns = one half assed show. While there was the notable absence of Amy Milan, Emily Haines, and Leslie Feist, (not to mention six-stringer Jason Collett) this time around Lisa Lobsinger (who may steal the crown of hottest BSS female singer) held it down for the ladies, there were also horns a plenty, and even an appearance by Julie Penner on violin. All of this added up to a much fuller - and better - sounding Scene. The band pulled four tunes from
You Forgot It In People
, opened with the as yet unreleased "Jimmy and the Photocall" (they didn't follow the setlist), and filled out the rest of the set with tunes from their self-titled latest. A pity that "Backyards" was on the setlist but not played, but deviating from the plan to play "Ibi Dreams of Pavement" made up for it. It's late, so I'll leave it at that.
Wait, I lied. I also wanted to mention that Andrew Whitman definitely cemented his status as one of my favourite lead guitar players.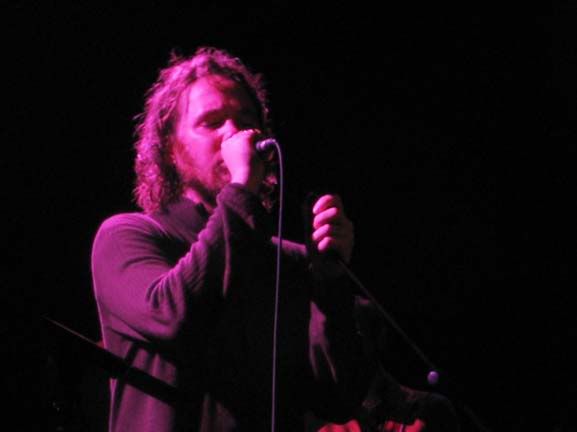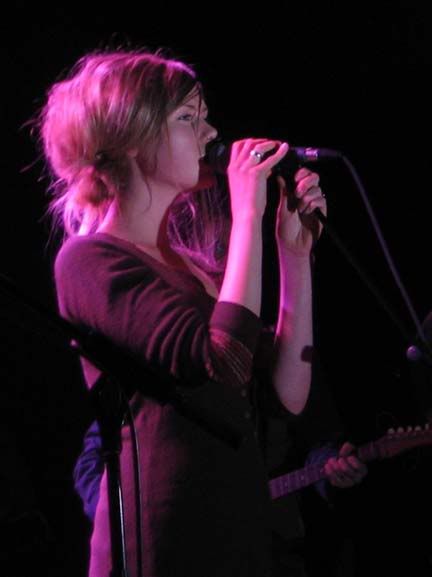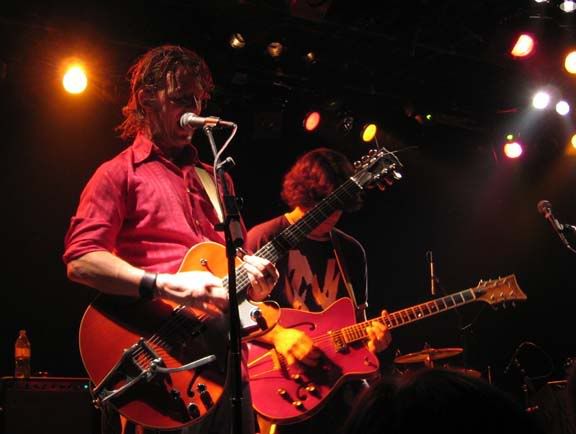 now playing: Broken Social Scene - It's All Gonna Break
Friday, November 11, 2005

between the wars
An update on the
previously talked about
issues with Sony's new DRM technology:
Pitchfork
reports on the class action lawsuit that's been launched in California, and the one that is forthcoming in New York.
Slashdot
let's you know just what cds to avoid putting inside your computer (or perhaps, to avoid buying entirely - I think I'm going to go download Amerie right now). Is it terrible to think that if you bought the latest Our Lady Peace cd, you kinda deserve something like this? Probably.
Check out the Amazon.com review for
Van Zant's latest album.
In fact, take a look at the review of any of the offending discs.
Billboard
reports on the Strokes "secret" club tour. If you're keen on seeing this, it looks like you'll have to head to Seattle though.
Last, but most certainly not least, on this day where we remember the sacrifices of those who died for Canada in various wars, and thank them for what they did, here's a little tune that fits the mood.
download: the Watchmen -
Between the Wars (Billy Bragg Cover)
Thursday, November 10, 2005

a place for us
If you're a regular reader of
Stereogum
(and if you read this, you should be, cause it's much better), you may have caught their post linking to the cingular commerical featuring
Chan Marshall (aka Cat Power)
singing "Hanging On The Telephone." The Nerve's cover (which was popularised by Blondie) was arranged by singer/songwriter
Sam Bisbee
, who was hosting it on his site, til the Stereogum shoutout overworked his bandwith. I managed to rip the audio into an mp3 (sans the talking bits... sorry, if you were looking for a new cel phone plan) before the ad got taken down...
download: Cat Power and Sam Bisbee -
Hanging On The Telephone
In more Cat Power, ad-related, audio goodness, here's a mp3 rip (again with the talking edited out) of Chan's (very brief) take on Leonard Bernstein's "Somewhere," that was featured in a spot for TIAA-CREF.
download: Cat Power -
Somewhere
Head over to
Vanmega
if you want to take a listen to the rest of the
Broken Social Scene
set that I posted a song from last night.
The
PFork
reports that
Fiona Apple
will open for
Colplay
for their Vancouver date on January 26th at GM... this is still not enough to make me endure Coldplay... not even close.
Also from Pitchfork:
Animal Collective
are going to blow your friggin mind on March 2nd... they play Richard's.
now playing: Sarah Harmer - Will He Be Waiting For Me? (Dolly Parton Cover)
Wednesday, November 09, 2005

you were there
I remember reading an article awhile back... the gist of it being that you can judge the merit of a song by how it sounds acoustic. Now, this certainly isn't true for all things... My Bloody Valentine comes to mind as something that would sound fairly boring acoustic, but is sublime in its full on glory, but it's quite a good rule for a lot of songs. Yesterday's
Broken Social Scene
live set is a perfect example. Songs that were buried under (in my opinion) the wonderful production of their selftitled latest, shine in an acoustic setting. If you missed it, here's a recording of "Ibi Dreams of Pavement" that is, simply put, stunning.
download: Broken Social Scene -
Ibi Dreams of Pavement (A Better Day) (live on KCRW)
Speaking of recording conditions affecting song,
Sarah Harmer's
newest was a pleasant surprise. Her last,
All Of Our Names
, had some great songs on it, but seemed way too polished and slick for my liking. Her latest,
I'm A Mountain
, by contrast, is much more organic sounding. It's certainly not lo-fi, but if you were in love with "Uniform Grey" like I was, this will excite you, for sure.
download: Sarah Harmer -
Oleander
now playing: Wolf Parade - Shine A Light
Tuesday, November 08, 2005

if you always get up late, you'll never be on time
So I slept in (as I have no classes today), and forgot all about letting all you fine people know that Broken Social Scene are on
KCRW
right now. Sorry, I'm a bad blogger... but if you're reading this right now. go.
Also,
Pretty Girls Make Graves
at the Red Room on November 30th. With
You Say Party! We Say Die!
The Like
play with
Giant Drag
at Richard's on December 7th.
now playing: Broken Social Scene - Major Label Debut (Feist on lead vocals!)
Sunday, November 06, 2005

screw all my friends, behind my back
So if you foolishly rely on this site for news, you were probably really confused as to when
Ryan Adams and the Cardinals
were actually appearing on Letterman. Or, if you were like me, you had better things to do on Friday night than sit around watching TV. As consolation, here's a video of Ryan and the Cardinals performing "Come Pick Me Up" from two nights ago.
While I was fairly fond of the jammy, kinda overdriven, grateful-dead-like Cardinals on
Cold Roses
, and the subsequent tour stop here in Vancouver, I would very much love for the shimmery, slide guitar soaked, honkey-tonk Cardinals that turned out this performance to come back. I would also like it if the crowd weren't jerks, and Ryan was in a better mood... but I digress.
"Come Pick Me Up," which you should already own, because it's on Ryan's fabulous solo debut,
Heartbreaker
, is also on the
Elizabethtown
soundtrack... but buy
Heartbreaker
instead, because it's much better than the crappy soundtrack. Word is, Ryan and the Cards actually penned and recorded about twenty tracks for inclusion on the soundtrack (one of which appears in the movie), so look for those either leaking (as with other unreleased Ryan demos) or (even better) being officially released sometime next year. (thanks to mstcklrose from
RyanAdams.Org
for the video)
download: Ryan Adams and the Cardinals -
Come Pick Me Up (live on Letterman - video)
An
ILM
thread reveals Uncut Magazine's Top 50 of 2005 list, which is already out... even though there's two months left in the year, and considering they're a print mag they would've had to vote a month ago to compile it in time. For those of you who are curious,
Funeral
wasn't released in the UK til this year, hence its inclusion (at the top spot, no less). Also, I'm quite fond of
Illinoise
, but that's got to be the most overrated record of the year. It's pretty excellent, but I always feel like I'm at church camp or something when I listen to it.
Let's Do This
recaps an absolutely awesome encounter with
the Arcade Fire
outside a NYC subway station. (via
Brooklyn Vegan
) This kind of thing never happens in Vancouver. I only ever see that guy who plays "Stairway" on Granville, but totally wusses out on the solo part, and the guy who will freestyle for a loonie. The guy who does Metallica's "One" on violin and stomps the double kick drum part, is admittedly, pretty impressive, though.
Last but not least, here's a track from the forthcoming
Bright Eyes
live album,
Motion Sickness
. Thumbs up to Conor for only distributing the album to independent record stores. Thumbs down to Conor for only distributing the album to independent record stores
in the United States
. Until you make a trip down to Seattle, or grab one off of EBay, take a listen to Oberst and Co. doing Elliot Smith.
download: Bright Eyes -
The Biggest Lie (Elliot Smith cover - live)
now playing: Bright Eyes - Road to Joy (live)
Saturday, November 05, 2005

crossbones style
Chan Marshall is one of my favourite vocalists ever, so I was pleasantly surprised to find out that her forthcoming album,
the Greatest
has leaked, three months ahead of its release date. Working with a bunch of Memphis session pros, it's soaked in slide guitar, horns, and a whole lotta soul. Make sure you buy this on January 24th. Until then, here's another sample (you can get the title track over at
Matador
) from the record. Those of you who have the
Speaking for Trees
dvd will recognize this tune.
download: Cat Power -
The Moon
If you're free tomorrow, you might want to head down to the Ukrainian Centre off of 16th and Ash from 11am-4pm to check out the record show. I'll be there, as I get great joy from sifting through boxes and boxes of old LPs.
now playing: Cat Power - After It All
Thursday, November 03, 2005

canadian dream
Make sure you stop at your favourite magazine shop (no, Chapters isn't your favourite magazine shop) on your way home from work/school/whatever to pick up the latest issue of
Under the Radar
. BSS, Metric, Feist, the Dears, Stars, Tegan & Sara, New Pornographers, Black Mountain, the Cons, K-OS, Wolf Parade, and a bunch of other Canadian bands are featured.
DJ Premier (of Gang Starr fame) is spinning at Atlantis on December 1st. If you're into hiphop, you probably already know what kind of influence he's had on the genre, so I'll spare you the explanation.
The
NME reports
that Jack White will be doing a commercial for Coke. Says Jack, "I certainly wouldn't want a song that I'd already written to be used on a commercial... But to be asked to write something particular along one theme of love in a worldwide form that I'm not really used to appealed to me." If he had just said he was doing it for the money, I probably wouldn't throw stones, but this "theme of love" thing is a little rich. Coca-Cola's been spreading their brand of love all over Latin America, perhaps Jack should read up on it.
Check out this
video of Prince
, who is still the coolest muthafucka on the planet, taking the solo on "While My Guitar Gently Weeps," at a Rock n' Roll Hall of Fame performance.
You know those irritating copy protected Sony CDs? Well, not only are they a pain in the ass, but they're also
infecting your computer with a trojan horse that can be exploited by hackers.
Anybody else smell class action?
Finally, for the gentlemen out there, here's a little something that's good for your health... Not only is
Rachel Stevens
saving the world of electropop, but she also wants to make sure your favourite body parts don't get sick:
check the video
.
now playing: the Streets - Wouldn't Have It Any Other Way