Tuesday, October 28, 2008

desolation row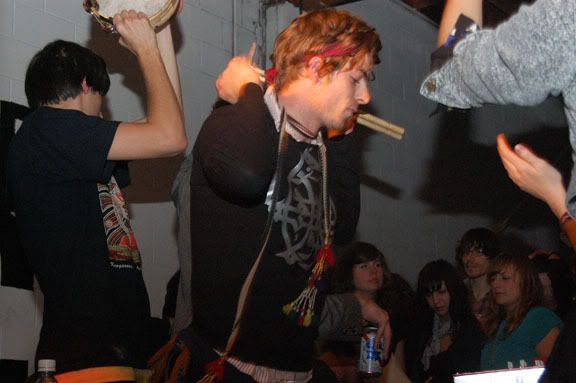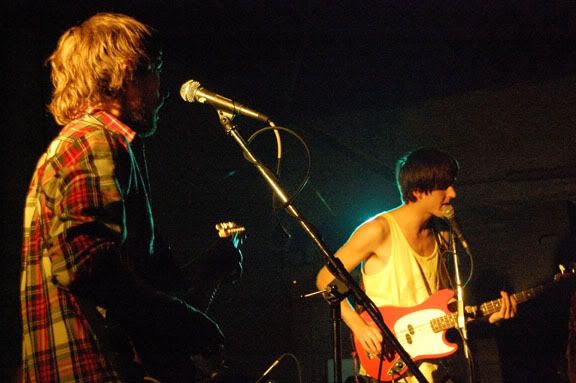 Here is a very quick weekend recap and a whole bunch of show announcements, minus links, because I'm sort of busy and lazy:
The Sweatshop on Friday was pretty good. No Gold were their usual charming selves. Ballz' set turned into a percussion free for all, which hurt them musically, but it made the performance - their last in Vancouver for a long, long time - a memorable one, to be sure. The last act I caught was Sorcerers. Their lead singer seemed pretty wasted, but the band sounded extra tight. It was sort of a nice contrast, actually.
Before the Sweatshop, I was at the Garage to see Dylan. I was expecting him to sound rough and live up to his reputation as "difficult," but even with that in mind, it was pretty terrible, perhaps depressingly terrible. I've always been fond of his ability and willingness to re-arrange his own songs, but, when in the past, he'd lead his band through a song in an entirely new way that was fresh, creative, and never different for the sake of being different, last weekend, he was content to mumble most of the lyrics to changed up numbers over a rotating series of generic 12-bar blues shuffles. Oh, and lest you think that reports of his voice being shot were exaggerated (which is what I thought, to be honest), you are wrong. He can play the hell out of a harmonica though, if that's any consolation... not that Bob Dylan needs any consolation, but you get my point, which is that I should have used by budget for an expensive show by an old guy on Neil Young (who was amazing last time I saw him a few years ago and apparently better last week).
On Saturday, I made it out to Bend Sinister's album release show. It was a pretty great performance by the band and it was coupled by a stage show that was straight out of 1975, complete with a string section, horns, video projections, and, yes, lasers.
Some stuff at the Biltmore:
-November 19th Justin Rutledge and Jenn Grant w/ Jody Glenham
-November 21st Jay Crocker, The Pack A.D., Swank, Beladeans, Valerie Graham, Spitfires, Hawaiian Bibles (Benefit show for Mike Gurr of Hotel Lobbyists)
-November 25th Holly Golightly
Some stuff not at the Biltmore:
Aja Rose and Gabriel Solomon are at Charles H. Scott Gallery (1399 Johnston St.) tomorrow night.
Sex With Strangers, the SSRIs, and Collapsing Opposites are at the ANZA for the latest One Cool Word release party on Thursday.
Also Thursday, Adjective, Terrorbird, and Zombie Pistolero & His Guns are at Honey.
There's an extra edition of Fake Jazz on November 11th.
Stamina Mantis, Ahna & Richard Catwrangleur, n213, and Holzkopf are at Blim on November 21st for a night that features music made by homemade, circuit bent, or otherwise altered electronics.
The same night Boys Noize and Paul Devro are at Celebs.
Franz Ferdinand is at the Commodore on December 9th.
Fake Blood is at the Republic on December 18th, to celebrate my birthday, I'm pretty sure.
Metric, Tokyo Police Club, Dears, Sebastian Grainger et les Montagnes, and Mike Relm are at the Vogue on December 21st for "Jingle Bell Rocks," a show in support of Covenant House.
Solars are also on the bill for the November 6th Wood Family Creeps show. It also starts at 8pm, not 8:30pm now.
Sex Negatives are now on the bill for the AIDS Wolf show on November 24th.
Nu Sensae, Gang Violence, and Role Mach are at the Astoria on November 28th, provided it's open by then.
Labels: basketball, bob dylan, lazy show recaps, no gold, show announcements, sorcerers
Thursday, October 23, 2008

saturday night's alright
So, as Steve noted in the comments of the last post, sometime between the end of Ballz' set and when No Gold were supposed to start playing last Saturday a rather large fight broke out at the Peanut Gallery. I don't what the future holds, but the show that was supposed to be there this weekend (Role Mach, Boogie Monster, gr8-2000, and Type to Talk) has been moved to the Sweatshop.
But before that, also at the Sweatshop,
Ballz
and
No Gold
get a chance to perform again tomorrow night(Friday), hopefully without the fisticuffs this time.
Fine Mist
(feat. members of International Falls),
V. Vecker
,
Sorcerers
, and
Twin Crystals
round out a bill that's sure to be awesome.
Also tomorrow,
Mark Berube & the Patriotic Few
are at the Biltmore with
Dan Mangan
.
Lady Dottie and the Diamonds
are at Pat's on October 29th with
the TVees
.
The TVees also open, along with
thee Manipulators
and
Hard Feelings
, for
the Fucking Eagles
, who are at the Sweatshop on November 15th.
The Awkward Stage
are at the Biltmore with
Dylan Thomas
on November 8th.
And
Two Hours Traffic
are at the Biltmore on November 14th with
Hey Rosetta!
and
the Danks
.
now playing: Attack in Black - Ever Bright, Ever Blue
Labels: peanut gallery, show announcements
Wednesday, October 22, 2008

designer drugs
On Thursday, I went down to the Biltmore to catch
Fake Shark-Real Zombie
. The guys were (relatively) well behaved, at least compared to their last outing there, but they still put on a pretty good show. They also debuted a bunch of songs from their recently recorded forthcoming LP. If you're a fan of
Zebra! Zebra!
, you won't be disappointed with the new one.
Saturday, I made it to the Peanut Gallery in time to catch
Gang Violence
. The sound in there isn't the best, but they seemed tighter than last time around. And they were pretty tight to begin with.
Candles
played next and from my vantage point, I didn't really know what to make of it. He sang over pre-recorded pop beats, his voice sounded great, but I couldn't really see anything other than people going nuts in the front. At one point during the set, a Michael Jackson song came on during the PA, and dude was either lipsyncing or he does a spot on rendition of the King of Pop. The former is so bizarre it's almost awesome and the latter would be be pretty goddamn impressive.
Ballz
, who were comprised of Dave and Luke from Basketball, were up next. Unsurprisingly, they sounded like Basketball minus Tome: no vocals and a leaned a little more on the electronics. Hopefully, the move to Spain isn't a permanent one, because they're escape from Vancouver leaves a big hole in the local music scene.
I was pretty bagged, so I bailed before
No Gold
played. I'm sure they were wonderful, as per usual, though.
To answer Steve's question, there weren't any fights when I was there. Although, some wasted asshole was getting escorted out when I left.
Speaking of No Gold, they're opening the El Guincho show on November 22nd.
Bad Moves
are at Pat's on October 23rd with Against Civilization (who played the first night of Shindig).
Stamina Mantis
have some of their artwork on display at the newly opened Neapolitan (Main + 6th) starting on October 24th. They'll play the opening along with
n213
.
Sorcerers
play Blastramp! on the 30th of October. It goes down at the Bourbon, as always.
The same night,
the Fembots
play the Railway with
Octoberman
.
Woods Family Creeps
are at Little Mountain Studios for an early show (8:30pm-10pm) on November 6th with
Role Mach
.
On November 15th,
S.K. Robot
are doing their annual GBV tribute show as Guided by Robots at the ANZA. As always, the second half of the show features GBV-aoke with the band. I'm psyched.
And last, but most certainly not least,
the SSRIs
have their new EP up for free on their website.
Labels: ballz, candles, fake shark real zombie, gang violence, show announcements, show recaps
Tuesday, October 21, 2008

needle and the damage done
Earlier today, the fine gentlemen in
Bend Sinister
let me know that they were set to play a benefit/protest in support of
Insite
on Thursday. They were going to go on before
Bedouin Soundclash
. That is, apparently, before the radio darlings (or someone in their camp) found out that Bend Sinister was planning to play fully plugged in and decided they didn't want to go on with acoustics after Bend Sinister played with all of their gear. So, the guys, who've very generously donated their music
here
to benefit Insite in the past, let me know that because of Bedouin's complaint, they've been removed from the bill.
Classy.
A real update coming later with some show announcements, free local music, and some other junk.
Labels: bedouin soundclash, bend sinister, bullshit, insite
Thursday, October 16, 2008

burst transmission
To be completely honest, the overall quality of the music at Shindig has been sort of lacking this year (although I missed one night and Hermetic were pretty good). Hopefully, yesterday is a sign of things to come, because it was pretty decent on the whole.
Things started of with
Ben & Gorodetsky
, a one man act that was okay for the most part and hilarious when he whipped out a cover of a Russian dance tune (complete with dancing).
Boogie Monster
followed after taking forever to set up (especially for a 2-piece). They were almost worth the wait. They might still be worth the wait. It was actually sort of hard to tell. The drumming was phenomenal. Problem was, the guy hit his kit so hard it was tough to hear the guitar at the best of times and damn near impossible at other times. I'd definitely like to seem them again though. And, despite the fact that it was sort of hard to judge the total package, I think they should have won.
Which brings us to the winners,
the Sappers
. It's hard to knock a band for being pleasant, but after a few songs of very polite, restrained, folk-pop, I was ready to call it a night. They were tight, but it was late, and after a few songs, they weren't doing much to keep me awake.
Here's some bad news: Wire is canceled tonight. Refunds available at point of purchase. No official word on why, but rumour has it that sales were really low. Thanks to everyone who emailed/messaged about that one.
Tomorrow,
Lover!
are here from Memphis. They play the Sweatshop with
B-Lines
and
Dead Ghosts
Saturday,
BA Johnston
,
Ghost House
, and
What's Wrong with Tohei?
are at Pat's.
The same night,
No Gold
,
Gang Violence
,
Ballz
(Dave and Luke from Basketball), and
Candles
are at the Peanut Gallery.
And also on Saturday,
Usaisamonster
,
Miami Nights
, and
Nu Sensae
, and Robe and Allied are at the Emergency Room.
Sex with Strangers
are at the Bourbon on October 22nd with
Princess and the Paradise
.
Carolyn Mark
is at the Railway on October 24th.
The Buttless Chaps
are at the Biltmore on Halloween with Ghost House and
Fond of Tigers
.
Also on Halloween,
The Pack AD
are at the Rail.
Slow Down Molasses
are at the Railway on November 5th with
Portico
.
The Cobrasnake
is throwing a party at Celebs with
Pase Rock
and
Expendable Youth
on November 7th.
The Bicycles
are at Di'Metric Studios (1114 E. Pender) with
Hot Panda
on November 15th.
And those
Half Alive
guys are bringing
Metronomy
to the Bourbon on January 25th.
Now playing: Sleater-Kinney - Turn It On
Labels: ben+goredotsky, boogie monster, sappers, shindig, show announcements, show recaps
Monday, October 13, 2008

let this phone ring out into nowhere
I didn't catch any of the openers at Richard's on Thursday, since I was watching the Canucks make the Flames' defence look like pylons in the earlier part of the evening. I did saunter into the bar in time to see all of
Chad VanGaalen's
wonderful set though. His latest,
Soft Airplane
, is one of my favourite records of the year so far, so I was more than happy to hear him play a large chunk of it, but the older numbers were great as well. Chad was joined by various members of one of the opening bands throughout the evening, but the highlight had to be a show closing rendition of "Sing Me 2 Sleep" with just VanGaalen and a violinist.
Congrats to Jerome, who won the contest for free tix and a copy of
Soft Airplane
. And thanks to Jesse at
Killbeat
who hooked up the prize. Look out for another ticket giveaway later this week, also courtesy of Killbeat.
Friends From School
are at the Backstage Lounge on Thursday this week with
For British Eyes Only
and
Catamaran
Role Mach
are at the Peanut Gallery on October 25th with
Boogie Monster
,
gr8-2000
, and
Type to Talk
(formerly Stolen Bicycles Gang).
Not really music related, but
Andy Dixon
has a show of his drawings coming up at Grace Gallery called "How to Draw Everything" and the opening is on November 6th (the show runs through the 24th).
On the same night,
Shannon & the Clams
and
Forever
are in town from California to play the Sweatshop. Local faves
Modern Creatures
and
Nu Sensae
also play. And, rounding out the bill, is
Channels 3x4
, who are playing their first show in forever.
Also not music related, but on November 27th at Video-In, there's a screening and DVD release for
Star Trek: Chains of Betrayal
. If you saw the first screening of the fan-made episode at the Astoria in April, you'll recall that it's hilarious.
Oh, and it's election day, in case you forgot. Even if you live in a riding like mine where nobody competent is running, you should go vote.
now playing: Forever - Something's Missing
Labels: chad vangaalen, show announcements, show recaps
Tuesday, October 07, 2008

no no no
Funny you should ask, Dustin
...
There were quite a few shows that happened between today and last Wednesday, but the two I tried to go to were already sold out when I got there. Well, one when I got there (Baroness/Genghis Tron/Bison) and one I found out about before actually heading down (Colourbook/No Gold/et al). Did you catch anything? Was it good?
Here's some stuff that's happening soon(er or later):
No Kids
and
No Gold
are at the Biltmore on October 10th.
Esthero
is at the Biltmore on October 17th.
The Jolts
,
B-Lines
, and
Adjective
are at the Sweatshop on October 18th.
Buddy Guy
is at the Commodore on November 9th.
Digable Planets
are at the Commodore on Remembrance Day.
Thanks to Chris, Matt, and an anonymous tipster for most of that.
Crystal Castles and the Breeders are both canceled.
Lucinda Williams
is at the Vogue on November 12th with
Buick 6
.
The Rosebuds
are at the Media Club on November 19th.
Blitzen Trapper
is at the Media Club on December 6th.
Cave Singers
play Richard's on December 12th with
Lightning Dust
and
Whalebones
.
Labels: show announcements
Wednesday, October 01, 2008

i'm not judging you, i'm judging me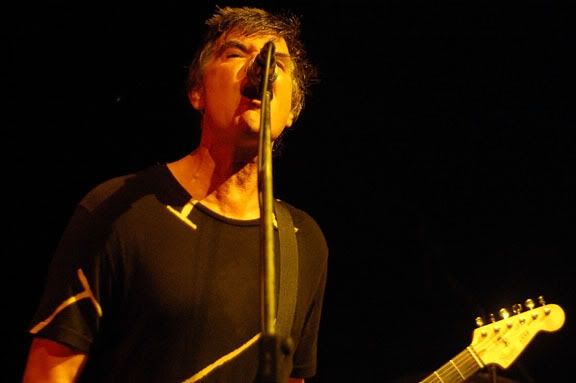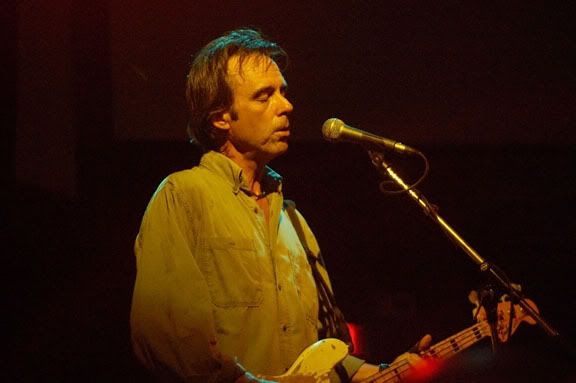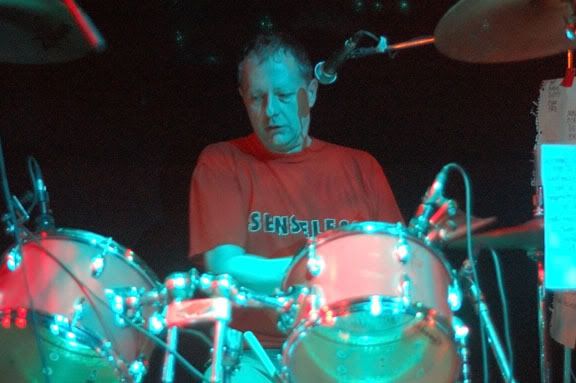 After Eric's Trip, Wire, the Jesus & Mary Chain, and now
Mission of Burma
, I think I'm going to start watching bands full of old guys exclusively (I guess Eric's Trip aren't that old - also, not all guys).
Mission of Burma was at the Plaza last night to perform
Signals, Calls and Marches
and a healthy dose from the rest of their catalogue. And, other than sort of wishing that they would have played the album in order (which is a small complaint), they were pretty amazing. I'm not really all that familiar with anything outside of
Signals...
and
Vs.
, but the songs they included from their more recent releases, as was the case with Wire, really stood up well.
If nothing else, it was worth attending for the sing along during "That's When I Reach for My Revolver."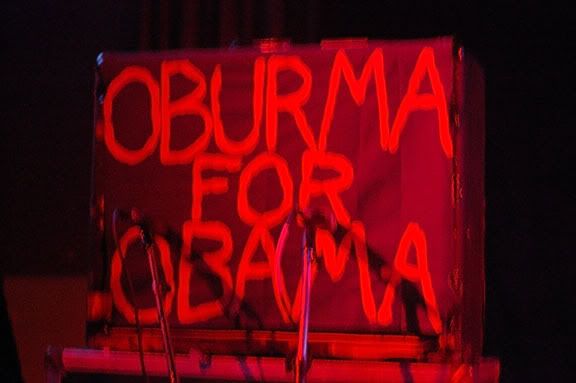 Just in case you were wondering who they supported in the election.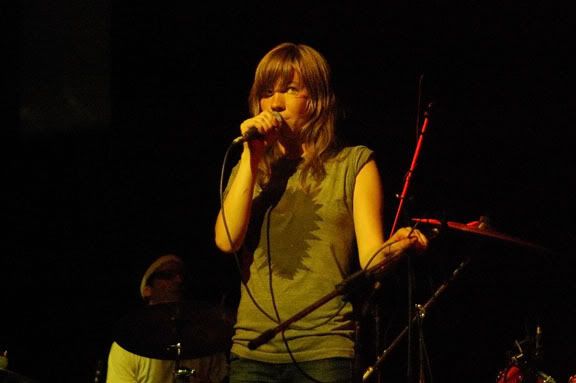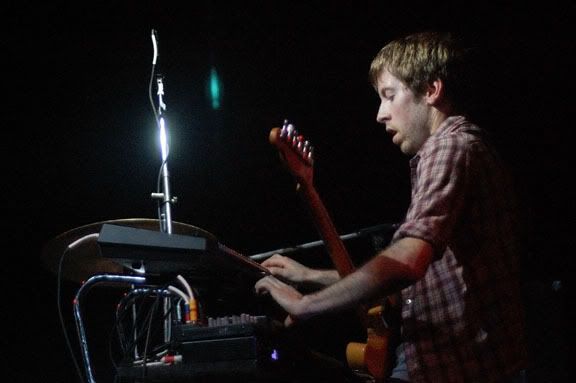 Gang Violence
opened up the show. This is the first time that I've caught them since Sarah (Channels 3+4/Ice Cream) started singing for them. In some cases, the vocals seemed a touch out of place, but when the trio really hit on something it was pure gold. If you haven't already, go see them if you get the chance. If you have seen them, you're probably already planning to do that.
On Halloween, those
Half Alive
guys are throwing a party at the Sweatshop with
Glass Candy
, the aforementioned Gang Violence,
Lioness
, and
You Say Party! We Say Die!
performing downstairs, while Tyler, Tony, Jason, and
Expendable Youth
spin tunes all night upstairs.
Three Six Mafia
are at the Commodore on November 28th for their first ever performance in Vancouver.
Labels: gang violence, mission of burma, show announcements, show recaps