Saturday, June 30, 2007

you're the low life of the party
Overheard in Vancouver (6/29/07 - Richard's on Richards):
I'm not really into this. I don't really like bands with more than four people. Do you know what I mean?* And I'm really a lyrics guy, and I don't understand what this guy is trying to say.** And I wish he'd just sing, you know?***
Dude, I wish you would shut the fuck up when the band is on. That goes for like 40% of the crowd at
the National
tonight. I get how there's a lot of chatter during some openers or at festival shows. I mean, it's still a bit rude, but totally understandable that people would be easily distracted during an act they don't care about. But why would you pay $20 to drink overpriced beer at Richard's and yell over the headlining act (who were, in this case, the only act)? Honestly, wouldn't yelling over the DJ at Bimini's be pretty much the same? This experience is clearly my own fault for declining to follow my friend Luke into the throng of what seemed like more attentive fans closer to the stage.
The band was really quite good though, and the songs off of
Boxer
- much like the rest of the National's catalogue - sounds even better live. "Mr November" and "Abel" were still the predictable highlights, but "Squalor Victoria" and "Start a War" really stood out as well.
On a side note, Padma Newsome was rocking a "Shapes and Sizes" shirt, which made me wonder if he managed to catch their set at the Railway or if it was just a coincidence.
*No, I don't know what you mean. That doesn't make any sense. Your friend was humouring you when he agreed. You are an idiot.
**At first I gave you the benefit of the doubt and assumed this meant you couldn't make out the words very well due to lack of clarity in the live mix. But I'm pretty sure you're just an idiot.
***That thing he was doing for 90% of the show; that's called singing, you idiot.
now playing: Elevator to Hell - Sixteen Hours
Labels: show recaps, the national
Friday, June 29, 2007

spill blood
As I'm sure I've mentioned before, I'm not much of a metal guy. It's not that I have anything against the genre in general, I just have fairly specific tastes. To put it succinctly, I like metal that brings people together; songs that appeal equally to guys who grew up playing Dungeons and Dragons and guys who beat up the guys who grew up playing Dungeons and Dragons. For that reason, I wasn't super stoked on
Jaws
(they were okay though), but was totally feeling both
Bison
and the mighty
3 Inches of Blood
. Highlight? "Destroy the Orcs," obviously... maybe "Deadly Sinner" too. Full thoughts up at
Streethawk
sometime next week.
I completely forgot to mention that
Greenbelt Collective
is at Hoko's tonight with
Fanshaw
and Chris-a-riffic. For those of you keeping tabs, that means Chris is playing three sets tonight (2 solo, 1 with TSH,DT?) - truly the hardest working man in the scene.
Caribou
is at Richard's (which is apparently still standing until at least December) on October 30th with
Born Ruffians
.
John Vanderslice
is at the Red Room on October 15th.
JPNDRDS
(or is it "Japandroids?") are at Hoko's on July 20th with Edo from
the Clips
and
It's a Living Thing
support. The show is a fundraiser for
the Sugar Factory
.
Qui
is at the Plaza on September 16th. I know nothing about them, but the guy from the Jesus Lizard sings in the band.
And a couple more shows at the Lamp that might turn your crank...
The National Frost
return on July 2nd. I wasn't so into their singer last time they played here, but the instrumentation was pretty ace.
Bel Riose
and
Alphababy
support.
Geronimo
(who include some ex-
Despitado
members) play on July 5th with
Catlow
and
Shukov
.
And
The Ghost is Dancing
performs on July 16th with
the Coast
and
the Arbitrarys
.
In addition to that Hoko's show, there's five more things worth seeing tonight. I'll be at the National, but I kinda wish I was seeing Miracle Fortress after hearing them on the CBC ten minutes ago. Hopefully you'll be at something.
now playing: the Cribs - Men's Needs (CSS Remix)
Labels: show announcements, show recaps
Tuesday, June 26, 2007

go with the flow
Queens of the Stone Age
are at the Orpheum on September 1st.
Built to Spill
is at the Commodore on October 2nd. If I recall correctly, Vancouver was originally penciled in as a destination on one of their tours last year and then scratched, although this one's up on
Ticketmaster
, and the canceled date only got as far as their MySpace. (thanks Scott)
Good news:
Priestess
is at the Commodore on July 20th for a mere $10.
Bad news: they play after
five
Fox Seeds bands.
And finally,
really bad news
via the Vancouver Sun. The very lovely lady who currently lives in the house beside Richard's has finally decided/been forced to move. I suppose it's actually bad news and good news. Bad that she has to move, good that she got $6 million after some other jerks bothered her all the time and were only offering half of that, but bad because it means Richard's nine lives are nearly up. No word on when the venue will close or if all the booked shows will go ahead as planned, but it's definitely a blow to the city's music scene. It looks like 1/2 Alive needs a new venue before it's even moved in.
now playing: the Smiths - the Queen is Dead
Labels: show announcements
Monday, June 25, 2007

happy hearts
A couple of quick show announcements:
Okkervil River
is at Richard's on September 9th.
Girl Talk
is back in Vancouver on September 6th at UBC's Pit Pub. The bad news for those of you who aren't students is that it's a closed campus show that's part of the UBC Alma Mater Society's Firstweek events.
Some shows from the Lamplighter's July listings that jumped out at me (all at the Lamp, of course):
Fake Shark Real Zombie
play a (sorta) homecoming show with
the Sessions
and
Frosted Tipz
on July 21st. It's the bands first hometown show after they return from playing to Commodore sized rooms in Japan.
Winning
play on July 22nd with
Azeda Booth
.
And for you midweek party people, "Finally #2" starts on July 17th. It's described as "a new dance, dj, pop, indie, electro, experimental night"... which sounds like it has potential.
now playing: Day for Night - Badlands
Labels: show announcements
Sunday, June 24, 2007

precious metal
I think my body finally caught up with me going out Wed/Thurs/Fri and has punished me thusly, which is why I am at home on Saturday to (briefly) tell you about
Marnie Stern
's performance at Pat's last night (and then I am going to bed).
Her set was pretty brief, but the combination of razor sharp riffage and Zack Hill's ridiculously busy drumming was incredibly impressive. The only real complaint to be had was that Zack (who you may recognize from Hella) hits the drums so hard that he overpowered the sound system at Pat's at times and tended to drown out Marnie during a couple of songs. The duo was supposed to be a trio but Robby Moncrieff (who I think plays in the Advantage[?]) fell ill and had to bail on the tour at the last minute. Marnie mentioned that his presence was missed on the live arrangements of the songs they played, but she shreds so frantically, it was hard to tell where there was even any sonic space for another guitar.
download: Marnie Stern -
Every Single Line Means Something
(via Kill Rock Stars)
Do Make Say Think
are at the Commodore on October 29th.
According to Pfork and
their MySpace
,
Spoon
are playing another show in Vancouver on September 17th (in addition to their September 7th date - thanks Scott). This seems incredibly strange to me since they have two days off after their "first" Commodore date, and playing here on the 17th would mean flying in from San Fransisco after they play a festival there on the 16th (or can you drive in one day?). Plus, there's still tickets left to the September 7th show.
Liars
are at the Red Room on September 15th, which is a rather unfortunate coincidence, as you'd imagine that 90% of their fan base overlaps with 90% of Animal Collective's fan base (and they're at the Commodore the same night). (thanks Dave & Sandra)
The Pointed Sticks are at the Red Room on August 25th.
And on a final note, you may recall the
discussion about ticket prices at Zulu
from awhile back. There were a lot of complaints about service charges in general, but the biggest thing seemed to be about how the "second batch" of Zulu tix ends up more expensive than tickets bought from Ticketmaster since they're essentially tacking on their own 20% charge on a full priced TM ticket. Well, if you thought Scratch was different, you will be disappointed to find out that you are wrong. I snagged a New Pornographers ticket for cheaper than on from TM, but the Blood Brothers' ticket that I picked up was $4 more than if I had sat on my ass, ordered it on the computer, and got it mailed to my house (which effectively canceled out what I saved the former).
now playing: Nas - the Message
Labels: service charges suck, show announcements, show recaps
Friday, June 22, 2007

dark "hoarse"
If you weren't extremely on time at Video In last night you were probably told by the overly serious dude in the suit that you couldn't get in. The evening's line up ended up drawing a full house a mere 20 minutes after doors, at the very civilized hour of 8:20pm (or so). If you were lucky enough to get inside you were treated to an evening's worth of low key aural treats.
Rose Melberg
, who early in her set asked if anyone knew her "from the grocery store I work in on Main," started things off with a set of her uber-cute twee-folk. Backed by the Choir Practice's
Kellarissa
, the harmonizing made for an even sweeter performance of Rose's saccharine lullabies. It was soothing enough to lull you to sleep (combined with the extremely womb-like temperature inside Video In), but don't take that as a negative criticism. The whole thing was gorgeous and relaxing.
The legendary (in an indie way)
Calvin Johnson
was probably the biggest draw of the evening. Because of his rather expansive back catalogue and also because of the fact that he seems a touch crazy, I wasn't sure what to expect. It was sort of like watching Johnny Cash do a lounge singer act (complete with hilarious banter), but imagine if that sounds like a good thing. I felt like some of his songs dragged out on at times, but the highs more than made up for any perceived lulls in the action.
Julie Doiron
, whose voice was feeling the effects of a cold, headlined the evening. She started things off solo, before being joined by a band that included Will Kidman and Steve Lambke of the Constantines (who handled drums and bass, respectively). I'm usually bigger on the solo portions of Julie's shows, but the louder cuts off of
I Woke Myself Up
benefited from the more faithful renditions. And, while her voice was a little hoarse at times, her set was the usual Julie Doiron mix of adorably shy banter and pretty great music.
All in all, the evening was a bargain at $12.
If you got shut out on Wolf Parade tickets, you can (half) rejoice that you still have the opportunity to see Dan Boeckner's
Handsome Furs
at Richard's on September 22nd.
The Cure
are at GM Place on October 9th. (thanks to Aaron for the email)
Au Revoir Simone
are at the Media Club on August 22nd with
Oh No! Oh My!
.
Liam from
Yukon
emailed to let me know about some of the last show's the band is playing under the "Yukon" banner. I kinda like the name, but Liam self-deprecatingly assures fans not to worry they'll have "an equally bad name to replace it with." Catch them tonight at the Railway for a
White Whale
extravaganza with
Mohawk Lodge
and
Octoberman
, on Saturday with
Old Bridge
,
Colourbook
, and
Cobras Cobras Cobras
at 150 E. 3rd (the Yellow building next to Casa Del Artista), and on June 29th with
Montag
and
Miracle Fortress
at Pat's.
A-Trak is sick and
won't
be at Salbourg tomorrow. If you have advance tix, you can hold on to them though. Devro promises to reschedule soon, although I'm sure you can get refunds at your point of purchase as well.
There are five shows worth attending tonight. Plus Amon Tobin (kidding, kidding). Get out to something!
now playing: R. Kelly - Ignition (Remix)
Labels: show announcements, show recaps
Wednesday, June 20, 2007

nineteen
Tegan and Sara
are the Commodore on September 22nd for a pair of shows. The all-ager gets going at 4pm and the 19+ show is at 8pm.
Northern State
open... which is a bit unfortunate for anyone attending.
Caroyln Mark
is at the Ukranian Hall on June 29th to celebrate the release of her forthcoming disc, "Nothing is Free." Pigby opens.
The Wilco show is at Malkin Bowl now. Onsale tba. (thanks Jason)
Sue Jorge has been canceled (apparently months ago). (thanks Chris)
edit: and one more show for tomorrow...
Au Secour
(who share members with They Shoot Horses),
Speaking of Devils
, and
The Rain and the Sidewalk
are at Hoko's. (thanks for the email, Curtis)
now playing: Marnie Stern - Logical Volume
Labels: show announcements
Monday, June 18, 2007

easy tiger
Even though I just spent the last little while attempting to convey how crappy I think his new record is, I'm pretty excited to know that
Ryan Adams
will play the Orpheum on July 28th. For the record,
most people
seem to think that
Easy Tiger
is pretty good. Pre-sale starts Thursday, with a regular on-sale on Friday. (thanks Jason)
Amy Winehouse
is at the Orpheum on September 24th with
Paolo Nutini
. Tix go on-sale on Saturday.
The Paper Cranes
are at Richard's for
Half Alive
on August 17th to celebrate the release of their forthcoming full-length,
Halcyon Days
.
Before that happens,
the Clips
will provide some live musicianship at Half Alive. They're at Richard's on August 3rd. They're also playing the Sweatshop with
Bend Sinister
and
Treacherous Machete
on July 14th. If you're out of town, look for Bend Sinister and the Clips when they head out on tour together.
They Shoot Horses, Don't They?
are at the Railway on June 29th with
Shapes + Sizes
. Chris-a-riffic will be performing double duty by opening the show with his solo stuff (or maybe Bible Belts?).
Twin Crystals
are at the Sweatshop with
Modern Creatures
this Saturday. They're also playing an all-ager at Cafe de Artista with
Winning
,
Owl Drugs
, and
the Barcelona Chair
on July 7th.
now playing: Sonic Youth - Making the Nature Scene
Labels: show announcements

no satisfaction
To be completely honest, the prospect of hanging out in Cates Park all day on August 12th and listening to dodgy hippy bands while people in booths try to sell you Che keychains for
Under the Volcano
is about as appealing to me as hanging out naked at Wreck and getting a really unfortunate sunburn... except
Black Mountain
is playing their only show of the summer there. It's probably worth the $20 and the trek to North Van now.
Bonde do Role
is set to make up for bailing on the CSS show by headlining a show at Richard's on September 25th.
Juiceboxxx
opens.
Chad VanGaalen
is at Richard's on September 13th.
Pelican
is at Richard's on August 15th with Clouds.
Brian Jonestown Massacre
is at the Commodore on September 8th.
VHS or Beta
are at the Media Club on September 11th.
now playing: Casey Dienel - Everything
Labels: show announcements
Friday, June 15, 2007

i was so heavy, i was out of my head
I'll Make You a Tape (Vol. 6)
download:
I was wasted
Last
Music Waste
post until preparations for next year's fest go into high gear, I promise. I'd like to send out a big thank you to the crew over at
Only
for putting everything together. This year was the first year that I actually "did the fest" properly and used my pass to venue hop instead of just cherry-picking shows here and there. Needless to say, I had a blast. Here's a short collection of some of the best bands I saw, plus a couple more that I wish I could have caught. Since some of the bands only have 7" or cassettes or haven't released anything, some of the mp3s are 96kbps MySpace rips. But that's even more reason to go out to a show or head down to Zulu or Scratch to show some great local bands some love with your pocket books.
1.
Secret Mommy
- Plays
2.
Old Phoebe
- Shower Song
3.
Ghost House
- Deathquarium
4.
L. Abramson
- Letters to B
5.
Japandroids
- Coma Complacency
6.
White Lung
- Local Garbage
7.
Modern Creatures
- Oh Save Us
8.
Taxes
- Talkinboutmygeneration.com
9.
Mutators
- What Cuts Want
10.
Bison
- Wartime
now playing: Modern Creatures - Oh Save Us
Labels: mixtapes, music waste
Wednesday, June 13, 2007

please be patient with me
After a nearly three year drought, one of my favourite bands ever is coming back to Vancouver.
Wilco
is at the Orpheum on August 20th. On-sale info is TBA. (thanks Jason)
download: Wilco -
Ashes of American Flags (live on ACL)
Nicola from
Blue Grey Dots
has a new band. They have no music up on their MySpace, so I don't know if they're any good. But hopefully they'll
Prove It
live on June 30th at Hoko's. Collapsing Lung,
Ludvico Treatment
, and
the Barcelona Chair
play after them. I promise not to use that shitty play on words when talking about this band ever again. Show is at 8pm. Try the salmon, it's wild (ie. not digusting).
The Flaming Lips
will fill your life with utter joy at a venue TBA on September 18th.
The Deftones
added a third show at the Commodore on July 10th. I still own and quite enjoy
White Pony
and
Around the Fur
, but this blows my mind.
Silverchair
is at the Commodore on July 21st. I point this out, because I had no idea they still existed.
now playing: Clipse - Nightmares
Labels: show announcements
Tuesday, June 12, 2007

heavy sleeper
Why didn't anyone tell me that
Mutators
were so awesome before? They were like the result of some sick science experiment involving Wolf Eyes and Bikini Kill. It was noisy and beautiful. Although, to be completely honest, they had me before they played a note when their lead singer came on stage with an oscillator attached to her belt. A shame that they went on last, when a lot of people had cleared out already.
But back to earlier in the evening...
I got to the Lamp for the NCRC kickoff party in time to catch most of
Love and Mathematics
. I feel like I must have seen them before, but I couldn't recall what they sounded like. They played dreamy pop music. It didn't blow me away, but the Lamplighter isn't exactly the greatest venue for something so soft and layered.
The Doers
were up next. I quite like them, but unlike most people I know, I think I'd prefer if they just played their punk on electric guitars. The acoustic thing is sort of novel though.
I've always been on the fence about
Elizabeth
. I'd be lying if I said I wasn't down with the new-new-wave thing, but for some reason they've never really hooked me. They played a tight set, as usual, though.
When I see bands like
the Yesterdais
, I always wonder where 20-somethings who dress like they're from an era gone by meet each other. Internet mesage boards? Secret 60's boy group conventions? Strawberry Alarm Clock mailing list? I was under the impression that they only dressed like the Hollies on stage, but my friend Aaron saw them on the Drive the other day and quashed that assumption.
Devendra Banhart
is at the Commodore on September 1st with
Noah Georgeson
. Mothers!
Lock up your sons
.
Peter Bjorn and John
are at the Commodore on September 21st. They still don't believe in commas.
Lady Sovereign
is doing a PA set at Shine after she opens for Gwen and Akon on June 15th. (via
Chalked Up
)
And finally, apparently
Ryan Adams
is going to be in town on July 28th. File that under "rumour" for now.
now playing: L. Abramson - Letters to B
Labels: music waste, show announcements, show recaps
Monday, June 11, 2007

come and play with me, i've got some matches and...
Music Waste: Night Four - the Photoless Edition
There was only one place to be tonight for Music Waste (well, other than the after party) and that place was
Hoko's
(please note that Hoko's is on MySpace and ask if your usual Japanese restaurant of choice is Web 2.0'd).
I got in just in time to catch
L. Abramson
. It was apparently the last time that she plans to play solo in a long time, which is a goddamn shame if you ask me. It wasn't really the ideal venue for just Leah and her guitar, but her performance was one of the festival's understated gems. You should head over to her
website
post haste to listen to "Letters to B." And me, I should have remembered to buy a CD.
To be completely honest, I'm not sure exactly who the next two acts were. The show ran in a different order than what was listed in the schedule, and if either of the guys (both solo acts) announced who they were, I missed it. That probably makes it obvious that neither thing was really my thing. On the other hand, neither of them were terribly bad either.
Caravan
closed the night out. They were pretty fun, but I honestly felt like it was ska, but with more minors in the horn lines and an accordion. Speaking of accordions and dudes playing them; unless you're Keith Richards, in France, or in a smoking room, you're a douche bag if you smoke
inside in a public place
. And if you are playing an accordion for any other reason than because you're totally lifted on coke in the penthouse suite of the Four Seasons and some weird groupie brought you an accordion,
you are not Keith Richards
. And last I checked this wasn't France and the smoking room at Hoko's is called "Powell Street." Even Ryan Adams dashed outside the Commodore when he played here to get a nic fix, and he has a reputation for being a jerk.
Anyhow, in case you thought Music Waste was over, I'm here to remind you that you are wrong. Tonight's
NCRC
kickoff show featuring Elizabeth, the Doers, the Yesterdais, and the Mutators (and maybe White Lung, though that has yet to be confirmed) at the Lamplighter will accept your MW pass at the door.
Good news:
The New Pornographers
are at the Commodore with
Lavender Diamond
and Fancey on September 28th.
Really good news: Dan Bejar and Neko Case
will
be performing with the NPs.
Apparently their upcoming album,
Challengers
, will be out on Last Gang in Canada instead of Mint. I have no idea as to why, and I haven't been able to confirm it from anyone official, but it was a pretty reliable source. The bigger question (that you might actually care about) is whether we Canucks will be able to get in on Matador's
By Early Get Now
program, which gets you early access to an album stream and (if you buy the deluxe edition) you get
all
the content that goes along with the release (live shows, b-sides, alt takes, etc). Kudos to Matador for realizing that throwing half a dozen outtakes and bonus tracks across multiple, expensive, import 7" and CDS's just makes people run to Soulseek.
Tokyo Police Club
is at the Plaza on September 2nd.
The Evaporators
are at the Ukrainian Hall on June 15th with
the Choir Practice
and Chris-a-riffic.
now playing: Roger Dean Young & The Tin Cup - Wanderlust
Labels: music waste, show announcements, show recaps
Sunday, June 10, 2007

warm it up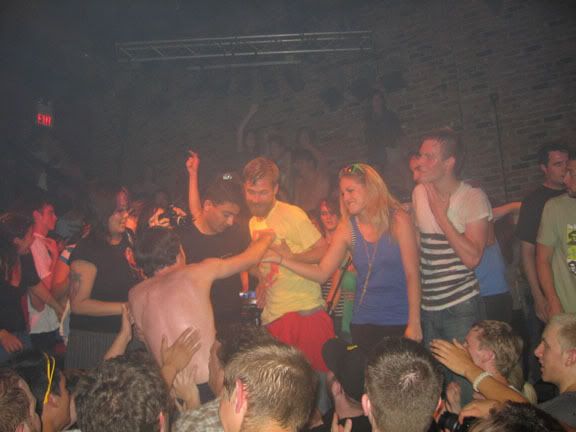 To quote the infinite wisdom of Sean Orr, when you looked out at the crowd at last night's
Girl Talk
show it was like "Vancouver woke up from its coma." Honestly, it was nuts. I've seen my fair share of shows in our fair city in the last decade or so, but I've never seen anything like last night. I didn't get to Richard's until Girl Talk (aka Gregg Gillis) had already been rocking the venue for 2-3 songs, which was all it took for the stage to get packed with people. In fact, when I was getting ID'd the security were having a mini-powwow about just what the hell they were going to do about the situation (which was apparently to threaten to shut the show down). If every Vancouver crowd came ready to party half as hard as this, we'd quickly lose our reputation for being masters of standing stock still.
The performance itself was a bit weird. From a musicianship perspective, it was probably one of the least impressive things I've seen in my life. It was a guy with a laptop and a mouse, who would occasionally talk into a microphone, and was really good at fiddling with Ableton Live (or some similar program). But from a showmanship perspective it was bloody amazing. I don't think I've ever seen a DJ (or anyone, for that matter) rock a crowd so well. And to top it off, while he came across completely comfortable and confident, he was also instantly affable. Since I stole a quote from Sean already, I'll quote Mike from
ChalkedUp
as well, who put it best when he noted that the performance was like "watching one of your best buddies just kill it."
And dude fucking killed it.
I missed Datarock (3 people have said this was a mistake and 2 said it definitely wasn't) because I was at the Media Club to catch Liz from
Land of Talk
's solo set. The trio became one last night because of some visa issues with their new drummer, Eric (he's Canadian, but if he came back to Canada right now, he wouldn't be able to get back into the US for the rest of the tour). She told me after that she wasn't all that keen on the prospect of playing by herself, and while I like the band just the way that they are, it was a cool - and rare - treat to see her play some songs (new and old) solo. It was a completely different atmosphere from the Girl Talk show, but I enjoyed the opposite combination of very wonderful musicianship and very understated showmanship just as much.
I spotted
FirmDragon
with his camera (but didn't get a chance to say hello), so keep any eye on
DimeaDozen
and his tape might show up some time.
I also managed to catch one Music Waste set. I made it down to Hoko's in time to see
the Public or the Press
. They were okay at doing what they do, but the new-new-wave thing isn't an original enough thing to set them apart from anyone.
now playing: Spoon - Finer Feelings
Labels: girl talk, land of talk, music waste, show recaps
Saturday, June 09, 2007

rock n roll on the floor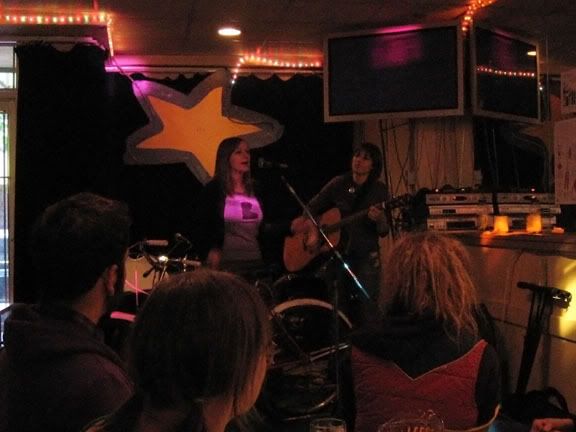 Music Waste: Night Two
I started the evening off by seeing
Old Phoebe
at Hoko's. I'll say right up front that my friend Jamie plays in the band. And while I think my fondness for their super lo-fi pop songs is genuine, you can keep my bias in mind if you want. They're on a hiatus after they open for Immaculate Machine in Nanaimo next week though, so you won't have a chance to judge for yourself anyhow. On a Hoko's side note, who sneaks booze in there (prompting the "if you BYOB we will kick you out!" signs all over)? It's $3 for a pint, you cheap fucks.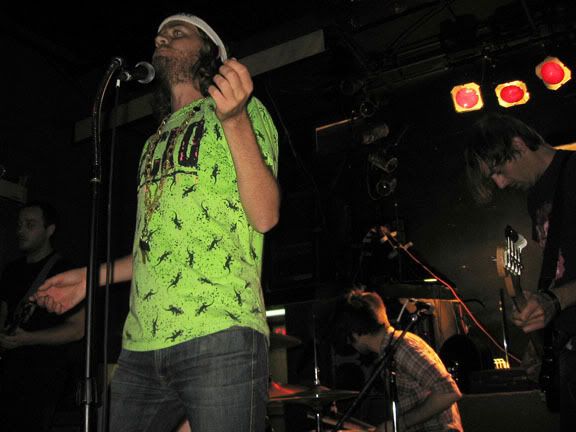 After duetting with my friend Aleks on Human League's "Don't You Want Me" (Hoko's is a karaoke joint after all), I walked over to the Balmoral in time to catch the end of
N213
(which I wasn't feeling all that much) and
Taxes
. Taxes could probably get by on Sean Orr's stage banter alone (he even brought an ice pack), but happily the music's pretty damn good too. They have that same dancey, post-punk feel that two of my former local favourites - the Red Light Sting and Blue Grey Dots - had, albeit without the keyboards and they're a little more sprawling and experimental than the latter. I can see these guys quickly becoming one of my favourite local acts, so do yourself a favour and check them out soon. And speaking of the Red Light Sting, Gregory Adams interviewed Sean for
the Surrey Now
. No joke. They're playing out in Abby with Winning on June 15th, and a little closer to home on June 22nd, when they're at the Cobalt with Death Rays and either Sun Arise or the People Verses (Death Rays' Myspace says one thing, Taxes' says another).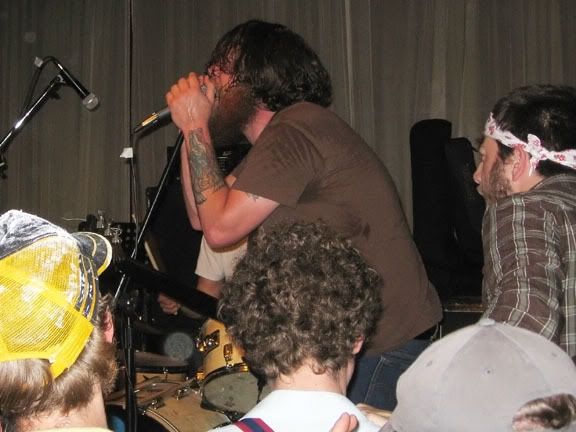 Because the Balmoral was a bit behind schedule, I missed
White Lung
(although they might be added to the NCRC Go Your Own Waste Show on Monday) at the Royal Unicorn, but made it in time to see
Bison
. I don't talk a lot about metal here, but that doesn't mean I'm not into it. And the brand of metal that Bison is serving up is the type of metal that gets me going. Definitely the set of the fest for me so far. "Wartime" blew my mind live. Catch them on the 28th with 3 Inches and Jaws or at 4pm today at the Sweatshop (1820 Pandora) for an all-ager Skate for Cancer Benefit.
Animal Collective
are at the Commodore on September 15th.
Spoon
are at the Commodore on September 7th. Wolf Parade fans who like Spoon more, but already have Wolf Parade tickets are unhappy campers right now.
Thanks to the numerous people who emailed/commented with info on the last two.
Robert Dayton's new project,
the Hallmark Group
is at the Western Front on June 15th with
Abernethy
and 011.
Timbaland
is opening the JT show. I'm currently putting the chances of a Nelly Furtado cameo at 3-1. (thanks to Mike for the heads up)
Wilco just released some more dates on the
Sky Blue Sky
tour. No Vancouver date yet, but there's 6 days off between the Peg and Seattle, so cross your fingers.
Via
Rob
, ILM presents
LOL80's
.
And last, but certainly not least, even though their new drummer can't cross into Canada and cross back into the US because of Visa issues,
Land of Talk
are opening for the Rosebuds tonight. Liz is hitting town by herself to do a solo set! I plan on catching this before heading over to Girl Talk, so no Music Waste for me tonight.
now playing: Bison - Wartime
Labels: music waste, show announcements, show recaps
Friday, June 08, 2007

plays
A 3am recap of my annotated (I didn't make it out until 11pm) night one of Music Waste...
Secret Mommy
@ the Royal Unicorn:
I expected this to suck live (yet went to see it anyways... I don't know what that says about me). I like
Plays
, but I thought it would just be Andy Dixon fiddling with a laptop and jumping up and down a bit. If I had paid more attention to the Music Waste Guide, I probably would have realized that it was billed as "Secret Mommy Quintet." True to the name, Andy was joined by four of the other musicians that helped him out on his latest record (I only recognized Sarah from the Doers and Greg from the Red Light Sting/Winning). So, instead of Andy fiddling with a laptop and jumping around a bit, it was Andy fiddling with a pair of laptops and jumping around a bit, while also playing a kick drum and keyboard, and getting a little help from his friends on a variety of instruments and vocals, which he then sampled and looped live. It was even better than that monstrosity of a sentence.
Sex Negatives @ the Balmoral:
Improv noise is not my usual thing. I'm not sure if that makes me an easier or harder judge, but I quite enjoyed the 15 or so minutes I saw of this before I split for the Unicorn. Having a drummer and percussionist was what really sold me, especially when the former went into a rhythmic freak out that sounded like a building demolition (in a good way).
Huge Manatease
@ the Lamplighter:
My friend Luke loves these guys. I sort of felt like I was the only one there who wasn't in on the in-joke. Some parts were pretty funny, but some parts were really boring. All the people who seemed to know the people in the band were enjoying themselves immensely though.
now playing: Les Savy Fav - One to Three
Labels: music waste, show recaps
Thursday, June 07, 2007

kitty empire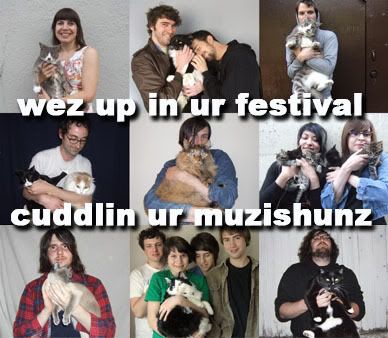 In case you forgot,
Music Waste
starts tonight. Get out to some shows, Vancouver. kthxbai.
PS: Land of Talk are no longer opening for the Rosebuds on Saturday. Wack. (thanks apl)
now playing: Mike Jones - Still Tippin' (Diplo Remix)
Labels: music waste, show announcements

off the hook
Was there an exact point when
CSS
dropped the "Cansei de Ser Sexy" and just went with the abbreviation? Not important knowledge, but I'm curious.
Whatever you want to call them, hopefully you were watching them tonight. Even though their openers canceled (first Bonde do Role because DJ Gorky needed dental surgery and then Busdriver was a no show), it was worth the $20 for the headliners. They're no the tightest band in the world live, but what they lack in chops they sure as hell make up in energy. Actually, on that note, I don't really think all that much of the record (it's good, not great), but again, they transcend all that live. If you were ready for a midweek party, you weren't disappointed. Well, unless you were the drunk girl that jumped on stage... then you're probably wishing you still had your belt.
I'm currently advancing the theory that Lovefoxx is the Brazilian, party version of Bjork.
I'm reviewing it for
Streethawk
, so look for some more fully formed thoughts over there at the beginning of next week.
Wolf Parade
are at Richard's on September 7th with
Holy Fuck
. Tickets go on sale this
Saturday
Friday (I clearly lack basic reading-comprehension skills) and you might want to jump on that pretty quickly. Last time they came they sold out the Commodore in advance. I have no idea why they're downsizing, but I'd rather see a show at Richard's if I had the preference, so no complaints here.
The Cribs
are at Richard's on July 29th with
Sean Na Na
and "the Fields." I don't know if that means
the Field
or
Fields
. Based on the tour itinerary that is posted for the former, I would guess the latter though.
now playing: CSS - I Wanna Be Your JLo (Sleater-Kinney vs. JLo version)
Labels: lazy show recaps, show announcements
Tuesday, June 05, 2007

what a waste
Only
has their
Music Waste Guide
up. It is written in the traditional Only Music Waste Guide style and contains flashes of comic brilliance like this:
Taxes 10:50-11:20
Bring an icepack this year, you persistent fuck.
The best part is that the Guide has set times attached, so now you can organize your venue hopping. It looks like I'll be running nervously around the DTES like a tourist who took a wrong turn at Carrall trying to see everyone I want to see on Friday night. If you want more fawning and less sarcasm, check out
Streethawk's
picks for the festival.
Matt & Kim
is canceled tomorrow night. They promise to make up the date (as well as PDX and Seattle) later in the Summer. Luke, now you can come to CSS... or if you're really bummed out about it, put on your copy of
Bring it Back
and pretend it's sloppily executed.
edit
: the show has been rescheduled for August 23rd at Pat's. Tix for tomorrow will be honoured at the new show. Presumably you can also get a refund at your point of purchase if you can't make it.
Why wasn't Sarah Silverman
this funny
at Sasquatch?... or remotely funny at all at Sasquatch?
The Marnie Stern show on June 22nd is at Pat's. They're looking for a pair of openers, so if you have a band and won't be shown up by her ax wielding, get in contact with
Fireball Productions
.
If you're a massive
M. Ward
fan (like super massive and potentially obsessive), you might be interested to know that he opens up for Norah Jones on June 28th at the Orpheum.
Wilco explains why they licensed songs off of Sky Blue Sky to VW
. Did they really have to explain this? Most of the people who complain about this type of thing probably stole the record off of the internet anyhow.
now playing: Of Montreal - Wrath Pinned to the... Outback Steakhouse!
Labels: music waste, show announcements
Sunday, June 03, 2007

constant and true
Rose Melberg
, who lives here but rarely plays here, is opening the Julie Doiron/Calvin Johnson all-ager on June 21st. Tix are at the door.
St. Vincent
is at the Lamp on July 30th with
Death Vessel
.
Bonde do Role were forced to cancel their tour "due to illness," which means they're off the CSS bill on Wednesday.
Bus Driver
is set to fill in.
Basia Bulat
is opening the Final Fantasy show. (thanks to
Matthew
)
Thursday's are about to get busier. If you were having trouble deciding between the Met for
Young and the Restless
or the
Color
sponsored fun at the Bourbon for
Blastramp
, your midweek dance decision just got harder. Those
Chalked Up
guys are starting a weekly at Century House starting June 14th.
Speaking of Color Mag, if you pick up the newest issue, you can read the article I penned on
Handsome Furs
.
Salbourg
is bringing
A-Trak
to town on June 23rd. They're also hosting the second Vancouver iPod Battle on July 14th. I missed the first one, but it sounded awesome.
If you haven't checked out A-Trak's
Dirty South Dance
Mixtape, you need to go do that now.
download: A-Trak -
Time to Get Yummy (Gwen vs LCD Soundsystem)
now playing: Tegan and Sara - Back in Your Head
Labels: show announcements
Friday, June 01, 2007

learn to keep your mouth shut, owen pallett
Tiny Mix Tapes
reports that
Final Fantasy
will be at Richard's on October 20th. I'm pretty sure that wasn't supposed to be public knowledge yet, but apparently someone put it up on the TomLab website, and those TMT dudes are thorough.
Magnolia Electric Co.
are at Richard's for an early show on August 31st to support The Sojourner Boxset. Out on August 7th, the set collects three LPs, one EP, and a DVD worth of material. Some of the tracks are re-records of older songs, but either way, that's a lot of new MEC. You can stream a bunch of tracks and check out what this bad boy will look like
here
.
Thanks to William for pointing out that the Deftones are playing another show at the Commodore on the 12th of July. Unfortunately, if you were interested in such things, it went on sale right after the first one sold out... and they both sold out in about 10-minutes.
The Nerve
is throwing a party at the Plaza on June 21st.
Bend Sinister
,
Fake Shark Real Zombie
, and
Go Ghetto Tiger
are playing and
Paul Devro
will be behind the decks.
now playing: the Cardigans - Lovefool
Labels: show announcements