Friday, March 25, 2011

honey, i don't know why i get so mean
Just a quick update to say that
the Lotus Hotel
has been sold... which means Lotus, Honey, and Lick are all under new ownership. And, that means that this past week's Ice Cream Social, Hump, and Honey Lung Thursday were the last ones (at least at their current venues). It also means that tonight's edition of Mod Club is the last one.
No official word on what the venues will be in their new forms, but I heard a rumour that the Honey space is set to become an "Irish sports bar"... in case it was too full when you dropped by Ceili's... or Smiley's... or...
And so this isn't a total bummer, check out Tristan's SXSW recap over at
Winnie Cooper
.
now playing: Dominique Young Unique -
Immaculate
Labels: no fun city
Friday, March 04, 2011

input select
On Saturday, W2 hosts
Utopia Festival: Women in Digital Culture
. The festival features live performances, DJ and VJ sets, a conference, and a mobile dance party. Check out all the details
here
.
On March 18th, VIVO hosts the
Drop In/Drop Out Video Arts Expo
. Animal Bodies, Channels 3+4, Magneticring, Holzkopf, and Crystal Dorval all play live, but the focus is a showcase of interactive audio/visual work. If you've got a talent for the latter, you can apply to be part of the exhibition
here
.
Oh, and another reminder that tonight there's a whole wack of awesome shows, so go see some live music.
now playing: Adele feat. Childish Gambino -
Rolling in the Deep (Jamie xx Remix)
Labels: show announcements
Wednesday, March 02, 2011

friday, i'm in love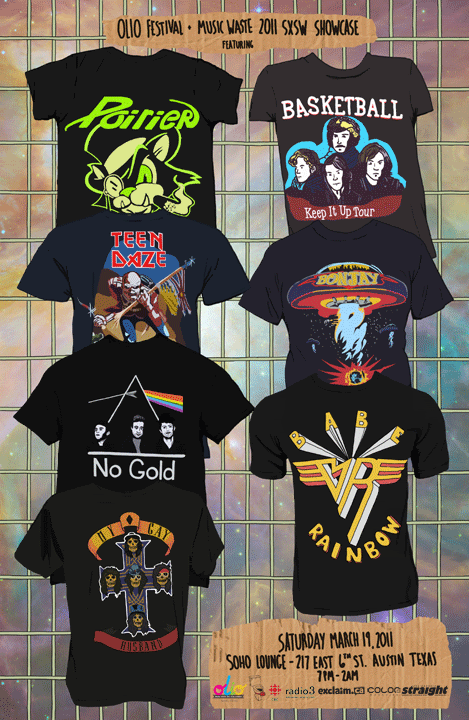 So, I don't often talk about out-of-town shows (especially ones that I can't attend), but 1) this poster is awesome and 2) it ties into this Friday
If, by chance, you're not from Vancouver and are going to be in Austin for SXSW, get a great introduction to what's going on here by checking out the
Music Waste
/
Olio Festival
joint showcase.
Us locals can get a preview on Friday at the Cobalt at the
MW/Olio joint fundraiser
... and, hey, if that's not up your alley (or even if it is), your choices on the 4th sort of border on overwhelming. My current plans are to be at the Biltmore for B-Lines/White Lung/Nu Sensae, but I reserve the right to change my mind and head over to the Lion's Den for Koban... or the CBC for Owen Pallett or... you get the point.
now playing - Muscles -
Brilliance
Labels: show announcements, sxsw