Sunday, September 30, 2007

look, we've seen this kind of thing before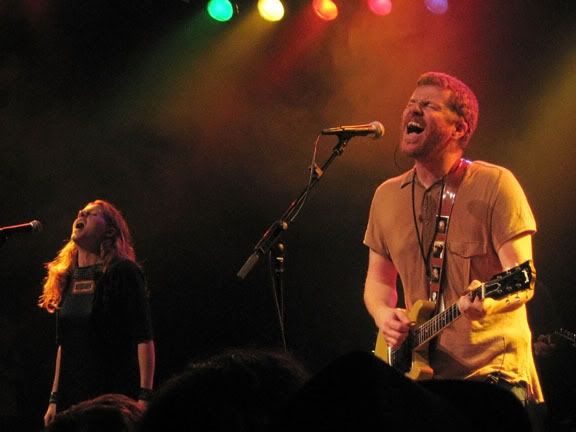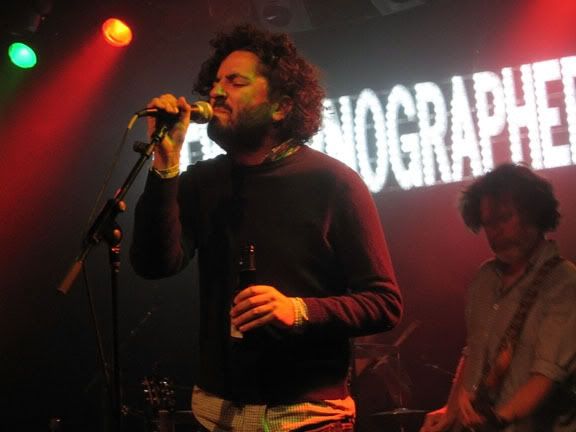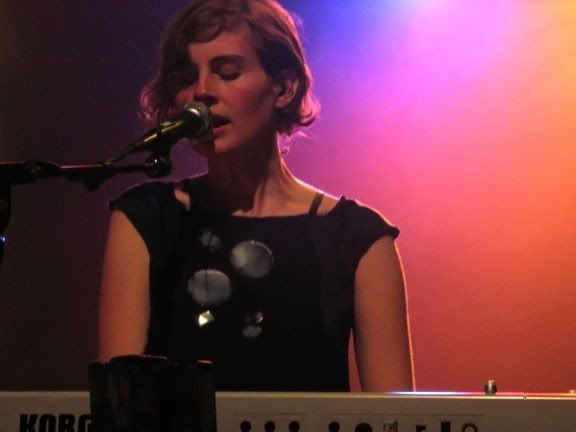 I've seen the New Pornographers so many times, and they're so very consistent as a live act, that I can't really think of much to say about their show on Friday. It was, of course, a bit novel because Neko and Dan were there (Dan even played guitar on a song that he wasn't singing on), but other than that, it was just another great performance from the band. Actually, I take that back. It's also worth noting that Kurt Dahle wasn't drumming. I didn't catch the (very competent) fill-in's name, but I do remember Neko saying that Kurt was AWOL because his significant other just had a baby, so congrats to him.
I'm still a touch underwhelmed by
Challengers
, but the new tunes sounded better live, and certainly didn't sound out of place when they were placed along side older numbers. "Testament to Youth in Verse" is one of my favourite songs (by anyone), so it was great to hear that, but I was also pretty keen on the live performance of "Myriad Harbor."
I got there too late to catch Fancey, but did see all of
Lavender Diamond's
set. I'm actually pretty fond of her records, but she was really boring live... almost painfully so. Even "Open Your Heart" and "You Broke My Heart" were rather limp sounding. On the other hand, Becky Stark can
really
sing, and their stage banter was entertaining.
Last night, I caught
Bison
at the Media Club. They apologized for the "expensive" $10 cover. It was James' birthday. Dudes went off.
Circlesquare
is at the Media Club on October 14th.
Andrew's
on the decks.
Sex Attack!
: not at the Unicorn on Thursday, but throwing a party at Frank's (on Franklin) on Saturday. Also: really good at pissing off some guy who thinks he's fucking Grandmaster Flash or something.
Wiley is off the November 27th bill at Richard's... which only leaves Devlin and Darko (of Spank Rock fame) and My!Gay!Husband! playing records that night. Apparently, Wiley's on the same "retirement" plan as Jay-Z, so that's probably not the reason that he's no longer on the bill.
Voxtrot
got denied at the border, so they won't be opening for Arctic Monkey's tonight.
now playing: Loose Fur - Laminated Cat
Labels: show announcements, show recaps
Friday, September 28, 2007

raise the roof
Or rather, get the hell out of the way of the roof so it doesn't crush you. And that's exactly what the Megalomania Cafe will have to do. Sorry, Sean Orr fans, but you'll have to get your fix tonight at Casbah. Due to a potentially crumbling roof at the Lighthouse, tomorrow night's event is postponed until further notice... and there wasn't even a Morning Brew today, to top things off.
That just leaves Bison, Earlimart, Mike Relm, and a party at Hoko's on your list of musical things to do on Saturday.
Thursday, September 27, 2007

my generation dot com
Since there aren't already a bunch of potentially great things happening on that night,
Beyond Robson
, Parliament of Owls, and all those other places that get Sean to do stuff are presenting the Megalomania Cafe (aka Sean-Orr-ama) this Saturday at the Lighthouse (165 E. Hastings).
Taxes
and
Saint Just Vigilantes
are playing, and (I think) those
ChalkedUp
guys are going to spin some tunes.
Tooth & Dagger
is also hosting a lecture-oke as part of the event, and there will be art by Jenny Smyth, Heather Emery, Chris Williams, Sean Orr, and others on display. Four bucks gets you in.
Also this weekend, if you're looking for somewhere to dance that isn't 1/2 Alive or Mod Club, you can head down to the Columbia for
Plan B
, which is now happening every second Friday (I think). Music by
these guys
. Cover is $5.
Sex Attack!
is spinning at the Royal Unicorn on October 4th.
Culte du Cargo
,
Nihlist Party
, and
Davidsmind
round out the bill.
In non-local news...
Sondre Lerche
is at the Red Room on November 7th.
Alejandro Escovedo
is at Pat's on November 17th.
Juliette and the Licks
are at Richard's for an early show on November 23rd with
Scissors for Lefty
and
Suffrajett
. According to the press release, the former are "special guests," but the latter or merely "guests." Poor Suffrajett.
And to add to yesterday's contest winners announcement, here's Jade's joke and Ryan's favourite "old rave" song respectively:
Knock Knock
Who's There?
Interupting cow
Interupting co-MOOOOO
Evil Homer - "Interrupt Vector"
Y'know, in case you were curious.
Labels: show announcements
Wednesday, September 26, 2007

just a little bit more
I wrote a
Chart
story on
Lions in the Street
, where Chris gave me the lowdown about, among other things, how 604/Universal is finally releasing the album that the band recorded (mostly - they never finished it) when they were known as the Years. The thing is, they're going to put it out under the name "Lions in the Street," even though the guys haven't played those songs live since they regrouped, which was after they were forced into major label limbo.
The interesting and also somewhat appalling thing is that there's absolutely no logical reason to release this record now (especially under the band's new name). There will be no tour support. And while Chris said that they're still very proud of the record, the label certainly isn't going to get any cooperation from the band they dropped and are currently holding in a legal stalemate when it comes to promotion. It's also not as though Lions in the Street have somehow positioned themselves as the next Arctic Monkeys or anything either, so it's not as though the label is going to cash in on the endeavor. In fact, based on the circumstances, I fail to see how they'll make any money off of it at all.
It's easy to look at the music industry and blame everything on the quest for the almighty dollar, but it's things like this that make me think that it's more about ego than anything else... which goes a long way to explain why the industry is tanking.
Consequently, someone has posted the lost record on
the Pirate Bay
under "Lions in the Street - the Years." It's not incredibly far removed from what the guys are doing now, but the new stuff is certainly an improvement, if you ask me. If you want some actual new LitS material, they've got a demo and a cover of "Everyone Knows This is Nowhere" up on their
official site
.
Speaking of Pirate Bay,
TMT reports
that they're suing some (divisions of) major labels over
leaked emails
that suggest the labels in question are paying hackers to screw up their servers.
The Vancouver Sun
asks, "can there be too many concerts?" and finds out that it all comes down to demand. More hard hitting investigative journalism from the folks at CanWest.
Meanwhile,
Tooth and Dagger
reports on some of the "less conventional" show venues that are popping up around the city and Streethawk has a more in-depth discussion with
Hoko
.
Speaking of Hoko's, Dustin from (
Adjective
and
Sex Attack
) is celebrating his birthday with a free dance party there this Saturday. His Sex Attack mates will provide the tunes.
Scratch
announced their third (chronologically the second) 20th Anniversary Party. On November 9th at Pat's, the
Tranzmitors
,
Thor
,
Vancougar
, French Paddleboat, and
Weathered Pines
will help the store celebrate two decades in business.
Patrick Watson
is at St. James Hall on December 7th with
Plants and Animals
. How's that for a timely announcement? (thanks Shea)
Jon Rae
(and also the River?) are at Gaff Gallery on November 2nd with
Adelaide
and Chad from
My Project Blue
. It's an early show - doors at 8pm, over by 11pm - so you could hit this up and still go somewhere else afterward. (thanks Ben)
Someone died watching the
Smashing Pumpkins
last night.
Those guys from
Bison
were cordial enough to sit down with me for
ChalkedUp
. If you haven't picked up
Earthbound
yet, you should go do that now, while you can still find a copy.
And last, but not least, congrats go out to Jade, who wins the
Hylozoists
prize pack (two discs and two tickets to tomorrow night's show) and to Ryan, who wins the
Klaxons
tickets. You can still try to cop freebies for the latter over at
ChalkedUp
.
Jade and Ryan can both thank my friend Spencer, who was the key to their victory, due to my highly advanced drawing method of, "Spencer pick a number between 1 and _."
Labels: contest winners, lions in the street, self-aggrandizing
Tuesday, September 25, 2007

bright shiny lights
Further to last night's post about Patrick Watson winning the
Polaris Prize
... I actually have nothing against him or
Close to Paradise
, but if that's the Canadian album of the "highest musical integrity," we've got some national issues.
Owen Pallett talked to the
Canadian Press
today, and noted that "The Arcade Fire do not need $20,000. Leslie Feist definitely doesn't need $20,000," which is all well and good, but if they're going to give the prize to people who need the money they should just give out a grant.
Alternately, there's the idea that the jury was trying to pick something that wasn't obvious, which is also a bit ridiculous. Also, it's ironic that if they were, indeed, looking for the left field choice, they ended up choosing the record that's probably the safest musically.
But what do I know? I was listening to TLC on the way to work. At least that crappy Dears record didn't win.
AIDS Wolf
are at the Emergency Room on November 24th.
Mutators
and
Shearing Pinx
kick things off, and Chloe and Yannick from AW will have some of their
Seripop
stuff on display as well.
Exclaim
is bringing
Elliott Brood
to the Plaza on November 2nd with
the Acorn
and
Sunparlour Players
. (thanks Scott)
Nas
is at Plush on October 4th. Tickets cost about a million dollars (note: actually $60+s/c - they had them for $72 at Zulu when I was there the other day).
Heavy Trash
are at the Plaza on November 18th with
Powersolo
.
And because of that Exclaim shindig, the Pipettes show at the Plaza is now a day later.
Ladybug Transistor
open. (thanks Shea)
One day left to win
Klaxons
or
Hylozoists
tickets.
Labels: polaris, show announcements
Monday, September 24, 2007

luscious life
I know it's not cool to admit that you like Feist now that "that Nano song" is being
googled
by your mom, but
Patrick Watson
? Honestly?
now playing: Martha & the Vandellas - Heat Wave

not so fast
So, when I waltzed into Richard's on Saturday night, the first thing that struck me was the fact that they'd replaced the worn out hardwood with some brand new flooring. I didn't put two and two together and think back to the rumour that I'd heard about the Aquilini Group (who own pretty much the entire block and also our beloved Canucks... for now) opting to hold off on development of the space until after the 2010 Olympics, when they expect construction costs to drop.
Well, Michael was kind enough to email today to let me know that that rumour is now a reality, and the owner of Richard's has been able to renew the lease on Dick's for 2-3 years. Apparently this means that some more upgrades are coming as well. Hopefully, that doesn't mean that the current set-up, that has the room operating as more of a live venue than a canned music club, will change as well.
At any rate, it's good news for now.
Labels: richard's
Sunday, September 23, 2007

oh, there was home
It's not that Dan Boeckner's songwriting is dumbed down or that Spencer Krug can't pen a decent melody, but when I think of Wolf Parade, I always think of Krug as the word smith and Boeckner as the guy who writes the anthems. I'm really into some rather cerebral songwriters (Dan Bejar comes to mind), but more often than not, I tend to side with things that grab you by the balls before things that only tickle your mind. It was pretty perfect then, that the Handsome Furs encored with a Tom Petty cover (of "You Got Lucky"), because I feel the same way about Tom that I do about Dan; he's no hack in the lyrics department, but his strength is the sing-along melodies that he composes. And, you know, Boeckner always
looks
like he's feeling every word that he's desperately wailing, and that's far more affecting than a guy who calmly sings some well-written creative writing exercise set to music. To her credit, Alexei Perry was equally into things, even though she wasn't behind the mic at all.
Anyhow, if you missed out, you should consider yourself foolish (well, maybe not if you were at No Age, depending on how good No Age was last night). They were even polite enough to lie about "Handsome Furs Hate This City." It's not about Toronto, and is, in fact, about Vancouver. Any
real
Vancouverites wouldn't take offense to that sentiment, but it was a nice gesture anyhow.
I didn't snap any photos, but I bet
Steve
will have some nice ones up soon.
The Ponys
are at Richard's on November 7th with
Chin Up Chin Up
.
Moving Units
are at Richard's on November 28th with
VHS or Beta
now playing: M.I.A. - Jimmy
Labels: handsome furs, show announcements, show recaps
Thursday, September 20, 2007

rainbow man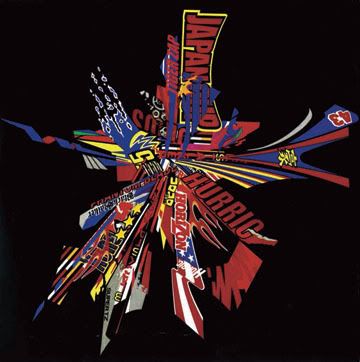 Contest: The Fader's Busy P/Blaqstarr 7" Giveaway
The fine people over at
the Fader
hooked me up with a copy of the latest record in their Southern Comfort 7" series to give to somebody. Past editions featured Ladyhawk and M Ward, Mavado and Busy Signals, and the Black Lips and YACHT, but this time around they're getting a little more electro. The 45 boasts Ed Rec boss
Busy P
, who offers up "Pedrophilia," while
Blaqstarr
rocks the flip side with "I Can Feel It in the Air." I was so psyched on this that I convinced them to send me a copy too.
As a semi-related side note, I'm not entirely certain, but I think Southern Comfort was what I was sucking back the first time I threw up from drinking.
No hoops to jump through for this one. So, if you want to get your hands on this thing, just email me at
quinn.omori AT gmail DOT com
with the subject heading
Fader 7" Contest
by noon on Wednesday, October 3rd, and I'll choose a winner at random. Easy, huh?
As always, check the Fader Podcast:
here
Labels: blaqstarr, busy p, contests

local garbage
As you're probably already aware,
the Straight's
best of Vancouver issue is out today, and just like last year the
Best of Media, Arts, and Culture
is sort of baffling. Check it:
LOCAL BAND (SIGNED)
1. The New Pornographers (tie)
Nickelback (tie)
2. The Be Good Tanyas
3. 54-40
LOCAL BAND (UNSIGNED)
1. Art of Dying
2. Brickhouse
3. Japanese Pop Songs
I know they still move records, but I don't think I've ever met anyone who will actually admit to liking Nickelback. Where are these people hiding? Also, who are Japanese Pop Songs? And they're actually pretty good... but the house band at the Yale? Honestly?
On the other hand, apparently Milestones is the best place to get brunch, which explains a lot about the response pool.
I know I posted something like this last year, but with so many great shows selling out and so many great bands selling out bigger and bigger venues now, I mistakenly thought that more people suddenly developed some taste.
Shonen Knife
are at Richard's on December 13th with
the Juliet Dagger
and
Verona Grove
.
GWAR
is at the Commodore on November 16th. Bring rain gear (or stay out of the first few rows) if you don't like getting faux bodily fluids on you.
Labels: show announcements
Wednesday, September 19, 2007

if only your heart was a major sixth

Contest: Hylozoists ticket and CD giveaway
The Hylozoists
, who released the rather wonderful
La Fin Du Monde
last year, are hitting Vancouver next Thursday, supporting the Besnard Lakes at Richard's, and the fine folks over at
Boompa
want to send you and a friend to the show. They also want to give you not one, but two Hylos discs. In addition to
La Fin Du Monde
, the winner of this contest also gets a copy of the recently re-released (and formerly out of print)
La Nouvelle Gauche
.
Pair of tix and a pair of albums - not a bad deal, huh?
If you want to win, send me an email with the subject line "Gimme Hylozoists Stuff" to
quinn.omori AT gmail DOT com
, and
tell me our favourite joke
. What does that have to do with the Hylozoists? Nothing, but I'm fresh out of jokes to tell at Shindig this year, and I want to score a free beer or two. Ha. Bonus points if I actually attempt to tell your joke and you're in attendance to call out the punchline.
Get your entries in by
Wednesday the 26th at noon.
One more contest coming tomorrow... when it rains it pours.
now playing: Idlewild - Everyone Says That You're So Fragile
Labels: contests, the hylozoists

let's buy happiness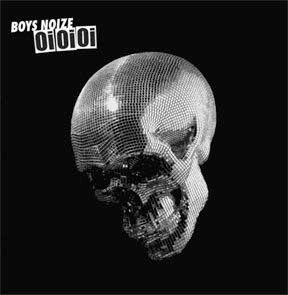 Promo Pile: Vol. 6
Boys Noize
-
OiOiOi
I think I'm going to keep this fairly short, but since Boys Noize is at the Plaza tonight, I wanted to get something up.
There are probably three ways that you could go on
OiOiOi
. If you hate the kind of electro that's all the rage these days, you can stop reading now. Similarly, if you bought the Justice, Simian Mobile Disco, or Digitalism record, and that was enough of a "blog house" fix for you, this isn't going to be an essential pick up. On the other hand, if you have the Justice, Simian Mobile Disco, and Digitalism records, and you're craving some more, you'll want to get your hands on this as well.
There's not a ton going on here that's extremely original - in fact, I think "&Down" either samples or shares a sample with Justice - but the familiar tricks are all executed quite well.
I don't know if it's a live set or a DJ set tonight, but if you don't have other plans and feel like dancing, the Plaza's a pretty good bet (although the Unicorn is also a good - and, tonight, free - bet).
Labels: boys noize, promo pile
Tuesday, September 18, 2007

we'll travel to inifinity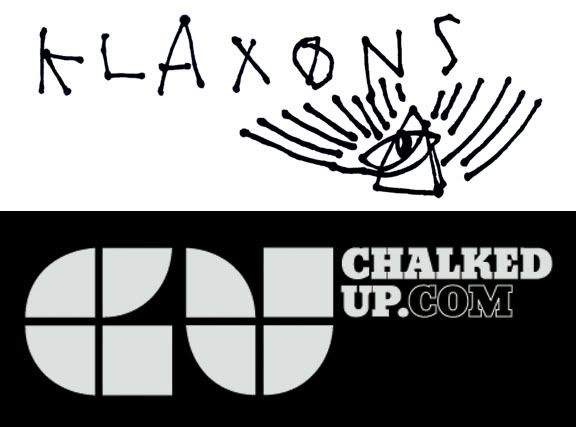 Contest: Klaxons w/Mystery Jets Ticket Giveaway
I'm pretty excited about this contest, because it's in conjunction with my friends over at
Chalked Up
, and I enjoy it when I can work together with people I like.
So here's the deal: the Mercury Prize winning
Klaxons
are back in town on October 1st at the Commodore. They've got
Mystery Jets
with them. And Chalked Up and
Live Nation
are going to hook someone up with a pair of tickets to the show.
Even though the
last time they came here
they proved that the "neu-rave" tag that follows them around is quite the misnomer, let's play on the term anyhow. So, if you want to win the tix, email me at
quinn.omori AT gmail DOT com
with your
full name
, the subject line "Give Me Klaxons Tickets," and tell me your favourite old rave song. Get your entry in by
noon on September 26th
, and I'll pick a winner at random. Sorry kids, this thing's 19+, and fake IDs don't work when you're picking up free tickets at the will call window.
I'll get things started by professing a lingering love for
"Electrobank"
by the Chemical Bros.
Check out
the Facebook event page
for some more details about the show and another chance to score free tix. And if you haven't already checked out ChalkedUp post-relaunch, click on that banner up there. My friend Saelan has a great review of
SWARM
up on the front page, and a couple of weeks back they let some jerk write about
JPNDRDS
Labels: contests

they'd rather sell it than steal it
In addition to the Black Mountain show on November 3rd,
Scratch
is throwing another party to celebrate its 20th birthday. On November 10th,
Destroyer
, Vote Robot,
Pink Mountaintops
,
Riff Randells
,
Dustin Cole
, and Hilarity! (you try googling that) all help one of the city's finest purveyors of music commemorate two decades in business. I heard a rumour that
Superconductor
might reunite for a one-off as part of the Scratch festivities. The New Pornos are back from tour on November 5th... cross your fingers.
Les Savy Fav
is finally returning to Vancouver. They play Richard's in support of the PFork approved,
Let's Stay Friends
, on December 1st.
Method Man
is at Plush on November 8th. Johnny Blaze was the best part of the Wu's Bumbershoot set, much to my surprise.
If you weren't into trudging down to the Bal to see
Bison
last weekend, you can get your metal kicks on September 29th at the Media Club.
Spread Eagle
and
Grass City
open. Why do I feel like something is going to end up broken in the Media Club by the time this one is over?
Small Sins
are at the Media Club on November 11th.
Oh, and to clarify from the other day, on November 16th the Walkmen
are
at Richard's, while Maximo Park is at the Centre and they're opening for Travis. Apparently, nearly 2000 people still care about Travis. Who knew?
Labels: show announcements
Monday, September 17, 2007

through the broken city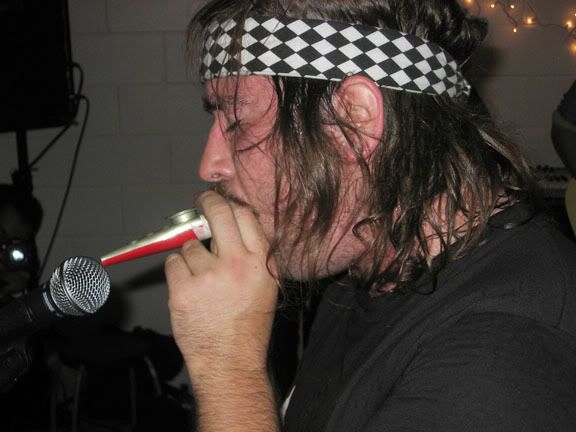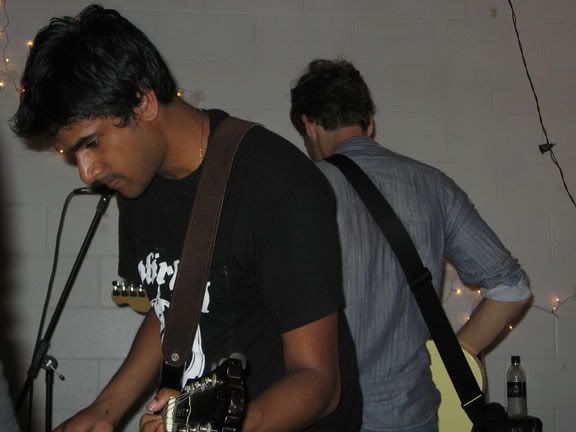 I've always maintained that while I never felt that
Bend Sinister
were my thing, I've always thought that they're extremely talented. There's the old argument about whether "good" music is a subjective or objective thing, and while there's definitely a subjective component to any criticism, I always brought up Bend Sinister as an example of a band that I thought were, objectively speaking, a great band. With that in mind, I also felt like one day I'd be watching them and things would click. I think that day came on Saturday night. They're still a few steps removed from what I usually listen to (Naben once jokingly - or maybe seriously - said that judging by what I listen to, if I liked them, they'd be doing something wrong), but they're set this weekend was immensely enjoyable. So, I guess I have to think of someone else to point to when I make my objective criticism argument, and if Naben reads this while they're on tour he might have to reconsider some of his riffage. It's business as usual for everyone else though.
Sinister singer, Dan Moxon, organized the weekend soiree at
Brad Gough Studios
as the kick-off for their CBC Radio 3 sponsored tour, and I can't think of a better way to celebrate their latest trek across the country. While the place was absolutely packed (by about 10pm), the space was such that it didn't seem as weirdly cramped as gallery shows usually are. Don't get me wrong, the place was stuffed with people, but rather than feeling like it was a show in an art space, it felt like the place was actually designed with performance in mind. The sound system wasn't the most amazing thing in the world, but other than that, you it didn't feel like the music was intruding on somewhere that it didn't usually belong. Hopefully, things went off without any major hitches, and we'll see a few more shows there in future.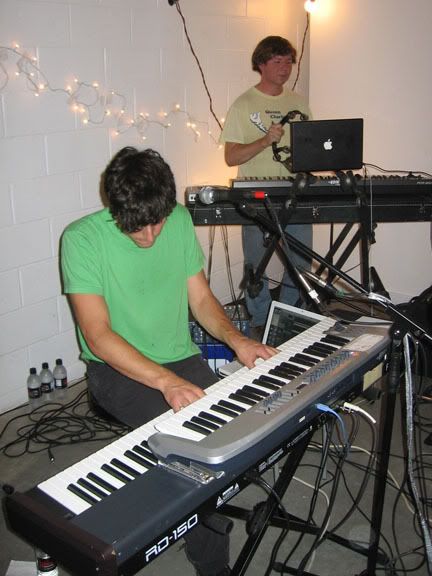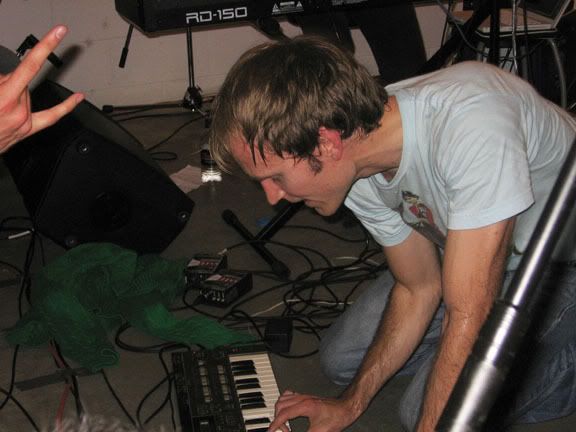 The Clips
, who are out on tour with Bend Sinister for the first half a dozen dates or so, played right before their tour mates, and further cemented themselves as one of my favourite local live acts. Apparently, people were unfortunately still during No Gold's set (which I unfortunately missed), but things definitely got moving once the Clips got going. It was hot as hell inside, but that didn't mean people were holding back at all... it just meant that it got really sweaty in there. And, since the people came to move, the band obliged by sticking almost exclusively to their upbeat numbers, which was just fine by me.
How much am I looking forward to their forthcoming (out Nov. 3rd) full-length? A lot.
After the tour, their next scheduled show is November 29th at the Bourbon (for Blastramp). The equally poptastic,
Good News
are also on the bill... and hey, doubles are four bucks.
I missed No Gold (damnit), because I was interviewing
Bison
over at the Balmoral (woo!). I actually didn't get to catch their set (my original plan was to skip between venues, but the Bend Sinister show was so full there were no ins/outs), but I did take in
Taxes
before heading East. Sean seemed even more animated than usual, and I think the somewhat sparse crowd that was there would agree that they were pretty ace. I'm kicking myself for forgetting to pick up their freshly burned CD-R release, but hopefully they'll have some on hand when they play
Shindig
on October 30th (against Adjective - that one'll be close).
Speaking of
Adjective
, they'll be the guest live act at
Better Than Loneliness
on October 3rd at the Biltmore.
Chromeo
are set to make-up for their canceled show from a few months back on October 4th at Sonar.
The Winks
are back home on November 3rd to play an all-ager at the Ukrainian Hall with
Secret Mommy
,
No Gold
, and
Collapsing Opposites
.
While you may want to head down to the Plaza for Boys Noize on Wednesday night, you should know that
the Makeout
is celebrating it's first birthday at the Unicorn. That's a whole year of Thursday morning hangovers!
I've got an awesome contest to announce tomorrow, so check back/stay tuned/get excited.
Labels: bend sinister, show announcements, show recaps, the clips
Saturday, September 15, 2007

time breaks down
You know, sometimes I wish this wasn't a one-man operation, if only so I could say things like "if there's one thing
we
like over here at From Blown Speakers, it's
the Clips
." For some reason, the group consensus implied in the "we" just makes the recommendation sound more trustworthy. But, as it stands, you'll just have to take my word for it, when I once again implore you to head down the Brad Gough Studios (870 E. Cordova at Hawks) tonight to catch the Clips, who are sandwiched between the equally formidable talents of
Bend Sinister
and
No Gold
.
If you'll recall, tonight's show is a fundraiser for the upcoming CBC Radio 3 sponsored Bend Sinister/Clips tour, which sees the two bands playing shows out to Winnipeg together, with Bend Sinister (and singer/keys come videographer, Edo) heading all the way across our great nation (as well as several nations within the nation). What that means is that, in addition to seeing three of the city's finest live acts, you can feel all warm and fuzzy knowing that your $10 is going to brighten the day of someone in Regina when this mobile party rolls through their crappy town (err.. sorry... Regina-ites... Reginians... whatever). Not only that, but you'll be able to check out some great art, as some of Terminal City's finest artists are putting their personal favourite works on display. And, to top it all off, after all the bands play,
Expendable Youth
(aka those
ChalkedUp
dudes) are spinning for your dancing pleasure (although the Clips should get your ass shaking as well). Oh, and there'll be tons of beer... and it'll be cheap.
I know Bison, Taxes, and Cobra are playing the Balmoral tonight as well, and while that would usually be a no brainer, this party is going to be a guaranteed good time. Plus, if you're really keen on catching some of the show at the Bal, it's not that far of a walk. And, if you're worried about missing out on the Unicorn, you can always catch the Salbourg guys with Boyz Noise (eep!) on Wednesday.
Dan from Bend Sinister (and also Small Fame) put together a great compilation that features the three bands that are playing tonight, and also a whole slew of bands that they'll be playing with when they make the trek out to Pop Montreal and back. I want to say that it'll be available at the show, but I'm not sure if that would make me a liar or not. If they do have some kicking around at the merch booth, it's worth picking up.
now playing: Blue Sky Addicts - End of the Beginning
Labels: bend sinister, no gold, the clips
Friday, September 14, 2007

hussel
Now, normally I'd be celebrating the fact that
M.I.A.
is coming to town. I'm still pretty psyched that she'll be at the Commodore on November 14th, but I really wish the show was on a different day. She put out my favourite album of the year (so far), so I guess it's worth missing Celebration for, but I've been jonesing to see them since they came last December. And the fact that they're headlining a show in Vancouver for the first time is even more enticing. Also the same night, Land of Talk is opening up for Cuff the Duke. I don't really care if I miss the latter, but I'm also not super excited to pay for a ticket just to see LoT open... although, I'm sure I'll end up doing just that. This kind of thing seems to be happening a lot more lately. On the bright side, it's getting harder and harder to say that there's nothing going on in the city these days. Plus, I'm sure this "dilemma" will be the furthest thing from my mind when Maya kicks into "Paper Planes."
The Cure
show has been rescheduled for - wait for it - next May. Robert will have his finest red lipstick and his band in tow when they hit GM Place on May 26th. They'll also play a 2 1/2(!) hour set at Sasquatch the day before. Considering how much tickets cost for their Vancouver date, you're probably better off heading down to the Gorge to see dozens of other bands for close to the same price. (thanks Aaron)
Due to the fact that the civic strike is set to drag into its tenth week,
the Flaming Lips
show that was originally scheduled for the Orpheum has been moved to Malkin Bowl. If you had good seats, it's a downer. If it rains, it's going to be horrid. But if the weather holds and you weren't holding a pair of row 1s, Wayne and the gang making magic in Stanley Park will be amazing. (thanks to Kevin for emailing and Cy for commenting)
The Walkmen
are at Richard's on November 16th.
The Russian Futurists
are at the Pit on October 23rd. I should also mention - since I'll probably never get around to a proper review - that their retrospective disc,
Me, Myself, and Rye
got a domestic release a couple months back. I'm fairly fond of the band, but with all due respect, I find that their full-lengths sometimes suffer from a little too much filler. This release cuts it down to the essentials, and is more than worth your time and money.
Maximo Park
(what's the html tag for those two dots over the "i"?) are at Richard's on November 16th. They'll rock Dick's early, because 1/2 Alive is on that night (show over by 10pm).
A couple
Casbah!
updates: they'll host the Shout Out Louds after-party on October 12th, and in more exciting news, on October 26th
PRIMES
will play their... actually, I was going to say that it was their first show since Music Waste, but they're actually playing New Forms tonight (at Open Studios). Sick.
Pit Er Pat
is opening for the Fiery Furnaces and
Quasi
opens for Ted Leo.
Edit: I just realized that the Maximo Park show and the Walkmen one are both scheduled for November 16th at Richard's (along with 1/2 Alive). The Maximo Park date came from the promoter and the Walkmen one is from PFork... I'll update once I figure out what's actually going on that night.
Edit 2: Mark emailed to make a plea for an extra Justice ticket. If you can help him out, email him at: marknmc AT hotmail.com
Labels: show announcements
Thursday, September 13, 2007

five times forever and you'll never get lost
One Song: Perfect Songs for an Imperfect World
download: Pavement -
We Dance
The other day I had a debate with my girlfriend, where I contended that I didn't care about the cultural context of a piece of music. In fact, I think I made the assertion that it didn't matter at all. Before anyone goes and tells me that I'm wholly wrong, I'll tell you that I'm already aware of that. I get wrapped in an argument sometimes, what can I say? At any rate, while it would be foolhardy to proclaim that any piece of art can exist in the vacuum, I will stand by the statement that - at least when it comes to music (and I don't pretend to know much about anything else) - the cultural context is much less important than the personal one.
There are times when cultural and personal importance overlap. If you ask anyone who grew up in the 60s about the Beatles, they can attest to that. But, especially amongst hardcore music fans, there's often a special place in one's heart that's reserved for songs that haven't made a lasting impact on a wide range of people, but have made an important impact on you. "We Dance" is one of those songs for me.
If you took a poll of Pavement fans, chances are that the first track from
Wowee Zowee
might rank as some people's favourite, and it would probably crack the top 10 with a lot of listeners. It isn't however, consistently ranked amongst their "seminal" compositions. It's not "Summer Babe," "Range Life," or "Shady Lane." And it certainly wasn't the minor hit that "Cut Your Hair" was. In fact, I don't think it was even a single. None of that matters.
While we do - sometimes to her chagrin - end up seeing a lot of live music together, my girlfriend and I have a surprising lack of overlap when it comes to the music we enjoy. Pavement, however, is one of those bands that we can both profess at least some sort of fandom for. They were - and she might come and correct me here - one of the first bands that she was
really
into. They were also one of the first bands that sent me down the path that led to listening to more than hip hop and the radio. So, when I indulged in the cliche music dork pastime of crafting her a mixtape for the first time, I made sure to voice my affection through Stephen Malkmus' awkward lyrics, by tracking down the alternate mix of "We Dance" (which really isn't all that different from the original).
Back to the debate... once I'd been put on the defensive (which happens often in such situations), I conceded that cultural criticism is much more interesting than some expression about one's personal attachment. The way you personally connect with a song can make it a hundred times more meaningful than the way that piece of music fits into the larger picture, but it's much harder to articulate the personal connection to a wider audience in any sort of interesting way. So, sorry if this was boring for you, but really, what are blogs for, if not self-absorbed writing that only interests a few people. Hopefully, this little diatribe interested at least one person other than me.
Happy Birthday, Regan.
now playing: the Fiery Furnaces - Duplexes of the Dead
Wednesday, September 12, 2007

oh me oh me
I was down at the Railway last night to check out the first day of
Shindig
. It's always one of my favourite events of the year, and I got this year's rendition off to a great personal start by telling a joke for beer that got zero laughter (I didn't get the beer - that's really the only tragedy). But enough about me...
The National Shield
started off the evening. I was really digging the more upbeat stuff they played, but was less keen on the slower stuff. They've got that characteristic Vancouver power-pop thing going on, and it's a lot more fun when they're pushing the "power" part of the equation.
Speaking of power,
the Remedials
certainly had it. Their bass player warmed up with the opening riff from "Holiday in Cambodia," and that gives you an idea of what they sounded like: young, loud, and snotty. Luke Meat said something along the lines of "don't you find it comforting that no matter what happens, there will always be some band making this kind of music?" And I suppose it's nice to know that some things truly never change, and there will always be dudes banging out three chords in a basement somewhere. They had a song about date rape, which was... ballsy, but their set peaked about 1/3rd of the way through when they ripped into a tune that had a chorus that proclaimed "I like to fuck. I like to drink. I like to drink and fuck." I can't say that I don't agree, honestly.
The SSRIs
closed out the evening, and were the eventual winners of night one, round one. I saw them at Hoko's awhile back, but honestly, I wasn't paying all that much attention that night. They didn't blow my mind, but there were hints of a lot of things that do blow my mind. I heard a bit of Blood Brothers between the discordant guitar and the wonky piano, and while their singer was sometimes reminiscent of the guy from Billy Talent (not good), he also aurally resembled Conrad from Trail of Dead (better) at times.
Overall, it wasn't the greatest night of music, but it was a pretty good warm up for what looks like is going to be an excellent year for Shindig.
Mike from the
London Spy
emailed me to let me know that they'll be on the bill at Casbah! on the 21st (with Ludvico Treatment and Sex with Strangers). It'll also be the band's last show for at least a year, as Peter is heading off to Cambridge for school. Come down and bid them adieu, if you're inclined.
Kevin was kind enough to send two videos from Friday's Wolf Parade show. Here's the new song that they opened with:
And check out "It's a Curse" right
here
.
The Pipettes show, previously at a venue TBA, is at the Plaza.
Oh, and today while I was on lunch I was pleasantly surprised to find
Leeroy Stagger
playing a solo show here at UBC. I always enjoy hearing him play - especially solo - but it was even more welcomed since SUB Plaza is pretty much constantly plagued with the frats pumping out jock jams at obnoxious volumes right now. He played a new song to close out his set, that bodes well for his next record (whenever that happens to come out).
Labels: leeroy stagger, shindig, show announcements, show recaps
Monday, September 10, 2007

new deal
One of my favourite musical events of the year,
Shindig
, starts tomorrow night at the Railway Club. For the unfamiliar, the annual
CiTR
-run battle of the bands hosts three bands every Tuesday at the Railway (from 9pm to about midnight) from tomorrow all the way through November, with the eventual winner being crowned in the first week of December. This year's competition looks pretty fierce, with a
schedule
that boasts some fairly familiar faces. In fact, I think I've seen one band on the bill for every night except September 18th. There are still plenty of unknown commodities who are making a run for the big prize though.
I'll be doing some judging this year. And while I don't start in that capacity tomorrow, I'll definitely be in attendance. I suggest that you do the same... and get there early; the first night always fills up. The only unfortunate thing is that I don't think I have any jokes left to tell for beer.
Keeping it local...
Lions in the Street
are at the Bourbon this Friday. I think the bands have to shut down at 11pm, so keep that in mind if you're heading down. Head over to the Lions'
website
to hear a new tune, and a nice little cover of Neil Young's "Everyone Knows This is Nowhere."
Octoberman
celebrates the release of his (their?) forthcoming CD,
Run for Safety
, at the Ukrainian Hall on Pender on October 4th.
Mohawk Lodge
and
Treacherous Machete
open the all-ager. You can check out a new song from
Run for Safety
everyday starting today at the Octoberman
website
.
Also on October 4th,
Bella
plays the Railway with
16mm
and
Parlour Steps
.
And in the last bit of local buzz for today,
Mint's
inked
the Pack
to a three album deal. Bringing it back to Shindig!, you may remember that they got bounced sometime in the first round (by whom, I can't remember).
Jose Gonzalez
is at Richard's on November 24th.
Frank Black
is at Richard's for a 2-night stand on October 3rd and 4th in support of his new album,
Bluefinger
, which is out tomorrow in North America.
Sinden
spins at the Republic on October 4th.
Labels: show announcements
Saturday, September 08, 2007

it's getting better all the time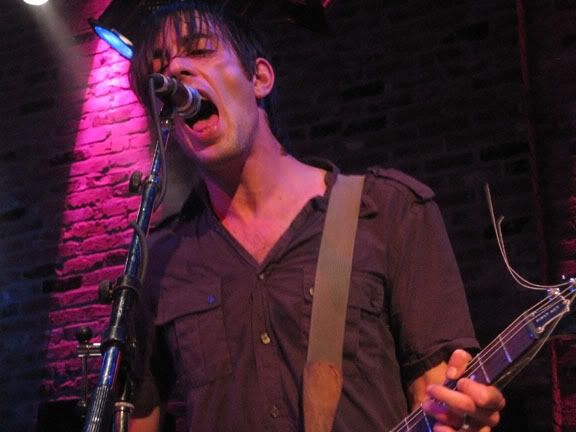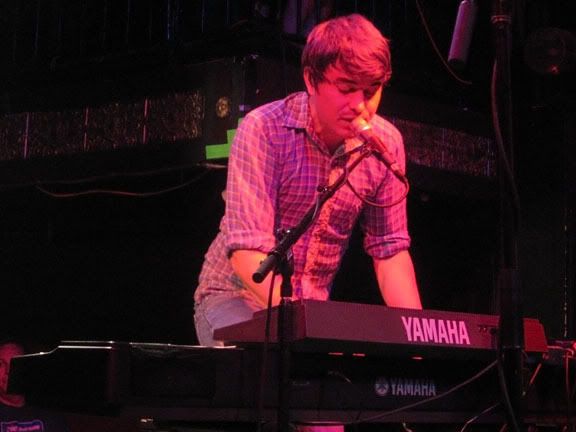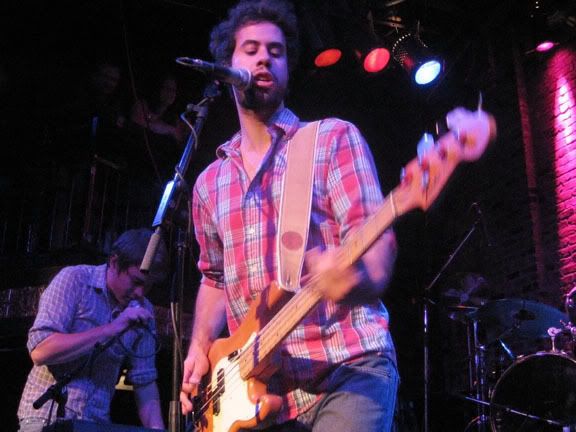 Considering that their show at the Commodore last year sold out in a couple weeks (maybe faster?), it's a bit of a shame that
Wolf Parade
ended up booked into the significantly smaller confines of Richard's last night. Even with Spoon playing the same evening, there were probably more than a few people who got shut out of this one.
The band were in a pretty good mood for a (sort of) homecoming show, and seemed excited to debut a bunch of new tunes. It was, as expected, the older songs that got the best crowd response, but the new songs bode well for the band's forthcoming sophomore full-length. It's hard to pick out a highlight from the main set, but the one-two closing punch of "Shine a Light" and "I'll Believe in Anything" was a pretty fantastic way to close things out.
I stand by what I said about the venue, because it's unfortunate that everyone who wanted to see the show couldn't get in (I imagine it was scheduling thing), but for anyone who was there, it was nice to catch them in a more "intimate" venue. Especially a more intimate venue that isn't a total sweatbox/fire trap (see:
this
).
I got there late, so I didn't catch any of Holy Fuck, save for the tail end of their last song.
Side note: it's perfectly understandable that when people are jostling around a bit at a show, you'll sometimes find that you end up in front/behind someone else, but if you actually go out of your way to barge in front of the two very sweet looking (and also very short) girls, turn around and say "sorry," as if that makes up for it, and then continue to carry on like a bit of a jackass after you blocked their view and nudged them out of the way, you're worse than a jackass. When one of you leaves, the one who remains really shouldn't pull up another friend, so he can once again shove said girls and once again block their view. Also, while I've seen my share of washed up/shitty bands, buying and then wearing a Silverchair t-shirt from their 2007 tour is the equivalent of rocking a Weezer shirt from the
Make Believe
tour. In other words, not the most awesome decision. Although, it is a better decision than feeling up the homely chick that you shoved your way up to the front with. Normally, I wouldn't pick on such things, but if you act like an asshole, you sort of deserve to have the piss taken out of you, no?
exhibit A: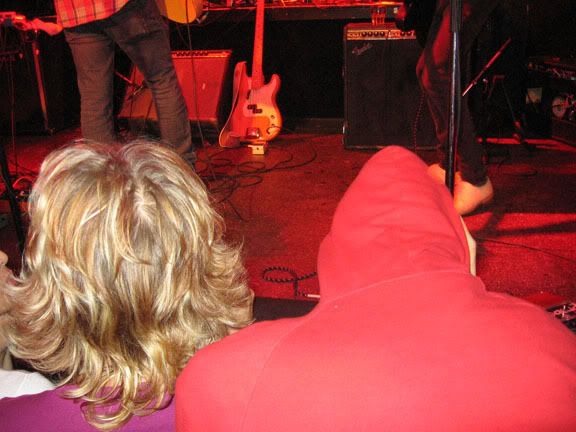 exhibit B: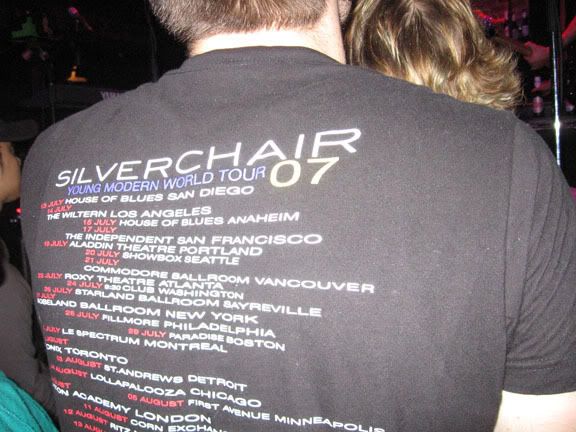 I was late for Wolf Parade, because I dropped by the Welcome Back BBQ at UBC after work. I've got mad respect for
Buck 65
as an artist, but I've never really been that into him personally. I've got to say that he was really impressive live though. Dude knows how to entertain, and while he's not A-trak or anything, he has some decent scratch-dj chops as well.
If you were shut out of Girl Talk the other night, here's what it looked like: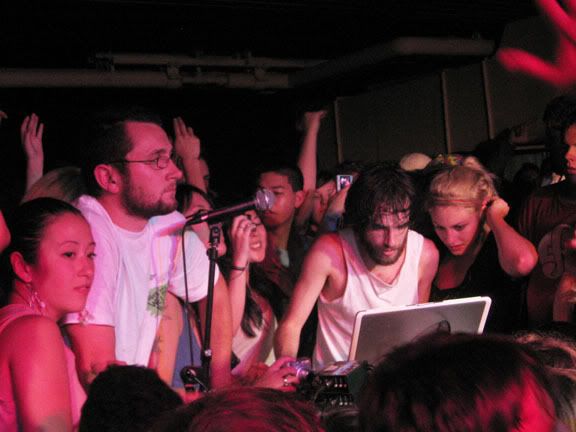 The girl next to Greg Gillis in this photo totally knows the best play that he can make in Scrabulous next... look at the concentration. "I know it shouldn't be a real word but 'qi' totally counts, I swear."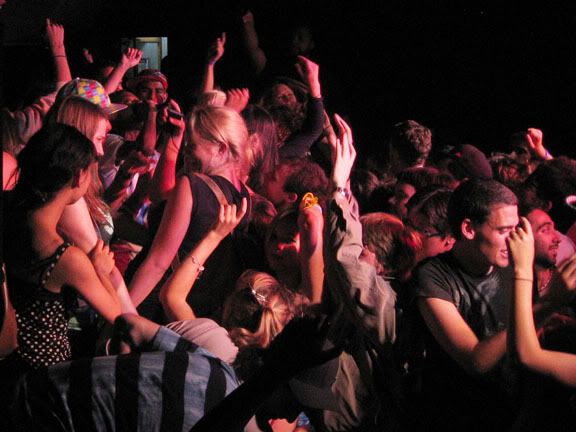 Thunderheist is in there somewhere.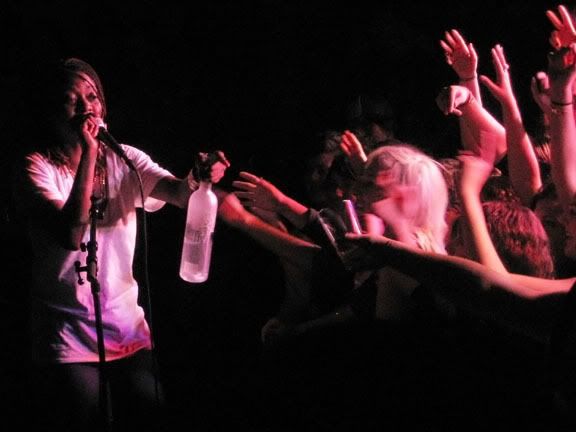 Isis (from TH) pre-stage invasion and pre-extreme intoxication from that bottle of vodka.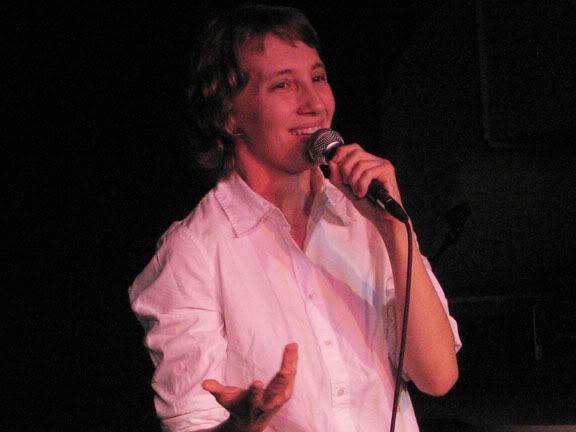 Khaela from the Blow... she's laughing at all the suckers who were buying beer instead of paying attention to her.
I forgot to list it, but I suggest heading down to Abbott St. in Gastown tomorrow sometime between 2pm-8pm for the Livestock Block Party. Check the
details
.
now playing: Spaceman 3 - Che
Labels: girlk talk, show recaps, the blow, thunderheist, wolf parade
Friday, September 07, 2007

once again
I actually got some decent photos of
Girl Talk
et al last night at the Pit, but I'm at work, so you'll have to let my words guide your imagination until tonight or tomorrow... everyone's waiting with baited breath, I'm sure.
The Blow
, who consist entirely of Khaela Maricich, started off the show with little fanfare. In fact, she was partway into her first chorus before I realized she was playing. Khaela didn't make any attempt to grab the attention of the chattering crowd (the bulk of whom were queuing up for drinks), and instead geared her performance towards the steadily increasing group of people who gathered up close enough to enjoy her set. From further way, you might find her attitude a bit blase or too-cool-for-school, but up close the nonchalance translated into a performance that seemed extremely intimate, and was underscored by her casual charisma. Khaela took a request for the (I think) rarely played "Come On Petunia," and also busted out "The Sky Opens Wide Like the Tide," for "maybe the last time." It was a bit of a shame that so many people were more focused on the decision between Sleeman's and Pilsner, but for those of us that were paying attention, it was a great start to the evening.
I had no idea that people were so into
Thunderheist
. The affection is definitely warranted, but it was still a bit surprising to see so many people who recognized the duo's songs. They're not exactly breaking new ground musically (
Only
characteristically described them as "booty bass with repetitive, meaningless lyrics"), but they can sure rock a party. Isis looked like she downed an entire bottle of Grey Goose as she worked the crowd, eventually stealing a bit of Girl Talk's thunder by inviting people to fill the stage. And when they finished their set, DJ Grahmzilla kept spinning tunes as security cleared the kids away.
By now, you've already heard about Greg Gillis' rather spectacular performances, so I won't go into detail. If you were at his show in May, last nigt was more of the same, with the only notable differences being Greg dropping some fresh tracks, and also the fact that he was sporting a beard. If the crowd was still warming up during the first two acts, they were in full-on party mode by the time Girl Talk's set started, and he noted a couple of times that the audience was a pleasant surprise since College crowds can often "suck balls." Apparently, he was going to head to the home of the Student Society's VP Finance, who offered to host the official-unofficial after-party, but I don't know if actually went down or not.
If you're not at Spoon or Wolf Parade (or a million other cool things going on) tonight, you might want to check out
Ghost House
,
Karen Foster
, and
Winning
at Pub 340.
Oh, and if you are at Wolf Parade, you can stick around at 1/2 Alive for free after the show. Alternately, you can leave and come back, and it's only $4 with your ticket stub and stamp.
now playing: actually, I'm not allowed to play music here. It's a bit depressing.
Labels: girl talk, show announcements, show recaps, the blow, thunderheist
Wednesday, September 05, 2007

enchanted
Patrick Wolf
is at the Plaza on October 12th.
The Octopus Project
are at the Media Club on November 6th. I didn't know who they were, so I wiki'd them. They won a MySpace contest that snagged them an opening spot at Coachella. Take that for what you will.
Scout Niblett
is at the Media Club on November 9th.
Celebration
are at the Plaza on November 14th. Why does this have to be the same day as Land of Talk?
ISIS
is at Richard's on November 15th.
The Cribs
are at the Plaza on November 24th.
Miracle Fortress
are opening both Stars shows.
Dustin from
Adjective
(and also Sex Attack!) is nursing a broken jaw, so the band won't be playing Casbah! next week. Those exclamation marks are their's not mine, but I'm usually quite excited about both things. Get well soon, dude.
Speaking of Casbah!, Sun Arise/Taxes has been bumped back a week, so
Sex with Strangers
and
the Ludvico Treatment
are playing on the 21st. As per usual, it all goes down at Library Square.
If you have a Spoon ticket stub, you can get in for 1/2 price ($5) to see Elizabeth and Fake Shark-Real Zombie on Friday... what about a Wolf Parade ticket stub?
The Ludvico Treatment also plays the Railway on the 25th with
Canaries
and
Stolen Bicycles Gang
.
now playing: Saturday Looks Good to Me - Summer Doesn't Count (Unless You're Here With Me)
Labels: show announcements

if you want beef then bring the ruckus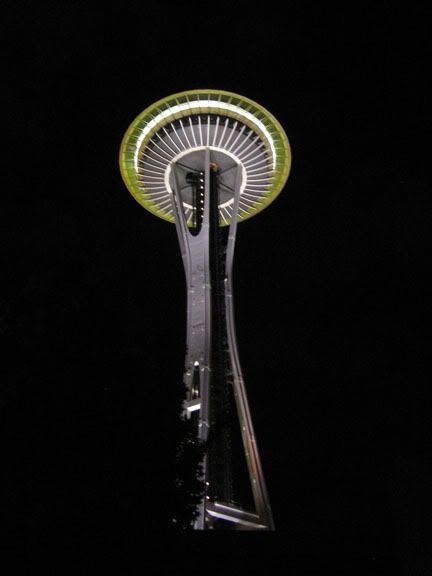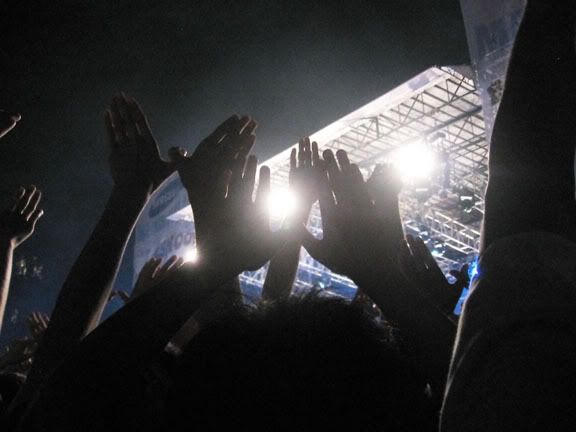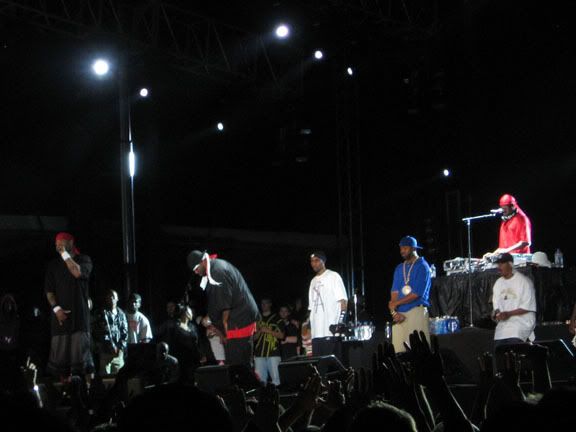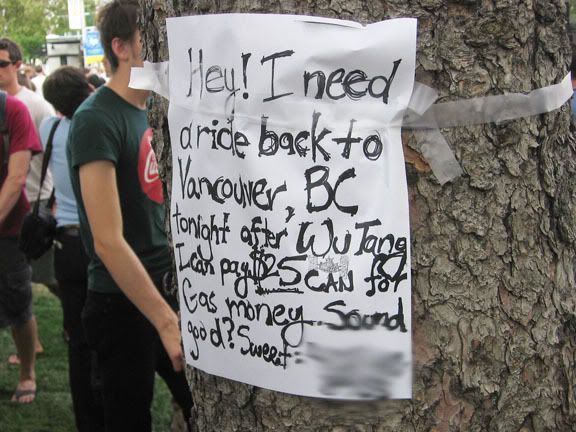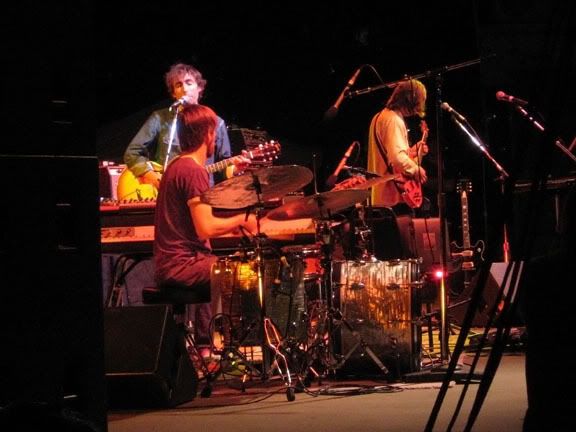 Dear Seattle,
Thank you for being such a wonderful host. I'm sorry that we only made it down for two days. Thanks for introducing us to the Whiskey Bar anyways. Please let them know that any place that serves about 200 kinds of whiskey and has both Slayer and the Band on the jukebox is A-OK in my books.
Next time we get together, please tell your friends the Wu-Tang Clan that, even though they can rock a stage better than 99.9% of other so called hip hop acts when they're and extra two men down, I would appreciate it if the Genius and Tony Starks showed up. I mean, I even wore Wallabees in honour of the latter.
Finally, your Space Needle is very pretty at night, but if she likes being the most beautiful thing around, she might not want to let Andrew Bird play a twilight set while she shines in the background. It was gracious of her to let him play that secret show on Monday after he stole her thunder the night before. It was gracious of him to bust out "Wait" for the first time in forever.
Love,
Quinn
PS: Dick's Drive-In is still the best hangover cure ever.
PPS: I hope that guy/girl found a ride back to Vancouver after Wu-Tang
I have to work for about 12 hours tomorrow... an update with listings and whatnot after that.
now playing:
Labels: andrew bird, bumbershoot, lazy show recaps, wu-tang clan
Saturday, September 01, 2007

don't go to the clinic without me
I made it down to the Cobalt last night in time to catch
Fake Shark-Real Zombie's
last three tunes. My friend Tristan told me that Malcolm and Parker (drums and bass, respectively) were lending their talents to
Curtis Santiago
later in the evening evening, so that might explain their early set time. Crowd was a bit sparse, but as per usual, the band played like they were rocking it at Red Rocks or something.
Cheerleader Camp
played second. Their stuff was a nice mix of thrashy guitars and no-wave keys, and while they didn't blow my mind, I'd definitely see them again. It sort of seemed like Jesse's (from Channels 3X4/Twin Crystals) keyboard parts were inadvertently stealing the show though.
It probably speaks to my general level of ignorance, but I had no idea that
White Lung
was an actual medical condition. That really has nothing to do with the band's performance last night, but I don't know what I can say about White Lung other than: go see them now! They're playing the Vic Square Block Party (for free!) on Monday, and then they'll be on hiatus until the new year while singer, Mish, is overseas. Before last night, it had been awhile since I'd seen them last, and I'm a little down that I can't make the Block Party this year to seem them again (and in general about the Block Party). Check the interview they did with
Only
.
Canaries
closed out the evening (Suspiria didn't end up playing), and they weren't bad. Although, they weren't as good as they thought they were either. Conceptually they were pretty awesome. If someone told me about a band with complimentary guy/girl vocals, dance synths, and punk drums, I'd be sold. Again, they weren't bad, they just weren't as good as they maybe could've been.
Unrelated, but apparently the last
STREETS
(note: no
"the"
) is out this month on vinyl. Killer.
now playing: Wu-Tang Clan feat. Isaac Hayes - I Can't Go to Sleep
Labels: canaries, cheerleader camp, fake shark real zombie, show recaps, white lung