Thursday, June 29, 2006

one more hour
Thankfully,
Sleater-Kinney
won't be ending their 11 years with a mid-afternoon set at Lollapalooza. They play what is sure to be a fitting farewell show in their hometown of Portland on August 11th. Portland's only about the same distance as the Gorge... so, I'll see you at the Crystal Ballroom!... assuming I can get tickets.
Nicolai Dunger
is at the Media Club on July 22nd.
Immaculate Machine
also plays the Media Club. They hit town on July 29th.
The
Stones Throw Records
10th Anniversary Tour rolls through Vancouver on October 21st. Madlib, Peanut Butter Wolf, and J-Rocc are all set to rock the mic at Richard's.
Subtle is at the Plaza on September 17th.
That
Lions on the Street
show on July 15th is now at the Red Room.
Bend Sinister
is on the bill now too (and headlining?).
If you're in need of a tour van,
The Paper Cranes
are
selling theirs
.
Thanks to Jackie for reminding me of the Fatlip/Cadence Weapon show. Last week the site template sorta blew up, so I had to redo some of the show listings. If you noticed anything else that was up before and isn't now, please let me know.
Here are some fun things to do with the early part of your Friday night...
The Grates
are playing with
Hot Loins
at Limerick. The festivities get started at the very un-rock 'n roll hour of 7:30pm and should end by 10pm. And, it's only a mere $12. I also give you my personal guarantee that, if you have aren't a complete kill joy, you'll leave this show smiling. Last time I was at Limerick someone spilled a beer on me, but if that happens tomorrow, I'll still be smiling (it actually wasn't that big a deal the last time either).
download: the Grates -
Trampoline
If you need more convincing, check out this writeup of their
recent Montreal show
(complete with video, and picture of Patience and John Patterson trying la poutine).
As most of you probably already know, the last Friday of every month is
Critical Mass
. Honestly, due to my suburban locale, I'm not a huge fan (loading your bike onto the B-Line just to ride around downtown, isn't that fun). But, no matter where you're from, you should note that June is bike month, so tomorrow's ride will be massive.
download: Be Your Own Pet -
Bicycle Bicycle, You Are My Bicycle
now playing: Wolf Parade - The Same Ghost Every Night
Wednesday, June 28, 2006

the end of you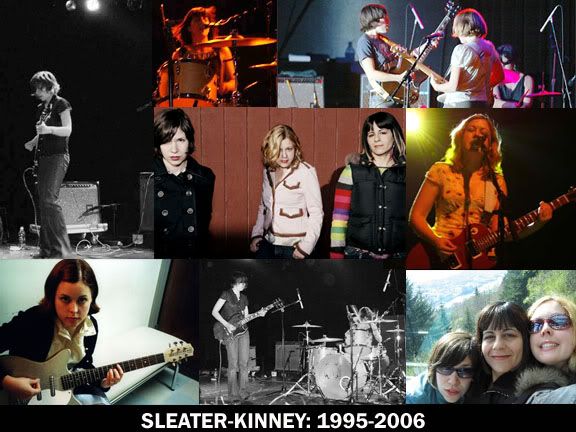 From
Sleater-Kinney.com
:
After eleven years as a band, Sleater-Kinney have decided to go on indefinite hiatus. The upcoming summer shows will be our last. As of now, there are no plans for future tours or recordings.

We feel lucky to have had the support of many wonderful people over the years. We want to thank everyone who has worked with us, written kind words about us, performed with us, and inspired us.

But mostly we want to extend our gratitude to our amazing fans. You have been a part of our story from the beginning. We could not have made our music without your enthusiasm, passion, and loyalty. It is you who have made the entire journey worthwhile.

With love and thanks,
Sleater-Kinney

And, with that, one of my favourite bands is, for the foreseeable future, finished. As
Pitchfork
writer Amy Phillips, hopefully noted, "hiatus" can mean My Bloody Valentine (more or less gone forever) and can also mean Jay-Z style "retirement." In the world of indie rock, however, "hiatus" is usually a synonym for the end (although, Jeff Magnum is apparently back, so who knows?).
It's strange, because I think this is the first time that this has happened; one of the musical acts that I hold in the very highest esteem has stopped making music. Nirvana was, of course, a pretty big deal, but I was only 12 when Kurt Cobain died. I'm pretty fond of Elliott Smith, but not so much that his suicide had a profound effect on me. Plus, death is much different than a break up, due, obviously, to the human tragedy involved. I was a massive Smashing Pumpkins fan when I was younger, but as with most people my interest waned after
Adore
. When the Pumpkins called it a day, it was most definitely their time. By contrast,
The Woods
- now S-K's swan song - was a thundering statement of a record.
The other thing about Sleater-Kinney is that they were one of those groups that was
my
band. I'm well aware that thousands of people were into them before I caught on (admittedly, kinda late), and I've since met friends who share my enthusiasm for the band. But, when I first "discovered" Sleater-Kinney I didn't know anyone with even a passing interest in them. In fact, the first time I saw them (in Bellingham, of all places), I had to beg my girlfriend at the time to accompany me.
But I digress. I want to hit on two more points from Amy's newsbite...
"Thank you for being an inspiration to women everywhere. No, fuck that-- to people everywhere."
The phrase, "they're pretty good... for a female/girl/chick band" has always offended me in general, as it's idiotic to link gender with musical prowess. With Sleater-Kinney, however, those words have always infuriated me. I once berated someone I had just been introduced to about said subject ("Actually, they're a great band, period. And, you're wearing a Lagwagon shirt, what the fuck do you know about music?"), which, admittedly, probably makes me a bit of a social retard, but I suppose that's better than being a sexist asshole.
"America's greatest rock band (yeah, I said it) have called it quits."
Some people may balk at that statment, but stop and think about it.
Name another rock band with such a consistentally strong catalogue.
Sure, their first record is spotty at best, but it's still quite an endearing little record. The self-titled debut, however, was an early shot of post-riotgrrl punk that only hinted at what they were capable of. By comparison,
Call the Doctor
, released only a year later, was a massive step forward, and ten years on, shows the trademark guitar and vocal interplay beginning to develop. At the same time, it also spawned some of the band's very best songs (notably, "I Wanna Be Your Joey Ramone"). Which is one of the great things about the band; while the variety in sound means even hardcore fans have their less favourite album, every one has at least a handful of undisputably classic tracks.
Call the Doctor
gave way to
Dig Me Out
- which someone on
ILM
called "the consensus record" - where Janet Weiss' debut behind the kit seemed to anchor her two axe wielding bandmates. From there, four more stellar albums followed. There were ups and downs, to be sure, but never anything you could reasonably call a "low."
Name another band that's displayed the same kind of growth and change from record to record.
Sleater-Kinney could have easily replicated the formula on
Dig Me Out
on subsequent releases, and they'd still be remembered as one of the better indie rock acts of recent times. Instead,
The Hot Rock
turned the completely counterintuitive trick of turning down the unbridled intensity of the first three records. Their was still (and would continue to be) a defining "sound" for the band, but tracks like "Get Up" were in distinct contrast to songs like "Turn It On."
All Hands on the Bad One
split the difference. While
All Hands...
is often considered their weakest release (mostly due to its unfortunate pacing, rather than lack of individually great songs), the follow up,
One Beat
, satisfied anyone looking for a return to form. It also, again, showed that the band was unafraid to expand its sonic pallette, with those competing vocals meeting up more and more to harmonize amidst the chaos. And then there was
The Woods
. It doesn't so much play as it breaks its way out of your speakers. Again, there's still familiar elements, but they're buried under a barrage of sludgy, psychedlic riffage. If you're going to call it a day, I suppose you might as well do it with a bang, and
The Woods
is quite literally that.
Name another band with a paralleled live reputation.
I've seen Sleater-Kinney four times: in nightclubs, at a festival, and all-ages. There were shows that were better and shows that were worse, but all of them were good. Don't take my word for it though, take a look around the internet. You'll have a hard time finding a negative review of their live show. In fact, you'll have a hard time finding anything but glowing reviews.
Now try to name a rock band that, you can objectively say, has done all three.
For me, at least, only Radiohead comes to mind, and I'm pretty sure Thom would be dead before he traded his Brit passport for an American one. I'll also stand by my own assertion that, since Fugazi are on a similarly indefinite hiatus, yesterday also marks the end of America's last great punk band.
I was going to try and pick out my favourite S-K tracks to post, but I'm currently having trouble distilling their catalogue to single CD for my friend Alanna. Picking 5-6 tracks would take me all day. I can say, however, that without a doubt, this is my favourite song of theirs, and one of my favourite songs ever.
download: Sleater-Kinney -
Words and Guitar
Thanks for the music, ladies.
now playing: Sleater-Kinney - Everything
Tuesday, June 27, 2006

you're no rock n roll fun
You might think it's overreacting, but I'm not afraid to say, that this completely ruined my day... maybe week:
Sleater-Kinney call it quits.
(via PFork)
A more fitting tribute to one of my favourite - and one of the greatest - bands on the planet, coming soon.
Sleater-Kinney - Words and Guitar

came in brave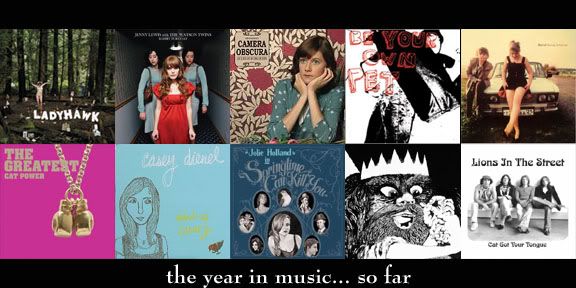 As June gets ready to wither away into July, in less than a week we'll have officialy reached the halfway point in 2006. And, in typical music geek fashion, the only way to commemorate that is with a list of some sort. So, in a year that's been pretty impressive from a musical standpoint, thus far, here are some of my favourite things.
Albums
*
1.
Ladyhawk
- Ladyhawk
No surprises here. I've already talked about this band and their record about a dozen times, so if you aren't already convinced, chances are you never will be. The same names get dropped in every review: Neil Young, Black Mountain, the Replacements... my friend Chris decribed them as "MMJ, without the South." The comparisons may be getting a bit tired, but all of them fit. For us locals, there's also the fact that it just sounds like Vancouver... all the dingy parts crammed into 38 1/2 minutes.
download: Ladyhawk -
Teenage Love Song
2.
Jenny Lewis
with the Watson Twins - Rabbit Fur Coat
I'm not very excited by Rilo Kiley, and the Watson Twins' record is a bit of a snoozefest. Jenny's solo debut is like the perfect combination of the redeeming qualities of both, though. No offense to Blake Sennett, but if More Adventurous is any indication, Jenny's full-time gig finally figured out what most people realized right away: that her voice is the star of the show. Team that with the Watson's soulful harmonizing and she could probably sing the phone book and get away with it. The song-writing, however, is top notch, and while it takes a sharp turn towards country, Stereogum's Ms. Indie Rock 2005, doesn't forget to bring along her pop sensibility and pentient for thoughtful words.
You can still download the entire record (minus the cover) at
Team Love
3.
Camera Obscura
- Let's Get Out Of This Country
The reviews for this one have been pretty mixed, but if you ask me (and you probably won't, but I'll tell you anyhow), it's their finest release, for sure. If this doesn't put the Belle and Sebastian comparisons to rest, I don't know what will. Sure, the songs are still pretty cutesy, but there's a healthy dose of blue-eyed soul that Stuart Murdoch could never dream of matching. The singles are the strongest tracks, but when the singles are as strong as "Lloyd, I'm Ready to be Heartbroken" and the title track, I don't consider that a flaw. If you purchased the very boring Concretes record and were disappointed by more than the DRM, you should know that this is the record you thought you were buying.
download: Camera Obscura -
Let's Get Out Of This Country
4.
Be Your Own Pet
- Be Your Own Pet
Be Your Own Pet's debut sort of snuck up on me. They're certainly not doing anything particularly novel. All those Yeah Yeah Yeahs comparisons are pretty on the mark, but I've still played this record so much, I should be sick of it by now. Besides the Karen O name drops, it seems like everyone feels the need to mention that they're also very young. Youthful exuberance never sounded so good.
download: Be Your Own Pet -
We Will Vacation, You Can Be My Parasol
5.
Beirut
- Gulag Orkestar
Overrated? Probably. But, with Pitchfork and the blogosphere clamouring over each other to "break" new bands, how do you possibly live up to the hype nowadays? I've also read people opine that you could probably travel to Central Europe and get the "authentic" version of Zach Condon's music. I wouldn't know. Frankly, as a guy who likes lyrics, I'll take the pretender english language equivalent any day of the week. Zach's American upbringing infused his songs with more than just words I can understand, though. It also means the influence of Neutral Milk Hotel, Magnetic Fields, and other modern music makers also permeate the album's 11 tracks.
download: Beirut -
Postcards From Italy
6.
Cat Power
- The Greatest
This album was actually a let down for me. The proper credit for the record would be "Cat Power and the Memphis Rhythm Band." And, while there is absolutely nothing wrong with the Memphis Rhythm Band, the set of superstar musicians are so goddamn tight, they almost destroy the beautifully fragile quality of Chan Marshall's songs. Can something be "too good?" Only if part of what made it great before was the imperfections. That being said, the Greatest is still undeniable. None of these songs have ingrained themselves into my head like some of her past numbers, but I could listen to Chan's smokey voice drip across the rich backing tracks on this record all day long.
download: Cat Power -
Where Is My Love? (live in Boston)
(originally snagged from
Bradley's Almanac
)
7.
Casey Dienel
- Wind-Up Canary
At the tender age of 20, Casey Dienel crafted and recorded one of the finest singer/songwriter records you're likely to hear this year. The classically trained pianist will surely draw comparisons to her girl-and-keys contemporaries, but she also owes a debt to Stephen Malkmus (she even covered "Cut Your Hair" for Daytrotter). She doesn't have that same detached, slacker aesthetic, but her music does sound absolutely effortless.
download: Casey Dienel -
Frankie and Annette
8.
Jolie Holland
- Springtime Can Kill You
Springtime Can Kill You is a long way from the sound of the lo-fi bedroom recording of Catalpa. Like Holland's second record, Escondida, it's a well produced little disc. Sonically, the newest record also loses a little bluegrass, in favour of a little more jazz, but don't think that her latest venture's into Come Away With Me territory. I'm sure this is the Jolie Holland record that my mother will enjoy the most, but that's mostly because she's doesn't find budget production values endearing, and Jolie doesn't use the word "fuck" on this record, and not because she's making a run at A/C radio play. Springtime... chronicles the failed "experiment" of the vagabond-like songtress, of settling down to a more pedestrian existence of a regular life with a regular joe. The resulting twelve songs make up one of best damn break up records you'll hear, this year or any.
download: Jolie Holland -
Mexican Blue
9.
Lions in the Street
- Cat Got Your Tongue EP
I actually didn't think I ranked this as high as I do, until I stopped to realize that every morning that I've coaxed myself out of bed for the past month, had begun with the errant guitar note that signals the beginning of "Already Gone." It's probably worth repeating that the boys aren't doing anything new on their debut EP, but they are doing things that you've already heard pretty goddamn well. If the Stones hadn't gone steadily downhill since Exile On Main St. (except for Some Girls - I love Some Girls), they might have put this out instead of A Bigger Bang.
You can still download the entire EP at the band's
website
.
10.
Final Fantasy
- He Poos Clouds
Owen Pallett is probably the only guy in the world who can write a 100% genuine concept record about Dungeons and Dragon's eight school's of magic, that has the word "poo" in the title, and get away with it. Not only does he get away with the almost overly ambitious endeavour, but the entire exercise soars. In addition to thematic growth, the record retains all the vioin theatrics of Has A Good Home, while welcoming a larger helping of accompanying instrumention. Even the harpsichord sounds good. And when's the last time you've been able to say that?
download: Final Fantasy -
This Lamb Sells Condos
*if it's been leaked, but not officially released, I didn't count it.
Five more things that have got me really excited...
The Paper Cranes
-
I'll Love You Until My Veins Explode
The self-titled EP by Victoria's Paper Cranes is a very bipolar affair, split between new-New Wave and upbeat, piano-laden, power pop. And, while they do the whole synth punctuated, angular guitar driven, dance song thing pretty well, the triumph of "I'll Love You Until My Veins Explode" makes a strong case for jettisoning the former personality.
Akron/Family
- live at the Media Club
If I don't see a better show the whole year, I wouldn't be surprised. Apparently, they can be hit or miss live, but their March appearance at the Media Club was one of the best performances I've seen... ever. Grounded in timeless songwriting, but sonically ambitious; classic folk one minute, noisescapes the next. The band pushed the whole "freak folk" thing to its limits and then some. The experimentation never reached the point where it became aimless, however, with the band jumping genres, tempos, and sonic possibilities at just the right time, with ease.
The Fiery Furnaces
-
Waiting To Know You
and live at Richard's
These two things don't quite fit together, as my new favourite Furnaces track wasn't played at their lone 2006 appearance in Vancouver. The song might have been amongst the very few that didn't translate well to the Stooges-like reconstruction job that the Friedberger's are applying to their catalogue on this tour, anyhow. One of the most straight ahead (and "pretty" sounding) tracks that they've ever released, the plaintive, but hopeful, love song might have been flattened right out if it were performed in the protopunk style of their most recent tour. On the other hand, almost everything they played a couple weeks ago, was jaw-droppingly great with the guitars cranked and the distortion set to high.
Jose Gonzalez
- Heartbeats (sorta) Video
I have never been a fan of songs in commercials. I'm not going to malign small bands that let their songs promote products (let's face it, no matter how big of an underground success you are, you probably aren't making a whole lot of coin), but I will forever hate that "Pink Moon" conjures up images of Volkswagon for me. I watch much less TV now, so it probably won't be a problem again, but my distaste remains. This European Sony Advert that features Jose Gonzalez's cover of "Heartbeats," however, is both visually stunning - a near perfect companion to the music - and only mentions the product at the very end of the video. I could try and deny that I've fallen for a commercial, but considering the amount of times I've watched this since my friend Kat sent it to me, I'd just be lying to myself.


Blue Grey Dots
I still haven't managed to make it out to one of their shows. And, even though it was a bit tongue-in-cheek, Only pointing out that the dance punk thing is so last year *eye roll* in their Music Waste preview, had some validity to it. Still, the mere three songs I've heard from their self-titled EP have me pretty psyched to see what these kids can do.
now playing: The Zombies - This Will Be Our Year
Sunday, June 25, 2006

for the single young professionals, who find the neighbourhood hip and charming
One Song: Perfect Songs for an Imperfect World City

download: Geoff Berner -
That's What Keeps The Rent Down, Baby
(via GeoffBerner.com)
I hadn't actually heard
Geoff Berner
until he was invited on stage during
Jolie Holland
's recent show. And, I never would've figured out who the guy who blew me away with his accordion driven song was, if it weren't for a kind soul who enlightened me in the comments of my recap of that show (thanks apl!). Since then, because of the wonders of the internet, I've been listening to this tune ad nauseum. The song, taken from Geoff's 2004
Live in Oslo
record, may not end up amongst my favourites five/ten/howevermany years from now, but for now it's on near permanent repeat. And, on a weekend that saw the "W" plucked off of the Woodward's building, not to be replaced until the top floor houses a million dollar suite in 2009, it's timely.
Songs stick with you for a variety of reasons. Some of them just resonate for reasons unknown. Some of them are attached to certain feelings or individual moments or places. And, some are attached to certain times. This is very much one of the latter. Here I am, fresh out of University and looking for gainful employment, and watching the city I love as it slips further and further away from affordability for any of my peers. Renting, of course, while still getting expensive, is much different than buying. And, it's still possible to set up shop in an East Van apartment/basement when you're just eeking out a living. But, with expensive lofts popping up in Strathcona and Chinatown, and high end condos going up in the Downtown Eastside, there are fewer and fewer places within Vancouver's borders that "nobody wants to live in."
"That's What Keeps The Rent Down, Baby" is the perfect Vancouver rallying cry against every condo that sits purchased and empty, every rich WASP that moves from Kits to South Main because it's trendy, and every building full of lofts that "retains its original character" but gains $400k in price.
Featuring only accordion, fiddle, and Berner's voice - relaxed and conversational at one moment, epic and theatrical the next - the song is musically stunning, in addition to its apt lyrics. Based on the instrumentation, there's an unsurprisingly old time feel to the song, which juxtaposes nicely with the very modern lament. The accordion pushes and pulls laying the groundwork, while violin lines twist in and out at just the right moments.
Next time you find yourself in the Eastside, and notice shiny new condos cozying up to decrepit old buildings, this will be your soundtrack.
Geoff plays Rime at 9pm on June 29th, as part of the JazzFest.
now playing: the Verve - Sonnet
Labels: geoff berner, one song
Friday, June 23, 2006

hearts & harps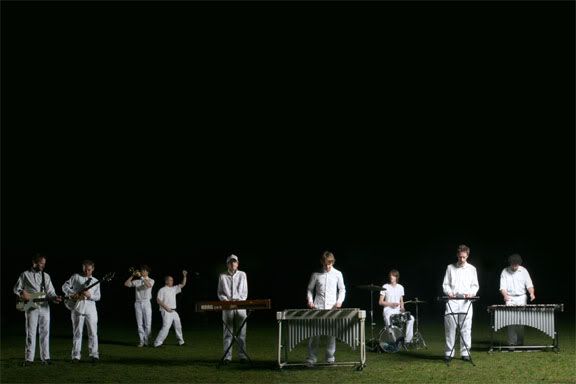 (Todd M. Duym photo - via
Boompa
)
The end of the world came this past Tuesday, and I bet you missed it. I've actually had a copy of
La Fin Du Monde
by
Hylozoists
for awhile, but thought I'd wait on talking about it until a) you could go see them (which doesn't look like it'll be happening soon, unfortunately) or b) pick up the album yourself (which happened on June 20th).
I'm not generally that huge on mostly instrumental music. I adore Godspeed and Mogwai, and am a fan of Sigur Ros, Do Make Say Think, and Mono, but can't say that I listen to that last three all that much (and yes, I know Sigur Ros has vocals on pretty much all the tracks, but his voice might as well be an instrument). That being said, I'm digging this quite a bit. It's not blowing my mind, like say,
F#A#infinity
, but it's getting more than its fair share of spins. Part of the reason is because all those post-rock comparisons don't really fit. The album has some moments of grandeur, but they're not really reaching for the same kind of epic mid-song movements that the bands they'll probably get lumped in with do. It's got a very subtle cinematic quality to it. There's also this great duality to the record. It's great as background music, for one. And, while that generally wouldn't be a selling point, it's also really rewarding as a very careful listen.
Oh... and if you're the type of person who is impressed by name drops, here are some of the people that contributed to
La Fin Du Monde
: Paul Aucoin (Hylozoists main man, and Sadie), Julie Penner (BSS), Owen Pallett (Final Fantasy/Les Mouches/Arcade Fire/really nice guy), Jason Tait (the Weakerthans/also a really nice guy), Patrick Conan (Tricky Woo), Paul Lowman, Matthew Faris, Wayne Petti, and Dale Murray (4/5ths of Cuff the Duke).
Boompa has
Strait Is The Gait
up for download. But, in addition, here's my favourite off of the album.
download: the Hylozoists -
If Only Your Heart Was A Major Sixth
In other Boompa related action,
Run, Chico, Run
is at the Railway on July 12th with Yukon and Poison Dart. I saw them live a couple years ago at the Brickyard and didn't think much of them, but their latest swayed my opinion, so I'm looking forward to seeing how they are in the flesh now. (thanks to Liam for the email)
Pride Tiger
plays the Cobalt with
Lions In The Street
on August 4th. I'm pretty amped on the Diplo/CSS/BDR show, but jesus is this going to rock. It's a years worth of riffage crammed into one night.
LitS are headlining their own show on July 15th at the Lamplighter... which is the same day that Feist plays FolkFest. Dudes, if you're reading this, book some shows on nights that I don't already have plans on! Actually, both are probably doable... or at least, I'll try.
You can still download their entire EP at
their website
.
Elliott Brood
are at the Railway on August 1st. I know nothing about them, but Scott, who was kind enough to give the headsup on the show, has said that they "are good" in the comments.
Half way through 2006 recap post coming on Monday. I'm sure the excitement about my completely subjective opinions is high enough already, but I promise to throw in some .mp3s and other interesting things.
now playing: Pride Tiger - What It Is
Thursday, June 22, 2006

i'm afraid of japan
...Brazil is not though, sadly.
Final Fantasy
plays the (by then newly renovated) Norm Theatre (at UBC) with
Bob Wiseman
on September 19th. You cannot possibly fathom how excited I am for this show.
download: Final Fantasy -
If I Were A Carp
download: Final Fantasy -
Many Live --> 49 Mana Points
download: Final Fantasy -
The CN Tower Belongs To The Dead
download: Final Fantasy -
Please, Please, Please
All .mp3s via
Blocks
.
Scratch has Owen's latest 7" (Many Lives --> 49 Mana Points b/w 3 BSides). I highly recommend going down there to pick up a copy.
Zero 7
is at the Commodore on September 2nd.
Jose Gonzalez
and
Sia
are also on the tour as guest vocalists.
Tool
is at GM Place on August 22nd. The new Tool is sort of like the new Pearl Jam: a sound that they've done before almost exactly, but not nearly as good.
now playing: The Velvelettes - Needle In A Haystack
Wednesday, June 21, 2006

sharing different heartbeats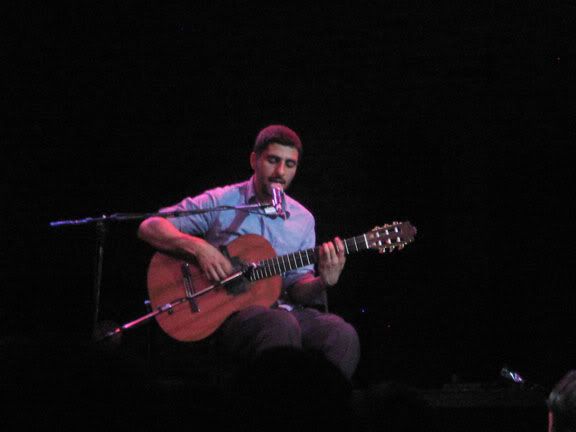 Maybe it was my mood, but I just wasn't feeling
Jose Gonzalez
this evening. Part of it was the venue, for sure. Richard's was stifling hot inside, and wasn't exactly the greatest setting for Jose's gentle acoustic picking. Part of it was the crowd as well. Please explain why you'd go to a show, cheer as every song starts like you're really excited to hear it, but then turn, and not whisper, but yell right at your buddy. Dude in the white shirt who was too stupid to work his own camera, I'm talking to you. Gonzalez's performance was actually quite good, but the setting didn't really match the mood of the music. He sort of flubbed his way through "Heartbeats" too, which is unfortunate, because the first minute or so was gorgeous. The last three songs, which were all covers, were the highlights of the night. He's an immensely talented guy, but that probably says something.
Same deal with the atmosphere for
Juana Molina
's set. As much as I dislike FolkFest, lying in the grass at Jericho while she played would've been way more enjoyable than watching her in a bar.
Psapp
were a bit of a second rate Architecture in Helsinki, but were alright.
Jesus, I'm full of complaints tonight, huh?
To make it up to you, in case you haven't heard the
original
recording of "Heartbeats," here is
the Knife
's modern classic, in all its electro glory.
download: the Knife -
Heartbeats
Billy Bragg
is at the Commodore on September 29th.
Corb Lund
plays in the park right before school starts. The Hurtin' Albertan is at Malkin Bowl on September 3rd.
You Say Party! We Say Die!
are back from Europe and playing Pat's this Friday (the 23rd).
Broken Social Scene
are on Letterman on June 29th.
Finally, while those
FBI Anti-Piracy Warnings
are irritating enough when they're ruining the packaging, this is just ridiculous: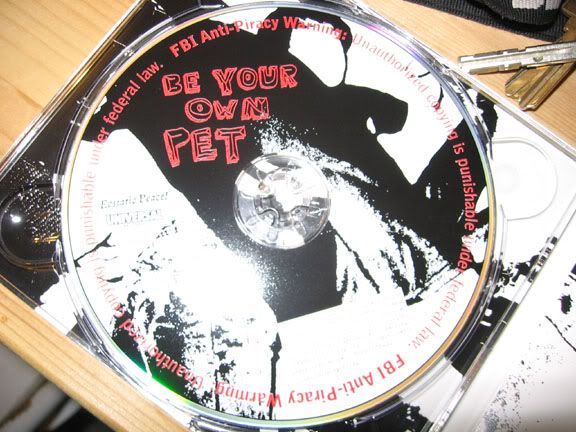 now playing: Manic Street Preachers - PCP
Monday, June 19, 2006

old fashioned morphine
There were only two problems when
Jolie Holland
played the St. James Hall in Kits tonight. Both weren't her fault. For one, it was stifling hot inside. For two, they kicked her off stage at 11pm, and I'm pretty sure she would have been very happy to play for much longer. I could've listened to her play all night. Everything else was wonderful.
The church-come-community centre may have been a bit much in the temperature department, but it sounded phenomenal. I was sitting up in the balcony, and the music emanating from the stage was wrapped in a wonderful, natural, reverb. Think of the Cowboy Junkies'
Trinity Sessions
and you get an idea of what I'm getting at. I don't make a habit of hanging out in religious buildings, but old churches just have a certain sound that other places don't.
The performance itself was very off the cuff. I suppose some people might say "unprofessional," but I would call those people names. With no setlist, and no real plan for the evening, Holland and her band (just guitar/drums) made their way through tunes from all of her full lengths, as well as a healthy number of covers and traditional tunes, at their leisure. The former Vancouverite also got a little help from her friends. At various points in the evening Samantha Parton (who Holland played with in
the Be Good Tanyas
) and
C.R. Avery
both joined Holland on stage, playing piano and providing backing vocals. Another talented gentlemen (whom I can't recall the name of) also duetted with Holland; the two armed with accordion and fiddle, respectively.
During one of the many stories Jolie told during the course of the night, she mentioned a day in New York with a bunch of friends, "just singing for, like, 24 hours straight; it was beautiful." And, that was sort of what the show was like; like being privy to a bunch of very talented friends, who got together to make music for no other reason, than because that is what they love to do. It was one of the best performances I've seen all year.
A whole bunch of Jolie downloads at
Anti
.
I've been meaning to add
Daytrotter
to the sidebar for awhile, and it's kept slipping my mind, even though I visit them weekly. Hopefully, you already know about the site, but if not, the short and sweet of it is this: ever week a band drops by the Futureappletree studio in Illinois and records a 4-song set that gets put up for download on the site. Last week you may have caught Pitchfork linking to the new song that the Sunset Rubdown hammered out live (plus three more). This week, one of my new favourite singer-songwriters,
Casey Dienel
, is featured. Casey performed two songs from her stellar debut,
Wind-Up Canary
, one new song, and a fabulous cover of Pavement's Cut Your Hair. The Pavement cover is only good for a thousand downloads, so head over there and
get it.
Lupe Fiasco
is playing at the Standard on June 30th. The Grates show is early, so conceivably if you're into spastic indie pop and skateboard inspired rhymes, you could do both. I happen to think "Kick, Push" is one of the finest hip hop singles of 2006... but New Westminister is friggin' far... and $32.50 is kinda pricey.
now playing: Jolie Holland - Sascha
Sunday, June 18, 2006

an actor will seek revenge
To follow up the
Anemones
CD-R (available now at Red Cat and Zulu),
1777rex
will issue the long lost album by Points Grey. The band, who only played a smattering of shows in 1999-2000 ("under the unfortunate moniker A.I.D.S."), features three names that are probably familiar to Vancouver music fans: Robert Dayton, Julian Lawrence (
July 4th Toilet
), and none other than
Dan Bejar
. Expected out at the end of July, 1777rex describes it as "2 guitars, 2 voices, and a Casio sampling keyboard."
Between
Rubies
,
Swan Lake
(Dan's collab with Spencer Krug and Casey Mercer), and this, it's a good year for Dan Bejar fans.
Next weekend is the 2006 Vancouver edition of
Ladyfest
. Running from the 23rd - 25th, the fest features book readings, film screenings, forums, workshops, and also a show on Saturday night.
Better Friends Than Lovers
,
New Years Resolution
,
Bella
, and
Vancougar
will rock Video-In, in the name of urban feminism.
Paul Devro
gets some love from
the Straight
.
"If I could go back in time I'd go to the early to mid-1960s and play doo-wop, soul, and rock 'n' roll 45s to teenage girls in poodle skirts."
Minus the teenage girl part, that sounds like it would be a ridiculously awesome party.
now playing: Be Your Own Pet - Love Your Shotgun
Friday, June 16, 2006

decent days and nights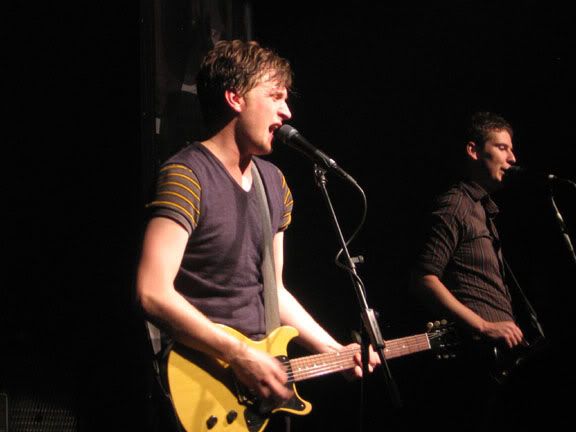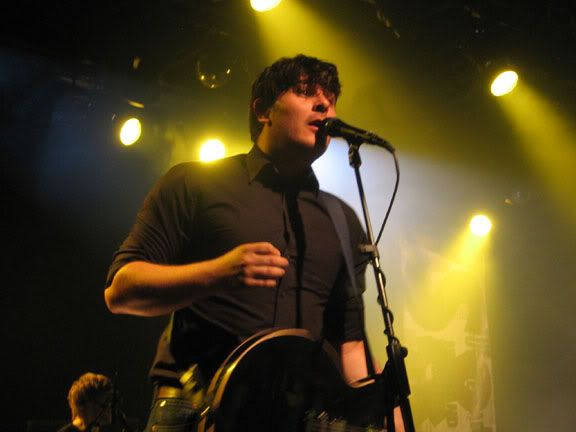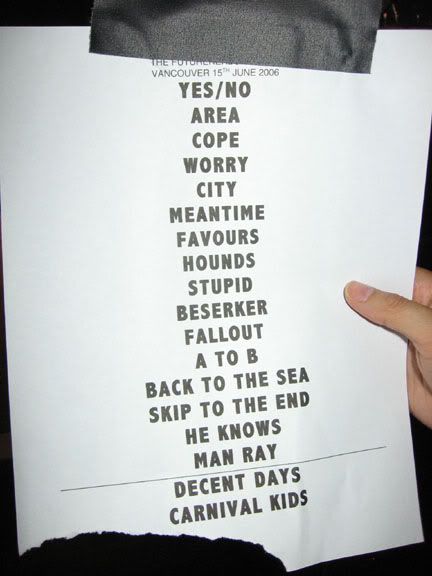 I feel like I've been starting show recaps by mentioning that I'm not really feeling the band in question's new record, a lot lately. But, I'm not really feeling the new
Futureheads
record. Maybe it's a grower - I couldn't tell you - but, it certainly hasn't grabbed me like their first full length.
As one would expect, in a live setting, the newer tunes have a lot more punch, and, for the most part, stand up well against the older material. With that in mind, the older songs were still the highlights for me. "Hounds of Love" was, of course, wonderful, but the one-two encore punch of "Decent Days and Nights" and "Carnival Kids" was mega.
The band released "Area" as a stop gap single between the s/t album and
News & Tributes
. Tonight it was great, and the release had me really amped for the new material.
download: the Futureheads -
Area
Edit:
Rob was there
, wrote a way better recap, opens a literary can of ass-kick on stage divers, and actually caught the openers.
Shows...
The Grates
are at Limerick Junction (the old Brickyard) on June 30th. I give my personal guarantee that it is impossible to see this band live and not come away with a gigantic smile on your face.
The Paper Cranes date for the 24th has now been removed from their MySpace
Atmosphere
is at the Commodore on September 5th.
Six Organs of Admittance
are at the Media Club on July 30th. My friend Kara is going to be totally psyched when she reads that.
Spike Lee's speaking at the Orpheum on August 12th. It was announced awhile ago, and it completely slipped my mind. Ticket sales are apparently going briskly, so jump on it, if you want to catch him.
now playing: Blue Grey Dots - Future Cougar
Wednesday, June 14, 2006

no party
You may remember that, despite a cancellation by her
tourmates
,
New Buffalo
,
played the Media Club on May 17th.
There were only about a dozen people in attendance, but amongst them was Nick, who was not only nice enough to say "hello," but also nice enough to pass on this recording of the show, so I could share it with all of you, who most likely missed out.
download: New Buffalo -
Live at the Media Club (2006-05-17)
Setlist:
1. Unknown
2. Inside
3. On Sunday
4. The Beginning Of The End
5. I've Got You, And You've Got Me (Song Of Contentment)
6. Unknown 2
7. No Party
8. Recovery
9. Unknown 3
10. Comeback
11. Time To Go To Sleep
I
think
the unknown songs are all new, but please correct me if I'm wrong, or let me know if you have the titles, regardless. Again, a huge thanks goes out to Nick for taping/transfering/sharing this show.
Let's continue with the media, shall we?
In case you missed it, here's
Cat Power
performing "Living Proof" on Letterman last night.
For more Chan related goodness, click over to
Bradley's Almanac
for some mp3s of Cat Power and the Memphis Rhythm Band live in Boston.
And finally, here is a video of Jamie Kennedy and Bob Saget rapping.
now playing: New Buffalo - I've Got You, And You've Got Me (live in Vancouver)
Tuesday, June 13, 2006

post-war
M. Ward
is at the Plaza on September 2nd. Yay for Bumbershoot spin-off shows! (via
More Cowbell
)
Sound Team and Someone Still Loves You Boris Yeltsin at the Red Room is
cancelled
. I was really looking forward to SSLYBY. Quick, someone suggest something fun that I can do on a Monday night instead.
The Paper Cranes
are at a venue TBA on June 24th.
Cat Power
is on Letterman tonight. I'll admit to being tempted to come home early, even though I'm supposed to go out tonight, just for this.
I Am Fuel, You Are Friends
points us to a popular new ringtone that high school students are using to evade the watchful (but unsharp) ears of their teachers. The tone whines at a high enough frequency that aged ears can't pick it up easily. Take a listen and decide if you're old:
clicky
Rob
has his June Mixtape up.
now playing: Fiery Furnaces - Teach Me Sweetheart

rub alcohol blues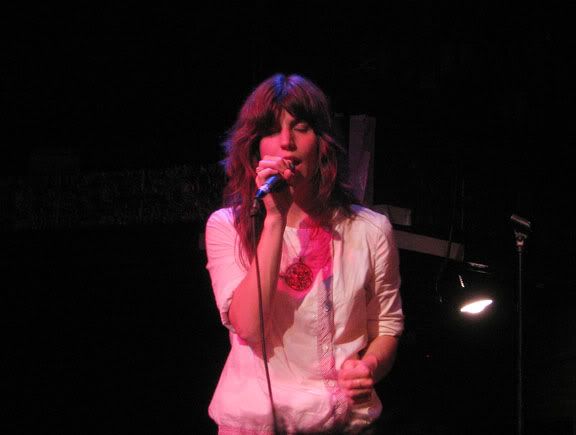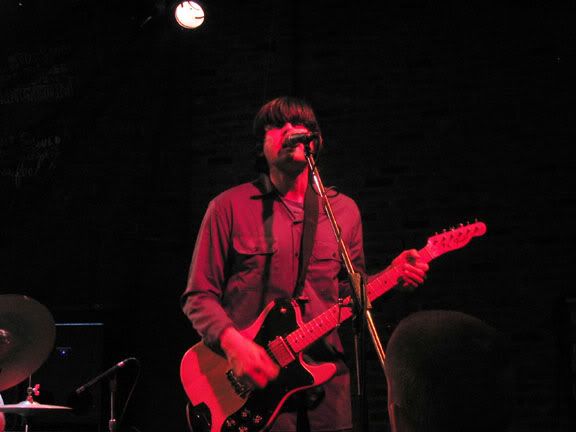 Just yesterday I read on
the Fiery Furnaces
website that since
Bitter Tea
was so heavy on the keys, the band wasn't going to play any on their current tour. That may sound counter-intuitive, but for the Friedbergers, it's almost exactly what you'd expect. Not only did they forgo keyboards and synths in favour of guitars, but those guitars were all cranked way the hell up.
Amongst the people I was with at the show, there seemed to be some disappointment that the heavier arrangements tended to overshadow some of the wonderful subtleties of the band's music (Matt from
Fluxblog
thought the same, earlier this year). And, while I can see where those criticisms are coming from, I thought tonight's show was one of the best I've seen all year. On some songs the proto-punk-come-metal vibe took things to new heights, and on some songs the method of plowing right over numbers, in a torrent of distortion and riffage, wasn't as compelling. But, overall, it wasn't really better or worse, it was just different; different and wonderful. "Quay Cur" and "Blueberry Boat," in particular, were menacingly awesome.
As you can see from the setlist up there, they pulled fairly evenly from all their releases (including EP), and even did an all request encore. Clearly I need to work on my yelling, because I'm pretty sure the only person who could hear me calling for "Waiting To Know You" was the guy in front of me (although he did turn around to mention he was hoping they'd play it too).
Anemones
opened the show. I thought they were awesome. But, as my friend Neil mentioned, you'd probably have to be in the mood to listen to them. I was rocking Spaceman 3 right before I left for Richard's, if that gives you any indication of what sort of mood would be appropriate. That being said, "Vicious Attack" was... well, just that. While the low-end at Richard's will often make the floor vibrate a little, when the band tore into the afermentioned number it felt like a small earthquake. The song is much more than just volume though, and was definitely their strongest number, and great no matter what your mood (check it out at "CDR Label" 1777rex's
MySpace
). If the Nasty On has really called it quits for good, consider Anemones my new favourite Jason Grimmer fronted band. Speaking of, just how does the dude find time to sing in so many bands?
now playing: Anemones - Vicious Attack
Sunday, June 11, 2006

another one goes by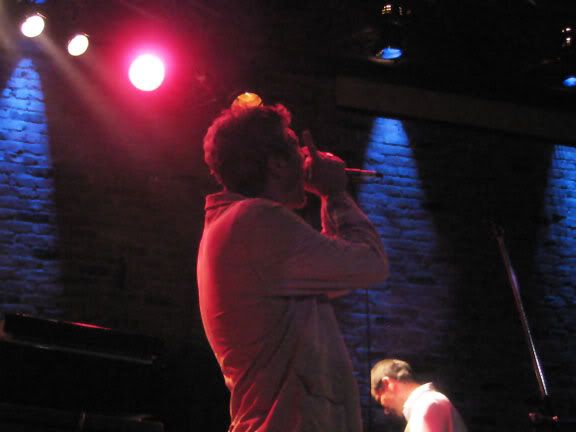 The newie by
the Walkmen
seems to be splitting old fans; either it's their best work or their worst. While I still think its a decent enough album, count me in the latter group. I absolutely love
Everyone Who Pretended To Like Me Is Gone
and was pretty amped on
Bows & Arrows
, but this seems like some sort of almalgamation of the two, minus the staggering highs that set apart its two predecessors. A friend of mine, who thinks it's their best work, remarked that it was "their most consistent record." I don't dispute that. The thing is, it seems to be consistentally average. It doesn't help that one of the three stand out tracks
is a cover
.
The headliners clearly have a great deal of admiration for
Mazarin
, seeing as they put their afermentioned cover of "Another One Goes By" on their latest long-player, but the pairing is going to leave more than a few fans mistakenly wondering why "the opening band is covering the Walkmen." Unfortunate also, that live, the band's combination of melodic pop and swirling fuzz ends up sounding an awful lot like the headliners. Maybe it was sound issues, but last night the atmospheric fluorishes that pervade their recorded material overshadowed the actual songs; everything was sort of drowned out.
The Walkmen have always been hit or miss live for me. There are always great moments, but sometimes the whole is a little underwhelming. The first time I saw them I remember coming away pretty amazed, but the last time I checked them out they opened with "the Rat," tore everyone's heads off, and never quite reached that same level of intensity again. Last night wasn't awe inspiring, but it certainly wasn't disappointing either.
The band drew mostly from their newest, and while I still have my reservations about the record, the new songs sounded better in a live setting. "Louisiana" - one of my favourites from the latest - was particularly swinging. It was the older material that got the biggest reactions though. "The Rat," predictably, got people moving, but "We've Been Had" was equally well received.
now playing: Mazarin - Another One Goes By
Saturday, June 10, 2006

miss you

I'll Make You A Tape (vol. 2)
download:
Saying It With Somone Else's Words
"...your using someone else's poetry to express how you feel. This is a delicate thing."
- John Cusack as Rob Fleming, High Fidelity (2000)
That quote doesn't hold true for all mixtapes, of course. The majority are unthemed, "here are a bunch of songs you will enjoy," type affairs. Some have themes, but generally speaking, aren't trying to do anything more than collect "songs about animals" or "songs that mention cities" or something seemingly random like that. There are a percentage of recorded cassettes, cds, and now, ITunes playlists, however, that have been carefully assembled (and sometimes carefully packaged) to say something. "I love you," "I('ll) miss you," "I want you," "I want you back," or maybe "all of the above."
This hypothetical demonstration could've been any of those things, but I went with the latter. There's also a bit of a twist - and, this is where that
High Fidelity
quote comes in. If you're going to say something with someone else's words, why not use songs that have been road tested with that purpose entirely in mind?
Cover songs: some are good, some are terrible, some are genuine, some are tongue and cheek (although those ones usually suck). Mixtapes then, can be the cover song for those of us who aren't talented enough to pick up an instrument and perform/record are own rendition of someone else's music, because what a good cover song embodies, is the very premise of the meaningful mixtape: expressing your feelings with someone else's words...
1. Julie Doiron - A Thing Of The Past (The Shirelles)
2. Broken Social Scene - Every Night (Paul McCartney)
3. Rogue Wave - Everyday (Buddy Holly)
4. The Concretes - Miss You (The Rolling Stones)
5. Cat Power - I Found A Reason (The Velvet Underground)
6. TV on the Radio - Modern Romance (Yeah Yeah Yeahs)
7. Jose Gonzalez - Heartbeats (The Knife)
8. Final Fantasy - This Modern Love (Bloc Party)
9. Pearl Jam - Throw Your Arms Around Me (Hunters and Collectors)
10. Mazzy Star - Wild Horses (The Rolling Stones)
11. Ryan Adams and the Cardinals - I Still Miss Someone (Johnny Cash)
12. Feist - Secret Heart (Ron Sexsmith)
13. Stevie Wonder - We Can Work It Out (The Beatles)
14. Neil Finn and Friends - There Is A Light That Never Goes Out (The Smiths)
now playing: Wilco - Someone Else's Song
Labels: mixtapes
Friday, June 09, 2006

don't worry about me. i'll be alright.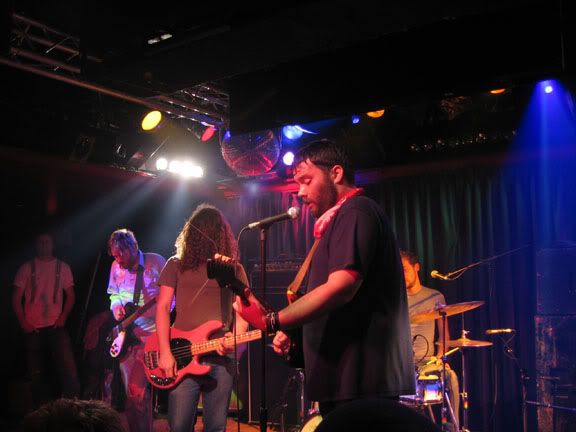 If you are just tuning in, then you might not know that I think
Ladyhawk
are a fabulous band. For the rest of you, here's another post about how great I think they are. Tonight was the boys' album release down at the Red Room.
I made it down just in time to catch the last half of Hard Drugs' set. Several members of Blood Meridian were in the band, and from what I could gather from their last couple of songs, the whole project is based around a "rock opera" (of the same name) that takes place in East Van. I can't say that I've ever been a big fan of concept albums (except maybe Blueberry Boat), but what I caught wasn't half bad. The sound was a little muffled during their set, so I'd definitely like to catch them again before I pass judgement.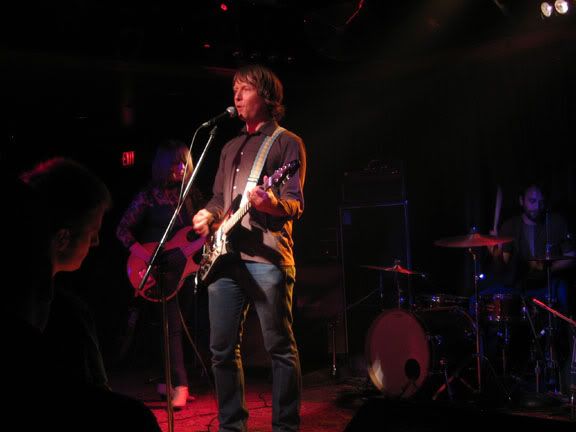 The Book of Lists
were up next. I've also never really gotten into the whole psych-rock thing, but that's more for a lack of trying than any sort of aversion. If you glance over at the sidebar, you'll note that they're one of my fave Vancouver bands, and today was no let down.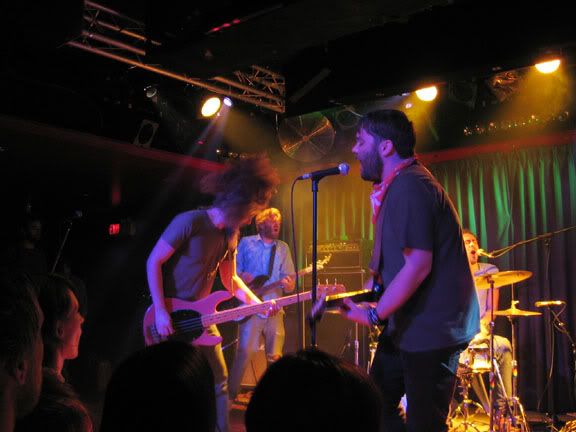 Everyone likes to champion things from their home turf, and I've always had this nagging doubt in the back of my mind about Ladyhawk. I've never questioned my own love for the band, but always sort of wondered if some of that adoration was linked to some sort of desire to see local talent get big. Truth be told, I guess it does factor in, because I would love to see some of my favourite local acts get their due. I was amped when Hot Hot Heat started getting more attention. It was awesome to hear that Black Mountain was going to be confusing the fuck out of amphitheatres full of Coldplay fans. And, it was great when the "supergroup" tag that the New Pornographers carried around tongue-in-cheek suddenly became totally apporpriate. That being said, while everyone likes to champion things from their home turf, Ladyhawk stands on it's own feet.
I don't think I've evern been disappointed with one of their shows, and this was no different. They ran through most of the album (minus "Advice"), some new tunes, and some old favourites that never ended up on the record (including my favourite song of theirs). And, while it's a little less novel now that the record is out, it's still amazing to see so many people belting out the words, based (still) almost entirely on seeing the band live over and over.
If you're reading this from the Southern end of Vancouver Island, consider making it down to the Lucky Bar in Vic tomorrow night.
now playing: Whiskeytown - Give Me Another Chance (Big Star Cover)
Thursday, June 08, 2006

sweet talk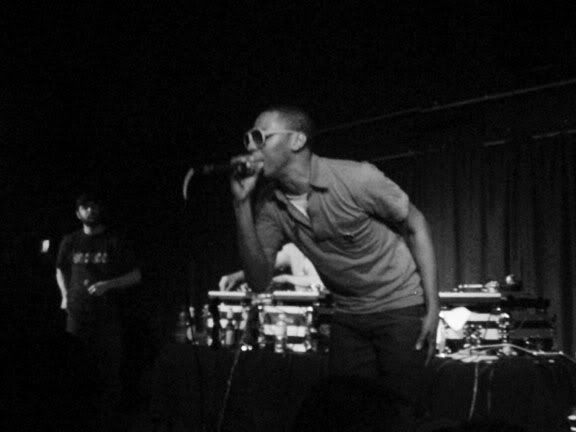 If you made it down to the Plaza to catch
Spank Rock
last night, you know exactly what I mean, when I say that "some white boys surely imitate that" would've been the title of this entry, had I not already used it awhile back... but, more on that later.
Pase Rock
, who also joined Spank Rock on stage later in the evening, opened the evenings festivities. He was pretty slick behind the decks, and had I not been so tired from going out on Tuesday, I'm sure I would've been into it more.
Low Budget
hit the stage after Pase Rock. And, while I skipped out for 20 minutes to get pizza at Numero Uno, what I was there for was better than when he spun at the Columbia a couple of weeks ago.
Let's talk about some DJ trends, as a brief aside. Don't get me wrong, because I'm still amped that I can hear
any
of my favourite party tracks, regardless of genre, when I go out to my favourite club nights nowadays. And, while I don't think I'll ever get sick of "B.O.B.," "Deceptacon," "What You Know," or "Stay Fly," things are getting kind of predictable. It's some weird irony that in a DJ subculture that fluorished because they weren't afraid to play anything, everyone is starting to play the same thing. Not just big dancefloor stompers like the afermentioned tracks, either, as I've heard Yelle's "Short Dick Cuizi" the last three times I've gone out, and that's certainly not very big. That being said, at this point in time, it's still awesome to hear "Short Dick Cuizi" when I go out.
But, back on track...
I have to admit, I don't go out of my way to go to a lot of hip-hop shows anymore, especially those of the DJ/MC-only variety. I still listen to a lot of rap, I just find, that for whatever reason, I often come away from live hip-hop shows a little disappointed. In fact, I skipped Spank Rock the first time they dropped in on Vancouver, for precisely that reason, only deciding to check this out because
Graham
insisted that it would be off the hook (and, I mean, he was wrong about the Bicycles, so there's no way he'd go 0-for-2). Naeem Juwan, the voice of Spank Rock, was quoted in a
Fader
article where he said the following: "I get excited when James Brown drops to his knees and brings the cape out... so why can't I give that same feeling and passion in my shows?" Those are some big words, but he did a pretty good job of living up to them.
Spank Rock hit the stage right after Low B, with MC Naeem flanked by DJ's Rockswell and Ronnie Darko (beatmaster, Alex "Armani" XXXChange wasn't there), with Pase Rock taking "hype man" duties. And, from the opening beats to when Naeem jumped off the stage, leaving Rockswell, Darko, and Pase Rock to spin the evening to a close, it wasn't just a show; it was a party. Rockswell and Darko were extremely tight on the ones-and-twos(-and-threes-and-fours), and Rock's Spank and Pase were brimming with energy. They also broke down the wall between stage and floor, with Juwan coming into the audience, the audience coming up on stage, and one guy jumping up to rap the first verse of "Put Tha Pussy On Me."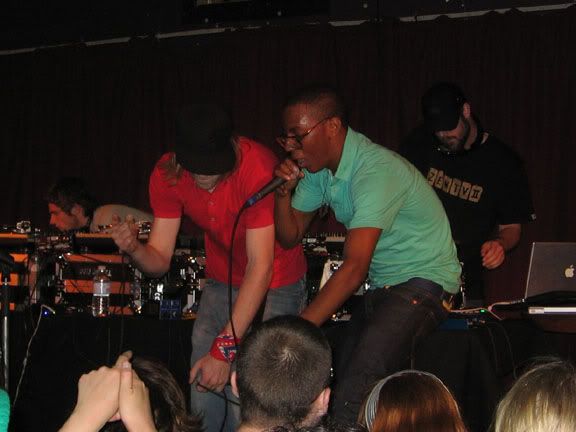 This wasn't some kind of half-assed, drunken, fan boy mumbling either, dude knew his lines, and spat them well. The crowd went nuts, the whole Spank Rock crew looked impressed, and the security guard who was on the right side of the stage went from looking ready to bust some heads to thoroughly amused and smiling very quickly. "Some white boys surely imitate that," indeed.
If you missed last night, you can at least catch some of the guys from Spank Rock when they do a DJ set at the Kids (at the Columbia) on July 19th.
In upcoming show news...
Peaches
is at the Commodore on August 10th with
Eagles of Death Metal
and
Stinkmitt
.
Vashti Bunyan
is at Richard's on September 1st... which would be awesome, were it not the same day as Of Montreal. I'm torn.
The Indie Music Video Festival
hits Vancouver on July 4th.
The Havana Theatre
will host both the fest and a screening of the movie,
What Is Indie? A Look Into the World of Independent Musicians
.
download:
What Is Indie? - Trailer
now playing: Vetiver - Been So Long
Tuesday, June 06, 2006

tell me the truth of your heart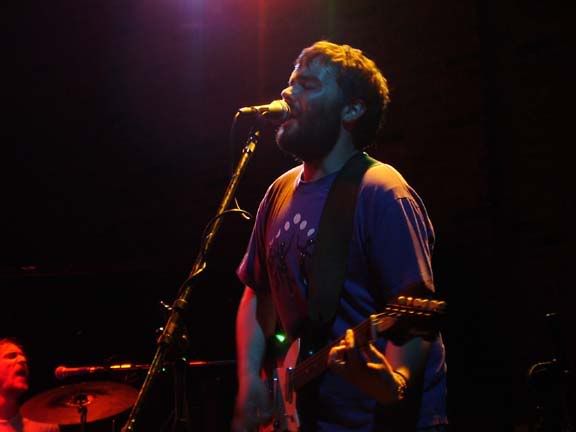 If there is one thing I've learned from growing up as part of a generation that has been bombarded by advertisements like no other, it's that, like it or not, repetition works. So, I apologize if you're sick of hearing about this record, but it'll be the last time until I post some sort of 2006 retrospective (although, we're about halfway through the year, so that might be soon).
That's right folks, today is the day that the debut by
Ladyhawk
gets an official release. After you head down to your favourite local retailer to pick up their self-titled debut, today will be the first day you can sit in your backyard or walk down to the beach, and crank up the soundtrack to this summer. Doesn't that sound like a wonderful plan? Go ahead and do it right after work/school/waking up. Also, make sure you listen to it enough times, so when you go see them on Thursday night at the Red Room to give the boys a proper send off before a massive tour, you won't feel left out when everyone else is shouting along.
This is better than both Neil Young's new record and the Black Mountain record, but sounds like bits of both (minus the obvious Bush bashing part and the 100+ person choir).
download: Ladyhawk -
the Dugout
Speaking of Ladyhawk, there's talk that they'll be playing an end of summer show down at the Columbia for the Kids.
While you're at the record store, I also recommend further lightening your wallet by picking up one of my other favourite records of this year:
Camera Obscura
's
Let's Get Out Of This Country
. This is better than the Neil Young record (and probably Black Mountain), too, but sounds nothing like it. It also sounds a lot less like Belle and Sebastian, and a lot more like what the Concretes record should have sounded like. The twee thing is a bit tired anyhow, I'm down with a little more blue-eyed soul.
download: Camera Obscura -
Let's Get Out Of This Country
In show news,
Fatlip
(formerly of the Pharcyde) will be at Richard's on July 7th with
Cadence Weapon
. I know you're probably still bummed that Rollie's show with Islands got cancelled, but hit this up in the interim (it's only $12), and you'll be able to get your Islands fix in the fall (so, I hear).
The previously blogged MSTRKRFT/the Juan MacLean soiree on July 28th now has a venue. You'll be moving your body down at Shine.
Last, but not least, thanks to Dave (who emailed me) and the anonymous person in the comments of the last post, who both let me know that "June On The West Coast" was the song that Conor played solo during the encore of the Bright Eyes show last night. Dave takes some
wonderful photos
, that have been featured in such wonderful places as Adbusters and CBC Radio 3:
check'em out
.
now playing: Broken Social Scene - Pitter Patter Goes My Heart
Monday, June 05, 2006

first day of my life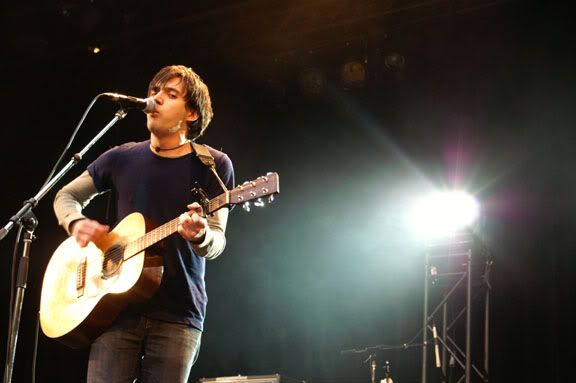 I made it down to Malkin Bowl for
Bright Eyes
today just in time to catch the end of Gruff Rhys' opening set, while running around trying to find someone to give my extra tickets to. He sounded pretty good, but I can't say that I heard enough to pass judgement.
Conor and co. hit the stage around 8:15 and played a somewhat brief hour and twenty minute set.
I've mentioned it before
, but I'll say it again: I'm not a very big fan of old Bright Eyes. With that in mind, the older material sounded great, with most of the arrangements receiving a
I'm Wide Awake
-like coat of paint. I was a little disappointed that they didn't play "Landlocked Blues," but the solo rendition of "First Day of My Life" was great.
I'm about to head to bed, so I'll leave it at that.
If anyone can tell me the second song he played solo (it was just two chords, and a twangy little riff), I'd be much obliged.
That excellent picture up there was taken by my friend Kimberley Day from the photo pit, but here is what it looked like from where us masses were watching.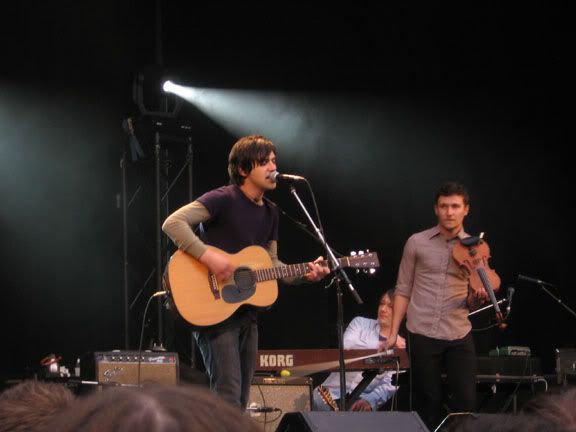 In non-Conor related news, although I enjoy both the musical stylings of Miss Sarah Harmer, and also shows at Malkin Bowl, I'm extremely glad I didn't buy tickets yet. Why? Because
Wolf Parade
is playing with
Frog Eyes
on August 20th as well. While the confines of 156 W. Hastings were great in all their swelteringly hot glory last time I saw them, I'm quite excited to see the creators of my favourite album of last year rock the Ballroom. (thanks Shea)
Check out this very amusing video of the latest
Broken Social Scene
single, "Fire-Eyed Boy." (thanks Jen)
Regular size:
clicky
84mb super high quality version:
clicky
Finally, I did the Music Picks for the Tyee this week: a little tribute to the lesser known works of
Mr. Elliott Smith
.
Psych! Ok, finally, for real... My friend Kat just sent me the link to this Sony Commercial that features Jose Gonzalez's cover of "Heartbeats." I'm sure everyone has seen it already, but I tend to avoid commercials. This, however,
is great.
now playing: Jose Gonzalez - Hand On Your Heart (Kylie Cover)
Friday, June 02, 2006

reign in blood
The date 6/6/6 comes along once in a millenium. And, while I can think of several great things happening on the date (Ladyhawk's album gets released and the Cobalt reopens), there is one event that shines above everything else when it comes to appropriateness, on the ultimate day of the beast. Yes, this Wednesday is
the National Day of Slayer
. From the official website:
Official Statement on Participation

# Listen to Slayer at full blast in your car.
# Listen to Slayer at full blast in your home.
# Listen to Slayer at full blast at your place of employment.
# Listen to Slayer at full blast in any public place you prefer.

DO NOT use headphones! The objective of this day is for everyone within earshot to understand that it is the National Day of Slayer. National holidays in America aren't just about celebrating; they're about forcing it upon non-participants.

Taking that participation to a problematic level

# Stage a "Slay-out." Don't go to work. Listen to Slayer.
# Have a huge block party that clogs up a street in your neighborhood. Blast Slayer albums all evening. Get police cruisers and helicopters on the scene. Finish with a full-scale riot.
# Spray paint Slayer logos on churches, synagogues, or cemeteries.
# Play Slayer covers with your own band (since 99% of your riffs are stolen from Slayer anyway).
# Kill the neighbor's dog and blame it on Slayer.
Please note: From Blown Speakers does not condone harming animals. Our policy on vandalism is admittedly pretty lax, though.
In much less satanic news,
MSTRKRFT
is playing a venue TBA with
the Juan MacLean
on July 28th. Those
guys that do the Kids
on Saturday's at the Columbia are putting it on (which means it will be awesome).
Sarah Harmer
is playing in the good 'ol outdoors. She'll grace Malkin Bowl on August 20th. Tix are onsale now.
now playing: Jamie Lidell - The City (Four Tet Remix)
Thursday, June 01, 2006

be gentle with me
On Tuesday, I, in a post-Sasquatch daze, headed down to the Plaza to check out
The Boy Least Likely To
.
The Bicycles
opened. I was pretty excited to see them after
Graham
said they were good. Remind me to chastize Graham when he gets back into town this weekend. I could see what they were going for (some kind of fuzzy twee-pop sorta vibe), but christ they were grating. They're just cutesy to the point of being nauseating. This band could totally use a little - excuse the politically incorrect term -
balls.
And, it's not like I listen to Swedish death metal exclusively or anything... "a little more balls..." like maybe, Camera Obscura, Belle and Sebastian... oh... I dunno... the Softies. I'm not asking for a lot. Don't get me wrong here, I like cute. Rainbows, puppies, kitties, blowing bubbles, holding hands and feeding ducks; thumbs way up! Early Full House era Olsen twins? Not so much. Actually, their drummer looked like she was ready to kick someone's ass when she was pounding the skins, unfortunatley this did not translate to the rest of the band, nor the music.
The headliners had more of a handle on the balance between cuddly and eye roll inducing, and were also great at replicating the very busy arrangements on
The Best Party Ever
while adding some live punch. They played pretty much all of their debut, quite a few new songs, and also a cover of George Michael's "Faith." "I'm Glad I Hitched My Apple Wagon To Your Star" and "Be Gentle With Me" were predictable favourites, but the reaction's warranted, as they were pretty great live, even though the crowd was a tad sparse. At any rate, at least they weren't opening for James Blunt on this visit.
Ladytron
returns to Vancouver on October 14th. This time around they'll have
Cansei de Ser Sexy
in tow.
Speaking of return engagements,
Electric Six
are at Richard's on October 17th.
If you were looking for the Hella/Advantage show on May 28th, and then cursing me when I was out of town... sorry. It's on June 28th. Either the date got changed, or I can't read. It's still at the Red Room.
The Pride Tiger show is cancelled. Shitty.
See you at Music Waste tonight!
now playing: Cold War Kids - We Used To Vacation