Saturday, April 30, 2005

left and leaving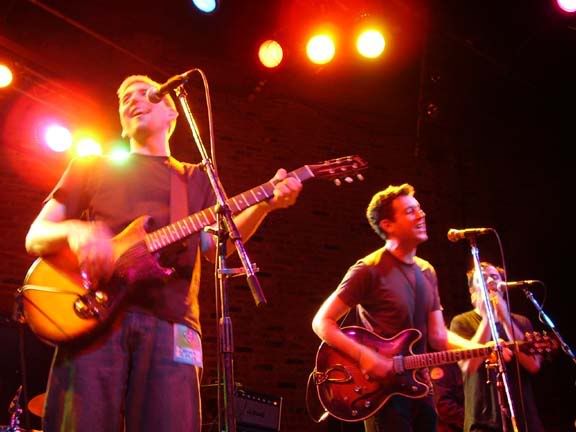 I decided to go to see the second of three
Weakerthans
and
Constantines
shows today. Despite the fact that I have tickets for tomorrow's show as well, I'm confident that it was a great move. The Cons were ferocious, and the Weakerthans were their usually charming selves. Both sets featured a couple new songs, and both bands collaborated on a Travelling Wilburys cover for the last song of the encore.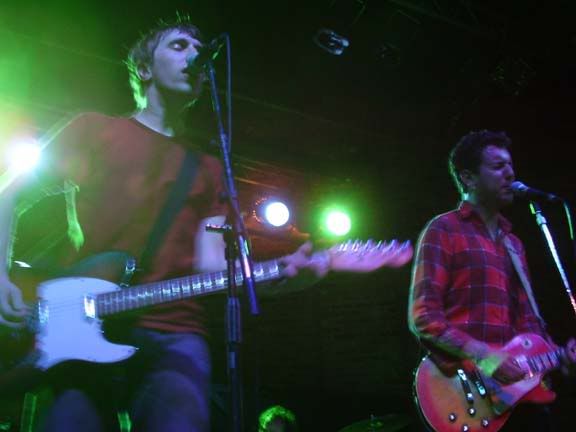 Steve Lambke and Bry Webb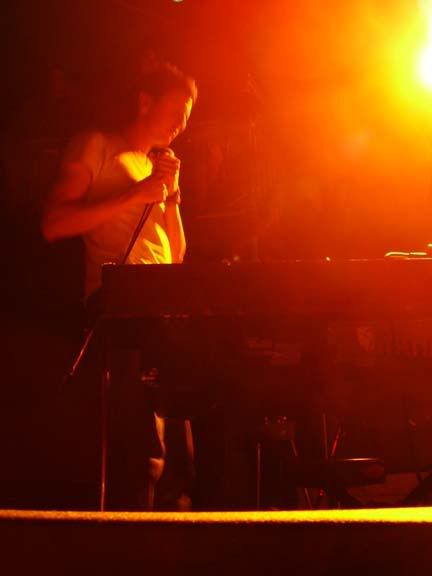 Will Kidman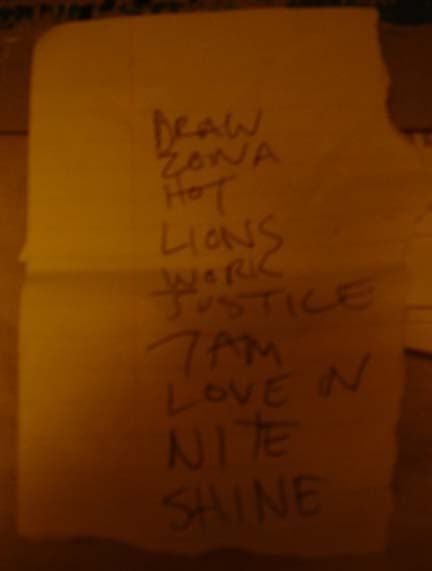 Cons setlist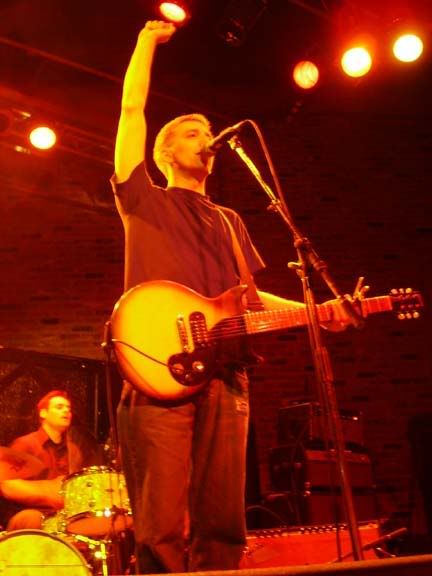 John K. Samson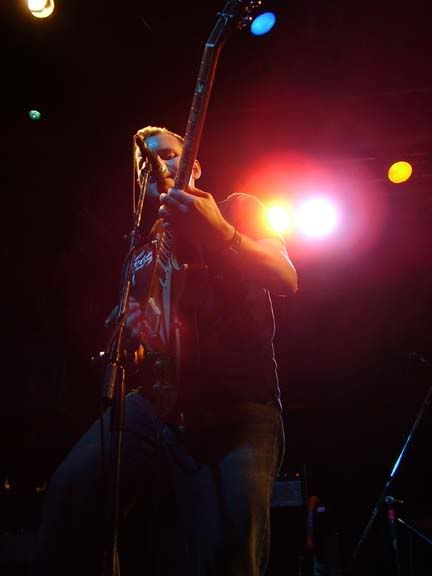 Stephen Carroll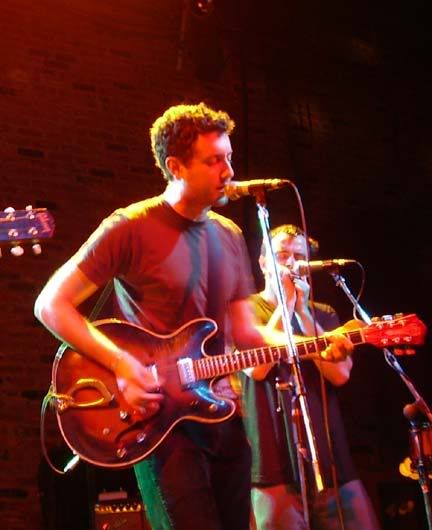 Bry and Greg Smith
now playing: New Pornographers - Twin Cinema
Friday, April 29, 2005

waiting for a sign
Billboard
gives the lowdown on the release dates for the three new
Ryan Adams
albums due out this year.
Jacksonville City Lights
drops August 9th, while
29
hits stores on November 2nd.
Cold Roses
, Adams first release of the year, is out this Tuesday, and can be streamed on his official site. It's also all over the place in mp3 form. (via
Chromewaves
)
Since any Ryan release gets my going (even the mediocre ones), here's a little treat that Kyle from
More Cowbell
hooked me up with. "Tonight" is the UK bonus track from
Cold Roses
. I've been actively trying to avoid downloading the leak of the album or streaming it from the official site, but the songs I have heard are much better than this one. That being said, if you're like me and are on a mostly "cold-roses-blackout" this will at least tide you over til Tuesday.
download: Ryan Adams -
Tonight
now playing: Andrew Bird - Sovay

the mariner's revenge
As Shea has kindly pointed out,
Doves
have rescheduled for June 9th at the Commodore, unfortunately
Mercury Rev
are no longer opening. Ticket holders will receive a $2 refund at the door... supposedly because of the change in support acts. Yes, you read that correctly. Two bucks. Wtf?
The first acts for this year's
Bumbershoot Festival
are slowly trickling in. Not much of note yet, but if you're willing to make a trip to the Emerald City you can look forward to seeing
Devo
. Seriously.
Listen to a brand spankin' new New Pornographers track, "Twin Cinema," courtesy the fine people at
Matador
. The album of the same name drops August 23rd. While this song features the familiar voices of
Neko Case
and
Carl Newman
,
Dan Bejar
and
Nora O'Connor
reportedly contribute even more than they did on 2003's superb "Electic Version."
download: New Pornographers -
Twin Cinema
Finally, in anticipation of Saturday's
Decemberists
show, here's Colin's old band's take on "My Mother Was a Chinese Trapeze Artist." Tarkio's version is a little less sparse than the one you're probably used to, and will no doubt feature on the upcoming
Kill Rock Stars
release of some of their back catalogue.
download: Tarkio -
My Mother Was a Chinese Trapeze Artist
now playing: Magneta Lane - Ugly Socialite
Tuesday, April 26, 2005

caught by the river
the Doves
show on May 6th has been postponed due to Jimi Goodwin's ailing throat. The band reports that they're trying to reschedule all the cancelled dates.
Head over to
Apeture Enzyme
for some live videos of the
Constantines
and
Final Fantasy
, among others.
now playing: Broken Social Scene - Superconnected (live in Ottawa - video)
Monday, April 25, 2005

around the bend
Ever since, when at the spry young age of eleven, an elementary school friend of mine played me a dubbed cassette copy of
Ten
, I've had a very special place in my music loving heart for
Pearl Jam
(for the record, I've since purchased pretty much every release they've put out and seen them live six times - see home taping didn't kill music after all). So, it was with great excitement that I opened my email to see that
the Ten Club (PJ's Official Fan Club)
had sent an announcement of their upcoming 15-date Canadian tour. Starting in Vancouver on September 2nd and ending 22 days later in St. John's, Nfld, the jaunt across our home and native land sees the band playing places they haven't been to in more than a decade. Tickets are on sale now til May 5th for fanclub members, with a regular on-sale to follow once they sort out the seating (Ten Club members get priority seating on regular Pearl Jam tours). The dates are as follows (all dates in September):
2nd Vancouver - GM Place
4th Calgary - the Saddledome
5th Edmonton - Rexall Place
7th Saskatoon - Credit Union Centre
8th Winnipeg - MTS Centre
9th Thunder Bay - Ft. Williams Gardens
11th Kitchener - Memorial Auditorium
12th London - John Labatt Centre
13th Hamilton - Copps Coliseum
15th Montreal - the Bell Centre
16th Ottawa - the Corel Centre
19th Toronto - Air Canada Centre
20th Quebec City - Colisee Pepsi Arena
22nd Halifax - the Metro Centre
24th St. John's - Mile One Stadium
If PJ isn't your style, check out some great little animated videos for music by
the Shins
,
Arcade Fire
, and
Mogwai
(among others), at
Plates Animation
. (via
Brooklyn Vegan
)
now playing: Pearl Jam - Last Exit (live at the Commodore 5-11-00)

cause=time
Frank over at
Chromewaves
was kind enough to link to
magnacyd.com
, video director, George Vale's website. There you'll find a crapload of videos from some of Canada's indie elite... and also the odd pop-punk promo clip.
After watching the
Broken Social Scene
documentary from the same site, I was struck by just how special I think they're going to be, should they not implode and break up or something. I'm sure most of you are going "no shit, they're great" right about now, but let me explain...
Since the whole BSS hype explosion, I've always thought
You Forgot It In People
is a little overrated. Don't get me wrong, it's a great album. Alas, when listening it seems like there is much more room for this band to take off, and with supposedly three albums worth of material recorded for the band's forthcoming release(s), I really feel like the next record(s) is when they go from being a great band, to being one of those bands that truly cements itself a significant place... at least in the indie rock canon. Like, they'll go from being the Ride to being Jesus and Mary Chain or My Bloody Valentine (no offense to the Ride).
Either that, or the next record will be a horrible mess, but judging from the live recordings of the new songs that are floating around, I highly doubt that.
With that, here is one of my favourites of the various post-YFIIP/post-BeeHives songs that have seen the light of day. Other than "New Country" probably my favourite, in fact.
download: Broken Social Scene -
Jimmy and the Photocall (live in Stockholm 8-7-04)
Finally, according to the
Globe and Mail
, this is as good a place as ITunes to get the new
White Stripes
single... someone should let them know that the link has expired.
now playing: Feist - Nothin' in the World Can Stop Me Worryin' Bout That Girl (Kinks Cover, live in Paris)
Wednesday, April 20, 2005

exit music
MP3s of a Thom Yorke solo performance of brand new
Radiohead
songs have made their way to the internet. Listen to "House of Cards" and "Little Flowers (til the Hospital)"
here
.
The announcement of a pair of
K-OS
shows at Malkin Bowl in Stanley Park on July 2nd and 3rd, follows last weeks announcement of a
Lucinda Williams
date at the same venue.
now playing: Les Savy Fav - Yawn, Yawn, Yawn
Saturday, April 16, 2005

i can tell that we are gonna be friends
If you're interested, you've probably already heard that
the White Stripes
are releasing their fifth full length,
Get Behind Me Satan
, on June 7th (the 6th in the UK/Europe). You've probably also heard that the lead off single will be "Blue Orchid"... But you might not have heard it yet. So here you go. Some people are saying that they don't dig the double tracked vocals, but I quite like them. They mesh so well with the multitracked guitar.
download: the White Stripes -
Blue Orchid
Here's some more White Stripes goodness, in the form of a track from
Redd Blood Cells
. Conceived in 2002 as an "art project" by
Redd Kross
bassist Steve McDonald,
Redd Blood Cells
sees McDonald laying down bass tracks (with Jack White's blessing) on the Stripes classic
White Blood Cells
. The results are predictably mixed, but even the tracks that could do without the extra rhythm section at least serve the purpose of further illustrating how great the White Stripes rather minimalist approach can be. Below is a download of "Little Room." A song that was only drums and vocals on record, that McDonald has beefed up with some pretty spectacular fuzzed out bass riffs. For more info on
Redd Blood Cells
, you can head over to the
"official site."
download: the White Stripes w/Steven McDonald of Redd Kross -
Little Room (Redd Blood Cells version)
now playing: Oasis - Whatever
Friday, April 15, 2005

how would broken find the bone?
As Rob kindly noted in the comments of my last post,
the Album Leaf
are playing the Media Club tomorrow. If you're not working like I am, you might want to head down. They're selling a 5-track tour only EP, if you are into such things.
Former Sea and Cake'r
Sam Prekop
plays Richard's on May 25th with
Pit Er Pat
in tow.
Finally,
Lucinda Williams
plays an outdoor show in Stanley Park on June 25th, in support of her forthcoming
Live at the Fillmore
disc.
now playing: Kano feat. Demon & Wiley - Mic Fight
Thursday, April 14, 2005

the lights are golden
Full version of the Karen O. and Squeak E. Clean (aka Karen Orzolek & Sam Spiegel) tune from that Adidas commercial that everyone is buzzing about is now circulating...
download: Karen O. and Squeak E. Clean -
Hello Tomorrow (full version)
That's an extra minute and sixteen seconds of shoe selling goodness.
Raekwon the Chef
rocks the mic at Plush on June 2nd. Early bird tix (now until April 30th) are only $20 + charges.
The Sadies
bring their country twang to the Red Room May 5th (if you're keeping track that's Ravonettes/Autolux, Sloan/Magneta Lane, and now Neko's backing band all on the same night).
And on the commercial hip hop but you know deep down you kinda want to go anyhow tip, muthafuckin
Ludacris
one two steps to the Pacific Coliseum with
Ciara
in tow. For the record, despite what your friends say they heard, she
wasn't a guy before
.
Oh... and a polite request: feel free to use photos from this site, but please don't direct link them... download and upload to your own host/server. thanks.
now playing: Ciara feat. M.I.A. - Goodies (Richard X Remix)
Tuesday, April 12, 2005

given to fly
Rumours
abound
that
Pearl Jam
are gearing up to do a 10 (or so) date Canadian mini tour for fanclub members ahead of the release of the their as-yet-untitled forthcoming LP.
A visit to
their fanclub homepage
yields the sounds of the Canadian National Anthem, while the Pearl Jam
"rumour pit"
suggests that fans make sure their Ten Club memberships are up to date by April 19th. And if you aren't a ten club member? "What are you waiting for
eh
?"
More details as they come.
Also,
Bloc Party
will return to Vancouver to play the Commodore on May 29th.
now playing: the Fiery Furnaces - South is Only a Home
Monday, April 11, 2005

banking on a myth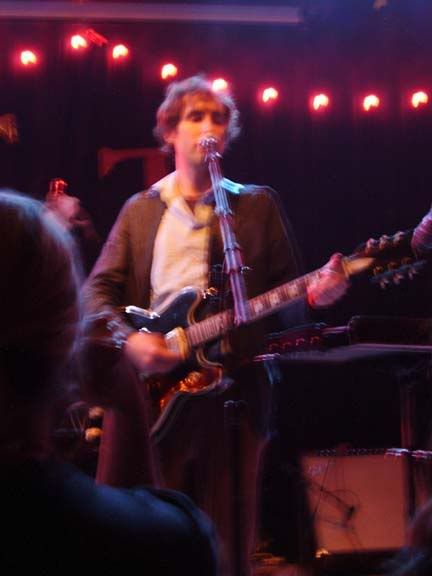 Drove down to Seattle to see
Andrew Bird
last night. For those of you who know nothing of him, I suggest picking up his latest
Andrew Bird and the Mysterious Production of Eggs
. Or, if he happens to be coming to your town, you
must
go see him. Utilizing the same delay pedal that
Feist
and
TV on the Radio
employ to harmonize with themselves live, Bird loops multiple violin and guitar tracks in order to play his lush chamber pop live. It wasn't uncommon for to hear 4 or 5 violin parts (some bowed, some picked (pizicatto?), guitar, xylophone, vocals, and Andrew's pitch perfect whistling on one song. Joined by Kevil O'Donnell on drums (who would often drum with one hand while playing keyboard with the other), he ran through most of his latest album, as well as the odd unreleased cut, as well as a healthy number of offerings from previous release
Weather Systems
.
My digital is about as effective as a pinhole camera in dim stage light... but here are a couple more fuzzy shots.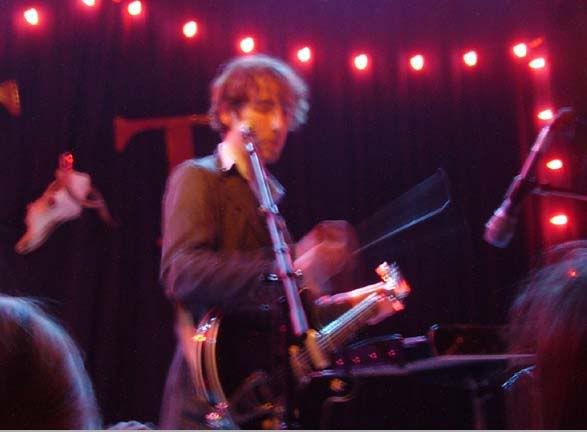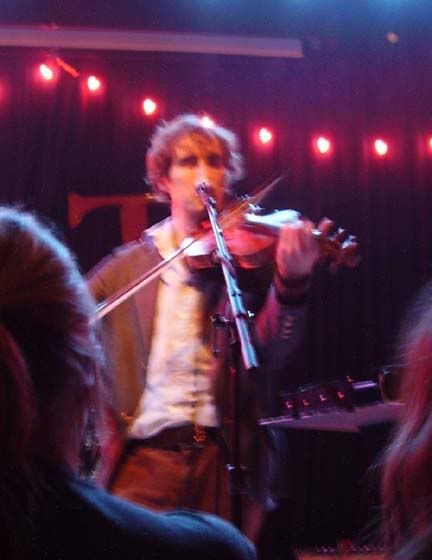 In show news...
Out Hud
play the Media Club June 11th. It's an early show, tix on sale at Scratch/Zulu/Noize/Ditch (in Victoria).
Built to Spill
play the Commodore June 18th. Tix at the same places, and also ticketmaster, if you must.
Oasis
return to Vancouver for the first time in ages on September 8th at GM Place. Tickets on sale this Saturday at 10am from ticketmaster. Jet (ugh) and Kasabian (ugh) are in tow. Even though they haven't put out anything really good since
the Masterplan
, I will fully admit that I'm psyched.
Finally,
Spoon
tix are on sale this Thursday, or for you internet savvy folk, there is a Wednesday presale.
now playing: Idlewild - I Want to be a Writer

alert status red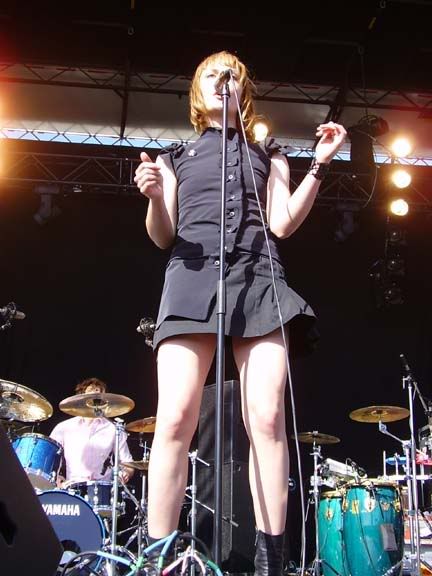 Arts County Fair 14
pics... better late than never. Ryan Dahle almost got hit with a wrench, a lot of people got hit with shoes... completely unacceptable, but
Matt
seems to be giving the impression like this type of thing never happens at any of his shows. I've seen MGB/MG solo ten times now (a little sad, I know), and have seen all of the following before yesterday: people throw shoes, lighters, cups and bottles(and people throwing razors earlier in a different outdoor festival show that MGB played at), a girl break her wrist on the barracade because the crowd pushed forward so violently, my exgirlfriend leave a moshpit for about the only time ever at a concert (this includes the Deftones and NIN) because the crowd was so unruly (at the same show some guy threatened to "break my fuckin neck" after I elbowed him away from the 14 year old girls he knocked through), countless people get bloodied, trampled, etc (ironically usually during the slower songs when a large crowd just ends up pushing in one direction). I believe he's also had a tooth broken when some assclown knocked a mic stand into him.
Again, not making excuses for people throwing shit, but I think its a little bit of a stretch to insinuate that people throwing shit or acting unruly towards the band was something exclusive to ACF. Matt Good crowds are full of dickheads... I still don't get why... but it's the trend.
Anyhow, that aside, musically it was probably the best Arts County ever.
Metric
slayed (and they even let me introduce them!).
K-OS
, who I'm not a huge fan of was also really impressive. His best crowd response was predictably for "Crabbuckit" but, I was more partial to the GZA/Genius homage after "B-Boy Stance." Matt Good's new band sounded great. Despite the projectile hang ups, they managed to get through two brand new songs (which, thankfully for my tastes, were more in the vein of his latest than of "Avalanche"). Also, Ryan Dahle's playing is much more Dave Genn-like (another good thing in my books). "Giant" sounded straight out of the 2000
Beautiful Midnight
tour lead guitar-wise.
Finally,
Pat Steward
is a really really nice guy.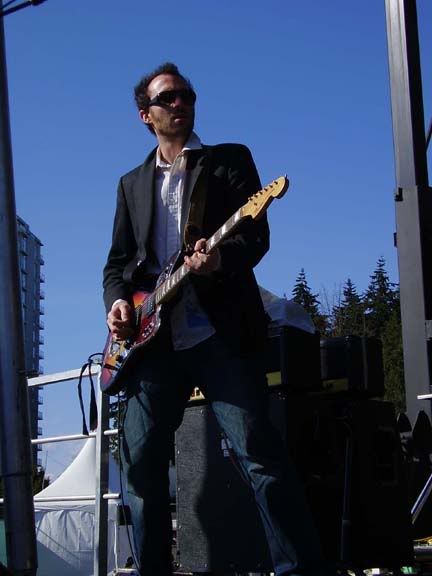 James Shaw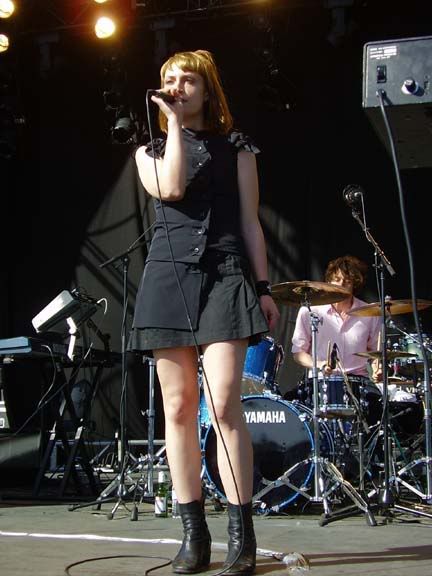 Emily Haines
Josh Winstead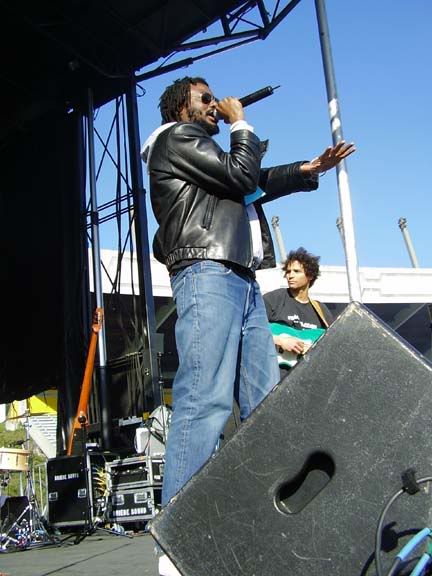 K-OS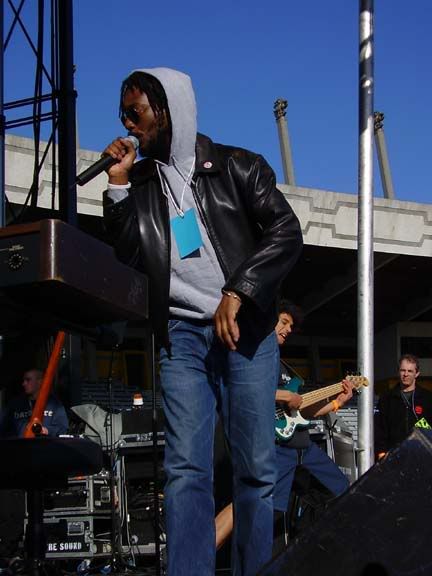 and again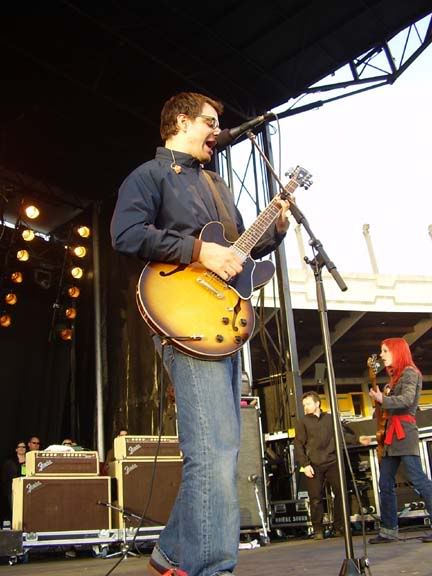 Matthew Good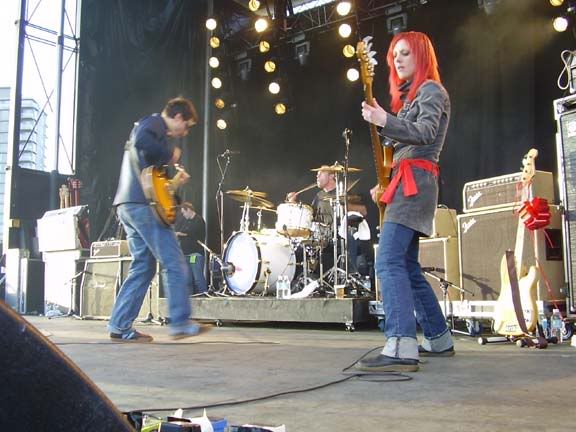 Matt and Meegee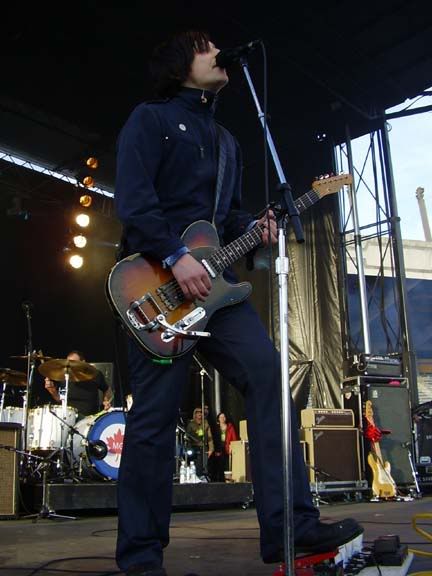 Ryan Dahle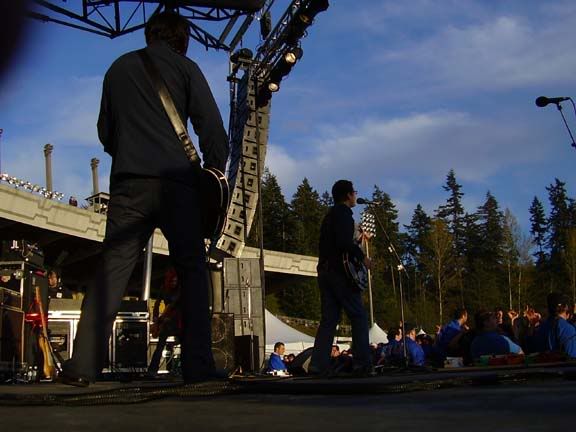 the view from backstage
now playing: Metric - the List
Friday, April 08, 2005

i'm sick, you're tired, let's dance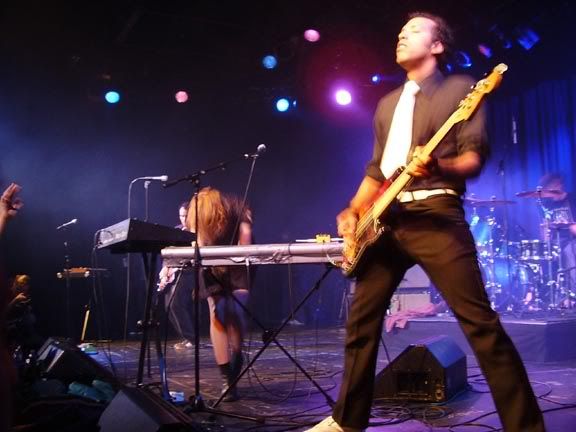 Metric
returned to Vancouver to play a sold out show at the Commodore today. I'm kinda tired, so I'll mention that they played four new songs (Handshakes, Patriarch on a Vespa, Live It, and another one I couldn't see on the setlist), and leave it at that.
Elizabeth
opened. I was far too the right, so I couldn't get any decent snaps of James Shaw.
If you missed the show you can catch them tomorrow (well today, technically) at
Arts County Fair
. Metric are on at 3:30ish,
K-OS
and
Mattew Good
follow.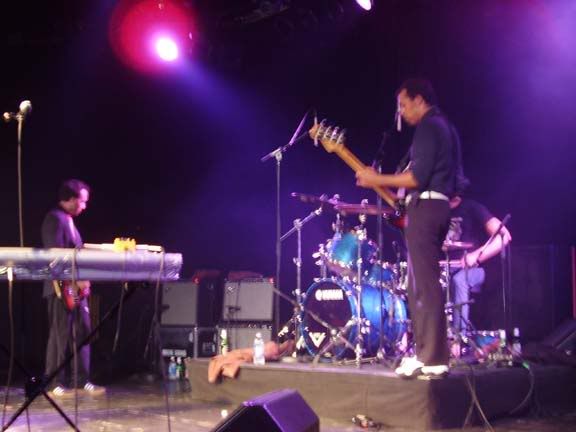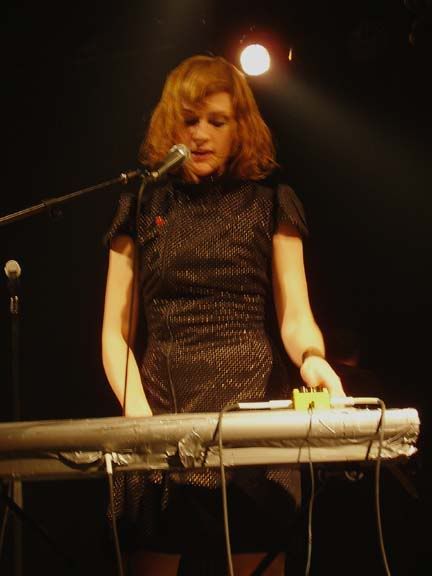 Emily Haines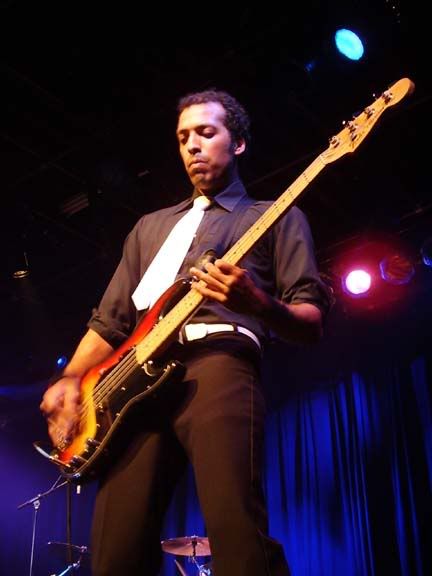 Josh Winstead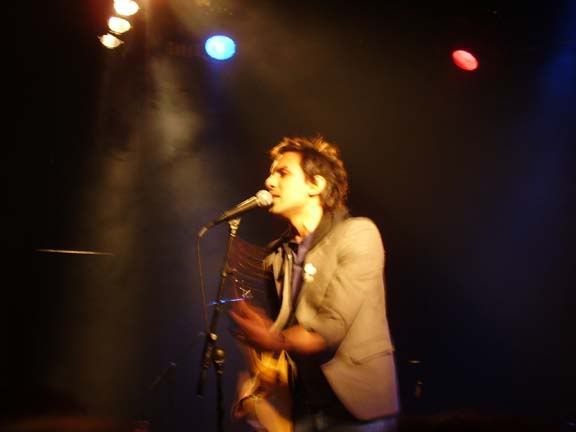 Reggie Hill of Elizabeth
now playing: Stars - the Aspidistra Flies
Tuesday, April 05, 2005

gardening at night
Happy birthday
REM
! The band played their first ever show 25 years ago today in their hometown of Athens, Ga as the Twisted Kites.
The fine people over at REM fansite
Murmurs
have set up
thankyouREM.com
, where you can upload pictures and messages to thank the band for a quarter century of music.
In celebration, here's an mp3 from the second last time they swung through Vancouver, a date in support of their greatest hits cd. During the tour the band were taking requests via the internet, and "Nightswimming" was requested by a couple who played it as their wedding song. So, just as the sun had set on Thunderbird Stadium, Michael Stipe and Mike Mills played the
Automatic for the People
tune for "the first time in years."
download: REM -
Nightswimming (live in Vancouver, 2003)
If you can't get your anniversary fix,
FluxBlog
has an mp3 of
"Life and How to Live It"
recorded on the same tour up for download.
now playing: REM w/ Patti Smith - E-Bow the Letter
Sunday, April 03, 2005

the moon and antarctica
My wonderful friend Kim just relayed the following to me:
Modest Mouse
will play the Queen E. Theatre on May 25th and 26th. Tickets are $31 + charges and are on sale this Saturday (the 9th) at 9:30am from Zulu, Scratch, Highlife, Noise, or if you must, Ticketmaster.
Tix for the previously blogged about
LCD Soundsystem
and
M.I.A.
show on May 10th are also on sale at the same time/same places for $25.
the Modern Age
has a review of a recent LCD show (sans Miss Maya) in NYC.
Brooklyn Vegan
and
One Louder
have pics.
Wolf Eyes
play the Media Club on May 7th. It's an early show, so you can expect to be out of there in time to catch the
Gang of Four
rock shop at the Commodore later that night. Tix at Zulu, Scratch, Highlife, Noize.
I'm keeping half an eye on the
Juno
replay. Nice to see
Feist
win one.
The Hip
's performance was also pretty great. Anybody else catch Gord's sly
Weakerthans
reference?
now playing: Tom Vek - I Ain't Saying My Goodbyes

asleep at the trigger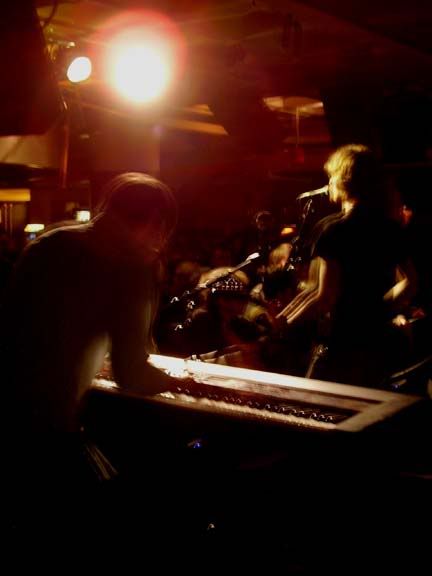 Went to see
Ambulance Ltd
and
Autolux
at the Pit tonight.
Ambulance Ltd, who headlined, weren't bad, but weren't anything I'd go out of my way to hear in the future. They also looked bored as hell when they were playing, which didn't help. I don't really have much more to say than that.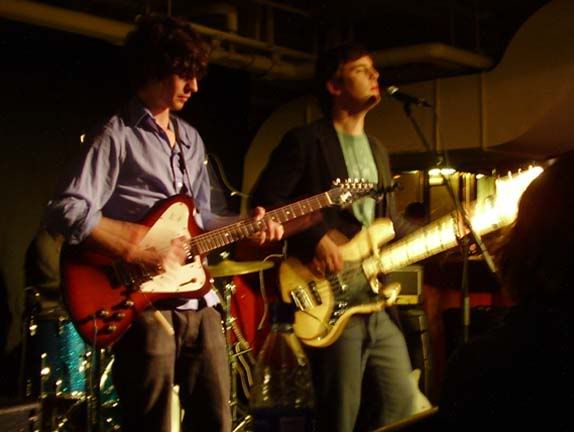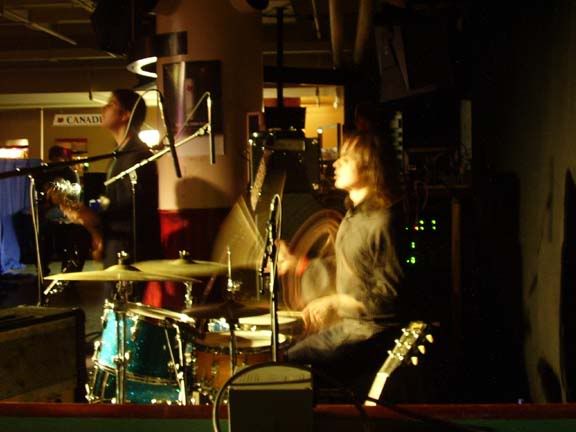 Autolux, on the other hand, were excellent. I'd previously downloaded "Turnstile Blues," the lead off track on their debut LP,
Future Perfect
, and was suitably impressed. The live show was a whole other level. Carla Azar's drums thundered, reminiscent of John Bonham, or something equally huge sounding, while Eugene Goreshter's bass went from a low snarl to wailing, often frenetic, Jesus and Mary Chain style feedback. Meanwhile, Greg Edwards (who you may remember from Failure) coaxed the same sort of noise out of his guitar, alternating between that and the sounds you'd expect from a early 90s shoegazer outfit. If they come back, I suggest checking them out.
The lighting came almost exclusively from a few naked blue light bulbs and some sets of red christmas lights, so it was hard to get decent shots.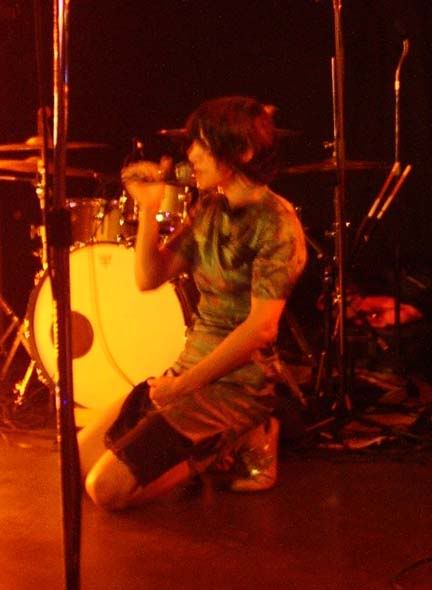 Carl Azar emerges from behind the kit to sing a number.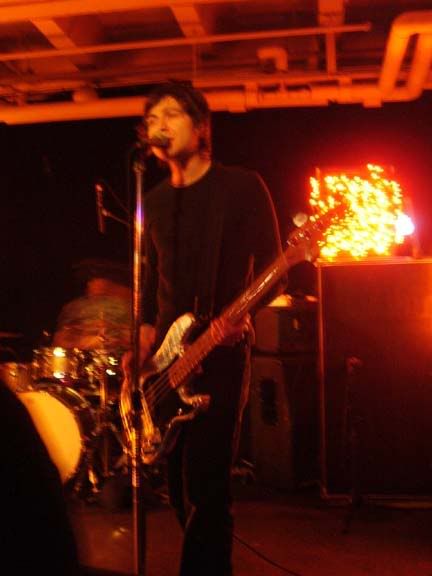 now playing: Love is All - Felt Tip Hip Kids
Saturday, April 02, 2005

burn, baby, burn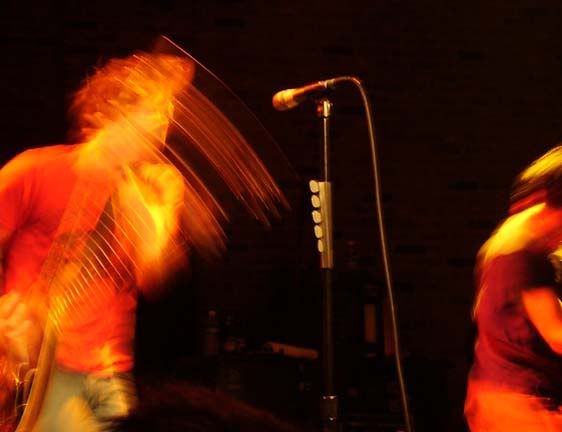 Rather that catching the
Exclaim!
show on Thursday, I opted to see
Ash
at Richard's, mostly based on the fact that they almost never come here (Tim Wheeler noted that the last time they came to town was ten years ago). I'm happy to say that I wasn't disappointed. They opened with a couple of new numbers that were far heavier than the power-pop of previous albums, but soon go the crowd going when they launched into "Shining Light." Ireland's finest (yes, I am aware of U2) also ran through "Kung Fu," "Burn, Baby, Burn," "Jack Names the Planets," and "Goldfinger," before finishing the encore with covers of the Cantina Theme from
Star Wars
(seriously) and Thin Lizzy's "the Boys Are Back in Town." I'd be lying if I said I wasn't pogoing like my life depended on it the whole time.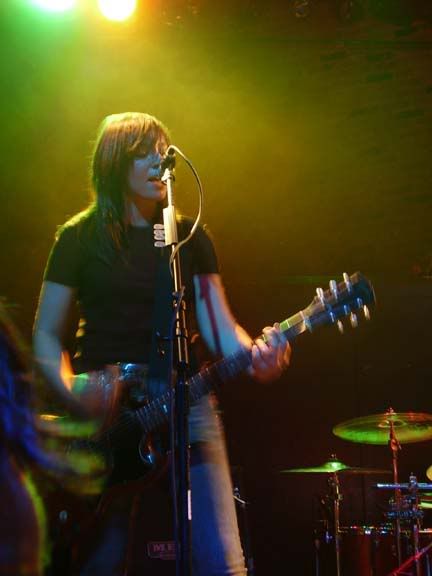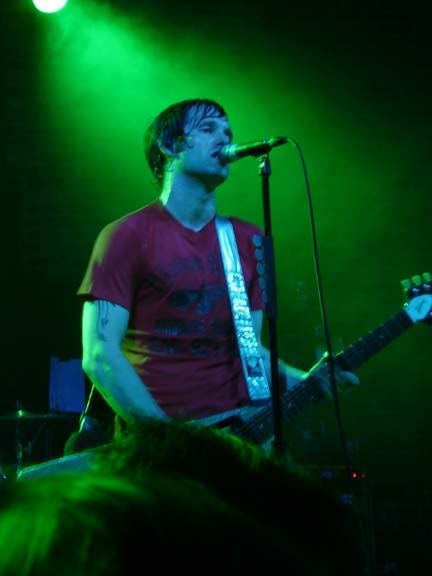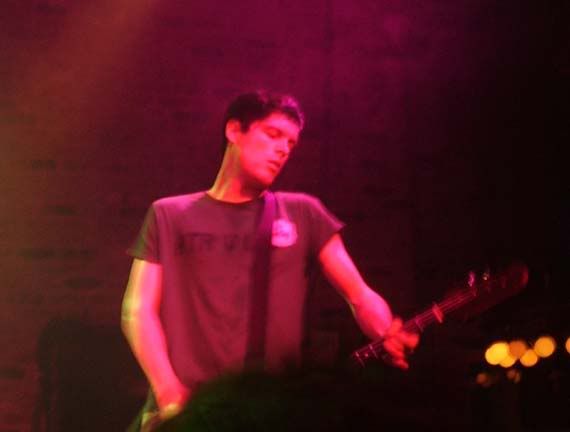 After the show, my friend Neil and I couldn't help but play fanboy and get our picture taken with Charlotte Hatherley...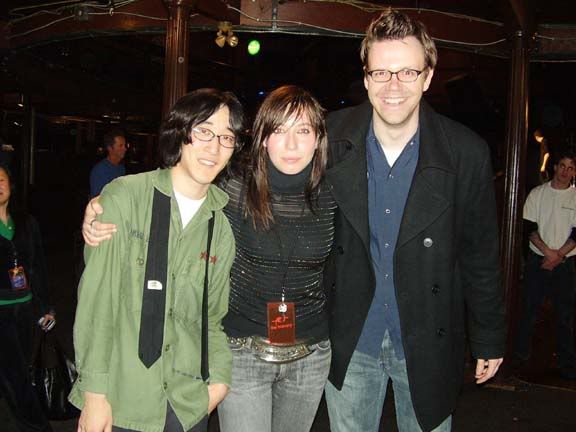 The Bravery
opened, and while I can't say I'm all that impressed with their recorded output, I'll give credit where credit is due. They were campy beyond belief, throwing out every rock cliche you could think of, but the crowd ate it right up, and they were pretty entertaining.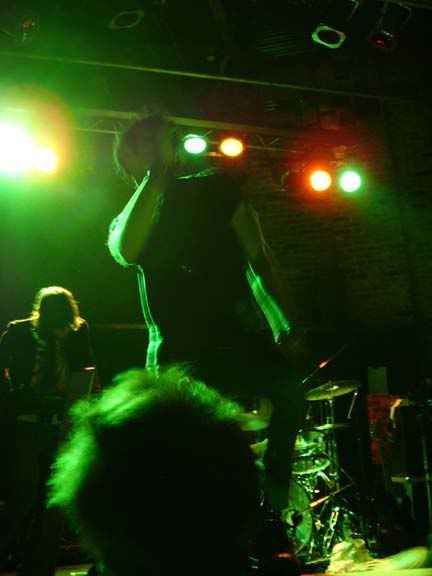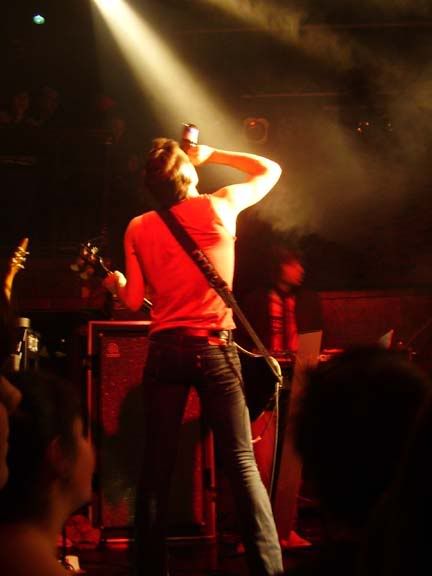 now playing: Magnolia Electric Co. - Leave the City