Sunday, April 30, 2006

born in a fleamarket
Speaking of fleamarkets, did you know that you can get grilled cheese at the Vancouver one? It's not on the menu of the cafeteria, but if you ask, they'll charge you for cheese and toast, and grill that badboy up for you. If you ever find yourself hungover and looking for jesus clocks and those pictures where the water looks like its moving, you seriously have to try it.
But I digress...
"Born in a Fleamarket," is actually a title of a song by
Stellastarr*
. And, as luck would have it, Zander, the winner of the Stellastarr* contest from a couple weeks back, was kind enough to send some thoughts on last week's co-headlining gig with
Editors
...
It was with the strange befuddled mindset from a recently finished set
of term papers that I entered Richards on Richards to see Stellastar
and The Editors play last Tuesday. Due to unfortunately circumstances
I ended up going to the show alone but perhaps it was for the best. I
arrived just as Stellastar was beginning and immediately went to the
bar to lubricate myself with my lover Jameson Irish whiskey.

I was immediately impressed with Stellastar's live presence; a strong
performance of "Sweet Troubled Soul" seemed to stand out and set a
good standard for the evening. Shawn Christensen's vocals were on the
mark, but I found his convulsing or shivering performance slightly
overdone and contrived. Perhaps I'm just cynical and he actually gets
that immersed in his performances but it only came across as
artificial to me. Despite this the performance and showmanship was
very solid and I was beginning to wonder if they had just stolen the
show.

In the end The Editors stood on equal ground; they did not
disappoint, and I suppose I was pleasantly surprised to realize how
many of their songs I really enjoyed despite never really falling head
over heals while listening to their album. Reading reviews of "The
Back Room," one will find a lot of lukewarm responses and discussion
of how much of their sound is derivative. Thankfully I was able to
leave such criticism behind as soon as they began to play and allowed
myself to really enjoy the performance, with "All Sparks" and "Munich"
being high points.
Thanks again to everyone who entered, and to Jon at
WiredSet
for providing the prize.
now playing: Beirut - Postcards From Italy
Friday, April 28, 2006

just in case anybody needed to know
I wrote about
Leeroy Stagger's
Tales From The Back Porch EP
way back before Christmas, when the fine folks at
Boompa
were kind enough to send me a copy way in advance of its Canadian release date (which according to an ad in
Exclaim!
was last week, and according to Amazon was this week). Now that you can (or will soon be able to) pick up the EP in stores, I wanted to make another pitch for you to spend part of your record budget on it.
If you've never heard Leeroy, go over to his
official site
and grab a couple .mp3's right now. If you're too lazy to do that (or at work or something), think Whiskeytown-era Ryan Adams penned tunes and older Jason Collett stuff; gritty, country-tinged, rock.
If you have heard Leeroy and you already own his second LP,
Beautiful House
, you're probably wondering why you should care about an EP without a single song that doesn't appear on the full-length on it. That's right: all the songs on
Tales...
are plucked straight off of
Beautiful House
. What makes this worth purchasing though, are the arrangements.
Tales...
was recorded over a weekend in a "purposefully rough-around-the-edges manner," and the speedy and relaxed process definitely helps kick the songs up another notch.
No offense to
Danny Michel
, but I've never been a fan of his production. In fact, everytime I've seen him perform live and then gone home and thrown on one of his records, I'm always amazed at how something that was so intimate and enthralling live, can get glossed over by the slick production.
Beautiful House
doesn't suffer to quite the same extent. It's hard to cover up Leeroy's whiskey soaked vocals, no matter how you twiddle the knobs on a mixing board, but while the songswriting is an impressive step up, the record's sound doesn't quite match up to Stagger's debut,
Dear Love
.
Tales From The Back Porch
is like the best of both worlds. It's those same songwriting achievements, but it sounds a little dirty, and - forgive the cliched term -
warm
. While both records are obviously studio recordings, on newer versions, it sounds like the songs have finally been set free.
I'm amped for Leeroy's forthcoming release (out in September, with the same guy who produced the Be Good Tanyas behind the boards), but this will tide you over until then. Don't view it as a stop-gap release though, it's a great record in it's own right.
download: Leeroy Stagger -
Just In Case (Tales From The Back Porch Version)
download: Leeroy Stagger -
Just In Case (Beautiful House Version)
(via Boompa)
Leeroy will be part of New Music West's SOCAN Songs and Stories show, tomorrow at the Centre for the Performing Arts at 2:50pm. Unfortunately it's part of the NMW speaker series showcase, which means it'll run you a whopping $55... but hey, you'll be able to hear Raine Maida and that psychiatrist from the Metallica movie too... great.
now playing: Neil Young - Flags of Freedom
Thursday, April 27, 2006

making angels out of ash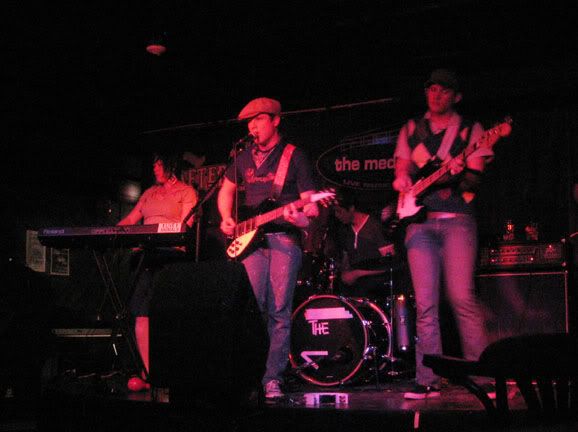 Caught
the Paper Cranes
last night at the Media Club. It was a NMW show, but hopefully doesn't speak to the business NMW is doing, because there were only about 25 people there. And don't tell me you were at the Stills/Diableros show either, cause may secret agents tell me that one was half empty too.
At any rate, the Cranes did their best to ignore the fact that nobody bothered to show up, and delivered a little under an hour of rock for all two dozen of us. The obvious comparison for Ryan McCullagh's voice is the Cure's Robert Smith. I've never shyed away from saying the obvious, so I'll go with that. The music is more of a split affair. It seems like half the songs, like their first attention getter, "Deus Ex Machine Gun," have a driving 4/4, minor key, new wave sound, while the other half of the catalogue boasts the sunshiney, piano-driven bounce of the stellar, "I'll Love You Until My Veins Explode." I was ready to proclaim that the latter was far far more impressive, but their set closer was a 4/4, minor key, new wave affair, drenched in washes of feedback, and was glorious.
If you're not at Sasquatch or Arctic Monkeys, make sure you head down to Pat's on May 27th to show them some love.
You can download "I'll Love You Until My Veins Explode," and stream a couple of other songs on their
MySpace
.
Speaking of New Music West... there's a
Boompa
showcase at the Penthouse tomorrow night. (in descending order) The Salteens, Catlow, Run Chico Run, and My Project: Blue are all doing sets. Whenever I go to the Penthouse for NMW I forget that it's usually peeler bar, order a beer, and am then reminded that I'm in a strip club when the waitress asks for what should be too much money for a single beverage
The Concretes
show, originally scheduled for May 17th at Richard's, has been cancelled due to "overseas committments." If by "overseas committments" they meant "ruining my day," they are correct.
The Charlatans
are at the Commodore on June 3rd. They have a new record out (their first proper release since 2001's
Wonderland
), but I'd still be shocked if they could fill the Ballroom.
Three Inches of Blood
are doing a show at Bloodstone Press tomorrow night with
A Javelin Reign
. That's more metal than you'll find inside Paul Wall's mouth. The boys from Ladyhawk also insist you "get there early for a surprise!" Even if the surprise sucks, you can indulge in the cheap beer until the bands start at 10pm or so.
now playing: the Smiths - I Started Something I Couldn't Finish
Tuesday, April 25, 2006

roll, kid, rock your body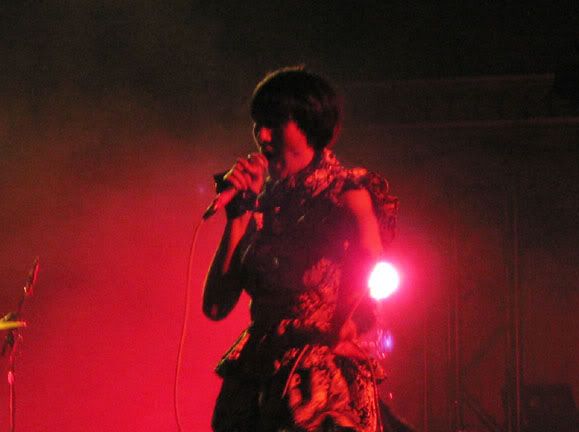 Yeah Yeah Yeahs
made their triumphant return to Vancouver tonight, making the jump from the Commodore to the double-capacity, Orpheum Theatre. In a lot of ways, it was the perfect environment for the band. The way Karen O prances around, it was like she was born for bigger stages. The entire look of the band was perfect: the lights, the smoke, the way they moved. That being said, there is something about the Yeah Yeah Yeahs that begs for the sweaty, cramped, rock show experience that you don't really get in a theatre. Seats get in the way of rock 'n' roll. While I was pretty content with my assigned seats, I kept wishing that people would just crowd past security and push up against the stage, push up against eachother, and really let loose.
Venue aside, the band was in great form. Imaad Wassif was on hand to fill out the sound on newer cuts, all of which were more dynamic than on record. Older cuts still resonated with the ragged energy that propelled the band from the (unfair grouping with the) NYC "garage rock" scene to their own place within modern musical canon. And, the energy level was the same as it always was: high.
I would've liked to hear a few more older cuts... and after three shows, I've still never managed to catch them on a night where they drag "Bang" out, but those are very very small complaints, that didn't taint the overall experience, in the slightest.
now playing: Whiskeytown - Jacksonville Skyline
Monday, April 24, 2006

broken chords can sing a little
A Silver Mt. Zion
(and maybe the tra-la-la band, and memorial orchaestra, and choir, and whatever else they're billed as now) will be at Richard's on August 16th.
Carla Bozulich
is set to open. I still long for a return of Godspeed, but this should be pretty awesome. (thanks
Sean
)
Calexico
are at the Commodore on June 20th. Eric Bachmann (of
Crooked Fingers
) will open. I already have a ticket for Jose Gonzalez, but I really want to see this too... meh. (thanks Shea)
Head over to
B(oot)log
, for some live Final Fantasy action. Owen live in Kingston, playing a couple old ones, and two new (read: not on
He Poos Clouds
) ones!
Also, in other blog news, keep an eye on
lemon-red
and
music (for robots)
this week (and all the time, for that matter). The two sites are co-hosting videos, complete with Mike Skinner's commentary, for each track off of
the Streets
latest,
Hardest Way To Make An Easy Living
.
Tomorrow sees the release of
Feist's
stop-gap release,
Open Season
. As you probably already know, the record collects various previously unreleased tracks and a ton of remixes. I think I'll pick it up tomorrow, but it's definitely spotty (which isn't unexpected for a rarities collection). There's really no need for four "Mushaboom" remixes (none of which come close to the original), and there are a couple of other less than exciting moments, but
this
(fittingly titled) "unmix" of "Inside and Out" by
Apostle of Hustle
is so fabulous, that it's probably worth the price of the entire cd by itself. No secret production tricks here (in fact, the recording clips a bit in some parts); just Leslie's gorgeous voice and her guitar. The slicked out version on
Let It Die
is one of my favourites from the album, but this is phenomenal. If they would release a similar studio recording of "Let It Die," I would be in aural heaven.
download: Feist -
Inside and Out (Apostle of Hustle UnMix)
now playing: Feist - Let It Die (live on WOXY)
Saturday, April 22, 2006

fraud in the 80's
odds and ends and other random things:
I swear it's just coincidence that
Matthew
posted about
the Paper Cranes
and then I did (they're coming to town) and he just posted about
Mates of State
, and now I'm going to talk about them (they came to town last night).
You know that friend you have with the significant other who are totally irritating together? You know what I'm talking about: they're always sneaking smiley glances at each other, eyes full of love... it's so cute, it's kinda nauseating. Well, Kori Gardner and Jason Hammel would be those people, except they happened to have learned to play keys and drums (respectively), and have channeled their love into some very finely crafted pop songs, which doesn't so much make them annoying, as it makes them awesome. The sound was a little shoddy at the Plaza last night (is it always so echoey there?), but other than that, it was a splendid way to spend the first part of a Friday night.
The
Ladyhawk
cd release show will be at the Red Room on June 8th. The 'Hawk are also now slated as the openers for Magnolia Electric Co.,
not
Pink Mountaintops and Two Gallants. I love Ladyhawk, but that lineup was pretty killer the way it was before.
While I'm noting corrections, I should note that
Bright Eyes
has been moved from the 5th of June to the 4th (same venue/lineup/tix still on sale next Friday). They'll be playing Victoria on the 5th.
I've seen a couple blogs talking up
Jolie Holland's
new one (
Said the Gramophone
being the most recent), and they all seem to fixate on "Springtime Can Kill You." It's a damn fine song, to be sure, but since hearing the album, I've been completely fixated on the album's opener, "Crush In The Ghetto." It's got the same sort of feel as the rest of the album, but I love how the lyrics are so very urban (it is afterall, as the title states, about a crush in the ghetto). There's this juxtiposition of the very traditional arrangements - more jazzy, but still tinged with that sound she's had going on since her days with the Be Good Tanyas - against lines like, "I feel like a queen, at the bus stop on the street/look what you've done to me."
download: Jolie Holland -
Crush In The Ghetto
Pride Tiger
are at Richard's on June 21st. Dudes are rad, but does this seem like a bit of a big room to anybody else?
Black Heart Procession
are also at Dick's. They'll play on the 29th of June.
Music Pix
are up at the Tyee. They changed the format a bit, so I talked about Julie Doiron again, this time in a bit more depth (and linked to a wack of mp3s). I have no idea why the writing is so disjointed, that's not the way I sent it in... in fact, there are two paragraphs in the beginning, that seemed to have disappeared.
Finally, thanks to
I Guess I'm Floating
(who is pretty friggin' great in his own right), for pointing us to
I Am Fuel, You Are Friends
, who has posted a whole slew of unreleased
Ray Lamontagne
tracks. Damn, "Can I Stay?" is a great tune.
now playing: Ray Lamontagne - Life is Long (live in Lyons)
Friday, April 21, 2006

i'm tired of walking around with my hand on my gun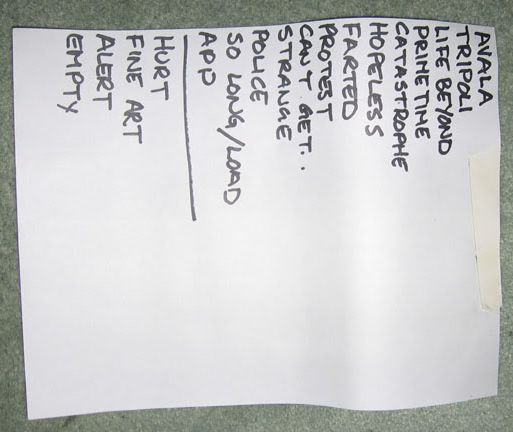 I used to be a very big fan of
Matthew Good's
music around the time of their oversaturation on Canadian rock radio (99-01 or so). I still give
Loser Anthems
and
The Audio of Being
semi-regular spins, but I can't say that I've been all that interested in his post-MGB output. So, it was a bit reluctantly that I purchased a pricey ($40) ticket to see him solo last night (it was a bit of an impulse thing - curse you Student Union Building TicketMaster). That being said, I'm really glad I did.
The first thing that struck me about the evening was that the lighting seemed like it was overkill. And, maybe it was, but it also really added to the the show. It's sort of like how Sigur Ros or Godspeed really utilize screens; the lighting really added to the feel of the music. The second thing that struck me was how much of a great mood Matt was in (despite just getting over Norwalk virus - if anything's gonna put you in a bad mood, you'd think it would be that). I can't remember the last time I've seen him perform and really look and sound like he was enjoying himself the whole time. Maybe that's just my perception, I'm not sure. At any rate, it was quite obvious from the casual way he addressed the crowd that the notoriously ill tempered Matt was nowhere to be found. He was actually really really funny, as well.
Oh... and the music? A lot of the songs sounded loads better stripped down to their basics. I especially enjoyed the numbers that are drenched extra instrumentation on record, as I've always thought a lot of his recorded output, especially
Avalanche
, sounded as though the orchaestras and keyboards were just added as an afterthought (I'm sure that's not the case, but they never quite fit right to my ears). The setlist was a nice mix, stretching back to (almost) the very beginnings of the Matthew Good Band to one new number that was played in the encore (that one and "It's Been Awhile, Since I Was Your Man" replaced "Empty Road" on the pictured setlist). Free from competition with extra instruments, the evening really showcased just how strong he is as a singer, as well. He did the last bit of Apparitions accapella, and it was a strikingly powerful moment.
My only musical complaint of the evening was the cover of "Hurt." Don't get me wrong, it sounded very pretty... but therein lies the problem. Cash's cover of the NIN tune succeeded because it flipped Trent Reznor's tired sounding self-loathing into a song about facing mortality and looking back at your life; so fitting (whether partially based on the legend or not) for the man in black, especially because it came at a time in his life, where even his voice seemed frail. Last night's rendition, with its very pleasant harmonies (provided by opener Melissa McLelland) and wickedly strong vocals, was just too polished and nice sounding. The image of Matt, the very lovely and youthful Melissa, and a dapper looking Luke Doucet (who helped out on lead guitar), all drenched in the aformentioned lighting didn't really fit either; they just looked so... alive... so strong.
Again, that's only negative thing that stuck out for me. The rest of the show was fabulous, and you should consider yourself lucky if you snagged tix to tonight or tomorrow's shows.
now playing: the Stills - Baby Blues

i'll love you til my veins explode
The Paper Cranes
will play a free (according to the Live Music Vancouver listing)
New Music West
show at the Media Club this Wednesday, and will be back on May 27th to play a show at Pat's. "Deus Ex Machine Gun" was a fun enough slice of electropop, but I'm really digging the bounce of "I'll Love You Til My Veins Explode" (available on their
MySpace
).
New Buffalo
will open the Concretes show on May 17th.
Ben Lee
plays the support role for Sam Roberts on May 25th.
Nouvelle Vague
is at the Plaza on September 5th.
And, if you're heading to the Books show on Saturday, make sure you get their early, so you catch
P:ano
.
now playing: the Paper Cranes - I'll Love You Til My Veins Explode
Thursday, April 20, 2006

au contraire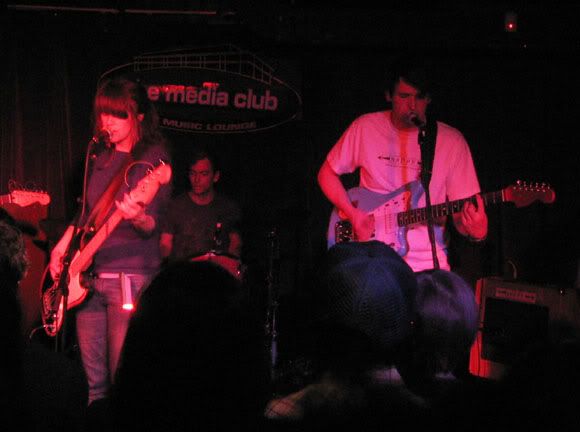 Can I just start this post by saying, while it's a little irritating that you've really got to be on the ball with getting tickets in advance for a lot of shows, it's awesome that so many more people are making it out to see quality live music in this city. Last October, when
Julie Doiron
played the Media Club it was about half full. I'm not sure if it was a sell out tonight, but it was definitely more cramped inside.
Julie was backed by openers
Shotgun and Jaybird
(who were featured on the mix from a couple of days ago), so the show was, in addition to being fuller, was a much different affair from either of her last two visits. I'm still not sure how I felt about the performance. I definitely enjoyed myself, but I definitely also enjoyed the opening numbers that Julie performed solo more than the full band set. The first song of the night, a half acapella rendition of "Sweeter," was especially enjoyable. I can't really put my finger on what it was about the full band tunes that didn't quite click as much with me, but it almost seemed as though things were just pushed a little too fast... the time signatures almost seemed to change on some of the songs. It might be also be her voice. I realized what I love about Julie's voice today: it's fragile. I turned to a friend between sets and noted that "I know what it is about her voice," and she smiled and said, "it's breakable." And, the thing about playing with a louder band, is that that vulnerability gets hidden a bit. That being said, there were some rather sublime drenched-in-feedback moments that I never would've expected to see at a Julie Doiron show. Playing with the boys from Shotgun and Jaybird, also resulted in a fun little rendition of Pavement's "Shady Lane."
Speaking of Shotgun and Jaybird, I was pretty impressed with their set. It's your standard "indie" fair, but they do it very well. I will say that I figured out why I like about half of the songs on their EP,
There Are Days, And Then There Are Days
, better than the other half: they're sung by two different guys.
I got to the Media Club just in time to catch local's
Radiogram
finishing up their last couple of numbers. I'm defintely a sucker for the alt-country thing, but I can't say that I was totally won over (this being the second time I've caught them, I think).
now playing: Julie Doiron - Sweeter (live)
Wednesday, April 19, 2006

police sweater blood vow
Ever since I opted not to go to see the Shins last headlining gig here (about two years ago), because I was going to Sasquatch (and before that when I opted not to see Ted Leo at the Media Club), I've been kicking myself. Not because I really needed to break the bank to see the Shins that many times in one week, but because I failed to realize that
The Fiery Furnaces
were opening. Well, I can finally see them (and so can you) when Eleanor and Matthew play Richard's on June 12th. You Built to Spill fans out there have a dilemna now.
Low Budget
is djing at the Kids (every saturday night at the Columbia) on May 6th. It's also the "unofficial Emily Carr grad afterparty."
The Secret Machines
are at Richard's on May 9th. (thanks Shea)
Finally, the
Joel Plaskett Emergency
show, originally scheduled for Richard's on May 5th, has been combined with the
Matt Mays
show at the Commodore. They'll co-headline the ballroom.
now playing: Idlewild - Mistake Pageant

maybe we should break it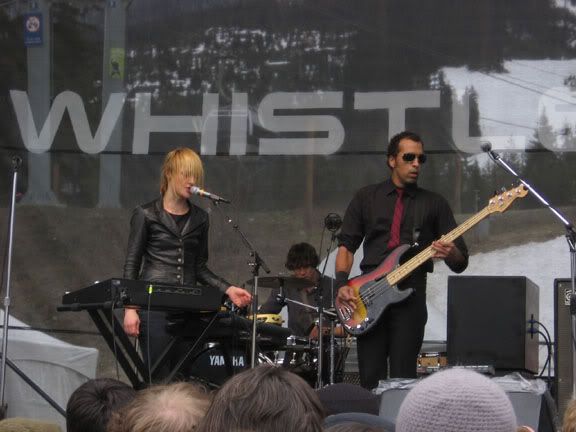 I made the trek up the Sea-to-Sky with some friends to catch
Metric's
free performance at the Ski and Snowboard Fest this afternoon. I think I remember Matt Good talking about an afternoon show and asserting that "4 O'clock is no time to rock." He may have had a point. It was also the last stop on the latest Metric tour. Perhaps that explains why the band seemed a little less enthused than usual at the beginning of their set. It didn't help that the crowd, while attentive, wasn't very energetic either. That being said, a free show is a free show. And, after a couple of numbers the band did seem to start to find their groove. By the time they made it to "Combat Baby" a number of more excited fans had also made their way to the front of the crowd. When the Emily and the boys launched into traditional closer, "Dead Disco," they seemed adamant that they'd go out with a bang. During the extended breakdown, Miss Haines even jumped down to bust open the front barricade, so she could invite people up on stage. All in all, while it wasn't as intense as their usual headlining gigs, it was definitely worth a leisurely afternoon excursion up the mountain.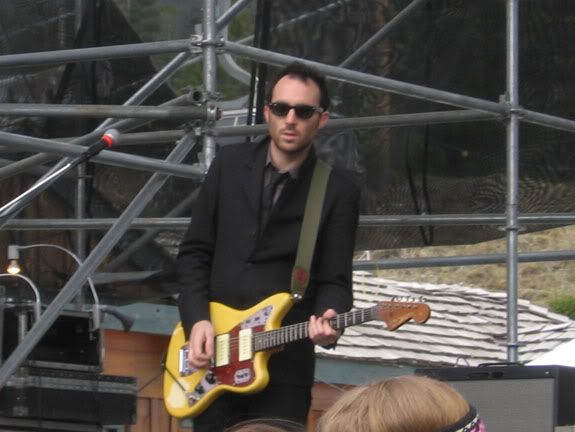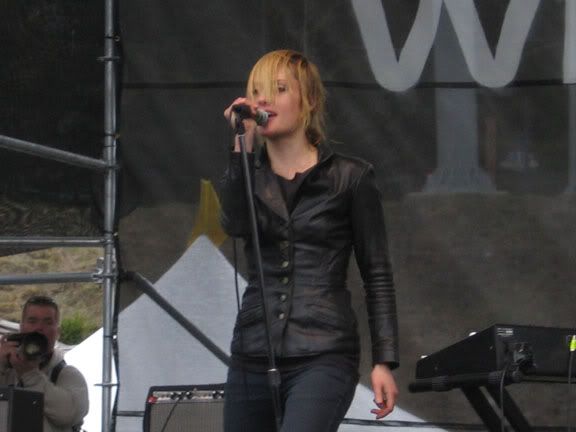 In other Metric news, hopefully you read
For the 'Records'
this morning and have already enjoyed Emily and James' acoustic performance and interview on Minnesota Public Radio. If you haven't (or even if you have), I took the liberty of coverting the stream into some .mp3s for your IPodding pleasure. The duo performed "Ending Start," "Monster Hospital," and "Live It Out" acoustic ("Ending Start" also featured Emily on piano). Needless to say, they're quite a bit different than the album versions. "Ending Start" is particularly pretty in its stripped back incarnation. There are also two interview clips.
Techy stuff: The stream was fixed 128kbps, so once I captured it as a .wav and re-encoded it to VBR the average bittrate is only about 85kbps. It sounds pretty good though, and has the added bonus of the entire zip file being less than 12mbs.
download: Metric -
Live on MPR (4-10-06) (zip file)
I imagine this will expire soon, and since it's not something officially released, I'll re-up it a couple of times.
now playing: Metric - Ending Start (acoustic)
Monday, April 17, 2006

i've seen you with your hair down at least five times

I'll Make You A Tape
So, in what will hopefully become a semi-regular fixture here (like the One Song posts), this is the first of many themed mixes. We'll shoot for once a month or so... but actually post whenever inspiration strikes (so really frequently in the next couple of months, settling down once the novelty wears off a bit). With that...
download:
Geek Love (or lack thereof)
1. A Camp - Algebra
Nina Persson may be skinny, blonde (sometimes), and model-like, but math is math.
2. Shotgun & Jaybird - Long Distance Dates
"Searching through my pockets for a bus schedule, I'll pick you up at 6:12pm." Slick. The title also conjours images of internet dating or something for me.
3. Final Fantasy - The Chronicles of Sarnia
It doesn't make any D&D references, but it is brilliantly (and nerdily) titled as a play on C.S. Lewis and everybody's (maybe) somebody's favourite Ontario town, by a guy whose stage name is pinched from a series of intense video RPGs. Extra dork points if know what both "D&D" and "RPG" stand for.
4. Britta Persson - Defrag My Heart
Scrapped titles: "ReFormat My Love," "UnZip My Soul," "DeRootKit My Affection"
5. The Decemberists - Angel, Won't You Call Me?
It's the Decemberists.
6. Jens Lekman - Your Arms Around Me
I love Jens Lekman, but he's no Marvin Gaye. It may be musically brilliant to find beauty in the mundane, but smooth and debonair, it ain't.
7. Herman Dune - You Stepped On Sticky Fingers
The delivery is all frantic and unconfident, full of "should've... should've... should've's." Not to mention that the song's epiphany comes after the girl in question steps on a Daniel Johnston cassette. This is for every musicgeek that finds themselves infatuated when someone of the opposite (or same) sex asks about their record collection.
8. Sloan - Deeper Than Beauty
If High School age awkwardness has been better summed up in under 3-minutes, I have yet to hear it.
9. Catatonia - Mulder and Scully
Love problems? Call the detectives from X-Files. The science fiction reference trumps the utter cool of Cerys Matthews smoky croon.
10. Art Brut - Emily Kane
While everything about Art Brut fills me with joy, there is something more than a little pathetic about a song about being hung up on your highschool girlfriend... tongue in cheek or not.
11. Weezer - Jamie
Sweet, cute sounding lyrics about lost love... it even has some distortion on the guitar to make it a little more ballsy, and offset the harmonies. It's also about Weezer's former lawyer.
12. The White Stripes - Hand Springs
Back before the Coke commercials, beating the crap out of dudes in other bands, and marrying models, Jack still had it in him to deliver a song with such depressingly unsure lines like, "I took my girlfriend bowling downtown at the Red Door/After and argument I started 'cause I thought she didn't like me anymore/I can't help it. Sometimes I feel so pitiful/And of course, she's so young and beautiful." The date just gets worse from there.
now playing: Fuck Me USA - Infinite Slope
Labels: mixtapes
Saturday, April 15, 2006

if you got it, you gotta move it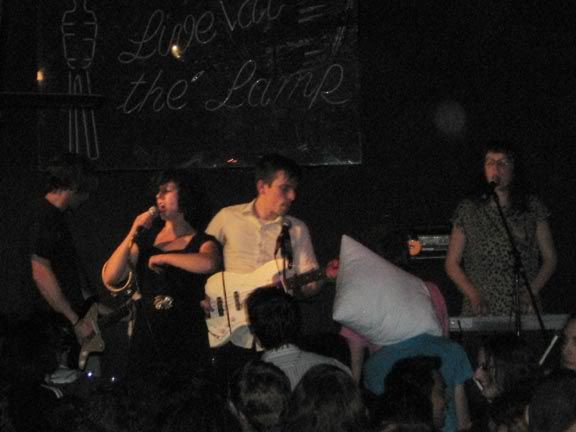 At the last minute tonight, after watching the hockey game (where the hell was that effort all season??), I decided to catch the
You Say Party! We Say Die!
show at the Lamp. I'm fairly keen on the record, but it just doesn't capture the band's live energy. And, that live energy, is being channeled into a live show that improves everytime I see them. I'll leave it at that, as if you check out shows around the city even semiregularly, you've seen them, or will see them really soon.
Cadeaux
were the second openers. I have always found Cadeaux to be theoretically awesome, but actually just ok. Two competing girl singers, backed by some pretty snappy dance-punk; what's not to like? However, they're like the musically equivalent of getting crunk: in your head it's a friggin' brilliant idea... you're drunk, you'll just have a couple of hits from the dude who's waving the joint in your face. In reality, it's not near as good as you thought it should be. Although, I should note, that Cadeaux has never made me sick, smoking a joint while drunk definitely has. Which is probably why I don't make a conscious effort to avoid the band, but could never hang out with the Eastside Boyz, cause I definitely try to avoid the crunk factor.
Fun 100
opened the show. They live up to their name. They're not especially tight (think a rough sounding Descendents with a lot of stabby keyboard lines or something), but they're fun. The perfect band for a sweaty house party. They also have a song called "Kimmie Gibbler is My Girlfriend," and that is awesome.
Here's some show news for you...
Bright Eyes
is set to play Malkin Bowl (in Stanley Park) on June 5th.
Gruff Rhys
(of Super Furry Animals) is pegged as the opener. There is nothing that says summer like shows in the park... unless it's raining. Start praying to the sun gods, and I'll see you on the lawn.
The
Magnolia Electric Co.
show on July 30th will be at Richard's.
Pink Mountaintops
and
Two Gallants
both
open. That is one helluva a show right there.
now playing: Entrance and Cat Power - Do the Romp!
Friday, April 14, 2006

in the walls
We have a winner in the
Stellastarr*
contest. Congratulations go out to Alexander Winther! As luck would have it, it's also Alexander's birthday (that didn't have any bearing on him winning... it was random, I assure you).
Thanks to Jon at
Wired Set
for hooking up the prize, and thanks to everyone who entered.
Now, some bad news...
It appears that
the Fall
have cancelled their originally scheduled for Richard's on May 20th show... and all the other Canadian dates... and the Portland date. (via
For the 'Records'
)
now playing: The Streets - When You Wasn't Famous
Thursday, April 13, 2006

sweet troubled soul
Last day to enter
the Stellastarr Contest!
now playing: Shotgun & Jaybird - For The Kids

i was good with names, i had a way with faces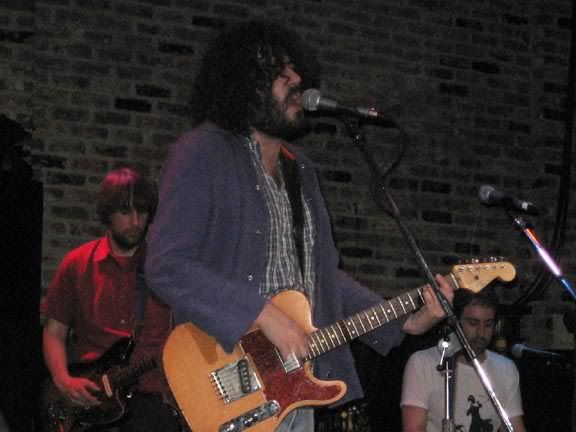 Tonight was my... I dunno what number time seeing
Destroyer
... but it's been a lot. This time around he had the band that played on
Rubies
backing him, and much like the record, the performance was a lot less trying (or a lot more "accessible") then the outings in support of
Your Blues
. I personally loved the renditions of Dan's catalogue that sprung from the tour where Frog Eyes backed him, but tonight was far from disappointing. It's late so I will leave with the following two thoughts:
1) I'm kinda surprised it sold out ahead of today.
and
2) Remember that part in Eddie Murphy's
Delerious
where he's imitating James Brown ("Hah!... that's a James Brown lyric"). Well, James didn't actually invent "hah!" and Robert Plant didn't invent "baby, baby, baby," but they certainly
own
the respective noises. With that in mind, I humbly declare Dan Bejar the master of "la" and "da."
If you require more in-depth discussion on Destroyer at this time, I suggest you go to
Pinder's
(whom I met today at the show)
Destroyer Wiki
.
Ladyhawk
played second. If you've been here before you know how I feel about them. They played "Sad Eyes/Blue Eyes." Last time I saw them they did not. However, this time they did not play "Came In Brave." They still rocked. They are also the only band in the city to illicit sing alongs to songs that aren't even released in recorded form yet.
The Christa Min
played first. I feel the same way about the Min as I do about Dead Meadow. I know they're good, but I feel like if I were stoned I'd enjoy things more.
'night.
now playing: Ladyhawk - Came In Brave
Wednesday, April 12, 2006

sleeping with a gun under my pillow
Boy Least Likely To
return to Vancouver on May 30th (at the Plaza). Even more exciting is this time they aren't opening for James "Paul Weller would rather eat his own feces than duet with him" Blunt. Beautiful.
White Rose Movement
are at the Lamplighter on May 5th. I have a friend who saw them at SXSW and said they were terrible live... but "Love Is A Number" is just so good. I'll probably check this out anyway and come to the same conclusion. Locals,
The No No Spots
open.
Mike Relm
is back in town for two dates. He'll support
J5
on April 22nd and 23rd... that
almost
justifies the $40 price tag. (thanks Maddie for the headsup)
Out of town, but probably worth a ride down the I5... the partial
Bumbershoot
lineup is up. Reunited Tribe Called Quest, Kanye, Of Montreal, and Vashti Bunyan are more than enough motivation for me (not to mention the acts that make it to Vancouver fairly often).
Are you hyped up for Destroyer and Ladyhawk tonight? Are ya? Good.
now playing: Final Fantasy - Adventure.exe
Tuesday, April 11, 2006

bigger boys and stolen sweethearts
If you can't make it down to the Gorge for Sasquatch, you can still see what all the fuss is about, when the
Arctic Monkeys
play the Commodore on May 27th.
We Are Scientists
open. Tix are on sale right now.
In other, "I'm playing Sasquatch, so I might as well stop by Vancouver" show news,
Sam Roberts (who are apparently the Sam Roberts Band now)
hits the Commodore on May 25th. The rumoured show I was referring to a couple days ago was not this... though apparently that may still be happening on the 26th... same venue.
Ladyhawk
are celebrating the release of their self-titled debut on June 8th at a venue TBA.
If you need a way to get psyched up for next week's
Julie Doiron
show (and instore), check out her
MySpace
, where you can download the brand new song, "Me and My Friend," that will appear on her as yet untitled new long player. I will go ahead and tell you that I think it's fantastic, but Julie's music holds a special place in my heart, so I'm totally biased. Go listen and decide for yourself.
While you're over on MySpace, why not check out
Amy Millan's
too. In addition to the already released (via Arts & Crafts) "Skinny Boy," you can also stream "Baby I."
Last MySpace link...
Every day I get a couple of emails from promo companies and some smaller labels that are chock full of mp3s and such. More often than not, if I haven't heard the name before they sit in my inbox for awhile, but every couple of weeks I take and hour or so to comb back through what I missed, and sometimes I'm rewarded. With that, I humbly direct you to
Lylas
(whom, upon googling, were apparently Spin's band of the day last Thursday - guess I'm behind the times). They've got four songs for download on
their
MySpace
. They span the range between the kind of bluegrass tinged indie pop you'd expect from a quartet of Nashville natives ("Tiny Echos") to darker sounding chamber pop ("His Master's Merriment") to sparse, classic folk (on my favourite of the four, "Miss Halloween 1953").
Finally, my friend Josh asked me to let you know that his new band,
the Painted Birds
are playing at the Media Club on May 12th. They're opening for
Elias
, who consist entirely of guys I went to highschool with. Due to all the personal ties, I will refrain from making critical judgement... actually I don't even know what Josh's band sounds like anymore... but, at any rate, what else are you going to do for $10 on a Friday?
now playing: Julie Doiron - Me and My Friend
Sunday, April 09, 2006

summer's gonna hurt you
Diplo
is playing Celebrities on August 4th. If that's not enough for you (and if you've ever seen him spin, it is), then how's about if he brings along recent
SubPop
signees,
Casei de Ser Sexy
, and his own Mad Decent signees,
Bonde Do Role
. This is going to be even more of a party than that MSTRKRFT/Tiga affair. (via
Brooklyn Vegan
)
Speaking of
MSTRKRFT
, they'll be djing after their April 29th show at the Colmbia (with
My!Gay!Husband!
and co. at the Kids).
Architecture In Helsinki
is now playing the Plaza, not Richard's.
If you're a Dresden Dolls fan, you may want to check this
forum thread
out. The gist of it? The Dolls were a little wary of opening for Panic At the Disco, so they decided they're going to do their own after show (in every city), where they screen some indie films and play some songs at some lil' art house. Paging Video-In or 156 W. Hastings... hook Amanda and Brian up with a venue. (thanks to Simon for the headsup.
While I'm a gigantic
Constantines
fan, I'm going to humbly suggest that you may want to hold off on planning to check them out. The rumour mill is amiss with rumblings of a very special little gig with a very special little band (
one
of their
song
s is a favourite around these parts), in a very special place. It's all still in the very uncomfirmed stages, but I will keep you posted.
Less than a week to get yourself into the
Stellastarr*
show.
now playing: Spiritualized - On Fire
Saturday, April 08, 2006

a testament to youth in verse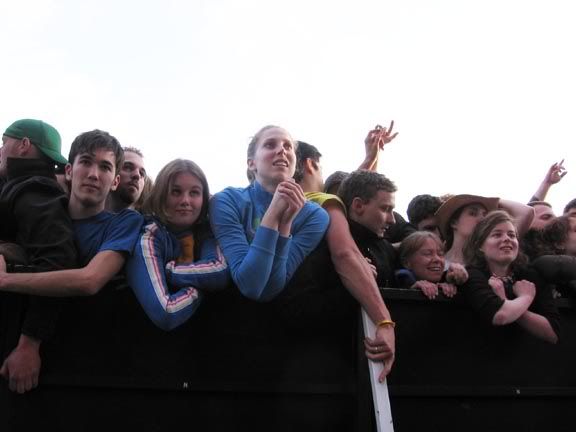 So I was wrong... ACF went off without a hitch today (well, at least nothing to write home about). The Weakerthans not only avoided projectiles, but were (deservingly) rewarded with an enraptured crowd. Ditto for the headliners. As far as I can remember my interview with Cadence Weapon went ok too, despite a high level of inebriation (feel free to tell me otherwise if you caught it). The weather cooperated, and it was a great time. As always, a big thank you to everyone who works (for free!) to put it all together.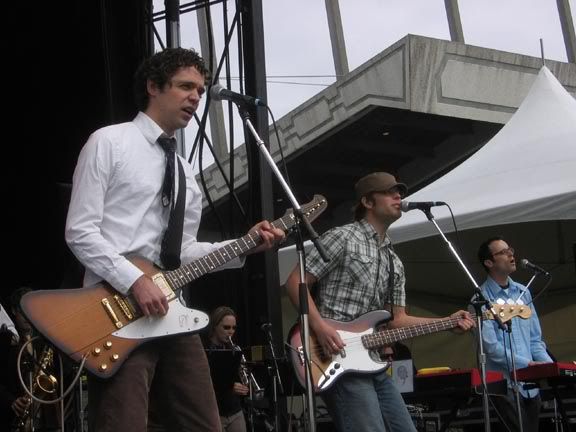 The Salteens get things going.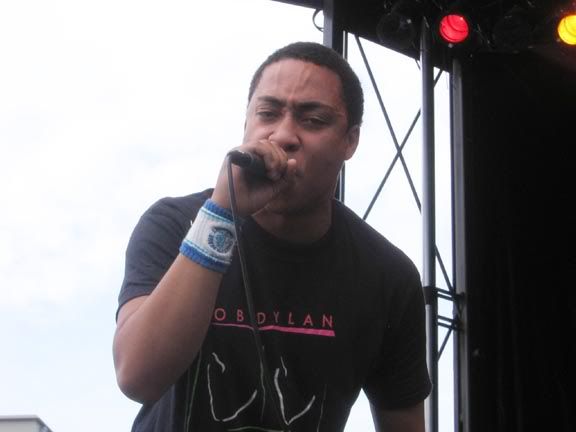 Rollie kills it.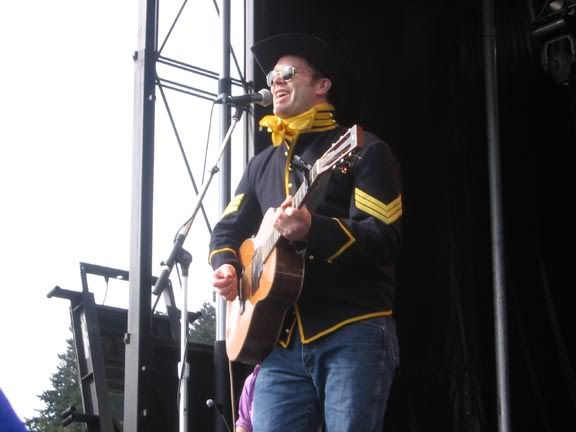 The Hurtin' Albertan gives a class in
real
Country 101.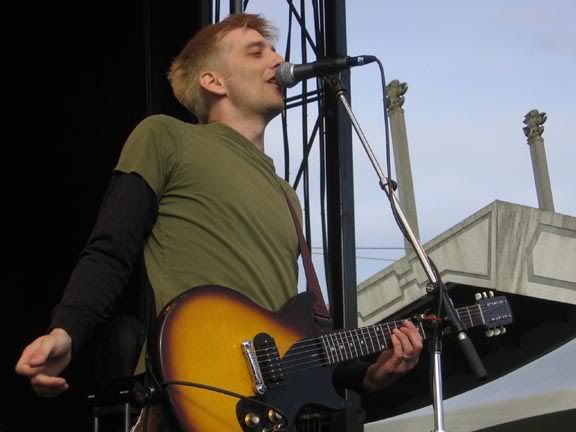 John K... "they threw shit at Metric last year? pffft."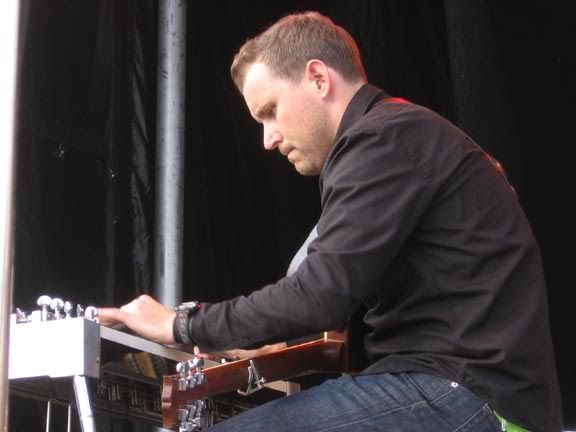 Stephen Carroll lays down some pedal steel.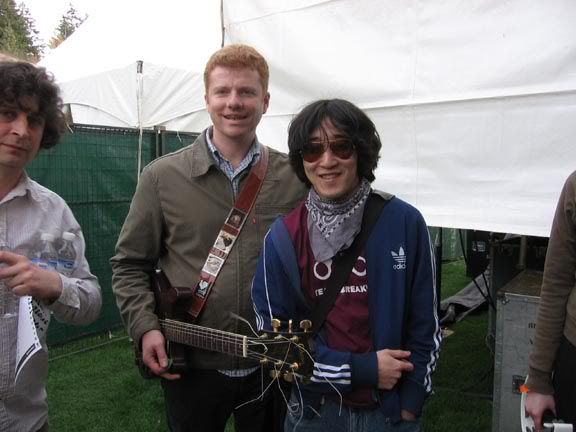 I couldn't help myself.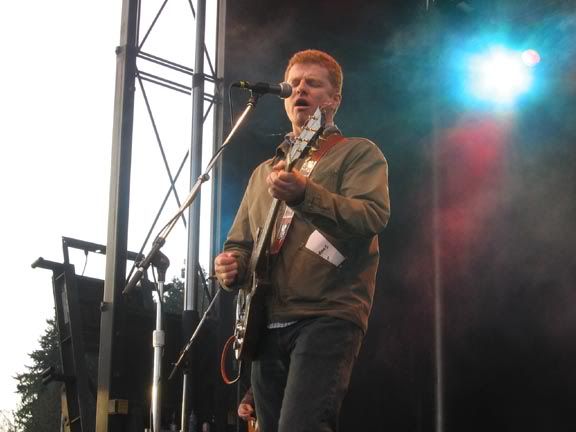 Out from blown speakers.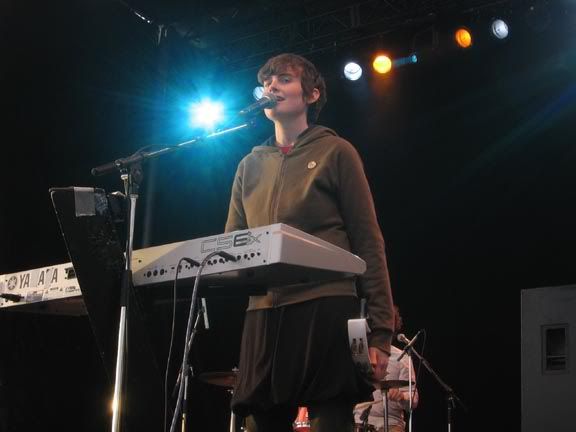 Kathryn says, "Neko who?"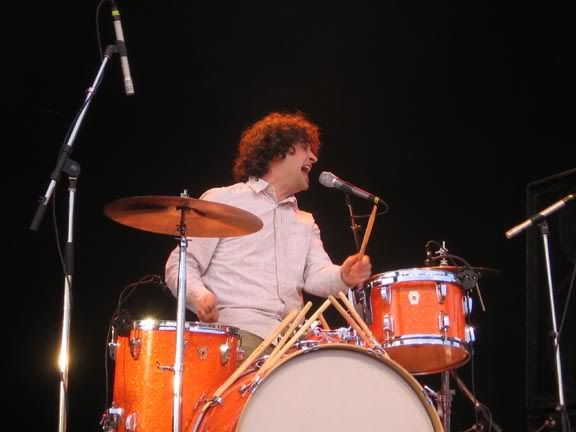 "My brother got a wrench thrown at him last year. Do I have to worry about that?"
more photos
See you next year.
now playing: Cadence Weapon - Grim Fandango
Friday, April 07, 2006

field music
For those of you who haven't attended UBC in the last ten years, the phenomenon known as
Arts County Fair
is probably mostly unknown to you. For those of you who have, you already know what today entails.
The last day of class bash has spawned such fine on-campus traditions as: 6:30am pre-ACF breakfasts (with booze), 7am frat house lawn parties (with kegs), more people crammed onto Gage Tower balconies than can possibly be safe (fueled by booze), slip and slide on Jr. Rez lawns... you get the point. All of that is
before
10, 000 - 15, 000 people cram themselves into T-Bird Stadium for... more drinking. Oh... and there are bands too.
The acts over the last decade and a half have ranged from destined to obscurity (She Stole My Beer, Mollie's Revenge) to destined for megasuperstardom (Barenaked Ladies) and from terrible (Tea Party, Great Big Sea, etc) to pretty damn good (Metric, Rahzel, K-Os). This year's lineup is a bit weird. It's definitely not a pleaser for your average drunken university student. On the other hand, if you're showing up primarily to see the bands, the atmosphere is probably going to turn you off. That being said, I bet there's a couple dozen people out there (myself included) who are psyched for both the prospects of a pretty fine array of musical talent and beer... lots of beer.
How's about a little ACF preview?
Local superstar DJ,
My!Gay!Husband!
, kicks things of at 1pm (and then between sets all day). In his own words:
"me deejaying skid records like ANDREW WK and DIPSET to 15 000 people that will probably wanna call me faggot all day"
M!G!H! also spins regularly at the Kids (at the Met on Saturdays), Stacked (at Celebs on Tuesday), and Animals (Celebs on Friday)... if you have not already been to one of these places on said nights, you should go do that. Bring your dancing shoes.
download: My!Gay!Husband! -
GG Allin vs. Twista
The Salteens
hit the stage second. If you've lived in this city for any amount of time and like to go to shows, you've probably seen them already. If not, check out their poptasticness, via this .mp3:
download: the Salteens -
Let Go Of Your Bad Days
(via Boompa)
Cadence Weapon
takes the third spot, which should correspond with when things get going a little. If you've read this blog before, you know that I think his record,
Breaking Kayfabe
(not to mention his remixes), is the most exciting thing to come out of Canadian Hip Hop in ages upon ages. I'll be slightly tipsy and interviewing Rollie on CiTR (101.9fm) right after his set. "Oliver Square" is actually a strip mall in Edmonton... that doesn't make this song any less awesome.
download: Cadence Weapon -
Oliver Square
Corb Lund
draws the four spot. As much as I think the majority of the bill won't really mesh with the event, nothing says drinking like the Hurtin' Albertan himself. "Too much oil money, not enough booze"... not tomorrow. Us students are poor, but we'll have plenty of sauce.
download: Corb Lund -
Hurtin' Albertan (with Tim Hus)
The Weakerthans
are a band that I love... but if I were picking the bill for ACF, they would not be on it, especially in the second last spot. If you were around last year... or the year before that... or the year before that, you'll recall that this is when shoes usually start going airborne towards the stage, and while Andrew WK and K-Os were able to handle it easily, I dunno if the Weakerthans music will fit the mood, though it might bring John K. back to his Propagandhi days. I was going to post a different track, until I realized that the Weakerthans site has
karaoke
versions of two tracks from
Reconstruction Site
up.
download: the Weakerthans -
Reconstruction Site (Karaoke Version)
download: the Weakerthans -
Psalm for the Elks Lodge Last Call
Last, but not least,
the New Pornographers
finish things off. No Neko, but word on the street is that Dan Bejar will at least be
in attendence
. Whether or not Mr. Destroyer decides to sing, or opts to drink backstage is yet to be seen, but regardless, it should be a good time. This is my favourite NP song...
download: the New Pornographers -
Jackie
Pray for sunshine!
now playing: Uncle Tupelo - I Got Drunk
Tuesday, April 04, 2006

let's sing a song about an empty stage
Remember yesterday when I joked that this was going to become the interim Final Fantasy website? Well, I wasn't kidding. So how about a sampling from Owen's forthcoming LP,
He Poos Clouds
? (I'm not making that title up) If you're familiar with last year's wonderful
Has A Good Home
, you'll be struck by the fact that there are a lot more instruments on this one. The record features, not only drums, but also harpsichords, pianos, and guest singers, among other flourishes, in addition to the omnipresent violin.
download: Final Fantasy -
This Lamb Sells Condos (.m4a)
download: Final Fantasy -
Song Song Song (.m4a)
and for comparison's sake, here's a live version of "Song Song Song."
download: Final Fantasy -
Song Song Song (live at the Music Gallery)
To further psych yourself up, here are the
lyrics
(from the man himself).
He Poos Clouds
gets an official release on May 9th. It's even getting distro through Scratch, so it should be easy to find in Vancouver. Go pick it up on your way to the Islands/CadenceWeapon extravaganza at Mesa Luna that night.
Panic at the Disco
are at the Croatian Cultural Centre on July 27th. This wouldn't really excite me that much, except
The Dresden Dolls
are opening. I would pay money just to hear "Girl Anachronism."
Two Gallants
are at Pat's on June 2nd. They're apparently also opening (with Pink Mountaintops) on the upcoming West Coast swing of the Magnolia Electric Co. tour, but I'm not sure if that goes for the currently venueless Vancouver date yet.
(International) Noise Conspiracy
is at the Plaza on May 20th.
Armed Love
didn't exactly enrapture my senses, but I'm willing to bet they're still killer live.
What's the deal with
New Music West
? With only three weeks to go, it still looks like there isn't even a complete artist list isn't up (because according to the
Boompa
page they have a showcase, but none of their artists are listed on the NMW site). I suppose that's good, because as it stands, it's not all that exciting... I mean, other than that Raine Maida keynote.
Finally,
Blood on the Wall
will indeed be opening for the Yeah Yeah Yeahs on April 24th.
now playing: Final Fantasy - I'm Afraid of Japan
Monday, April 03, 2006

details @ five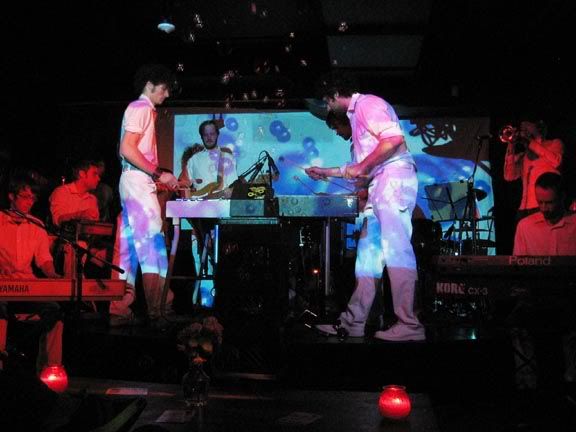 I missed the
Hylozoists
on Thursday (with Cuff the Duke and the Fembots), so I was pretty psyched when I got a MySpace alert (I knew it was good for
something
) from the fine folks at
Boompa
letting me know that they were putting on a free show tonight at the Media Club.
The band's line up is a constantly shifting who's who of Canadian indie rock, with sometime
Sadie
, Paul Aucoin, at the helm. Although, "helm" may not be the correct term. He's definitely the driving creative force, but as a live entity there's not a distinctive front man. Tonight the band were a gang of nine (Julie Penner, who plays violin and also sings is tied up with
other gig
), with two drummers and, at times, a whopping three xylophones. When it comes to mostly instrumental music, I usually file things into one of three categories: "sounds like godspeed," "sounds like sigur ros," "sounds like mogwai." Hylozoists don't fit in any of the preceding categories. They don't have that soundtrack-to-the-apocalypse thing that Godspeed has going. They don't have that majestic "can't you just see mountains and birds and crap?" thing that Sigur Ros has going. And, they certainly aren't going to pummell year ear drums into submission like Mogwai do. Instead, they make songs that sound genuinely happy... bouncy... joyful even (and I mean that in the best possible way). In retrospect, I don't now what else you'd expect from band that has a machine blowing bubbles into the crowd for the duration of their set.
Their new album,
La Fin Du Monde
(coincidentally, also the name of my favourite Quebecois beer) is out on June 20th.
now playing: The Concretes - Miss You (Rolling Stones Cover)

stay in the shade
Lots of stuff happened between Friday and now... Other than a not-that-amusing April Fool's joke, I was mostly busy with schoolwork, so here's everything that I missed...
Jose Gonzalez
hits Richard's on June 20th with
Juana Molina
. I am psyched for this one. (via
Brooklyn Vegan
)
Islands
make a return to Vancouver as headliners on May 9th. They'll play an all ages gig with
Cadence Weapon
in tow, at the Mesa Luna. Goddamn.
The Presets
are set to open the Ladytron show on April 25th.
The May 7th
Rainer Maria
show has been confirmed for the Media Club.
Starlight Mints
are at Richard's May 13th.
Blood On The Wall
are apparently opening all the
Yeah Yeah Yeahs
dates... except Vancouver. If anyone has the down low on the opener here, please let me know.
Jurassic 5
have added another show. They're doing another night at the Commodore on April 23rd.
RedCat
has their SXSW diary up. (thanks to Ryan for the link)
Tiny Mix Tapes
points us to a
CRIA (Canada's RIAA) study
that counters some of the industries own claims about file sharing.
Final Fantasy (who currently has no website either) has been removed from MySpace for copyright infringement. Apparently they didn't even give poor Owen a chance to defend himself, they just deleted his account. He should have a new official site at the old address (http://www.finalfantasyeternal.com) soon. In the meantime, if you're looking for some Final Fantasy internet presence, I officially declare this blog the extremely unofficial FF fansite for the interim. We love you Owen! Come to Vancouver!
Last, but not least, congratulations to
Broken Social Scene
on their Juno.
B(oot)log
has the .mp3 of their performance up. "Fight for better music Canada!" Seriously... maybe next year they'll win the "best album" category instead... at least Nickelback didn't get it.
Enter the
Stellastarr*
contest!
now playing: Broken Social Scene - Ibi Dreams of Pavement (A Better Day) (live at the Juno Awards)
Saturday, April 01, 2006

new york's draggin' me down
If She Wants Revenge "out interpol, interpol," the Somedays (not even a website yet) outstroke the Strokes (they even take a mini jab at them on this demo).
download: the Somedays -
New York Drag
now playing: Kelis - Trick Me (P. Neezy Remix)