Friday, March 28, 2008

lil' jon, he always tells the truth
Here is the post where I catch up on over a week of show announcements and inevitably forget to list something or thank someone...
But first, how about a quick recap of the Vancouver debut of 2008's Strokes aka
Vampire Weekend
. That Strokes thing isn't a slag, but I bring it up because their performance reminded me of Julian and Co's local debut at the Starfish in 2001(?). Great album, hyped band, pretty good show, but don't weep if you missed out.
Dudes are tight as hell and they did a better than competent job of delivering some sweet tunes, but there wasn't really anything "extra" to the evening. Actually, the impromptu (and with that in mind, surprisingly tight) partial cover of Tom Petty's "American Girl" was something extra, but you know what I mean... hopefully.
If nothing else, it was a reminder of just how good their songs are, and if the new ones are any indication, there's no sophomore slump coming either.
YACHT
was quite a bit better than last time I saw him (now them) opening for
LCD Soundsystem
, but he was still pretty boring.
Yo Majesty
is at Richard's on May 7th with
Does it Offend You, Yeah?
. You've probably already heard this ultra sick, Enya sampling remix of Yo Majesty's "Club Action"... but if not,
check it
. Like, right now.
Blood on the Wall
are at Pat's on April 29th.
Laura Veirs
is at St. James Hall with
Liam Finn
on May 1st.
They Shoot Horses, Don't They?
, who had apparently already played their
last show ever
, are playing a new last show ever at the Astoria on April 26th.
The Doers
support.
VHS or Beta
are at the Plaza on May 3rd.
Baby Control
,
Certain Breeds
,
Hermetic
, and i/i are at Pub 340 on May 10th. (thanks Eric)
The Raconteurs
are at the Commodore on April 20th. (thanks Aleks)
Vetiver
and
Kelly Stoltz
are at the Media Club on May 3rd.
Maiden
is at the Coliseum on June 3rd. Does anyone know if they're still playing strictly 80's material on this tour?
Brasstronaut
opens Why?'s April 16th show.
Tonight:
Bison
is at the Sweatshop with
Grass City
,
China Creeps
, and
Impeders of Progress
.
The SSRIs
,
the Rub
(not those semi-famous DJ guys, of course), and
Colby Sparks
are at the WISE Hall to raise money for Greenpeace. Hippies.
Speaking of, it's Earth Hour tomorrow... if you're lucky, at the Commodore tomorrow they'll turn off the lights right after Nada Surf plays "Popular." Jokes.
Labels: show announcements, show recaps, vampire weekend, yacht

step out into the light
My best friend just got engaged...
download: Queen - Another One Bites the Dust
only kidding.
download: Spiritualized -
True Love Will Find You in the End (Daniel Johnston Cover)
Congratulations, buddy.
now playing: Sonic Youth - the Diamond Sea
Labels: mp3
Wednesday, March 26, 2008

get off the internet
A bunch of shows got announced, but I think I'll just stick with recapping the weekend for now, ok? Ok.
I was kind of busy, hence no internerding...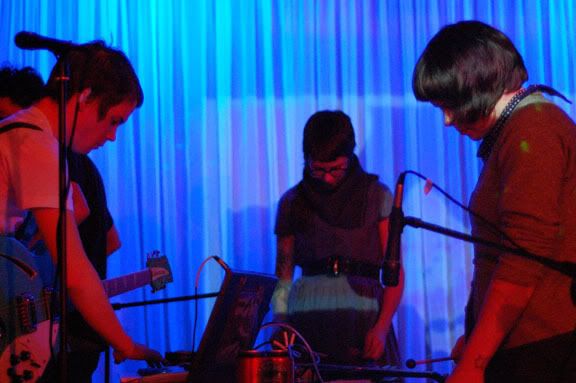 On Thursday, I made it down to the Unicorn to catch
Secret Mommy
headlining
Technotown Boogiedown
. They were great as usual.
Montag
opened up. And while, I was pretty impressed with the recorded material that I've heard by him, I was thinking that he'd be a little too low key for the evening. He was low key, but he was also very good. Pleasant surprise of the evening for sure.
Although, with that said,
Colby Sparks
was also a pretty pleasant surprise. He was the most traditional fit on the bill of a monthly electronic showcase, and his stuff sort of reminded me of Atari Teenage Riot, minus the political sloganeering.
The next morning, I woke up hungover and hit the I5 down to Seattle (while miraculously avoiding the reported 3 hour border waits) to see the
Boredoms
. To put it succinctly, they blew my mind. No pics, since I forgot my camera and since they also didn't allow any in the venue, which is a shame, because they had some ridiculously awesome contraptions (not to mention 3[!] drummers up on stage with them). If you get the chance, go see them, even if it's a bit of a trek.
On Saturday, I was back home and sort of exhausted, but I made it to the Peanut Gallery to catch
White Lung
's return to the stage (or in this case, art space floor). They seemed a touch rusty, but it was still a nice homecoming. Plus, a rusty White Lung is still better than a practiced anybody - or, at least, almost anybody - in my books.
Vapid
opened up. It was actually my first time seeing them, which is surprising. Good stuff. I'd want to check them out again before forming a proper opinion though.
Sunday saw the
Fake Shark-Real Zombie
CD release show at No Tofu. I'd only ever been there for events that didn't involve live bands. The space is a bit weird for a show, but the band were their usual entertaining selves. Their formerly Japan-only debut,
Zebra! Zebra!
is available at HMVs across canada for $11 right now. That, my friends, is a steal.
I spent the rest of my (extra) long weekend in Victoria with
my friend Neil
and the
DNGROUS ADDRESS
ladies (whose videos you might recognize from various shows/dance parties), but none of that really relates to here.
As mentioned, a whole bunch of show announcements tomorrow, and I'll clean up the sidebar as well. In the meantime, book off work and start planning a trip to Calgary for
Sled Island
. Wire, the RZA, and Jonathan Richman (among many others)? Yes, please.
Labels: better than loneliness, boredoms, colby sparks, fake shark real zombie, montag, secret mommy, show recaps, vapid, white lung
Thursday, March 20, 2008

we'll wait with knives after class
From
Be Your Own Pet
re: the different tracklists for the N.A. and European versions of
Get Awkward
:
i kno​​w eve​​ryo​​ne is sup​​er con​​fus​​ed wit​​h the​​ thr​​ee mis​​sin​​g son​​gs on the​​ US alb​​um.​​ we did​​n't​​ cho​​ose​​ for​​ thi​​s to hap​​pen​​ and​​ we'​​re not​​ try​​ing​​ to fuc​​k any​​one​​ ove​​r wit​​h giv​​ing​​ the​​m an unf​​ini​​she​​d alb​​um.​​ uni​​ver​​sal​​ dec​​ide​​d tha​​t bec​​ky,​​ bla​​ck hol​​e, and​​ blo​​w yr min​​d wer​​e "to​​o vio​​len​​t" to be rel​​eas​​ed.​​ tal​​k abo​​ut a bum​​mer​​ tim​​e! the​​y gav​​e us the​​ cho​​ice​​ of cha​​ngi​​ng the​​ lyr​​ics​​ and​​ rer​​eco​​rdi​​ng the​​ son​​gs,​​ or to hav​​e tho​​se thr​​ee son​​gs rem​​ove​​d fro​​m the​​ alb​​um.​​ we dec​​ide​​d to rem​​ove​​ the​​ son​​gs,​​ bec​​aus​​e we don​​'t thi​​nk the​​re'​​s any​​thi​​ng wro​​ng wit​​h the​​ lyr​​ics​​ in the​​ fir​​st pla​​ce!​​ we are​​ goi​​ng to rel​​eas​​e tho​​se thr​​ee son​​gs on a spe​​cia​​l ep tha​​t's​​ goi​​ng to com​​e out​​ thi​​s sum​​mer​​. sor​​ry we did​​n't​​ mak​​e an ann​​oun​​cem​​ent​​ soo​​ner​​. we'​​ve bee​​n doi​​ng so muc​​h pre​​ss abo​​ut how​​ the​​ alb​​um got​​ fuc​​ked​​ in ame​​ric​​a, tha​​t i gue​​ss we ass​​ume​​d tha​​t mos​​t peo​​ple​​ alr​​ead​​y kne​​w. wel​​l, hop​​e tha​​t cle​​ars​​ som​​e thi​​ngs​​ up.​​



jemina
Other notable Universal artists include: Tupac, Eminem, Dr. Dre, 50 Cent, Rammstein, and Rob Zombie, none of whom have violent lyrics. Not to mention that their parent company manufactures warheads... those are for peace though.
Labels: major labels, srsly?
Tuesday, March 18, 2008

spock's beard
This is only partially music related, but not-so-secretly, I am/was a big fan of Star Trek: TNG...
On April 30th at the Astoria some dudes (including one that you might recognize from the
Scratch Records Party
last year) are showing their 5-years-in-the-making tribute to the show. Sloop John Scronge Berry and the Roger's Beats will also be performing later on. I have no idea what they're like, but there's some music to keep this on topic.
Hopefully, you didn't head out to see Gary Louris last night, because he canceled his tour. (thanks Brian)
In other cancelation news, Carla Bozulich at the Cobalt is now off. But, Aerosal Constellations, Ice Cream, Hepitidal Wave, and Certain Breeds are still playing that night. (thanks
Bill
)
The Fake Shark-Real Zombie show this Saturday is now this Sunday. It's also been moved to 7 West 2nd Ave.
If that leaves your Saturday calendar empty, you can fill it with White Lung, who are making up for their canceled homecoming soiree at the Peanut Gallery (the old Seamrippers space) that night. Vapid support.
Labels: nerds, show announcements
Monday, March 17, 2008

one minute to midnight
I have an extra Justice ticket for the March 25th show at the Commodore. Cost is $48.50, which is, if you'll believe it, what the thing came to after all the charges on ticketmaster.ca. Hopefully, you won't just buy it so you can be a massive asshole and scalp it on Craigslist for twice the price. First person to email with a willingness to pony up the dough gets it. quinn.omori [AT] gmail dot com.

I work at UBC and live in "historic Mt. Pleasant" (<-- tourism Vancouver's description, not mine)... so you have to meet me somewhere around either of those places.
SOLD
Real update tomorrow.
Friday, March 14, 2008

breaking boxes
Unfortunately, due to illness, tomorrow's White Lung homecoming show is canceled.
There goes my Saturday plans.
Labels: white lung

that's the anthem, get ya damn hands up
All those other music bloggers are at South By. But whatever, I don't want
rabies
anyhow.
In case you haven't already heard, LiveNation decided to drop a
massive 3-day music festival
... in Pemberton at the end of July. It's really expensive ($240+charges for a 3-day pass) and you'll be joined by people who are willingly paying money to have their senses dulled by Coldplay, but Jay-Z and Tom Petty are both playing. You may recognize these men as legends in their respective genres. Apparently the
entire
campsite is 19+... good move with that one... right.
A lot cheaper, a little closer (for most of you, anyhow), but still pretty sweet,
Video-In
is hosting "the first occasional and semi-infrequent" Festival of Noise and Experimental Music on April 5th.
click here
and scroll down for the line-up.
My friend
Piper
has a show coming up on March 21st with Dragonette - whom I know nothing about - at the Commodore.
Metric
is at the Commodore on April 17th. (thanks DB)
Some stuff coming up at the Astoria:
Modern Creatures
and
Culte du Cargo
play on April 5th (which is one busy night).
Dannydoesit
will drop some tunes between sets.
Small Fame,
Lord Yeggs
, and Sports are there on April 11th.
You Say Party! We Say Die!
plays on May 9th.
I'm really psyched for this one:
Japanther
play with
Ladies Night
and
Vapid
on May 31st.
And,
Die Cowboy Die
play tomorrow night, opening for
Carving Hearts
and
Vonnegut Dollhouse
. They're usually a duo, but tomorrow they'll be joined by Katie and Jenny ex-the Organ, which puts 3/4ths of the band up on stage for the first time in a long time.
Labels: show announcements
Monday, March 10, 2008

golden tombs
On Friday, I was feeling a touch under the weather, so despite the plethora of shows (among other things on my social calendar), I only ventured out of the house for about an hour and a half to catch
No Gold
at the Media Club and then huddled at home. Their 40-minute set has me convinced that they have healing powers, however.
If you were bummed out that
Black Mountain
has a) sold out or b) is 19+, rejoice. The band plays another show on April 6th at UBC's SUB Ballroom and it's all-ages. (thanks Jordan)
The Teenagers
are at Richard's on April 18th.
3 Inches of Blood
are at Richard's on April 7th with
Toxic Holocaust
and
Bison
.
Someone Still Loves You Boris Yeltsin
are at the Media Club on May 18th.
The Foals
are at Richard's on May 29th.
The Von Bondies show originally scheduled for April is now May 31st.
Los Campesinos
are at the Plaza on June 1st.
Oh, and anybody know the deal with the Royal Unicorn? Apparently it got shut down on Saturday night.
Labels: lazy show recaps, show announcements
Thursday, March 06, 2008

glitter pills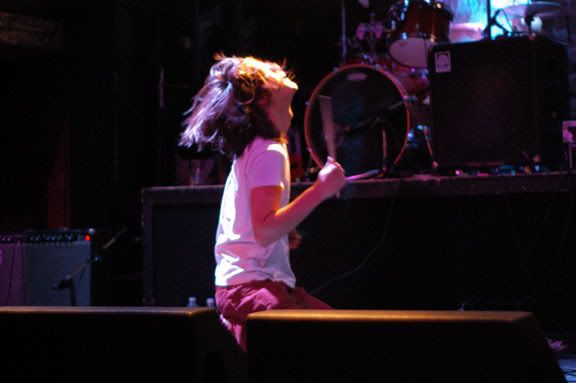 Apparently 90% of the people who had planned to see the nearly sold out Crystal Castles/
HEALTH
show were going for the former, because after the duo was forced to drop off the bill, attendance was a bit sparse at Dick's last night, despite the newly discounted ticket price.
Basketball started off the evening. To be completely honest, the last two times I saw them, I was really drunk, though I remember them being pretty good. Last night, they were awesome. I didn't notice - or, at least, I didn't remember - all the sequenced drums and synth squeals that laid the backbone for most of their songs (although David assured me that they'd always been there). Some of the jammy outros were a bit too long for my tastes, but on the whole they were really good. See that kids? You don't need alcohol to have a good time. In fact, you might want to avoid it, if you plan on appreciating what you're seeing and hearing.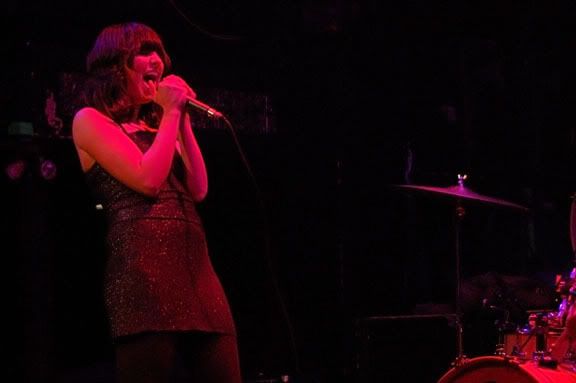 Mutators
were vicious. I don't think there's band in the city that sounds more brutal and menacing. But if you've been here before, you know my feelings on them.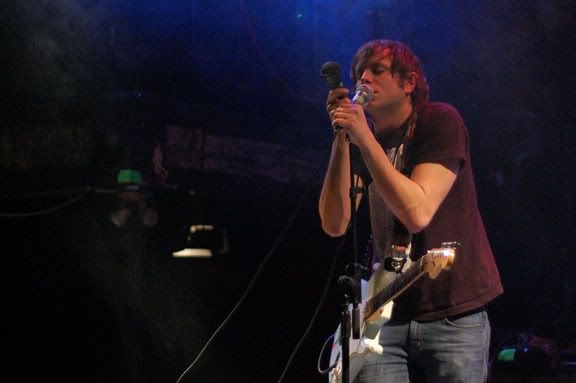 I was pretty enamored with HEALTH the
the last time they came through Vancouver
, but their set last night was amazing. One of the best things I've seen all year, and even more impressive because, due to the rather small crowd, the band didn't really have anything to feed off to bring such an energetic performance to the stage. Their album is one of my favourite records right now, but yesterday's live show brought things to the next level.
And because sometimes I like to throw to semi-related, shameless plugs, if you want to pick up the new copy of Color you'll find
the article that I wrote on them.
.
Hey, let's give away a
Hot Chip record
. Congratulations go out to Gabriel, who takes home the ultra sick "Ready for the Floor" single that many of you (and me) wanted. Thanks to Will at
Cornerstone Promotion
for hooking up the much sought after prize.
This month's edition of
Technotown Boogiedown
is a doozy.
Secret Mommy
,
Montag
,
Colby Sparks
are the featured performers, while regulars (and part-organizer)
the Swords of Righteousness Brigade
holds it down as usual. DNGROUS ADDRESS provide some added visual flair and it all goes down on March 20th.
Terrorbird
,
White Owl
, and
the Boogie Monster
are at the Astoria on March 29th.
The Blow
does an all-ager at St. James Hall on April 17th.
Buck 65
is at the Commodore on May 7th.
Cadence Weapon
, whose fantastic new record came out on Tuesday, opens.
The Kooks
are at the Commodore on May 24th.
Labels: basketball, contest winners, health, hot chip, mutators, self-aggrandizing, show announcements, show recaps
Tuesday, March 04, 2008

air war
So, despite the plethora of good things going on last weekend, I didn't get out to anything musical, save for a lecture on rebellion in Islamic countries via heavy metal. It was pretty interesting, but the one point that might be most relevant to a blog that sticks to discussing the various (relatively speaking) trivialities of music was one that
the speaker
made early on. He spoke about meeting a woman in Iraq, who started explaining that they could "no longer get any word from the West." And when he offered to do his best to fill her in on anything she might want to know, her first question was, "are the Stones still together?"
I'm not sure what it is, but there's certainly something about the idea that you can live in a place that's akin to Hell and still feel a need to keep tabs on your favourite band.
Since I didn't make it out to the ER, I didn't get a chance to wish Twin Crystals well before they take off on tour... but I'm quite sure that they'll be killing it all the way to Texas and back.
Hey, how about some bad news?
Crystal Castles
lead singer/shrieker Alice Candy got hit by a car and now she's nursing a pair of busted up ribs. Tomorrow's show is still on and HEALTH will be joined by local noisemakers (and personal faves) Mutators. No offense to Mutators (because they slay), but I'm pretty bummed about this. (thanks Steve)
No word about refunds (although I'd imagine you can get them if you want, even though it was technically co-headlined), but
SWAK
will probably update on the situation soon.
UPDATE
: full refunds at point of purchase (I think online sales get refunded to your credit card automatically) and there is a separate cover of $10 ($15+charges was a bit much, but $10 flat is a bargain for HEALTH and Mutators) for the remixed version of tomorrow night's show.
UPDATE #2
: Basketball is now opening up the show as well. They're on first.
UPDATE #3
: Claudio from Crystal Castles is doing a DJ Set after HEALTH. Don't say that SWAK didn't do their best to make good out of a bad situation.
Hey, how about some more bad news?
Atlas Sound is full-on canceled tomorrow. The band is still stuck back East due to inclement weather. Full refunds at point of purchase on that one.
Greg from Secret Mommy/Winning/the-only-writer-in-the-Straight-music-section-whose-articles-I-regularly-want-to-read dropped me line to let everyone know that he and Andy Dixon will be doing double duty this Friday.
Winning
opens up at 1067 Granville on a bill that also features
Fond of Tigers
and
Capillary Action
before jetting a few blocks across town to headline the Media Club in Secret Mommy.
Carla Bozulich
plays a special Sunday edition of Fake Jazz at the Cobalt on April 6th.
The Awkward Stage
is at the Rail this Saturday with
Two Hours Traffic
and
Buffalo Swans
Jamie Lidell
is at Richard's on May 25th.
And if you're shelling out for Kanye tickets, the presale password is ROCK... y'know, cause he's in the building. (thanks DB)
Labels: show announcements