Sunday, February 27, 2005

do you wanna be entertained?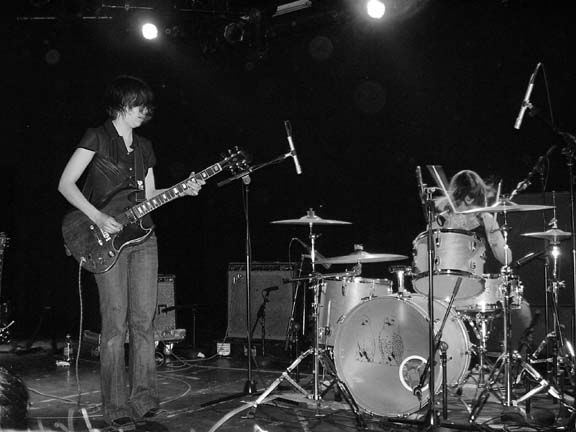 Sleater-Kinney
was superb tonite... shame on you if you missed it. Lots of new songs, but a healthy dose of the old stuff to balance everything out. The crowd was into it, the band seemed to be having a blast, and openers
Viva Voce
were great.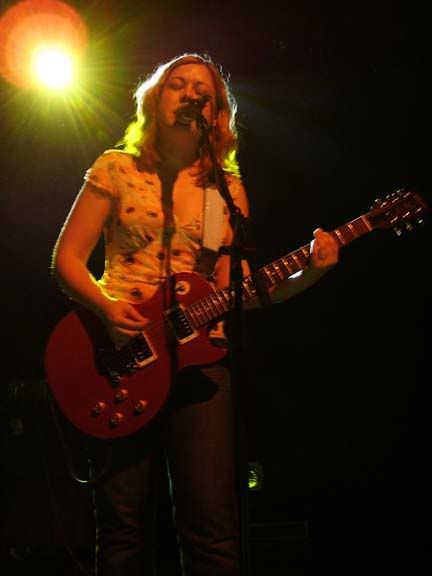 Corin Tucker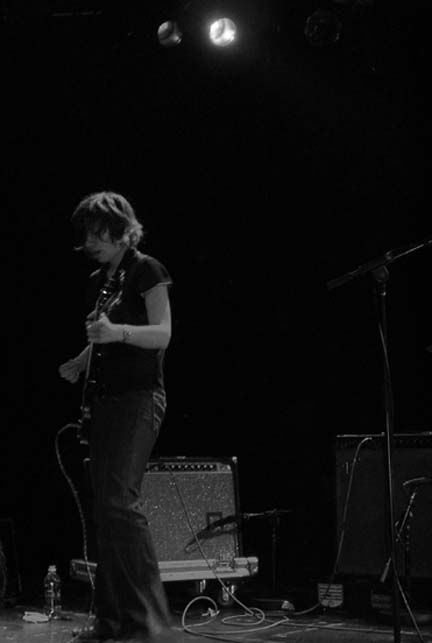 Carrie Brownstein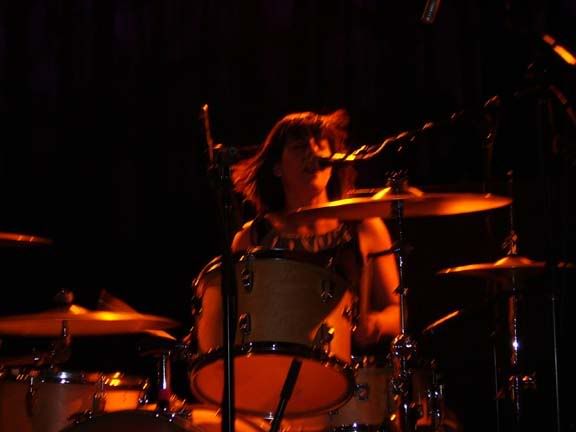 Janet Weiss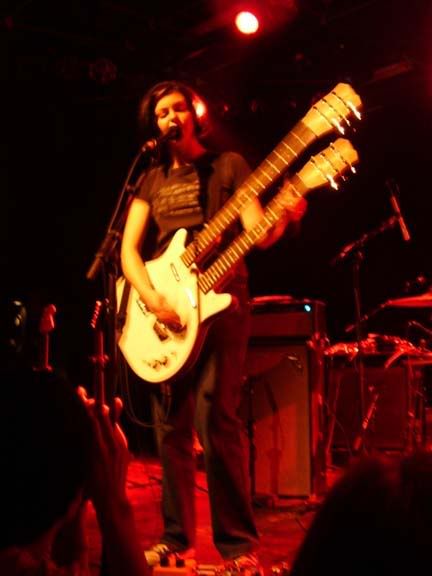 Anita Robinson of Viva Voce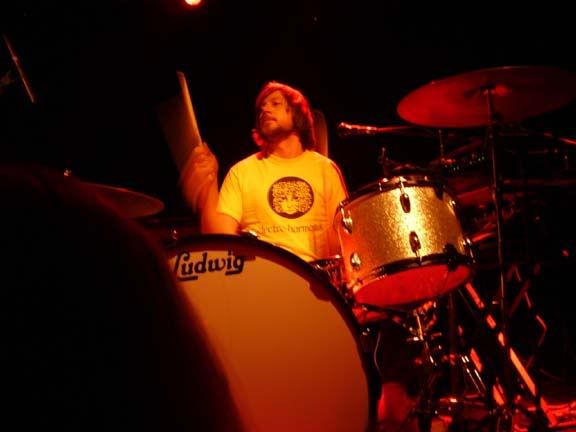 Kevin Robinson of Viva Voce
the setlist: the Fox/O2/Wilderness/Jumpers/Get Up/Everything(?)/Modern Girl/Rollercoaster/What's Mine Is Yours/Steep Air/Step Aside/Let's Call It Love/Night Light/Entertain
encore: One More Hour/Sympathy/Oh!/You're No Rock n Roll Fun
Youth Decay was in there somewhere... but it's not on the setlist and I can't recall where exactly.
Finally, in non-S-K news, 3 more tracks have leaked from Fiona Apple's indefinitely postponed third album... download them:
here
now playing: Fiona Apple - Not About Love
Friday, February 25, 2005

combat rock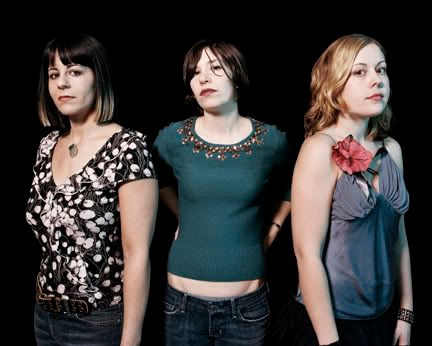 After nearly five years,
Sleater-Kinney
make their triumphant return to Vancouver this Saturday with husband-wife duo
Viva Voce
in tow.
Playing the Commodore two months ahead of (the official) release of new record the Woods, concert goers should look for the girls to pull a lot of the set from the forthcoming long player (at their recent New Year's Eve show with
Wilco
and
the Flaming Lips
, the band played all new tracks). Also, be prepared for slightly new sound. Corin Tucker described it as "psychedelic" when I got the chance to interview her a couple weeks ago, and I've since read interviews with Carrie Brownstein where she's said the same thing. Bikini Kill meets Pink Floyd? Not quite. All the elements of the S-K sound are still there, but be prepared for a more sprawling sound on new stuff and some looser arrangements of older tracks.
Long story short, don't miss this one. You don't want to have to wait another five years if you do.
download: Viva Voce -
Alive With Pleasure
(superb opening track from The Heat Can Melt Your Brain
via the band's official site
)
In case you missed it,
Joanna Newsom
played "the Sprout and the Bean" on Jimmy Kimmel and your new favourite band
the Futureheads
performed "Decent Days and Nights" on Conan.
In related news, the Futureheads will also be re-releasing their selftitled debut. The CD will contain the radio edits of "Decent Days and Nights" and their cover of Kate Bush's "Hounds of Love," and will come with a DVD that sports the bands 5 promo videos, 4 live videos, an interview, and making of the "Hounds of Love" video (which sees the band in the woods with a predictably large number of dogs). The updated version of the record is out March 7th in the UK (coincidentally the same day they're here in Vancouver). No North American release date is set yet.
now playing: Regina Spektor - Us
photo: John Clark, courtesy SubPop.com
Tuesday, February 22, 2005

get'em high
Kanye West
and
Bloc Party
have just been added to the Sasquatch Music Festival at the Gorge (in George, Wa) on May 28th. One (or maybe two or three) upping last year's spectacular lineup that featured Sleater-Kinney, the New Pornographers, Cat Power, the Shins, and the Roots, among others, this year's festival boasts the Pixies, Wilco, AC Newman, Joanna Newsom, the Arcade Fire, Be Good Tanyas, and Modest Mouse, along side Kanye and Bloc Party.
Pre-Sale starts tomorrow at 10am and goes til Friday at 5pm. Regular onsale is Saturday at 10am. Full lineup and tickets available through
the Sasquatch website.
Password = yeti.
In semi-related news, Miss
Joanna Newsom
will be on Late Night with Jimmy Kimmel this Thursday (the 24th).
now playing: the Arcade Fire - Wake Up (video)
Sunday, February 20, 2005

oh, goddamnit.
Someone hacked Paris Hilton's
sidekick
and found, not just the semi-predictable set of naughty photos, but also all of the Simple Life-ers private phone numbers and emails. oops, oh my. (from
Brooklyn Vegan
)
Ever wanted to call Christina Aguilera?
(banners on site not work safe)
In more local news,
the Futureheads
may be making a return to Vancouver shortly after their upcoming March 7th show at Richard's to support
Hot Hot Heat
at both the Croation Cultural Centre and the Commodore.
Louis XIV
is already scheduled as an opener. When/if it gets confirmed look for it on the sidebar.
In related HHH news, Dante (the bands recently departed guitarist) opens for Leroy Stagger at the Media Club on Tuesday. (thanks to Shea for the heads up on the last two)
download: Hot Hot Heat -
Move On
(b-side from
Make Up the Breakdown
)
Metric
will be in town to play
Arts County Fair
.
Matt Good
,
K-OS
, and Tupelo Honey round out the boozefest at UBC.
R.I.P.
Hunter S. Thompson
now playing: the Futureheads - Decent Days and Nights

we are nowhere and it's now
I was going to start this blog with some sort of description of what was to come. But then I stumbled upon this on a Radiohead message board, and it seemed as good a place as any to begin.
Our generation's Bob Dylan (or Graham Parsons, depending on what magazines you read),
Mr. Conor Oberst circa 1995.
Harry Potter is totally biting his style.
now playing: Bright Eyes - Landlocked Blues
Saturday, February 19, 2005

mp3s and photos
A brief note on mp3s:
Any mp3s that are from an official or otherwise legitimately commercially available release are for evaluation purposes only. If you download something and like it go out and support the musicians that made the music (preferably through one of the great independent retailers in the sidebar). All officially available mp3s are posted through
YouSendIt and expire in 7 days or 100 downloads, whatever comes first
ZShare
and are removed after 7 days. Generally speaking I won't be reposting anything, but if you've missed something that
isn't commercially available
I'll glady email it to you. My email address is in the sidebar. Just unobfuscate it. And please make sure you actually email me. If you comment on a post left months ago, chances are that I'll never know. If you are the owner of a recording I post and would like it removed, please contact me and I will take it down asap.
A brief note on photos:
Feel free to use any photos that are posted, but please don't direct link (ie. upload them to your own host). I use photobucket, so my bandwith for photos isn't huge. Also, if you want, a photo credit with a link back to this site would be appreciated.