Thursday, September 30, 2010

but i'm not working for you
It's sort of unfortunately timed with this extra dose of summer that we're getting today, but tonight
Zulu
hosts a "vinyl appreciation night," featuring free drinks and discounts on wax from 7pm-9pm.
Also at Zulu, on Sunday at 4pm, they help celebrate the release of the book,
The Top 100 Canadian Singles
. No offense to the Guess Who, but the Band got robbed on that one.
And while we're talking Zulu, it's worth mentioning that
Superchunk
is doing an in-store on the 13th before their show at the Biltmore. They're on at 3pm, so you'll need to duck out of work/school early for that one.
now playing: Guided by Voices -
Tractor Rape Chain (live last night[!] in Dallas)
Labels: show announcements, zulu
Monday, September 27, 2010

laura palmer's prom
If you're looking for a job (music related or in various other vocations), the soon to be re-opened
Waldorf Hotel
is having a
job fair on October 2nd
Also, not strictly music, but I am willing to highlight anything (Leah) Abramson (Singers) related. Leah (sans Singers) will be part of
Brief Encounters 15
, which takes twelve artists from various disciplines and pairs them off to collaborate on a performance a mere two weeks before their first show.
And, here's something you'll want to get on if you plan on attending: You Say Party!, MT-40, and Petroleum By-Product play a show sponsored by Scion at the Chapel. Since Toyota is footing the bill, you can get in for free by RSVP'ing
here
. Tyler Fedchuk spins between sets.
now playing: Spiritualized -
Any Way That You Want Me (Troggs Cover)
Labels: free shows, leah abramson, waldorf
Tuesday, September 21, 2010

the cars on fire and there's no driver at the wheel
It's been almost 10-years since Godspeed You! Black Emperor played Vancouver (back before they misplaced the exclamation mark), and while it'll be a few months more before you can actually see them again, you can buy tickets for the February show at Zulu, Red Cat, Scratch, and from the
Vogue box office
on Saturday at 10am. (thanks
Sean
)
now playing: Idlewild -
Actually, It's Darkness
Labels: gybe, show announcements
Monday, September 20, 2010

call it something else
A few quick things:
1) A reminder that Shindig continues with week #2 tomorrow. As a bonus, Tuesday's are also cask beer night at the Railway (they didn't get one last week, for some reason).
2) Quick (and almost exclusively local) picks for
Olio
:
Thursday:
The Abramson Singers (10:30pm at Guilt & Co) - Their latest record is amazing. Buy it)
Piper Davis (11pm at the Met)- Back from the depths of Alberta for one night only!
Koban (11:30pm at Lick) - I will watch Britt and Sam whenever I can.
Fine Mist (midnight at the Met) - I love their forthcoming LP so much, I'm helping them pay for it. Please also buy it (soon).
Shout Out Out Out Out (12:30am at 560) - Honestly, I haven't listened to their recorded output in ages, but they're always a good time live.
No Gold (1am at Honey) - Everyone is going to be at the Very Best, but if you're not there early, you're probably not getting in.

Friday
Graham Clark and Dave Shumka (7pm at the Rickshaw) - I know zip about comedy, but these two guys make me laugh. Also, last provincial election I (protest) voted for Graham.
Watermelon (10pm at Blim) - Their official write-up doesn't make any sense, as does not seeing them if you have a wristband.
Joyce Collingwood (11pm at the Astoria) - They totally killed it at Music Waste.
Nu Sensae (midnight at the Astoria) - I guess the fact that I haven't seen them play in too long isn't really a reason for you to see them. But the fact that they rule is.
White Lung (1am at the Astoria) - Just camp out at the Astoria all Friday, ok? See also: "early contender for local record of the year."
Saturday
B-Lines (10pm at the Media Club) - One of the city's most consistent(ly great) live acts.
Needles x Pins (11pm at the Media Club) - Download their EP and be convinced.
Defektors (midnight at the Media Club) - I mean, you're already going to be there, right?
3) And, since the
Polaris
winner gets announced tonight, check out
this great article
in Spinner that
Carl Wilson
penned.
4) Oh, and I don't know when Godspeed tix go on sale. But you will when I do, internet.
now playing: Guided by Voices -
The Best of Jill Hives
Tuesday, September 14, 2010

tremor in the elevator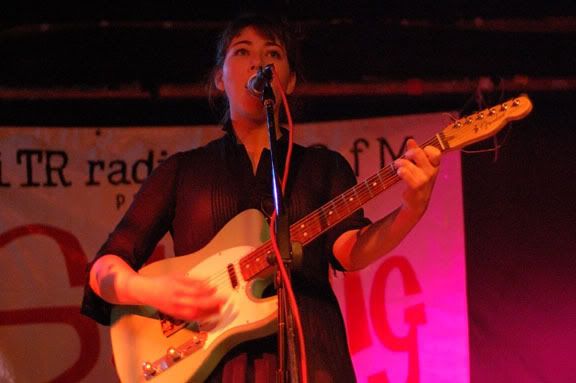 A quick reminder that
Shindig!
starts tonight at the Railway at 9:30pm. Isla Taco's on first, then Keep Tidy at 10:30pm, and Clockmakers at 11:30pm, plus jokes for beer!
See you there.
Labels: shindig
Monday, September 13, 2010

we are the hardest saturday nights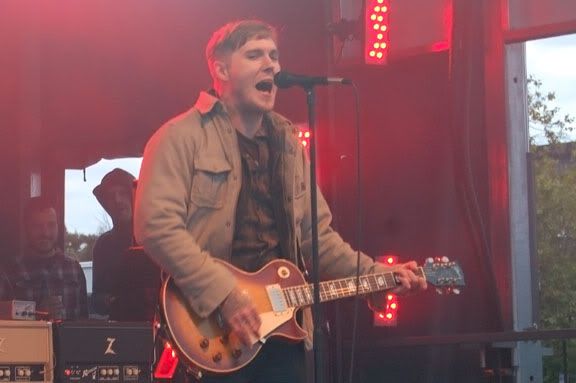 There are certain bands, some of whom I adore (the Weakerthans, the Hold Steady), and some of whom I'm pretty neutral on (the Mountain Goats, Why?), that seem to only have fans of the rabid variety. If you like them, chances are you love them, but if you're uninitiated and check them out live, you'll likely leave moderately entertained, but wondering just why everyone shoved up near the front was singing along so loudly.
The Gaslight Anthem
seem like one of those bands.
I wasn't compelled to check them out until
Pinder
posted a video of them performing "The '59 Sound" with Springsteen at Glastonbury on Tumblr (I mean, if it's good enough for
Pinder
the Boss, it's good enough for me), but I've been a big supporter every since. With that in mind, I actually saw them twice this past weekend.
On Friday, my friend Neil was DJing UBC's Welcome Back BBQ, so I made like an undergrad and
drank some shitty beer in a field
before checking the band out for the first time. Proving that I'm pretty out of touch with what's popular, I was surprised to see how many excited students showed up to do the same (a much better idea than
getting wasted and tearing up the frat village
). Gaslight, for their part, were pretty great, but they really turned it up a notch the next evening.
The Commodore was packed on Saturday by the time I made my way down and whether it was because of the weekend, my previous theory about "certain bands," or a combination of both, there was a palpable buzz in the air as the Gaslight Anthem's set time drew near. And, while the college crowd's warm welcome seemed to keep the band in good spirits, they really fed off of the energy of the Saturday night audience, and rewarded us with a lengthy setlist that included pretty much everything I wanted to hear, plus a cover of "American Girl" and show closing rendition of the Who's "Baba O'Riley." Again, it could definitely be because I was already so high on them, but it was one of the most enjoyable shows I've seen in ages.
now playing: the Gaslight Anthem -
She Loves You
Labels: gaslight anthem, show recaps
Friday, September 10, 2010

in the moonlight, in the moonlight we can get it right
Two quick things:
1) A gentle reminder that
Fine Mist
plays the Agro Cafe on Granville Island (re-named the Fringe Bar for Fringe Fest) tonight! Show starts at 10:30pm.
2) My review of the Block Party is up on
Exclaim.ca
now playing: Fine Mist - Because It's the Ocean
Labels: exclaim, self-aggrandizing, show announcements, victory square block party
Thursday, September 09, 2010

everything's ending here
When I was about 14-years-old, my cousin lent me every
Pavement
record (at that time everything from
Westing
to
Wowee Zowee
). I actually didn't fall in love with the band right away, but at some point "Summer Babe" grabbed me, and then "Silence Kit," and it went from there.
Fast-forward a few years to my final year of high school. Pavement was set to play the Vogue in support of
Terror Twilight
. The trouble was, I didn't have any friends who liked Pavement, and, at that age, the idea of going to a show by myself wasn't an option in my head. As luck would have it, about a week before the show, my cousin let me know she was going to be in town and would love to go to the show with me. Triumphant, I bussed to the mall to scoop up two tickets... only to find out that it had been sold out for weeks.
So, Tuesday night was about a decade in the making.
I like
Quasi
, but I was never a huge fan. That said, the combination of Pitchfork's 90's list-acular last week and the fact that post-Sleater-Kinney, I'll celebrate any opportunity to watch Janet Weiss do her thing behind a drum kit, made their opening set a welcome addition.
By all accounts, Pavement were never known for their live show. And, from a performance standpoint, they're still merely good, not great. They're not super tight (though, if they were, it wouldn't really be Pavement, would it?), Malkmus looks like he's bored most of the time, and save for Bob Nastanovich, the rest of guys aren't the liveliest bunch to take the stage together either. But that wasn't really the point.
While my friend (a longtime Pavement fan) quipped that it was "the make sure Bob has a retirement fund" tour, this was about giving fans who missed the band the first time around a chance to hear songs live for the first time and older fans a little nostalgia trip. And that's just what was delivered.
Sean
has the full 27-song setlist (plus a review of his own) up. And, while I could quibble about what they did and didn't include, if you were coming for a greatest hits set, you more or less got what you paid for.
now playing: Spacehog -
In the Meantime
Labels: pavement, show recaps
Monday, September 06, 2010

the sun's loneliest day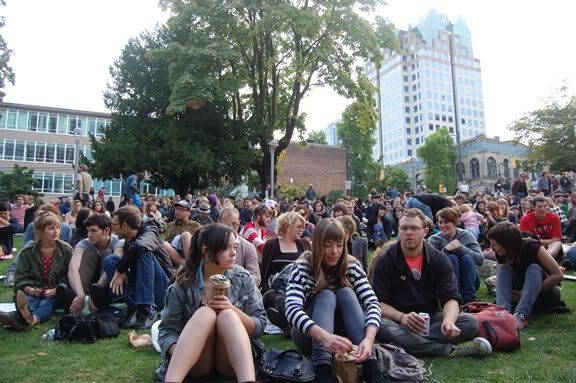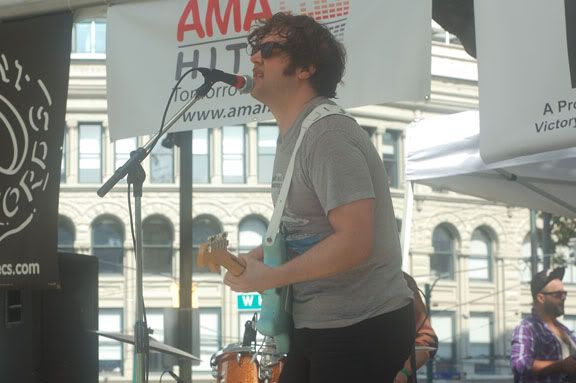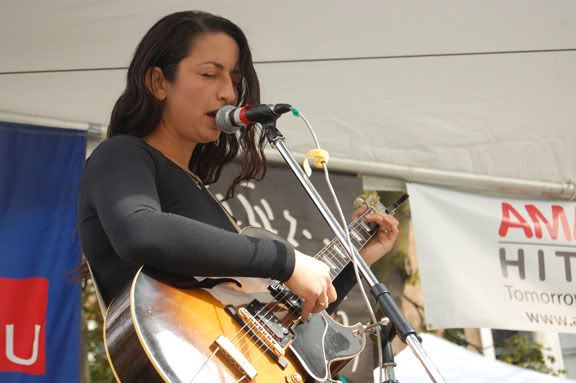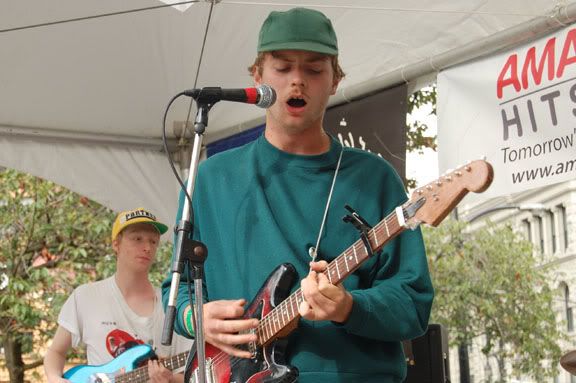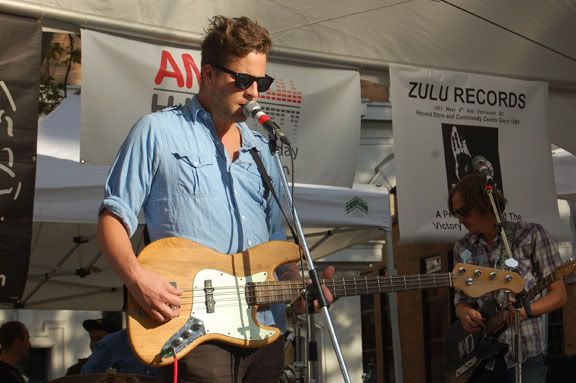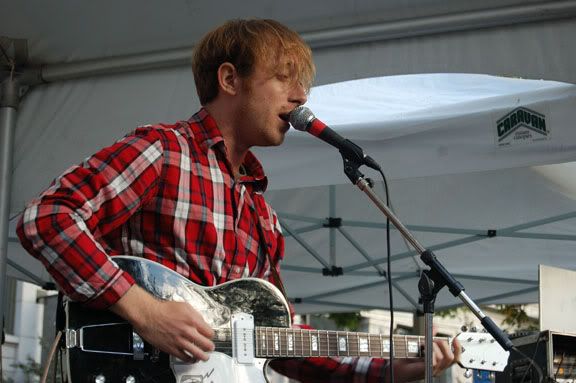 A big thanks to everyone that organized this year's Victory Square Block Party. And an extra special thanks to Mother Nature for not turning on her sprinklers until after the show.
I reviewed the show for
Exclaim
, so I'll leave it at that, since that should be up in the next day or so.
The show listings should be pretty up to date, but if there's something I missed, let me know. On that note, the listings will be updated regularly (probably more frequently than before), but I'm not going to do an announcement post every time, because that takes (relatively) long... and it's pretty tedious. Other than that, it's business as usual.
Labels: lazy show recaps, victory square block party
Sunday, September 05, 2010

coming up soon
Just a reminder that this starts at 2pm. Oh, the weather? It's going to be fine today... and shitty for pretty much the rest of the week, so take advantage of today by watching great bands for free in the park.
Labels: victory square block party
Friday, September 03, 2010

don't call it come back
Labels: or do call it come back - that's cool too