Monday, October 31, 2005

i've been bad
Metric
played not one, but two sold out shows at the Commodore yesterday. I think this is the seventh time I've seen them, and as usual, if you ask me, they were stellar. Of course, I think this is the seventh time I've seen them, so I'm obviously going to be a little biased. Nice to hear the new stuff now that I've had a chance to live with the album for awhile (I had the leak on my computer before seeing them in September, but hadn't given it a good listen yet). This is also the first time I've seen them close with something other than "Dead Disco," which was interesting. Also, I was a little surprised when someone from CFOX came out to introduce the band... apparently Metric now rocks the Fox, funny that it only took them four singles to catch on. Oh... also, while I'm not a big fan of the moshing either, to answer the girl in front of me yelling "who's pushing?!?"... those 500 people behind you are pushing.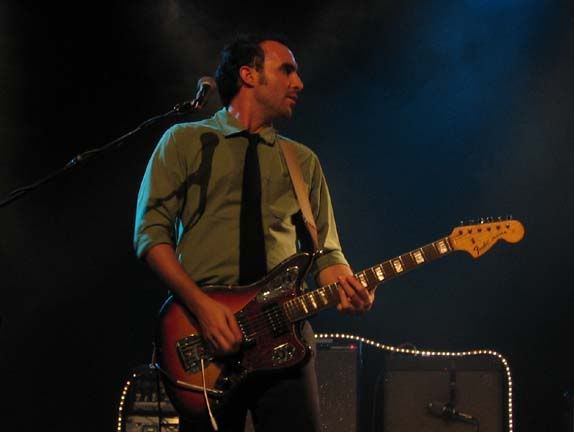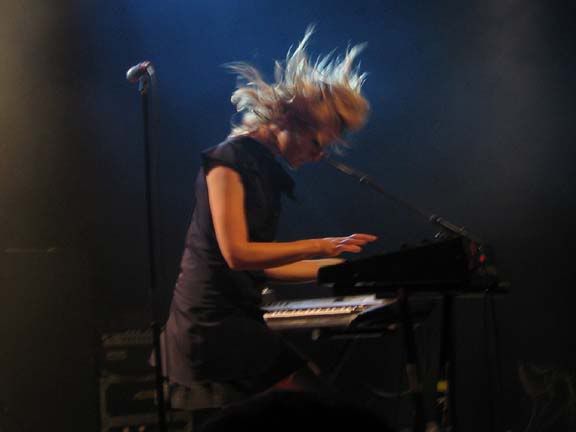 I was a little too far to the left to get any shots of anyone other than James Shaw and Emily Haines.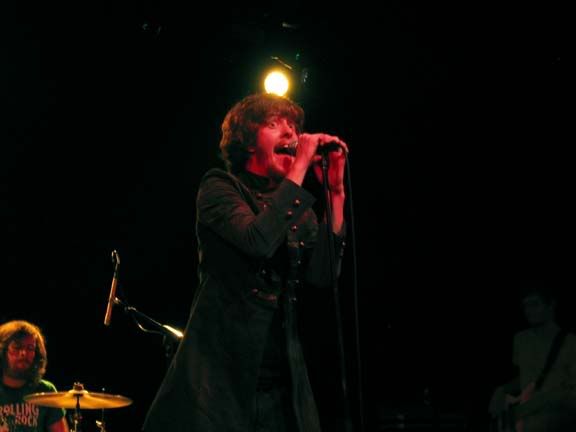 Most Serene Republic
, who are also opening for Broken Social Scene in November, played second last night. I wasn't overly excited about
Underwater Cinematographer
, and while they were super energetic, I can't say the live show really changed my mind on the band... ditto for
the Lovely Feathers
who were on first.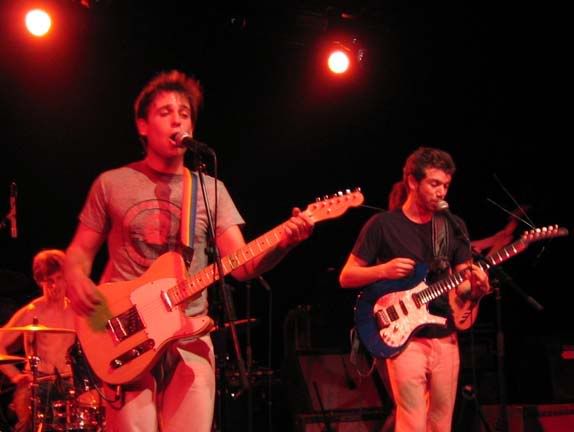 Happy Halloween... I was going to post the Cadence Weapon Remix of "Do They Know It's Halloween?"... but
Fluxblog beat me to it
.
now playing: the Police - Can't Stand Losing You
Friday, October 28, 2005

some nights i thirst for real blood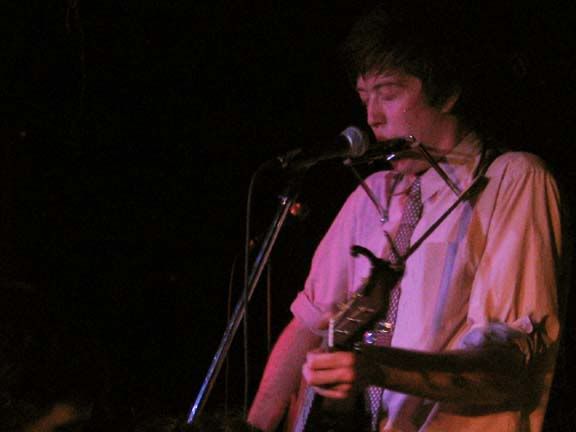 So I actually managed to show up to the Media Club on time for once last night, only to find out that Band of Horses were no longer playing and the show was pushed back an hour... so after a brief excursion to browse around at HMV (which doesn't carry vinyl!) I made my way back for the
Okkervil River
show.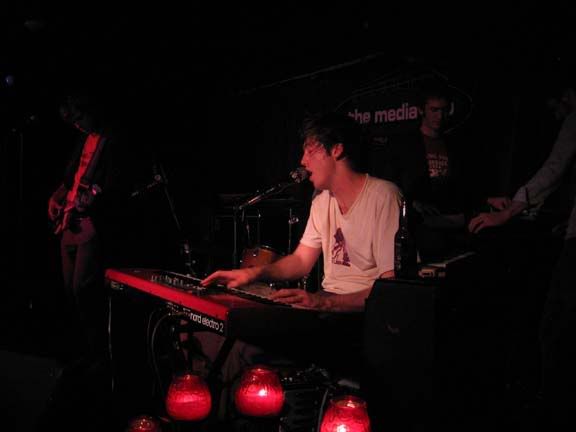 Observation number one: Lots of cute girls like Okkervil River... actually, like is the wrong word. Love, and know all the words to every song with a near Dashboard-Confessional style devotion.
The band, like on record alternate between that quiet subdued folk and a heavy, "I'm singing slightly out of tune, but it's awesome," intensity. I would've liked to hear "Red" and "Just Give Me Time," but other than that, it was absolutely splendid.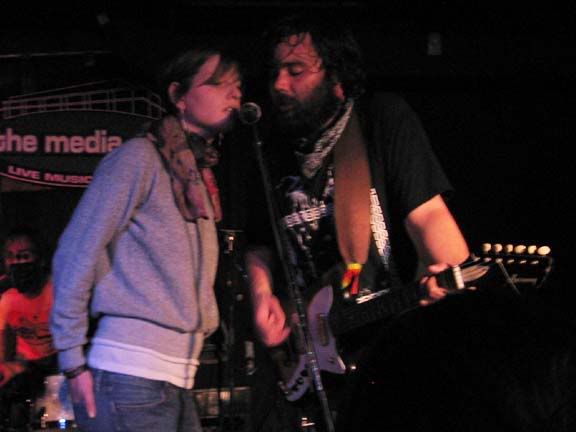 Ladyhawk
further cemented their status as my absolute favourite local band with their set. According to Okkervil frontman, Will Sheff, they're also now label-mates. Exciting! Hopefully, that record is out soon as well.
Finally, now that Pitchfork is saying November 28th, I have no clue when Ryan Adams is on Letterman. Just disregard anything I say about late night TV from now on.
Back to school work.
now playing: Ciara feat. M.I.A. - Goodies (Richard X Remix)
Thursday, October 27, 2005

the big calm
Morcheeba
play the Commodore on December 5th, with their third singer, Daisey Martey, fronting the band.
Vanmega
posted all about the current ins and outs of the band a couple weeks ago.
The Roots
add an early show, as somehow the late show on November 9th sold out. Hip Hop heads out there: did I miss something? Cause
Tipping Point
really didn't do it for me... not to mention that last time I saw them it was a total yawnfest. On a somewhat related note, why is it that the Roots get automatic cred because they play instruments? I'd much rather have someone behind a couple of turntables if the beats are more interesting. But, maybe it's just me.
If you're still kicking yourself for missing
Diplo
spin at Celebs last April, you will want to head down to
Silk Haus
tomorrow night to check out
the Rub
.
DJ Ayres
and
Cosmo Baker
, like those dudes from Hollertronix, throw down pretty much anything, as long as its good. My kind of dance party. For now, check out Ayres edit of Missy's "Bad Man." I found the original of this kinda disappointing (granted, with Vybz Cartel and M.I.A. on the track, my hopes were high), but this leaner version of the track saved it for me. You can also check out more mp3s at Ayres site, and the Rub's homepage.
download: Missy Elliot feat. Vybz Cartel and M.I.A. -
Bad Man (Ayres ReEdit)
As my reading comprehension level is clearly that of a 4th grader, I must once again correct myself.
Ryan Adams
is on Letterman tomorrow, not November 4th (which was actually posted up at Lost Highway at some point) nor November 28th (which I just misread). Sorry for the confusion.
Okkervil River for me tonight. If you're heading out to Deerhoof or Controller.Controller, feel free to drop a comment and tell everyone how they were.
Finally, I turned word-verification on in the comments, as I was starting to get some spam.
now playing: Okkervil River - Listening to Otis Redding At Home During Christmas
Tuesday, October 25, 2005

get set
According to his official website, Jack White's good buddy,
Brendan Benson
is scheduled to appear in Vancouver in less than two weeks. I haven't seen any promo or heard anything (other than the anonymous tip in the comments a couple of posts down), but he
should
be playing the Plaza Club on November 7th.
Head over to
RazorBladeRunner
right now. He's got the
Dahlback
remix of
Death from Above's
"Romantic Rights" up... and it's sick.
A correction to the report earlier this week about
Ryan Adams'
appearance on Letterman. Ryan and the Cardinals will appear on November 28th, not November 4th. Apologies for the mixup. They're still going to play "Come Pick Me Up." As consolation, here's one of the bonus tracks from the import version of
Jacksonville City Nights
.
download: Ryan Adams -
I Still Miss Someone (Johnny Cash Cover)
Yet you can still find a wide arrange of firearms without problem...
(via
Product Shop NYC
)
Last, but certainly not least... I'm a little late, but the one year anniversary of
Elliott Smith's
death came and went on October 21st. In celebration of his life, here's a download of my favourite song of his.
download: Elliott Smith -
Angel In The Snow
More unreleased Elliott tunes
here
now playing: Elliott Smith - Angel In The Snow
Sunday, October 23, 2005

goodnight nobody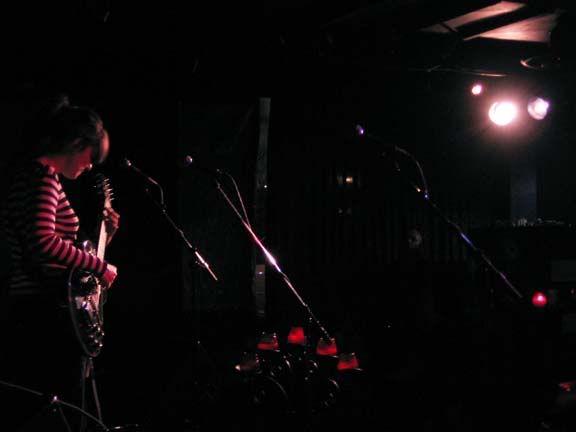 When did it get so hard to find a place to park in this city? I know there was a hockey and football game on, but it took me more than a half hour to find a
pay
spot anywhere. This caused me to unfortnately miss a good portion of
Julie Doiron's
set at the Media Club. What I did see was wonderful, however. The highlight coming with the second last song of her set, a cover of Paul Simon's "Me and Julio Down By the Schoolyard" (a song that I can't say that I like all that much in it's original form).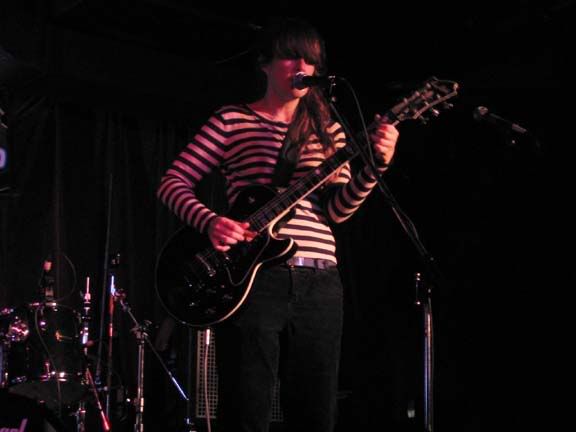 In other news...
!!! (chik chik chik)
play the Plaza Club (wtf??) on December 4th. I suppose it can't be any worse than playing Sonar, like the last time they came to town, but still, I'm confused... what's wrong with Richard's or something? (thanks to Kim for the heads up)
The Constantines
return to Vancouver on January 14th. They play UBC's Pit Pub, for a mere $5. Unfortunately for those of you who are gainfully employed, it's a closed show... UBC Students only.
Vanmega
has his
October Mixtape
up.
Finally,
Ryan Adams
returns to Letterman on November 4th. This time around, however, he won't be playing one from
Cold Roses
, or from his latest,
Jacksonville City Nights
. Word on the street is that Ryan will perform "Come Pick Me Up," from 2000's
Heartbreaker
(which is featured on the
Elizabethtown Soundtrack
).
now playing: Julie Doiron - Snow Falls In November
Saturday, October 22, 2005

and the birds all singin' blue
So, in what may become something fairly regular here (on weekends, when news is slow), I've decided to blog about some of my absolute favourite songs. This was actually going to be a column idea for a paper I write for at school, but I'm terrible with word limits. Plus, I can post the mp3 here. This particular piece was already written with the intention of submitting to the paper, hence the reference to "print." Yes, I realize this is totally biting on
Stylus' Perfect Moments in Pop
, but what can you do?
One Song: Perfect Songs for an Imperfect World
download:
Ryan Adams - Call Me On Your Way Back Home
This is my favourite song ever. I hate to admit something like this in print, but I listen to this whenever I break up with someone, which is embarrassingly often. On the surface there is nothing particularly special about it. Guys with guitars and softened southern drawls have been writing about heartbreak for years. Ryan has made a bit of a career out of it himself. This is his finest moment though. In fact, it's about as fine a moment as you'll find in music.
There's the production; how you can hear him exhale before the first line, exactly like the way you exhale before you finally break bad news to someone. It's how you exhale as you reflect on a bad hangover and a head full of alcohol damaged memories of brand new mistakes. His voice, simultaneously hushed and forceful, haunts its way over a lone battered guitar, while strings creep in and out. And those strings... I was never a huge fan of string arrangements - they're a lazy way to force grandiose emotion into something - and these ones could have killed this recording. They're too perfect sounding, all cold and sterile. But, during the main part of the song, they're just restrained enough, and at the end when they swell up they ground the clumsy imperfection of the harmonica, itself weeping uncontrollably... if an instrument could. It's the moment just before that is the kicker though; that final set of vocal lines.
"Yeah I just wanna die without you. Without you, honey, I ain't nothin' new"
And, you can almost see the handful of pills and the bottle of cheap wine.
now playing: Saturday Looks Good To Me - If You Ask
Labels: one song, ryan adams
Thursday, October 20, 2005

i will never see the sun
Why do three shows that I want to attend have to be scheduled for the same day?
Great Lake Swimmers
play the Lamplighter, on the already crowded evening of November 20th.
Sarah Slean
is now out, as I've seen her multiple times... but I still might be reviewing
Gwen
for
Discorder
. And to be honest, while I've been waiting to see GLS for awhile, I'm pretty stoked on the prospect of seeing Mrs. Rossdale.
Fresh off of a couple of months that saw
Exclaim
gush about them, and
Pearl Jam
share a stage with them,
Wintersleep
play Richard's with locals
Ladies and Gentlemen
on November 28th.
Ladies and Gentlemen also support
Matthew Good
on his pair of upcoming November dates at the Commodore.
Everyone's favourite garage rock Socialists (yes, I'm aware of the Hives),
the (International) Noise Conspiracy
, play the Red Room in support of their finally released fourth long-player,
Armed Love
, on December 10th. I can't say I've been overly impressed with their latest, or
New Morning, Changing Weather
, but they're still one of my favourite live acts.
Speaking of Socialism (look at that misleading segue), on an unrelated musical note, if you're not at work or your university/college is behind pickets, head down to the PNE grounds to rally in support of teachers tomorrow. 10am - Noon. Transit is still running even.
I am not, nor have, ever been a member of the Communist Party, for the record.
Back to the music... Maybe this has been talked about already and I just missed it, but am I the only one who finds the prospect of
this
absolutely horrendous? The guy from Rancid fronting the CLASH???
"Armstrong... pledges to sport Strummer's classic mohawk when the tour gets underway."
Oh good, that'll make up for your crappy singing and subpar band.
Last but not least, a couple of tunes that are (or are going to) set the internets on fire...
First up,
Jose Gonzalez
, who is Sweden's (yes Sweden, don't let the name fool you) answer to Nick Drake. Here he is covering one of my favourite singles from last year,
the Knife's
"Heartbeats." The dark electro pop of original gives way to double tracked vocals and tastefully plucked acoustic guitar. Just when I was almost played out on the original, this comes along to breathe new life into the song.
the Brooklyn Vegan
has more on Jose.
download: Jose Gonzalez -
Heartbeats (the Knife Cover)
Next...
Arctic Monkeys
are being tagged as the "next big thing," with people saying such outlandish things as "biggest British debut since Oasis." The NME, and even the Guardian are wettig themselves already. They sound like Franz Ferdinand, if they were bred on the Buzzcocks and the Streets. Don't believe the hype... they're not as good as everyone says (how could they be, really?), but a couple of the demo tracks (yes, they don't even have an album) are pretty ace. Make no mistake though, regardless of what you think, this band will be huge (at least in the UK). A British MSN contact of mine, informed me that, despite having one single to their name, everybody at Reading knew the words to all the songs, and was singing along... ohhh, the power of the internet.
download: Arctic Monkeys -
Bigger Boys and Stolen Sweethearts
now playing: Jose Gonzalez - Hearbeats (the Knife Cover)
Tuesday, October 18, 2005

desormais
I was surprised (pleasantly so) yesterday to find out that
Julie Doiron
is playing the Media Club this Saturday. The good news? It's an early show, so you can still do whatever it is you were planning to do that evening. The bad news? If your plans involved the hockey game, I just lied to you, because the show starts five minutes before the puck drops (7pm). Seriously though, there are over 75 more hockey games this season, and Julie hasn't been here for half a year or so... and the show is a mere $12, to boot.
Rogue Wave
plays the Media Club as well on November 19th.
For all you aspiring amateur concert photographers out there, head over to the
Junked Camera
forums to check out this
great tutorial on brightening underexposed photos
. While you're at it check out the rest of the tutorials as well... and some pretty amazing photos. This one of
Emily Haines
is my personal favourite.
Luke Doucet
plays Richard's on November 2nd with
the Fembots
for the latest
Exclaim
sponsored, cross Canada foray.
now playing: TV on the Radio - Ambulance

everybody get random
So my good friend Aleks has cemented her status as coolest person ever, as she will appear in the forthcoming
Lady Sovereign
video, for her latest (UK) single, "Hoodie." Check out Aleks' behind the scenes pictures
right here
. More importantly, check out
Aleks and the S-O-V herself.
Alright... As some of you out there on the interweb may know,
FreeIpods.com
is now open to Canadian (and British) residents. So, I'm usually quite skeptical about such things... in fact, I am still kinda skeptical. But my friend Gerald (who did the all the techy stuff for this site) actually got an IPod in the mail the other day. I'm actually kinda on the fence on the whole IPod thing as well (ripping hundreds of cds to my harddrive is not a task that I would look fondly upon)... but for the cost of one of those trial offers, I figured I'd give it a whirl.
If you'd like to help me out on this "it seems to good to be true" crusade, and start one of your own,
click here
.
I know posting stuff like that is lame, but if it's good enough for LargeHeartedBoy, it's okay for me.
Lastly, and also unrelated, I have extra Indietorrents.com invites. So, if you'd like one just leave a comment with your email address. First four, first served. Please ensure that you a) already know how torrents work. b) will keep your share ratio up. c) will actually use it (cause if you won't someone else probably would have).
update:
the four of you should have received emails by now. if you don't get them by tomorrow email me (quinnDOTomoriATgmail) and i'll double check to make sure the invites went through.
now playing: Ray Charles - I Got A Woman (Diplo Remix)
Sunday, October 16, 2005

call and response
I was clicking around at
Tiny Mix Tapes
, and
this article
got me thinking. The gist of it is that the writer, Ken Napzok, feels that it's much easier to connect with someone who shares a love for the same music you love, or conversely, it's hard to love someone who thinks music didn't exist before Creed wrote "Higher."
I would argue that it's the opposite that's true, because, as music lovers, it's dangerous to connect with someone who loves the same music as you... because you lose ownership over it. Now, let me make it abundantly clear, this isn't ownership in that "I am so indie, oh my god they're playing the Arcade Fire on Much" way. In fact, I would absolutely adore it if some of my favourite, more obscure bands got the recognition they so rightly deserved. It would be novel to be able to have casual office/school conversation and say "I'm going to check out Okkervil River at the Orpheum tonight," and hear a response of "Oh I wanted to go, but it just sold out so fast." But, with deep interpersonal relationships, it's different.
A friend of mine (and I hope he doesn't mind the paraphrase), summed it up best after breaking up with his most recent romance:
"Oh, and one more thing. TV on the Radio were
my
band first."
In relationships you share things. That fact is all well and good, but when you break up, you're going to have to split up whatever makes it out of the fire. And, quite frankly, I want my Ryan Adams (or whomever else I introduced you to) back. I am going to get drunk, mope around, and then listen to "Call Me On Your Way Back Home," and, to be honest, I don't want you to be doing it too. Even more to the point, I don't want to run into you (and, god forbid, your new significant other) at the Stars show.
But music... it's not like a box of chocolates or flowers... it doesn't die, and it isn't devoured once and forgotten, and you sure as hell can't take it back. Once you put that Stone Roses cut on that mix cd, and get the reply of "that track 3... can you make me another cd of just them?" You've lost it. And everytime you think of "She Bangs the Drums" you're not going to think of Ian Brown or John Squire, you're going to think of how that song, that band, got stolen from you. The Stone Roses have thousands upon thousands of fans aside from you... but it's that one fan you helped create that's the kicker.
Ken starts the last paragraph of his essay with the following statement:
"This is why it is such a beautiful thing when you can walk through a record store with the person you are totally crushing over and watch as they stop at all the sections you were going to stop at."
Yeah, I suppose it is. But it's even better when you can go back to the record store after the fallout and
not
see the same person.
For the record, I'm on good terms with most of my exes... but I still firmly believe that this is true for most people 90% of the time.
now playing: Kanye West - You're My Type
Saturday, October 15, 2005

we want the death of rock n' roll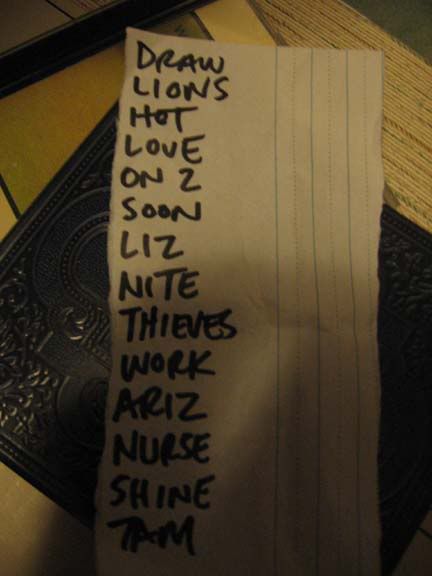 So, I did something I pretty much never do last night. I got really really drunk at a show. But if there was ever a night to do it, yesterday was probably it. The last time I had more than one drink at a concert was probably Aimee Mann a couple years ago; not exactly a get loaded and jump around kind of affair. Last night, however, was very much a jump around kind of affair.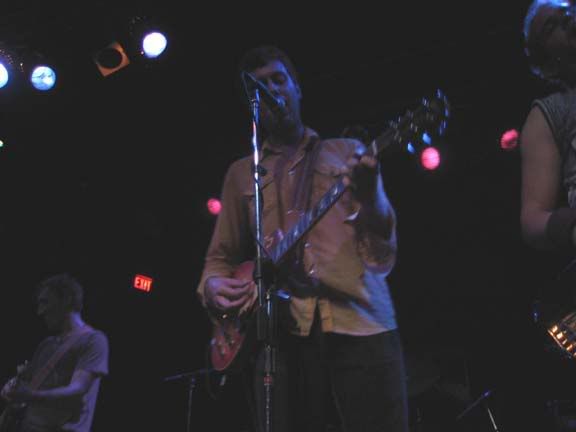 The Constantines
were fabulous. New material, old material, it all sounded incredibly tight. That, and, if they had only played "Soon Enough," I probably could've gone home happy.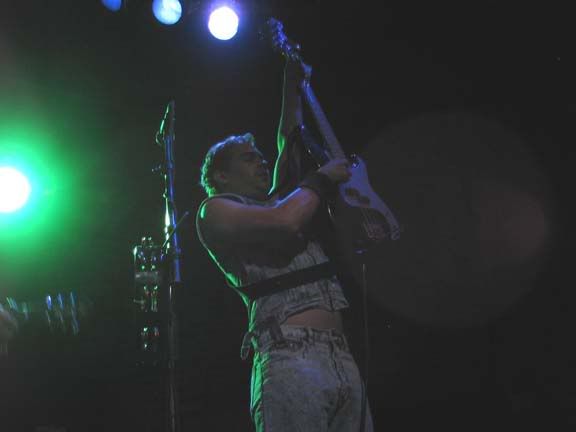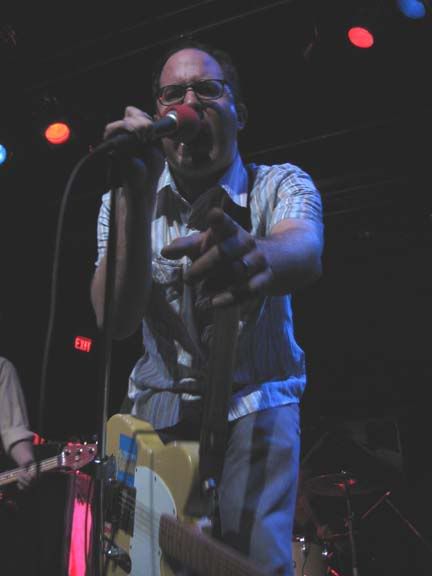 While the Cons were excellent, I'll be honest, I was more excited about seeing
The Hold Steady
. Craig Finn was almost literally frothing at the mouth (well, at least spitting a lot), as the band tore through songs from this year's release,
Seperation Sunday
, and their debut,
The Hold Steady Almost Killed Me
.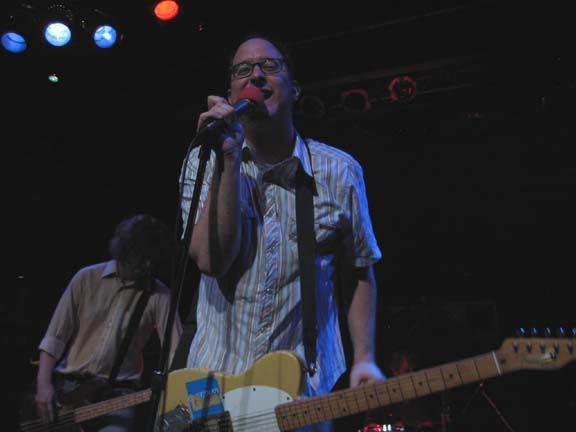 now playing: GZA and Ras Kass - Lyrical Swords
Thursday, October 13, 2005

...and stay for breakfast
Or at least wake up early enough for it. As
Broken Social Scene
have added an All Ages show in the afternoon before their now sold out soiree on November 13th. Both shows are at the Commodore. To end the speculation (somewhat)... No, I don't know who is opening, but if you take a look at Ms. Feist's touring schedule, you will note that she is in Seattle with BSS the day before, but has to be in Nashville the very next day... so it's fairly safe to count her out.
Sarah Slean
plays the Van East Cultural Centre on November 20th. I think I might check this out, even though I wasn't that into her latest record. Seems like a much better venue than Richard's. If it turns out that it's a solo outing, I'll be there for sure.
Darren Hanlon
, whom you may remember as the opener for the Magnetic Fields last November, plays the Media Club on November 3rd. If you're not into driving down the I-5 to see Conor (yes, I'm aware MMJ are playing that day too *yawn*), you may want to check him out. How many other people have a song about squash?
Local agit-poppers (ok, more like agit-metallers)
Che: Chapter 127
play their final show together on October 22nd at Pub 340. The revolution
still
starts with you.
Speaking of G7 bands,
Propagandhi
are touring their favourite country, the US of A, in support of the their new album,
Potemkin City Limits
(out next Tuesday). Closest stop is Bellingham on the November 18th, at the Western Washington University.
now playing: Andrew Bird - Spanish for Monsters
Wednesday, October 12, 2005

you are free
I can't think of anything that brightens my day more than brand new
Cat Power.
You Are Free
was my favourite record of 2003, and her upcoming full length,
the Greatest
, is number one on my list of anticipated releases (street date: January 24th, 2006).
Matador
has the correct album details up, and once again come through in the clutch with a high quality preview of the album.
download: Cat Power -
The Greatest
(via Matador Records)
Frank
already blogged about this, but my love of all things Chan Marshall related meant I had to mention it too. I'm pretty sure she could sing a VCR manual and it would sound sublime.
If you're not busy tomorrow, Alden (formerly of the Unicorns) is playing a house show at 1476 E. Broadyway. All Ages. Vegan potluck at 6pm, show at 7pm. Boxcar, Coral and Emily, and DJ Prawns play as well.
now playing: Cat Power - the Greatest
Tuesday, October 11, 2005

when we arrived we were ripping high
Not much news to report in the last couple of days, though I will admit to being ever so excited about the details about the
new Cat Power album
being reported on the PFork. In lieu of any show announcements, why don't we talk about a show that I'm very much looking forward too, and an album that I'm very much loving?
Hopefully, you are smart enough to already have a ticket in hand for this Friday's
Constantines
show (don't believe Pitchfork, it's one of the best records of the year). I'm going to say that it's a given. You are good enough, smart enough, and doggonnit, people like you... but you know what will make you even smarter? If you remember to show up early to catch
the Hold Steady
, who are opening.
The Hold Steady are a band that you can't just listen to in passing. While they have some rather rousing musical numbers (that I'm sure will be really fun live), they are best described as sounding like the stereotypical bar band. A very very good one, but still... nothing groundbreaking musically. What sets them above other bands (and what makes their new album,
Seperation Sunday
one of my other favourites this year), is lead "singer" Craig Finn's lyrics. I put "singer" in quotations, because he kinda sounds like he's half talking most of the time... the way he says things, however, is the amazing thing.
Top 5 Lyrics from
Seperation Sunday
"I have to try so hard not to fall in love, I have to concentrate when we kiss." (Hornets! Hornets!)
"I grew up in denial and went to school in Massachussetts." (Banging Camp)
"I guess I heard about original sin. I heard the dude blamed the chick. I heard the chick blamed the snake. I heard they were naked when they got busted, and I heard things ain't been the same since." (Cattle and the Creeping Things)
"Do you want me to tell it like it's boy meets girl and the rest is history? Or do you want it like a murder mystery? I'm gonna tell it like a comeback story. (Charlamange in Sweatpants)
"When they say great white sharks, they mean the kind in big black cars. And, when they say killer whales, they mean they whaled on him til they killed him up in Penetration Park." (Banging Camp)
Y'know, upon review, it's just not the same when it's written on a computer screen...
You can download "Your Little Hoodrat Friend" from
Seperation Sunday
and "The Swish" from
The Hold Steady Almost Killed Me
at the band's
official site
PS: I realize that Firefox users can't load this site and can only see links (like this) and pictures. It works fine in Safari and IE (haven't checked Netscape or Opera), and I have no idea why the .css won't load properly in Firefox, but will endeavour to fix the problem asap.
now playing: the Hold Steady - Multitude of Casualties
Sunday, October 09, 2005

pull up the people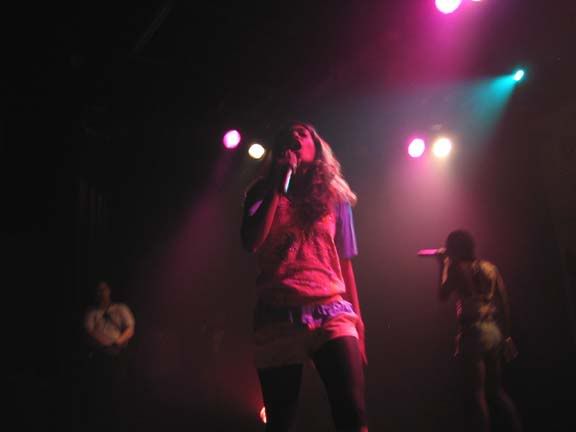 I was out of town yesterday, so here's a post about the
M.I.A.
show a couple days late...
For those of you who weren't there, you need to understand that Miss Maya has charisma to spare, so when I say that she had the crowd in the palms of her petite hands, I mean it. This time around, her beau
Diplo
was M.I.A. (puns, they're the new irony), but DJ Contra had the Diplo-thang down pact. From the DVD intro of Bush and Blair, to flipping the
Arular
and
Piracy Funds Terrorism
versions of tracks midsong, aurally, he was a dead ringer. The set included all of
Arular
(except for "Hombre," which was on the setlist but unfortunately not played), as well as a couple tracks from the import versions of the album. My only (very minor) complaint would be that the show was barely an hour, but considering she only has one album and a handful of other tracks, I wasn't expecting much more.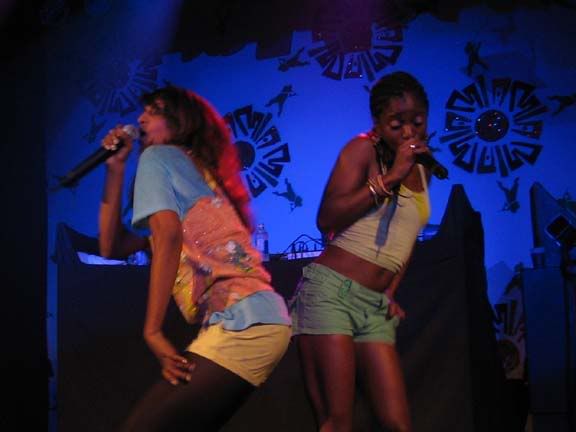 Also, I can't talk about M.I.A. without mentioning her hypewoman/backupsinger/dancer, Cherry, who celebrated her birthday onstage (with a dildo garnished birthday cake, no less). She definitely brings the performance up a notch.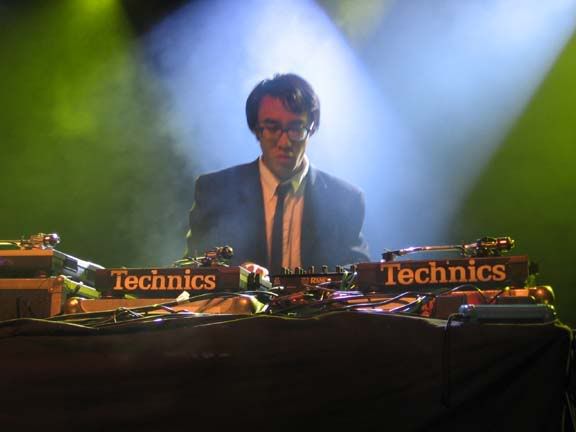 While I'm huge on M.I.A., the highlight of the night came before she stepped foot on stage.
Mike Relm
was a surprise opener. If you've seen him before, you already know how utterly amazing he is, if not you need to see this man next time he comes to town. Looking like the most unlikely DJ ever, Relm is, no joke, a turntable wizard. It's really hard to explain just how awesome he is, so for now, head over to his site and check out some of the videos. Yes, he spun the Peanuts Theme on Friday too.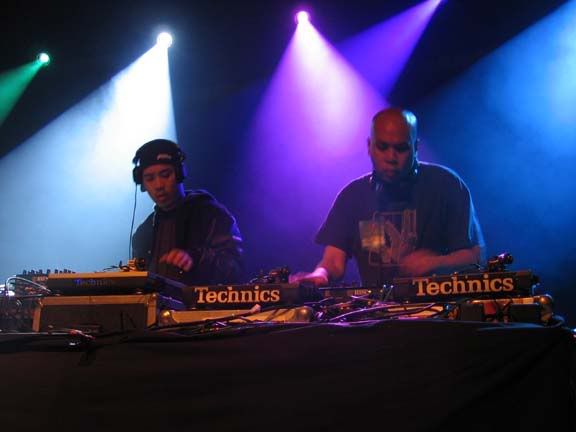 Locals,
No Luck Club
opened. I had seen them open for someone a couple of years ago, and wasn't all that impressed. Either, I was having a bad day, or they've improved massively, because they were defintely "on point" (as my friend Marina would say). Two turntablists, and one guy on keys/laptops/samplers, all resulting in instrumental hip hop madness. They make the exact music I wish I'd hear when I go out dancing, and when they dropped a vocal sample from "Yeah" into an Arcade Fire keyboard and vocal overtop of a monster beat and intense scratching, it was magic.
now playing: Diplo - Tippin' Toxic (Mike Jones & Paul Wall vs. Britney)
Thursday, October 06, 2005

i guess that's how the future's done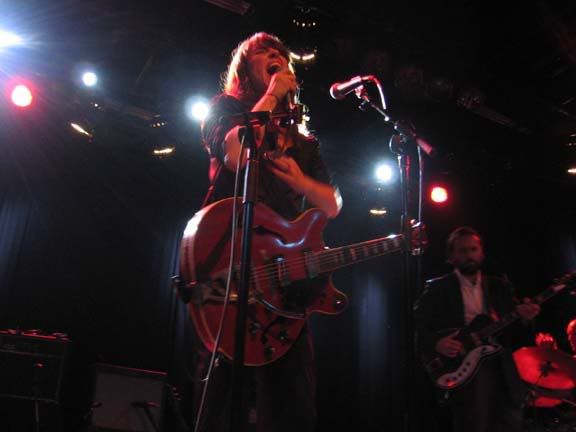 Just how amazing was that
Feist
show last night? Amazing enough for me to forget all about the hockey game (1-0, Western Conference Championship, here we come!)... no, no... better than that. Between several fantastic new songs, "Mushaboom" turning into a massive crowd singalong, a cover of BSS's "Major Label Debut," and the ever so gorgeous show closing "Let it Die," this is right up there in my favourite shows of the year. If you missed it, well... you missed out.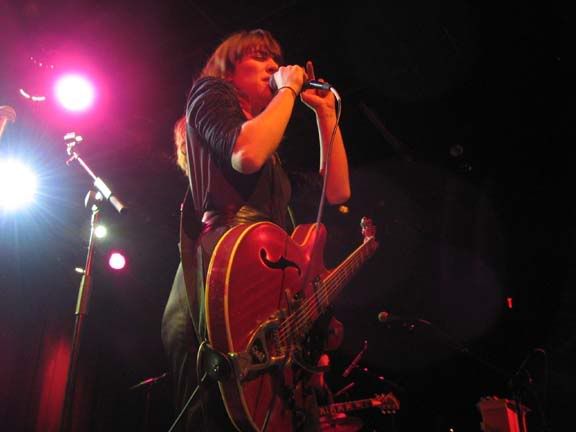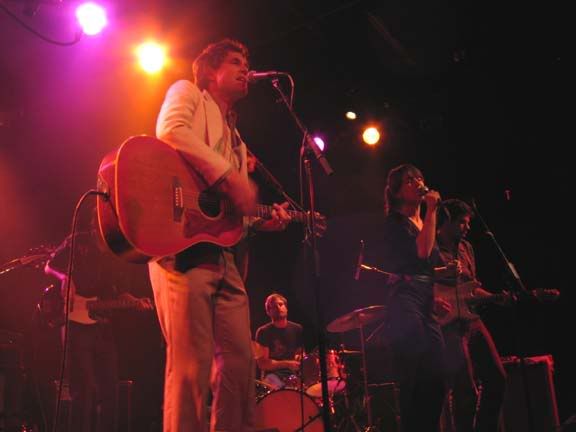 And what could add to such a great headlining performance? Great support acts. If you've read this blog with any frequency, you already know that I love
Jason Collett's
latest, and I think it's fair to say that he doesn't disappoint live either. A guest appearance by Miss Feist herself (who filled in for Emily Haines on "Hangover Days" and drummed on "Fire"), didn't hurt either.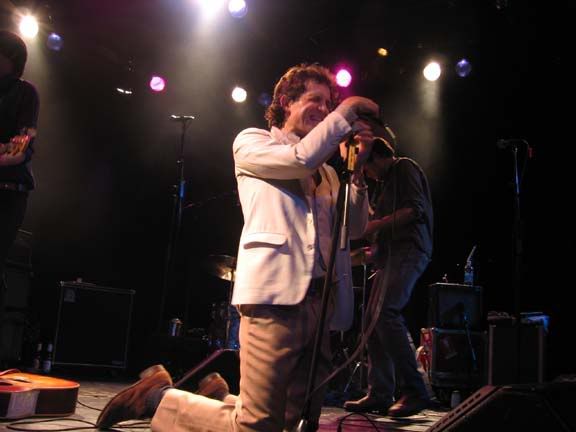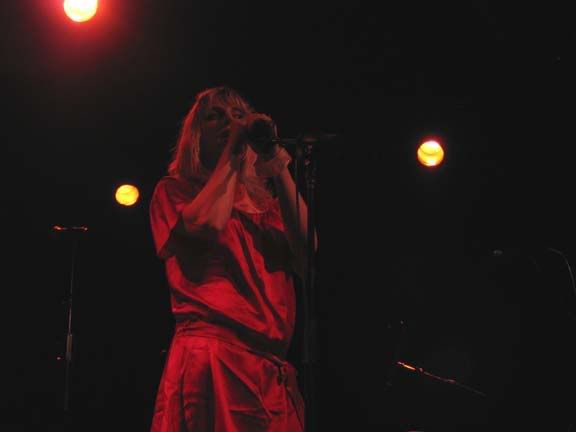 New Buffalo
opened the show, and while her stage presence wasn't exceptionally strong, she really was quite endearing. That, and the fact that "I've Got You and You've Got Me" is one of my favourite tunes from this year, kept me entertained.
more pics:
here
now playing: Diplo - Fabriclive 24
Tuesday, October 04, 2005

things fall apart
The Roots
play the Commodore on November 9th. The downside?... aside from the fact that
Tipping Point
was kinda shitty and they don't play "!!!!!!" live, is that tickets are $45... before service charges.
Dub Intefadah (Alden, formally of the Unicorns) plays the Anza Club on October 14th in celebration of
Media Democracy Day.
They Shoot Horses, Don't They? and Sean Wesley Wood and the Vancouver Vipers support. $6-8 (sliding scale) at the door.
Head over to
Out of 5
and check out "10 covers that eclipse the originals." Can't say that I agree with all of the choices, but Al Green's take on "I Wanna Hold Your Hand" made my cold heart warm again. These should rotate sometime fairly soon, so get them before another 10 songs go up.
Now head over to
ClipTrip
and check out the "upsettingly beautiful" video for
Conor "the new next Dylan, apparently" Oberst's (bka Bright Eyes)
"First Day of My Life."
Finally, let's talk about tomorrow's
Feist
concert. The last couple of months have brought some great shows to our fair city, but I would be lying if I said that the prospect of any of them got me more excited than Miss Leslie hitting the Commodore with
Jason Collett
and
New Buffalo
in tow. I think I've already posted three of the tracks from Collett's latest, and I would post "I've Got You and You've Got Me," from Sally Seltmann's debut, but why put up something that you can find at the record store, when I can throw up something you can't? Not to knock her excellent backing band, but this is a recording of Feist when (I think), she's at her best: when she's alone.
download: Feist -
Let It Die (live on WOXY)
now playing: Stevie Wonder - We Can Work It Out (Beatles Cover)
Monday, October 03, 2005

my mind's not right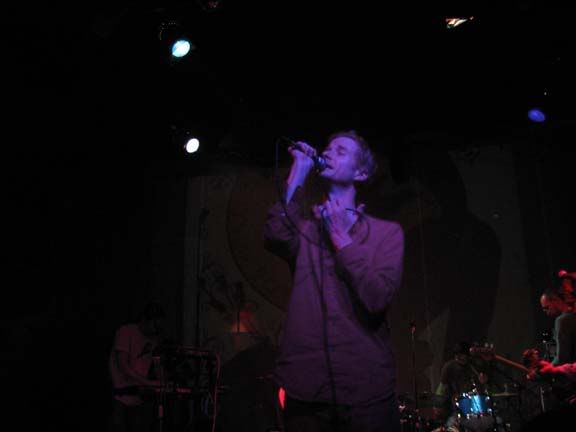 Somehow
the National
headlining show last night became the
Clap Your Hands Say Yeah
show. I know they're the current band of the month (or last several months), and I still think their album is a stunning debut, but they have
one
40-minute album, while the National have three (and an EP) under their belt.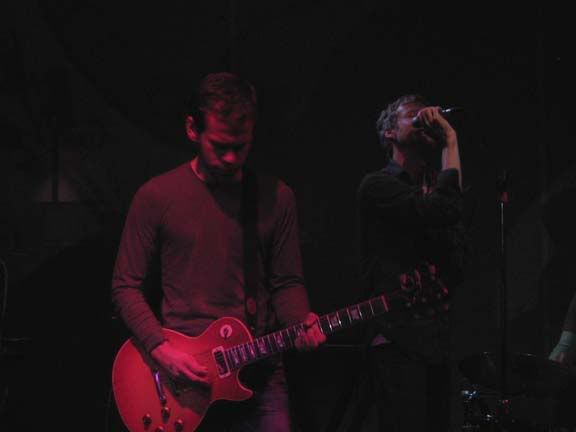 Alligator
, the National's latest, is a little subdued, and admittedly, I wasn't overly excited about it at first, but its quickly snuck into my favourites of the year. Their live show was a pleasant surprise, in that it was far more intense than what one would expect after hearing the record. Singer Matt Berninger, in particular, looked almost troubled between songs, pulling his mic from in front of his face and quickly darting towards his drink.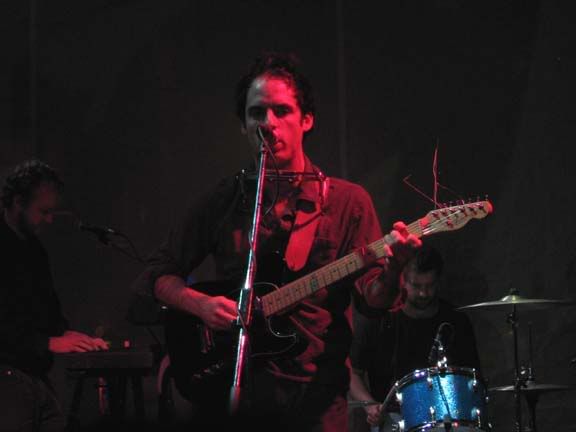 I was happy to find out that, in addition to the album cuts, Clap Your Hands Say Yeah also have 5 or 6 new tunes that they're road testing. I have to say though, I wasn't blown away. The album was another grower for me, and if I'd seen the band before hearing it multiple times, I would've probably written them off as fairly inconsequential. In addition, Alec Ounsworth's vocal quirks, that I quite like on the record, were a little over the top in person. That sorta off-tune-on-tune thing is endearing recorded, but when its coupled by mumbly slurring of lyrics live, it becomes a bit much. I wouldn't call it disappointing, but their live show definitely doesn't live up to the record.
Unrelated, but good to know, Vancouver's own
the Organ
, play (what I think is) their biggest headlining show in our fair city to date. The girls bring their neo-new-wave action to Richard's on November 26th.
now playing: LCD Soundsystem - Tribulations
Sunday, October 02, 2005

i'm a frightened fickle person
Oh
Fiona
, why do you hurt me so? I know you weren't feeling Jon Brion's production, but he did so much for
Kanye
.* "Better Version of Me" was such a great tune before Mark Elizondo got his hands on it. Hell, the whole thing was so much better. WHY?? Sure,
Extraordinary Machine
was never going to be as good as
When the Pawn...
, but this re-recording... it's breaking my heart.
You might know this one as, "Used To Love Him."
download: Fiona Apple -
Tymps (The Sick In The Head Song)
Tonight Vancouver gets to find out if they should, contrary to the song, believe the
hype
. Full report later tonite.
*okay, that's a lie, I liked the mixtape non-Brion'd versions of some of the songs from
Late Registration
better.
now playing: Fiona Apple - Waltz