Tuesday, October 30, 2007

everyone's a critic and most people are djs
If you haven't already heard,
Stylus
is closing it's (virtual) doors tomorrow. They already have a final
Bluffer's Guide
up (fittingly on themselves), but I wanted to link to my favourite articles.
- Lisa Oliver's
Top 10 Musical Turn Offs
- Dom Passitino's review of
Tori Amos' Beekeeper
, which is more entertaining for the outraged comments.
- Dom's rather impassioned celebration (nee defense) of
"Kiss Me"
, which I agree with almost wholeheartedly.
- Andrew Unterberger counting down the
Top Ten Worst Lines on Interpol's Debut
- And
the Worst Albums of 2004
Alejandro Escovedo
is at Pat's on November 17th.
The Pony's show has been moved to Pat's on November 7th (tix for Richard's will be honoured).
Scout Niblett
is at the Media Club on November 9th for an early show (doors at 6pm). (thanks to bjorkedoff for the reminder)
Labels: show announcements, stylus
Monday, October 29, 2007

ghouls night out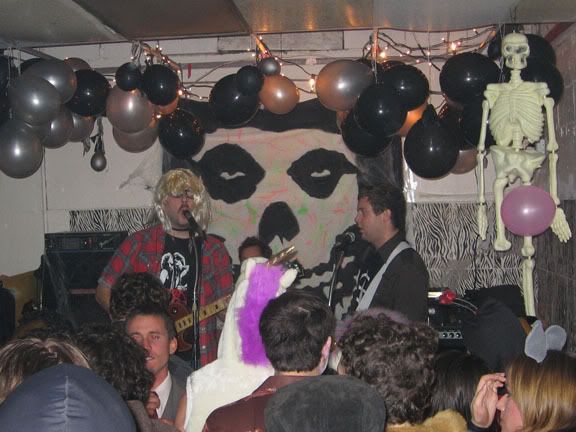 On Saturday, I attempted to catch both
Paradise Island
and
Tara Jane O'Neil
at the Secret Space, while bouncing next door to take in the Misfits cover night at the Emergency Room, but I managed to miss TJO when I got wrapped up in Nu Sensae/N213's joint set at the ER.
Paradise Island features Erase Errata's Jenny Hoyston, whose set was a mix of experimental, almost ambient noises and pretty standard guitar songs. It was sort of hit or miss, but it wasn't as if one of the aforementioned styles was entirely well executed and one wasn't. The highlight for me was when a bunch of sleigh bells and tambourines got distributed around the room and everything was bathed in a wash of jingling.
It was the first time I've been to the Secret Space as well. It's a fun little room. They also had a wicked pumpkin on display, that I clearly should have taken a picture of.
After Pardise Island's set, I made my way next door to the Emergency Room. The Nu Sensae/N213 set that distracted me from getting back to the Secret Space in time for Tara Jane O'Neil was pretty great. Actually, everything was pretty great, but the Mutators' set was awesome (shocking that I'd think that, I know). If you can't sing like Danzig (and how can?), you may as well sound like you're shredding your vocal chords.
There were plenty of great outfits on display, which of course included Misfits make-up and a more than a few Joey Only hairstyles (I know there's an actual name for that, but I don't know it).
I once again neglected to grab a Mutators 7" before they ran out/stopped selling them. The good news for me (and you) is that they're at Audiopile now and at Scratch later this week... or you can get one by mail from
the Broadway to Boundary
.
Lots of great local stuff going on this week, as you can see over in the sidebar.
Unfortunately, Taxes won't be playing Shindig this week, but A Relative Distance, who were supposed to play the week that Treacherous Machete won, are filling in. Somewhat Taxes related, Sean is doing
Morning Brew
again. Don't call it a comeback.
I got my hands on the new Clips record,
Matterhorn
. Full review will be up on
Streethawk
tonight/tomorrow morning (plus an interview), but in the meantime, I will say that my expectations have been satisfied (and they were pretty high). Grab your own copy on Thursday at the ANZA.
Labels: mutators, nu sensae, paradise island, show recaps, the clips
Friday, October 26, 2007

sleep on your back and kick off the attack of carnivorous things
The upside to the fact that I finally have a regular day job, instead of several jobs that took place at odd and sporadic hours, is that I'm no longer broke all the time. The downside is that sometimes when I'm leaning on the balcony of the Plaza at midnight on a Thursday, I can't keep my eyes open. And that is precisely what happened last night, so I left
Sunset Rubdown
a little early.
I caught the midset rendition of "Us Ones In Between," and frankly, I'm content with that.
Magic Weapon
played right before the headliners. The two piece (keys and drums) actually sounds a bit like a stripped down version of Sunset Rubdown. Nothing to write home about, but they weren't bad.
For some reason,
Johnny and the Moon
were on first, so I actually missed everything but the tale end of their set. Unfortunate.
Only
is showcasing all of it's covers from years past on November 9th at Gaff Gallery. Later on that night at the Astoria,
Adelaide
,
Petroleum By-Products
, and
No Gold
play the after party.
Steve Aoki
is at Celebs on November 9th.
Paul D
supports.
Speaking of Devro, are you keeping tabs on the
Mad Decent
blog? You should.
JPNDRDS
are at Pat's on November 10th with Petroleum By-Products,
Cheerleader Camp
, and
the Last Slice of Butter
.
Sex Attack
is throwing a birthday party for their friend Shannen on November 3rd at Frank's. If you don't know Shannen, you're welcome to show up and dance anyhow.
If you're not into the live show options tonight, Fuse goes all night at the VAG and
Plan B
goes down at the Columbia.
Labels: johnny and the moon, lazy show recaps, magic weapon, show announcements, sunset rubdown
Wednesday, October 24, 2007

and for all the little piggies life is getting worse
As you've probably read elsewhere
Oink got busted by Interpol
(not the band).
DJ Rupture
has some rather poignant analysis.
Meanwhile, a bunch of Canadian musicians release a statement saying that this is exactly the type of thing that they
don't want
. In fact, Sum 41 goes this far:
"It's essential that any new copyright law allows the fans to share music without the threat of litigation" Derek Whibley: Sum 41
(via
Rob
)
Some geeks are
really sad
. (that includes me)
You can't argue with the legality, but as far as protecting sales goes, I can definitely vouch for the fact that using the site resulted in me buying more music than I did before (and I didn't really think that was feasible).
In semi-related news, the major labels can't agree on a preferred method of digital distribution, but they can agree to hold hands and
sue usenet
. Some geeks are really sad, circa 1996. Most everyone else is thinking, "wtf is usenet?"
Fake Shark - Real Zombie
have a pair of shows this weekend. They play
Salbourg
on Saturday and open for
Stinkmitt
at the Backstage Lounge on Friday. Stinkmitt and FSRZ at the Backstage Lounge? I predict trouble of the most entertaining variety.
Nicole Atkins
opens for the Pipettes on November 3rd.
Also on the 3rd,
Lions in the Street
are at the Railway with
Run GMC
and
Treacherous Machete
.
And finally, on the same night,
Salbourg
hosts
Whitey
and
Rory Phillips
.
Labels: show announcements
Monday, October 22, 2007

what do you think will happen next?
Post-weekend update...
Saturday:
I certainly wish I had seen
this
before the
Final Fantasy
show on Saturday. It seems that the resident Vancouverites on the FF message board held it down though. Good call to whomever requested "the Sea" (which was played over a bed of very nice sounding feedback).
What can you really say about Owen Pallet's live show that hasn't been said by now? I'll spare you the fawning praise and just note that Richard's was more packed than I've ever seen it and he covered "An Actor's Revenge" (by Destroyer, as you probably know).
I quite like
Great Lake Swimmers
on record, but the similar sounding tunes at mercilessly similar tempos made for a somewhat boring (albeit rather pretty) opening set.
I was driving around trying to find a place to park for most of
Basia Bulat's
set (like, in pay lots and everything). My penance for not taking transit is that I heard her second last song while hastily relieving my bladder, and caught the last song from the floor, which sounded pretty good.
I think this is the first time that urination has made it into a show recap. Hurrah!
Ardenstreet
on Flickr has photos. So does
Steve
. A commendable job by both, especially considering the lighting.
Friday:
I made it to the Emergency Room for the
Modern Creatures
7" release. I'd actually only heard them via MySpace before, and the live version of the dueling basses/reverbed girl vocals combo that they spit out certainly didn't disappoint live.
I've actually seen
Nu Sensae
three times in the last month, but I think this is the first time that I've ever written anything about them, other than giving a nod to their Wire cover. Though they're less precise and more snarling than my favourite post-punkers, they share a no frills approach to things. Bass and drums tangle up with screaming vocals and there's lots of stops and starts, but they keep it pretty simple, which isn't always the worst idea. Like I mentioned, I've seen them almost once a week for the last month, and I'm excited to see them again, if that says anything.
I got to the ER in time to see A.R.C., who were Jesse from Channels 3+4/Shearing Pinx/Cheerleader Camp/etc on sax and another guy on drums. Not exactly my bag, but I couldn't find anything to complain about either.
Jesse also played DJ along with Justin from Mutators. The mix of soul, new wave, and Madonna made for a good counterpoint to the noisier live music.
Speaking of Mutators and Modern Creatures, they're playing together at the Balmoral on November 9th. Ghetto fab.
Everyone's favourite fake DJs,
Sex Attack
, will be pressing play on their laptop and rocking you harder than most guys who pack around two crates of vinyl at Frank's on Franklin on November 17th. If you're not mulling around in front of your computer and telling dudes off for pissing all over the sanctity of turntablism, go and get sweaty and have some fun.
If the new Wu-Tang gets bumped back again it'll come out on my birthday.
Best present ever.
Rob
outlines why our government is stupid (if you needed another reason).
Labels: a.r.c., basia bulat, final fantasy, great lake swimmers, modern creatures, nu sensae, show announcements, show recaps
Friday, October 19, 2007

champion
My friend Shea got hooked up with some freebies to
Kanye
on Wednesday night and was gracious enough to invite me along.
We got to the Garage just as
this guy
was finishing up his set. I didn't really hear enough to pass judgement, but I will note that if he never gets to play a stadium again, he can at this take comfort in the fact that he got to drag along what seemed like everyone he knew onto the stage with him.
I always forget just how many singles
Ludacris
has released, which led to be being surprised that I recognized nearly his entire set. He mostly stuck to rocking his radio hits, and also made the wise decision to play annotated versions of the songs that he's done guest verses on. I'm going to assume that last night was the closest I'll get to ever seeing a live rendition of Ciara's "Oh." Luda was pretty energetic, but it felt like he went to "stadium hip hop show cliche" training camp before the tour started. The crowd ate it up, but some of antics were a little campy.
If the crowd were into Luda, they were absolutely mental when Kanye kicked into "Through the Wire" to start his set. He kept the banter to a minimum, and mostly let the music do the talking, and although I'm one those people who finds the "Louis Vuitton Don" more funny than obnoxious when he starts to yammer, that was still fine by me. Joined on stage by a sizable string section (that included a harp), some horns, a keyboardist, and a DJ, the instrumentation was a little more filled out than the last time I saw him (with just A-Trak working the decks at Sasquatch). On some tracks, like "Jesus Walks," the miniature symphony was pretty amazing, but on some of the other tunes, they were a bit superfluous. The pacing of the set was a bit weird to. All in all, he's not, as claimed, "the greatest show on earth," but it was pretty damn good.
In other Kanye news,
Graduation
is already certified double-platinum.
Paradise Island
(aka Jenny Hoyston of Erase Errata) plays with
Tara Jane O'Neil
,
Kellarissa
, and Self Help at the Secret Space (next to the Emergency Room) on October 27th.
Later that night at the Emergency Room,
Mutators
,
Vapid
,
Nu Sensae
, and
Ladies Night
play Misfits covers. Consider this my formal request for a Wire cover night some time in the future. That's base purely on my adoration for Nu Sensae's snarling take on "12XU."
While we're talking covers, it's worth mentioning that Shake Appeal (featuring members of Ghost House, Sun Arise, Master Apes, and the Parallels) will be doing Stooges covers at the Cobalt on October 27th.
Check the trailer for the forthcoming
Ladyhawk documentary
. (thanks
Pinder
)
I usually try to keep it local, but I wanted to point out that
VFest
is coming to Calgary. This may be significant to some of you because it's scheduled for the same weekend as Sled Island, and the potential conflict is causing the organizers of the latter a bit of stress apparently. Hopefully they get it sorted out, because the Sled Island line up was about 10 times as good as VFest was out West.
Sasha Frere-Jones thinks he's
smart.
Carl Wilson
actually is
.
Thanks to everyone who commented/emailed about the 7" thing... anyone other advice is also welcome.
How was the Fool's Gold tour at Celeb's last night? I've been out to shows every other day this week, so I opted to sleep for more than four hours last night.
Labels: kanye west, ludacris, show announcements, show recaps
Wednesday, October 17, 2007

we need air
A brief synopsis of Shindig:
-
Japandroids
won. They closed with a new song. I think it was called "Born to Run." It slayed. It's not actually called "Born to Run," but it is Springsteen-related, though not Springsteen-esque. Brian, I'm sorry for yelling out "assholes" at you. I didn't know that was your mom sitting behind me.
-
Lownote
sort of sounded like Lord of the Dance meets Judas Priest. Maybe you're into that.
- Honestly, I only paid attention to
Vonnegut Dollhouse
for one song before deciding I would prefer to chat outside.
- Kudos to Dan McCash for upping the ante in the as-offensive-as-possible-without-being-racist-or-sexist joke category!
- Chris-a-riffic held it down in the MC department, because Ben Lai was away. He did a splendid job.
Mark gave the heads up about a fundraiser that Oxfam is holding, I'll let him tell it in his own words:
Murray Atkinson, Hey Ocean!, Lotus Child, The Wassabi Collective, Freeflow and DJ Jesse James play The Plaza Club this Thursday Oct 18.
Doors 8pm, and tickets $15 in advance (from Zulu and Scratch) and $20 at the door, and proceeds go towards Oxfam Canada's efforts to make poverty history (event's called Music4Change - Party against Poverty).
And finally, does anyone out there know anything about pressing up a 7". Specifically, where to get it done and what I can expect to pay (for... a couple hundred or so). Please and thanks.
Labels: shindig, show announcements, show recaps
Tuesday, October 16, 2007

i want a restorative beer, to take my mind off these tears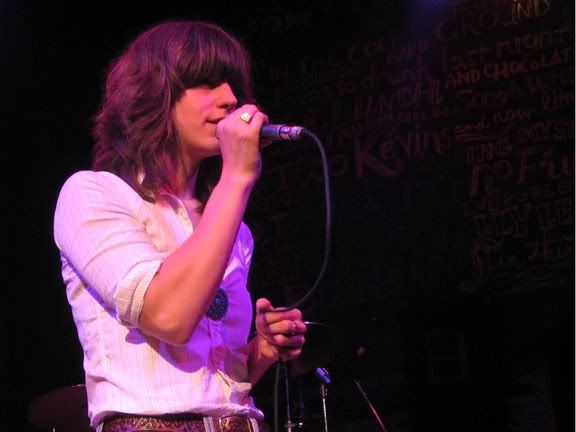 The Fiery Furnaces
were back in town last night, and unlike their visit
last June
they actually brought some keyboards this time (four of them, to be exact). That was probably pleasant news to anyone who was disappointed with the fuzzed out guitar based version of the band that showed up last time they were here, but if you're one of the people who wishes they wouldn't "mess up" their songs in general, you were still out of luck. Fortunately for me, I'm not one of those people.
The Furnaces pulled heavily from their latest,
Widow City
, notably omitting
Blueberry Boat
(entirely I think) from the main set. Some of the songs were fairly faithful to the studio versions, but a lot of them differed substantially, and almost everything was a lot heavier sounding. The entire performance was pretty great, but things really picked up in the encore. After riffing through "Don't Dance Her Down," an admittedly stiff version of "Single Again," and then surging back into "Don't Dance Her Down," they took a request for "Chris Michaels" that totally destroyed. They also took my request for "Waiting to Know You" - it seemed they were a little out of practice on that one - before closing with a great rendition of "Restorative Beer."
This seems like a good time to tell/remind you that
BlueberryBoat.com
is the place to find all things Fiery Furnaces related.
Pit-Er-Pat opened and almost put me to sleep. They had really nice merch though.
The Clips
CD release show is now on November 1st at the ANZA Club. Small Fame and
the Paper Cranes
support, and DJs will rock your body late into the evening afterward.
TI was scheduled to play at Plush on November 7th for a ridiculously high fee.
But then he got himself arrested on a federal charge.
No official word yet, but I'll give you 100-1 odds that it's canceled soon. (thanks Chris)
Bison
is at the Cobalt on Halloween with Crowbra, OSK, ESDS, and
Cryptos
. (thanks Rob)
Stereogum
has the details about a forthcoming record of Mark Szabo covers by the Choir Practice's Marcy Emery. They've also got an mp3 of a track that Dan Bejar sings on. Check out
this old Discorder interview
that Christa Min did with Mark on the verge of Capozzi Park's break up... seems the record idea's been kicking around for awhile.
Since I'm not judging Shindig for the rest of the year: go, Japandroids!
And finally,
Ticketmaster
is suing scalpers who use software that let's them beat TMs own ticket system, which "denies consumers the opportunity to purchase tickets to events at a fair price." This is the music business equivalent of the US calling out other countries about WMD.
Labels: show announcements, show recaps, the fiery furnaces
Sunday, October 14, 2007

the party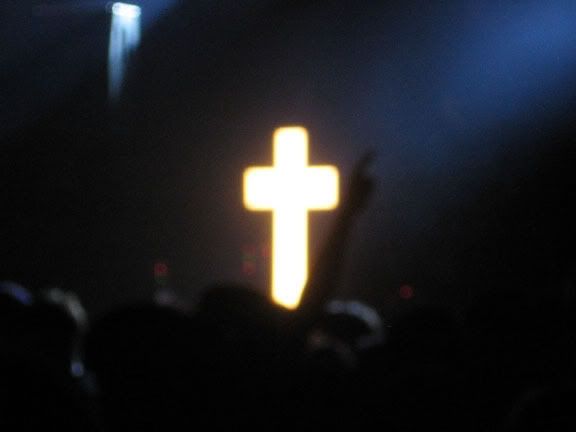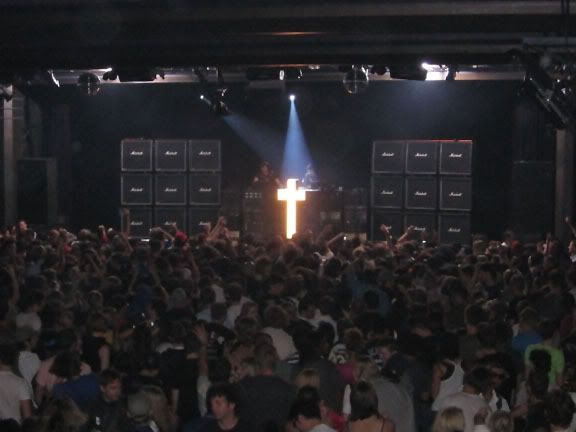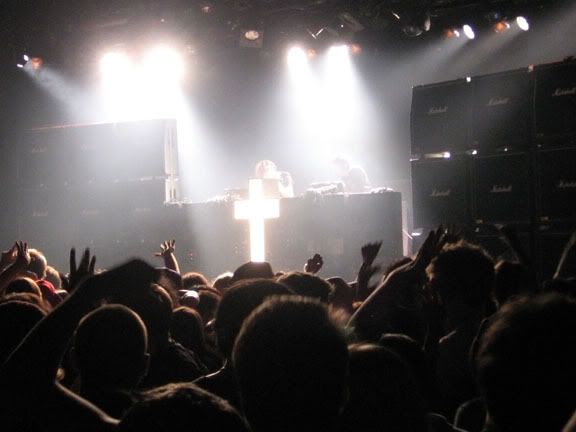 now playing: Guns N Roses - It's So Easy
Labels: lazy show recaps
Saturday, October 13, 2007

earth bound
A real quick about the Bison show tonight, because I'm just about to leave my house:
VENUE CHANGE! 2NITE!
Body: yo, the show tonight has moved from the SWEATSHOP on Pandora to the JAPANESE HALL at 487 Alexander (at Jackson)!

still BISON, CHINACREEPS and the HOOVERS

still a benefit and still 6 bux, but NOT early...starts at 10pm

ramps will also be provided for your shredding enjoyment

dope, sees ya dar!
-bison
UPDATE: Justice
after party
is OFF too. Keep your ears open after the actual show. They're trying to reschedule. Fuck the police and all that.
now playing: the Red Light Sting - When in Rome, Collect the Bone
Labels: show announcements
Friday, October 12, 2007

do the egg beater
A ton of news from
Nardwuar
:
On November 1st and 2nd he'll be celebrating his 20th year on the air at
CiTR
with a 20 hour live on-air interview marathon. He'll then top off the feat with an all-ages show with
The Evaporators
in the SUB Ballroom.
The Tranzmitors
,
the Pack
, and Kid Kordene. November 2nd also sees the release of a new Nard DVD and the Evaporators new disc,
Gassy Jack and Other Tales
.
If you got shut out on
Justice
tix (or even if you've got some), you should know that the after-party is at the Sweatshop (drs at midnight). There will, of course, be surprise guests, but the
Salbourg
guys are scheduled to hold it down in the front room, while
Defektors
,
Shearing Pinx
, and
Mutators
bring the noise in the back room. Apparently, it's also going to be the last night at the Sweatshop, which people are deeming the "destruction party." Take that as you will.
The legendary
Prince Paul
is in town on October 30th, and rather than spin at Plush or Republic or something like that, he'll be at the Balmoral. That's keepin' it plenty real.
And tonight, in addition to everything else that's going down,
the Good News
are at Casbah (at Library Square) as part of the Shout Out Louds after party.
Labels: show announcements
Wednesday, October 10, 2007

the most perilous of foes
I'm actually a bit busy at work, which is a change, so I'll leave the news until tomorrow, and just give you a little recap of night two of round two of
Shindig
.
The Skedaddlers
started things off, and were a bit of a rarity for Shindig in a couple of ways. For one, they were sort of old. Before anyone gets offended by that, they weren't old enough for me to pass them on the street and notice, and they weren't old enough for me to offer my bus seat, but they weren't in their 20s, which is the Shindig norm. They also stuck out because they played a pretty straight ahead brand of rock. Think really old Wilco, Tom Petty, 54-40, and you get the idea. They didn't blow me away, but the musicianship was strong, they had some decent tunes, and there are far worse things to endure than a better than average bar band.
Hawaiian Bibles
were a last minute fill-in after A Relative Distance dropped off the bill. For some reason, I was certain that they were called "Hawaiian Babies," until I actually got to the Rail, and I have to admit, I was a bit disappointed that their set didn't involve any tiny hula dancers. Thankfully, they didn't harp on the bible part either, but I couldn't really get into their songs.
Sometimes it feels like you can't throw a White Stripes CD without hitting a two-person, guitar and drums, blues band, but
Treacherous Machete
pulled out a few tricks to differentiate themselves from the pack (err... no pun intended). Even though Burnside has a pretty classic sounding croon, he never came across as overly serious. In fact, he was wasted, which was sort of awesome. The guys handle standard three chord blues pretty well, but they were at their best when they stretched things out, and got a bit noisier. Bonus points for bringing out an actual machete at the end of the night. Maybe it came in handy if the guy who mumbled "everyonnneezzz herrrrrree izzzz dead" after he found out the Skedaddlers hadn't won was serious.
Admittedly though, the best part of the evening was the wasted dude who danced right in front of the stage for every band.
JPNDRDS play next week!
Labels: shindig, show recaps
Monday, October 08, 2007

night windows
I'm not overly fond of the new
Weakerthans
record. It's not bad per se, but I certainly haven't had it on repeat. I'm sure that's part of the reason that I wasn't overly excited about their performance on Saturday night at the Commodore either. They're still really tight live, and as a group they're probably the most affable musicians in Canada, but a set that leaned so heavily on their last two records left me mostly waiting for them to drop in the occasional "oldie." And I hate being that guy at shows.
On the bright side, I didn't find myself being the guy at the show who was yelling "booooooring" every time they played a down tempo number. They're not boring, you're slow, asshole.
Anyhow, more than seeing the Weakerthans again, I was pretty excited to see
the Last Town Chorus
. Megan Hickey and her slide guitar were backed up by a lone acoustic guitarist for most of the set, although they were joined by Stephen Carroll and Jim Bryson (who was a Weakerthan for the evening) for a couple numbers. Despite the limited instrumentation the country-folk meets shoegaze thing that characterizes the record was still in full effect. She's also got one of those voices that could prop up songs that are far less well composed than the ones she writes. I think the whole set was a bit too low key for most of the Friday night crowd, but I was in a pretty low energy mood, so it was more than fine with me.
On an unrelated note,
Ladyhawk
has a blog.
now playing: Robert Johnson - Love in Vain
Labels: show recaps, the last town chorus, the weakerthans
Friday, October 05, 2007

so, i'm drunk at the funky pickle
Cadence Weapon
is finally coming back to Vancouver, and he's finally headlining a show on November 30th. It's in early show because of Half Alive, but maybe they'll convince Rollie to stick around a spin later.
Speaking of Half Alive,
Shout Out Out Out Out
play a special editions of the weekly on December 7th.
Bison
play an all-ager at the Sweatshop this Saturday.
Also this Saturday and also all-ages,
My!Gay!Husband!
(and I presume Tony and Tyler too) are throwing an all-ages edition of Half Alive in UBC's SUB Ballroom. Apparently, it'll be a monthly if it goes off well.
And, since I've already typed "Half Alive" and a half a dozen times, why not mention that they're bringing
KRAME$
to Richard's on November 9th.
Before
the Black Lips
play Richard's on October 11th, they'll do an acoustic in-store at 5pm at Red Cat.
Don Caballero
is at Richard's on December 8th.
Capillary Action
(who feature Joe Lally from Fugazi) are at the Astoria with
Shearing Pinx
on November 19th for a fundraiser for
Gaff Gallery
. Oh, and in case you haven't heard,
Ian MacKaye's
not dead.
Wintersleep
is at Richard's on November 2nd.
Puffy Ami Yumi
are at Richard's on November 11th.
Jimmy Eat World
are at the Commodore on October 10th.
Maritime
supports.
Tonight at the Emergency Room:
Shearing Pinx
,
Mutators
,
Twin Crystals
, and
Nu Sensae
. Hot shit.
And finally,
MIA and Yelle
! Together! (Potentially) Amazing!
I lied. One last thing: congrats to Matt who wins the
Fader Contest
. Thanks to the fine people at
the Fader
for hooking up the prize.
Labels: show announcements
Wednesday, October 03, 2007

matterhorn
Edo from
the Clips
wrote a dispatch from the road to let people know that the band's new album will be out on November 2nd. You might note that Friday's aren't typically new release days, but the guys plan to unleash their first full-length on the world in typical Clips fashion: at a sweaty dance party. The CD release show will be at Brad Gough Studios, and more details are surely forthcoming. Edo's filling in on bass (albeit on a midi keyboard) for Bend Sinister, since Dave was forced to come home due to medical reasons. I hope you'll join me in wishing Dave a speedy recovery.
Modern Creatures
are at the Emergency Room on October 19th with
Taxes
,
Nu Sensae
, and A.R.C.
Josh from the
Painted Birds
emailed about their tour kick off party at the ANZA on October 12th.
Ammonia Stars
open.
The Digitalism and Matthew Dear shows have been combined, which means the former changes dates (to one day later) and the latter changes venues (from the Media Club to Richard's). Tickets for either original show will be honoured at the new date/venue, and I presume you can get refunds for Digitalism tickets if you can't make the new date. (thanks Simon)
Labels: show announcements, the clips
Tuesday, October 02, 2007

magick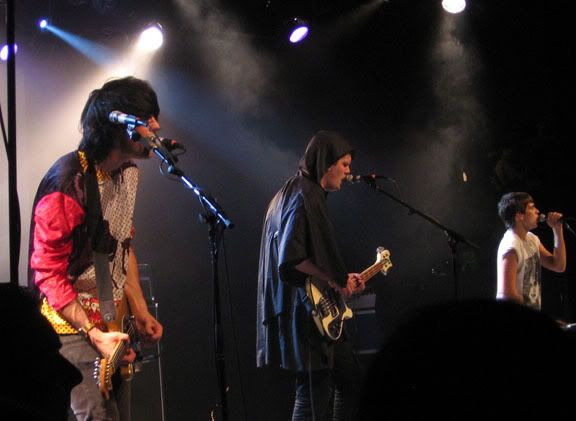 Last night, Vancouver welcomed back (the now Mercury Prize winning)
Klaxons
, who returned to the Ballroom after playing Richard's this past April. Despite the fact that they're still riding mega-hype across the pond, the crowd was quite sparse - they would've filled Dick's and not much more. The less-than-packed room didn't seem to bother the band though.
When they came through the last time, everything sounded sludgy and thick. It was a few steps removed from the sound on their record, but I actually thought they came across quite well. Yesterday, they still sounded a bit less polished than on CD, but things were a bit closer to what comes out of your stereo when you throw their album on.
Their popularity overseas means that they know how to work a crowd, and the numerous shows that they've played means that they've developed into a pretty decent live act. Still, it doesn't bode extremely well when the most interesting part of the set is the costumes.
M.I.A.
had added another show at the Commodore. This one goes a day earlier than her already sold out November 14th date, and presumably also features Cool Kids as the opening act. Assuming I don't get shut out for ticket in the pre-sale tomorrow, anybody want to buy my single for the 14th?
French Immersion Records is putting on a "Halloween Showcase" (a little early) on October 20th at Hoko's.
Adrian Painter & the Apxllx Ghxsts
(who are celebrating the release of their 7"),
The Lost Lovers Brigade
,
Wintermitts
,
Joel & the Last of the Neighbours
, Chris-a-riffic,
Dylan Thomas
,
gr8-2000
, and
David's Mind
all play a show that promises "candy, costumes, and prizes." The Dylan Thomas is not, however, zombie
Dylan Thomas
. Halloween, my ass.
Edit: MIA Presale password is "boyz" for the GMAN & RIZK one, and I'd presume the Spectrum one is "kala," since that's what it was last time. Sorry... should've posted that earlier.
Labels: klaxons, show announcements, show recaps
Monday, October 01, 2007

so stupid so smart
This entry is brought to you buy: £
The Awkward Stage
is at the Railway with
Ghost House
and
Vonnegut Dollhouse
on Friday (aka the start of the Canucks' season aka woo!)
PFork reports that
Cool Kids
are opening for MIA, which further complicates my seemingly impossible plan to catch either Land of Talk or Celebration that night as well.
Speaking of Celebration, Stereogum has the
video and mp3
for "Evergreen," which leads off
Modern Tribe
(out on Tuesday).
There's a Halloween show at
Hoko's
with
JPNDRDS
,
Treacherous Machete
,
Canaries
, and
White Owl
. I'm officially petitioning Brian and Dave from JPNDRDS to dress up as the White Stripes.
JPNDRDS are at
Shindig
in two weeks. Canaries played there last week. Treacherous Machete play there next week.
Daniel from
Carpenter
emailed about a bunch of shows that they're playing soon. I haven't checked out their music yet, but I take it that they're a punk band and apparently they like John Cougar a lot... I don't know if that's the local one or Mellencamp.
They're opening for
Attack in Black
and
Ladyhawk
(one of these things is not like the others) on Wednesday at an all-ager at the Sweatshop, are headlining the Sweatshop on November 9th with
A Trophy LIfe
,
Johnny Good
, and the Grave Life, and play with Bionic and
Trigger Effect
at Pub 340 on November 24th.
Labels: show announcements

down is the new up
You know, I usually try to keep things sort of local. For one, because I like to talk about stuff like that. And two, because I like to try not to talk about the same thing that you've already read on a million other blogs. But if you'll indulge me, I felt compelled to spill at least a few words on Radiohead.
This is... well, it's one of those things that makes you say,
wow
.
If you haven't read it elsewhere (and I'm sure you have), you can download the new Radiohead record starting on October 10th for a grand total of as much or as little as you want (plus a 45p processing fee).
I don't think I need to mention how incredibly cool this is.
For those of you who like to shell out for a physical artifact, you can also grab that for 40 pounds (how do you make the "pound" sign on a N. American keyboard?). $80 CDN is a bit pricey, but you get 2-LPs, 2-CDs, lyric books and other goodies, plus everything is housed in a hardback book and a slipcase. And you still get to download the record on October 10th, even though the made-to-order packages don't ship until December 3rd.
See that? I didn't say anything novel there. That's why I usually avoid standard news reporting... this has me pretty excited though.
now playing: MIA - Bingo (Diplo Mix)
Labels: radiohead