Wednesday, June 29, 2005

you mean talib, lyrics stick to your ribs?
Talib Kweli
graces the stage of the Commodore with his presence on July 20th. Now you can see him without enduring the Black Eyed Peas... which you can't do now anyhow, because it's sold out. But you really didn't want to.
If you didn't get your ass in gear to get
Pearl Jam
tickets before they sold out, and you're willing to endure a bit of a drive, you'll want to keep your eyes peeled for an announcement of a show at the beautiful Gorge Amphitheatre on September 1st (tickets should go on sale on July 9th).
Neil Young
now headlines Live 8 in Barrie, making it infinitely more tolerable.
Pop Wherry
lays one down on Tom Cochrane, who had complained about people complaining about the bill.
Teenage Fanclub
is at the Red Room, not Richard's as previously reported.
now playing: Suicide - Harlem (live)
Tuesday, June 28, 2005

we built another world
layout problems resolved.
The times really are-a-changin'
The new
Wolf Parade
LP leaked and has next big (little) thing written all over it.
This is on the last EP, but if you haven't heard that yet, it's as good a place to start as any. If you have heard the last EP you might not like this as much... I blame Isaac Brock.
download: Wolf Parade -
Dear Sons and Daughters of Hungry Ghosts
The album comes out sometime in August. I would tell you the exact date, but SubPop's website ain't working.
Sorry for the brevity, but I'm going to go fix my bike, and then ride it.
now playing: the Brunettes - Holding Hands, Feeding Ducks
Monday, June 27, 2005

if you hate your friends, you're not alone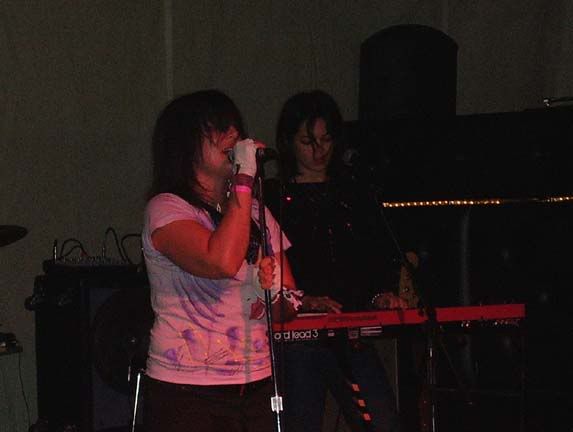 The
Pretty Girls Make Graves
show last night had all the elements of a wonderful evening: shitty sound, expensive drinks, and dudes who work for a shoe company who got mixed up and thought they were at the Warped Tour. At least it was two bucks. The band played for about an hour and left without encoring, but did play a bunch of new songs. From what I could make out, they sounded pretty good. How does Sonar get by with a 16 channel mixer?
Sleater-Kinney
is on Letterman tonite. Set your VCR/Tivo.
The Coup rap about killing government officials and revolutions on October 7th at Richard's.
now playing: Wolf Parade - Dear Sons and Daughters of Hungry Ghosts
Sunday, June 26, 2005

car wheels on a gravel road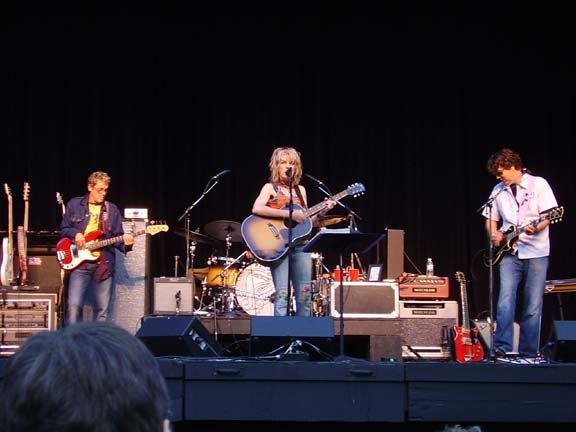 So an amazing thing happened to me today. I was sticking to my plan of attempting to hear
Lucinda Williams
whilst sitting outside the venue, when one song into
Jason Collett's
opening set, a wonderful, incredibly generous stranger offered myself and my friend two tickets to the show, asking nothing in return (which was lucky, as I had very little that I could give, other than my extreme gratitude, which I of course did). Not only that, but the tickets were a pair of absolutely stellar seats in the 4th row, dead centre. It's unlikely, but if he happens to stumble upon my little corner of the internet, thank you again for making my
night
,
week
, a long long while.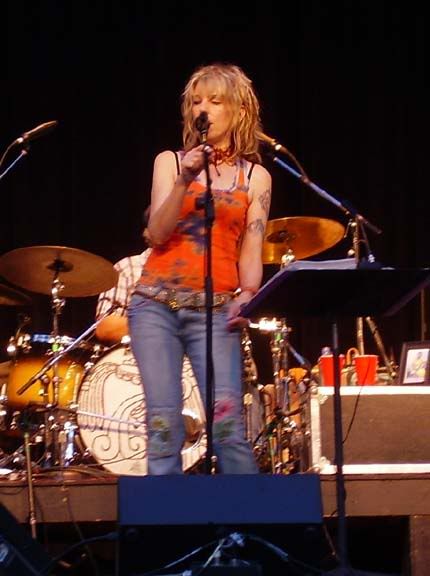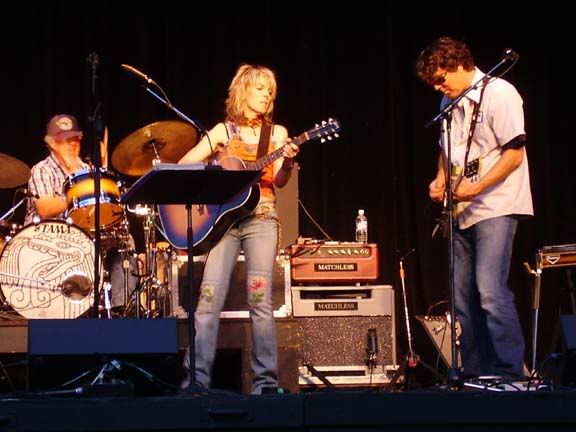 Lucinda played songs mainly from her last three studio releases, which was great for me, since those are my favourites of hers. She also played five (of twenty-three) new songs. The new tunes varied in quality, but "West" and "Jailhouse Blues" were absolute stunners. "West" in particular was the kind of gorgeous slow Lucinda tune that will be a definite highlight on the next album. Other highlights were "Essence," "Reason to Cry," "I Lost It," and blistering versions of "Righteously" and "Get Right With God." The quality of the live performance can be credited in no small part to her backing band. "The Love," as they were introduced, all reside in California now, but sound like the house band in an old Memphis recording studio... or at least what you'd imagine that would sound like.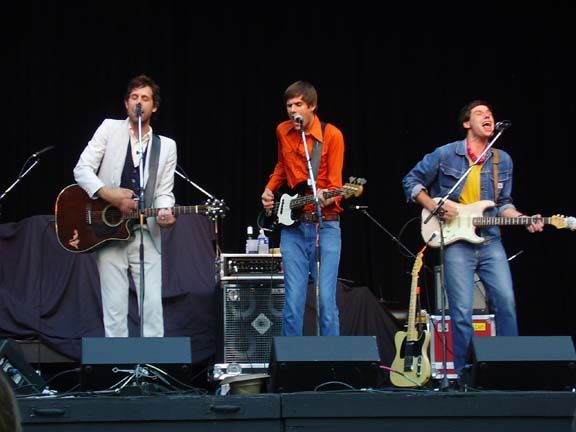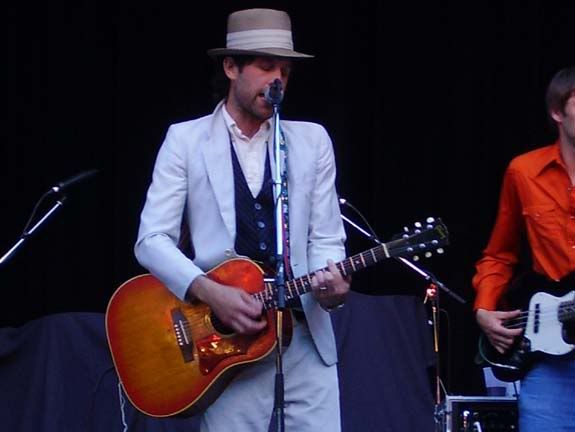 As mentioned, Jason Collett opened. Jason and his band stuck to the same set they played last night at the Media Club, but were rewarded with a much more attentive (albeit a little restrained) audience this time around. I overheard a couple of conversations around me expressing the impressive nature of their performance, so hopefully he's won a few more fans that'll show up next time he comes to town (which he reported would be the end of Summer or September).
now playing: Lucinda Wiliams - Drunken Angel
Saturday, June 25, 2005

these are the days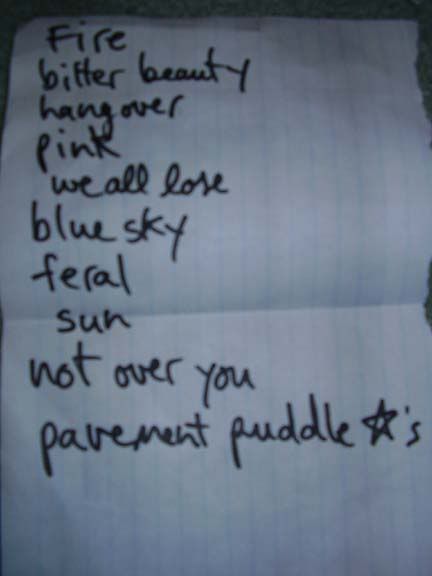 Chances are you missed out on the free Jason Collett show yesterday, which is unfortunate, because it would've been nicer to have more fans and a few less chatty industry people. It was Jason's first show with his new touring band, but they sounded really really tight. I missed the first four songs due to Vancouver's characteristically unreliable public transit system, but it was well worth the trip down.
LCD Soundsystem's
James Murphy
talks to the Guardian.
(via
Largehearted Boy
) He does a great job of summing up how wonderful the cassette was:
"I loved mix tapes: the idea that if you were going out walking you had to decide what music you might need in advance. None of this carrying your whole record collection around on an iPod shit. The best I ever made was for my friend Marcus who taught me how to DJ. He was always a bit hostile to rock until I heard him playing a record that had Silver Apples on it. I went through his whole collection and started spotting all the rock tracks that had been sampled. He asked me to put all the originals on a tape so I made him this great mix with Suicide, Gang Of Four, Can and stuff like that. Tapes with handwriting on - they're so fucking beautiful."
I love mp3s as much as the next guy, but there was something about recording songs from 7"s onto a tape so it could be packed around by walkmen that was a little more rewarding then just downloading a compilation of vinyl rips via bittorrent and throwing them on an mp3 cd or IPod. Also, you can still obssess over the tracklist on a mixcd, but when you got a tape you knew there was recording and erasing and someone actually sat there and pulled all the cds and records out of their cases. That, and I can think of a lot of mixcds where I've thrown on whatever standalone track that's been hogging time on my WinAmp at that time, whereas with tapes you can almost guarantee that every song on the thing came from an album that somebody loved.
Next time it rains, I'm making a tape.
Which reminds me, I should really get around to picking
this
up.
now playing: LCD Soundystem - Slow Dive (Siouxie and the Banshees cover)
Thursday, June 23, 2005

good weekend
A weekend of music on the cheap:
Friday -
Jason Collett
plays a FREE show at the Media Club. Someone else is playing later that night, so he plays a set at 6:45 sharp. Doors at 6pm. Show up to get in.
Saturday - Mr. Collett opens for
Lucinda Williams
at Malkin Bowl in Stanley Park. You could pay $50 and actually get inside Malkin Bowl. Or you could sit outside on the hill that looks into the venue... even if you can't see, you can listen for free. Bring a picnic.
Sunday -
Pretty Girls Make Graves
play Sonar for $2.
Still crossing my fingers that
Diplo
spins somewhere after his opening stint at the JazzFest on Sunday too.
now playing: Diplo - Favela Strikes Back
Wednesday, June 22, 2005

you look a bit like coffee and you taste a little like tea
If you didn't take my raving about
Clap Your Hands Say Yeah!
very seriously (cause let's be real, I'm a little dodgy), perhaps the blessing of the ol'
PFork
(a not quite Arcade Firey 9.0) will change your mind. Alternately, if you hate Pitchfork, the respectable
Tiny Mixtapes
gives it an equally impressive 4.5/5. The Brooklyn Vegan points out that
Bowie
is even digging on them now. Is David Byrne's seal of approval much further away?
If you order it from
Insound
you even get 25% off, if you're setting up a new account (that goes for everything, not just Clap Your Hands). Keep in mind that after shipping, exchange, and GST/PST that makes most discs about the same price as they would be in stores here... but if there's been records you can't find, it's a good time to buy.
Entirely unrelated to music, but I felt it necessary to point out that
Rick Mercer is blogging now
. Not nearly as fun, and actually a little frightening:
Conservative MP Monte Solberg has a blog
. Neither host mp3s.
The Bravery
play Richard's on September 11th. You should hit this up so you don't have to relive the pain of your friends all bragging about how they saw the Killers there before they blew up and you missed it. Alternately, you could get new friends.
Ellen Allien
plays Sonar on October 10th for one of only six North American Dates. Take that Toronto and Montreal!
You've heard this already, but why don't we chat about the the Canadian
Live 8
lineup?
The Star's Ben Rayner pans the lineup
(
login/pass
).
Live 8 organizer Michael Cohl responds
. Maybe its in poor taste to bitch about the lineup at a charity event, but jesus this is bad. Celine can't even be bothered to show up. I certainly wasn't expecting Broken Social Scene and Death from Above, but they could have at least trotted out something equivalent to Coldplay or Snoop Dogg or Green Day. Y'know, somebody who's had a hit in the last half a decade.
now playing: Mirah - the Sun
Monday, June 20, 2005

i wanna bite that hand so badly
Maybe it's futile to complain about the state of big radio. But, I have to ask how our
neighbours to the West
hear bands like
Bloc Party
,
Metric
, and
the Arcade Fire
in regular rotation, and our
neighbours to the South
rock
the Decemberists
, while their new music show leaked the
new, unreleased, and shelved Fiona Apple
to the masses, while
CFOX
runs the other "modern" rock station into the ground, then procedes to switch formats so it can sandwich the very safest (even for commercial radio) of newish tunes between AC/DC, Van Halen, and Def Leppard? I realize the obvious answer is to just tune out. And, as it stands I hardly listen to the radio, but I'm still confused as to how the Vancouver market apparently only supports a format that is so much worse than the formats of two other stations in fairly close vicinity.
Frog Eyes
plays the Lamplighter on August 27th.
Evan Dando
plays the Red Room on July 16th.
Waaaay in advance notice that
Why?
returns to Vancouver on November 5th at a venue TBA.
We should be able to expect
the Arcade Fire
in town sometime in the third week of September, as they embark on the next West Coast leg of their never ending tour schedule.
Finally, if you're like me and you have a never ending desire to blow all your expendable income on records, you're in for a treat this Sunday. The Ukrainian Centre on (3150) Ash St. plays host to boxes and boxes of LPs and 45s from 11am - 4pm. The semi-annual record show is full of sweet deals on stuff that is usually way overpriced or impossible to find in stores around town. At the last one I grabbed a copy of the Yellow EP by Gang of Four for four bucks and some Bowie and Smiths LPs for $3-5 each.
Debating whether I want to check out
Apostle of Hustle
tomorrow.
now playing: Crosby, Stills, Nash, and Young - Helpless
Saturday, June 18, 2005

and that's the way we get by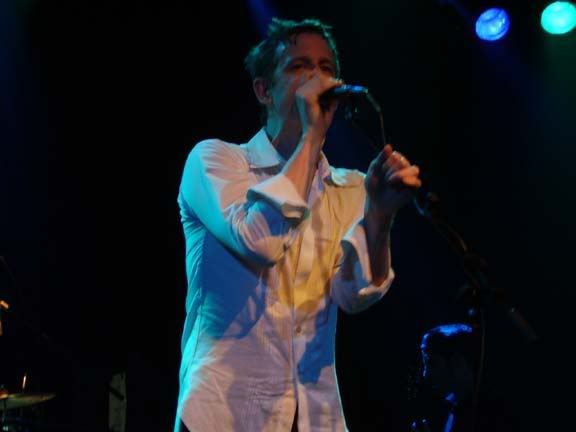 Caught
Spoon
last night at the Commodore. I must confess, that while I know that they're a great band, I've never really bothered to get that into them... I don't know why really, but other than a handful of mp3s I don't listen to them very regularly. They were really good last night, though, so I feel like Britt and Co. and I have some catching up to do.
The Clientele
opened, and were extremely boring. I was excited when they introduced a cover of "A Picture of Dorian Gray," but even that was snoozy.
Big thank you the drunk guy who pushed his way to the front, berated people for "not fucking dancing" and then proceded to make out with his girlfriend for the duration of the next song. You are a true winner sir.
The
Pretty Girls Make Graves
show at Sonar on the 26th is indeed $1 (plus $1 service charge). Tickets are available right now at Livestock and Beat Street.
File these under
"rumour"
for now, cause that's what they are, but here are some rumblings from the
Arts and Crafts
camp:
Death Cab
and
Stars
play Vancouver and/or Seattle around the second week in November.
Broken Social Scene's
new one may come out even earlier than the Billboard reported October 4th date. BSS will also kick of the album's release with some Canadian shows late October/early November (back East of course, but likely Vancouver as well).
Feist
should be back in town late September/early October... sometime after that pair of Japan dates listed on her official site.
And finally,
Jason Collett
plays the Media Club this Friday. It might be an invite only thing. Don't ask me how to get invited though, as I assure you, I am not. In fact, I'll be playing kickball on Friday... seriously.
Again... rumours. Don't mark you calendars just yet.
now playing: Autolux - Robots in the Garden
Friday, June 17, 2005

speakers push the air
NOTE: I have NOT confirmed this yet, but I'm heading down to Beat Street today before the Spoon show.
this was posted on the
Pretty Girls Make Graves
Bulletin Board about an hour ago:
So here's some details about the Sonar show.

One band, one night, one dollar!

You can purchase tickets at:
Livestock
239 Abbott St
Vancouver, B.C.

and

Beat Street Records
439 W. Hastings
Vancouver, B.C.
(604)683- 3344
PGMG for a dollar!? Too cheap to be true?? Update and Spoon pics/review later tonight.
now playing: Autumn Thieves - Rachel's Underground

hardest button to button
I've used the ticketmaster website an obnoxious amount of times, but this morning was definitely the wierdest experience ever. When the search came up, I had (thought I) scored two Row 3 Orch tickets to the second White Stripes show. Thrilled, I finished the transaction, only to see Row 22 pop up.
I had two windows going, and my first thought was that I had accidentally finished the wrong transaction, but when I brought up the second window, that one said Row 22 (as I'd thought).
So to recap: two searches in two windows. One says "Row 3" one says "Row 22." I finish the "Row 3" transaction and still end up with 22.
I'd say I was pissed off, if I weren't so baffled.
Oh
Leslie
, why do you hurt me so? While Vancouverites must brave throngs of hippies and yuppies (which may be the worst combination of people ever at a show) and fork over $35-40 for FolkFest, our American neighbours and the unofficial centre of the universe get off easy. Not only is Ms. Feist playing Seattle twice in a month (once two nights ago, once on July 13th), but she's playing for FREE with
Apostle of Hustle
in Toronto on Canada Day. The T-Dot ups the ante by
hosting free shows all summer
.
In other out of town news, you may be interested in hopping on the 99 and heading down to Seattle on August 27th or 28th to catch
Shellac
at the Vera Project. Shellac!
Anybody know what's up with the
Pretty Girls Make Graves
show? Their website was updated less than a week ago and says that they're playing Sonar next Sunday, but I haven't seen a poster or tickets or ticket info or even a listing in
the Straight
.
Billboard
reports that
Broken Social Scene
are set to release their latest,
Windsurfing Nation
on October 4th.
Finally, as promised, here's a track off of the new
New Pornographers
record. "Jackie, Dressed in Cobras" is the sequel to my favourite NP track,
Mass Romantic's
"Jackie" (not "From Blown Speakers," ironically), and features my two favourite things about the band: Dan Bejar's lyricism and Neko Case (sorry Carl). As with the rest of the album, it seems a little subdued compared to the first two records, but is no less enjoyable.
download: the New Pornographers -
Jackie, Dressed in Cobras
Twin Cinema
gets an official release on August 23rd, and as previously blogged, the New Pornographers will play the Commodore a month later with
Destroyer
in tow.
now playing: Silver Apples -
I Have Known Love

i won't rest until i break it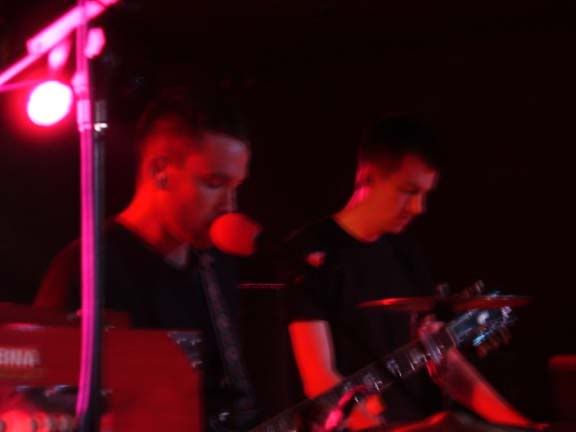 Xiu Xiu
at Mesa Luna tonite. Bad Sound. Good Performance. Tired. Going to bed. Bad lighting = crappy pictures.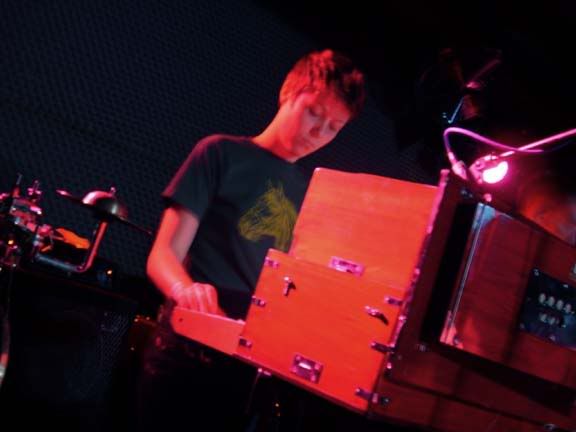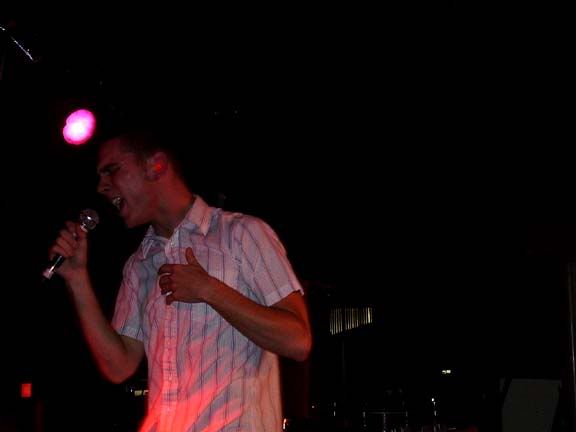 This Song is a Mess and So Am I opened. Either it's over my head, or it sucked.
New Pornographers
leaked today. Mp3 tomorrow.
night night.
now playing: Cat Power - Colors and the Kids
Thursday, June 16, 2005

we will find our way, stuck in the middle
Since we've reached (about) the halfway mark of the year, it's my list-loving pleasure to present you From Blown Speakers' favourite albums of the first 6 months of 2005. There's a couple of releases that you might not be able to find easily in your local music store, so I've linked to places where you can buy online.
1. Sleater-Kinney -
the Woods
2.
Clap Your Hands Say Yeah! - s/t
3.
Final Fantasy - Has a Good Home
4. Architecture in Helsinki -
In Case We Die
5.
Andrew Bird - ...and the Mysterious Production of Eggs
6. M.I.A. -
Arular
7. LCD Soundsystem - s/t
8. Bright Eyes -
I'm Wide Awake, It's Morning
9.
Math and Physics Club - Weekends Away EP
10. Bloc Party -
Silent Alarm
And to celebrate what has, thus far, been a fantastic year, here's a little mix with some tracks from those ten albums up there, and some other songs that have been hogging time in my cd player/winamp playlist. It's by no means exaustive, but it's a start.
1. Sleater-Kinney - Entertain
The drums on this track come thundering, giving me the same feeling I got the first time I heard the intro the Autolux's "Turnstile Blues" last year. The lead off single from the tremendous the Woods builds from there. The bridge sees Carrie Brownstein spitting venom, before the last chorus crashes in and Corin and Carrie trade vocals in classic S-K fashion.
2. the National - Mr. November
I wasn't initially that keen on the National's latest, after streaming it off of there official site, but it's growing on me. This song in particular could single handedly convert me on the record. The shimmery guitars, the defeated lyrics, and oh that chorus... it explodes. Music (for Robots) posted this song a week or so ago, and they described it much better than I could.
3. the Fiery Furnaces - Single Again
EP is the perfect balance between Gallowsbird's Bark and Blueberry Boat, and this song is like a microcosm of that point. The midpoint between GB's full on riffing and Blueberry Boat's blippy experimentation, and (surprisingly for a compilation of mostly b-sides), their best to date.
4. Final Fantasy - This Is the Dream of Reg and Win
You might recognize Owen Pallett, if you've seen any of the Arcade Fire's East Coast dates (or their late night TV appearance). You may also know him from the Hidden Cameras, or his other band Les Mouches. The guy gets around, but this is by far my favourite project of his. Final Fantasy is just all Owen. If this and Andrew Bird are any sign, looping violins are the next big thing. To add to that the DNTEL baiting title and glitchy programmed drum are enough to win me over. Lucky for you, if you're not so easily amused, there's much more here than just witty word play.
5. Clap Your Hands Say Yeah! - Heavy Metal
My love affair with this little Brooklyn band started when Mystery and Misery posted four tracks. At first I was somewhat amused, but not completely won over, but the same four tracks kept popping up on my shuffled WinAmp playlist. Then I downloaded the album when some kind soul posted it on Indietorrents, and now I'm sold. By now you've probably heard the Talking Heads comparisons from all over the blogosphere. And, if not that, you've probably read that Pitchfork is "trying not to piss themselves." And that is the beauty of the internet. For everytime I lament how much of my time is wasted on it, or how Mix CDs have killed the mixtape, there are 3 or 4 amazing bands that I wouldn't have heard of without my computer. Do yourself a favour and get your hands on this one (link above), you won't be sorry.
6. Architecture in Helsinki - Do the Whirlwind
I'd like to thank my wonderful friend Brittany for introducing me to the Aussie pop joy that is Architecture in Helsinki. After she sent me this song I was humming it for days, until I saw them perform live in Seattle. Think of the Arcade Fire, but on prozac... that's a good thing, by the way. The album is equally sublime.
7. Amerie - Love's Off the Chain
By now you've either fallen completely in love with, or loathe "1 Thing." I'm not afraid to admit that I'm firmly in the "love" camp. Amerie's vocal gymnastics are a step up on the rest of the R&B princesses out there, and this track (a b-side that Chris at Lemon Red posted) is proof positive. The horns, the chattering background... it sounds like an old soul track to me, rather than someone crooning over a hip hop beat. I haven't been able to track down the 12" that this is on, but when I do you can be sure that I'll be picking it up. One of my favourite songs of the year, from an unlikely source.
8. M.I.A. - URAQT
For some reason this track was left off of the domestic release of Arular. I can't for the life of me understand why. Maya eases off on the politics, with a bit of a love tune, and it's a nice little break from the militant rhymes we love so much.
9. Bloc Party - Luno (Polysics Harajuku Remix)
You've more than likely heard the album version of this lovely little dance number, as Bloc Party are poised to be this year's Franz Ferdinand. This is the Polysics remix, and if you've heard them, you probably have a good idea of what it's going to sound like. All frenetic beats and vocoder. This is what I wish they'd play at every dance party I've ever been to.
10. LCD Soundsystem - Jump Into the Fire
This is the b-side to the 7" of "Daft Punk is Playing At My House," and is a Harry Nilsson cover. Despite the fact that James Murphy didn't pen the track, it fits right in with the rest of the LCD Soundsystem catalogue with Murphy yelping along to the riffs that fire off over the pulsing bassline.
11. Tom Vek - I Ain't Saying My Goodbyes
I'm not that hot on this album, but this track is a killer. The tinny guitar has a bit of a garage rock feel to it, but the electronic beat and programming add up to make it so much more.
12. Jamie Lidell - When I Come Back Around
If you've really got your finger on the pulse (much more so than I), you might recognize this name from Super Collider. If not, you should know that they're signed to Warp and have garnered comparisons to Prince. Jamie's solo joint is no different. All blips and beeps and blue eyed soul. This song sounds like the past and future all at once. (I cheated a little... this one doesn't officially come out on this side of the pond til June 28th)
13. Field Music - Shorter, Shorter
Just under two minutes of perfect pop. It's like the Beatles at their most experimental condensed into the timeframe of "She Loves You," and not sounding the least bit constrained
14. The Nice Boys - You Won't See Me Anymore
The only surviving member of the Exploding Hearts has a new band, and this is them. Whenever I heard some shitty throwback punk band or some poppy mall punk pretender over the last couple of years I wondered how they could get it so wrong while the Hearts got it so right. This 7" A-Side picks up right where they left off, albeit at a slightly lower volume.
15. Ray Lamontange - Trouble
Ray Lamontange's story is so intriguing it threatens to be more interesting in than the music. When I saw him at Sasquatch I was kind of expecting just that, when I caught up with his set just in time to hear the shaggy troubadour mumble something incoherently to the crowd and start to sloppily strum some chords. Then he opened his mouth. My Mother, who loves old Motown records really digs this. My Dad, who loves old country records will be equally impressed when he gets this record for Father's Day. It's like Otis Redding fronting the Jayhawks.
16. Math and Physics Club - Weekends Away
This is the most charming little pop song you will hear all year. You might want to hate it, because its so very sweet sounding with its cutesy lyrics and jangly guitar, but you can't. You will listen. You will smile. You'll hum it and smile to yourself on the bus or at work. When Pitchfork reviewed this track they put out a warning to the recently single. Really though, no matter what relationship(less) state you find yourself in, there is no way this song can depress you, it's joy wrapped up in two minutes and thirty-three seconds.
17. Jason Collett - These Are the Days
I often associate music with settings or places, and I can say with confidence that this song (and the album it comes off of) is lazy summer evenings. By the time multi-tracked Amy Millan and the horns come in for the last minute of the tune, you're on you're first too many beer, are sitting on the patio, and have forgotten the stresses of the preceding week completely.
18. Andrew Bird - Tables and Chairs
Andrew Bird's new album is one of the most finely crafted albums you'll ever hear. The tracks seem to brim with instrumentation, but never seem busy. Everything is in it's right place. That, and I'm a sucker for these violins.
download:
From Blown Speakers' Best of the First Half of 2005 mix
Hope you enjoy these songs as much as I do.
now playing: Ray Lamontange - Trouble
Wednesday, June 15, 2005

sugarless
oops:
Death from Above
will NOT open for
Nine Inch Nails
. But before you get all down and out, you should know that
Autolux
will. I still don't know if I'll go this show, but I really like Autolux, so this just upped the ante (not that I dislike DFA1979). Sorry for any confusion. DFA1979 will open the NIN North American tour dates from October 14th onward.
Dinosaur Jr.
play the Commodore on August 22nd.
White Stripes
tickets (at least the good ones) are $50. Ack!
That's it for now. Look for a bigger post tonite, complete with a downloadable mix.
now playing: Clap Your Hands Say Yeah! - Heavy Metal
Tuesday, June 14, 2005

get behind me satan
White Stripes
tickets are on presale now... although I suggest waiting for the regular onsale on Friday at 10am if you want to get decent seats.
Ryan Adams
tickets are on presale tomorrow at 10am. This one is GA, so there's no harm in picking them up early.. though I can't see it selling out all that fast. Password = easyplateau
Can people please stop talking about MJ's trial and Pink Floyd getting back together. I could care less about Michael, and if Syd isn't coming back there really isn't anything exciting about an over the hill Floyd.
now playing: Kano - Remember Me

i'll bring the sun
Picked up
Jason Collett
's latest
Idols of Exile
today. If you've heard his 2003 release,
Motor Motel Love Songs
, you know what to expect. If not, you probably know Jason from his axe duties with
Broken Social Scene
. That being said, despite the fact that almost all of the Scene (plus Jason Tait of the Weakerthans, Bob Egan, who played on a couple Wilco records, and Andrew Cash) all lend a hand on Idols, don't go thinking this is anything like
You Forgot it In People
(or any of the other BSS related bands). Unlike the sprawling arrangements that BSS favours, Collett's songs are concise sometimes country tinged sometimes 70's singer songwriter numbers. Best of all, after the first couple of listens, it's perfect for Summer. Jason is opening for
Lucinda Williams
two Saturdays from now in Stanley Park.
download: Jason Collett -
Almost Summer
When I saw Jason two or three years ago at the Railway and he played this song after telling the true story that it was based on. I was a little disappointed that it didn't show up on
Motor Motel Love Songs
, so it was a nice surprise when it popped on my headphones when I was walking around downtown this afternoon.
I'm very sad to report that one of my favourite Vancouver spots is closed due to a fire last Sunday.
DV8
is shut down for the time being after the building caught fire due to an overheated ice machine motor.
While were talking sad news,
Scott Young passed away.
You may know him as Neil Young's dad. But if you're like me, you'll remember him as the author of
Scrubs on Skates
,
Boy on Defence
, and
A Boy at the Leafs Camp
. I got the three novels when I was in Elementary School, and they were some of my absolute favourite books growing up.
Pitchfork
reports that
NIN
and
QotSA
roll into town on September 26th, playing the Pacific Coliseum. What they neglected to mention is that
Death from Above
is tipped as the opener.
Mr. Cadence fucking Weapon
has a mp3 of "the Hand That Feeds" remixed by
the other Death from Above
on his blog. While you're at it, check out his stuff (including a sick Lady Sovereign remix)
here
.
now playing: Jason Collett feat. Emily Haines - Hangover Days
Monday, June 13, 2005

this gun's for hire
The Boss
hits GM Place on August 13th. Bruce is touring solo in support of
Devils and Dust
. Random Springsteen related Quinn fact #1: "Dancing in the Dark" is my favourite karaoke song... even though its a little bit outta key for me on the high parts.
Kathleen Edwards
returns to Vancouver, supporting
Willie Nelson
on his July 21st date at GM Place.
Just Concerts
has streaming audio of the
Sleater-Kinney show from last February
up. If you want to burn it to cd/throw it on your IPod, DimeaDozen has
the .flac torrent up
.
Stars
have invited Broken Social Scene, Metric, Junior Boys, Caribou, and the Dears (among others) to remix my favourite album of last year,
Set Yourself On Fire
. Full story from
Billboard
. (Frank at
Chromewaves
posted this a couple of days ago, but I must have skimmed right over it for some reason)
Finally,
the Catbirdseat
brings us some sad news from the
Three Gut Records
camp. The label will call it quits after releasing
Tournament of Hearts
by the mighty
Constantines
.
now playing: Jamie Lidell - What's the Use
Sunday, June 12, 2005

pacifist revolt
Went to the
Book of Lists
(website coming soon) cd release at the Lamplighter last night.
The Christa Min (not to be confused with Christa Min, of
Discorder's
Fucking Bullshit infamy) opened. I've heard a lot of (mostly bad) things about them, but was hopeful since I dig most of the stuff that Jason Grimmer (of
the Nasty On
) does. They weren't horrible, but weren't anything to get excited about. The songs sorta plod along at the same tempo/volume. A little dynamic would do wonders. When watching them I kept waiting for the band to bring on what I thought was the inevitable feedback laced freakout... still waiting.
They Shoot Horses, Don't They?
were on second. I'll admit to having an irrational dislike of them soley because they defeated one of my old bands in the first round of
Shindig
two years ago... even though they were clearly far better than our plodding alt-country. They're even better now, and got the whole place shakin' it, although if you're from Vancouver you probably already know this. If you're not from Vancouver make sure you get out to see them when they roll through your city on a tour that sees the band heading down the coast to Portland, across the Midwest, up the East Coast, and back across Canada this June/July.
The Book of Lists came on around 1am (shows in Vancouver actually going into the am?!), and unleashed there noisy psych-pop onto the crowd. I won't say much more, other than urging you to go check them out next time they play. Right up there with Ladyhawk as one of my favourite local bands.
Their new EP,
Red Arrows
should be available at Zulu/Scratch/Red Cat, or you can order it online at
Global Symphonic
. For now, check out "Through Stained Glass," the lead off track from the EP. Kinda reminds me of a reverby Pavement... and something else I can't put my finger on.
download: the Book of Lists -
Through Stained Glass
Some quick show updates: the
Kid 606
engagement originally scheduled for August 13th at an undetermined venue is now on the 12th at the Brickyard.
Oh No
hits Richard's on July 7th. And finally,
Black Dice
is going to blow your mind at an as yet unconfirmed venue on October 3rd.
June 16th dilemna:
Xiu Xiu
or
Rilo Kiley
?
now playing: Jeff Tweedy - Crack a Smile (Jandek Cover)
Saturday, June 11, 2005

i only play for money
Lawrence.com
offers
Wilco's
Jeff Tweedy and Son Volt's
Jay Farrar
$75 (US!) to reuinite Uncle Tupelo when the the former bandmates new projects play the
Wakarusa Music Festival
next weekend.
Black Mountain
plays Richard's September 13th.
S.T.R.E.E.T.S.
and the Christa Min support.
Jay-Z and Beyonce (heart) emo mallpunk.
The Trade Justice Movement
has video of Thom Yorke performing an as yet unreleased
Radiohead
tune acoustic.
Stereogum
guest blogger Matthew
FluxBlog
points us to the
best thing to happen to livejournal
since
Moebius Rex
. That
Polysics remix of Bloc Party
is the crack.
Last but certainly not least, because some kind soul over at
RyanAdams.org
was nice enough to share it, and because I'm on a big Ryan Adams kick, here's a video of Ryan playing "My Winding Wheel" in the middle of Baltimore's Meyerhoff Symphony Hall. In a bizarre move (even for Mr. Adams), he played four songs solo and unplugged from a stool in the middle of the audience after returning from a 30 minute break where he tended to his ailing wrist.
download: Ryan Adams -
My Winding Wheel (mpg)
It's a big (ie just under 100mbs)download... just to warn you.
now playing: Bloc Party - Luno (Polysics Harajuku Remix)
Friday, June 10, 2005

when the stars go blue
Ryan Adams
has finally scheduled a return to the Commodore after being forced to cancel his March 22, 2004 show due to a broken wrist. Anyone who knows me knows that this is really exciting for me, as I'm a huge Ryan fan and he's never been to Vancouver since going solo (although he apparently did play the Starfish with Whiskeytown in '97). Ryan plays the Commodore with the Cardinals in tow on August 9th. No ticket info yet.
High Road Touring
has the full list of dates.
In related news,
Caitlin Cary
joined Ryan on stage in Raleigh on Wednesday for
a couple of mini Whiskeytown reunions.
Cary sang during the encore of Ryan's show, peforming on five Whiskeytown numbers. Afterwards, Skillet Gilmore joined both of them (along with Cardinals Jon Graboff and Catherine Popper) for a ten song set at another venue as "Whiskeytown." There are a few pictures of Ryan and Caitlin from the second show
here
.
Ryan's also been employing something coined "the song lotto." Fans are asked to put song requests in a box at the back of the venue, and near the end of the second set he draws one out of the box and plays it.
Said the Gramophone
posts another
Clap Your Hands Say Yeah
mp3. This is quickly making its way into my favourite albums of the year.
Thom Yorke gave the
NME
one sentence on Radiohead's forthcoming full-length. Apparently that makes a
story to some
.
For those of you who like a little high art,
the BBC
is posting free mp3s of the BBC Philharmonic performing all nine of Beethoven's symphonies. The
first five are up now
.
This
is completely unrelated to music (other than ol' MJ), but I just had to post it because it would be so ridiculous... were it not real, which makes it frightening. Although, I would be interested in seeing someone actually try and live by all the crazy rules in Leviticus... fortunately for that guy, any sort of "moral" coherence is completely absent among religious extremists.
DimeaDozen
has torrents of the
Boom Bip/the Fog
show from last week and a pre-FM recording of last November's
Le Tigre
show.
now playing: Whiskeytown - Nervous Breakdown (Black Flag Cover)
Wednesday, June 08, 2005

dance, motherfucker, dance
Top 5 observations from tonight's
Out Hud
show:
1. A lot of tall dudes like Out Hud
2. A lot of cute girls like Out Hud
3. But all the guys with girlfriends weren't freakishly tall
4. Nick Offer had substantially less hair then when he came through with !!! last year.
5. It is entirely possible (and easy) to take irony way to far
All in all it was a pretty great performance, other than the fact that it was incredibly short. After "It's For You" hit midset the crowd actually woke up, and by the set's end it seemed as though the band had done what few can do in Vancouver: get people dancing. But alas, as soon as the discoing had begun, it was over.
now playing: Math and Physics Club - When We Get Famous
Tuesday, June 07, 2005

it's for you
A quick update:
Out Hud
is
still
at the Media Club, despite what
Pollstar
has listed. Better late than never, as they say. (thanks to Shea, who called the venue - a novel idea!)
More mysteries solved!
The Brunettes
will open for
Rilo Kiley
on the 16th. Despite what
Pitchfork
reported,
Okkervil River
is not opening. And, despite what Rilo Kiley's website and their
booking agency
say,
Feist
is not opening.
Not only did
these fine folks
take a ton of photos at Sasquatch for your viewing pleasure, but they also gave out ice cream.
Win Butler is thrilled about this fudgsicle
. Also, check out the fine looking young man with the glasses in the bottom right corner of
this photo
... stand up individual, no doubt.
Finally, for your listening pleasure, I present the new
Arcade Fire
track from the forthcoming Six Feet Under OST. I've only listened to it once or twice, and I'm not sure how I feel about it... a bit of a sleeper on first impressions, but I'm sure it'll grow on me.
download: The Arcade Fire -
Cold Wind
now playing: Clap Your Hands and Say Yeah! - Is This Love?
Monday, June 06, 2005

pretentious nonsensical title
Sigur Ros
play the Orpheum on September 27th, on a North American tour that also sees the band attempt to tackle the gigantic Hollywood Bowl. You can check out video of the Royal Danish Ballet, featuring a new tune they penned to back up the company's re-telling of Hans Christian Anderson's "The Little Match Girl:"
here
Teenage Fanclub
hit Richard's on August 2nd in support of their latest,
Man Made
. The album sees its domestic release tomorrow.
Four Tet
also plays Dick's on September 30th.
I personally can't stand his music, but I find it curious
Ben Harper
is going to squeeze fans into the Commodore on July 12th, after selling out T-Bird Stadium last summer. Around 15,000 down to about 900 people. Talk about downsizing.
The NY Times talks blogs
, gives
Music (for Robots)
some ink.
New York Magazine
weighs in on
Coldplay's
X and Y
, which as you probably know is out tomorrow:
"Your level of interest in their music probably correlates with your willingness to be bored.
"
ha!
Finally, I'm excited to announce that
Destiny's Child
perform at GM Place on September 10th. I don't think
you're
ready for this jelly. I'm going to inquire about the inevitable press conference. For serious.
now playing: Idlewild - I Understand It (live Maida Vale Session)
Sunday, June 05, 2005

details of the war
The Greenhornes
are set to open for
the White Stripes
for both of their Vancouver shows. Jack Lawrence and Patrick Keeler from the band, along with
Brendan Benson
also make up the remainder of Jack White's new side project, the Raconteurs, so maybe Mr. Karen Elson will drop in on their opening set.
Not only is
Everclear
still making music, but
they're playing in Surrey.
Ouch.
The New York Post delivers its
list of "the Best Songs of 2005 (so far),"
proving that either a) they are tone deaf or b) it's been a really bad year. You can use the following login/password if you don't want to register: login: leavemealone@mailinator.com password: goaway (yay
Bug Me Not
!)
Finally, I turn your attention to
Clap Your Hands Say Yeah
, whose song "Details of the War" has been dominating my WinAmp playlist as of late. Apparently they're getting a bit of a buzz in their hometown of New York (don't worry, they're not one of "those" bands). Talking Head-ish, with a lead singer that sounds more than a little like Dan Bejar.
Mystery and Misery
has some mp3s up.
now playing: Kanye West feat. Fonzworth Bentley, Luke, and Twista - the New Workout Plan (Lil' Jon Remix)
Saturday, June 04, 2005

it's a hit
Pitchfork
reports that
Feist
and
Okkervil River
are opening for
Rilo Kiley
on the 16th... but don't go running for tickets just yet. I emailed the
promoters
about a month ago about Feist, and was told she is NOT playing. In addition, the Rilo Kiley website only has Okkervil River listed as an opener til the 10th... although according to them Feist is playing (according to Feist's website she isn't).
The Brunettes
, who are apparently scheduled to play first on the entire leg, are also apparently absent from the Vancouver bill according to their website. Confused yet? I think I'll just go to
Xiu Xiu
instead.
If you want to relive Sasquatch, DimeaDozen has
three torrents
up from the festival (
Bloc Party
,
Arcade Fire
,
Modest Mouse
). Don't forget to leave those BitTorrent windows open after you're done downloading.
Phil Elvrum, being the stand up guy that he is, has uploaded
Seven New Songs of Mt. Eerie
,
Mt. Eerie's
now sold out 2004 Australian Tour-only EP, to the
Audio Archive
for your downloading pleasure. (via
Large Hearted Boy
)
Speaking of Mt. Eerie, if the
Vancouver Folk Fest
lineup isn't wierd enough for you, you might want to take the ferry over to Anacortes, Wa for
What the Heck Fest
(July 14, 15, 16, 17). Run to coincide with the 8-block sprawl of the
Shipwreck Day Fleamarket
, this year's festival runs you a mere $50US for 4 days of music and dinner on Saturday night.
now playing: Spiritualized - Stop Your Crying
Thursday, June 02, 2005

me and mia
Some quick show updates:
Ted Leo/RX
play Richard's on September 2nd, before heading south to play Seattle's
Bumbershoot
.
Bob Dylan
adds another show at the Orpheum on July 21st. Tickets for all three shows are on presale now, with the regular onsale on Saturday at 10am. (thanks Sean)
The
Kaiser Chiefs
show has been moved from Richard's to the Commodore.
Out Hud
has apparently been moved as well, to Mars Restaurant and Lounge... which as far as I can tell is in Atlantis (1320 Richards St.)... oh... great.
now playing: the Clash - Janie Jones

six o'clock news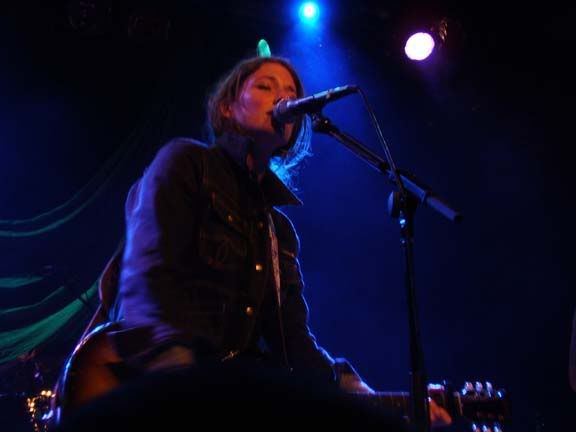 I caught
Kathleen Edwards
at the Commodore tonight. I'm not that excited about her latest record,
Back to Me
but the tickets went on sale for 2-for-1, so I thought I'd check it out, as she was fabulous the last time she rolled through town. I was a little disappointed that the set didn't include "Hockey Skates" or "Sweet Little Duck," two of my favourites off of 2003's
Failer
, but I'm pleased to report that the new stuff sounds better live than on record. Highlights included just Kathleen and fellow Canadian songsmith
Jim Bryson
(who was on guitar and keyboard duties), dueting on "Mercury," as well as the inclusion of a pair of covers in the encore. Kathleen gave Tom Hall's "Harper Valley PTA" (which was made famous by country crooner Jeannie C. Riley) a solo treatment, while the whole band closed the show with a cover of
Neil Young's
"Unknown Legend." They also played one of Bryson's tunes, with Kathleen and Jim sharing vocal duties once again. All in all, I think I still preferred her last headlining gig better, but it was still well worth the $13.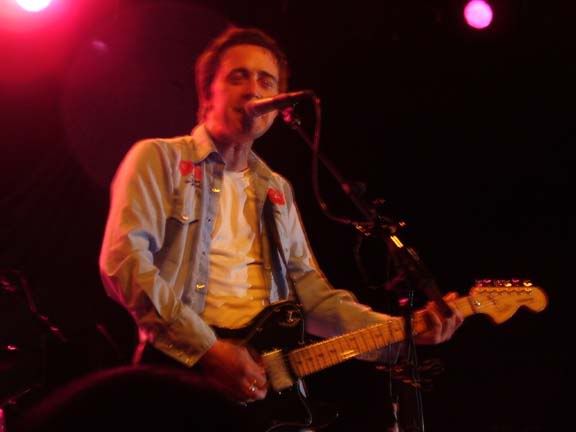 After arriving and giving the merch booth a once over, I was pleased when I realized
Danny Michel
was opening. I saw him perform at a singer/songwriter showcase a couple of years ago and he was definitely the surprise favourite of the evening there. Tonight was no different. Armed only with his Telecaster and a couple of delay pedals, he was simply wonderful. He even covered
No Doubt's
"Running" to surprisingly great effect. I can't quite put my finger on what I find so enjoyable about his live show, but I'm sure it has a lot to do with how casual (yet still proficient) he is on stage. It's less like watching someone play, and more like sitting around while your (very talented) buddy plays you songs. When I was working at A&B Sound a couple of years ago I got a comp of one of his cd's and was really disappointed by the production. The full band arrangements were way to slick and polished, and the subtlety of his songwriting got a little lost underneath it all. If Danny or anyone he knows stumbles upon this for some reason: please put out a record with solo arrangements... or at least a live recording.
And thus, my run of five shows in five days comes to an end. My eardrums are breathing a sigh of relief. Anybody up for Oud Hud next Tuesday?
now playing: Tom Petty and the Heartbreakers - Listen to Her Heart
Wednesday, June 01, 2005

tiny paintings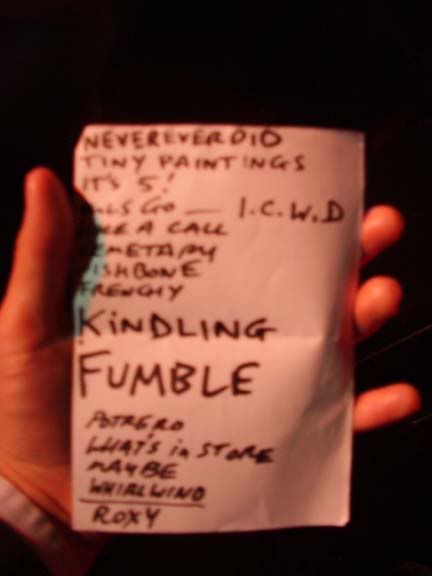 I rushed over to the Media Club after a reception out at UBC tonight, and was shocked to see a line of people snaking down the sidewalk, all trying to see
Architecture in Helsinki
. Granted, the Media Club isn't the biggest venue in the city, but it's still (pleasantly) surprising that a little known band from Australia sold the place out.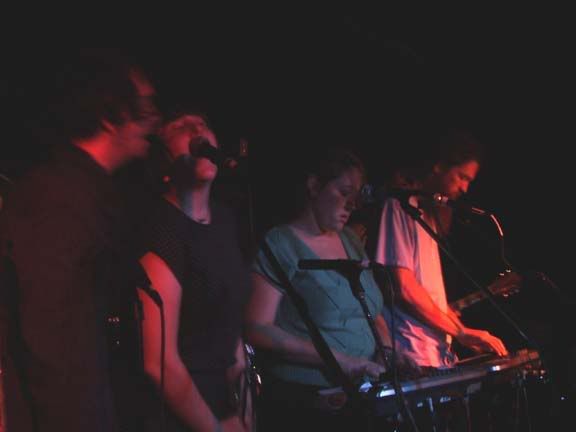 The band, to its credit, was up to the task of playing to a full house. Opening with "Neverevereverdid," and playing all of the spectacular
In Case We Die
as well as a few cuts from their debut, they were full of energy for the entire evening. Highlights included an extended version of "Do the Whirlwind" and the mainset closer, a cover of Roxy Music's "Love is the Drug" (they encored with a Krafwerk cover). Apologies, because they mentioned their distaste for Belle and Sebastian, but the best way I can think of to describe their sound is a cross between the Glasgow favourites and Montreal exports the Arcade Fire. I rarely say it, but I'm actually looking forward to the band being able to play a bigger venue. Their music lends itself so well to a little more movement, by the band and in the crowd, both of whom were hampered by the cozy confines of the Media Club.
When we saw them in Seattle my friend Sean chatted with Kellie Sutherland who informed him that they hoped to return to North America in September. If you missed the boat this time around, make sure you make it out then... and if you don't want to get stuck with out a ticket, make sure you buy one before the day of the show.
Local band,
the Winks
, opened the show. I was a little love/hate on them... half of the songs were great, but they sorta lost me on half. Their closer, a cover of the
Sonic Youth
classic, "Expressway to Yr Skull" was sublime though, right down to the classical sounding coda at the end.
now playing: Architecture in Helsinki - Need to Shout