Tuesday, August 30, 2005

this heart's on fire
I was so excited about the new Ryan Adams, I forgot all about these to bits of show news:
?uestlove
hits Sonar on September 13th as part of the
604 Hip Hop Expo
. While you're at it, check out the rest of the schedule.
A Trak
,
Killa Kela
,
Lyrics Born
, and a whole bunch of others make appearances at various venues from September 11th-18th. (thanks to Trevor for the headsup about ?uestlove)
My
Wolf Parade
related prayers have been answered! They're opening the upcoming
Architecture in Helsinki
show. They'll also have brand new (and former
Hot Hot Heat
) guitarist Dante DeCaro with them. New Pornographers/Destroyer and AiH/Wolf Parade back to back... now
that
, my friends, is one great weekend. (thanks to pinder over at
Deftone
for the headups)
now playing: Dr. Dre - 86(?.. 87 maybe) mixtape

i ain't been going nowhere for quite awhile
Ryan Adams'
forthcoming release
Jacksonville City Nights
, is leaking track by track to the internet.
Cold Roses
was called a "return to form" by many who lost interest after
Heartbreaker
(or even Ryan's Whiskeytown days), but if the three songs that are floating around are any indication, this may be the record that everybody knew he had inside him all along. Stripped down (albeit with a little more instrumentation than
Heartbreaker
) and very country.
download: Ryan Adams and the Cardinals -
A Kiss Before I Go
From the complete opposite side of the universe to Ryan,
PopWherry
points out
this
picture of Suge Knight that was too awesome not to pass along (not awesome that he got shot pe se, but the photo). Suge, post shooting... but notice he still has to handle his bidness, so he's taking calls while being loaded into an ambulance. If you're going to shoot Suge Knight and you don't kill him, you better hope the cops find you before he does.
now playing: Ryan Adams and the Cardinals - A Kiss Before I go
Monday, August 29, 2005

the owls go
Pitchfork
lets us know that
Architecture in Helsinki
return to Vancouver on September 24th at an "artspace" at 156 W. Hastings (right around the happy neighbourhood of Abbott and Hastings). I know nothing else about this venue... In fact, I was going to suggest that it might be
the Church of Pointless Hysteria
, but after comparing addresses, I conclude that that would be wrong. More info to come.
Good news:
The Blood Brothers
finally come to Vancouver post-
Crimes
, on October 11th.
Bad news: They're playing the Croatian Cultural Centre with
Coheed and Cambria
and
Dredg
.
Blood Brothers are also the musical guest on Jimmy Kimmel on September 20th.
Missed the VMA's like me? Fear not,
FluxBlog
and
Stylus
give you the play-by-plays. Apparently Kelly C stole the show... better than Kanye?
Speaking of
Kanye
,
Pitchfork
gave
Late Registration
(officially out tomorrow, lest you forget) a whopping 9.5. It's a fine little record, and I'll still pick it up tomorrow... but that's a little ridiculous, no? It's not even his best, nevermind the year's best. And, surely
that Kano record
is better.
Rollie
is a little more harsh. He's also got his remix of
Do They Know It's Hallowe'en
up.
A letter to Gwen Stefani:
Dear Gwen,

Why did you put the Photek remix of "Cool" on your new single? Where is the Richard X remix that I have been so patiently awaiting? I mean, the Photek one is ok, but it ain't the Diplo remix of "Hollaback Girl." In fact, it isn't even the JLC Remix of "What You Waiting For." It's going to be on some obscure 12" isn't it? That cuts a little, darling.

With Love,
Quinn
Finally, the Juan MacLean tomorrow night. Yay or nay? Opinions welcome below.
The show is
cancelled
... problem solved, I suppose... although there is that Hella show... (thanks to Neil for the headsup)
now playing: Diplo - Live in Montreal
Sunday, August 28, 2005

spend a lazy sunday
observations on a hungover Sunday afternoon, part 1:
1) Doesn't the horn breakdown of the title track from
Sufjan Steven's
latest sound just like the plinky keyboard riff (and ironically, not the horns) from
the Cure's
"Close to Me?" Mp3 to come when I'm less lazy.
2) Wouldn't
Kelly Clarkson's
"Since U Been Gone" sound about 100 times better if it was produced as a throbbing electropop number (think "What You Waiting For?"), with an explosion of fancy keyboards, handclaps, and double time programmed kick drums instead of plodding Avril-lite guitars in the chorus? Seriously. I have one year of school to finish, but I'll drop it for a high paying job at RCA Records... y'know, if you're reading, I'm available is all.
3)
Set Fire to Flames
is like, totally the best name for a band ever... cause it's so
incindiary!
4) I still don't like them (ok, that new single is pretty fab with it's Spritualized-biting-the-Stones-biting breakdown), but aren't arenas the perfect venue for
the Killers
? Seeing Brandon Flowers prance around on the stage at the Vogue (or worse the Commodore or Richard's) is just kinda... lame. But, the glammed up, faux accent, faux new wave thing was made for the cavernous homes of hockey teams. Think about seeing Duran Duran. You probably don't want to anyhow, but at least they're at home at GM Place. It'd be kinda pathetic in a club (or more likely Casino ballroom).
now playing: Wu-Tang Clan feat. Isaac Hayes - I Can't Go to Sleep
Friday, August 26, 2005

child stars
The National
show on October 2nd originally scheduled for the Media Club, has now been moved to Sonar. This probably has more to do with the hype around tour mates
Clap Your Hands Say Yeah
, then it has to do with how fabulous an album
Alligator
is, but the CYHSY album is pretty killer too, so that's not a jab at anybody. While I'm happy that they've sold enough tickets to warrant a bigger venue, I've gotta say: Sonar sucks as a show venue. Actually, it's not any place I'd like to go anytime... Sonar just sucks period. Maybe they'll sell even more tickets and get moved to Richard's. Oops... Ellen Allien is there... Maybe they'll combine them with Ellen Allien and.. alright, now I'm just being silly.
Steregum
points us to
LCD Soundsystem
's fabulous new
video for "Tribulations."
While you're at it, click around the
rest of the site
for a whole bunch of other fine offerings. Kano and the Streets (a remix to boot) videos? Yes, please!
Lemon Red
leads us to
this article from the Washington Post
.
Some choice quotes:
"It's about being nasty, people come to grind on each other," said (Bianca) Casady, 23. "It's like friends being sexual with each other."
Casady was raised in Santa Barbara, Calif., but quickly notes her worldliness by listing the cities where she has lived along the trail to Brooklyn. A regular Kill Whitie partygoer, she tried the conventional (that is, non-hipster) hip-hop clubs but found the men "really hard-core." In this vastly whiter scene, Casady said that "it's a safe environment to be freaky.""His street fliers come emblazoned with the words "Kill Whitie" across a woman's backside. Another flier offers free admission to anyone with a bucket of fried chicken.""If you don't see it's funny," he said, "I can't help you."
Luckily, I don't want some New York hipster trash to help me... but I would like to see him try to explain the whole deal to the RZA. And yes, it's
that Bianca Casady
.
I'm always into supporting independent retailers, but you should most definitely pick up your copy of the new
New Pornographers
record at Scratch or Zulu, as they're giving away a free one-sided 7" with non-album track "High Art, Local News" with every purchase of
Twin Cinema
. Hurry, supplies are limited.
Finally, I'm sad to say that it looks as though the
Arcade Fire
show originally set for October 7th is all but dead. Despite what the
Bell Orchestre
website says about it being at Commodore, apparently a suitable venue couldn't be found. Someone who knows how to promote a show get on the horn with Wolf Parade and set up a headlining show with them!
now playing: the New Pornographers - Sing Me Spanish Techno
Thursday, August 25, 2005

put my suits right on the guestlist
Pitchfork
lists the dates for
Broken Social Scene's
Fall tour. November 13th sees the band return to the Commodore in support of their (by then officially released) new LP, cleverly titled,
Broken Social Scene
.
Feist
supports in Seattle the day before, but there's currently no set opener for here. Ticket info will be up here as soon as I can get, as you'll want to jump on this one fast. I'm willing to bet that there are a bunch of people who've posted tracks from the new album already (in fact, I'm sure of it). So, in lieu of that, here's a live track, that was played as recently as this summer, but is nowhere to be found on the new record (or EP). What happened to Jimmy, and what exactly
is
a "photocall?" A teleconference perhaps?
download: Broken Social Scene -
Jimmy and the Photocall (live at the Ottawa BluesFest)
I was going to whine about how
Great Lake Swimmers
idea of "Canada" seems to be skewed, as whenever they announce a Canadian tour, it encompasses nothing West of Ontario. But, I'm so psyched about BSS, that it's not that big a deal today. You hear that Tony Dekker??
The Beastie Boys want you to remix them.
Only
you
can save
To the Five Boroughs
.
A correction: the
Blackalicious
show that's been posted in the sidebar forever, is actually a headlining show by
Michael Franti and Spearhead
with Blackalicious supporting. Sorry for any confusion.
Finally, based on comments on my last post, I think it's safe to say that (aside from fairly obscure atmospheric Japanese compositions) everything leaks at least a day before. Neil Young leaked yesterday, in fact. Metric? any day now I'm sure. Apparently Lost Highway isn't sending out
any
advance copies of his second release of 2005,
Jacksonville City Nights
... but they did the same thing with
Cold Roses
, and it still leaked a month in advance. The internet may not be ruining music, but it is most definitely destroying the concept of release dates.
now playing: Broken Social Scene - Ibi Dreams of Pavement (A Better Day)
Tuesday, August 23, 2005

effective incentives
Calla
play the Media Club on October 23rd, about a month after their new album,
Collisions
, is out on September 27th. I've only heard one track off of it thus far, but if "Swagger" is any indication of what the rest of the record sounds like, it'll be a keeper for sure.
The Motor City's own,
the Sights
hit the Brickyard on September 23rd.
Openers for the shows out at UBC for
Firstweek
:
Book of Lists
open for the Weakerthans, and
Elizabeth
open for Metric.
The first video from
Fiona Apple's
forthcoming
Extraordinary Machine
debuts today. You can watch "Parting Gift" on
Launch
.
Arjan
points us to the stream of the new
Liz Phair
single. I know the last album was rather awful... but seriously, wtf?
In case you haven't heard, the new
Broken Social Scene
record (minus last track, "It's All Gonna Break") has leaked. Kevin Drew has a statement about the leak up on the band's website. If you want to hear it, you can find it with a little looking. This one's going to throw some people off for sure, but I dig it, and still can't wait til October 4th so I can hear the EP of extra material.
Speaking of leaks,
Fluxblog
has a track from the forthcoming
Fiery Furnaces
up.
Does anything not leak early anymore? If anyone can think of an album of any sort of note that hasn't in the last year, let me know, I'm interested.
Finally, if anybody in or around Vancouver needs a 256mb XD picture card, take mine for a mere $40 (firm - it cost me over $60). It's only 7 months old, I just replaced my dead Olympus with a Canon, so I can't use it anymore. I'll even drop it off for you.
sold. thanks DB!
now playing: Thom Yorke - Reckoner (live at the Trade Justice Movement Rally 2005)
Saturday, August 20, 2005

while you're away
Kanye takes on homophobia in hip hop
. Good on him. Next up misogyny in hip hop... fat chance. His new album has leaked and is all over the place. You can really hear
Jon Brion's
contribution on it... and the track with
Cam'ron
owns.
According to
Chartattack
,
Jason Collett
is opening for
Feist
on October 5th, in addition to
New Buffalo
. The best thing about these
Arts and Crafts
bands (aside from the music, of course), is that they travel in packs.
Speaking of New Buffalo, you should head over to her
A&C site
where you can stream her album. In addition, because I dig this song so much, here's one of the tracks in a little higher quality to whet your appetite for
Last Beautiful Day
's release this Tuesday. This one's perfect for that mixcd you're making your better half.
download: New Buffalo -
I've Got You, and You've Got Me (Song of Contentment)
now playing: Soulwax - NY Excuse (Justice Remix)
Wednesday, August 17, 2005

the midnite hour is close at hand
Part hack at "Do They Know It's Christmas?" Part indierock love-in...
Nick Diamonds (formerly of the Unicorns) and Steve McDonald (of Redd Kross) got some of
music's best and brightest
together to record a one song benefit that lays a tongue-in-cheek smack on "other benefit songs' misguided, some what patronizing attitude, and Western-centric worldview," with all the profits going to
UNICEF.
Vice Records
is putting out the single on 12"/cd/itunes on October 11th.
Thurston Moore, Karen O, Win and Reg from the Arcade Fire, Beck, Devendra Banhart, Feist, Smoosh, Nardwuar, Chris Murphy, and
a host of others
all lend their voices to "Do they know it's Hallowe'en?"
You can preview the song at
Vice Records
.
If you're planning on catching
Feist
without the rest of the indierock choir (but with
New Buffalo
), you should know that tickets for her October 5th show are on sale tomorrow for $20+charges.
Some out of town action:
Less than an hour down the I-5,
Bright Eyes
plays Bellingham's Mt. Baker Theatre on November 3rd. Glasgow's
Sons and Daughters
support.
A little further down the I-5, but so goddamn good (and cheap) that you need to go (if you're not going to a wedding like me). For a mere $20 US you can enjoy the sights and sounds of
M83
,
the National
,
Athlete
,
Clap Your Hands Say Yeah
,
John Vanderslice
(solo to boot), and
Math and Physics Club
, as they play a benefit for the best goddamn radio station in North America (ok... maybe second WOXY, is pretty ace),
KEXP
. It all goes down at Neumo's.
I'll be dancing to "Shout"... or more likely drinking a scotch and whining to my girlfriend about missing M83 and Math and Physics Club.
If you want to check out Athlete closer to home, they play the Commodore on September 30th.
Finally, I guess my question about whether or not
Garbage
could get away with charging $40 for their Commodore show has been answered. The August 30th show is not sold out, and the band has added another date the next night.
now playing: the National - Daughters of the Soho Riots
Tuesday, August 16, 2005

make a home from a rented house
Feist
plays the Commodore on October 5th (that's going to be a busy week) with new
Arts and Crafts
signing
New Buffalo
. I opted for Ash when the
Exclaim
tour came through, and only managed to listen to her at FolkFest (as I was too cheap to pay)... but I will be at this show with proverbial bells on. Speaking of New Buffalo and Feist, they are clearly
seperated at birth
. Ok... so I (poorly) photoshopped Sally Seltmann's blonde locks darker, but still.
Product Shop NYC
has links to the new
Franz Ferdinand
single up (and the new Bloc Party tune, to boot).
Speaking of FF, tickets for their October 4th show (with
TV on the Radio
) at the Orpheum go on sale this Friday. $39.50 for uppers, $49.50 (plus charges) if you want to be close enough to see just how many belts Alex Kapranos has on.
"The Grey Album" was awesome. But like "the Bends," there's the tragic downside of a host of subpar followers. Thus, we have
Kanye West Sounds
, a mashing up of "the College Dropout" with "Pet Sounds." This actually isn't that bad in and of itself, but considering the best part about Kanye's record is the production, it sure ain't an improvement.
Let's continue with the hip hop shall we?
Word is that
Lady Sovereign
has signed to Def Jam, which means her album might actually get a timely release here. Now if somebody will wake up and sign
Kano
, we're talking.
You know what would be awesome? If some fine people got together and ripped and uploaded every single Wu Tang related video to the internet.
Look! Someone did!
Finally,
this
is why Chicago is way cooler than wherever you live. If people are into starting this up in Vancouver, please do. I'll help!
now playing: Neutral Milk Hotel - Communist Daughter
Monday, August 15, 2005

a better version of me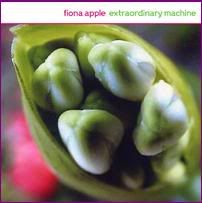 You decide to sleep in and everybody's already talked the day's most exciting piece of musical news to death... but I'm so psyched I'll say it again.
Fiona Apple's
long lost (and then kinda found) album,
Extraordinary Machine
is finally getting a release on October 4th. Reworked from the leaked version from a few months back, this one has Mike Elizondo behind the boards rather than
Jon Brion
. Fiona's last one is one of my favourite records ever, and while the leaked album was quite good, I wasn't feeling it as much as
When the Pawn...
, so here's hoping the re-working... umm.. works.
You can listen to the lone new track, "Parting Gift," and the re-recorded version of "Oh Sailor" at
Fiona's official site
. If you're American, you can win a trip to see her (stupid US-Only contests).
And, so I'm not completely rehashing news that you've probably read already today, here's the first version of "Oh, Sailor" that the world got to hear:
download: Fiona Apple -
Oh, Sailor (Jon Brion Recording)
For those of you keeping score, this means Fiona's record comes out the same day as the now
self-titled
Broken Social Scene
album. Which reminds me, have you downloaded "Shoreline" yet?
What you waiting for?
In other new release news,
Idlewild's
latest,
Warnings/Promises
, finally gets a North American release tomorrow. I'll be honest, this is probably my least favourite record by them, but they could record an album of Neil Diamond covers and I'd still buy it. Take a listen to the radio edit of the last UK single, "I Understand It," and decide for yourself.
download: Idlewild -
I Understand It (Radio Edit)
More Cowbell
has the dates for the
Atmosphere
headlined, "Pour Me Out Another Tour." Catch Slug and Ant at the Commodore on November 6th.
While we're talking November, if I were a betting man (which I can be from time to time), I would bet money that
your other favourite band from Montreal
will visit our fair city after they're done opening for
that other band, I don't like very much.
Details to come, when they're confirmed.
While we're talking unconfirmed shows that will totally slay if they actually happen,
Bell Orchestre's
website has their tour dates with the
Arcade Fire
up. The Vancouver date (October 7th) is listed at the Commodore Ballroom. Considering the Arcade Fire sold out both the Commodore and Mesa Luna last time around with almost zero promotion, I'm a bit skeptical. But this is the first time a venue's actually been listed anywhere semi-official, so it's something. If this turns out to be true, be sure to jump on tickets as soon as they're on sale, it'll sell out fast.
now playing: Idlewild - When I Argue I See Shapes (live at Maida Vale 2005)
Friday, August 12, 2005

shaking while i'm breaking your brittle heart
Echo and the Bunnymen
hit vancouver for a show at Richard's on Richards, December 2nd. Pollstar has them listed for the 2nd and 3rd, but their official site has them at Seattle's Showbox on the 3rd. I saw them last September at a festival in Seattle, where Ian McCulloch's surly stage banter almost made up for aborting "Bring on the Dancing Horses" and not replaying it as promised. "The Killing Moon" (introduced as "the best song in the world... you lucky, lucky people") was aces though.
My Morning Jacket
hit the Commodore on November 3rd.
Saul Williams
does his kinda rapping, kinda not thing as the opener.
Liz Phair
brings her dirty mouth to the Commodore on Rememberance Day. The description on
Yahoo!
for her official site is, "the princess of indie rock."
I beg to differ.
DimeaDozen
has both
White Stripes
shows from earlier this week up. Grab
Sunday
or
Monday
via your favourite bittorrent client.
Lastly, in lieu of the entire rest of his West Coast tour, here's a video (mpeg-4) of Ryan Adams performing Oasis' "Wonderwall" at the Commodore last Tuesday. Thanks to "Mycologist," whom I got this off of on Soulseek.
download: Ryan Adams -
Wonderwall (live in Vancouver - video)
now playing: the White Stripes - Ball and the Biscuit (live in Vancouver 8/8/05)
Thursday, August 11, 2005

we want the death of rock n' roll
The Constantines
finally return to Vancouver to headline a show. Catch them at Richard's on October 14th. Upping the ante, they bring the band behind one of my other favourite albums of 2005,
the Hold Steady
, as openers.
American Analog Set
play the Media Club October 26th... Arts&Crafts latest signing: now it's cool to like them, kids.
Devotchka
plays the Media Club on September 1st.
If you missed her at FolkFest (or just try to avoid FolkFest like me)
Juana Molina
plays the Media Club as well, on September 3rd.
P:ano
opens.
Get out the black hair dye and white makeup.
Bauhaus
drops in on the Centre for the Performing Arts on October 20th.
Cuff the Duke
plays the day before that at the Lamplighter. My friend Kim is psyched... or she will be when she finds out.
Adult.
also does the Lamplighter on November 15th.
I swear I mentioned this before, but apparently forgot to add it to the sidebar... just in case,
Broadcast
at Richard's on Halloween.
If you don't want to pony up the money for System just to see them,
Hella
play the Media Club on August 30th.
Last but not least,
Prefuse 73
is at Sonar for "an evening with..." on September 11th.
If Prefuse isn't your thing, or perhaps isn't a poignant enough reminder of the rock
solid link between 9/11 and Iraq,
you might want to head to Washington. As
Salon
reports, the Pentagon will.. ermm... "celebrate" the four year old tragedy by staging a "country" (both terms used loosely) concert and "America Supports Freedom" walk. Clint Black headlines. Someone please expose this as some crafty internet joke.
And I almost forgot... if you're not stuck at work til 10pm like me, head to the Lamplighter tomorrow for an early show (6pm-9pm) featuring Daddy's Hands, They Shoot Horses, Ghosts (they're back together!), and the Pink Noise.
now playing: the Constantines - Steal This Sound

it's high speed
How about some happy news?
download:
Broken Social Scene - Shoreline (7/4)
Studio version. No, the whole album has not leaked...
ps: watch for them (as well as a number of other Arts&Crafts related artists) this November.
edit:
get it straight from the label.. for free.
Offer ends in a week so jump on it.
The album
will
be coming with a 7 track EP as well.
Billboard
has the tracklist up (scroll down a bit).
And last, but not least...
new album art?
now playing: Broken Social Scene - Shoreline (7/4)

i don't think i'll make it out to the show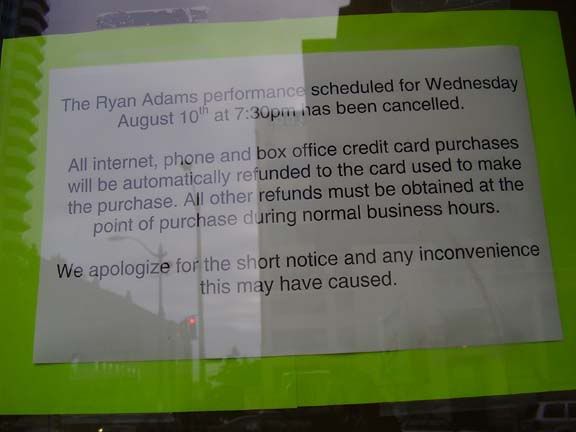 You know what's worse than getting a stranger's vomit on you?
Driving all 250km or so to a show that's been cancelled.
now playing: Whiskeytown and Emmylou Harris - Return of the Grievous Angel (Gram Parsons Cover)
Wednesday, August 10, 2005

beautiful sorta, but not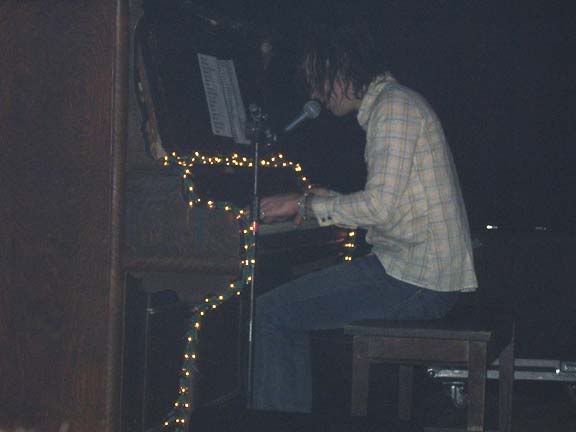 Alright, so I'm all for getting drunk at shows, if that's your thing. I also understand that say in a bar where you go strictly to drink, or a house party, or an office party, or hell, even a dinner party, sometimes people have way too much to drink and embarrassing situations occur. But, if you pay $40 because you apparently want to see someone make music and wedge yourself right in the middle of the goddamn floor and then procede to drink so much that you have to a) vomit all over yourself and b) stumble through the crowd rubbing up against people, do the world a favour and drink at home alone and listen to the cd til you puke... preferably while lying on your back.
Also, to the guy who insisted on yelling "Summer of 69" and "Cuts Like a Knife" over and over: 2001 called, it wants its joke back. Although it was almost worth it to hear Ryan retort, "I'll fuckin' break your face, man. I can afford a fuckin' lawyer, I bet you can't afford a new fuckin' face."
Argh.
As for the actual music, the night started off well, as Ryan and the Cardinals opened with a blistering rendition of "Beautiful Sorta" and the first four or five songs were punctuated with a great performance of "Please Do Not Let Me Go." However, as the show progressed, and the crowd got more and more unruly, Ryan got a bit more confrontational. That being said, he was far far from the tempermental Mr. Adams that I've read reviews about. I absolutely love his music (and live music in general) and I was even considering leaving at several points in the evening due to the crowd. So, keeping that in mind, he was extremely well behaved.
It's really late, so I won't go into much more detail, other than saying that it was an absolute treat (although I'm sure those constantly yelling for "old songs" would disagree) when Ryan brought
Jesse Malin
back on stage to do Jesse's "Brooklyn" and "Solitaire."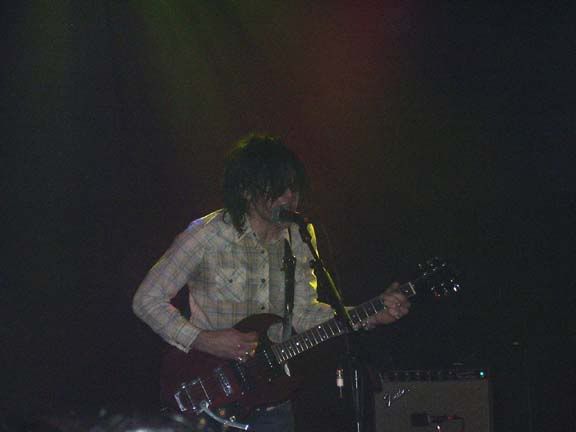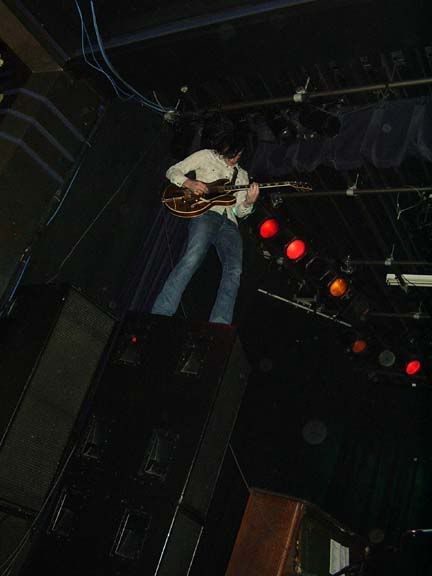 Ryan up on the speaker stack at the end of a rocking (and very loose) "I See Monsters"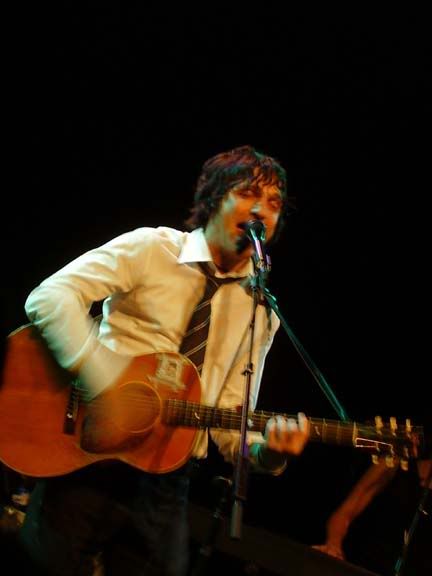 Jesse's opening set was great, and was highlighted by covers of the Replacements' "Bastards of Young" and Neil Young's "Helpless." Actually, "Helpless" was a little eerie as Malin's voice on the song was almost identical to Neil's.
In non-RyanAdams related news, I'm happy to report that the previously mentioned
Metric
show at Commodore, is actually two shows. Underagers get a chance to see the band as well, when they play an early set in the afternoon, followed by the 19+ show in the evening. Tickets for both shows go on sale this Friday at 10am.
The Most Serene Republic
opens.
War Child
is putting together another benefit album, ten years after the
Help
cd (that featured the first appearance of Radiohead's "Lucky"). The new cd will once again boast new tracks by Radiohead and the Manic Street Preachers, as well as new songs by Gorrilaz, Bloc Party, and Mylo, among others. You can purchase the downloads on September 9th, with cds hitting shelves a couple of weeks later.
Seeing Ryan Adams again in Seattle tomorrow, wish me luck.
now playing: Jesse Malin and Ryan Adams - Solitaire (live in Paris)
Tuesday, August 09, 2005

hello operator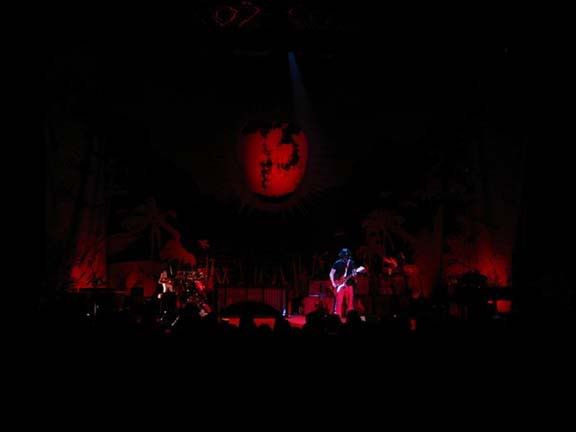 I caught the second of two Vancouver appearances by
the White Stripes
last night. I was a little thrown off by the $60 price tag, but it was well worth the money. In fact, I'm kicking myself a little that I didn't opt to take in both shows. The band tore through twenty-six songs, with hardly a word spoken (until Jack asked the crowd to singalong to "Bol Weevil" during the encore), playing tunes from all five full lengths, as well as a few non-album tracks. If you've seen the White Stripes before, you'll know what I mean when I say that the spontaneous nature of their shows is one of the biggest things they've got going for them. "Death Letter" was medlied seamlessly into "Grinnin' In Your Face," and songs like "Ball and the Biscuit" (that drag a little on record) were loose and improvisational, without ever being in danger of going on too long or falling apart. The former two numbers were big standouts for me, but my personal highlight was, hands down, the encore opening one-two punch of "You're Pretty Good Looking" and "Hello Operator," from
De Stijl
.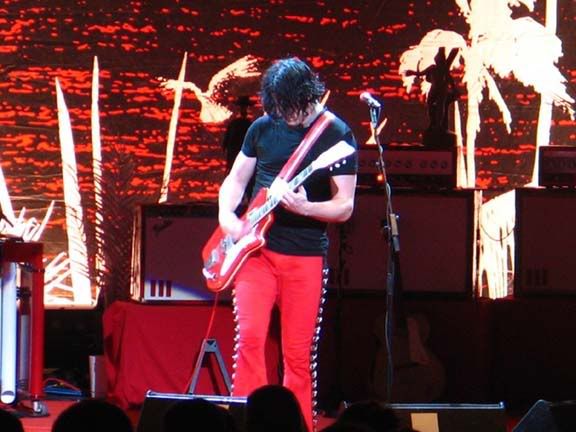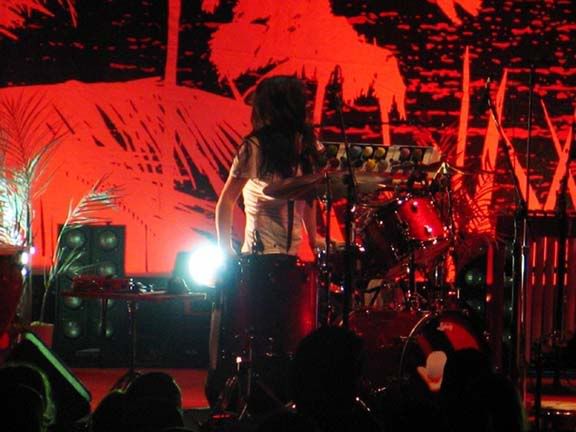 A big thank you to my friend Sean, who not only managed to get the great pictures above despite our row 22 vantage point, but also to send over this video clip of "Love Sick" to share with all of you.
download: the White Stripes -
Love Sick (live in Vancouver 8/8/05 video clip)
More multimedia excitement courtesy of
RiloKiley.net
. If you couldn't download the .flac files from
DimeaDozen
awhile back, they have the .mp3s of Rilo Kiley's most recent Vancouver performance up for download. (via
Large Hearted Boy
)
Some shows:
This one has been announced for awhile, I just kept forgetting to post about it til now...
Acid Mothers Temple
play Richard's on September 28th.
Subtle
plays the Media Club November 12th.
And,
Grand Buffet
play Celebrities on September 9th.
More Cowbell
has the dates for the
Hold Steady
/
Constantines
Fall tour up. Look for a Vancouver date in the five day lull between Fargo and Seattle. Full details when they're confirmed and official, but I'm so psyched about this one, I had to mention it.
This one's out of town, but I wanted to talk about it anyway.
Operation Ceasefire
is a free concert at the Washington Monument on September 24th. Featuring Le Tigre, The Coup, and Steve Earle (among others), the show aims to promote a peaceful end to the occupation in Iraq.
In related, albeit less glamorous news, if you're interested in the above, you might want to check out
StopWar.ca's
forum on
Nuclear Weapons and War
this Thursday at 7:30pm at the Vancouver Public Library. The event features one of my favourite UBC professors, Dr. Michael Wallace, speaking about the "Failure of the anti-nuclear weapons negotiations and the dangers of war." If you do take in the event, ask Dr. Wallace why I only got a 76% on my Poli 461 final... I kid, I kid.
From
IndieTorrents
:
The RIAA has been allowed to assimilate the following labels: Epitaph, Absolutely Kosher, Hush, Jetset, Equal Vision, Sub City, SpinArt, Lookout, Fat Wreck Chords, Relapse, Nitro, BYO, Ferret, Tommy Boy, Taang, Kung Fu Records, Smash and others.
Ugh... at least now LookOut can do everything like a major, instead of just not paying artists.
Ryan Adams
review and pics to come later tonight or tomorrow morning.
now playing: the What - Revolution #2
Monday, August 08, 2005

empty page
Nothing substantial to update on today, but rest assured the next couple days will be particularly active, as I'm seeing the
White Stripes
tonight, and
Ryan Adams
the two nights following...
For now, I have some extra unspoken for invites to
IndieTorrents
, so if you need one comment with your email address. First three, first served. And please, if you do take one, keep your ratio decent and actually use the thing.
now playing: Magnolia Electric Co. - Hammer Down
Thursday, August 04, 2005

superconnected
Billboard
has the lowdown on the new
Broken Social Scene
record (formerly
Windsurfing Nation
, now self-titled, formerly out on Valentine's, now due on October 4th). Also, disregard what I said about it apparently coming with an extra EP, as the band now has plans to release another cd in the Spring.
Absolutlely Kosher offers $100, 000 for the rights to the first two Wrens records. WindUp Records are cocks about it.
(from Prefix)
If you hadn't already heard (or heard it), the new
Sigur Ros
record,
Takk
, has leaked. I wasn't going to post an mp3, as it hasn't really moved me all that much (it's not bad, it's just that it's the same-old-same-old)... but, if you're curious,
Scenstars is streaming the record.
Maximo Park
open for the Bravery on September 11th.
Finally,
the Posies
play the Red Room on October 20th.
now playing: Ghostface - Holla
Wednesday, August 03, 2005

handshakes at the ranch
Frank
led off with
Metric
today, but my love for this band forces me to follow suit. Emily, James, Josh, and Joules finally release the follow up to
Old World Underground, Where Are You Now?
on September 27th. As previously reported, you can get a taste of some of the new material on September 10th, as Metric cap off Firstweek festivities out at UBC. And, if hanging out with us college kids isn't your bag, catch the band as they (inevitably) sell out the Commodore again on October 30th.
MTV.com
has the tracklist to
Live it Out
up, as well as a snippet of the first single, "Monster Hospital." If that's not enough, here's a live version of "Handshakes" from a Halloween 2003 show in San Francisco. Seeing as this recording will be nearly two years old when the album gets a release, I'm psyched for a studio version.
download: Metric -
Handshakes (live in SanFrancisco)
If Metric isn't your thing, you can catch the irreverant (and by that, I mean insane) antics of Antone Newcombe, when
Brian Jonestown Massacre
plays at Richard's on September 10th.
Remember when the Rapture played Sonar and you didn't go? Remember when you were too lazy to see LCD Soundsystem, and now your jerk blogging friend talks about the show all the time? Well, then you won't want to miss the latest DFA related dancefest, when
the Juan Maclean
plays the Media Club on August 30th.
The
Why?
show now has a venue. You can check them out at the Media Club.
Blackalicious
plays Dear Lake Park on September 3rd. (thank you, Jackie) What's with all these shows in Burnaby? Nobody wants to spend that much time in Burnaby. (note: this isn't too much of a slag on Burnaby, I live in Richmond, and a show here would be equally weird)
I thought I had mentioned this, but looking at the sidebar, apparently I did not... So thanks to Graham for the reminder that
TV on the Radio
open for
Franz Ferdinand
on October 4th. I still can't sell myself on Franz in the Orpheum. It's not the size, so much as the lack of any room to dance. TVotR will probably come off well in a theatre, however.
P:ano
embark on their Children's Summer Reading Club tour, rocking,not one, but three of Vancouver's public Libraries. Admission to the shows is free, and the festivities are as follows:
Aug. 5, 2 pm, Marpole branch (68th & Granville)
Aug. 11, 2 pm, Oakridge branch (41st & Cambie) and 3:30 pm, Firehall branch (1455 W. 10th)
Aug. 12, 2 pm, Dunbar branch (29th & Dunbar)
Ryan Adams
has set a release date (September 27th in North America) and announced the tracklist for his second of three 2005 releases, the aptly titled,
September
.
The NME
has all the details. If you're like me, you're catching Ryan at his first Vancouver solo appearance (ever!) next Tuesday.
Finally, not only are
Broken Social Scene
releasing my most anticipated album of the year,
Windsurfing Nation
on October 4th, but word is that the first pressing will come with a bonus EP of material that didn't make the cut. Seeing as Kevin Drew has been telling reporters that they're axing the songs that are surfire singles and catchy as hell, it should be one damn good set of throwaways.
now playing: the Kinks - Johnny Thunder (Stereo Version)
Tuesday, August 02, 2005

i'm gonna run
Sorry for the lack of updates, I had a busy weekend... busy in the tons-of-fun way, not busy in a stressed-out-oh-my-god way... so don't feel bad.
But why don't we start with something that you can feel bad about. Oh
Fiery Furnaces
, why must you break my heart? Not only are Matthew and Elanor bypassing our fair city, but they play in Seattle (at Neumo's) on the same day as Black Dice...
Speaking of
Black Dice
, their show now has a venue. Go scratch your head and get your mind blown at the Mesa Luna on October 3rd.
Jesse Malin
opens for
Ryan Adams
on August 9th.
Two bits of show news from my friend Shea. If Shea ever gets enough time to start blogging, you should all just go there, because he'll make this place obsolete:
Keren Ann
returns to Vancouver to play the Media Club on September 4th.
and...
Jason Collett
opens for
Blue Rodeo
on August 30th and 31st in Stanley Park.
If you were lucky (or rich) enough to catch him, and want to relive the moment, the
Bob Dylan
shows from
July 20th
and
July 21st
are up at DimeaDozen.org.
You Ain't No Picasso
has mp3s of Thurston Moore giving a preview of new
Sonic Youth
tunes up.
Bid on James Hetfield's dead animals.
Last but most definitely not least, here's a taster of the
Iron and Wine
and
Calexico
EP. The EP is out on September 20th, and you can catch both bands on tour... but you'll have to, predictably, drive to Seattle to do it.
download: Iron and Wine and Calexico -
16, Maybe Less
now playing: Sufjan Stevens - They Are Night Zombies!!...