Friday, February 25, 2005

combat rock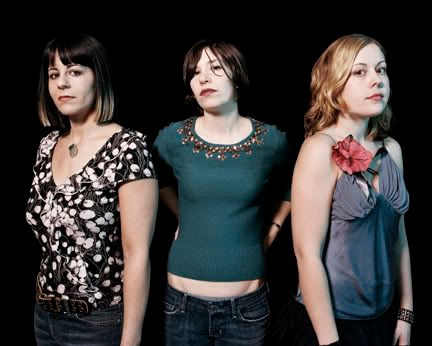 After nearly five years,
Sleater-Kinney
make their triumphant return to Vancouver this Saturday with husband-wife duo
Viva Voce
in tow.
Playing the Commodore two months ahead of (the official) release of new record the Woods, concert goers should look for the girls to pull a lot of the set from the forthcoming long player (at their recent New Year's Eve show with
Wilco
and
the Flaming Lips
, the band played all new tracks). Also, be prepared for slightly new sound. Corin Tucker described it as "psychedelic" when I got the chance to interview her a couple weeks ago, and I've since read interviews with Carrie Brownstein where she's said the same thing. Bikini Kill meets Pink Floyd? Not quite. All the elements of the S-K sound are still there, but be prepared for a more sprawling sound on new stuff and some looser arrangements of older tracks.
Long story short, don't miss this one. You don't want to have to wait another five years if you do.
download: Viva Voce -
Alive With Pleasure
(superb opening track from The Heat Can Melt Your Brain
via the band's official site
)
In case you missed it,
Joanna Newsom
played "the Sprout and the Bean" on Jimmy Kimmel and your new favourite band
the Futureheads
performed "Decent Days and Nights" on Conan.
In related news, the Futureheads will also be re-releasing their selftitled debut. The CD will contain the radio edits of "Decent Days and Nights" and their cover of Kate Bush's "Hounds of Love," and will come with a DVD that sports the bands 5 promo videos, 4 live videos, an interview, and making of the "Hounds of Love" video (which sees the band in the woods with a predictably large number of dogs). The updated version of the record is out March 7th in the UK (coincidentally the same day they're here in Vancouver). No North American release date is set yet.
now playing: Regina Spektor - Us
photo: John Clark, courtesy SubPop.com
0 Comments: