Monday, May 30, 2005

you better look out below
I made the trek down to last year's
Sasquatch Music Festival
, and was more than happy with the decision to make the 6 hour trip. Last year, however, had nothing on this year's festival. After leaving Vancouver at around 6:45, I arrived on site around noon for what would be 12 hours of great live music. The heat was a little much earlier in the day, but their was plenty of access to free water, and security even passed some bottles out to the crowd throughout the afternoon. The crowd, especially considering its size, was also surprisingly well behaved. I don't think I saw a single altercation, or anybody getting kicked out. A big thumbs up to the organizers, they really outdid themselves this year.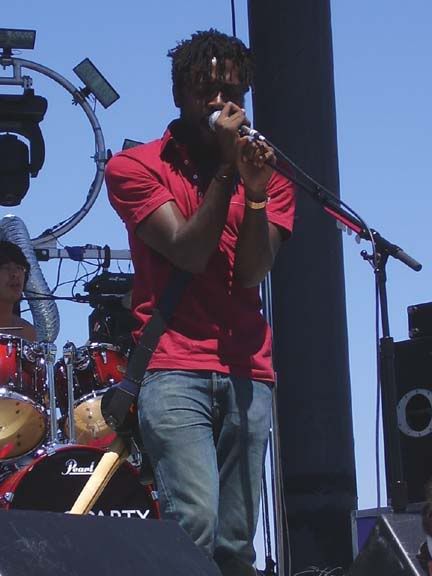 The first band I managed to catch was
Bloc Party
. "This year's Franz Ferdinand" put on a great set, and were full of energy despite the heat. The sun didn't stop the crowd from getting into it either. The band had some technical difficulties, but still managed to impress anybody who was smart enough to show up early.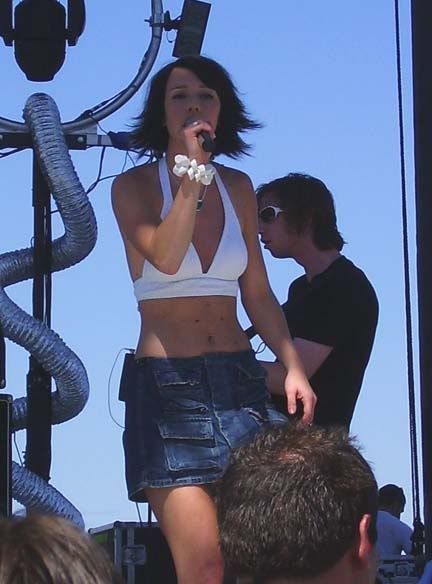 After Bloc Party, I hung around for two songs from
Jem
. The Welsh songstress was dressed for the weather, and while I can't say I'm a huge fan, the two songs I did hear were pretty good.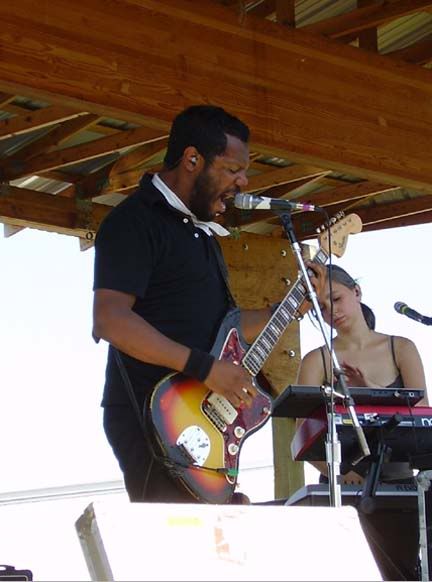 I left Jem's set early and made my first trek to the second stage to catch Montreal's
the Dears
. Their music is probably better suited to a dark club, or at the very least night time, but their set was still quite enjoyable. "Lost in the Plot" was fabulous, and "End of a Hollywood Bedtime Story" rocked way harder than on record.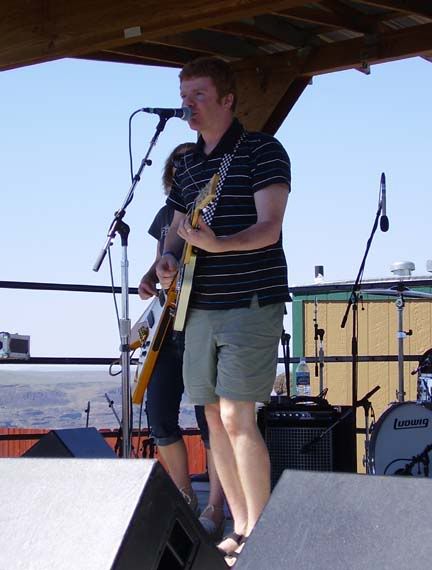 I stuck around the sidestage to catch
AC Newman
. The band was in good spirits, unfornately the same can't be said for the sound. The shiny powerpop was a little lost in the mix... on the other hand, check out those shorts.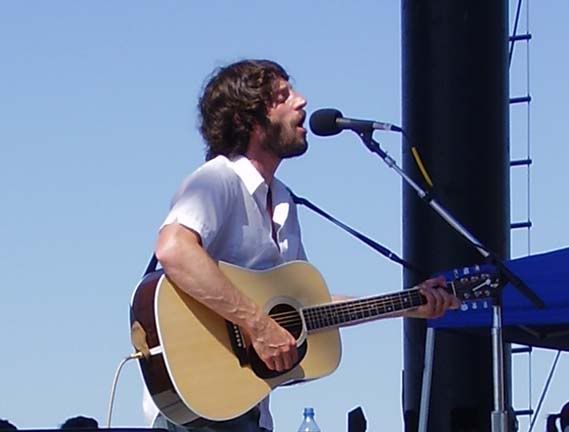 I cut out on Carl's set early and made my way back to the mainstage in anticipation for the
Arcade Fire
, arriving in time to see some of
Ray Lamontagne
. He was incredibly soft spoken, and not the most engaging guy in the world. On the other hand, his voice is amazing, and his songs ain't too shabby either. I don't know if I would've enjoyed a full set as much, but I was really impressed with the three songs (including current single "Trouble") that I did manage to catch.
The Arcade Fire had flown in from a gig in Barcelona that day, but it certainly didn't show. Opening with "Wake Up," everyone's favourite hype band lived up to all the attention they've been getting. After seeing them twice in smaller venues this winter, I was a little skeptical about their live show translating as well in a larger setting. After about two minutes any doubt was gone. In fact, because of the time constraints, the band jettisoned some of the slower numbers they usually play, which meant it was balls to the wall for 45 minutes straight. I think the energy and attitude the band displays live is part of what makes them so good, and they seemed to be having a fuckin' blast. The crowd went nuts... rightfully so.
Wilco
are one of my favourite bands... ever. But, there was no way they could follow the Arcade Fire. Nor would I expect that kind of show from them. While they're quite good live, they're not a band that really wins you over in person if you've had no previous exposure to them. The songs are intricately arranged, there are no bells and whistles (or motorcycle helmets), and for the most part, I think Wilco are act that you really get into by sitting down and hearing an album. That being said, they definitely weren't disappointing, although I would've liked to have heard a few more pre-
Yankee Hotel Foxtrot
tracks.
After Wilco,
Kanye West
took the stage. And, judging by the amount of people who had started to crowd onto the floor, a sizable percentage of the audience had been waiting for him. I've often been a little underwhelmed by hip hop acts live, but Kanye was electric. The crowd, who were amped, helped as well. Opening with
Diamonds
, the lead off single to his forthcoming album, he stuck to the hits, while his DJ spun a few classic tracks (some of which were sampled on
the College Dropout
) between songs. Oh.. and his DJ was noneother than former DMC Champion
DJ A-Trak
!. Along with the Arcade Fire, Kanye was definitely one of the festival highlights for me, so it was hard to tear myself away early to make it in time to catch
Joanna Newsom
on the second stage.
Ms. Newsom was about halfway through her set when I made it to the side stage, and I was pleasantly surprised when I was still able to catch my three favourites of her songs ("Clam, Crab, Cockle, Cowrie" "Peach, Plum, Pear" and "This Side of the Blue") as well as a jaw dropping harp arrangment of "Inflammatory Writ." The crowd was incredibly attentive. While there was cheering between songs it was almost silent while she played, amazingly.
I took a pass on
Modest Mouse
, and was actually only intent on getting something to eat when I stumbled upon another show highlight, and the biggest surprise of the day while lined up for overpriced, crappy, pizza. I had originally planned on checking out
the Frames
, but by that point in the day the only reason I was lucky enough to catch them was because of close proximity of their stage to the Domino's. The line up for food took 20 minutes or so, and in that time I was completely won over, taking a seat on the lawn to watch the rest of their set. It's hard to say what was so great about them, but I hope you'll trust me and take my advice to check them out live when you get the opportunity.
After the Frames set ended I caught the tale end of Modest Mouse, and watched
the Pixies
from the comfort of the lawn. The indie rock legends were no fuss, opening with "In Heaven" and charging through a set that included all the requisite hits, with few words to the audience. Nothing mindblowing, but a great way to end an amazing day.
I've got a ton more of my Sasquatch pictures up
here
. Please don't direct link.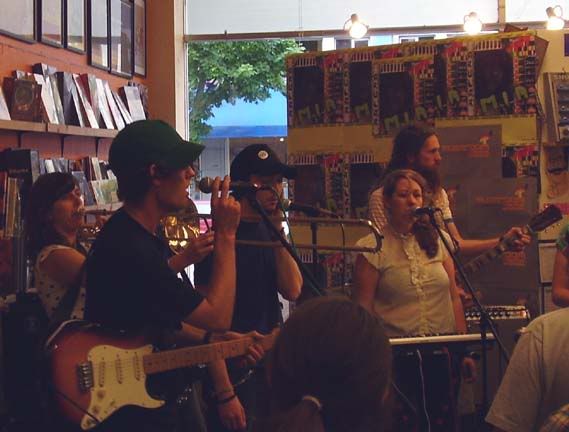 I stayed overnight in Seattle. And, after shopping for some records (and finding the Slow record at a bargain price!), caught an instore by
Architecture in Helsinki
. I'll cut this post short, and simply say that if you're in Vancouver and you know what's good for you, you're already planning to catch the Australian octet on Tuesday at the Media Club.
Time for bed.
now playing: Ray Lamontagne - Trouble
3 Comments:
bastard! in seattle? thats kind of random.
By

jordan, at 3:17 p.m.
totally... the guy at the store said they had bought the collection of some woman from Vancouver and she had two(!)
well, i guess it could be more random... slow did play a show down and seattle and had a write up in the column Sub Pop. apparently tom was too drunk to sing so stephen hamm took over vocal duties.
By

jordan, at 7:12 p.m.