Sunday, November 12, 2006

make way for the ess-oh-vee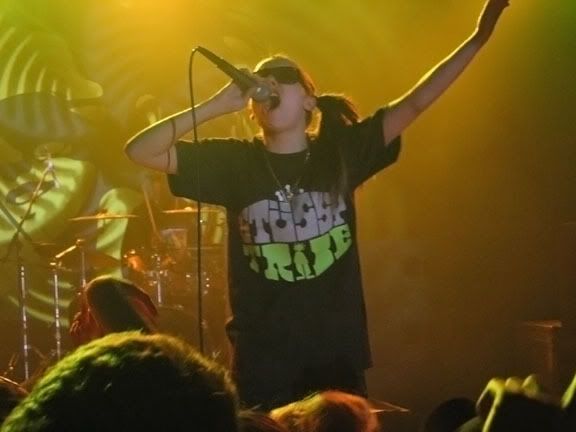 Apparently Jay-Z's banking that
Lady Sovereign
can finally break grime in North America. Despite Hov's seal of approval, the chances of the masses on this side of the Atlantic getting hip to the combination of garage beats and English slang are probably still slim. You needn't brace for the new British invasion quite yet, but at the very least, "the biggest midget in the game" did something that Dizzee Rascal couldn't - she sold out the Commodore.
I'm pretty lukewarm on Sov's debut full-length. It seems like the only new song that hasn't been previously released somewhere that isn't filler is the single, which hardly makes it worth purchasing if you've already got the
Vertically Challenged EP
. That being said, she was pretty stellar live.
I don't know if she'll ever reach the heights of "Random" or even "Ch-Ching" again, but so-so MCing can still result in a helluva show if it's tag teamed with enough stage presence. And Lady Sov exudes charisma from all five of the feet she stands (and then some). While the set was - as one would expect - fairly brief, it was still well worth the $20.
Opening duties were performed by
Young Love
and DJ Phonograph. The former was some rather uninspired new wave action, the latter was some rather mediocre hip-hop. Phonograph brought along a sizable crew with him that included
Kia Kadiri
, but not anyone who was an overly impressive MC, nor had the aforementioned charisma thing going for them. The set also reminded me of
Rap's 25 Greatest albums (according to Chris Rock)
. I can't say that I agree 100% with Mr. Rock's picks, but when he summed up Lauryn Hill's solo debut by saying, "People don't have a problem with conscious rap; they have a problem with conscious beats. If you make some ignorant beats, you can say all the smart shit you want," the man hit the nail on the head. That being said, when a track is introduced as "a song for George W. Bush," chances are that the shit ain't going to be all that smart anyhow, or at least not very fresh.
now playing: Kano - Reload It
1 Comments:
That photo is exactly what Sov sounds like. Love it.
By

Jackie, at 4:14 p.m.