Thursday, February 08, 2007

i need a lover with soul power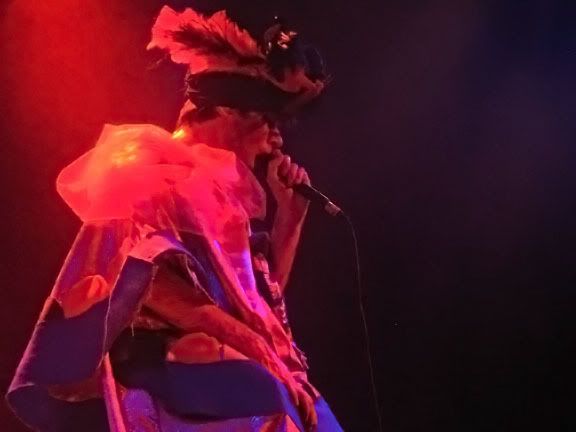 I can understand the split between fans of
Of Montreal
. Depending on my mood, I tend to gravitate between the fuzzy indie pop of the band's earlier releases and the buzzing pulse of their new stuff. Live, however, I can't see how anyone would take the former over the latter. As much as I dig
the Gay Parade
, none of the songs feature a two bass groove or a disco stomp, both of which have featured prominently since
Satanic Panic in the Attic
.
Since the last time they shot through town, the band's picked up a mess of extra stage props, including a couple of odd lighting fixtures, a plastic owl, and a video screen that alternated between shots of the band and animations based on the liners from
Hissing Fauna, Are You the Destroyer?
. The evening also featured its share of requisite Kevin Barnes costume changes. The visuals - while pretty cool - thankfully didn't overshadow the aural portion of the experience though.
The band pulled a lot from their latest, and almost entirely from their last three. The highlights, predictably, were the danciest numbers with "Requiem for O.M.M.2," on the heels of a cover of Love is All's "Make Out. Fall Out. Make Up." being a pretty spectacular one-two punch. That being said, there wasn't a single part of last night that was disappointing in the slightest, except perhaps what they didn't play.
If you're heading down tonight, however, I'm sure you'll hear the few "hits" that we missed yesterday ("Wraith Pinned to the Mist..." and "Disconnect the Dots")
now playing: Jamie Lidell - Game for Fools (Mara Carlyle Ukulady Mix)
Labels: of montreal, show recaps
0 Comments: