Monday, March 05, 2007

take me where i've never gone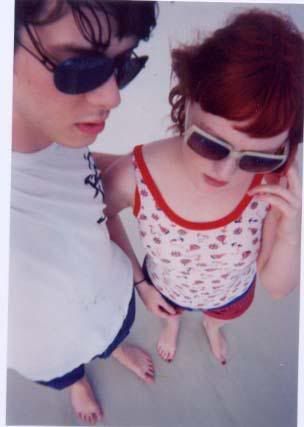 One of my main complaints with the last
Von Bondies
record was that it was way too slick sounding. On the other hand, I was pretty pleased with the increased vocal presence of Marcie Bolen and Lauren Wilcox. While the latter's no longer with the band and presumably up to other things, it's Marcie's new(ish) project that I stumbled upon the other day. The ax slinger teamed up with
Taylor Hollingsworth
to write and record some tunes, and while the duo are currently unsigned and rocking a mere two songs on
MySpace
, the pair of tracks suggests that there's a lot to look forward to in the (hopefully near) future. The instrumentation sits in the same family as her full-time outfit, but the production is down and dirty, instead of spit shined and sanitized. And while Marcie only backs up Taylor's laid back vocals on the bluesy garage-pop of "Turn the Lights Back On," she takes leads and proceeds to let loose on the frantic, "Hey Sailor." I wish I had some more info to share, but alas... If anyone can enlighten me, I'd be much obliged. And if you own a label, maybe sign these two and get a record out.
Speaking of getting records out, Last Gang reports that they'll be releasing
Metric's
"lost" first LP,
Grow Up and Blow Away
, sometime before summer's over. Apparently they're readying the album in "the form the band wants it" right now. I was always under the impression (from interviews and whatnot) that the form they wanted it in was non-existent, and having heard it (it's out there if you want it), I can sort of hear why. It's not terrible, but it's certainly not up to their current standard, and I've only got one track still hanging around in my iTunes.
download: Metric -
On the Sly
My friend Shea was kind enough to let me know that
the Bird and the Bee
is opening for Lily Allen, in what's now a night long ex-boyfriend hate-on, and also that
Sarah Slean
and
Veda Hille
support Ron Sexsmith, who will apparently also get a hand from the CBC Radio Orchestra.
Rumours abound that
Daft Punk will embark on a July/Aug NA Tour
that will see them hit Seattle's
WaMu Theater
on July 29th. Don't start planning that road trip yet. But if this is confirmed, start planning that road trip immediately. I heard some quiet rumblings about a Vancouver date, but if those dates are correct, it doesn't leave much room for the robot rockers to make a cross border sidetrack.
I got squeezed into writing the gratuitious
Arcade Fire
review for Streethawk. But more importantly, Luke Simcoe sat down with Andy Dixon for a marathon interview and parts
one
and
two
are up now. The site actually updates fairly regularly, so check it out and junk.
Finally, you should probably stop reading this blog and go read
this blog
. If for nothing else, at least check out
Sample Wednesdays
.
now playing: Marcie Bolen and Taylor Hollingsworth - Hey Sailor
Labels: marcie bolen, mp3, show announcements, show rumours, taylor hollingsworth
4 Comments:
Daft Punk's performance at Coachella was one of the most mindblowing music spectacles I've ever witnessed. Definitely something to add to a "things to do before I die" list.
By

Peter, at 10:50 a.m.
I know for a fact that Lauren wilcox was only on 2 songs of the record Lack of Communication. And was on none of pawn shoppe heart. Also, it was carrie and jason that did most of the female singing parts on pawn shoppe heart. From what i've heard marcie didn't even play a lick of guitar on any of the records.

She's like the sid vicious of the von bondies
By

Anonymous, at 1:13 p.m.
I also really like Raw Sugar from Grow Up and Blow Away.

Palms Out is pretty and hippity-hoppity.

Nice Arcade Fire review.
By

jackie, at 3:06 p.m.
PFork just confirmed Daft Punk's tour! with guests, the Rapture, no less.