Wednesday, January 30, 2008

fight & kiss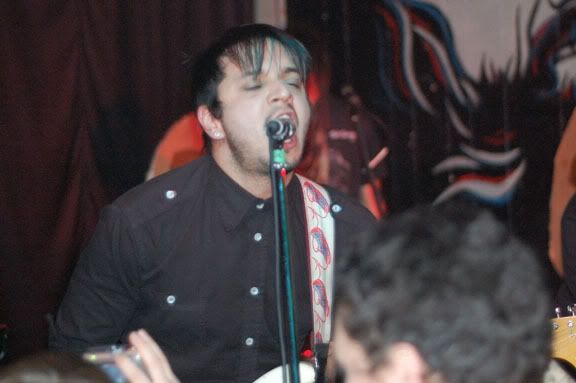 We Are Wolves
have great tunes, but I kind of feel like they're the musical equivalent of bacon (forgive me vegetarians and/or people who hate shitty metaphors). If you have a couple slices of bacon, it's pretty much the best thing ever. Four or five slices, and you're still feeling pretty awesome. But even bacon can get old if that's all you get, and you'd probably have to be pretty drunk to truly enjoy, say, a pound of bacon between two people.
It was definitely $7 well spent though.
Terrorbird
, who set up in front of the stage on the dance floor, opened things up, and were once again, pretty fantastic. Only has a rather bizarre interview with
Nikki
(vox/keys) up.
Destroyer
is at the Commodore on May 31st.
Trouble in Dreams
has the usual dose of Bejar's wonderful lyricism, but it's also dripping with Nic Bragg's guitar work (much like
This Night
), so I'm even more amped than usual for this one.
Chris-a-riffic is having a CD release show on February 8th at the Secret Space (down the alley from the emergency room). The next couple of Friday's are busy nights. (thanks Luisa)
Turbonegro
are at the Commodore on April 22nd.
Bodies of Water
open up the Sons & Daughters show at Richard's on April 4th.
And
Collapsing Opposites
,
gr8-2000
,
Search Parties
,
Russian Words
, Aaron Read,
Stefana Fratila
, and
Golden Touch
are at Hoko's on February 29th.
now playing: Iron Chef America
Labels: show announcements, show recaps, terrorbird, we are wolves
0 Comments: