Monday, September 15, 2008

the sound of confusion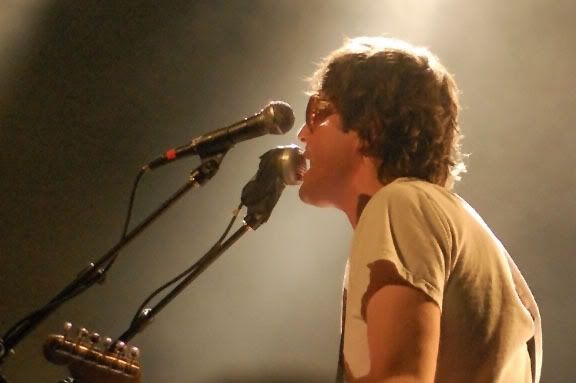 It's a shame that the Commodore wasn't anywhere close to full on Saturday, because
Spiritualized
put on one of the best shows I've seen all year.
Starting off with a noisy, droney version of "Amazing Grace," the band (J. Spaceman + lead guitar, keys, bass, drums, and two back-up singers) followed with a set that did a great job of showing off
Songs in A&E
amongst a healthy dose of the Spiritualized and quite a bit of Spacemen 3 material.
Things were pretty great from the get go, with "Shine a Light" being an early highlight, but things
really
got going when they launched into "Good Dope, Good Fun." The main set closing combo of "Come Together" and then "Take Me to the Other Side" was amazing, but a country-ish version of "Walking with Jesus" and the original "Elvis" version of "Ladies and Gentlemen We Are Floating in Space" were both highlights as well.
I would've loved to hear "Stop Your Crying" or a wickedly long version of "Cop Shoot Cop," but those are hardly complaints. It was a pretty perfect evening.
Speaking of the original version of "Ladies and Gentlemen We Are Floating in Space," you should really hear that, if you haven't. Elvis' - or more correctly, whoever controls his catalogue's - lawyers weren't too keen on the parts that were nicked from "Can't Help Falling in Love." More proof that lawyers and music don't mix.
download: Spirtualized -
Ladies and Gentlemen We Are Floating in Space (Original Version)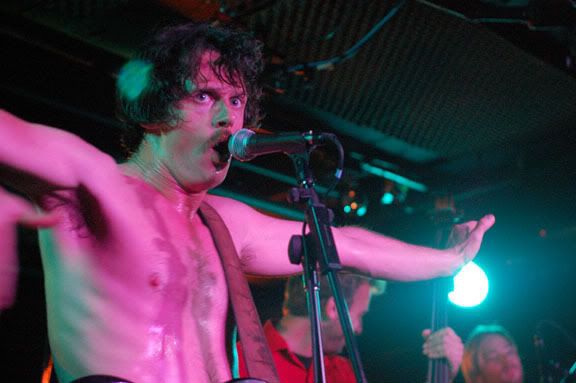 On Thursday, I walked down to the Biltmore to catch
Old Time Relijun
. While I really like most of the recorded stuff I've heard from, I've never really sat down with one of their records before. Doing that was already in the plans, but it's been bumped ahead on the priority list after seeing them live.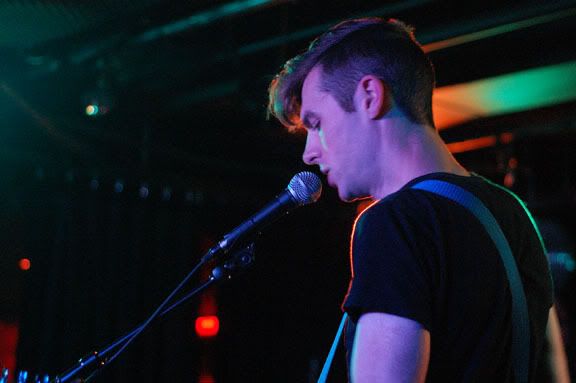 While
Shearing Pinx
are perfectly capable headliners, I found it a little weird that they were on after OTR. Their music is awesome, but you can also see them every second week or so (when they're not jaunting around tearing up stages on tour, of course). That, coupled with the fact that it was a weeknight, meant that a noticeable part of the crowd left before their set. They still brought it, as usual, though.
Sinden
and
Nacho Lovers
are at the Modern on September 22nd with
Paul Devro
.
Brasstronaut
are having an "official" EP release with
Language Arts
at the Biltmore on the 23rd of September.
Sun Burned Hand of the Man
is at the Media Club on November 2nd.
Secret Machines
are at Richard's on November 7th.
The Breeders
are at Richard's on November 10th.
And, I was going to say that Taxes were at the Astoria on Saturday for BtN, but the Astoria is closed for 10 days so they can do some soundproofing.
Shindig! tonight! and a rad contest... actually, a couple of rad contests coming. But the first one is coming later today.
now playing: Neil Young - Don't Be Denied
Labels: old time relijun, shearing pinx, show announcements, show recaps, spiritualized
7 Comments:
I am dying to see SPZ soon. Haven't seen them in years! Sounds like a great show.
By

Sean, at 12:35 a.m.
taxes is being included on the bill for the we are wolves afterparty on sept 27th. that performance, combined with dj sets by we are wolves, tyler fedchuk, and sex attack... it's going to be ridiculous.
There were moments of sheer musical rapture at the Spiritualized show. Why that venue wasn't packed to the rafter to to hear a band of that quality is beyond me. Getting to experience "Lord, Can You Hear Me?" live with the band in full sonic force and the voices of those two amazing backup singers still soaring over the mix actually moved me to tears, it was that powerful.
By

Anonymous, at 4:12 p.m.
Peep OTR's "Witchcraft Rebellion" if you haven't heard that one yet. Probably their strongest release. I own most of their catalog and have been following them for years, so it was great to finally see the group in action. Easily a top 5 show of '08 for me. Though they may drop out of that race when I see MBV in San Fran in 2 weeks. Woot!
By

Mark E. Rich, at 4:19 p.m.
Thanks for posting that track, I'd never heard that before the show and it was my favourite part of a totally incredible night. Still no mention of Thursday's Method Man and Redman show though?
Spiritualized was great. Lay Back in the Sun was the highlight for me. Normally, as an old-schooler I hate all the phones in the air recording everything but I was glad to see this pop up the next day:

http://www.youtube.com/watch?v=Jn3fLsYSFZI&feature=related
By

g, at 9:00 a.m.
Hey Quinn the download for Ladies and Gentlemen... seems to not be working. Is there anyway you could upload it to megaupload or mediafire? I would be completely in debt to you! Thanks.