Tuesday, February 03, 2009

run to your grave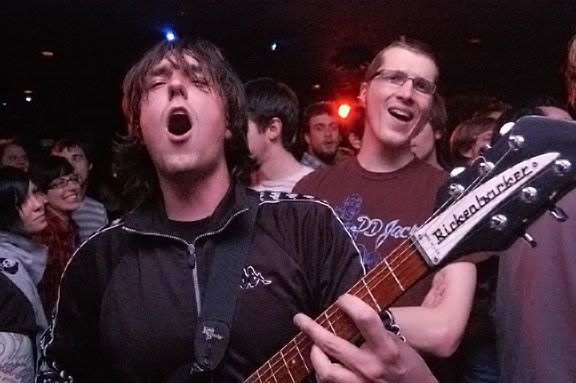 During the time when I'm not updating this blog, I still go to shows once in awhile. Shocking, I know.
That was taken way back on Thursday when the
Mae Shi
played the Biltmore. In all honesty, I can only handle them in small doses when it comes to the recorded product (like really energetic small dogs), but they were pretty killer live.
I could see
Shearing Pinx
, who opened, a million times and be happy. I don't think I need to expound on that in writing every time I see them though. I guess I sort of just did.
We were a bit late and missed Certain Breeds and I also bailed before Sex Party, who played last for some reason. It was a weeknight, I was tired, and I imagine I'll be able to catch them sometime soon.
Nick from
No Kids
dropped me a line about a project he's doing with
Juana Molina
for the
PuSh
festival. The short form musical features members of Ladyhawk, the Awkward Stage, and of course, No Kids, among other Vancouver musicians and goes down on Thursday and Friday of this week at Performance Works at Granville Island. Juana Molina will play afterwards on both nights and on Thursday there will also be a performance by
Parenthetical Girls
.
On Saturday at the Biltmore,
Jaws
has been added to the Glory Days bill (filling in the now vacant White Lung spot)
On February 12th,
Stamina Mantis
, Japanese Graffiti,
Nihilist Party
, and
Anju
are at Honey.
Really, is there a venue more romantic than Funky Winker Bean's? Well, on Valentine's day,
Type to Talk
and
Keytar Warrior
play there.
Also on Valentine's is an interesting event taking place at various ATM rooms around the city. There are lots of people playing and I'm lazy, so here is all the info on a nice flyer:
My friend Darren astutely notes that the three banks in question are right near the Community Policing Station on Hastings... so we'll see how it goes.
Villains
are at Republic on the 19th.
On February 20th,
Portico
celebrate their album release with
the Abramson Singers
at the End Cafe.
Pierced Arrows
(featuring members of Dead Moon) play the Railway on February 21st with
Thee Manipulators
and
the Vicious Cycles
.
Also on the 21st,
Tjvek
,
Unnatural Helpers
,
Vapid
, and
Sex Church
are at the Peanut Gallery.
On March 5th,
Clues
play the Biltmore with
Animal Names
.
Chain and the Gang
(featuring Ian Svenonious) and Hive Dwellers (
Calvin Johnson
) are at the Sweatshop on May 30th.
And, the new
Japandroids
record is out on April 28th in digital formats
and
on vinyl (which comes with the download).
now playing: the Hold Steady - Girls Like Status
Labels: japandroids, mae shi, shearing pinx, show announcements, show recaps
0 Comments: