Saturday, March 26, 2005

jackson, jesse i've got a son in me
Britney is pregnant... so says
Star
(via
Brooklyn Vegan
)
Jonathan Davis of Korn
names his new kid Pirate,
upping the unfornate name bar set by Chris and Gwenyth.
Eazy-E died ten years ago today. RIP.
One of the world's greatest bands
has split up. The music world is still torn up inside over this one.
In more interesting news, word on the street is that
Stars
,
Feist
and
Apostle of Hustle
are going to play together for a few songs for the finale of the Exclaim! show this Thursday. This is pretty much Broken Social Scene minus Jason Collett, Emily Haines, that guy from Raising the Fawn, and lead boy-singer, Kevin Drew. Which means "Anthems for 17 Year Old Girl," "Backyards," and "Lover's Spit (Beehives version)" are not out of the question. Still trying to figure out a way to stop time so I can make it to the Commodore after
Ash
to check it out. Also look for Amy Milan to drop in on
Montag's
opening set to duet on
Perfect Vision.
download: Feist -
Lover's Spit (Broken Social Scene cover - live in Paris)
This rendition of the much loved BSS tune is significantly different then the piano based
Beehives
version that Miss Feist's vocals grace. Guitar based with some great little backups and Leslie's croon distantly echoing over her improvised refrain at the end.
Yuki sent in this snapshot from last night's Mono show at the Media Club, which she described as "loud."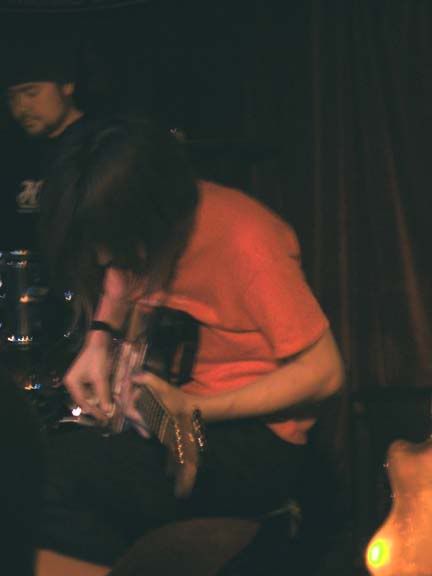 Finally, if you slept in and wanted to get
Weezer
tickets, you're out of luck. They sold out in minutes. You can always check
Ebay
if you're into paying $100 a ticket. Ouch.
now playing: Ryan Adams - Let It Ride (from
Cold Roses
, streaming on
ryan-adams.com
)
1 Comments:
Hey, Nice Blog!

Makes some very interesting reading.

Please be sure to check out my site here - Mininova - for some great bit torrent downloads.

Thanks
By

Stephen, at 12:48 a.m.