Sunday, May 01, 2005

oh canada, we played all night.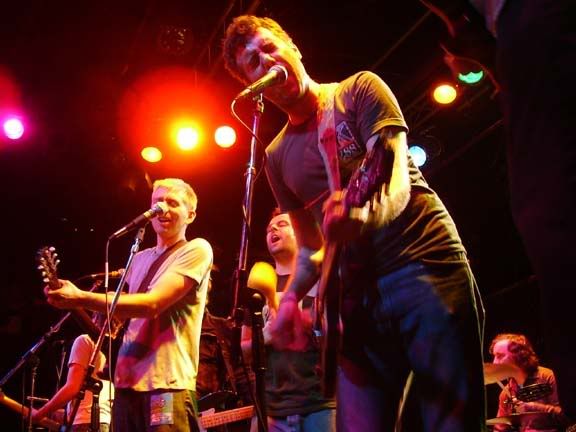 I went to the third of three co-headlining
Weakerthans
/
Constantines
shows here in Vancouver tonight(my second, their third). The Cons changed the setlist up substantially for their set, which is always nice for those of us who like to go to multiple shows. They played two or three more songs from their next album, which is due out in the Fall on
Three Gut
(
Sub Pop
for those of you across the border). If the live versions are any indication, it'll be the third (fourth if you count the EP) in a line of great records from London, Ontario's finest.
The Weakerthans stuck mostly to the same set as last night, rotating in "Utilities" (a cut track from the
Reconstruction Site
days) for newie "Night Windows," with "One Great City" being replaced by my personal favourite Weakerthans number, "My Favourite Chords." The portion of the encore where the Cons were invited back onstage saw both bands (as well as the guy who sells the AK Press books on tour, and a couple of members of the opening band) once again tearing through the Travelling Wilburys' "End of the Line," but also featured a cover of "Don't Be Denied" (by Neil Young).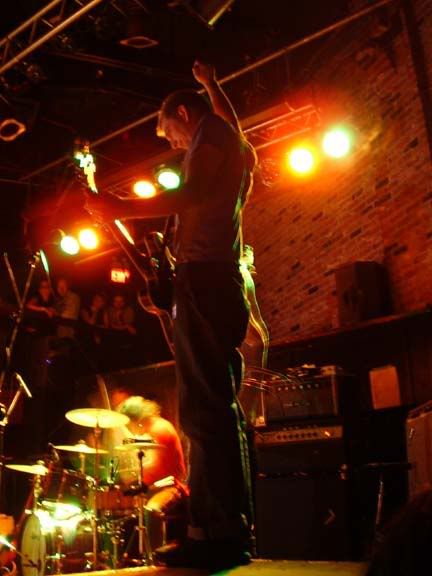 John K shows his solidarity with the Constantines, joining them on guitar for their opening number
Dallas Wehrle
Don't be denied
After the Weakerthans/Cons extravaganza my concert mates and I hightailed it from Richard's to the Commodore, where
the Decemberists
were making up their postponed March date. When we arrived the band had already made it through three or four songs (who goes on at 10pm at the Commodore on a Saturday? Honestly), but the remainder of the set was worth far more than the price of a ticket, so no complaints. This marked the fourth time I've seen the band and they finally played "Grace Catherdral Hill," although they focused on the material of
Picaresque
, encoring with a fantastic version of "The Mariner's Revenge Song." It was also the first show I've seen since Petra Hayden joined the band on violin. Needless to say, she's a welcomed addition to the group, filling out the sound on both new and old tunes. The crowd was great and the band seemed in really good spirits as well, so Colin was even coaxed out after the house music had come on to give us a solo treatment of "Red Right Ankle."
Since I arrived late, I was pretty far away, so my pictures are a little shoddy.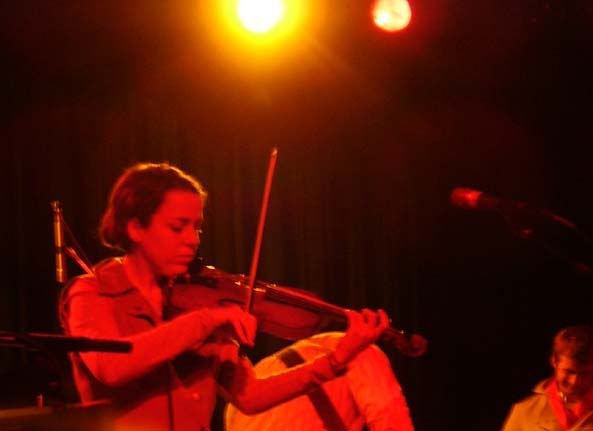 Petra Hayden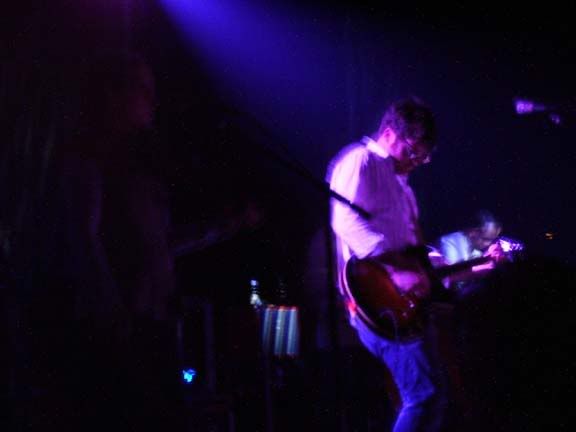 Colin Meloy
Petra and Jenny Conlee
Colin takes a breather
now playing: Ryan Adams - Twice As Bad As Love
1 Comments:
I was wondering where you were. In any case, my photos are up here.