Saturday, June 18, 2005

and that's the way we get by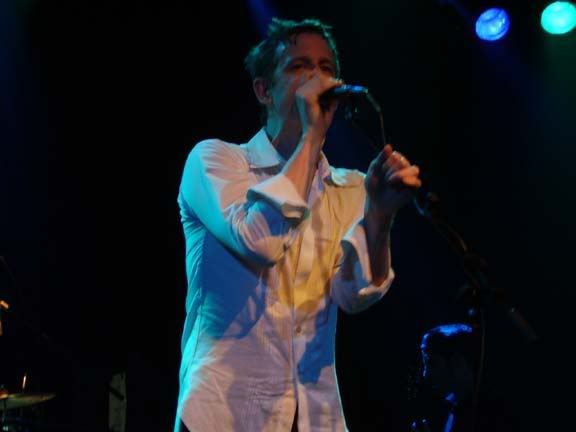 Caught
Spoon
last night at the Commodore. I must confess, that while I know that they're a great band, I've never really bothered to get that into them... I don't know why really, but other than a handful of mp3s I don't listen to them very regularly. They were really good last night, though, so I feel like Britt and Co. and I have some catching up to do.
The Clientele
opened, and were extremely boring. I was excited when they introduced a cover of "A Picture of Dorian Gray," but even that was snoozy.
Big thank you the drunk guy who pushed his way to the front, berated people for "not fucking dancing" and then proceded to make out with his girlfriend for the duration of the next song. You are a true winner sir.
The
Pretty Girls Make Graves
show at Sonar on the 26th is indeed $1 (plus $1 service charge). Tickets are available right now at Livestock and Beat Street.
File these under
"rumour"
for now, cause that's what they are, but here are some rumblings from the
Arts and Crafts
camp:
Death Cab
and
Stars
play Vancouver and/or Seattle around the second week in November.
Broken Social Scene's
new one may come out even earlier than the Billboard reported October 4th date. BSS will also kick of the album's release with some Canadian shows late October/early November (back East of course, but likely Vancouver as well).
Feist
should be back in town late September/early October... sometime after that pair of Japan dates listed on her official site.
And finally,
Jason Collett
plays the Media Club this Friday. It might be an invite only thing. Don't ask me how to get invited though, as I assure you, I am not. In fact, I'll be playing kickball on Friday... seriously.
Again... rumours. Don't mark you calendars just yet.
now playing: Autolux - Robots in the Garden
5 Comments:
"Big thank you the drunk guy who pushed his way to the front..."

Was that the guy with the tweed jacket and the nappy hair? I saw him and two of his buddies crash the front near where you were. Though he may be right that the crowd wasn't dancing (c'mon Vancouver! Here is a white rock and roll band with some serious hips and all you can do is bob your heads?), most in the crowd weren't being assholes either.

"Death Cab and Stars play Vancouver and/or Seattle around the second week in November."

The two times I've seen Death Cab, they were blown away by their openers (The Dismemberment Plan and Stars). Now they're going to have Stars open for them again?? Take a page from Doves (blown off the stage by the Strokes (!) and My Morning Jacket) and get a local band to open for you.

And now to get ready for Built to Spill tonight....
By

Neil, at 8:16 p.m.
no not tweed guy. though he was a prick too. quinn was talking about some jackass with a stupid hat.
By

sean, at 10:28 p.m.
wasn't it the guy with the shitty facial hair? the tweed guy i believe was about 2 people over and getting into it. this guy had like a leather jacket or maybe not.
although.. props to the guy on the OTHER side of me than "dance" guy, who knew all the words, and proceeded to sing them loudly.
By

brittany, at 11:04 p.m.
was it the dude shitty facial hair, two beer, who kept trying to push through me and the (cute learning to be a chef why didn't I try to get a phone number) girl on my right?

there were also the foursome who were trying to do the same, and then gave up and put the girls on their shoulders.

and then there was the guy in front who was bobbing his head so hard (but doing very little other moving) that he'd probably have broken my nose had I not stopped him with my hand a couple of times.

If the success of a band is measured in the number of douchebags at a show, then Spoon's about to make it big.
This comment has been removed by a blog administrator.