Tuesday, August 09, 2005

hello operator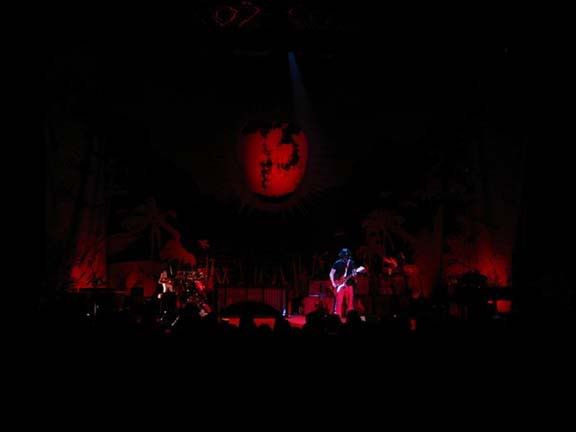 I caught the second of two Vancouver appearances by
the White Stripes
last night. I was a little thrown off by the $60 price tag, but it was well worth the money. In fact, I'm kicking myself a little that I didn't opt to take in both shows. The band tore through twenty-six songs, with hardly a word spoken (until Jack asked the crowd to singalong to "Bol Weevil" during the encore), playing tunes from all five full lengths, as well as a few non-album tracks. If you've seen the White Stripes before, you'll know what I mean when I say that the spontaneous nature of their shows is one of the biggest things they've got going for them. "Death Letter" was medlied seamlessly into "Grinnin' In Your Face," and songs like "Ball and the Biscuit" (that drag a little on record) were loose and improvisational, without ever being in danger of going on too long or falling apart. The former two numbers were big standouts for me, but my personal highlight was, hands down, the encore opening one-two punch of "You're Pretty Good Looking" and "Hello Operator," from
De Stijl
.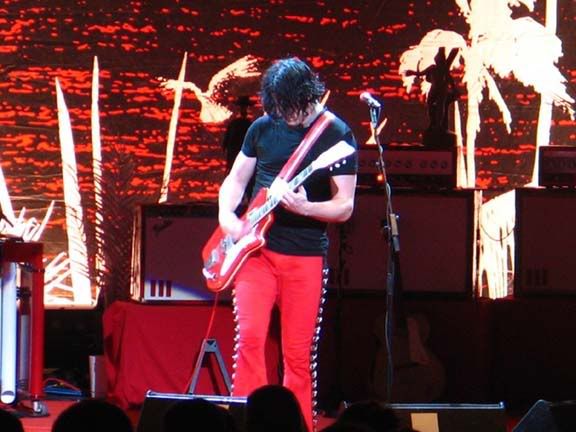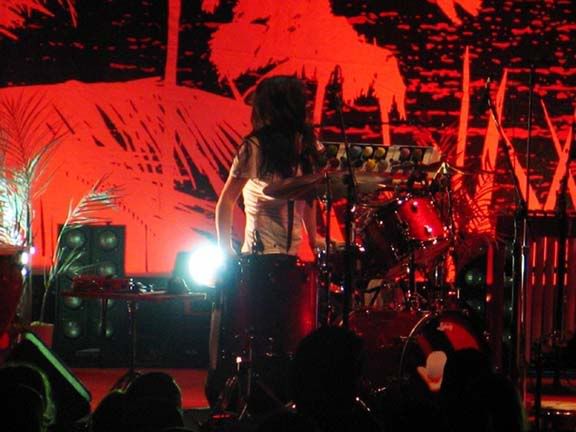 A big thank you to my friend Sean, who not only managed to get the great pictures above despite our row 22 vantage point, but also to send over this video clip of "Love Sick" to share with all of you.
download: the White Stripes -
Love Sick (live in Vancouver 8/8/05 video clip)
More multimedia excitement courtesy of
RiloKiley.net
. If you couldn't download the .flac files from
DimeaDozen
awhile back, they have the .mp3s of Rilo Kiley's most recent Vancouver performance up for download. (via
Large Hearted Boy
)
Some shows:
This one has been announced for awhile, I just kept forgetting to post about it til now...
Acid Mothers Temple
play Richard's on September 28th.
Subtle
plays the Media Club November 12th.
And,
Grand Buffet
play Celebrities on September 9th.
More Cowbell
has the dates for the
Hold Steady
/
Constantines
Fall tour up. Look for a Vancouver date in the five day lull between Fargo and Seattle. Full details when they're confirmed and official, but I'm so psyched about this one, I had to mention it.
This one's out of town, but I wanted to talk about it anyway.
Operation Ceasefire
is a free concert at the Washington Monument on September 24th. Featuring Le Tigre, The Coup, and Steve Earle (among others), the show aims to promote a peaceful end to the occupation in Iraq.
In related, albeit less glamorous news, if you're interested in the above, you might want to check out
StopWar.ca's
forum on
Nuclear Weapons and War
this Thursday at 7:30pm at the Vancouver Public Library. The event features one of my favourite UBC professors, Dr. Michael Wallace, speaking about the "Failure of the anti-nuclear weapons negotiations and the dangers of war." If you do take in the event, ask Dr. Wallace why I only got a 76% on my Poli 461 final... I kid, I kid.
From
IndieTorrents
:
The RIAA has been allowed to assimilate the following labels: Epitaph, Absolutely Kosher, Hush, Jetset, Equal Vision, Sub City, SpinArt, Lookout, Fat Wreck Chords, Relapse, Nitro, BYO, Ferret, Tommy Boy, Taang, Kung Fu Records, Smash and others.
Ugh... at least now LookOut can do everything like a major, instead of just not paying artists.
Ryan Adams
review and pics to come later tonight or tomorrow morning.
now playing: the What - Revolution #2
8 Comments:
no love for the Greenhornes?

Subtle, Grand Buffet = the suck
Alright Quinn, enough's enough already. Your music photography is fantastic. I don't really even like the White Stripes that much, but those pictures made me kind of wish I had gone to their show. And I could say this for other bands too. Also, Terminal City is publishing a regular column called "Look and Listen" by a girl who has great intentions but, well, kind of (and by that I mean really) blows at a)taking photos and b)writing. So I think that you should viva la revolutione and start sending your things to them to print. It will make pretty things prettier.
Atmosphere
Blueprint (one half of Soul Position with Rjd2)
POS
@ the Commodore
Nov. 6
By

Graham, at 10:07 p.m.
graham.. thanks.

jackie: sean took those pictures.
woo great shots seany!

quinn...your blog is awesome. im gonna add you to my linky list.
Quinn, Amanda.
Amanda, Quinn.
By

sean, at 8:15 p.m.
quite an intro
I came across you blog and thought you may find this site usefull. It has gas saving tips and where to find cheap gas. free ares download

:)
By

Anonymous, at 7:54 p.m.