Saturday, September 24, 2005

the song that's shakin' me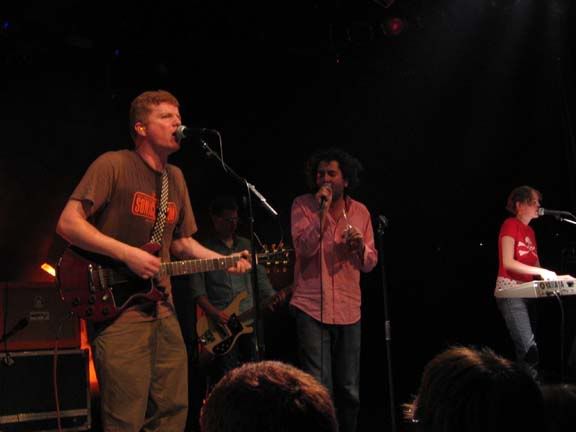 Before I talk about how fabulous
the New Pornographers
were last night, I must first share with you this amusing anecdote:
So, right before the New Pornographers came on stage, someone tried to barge to the front. This, of course, is not uncommon at concerts, cause let's be real, people are kinda jerks. Normally, you might get the odd comment to said asshole, or more likely, the bunch of people who just got cut in front of will mutter to themselves. Instead, not one, or two, but five or six people not only verbally berated this man, but also forcibly (yet peacefully) guided him back from where he came from.
Ok... so the show...
The New Pornographers were their usual fantastic selves, playing for just over two hours, including encores. They pulled from all three of their albums, and more importantly (for me), because
Destroyer
opened, Dan Bejar was there to sing all of his NP songs. Hopefully, I'm not alone in proclaiming the beginning of "Jackie, Dressed in Cobras" as fuckin' magical. The song marked the first time in the set when you had Bejar, Carl Newman, Neko Case, Kathryn Calder, and Kurt Dahle rocking the five part vocal thing together. There were, of course, other highlights. Set closer, "Sing Me Spanish Techno" was fantastic, and predictably "Mass Romantic," "Letter From An Occupant," and "Laws Have Changed" all got the crowd bouncing. Additionally, Kathryn Calder's adorable spin move before hitting the keys on "Slow Descent Into Alcoholism" was just too cute for me not to mention. It's also worth noting how Dan Bejar would stumble out for his songs looking hammered and confused, had to mumble "what song is this?", but was still able to come in on the one for "Testament to Youth in Verse" with no problems.
While Dan made up a lot of the highlights in the Pornographers set, I have to admit I was a little disappointed with Destroyer's set. Lots of older stuff, but nothing at all from
Your Blues
. That being said, any night I get to hear "The Sublimation Hour" live is a good day in my books.
Immaculate Machine
, who opened the show, were a pleasant surprise. The afermentioned Kathryn Calder shared lead vocal duties with Brooke Gallupe. They're on Mint, they sing pop songs, you can probably imagine what they sound like. Their drummer, Luke Kozlowski, is also a dead ringer for a young Iggy Pop.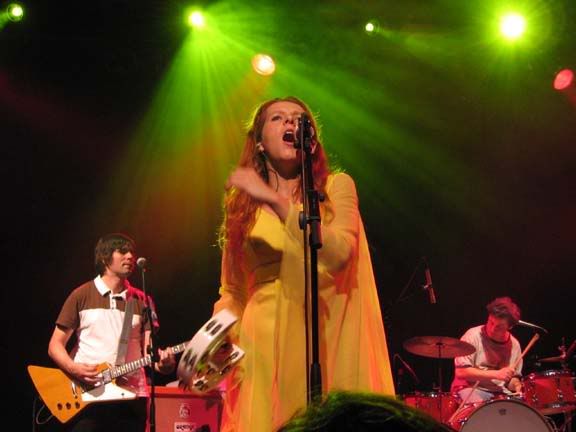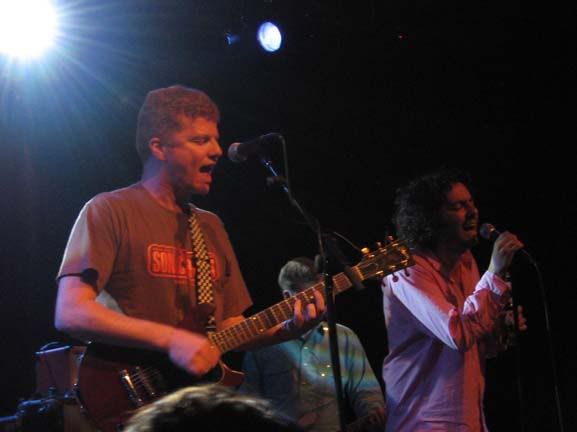 now playing: Matthew Good - Tripoli (acoustic)
14 Comments:
don't forget to mention the inpromtu cover of dreams.


what a show. got a setlist!
By

Anonymous, at 12:57 p.m.
Yeah, I can't believe you didn't mention the Fleetwood Mac cover. I know you don't like Fleetwood Mac, but the crowd just ate it up.

Matt
By

Anonymous, at 1:36 p.m.
yeah... i forgot.
what tv show theme song was neko singing before john just started singing sound of music?
By

Anonymous, at 2:01 p.m.
I think it was Lawrence Welk.

Matt
By

Anonymous, at 2:18 p.m.
Kudos to the group of people for standing up to a barger. That guy must have been SO humiliated. I can't help but chuckle about it.

:-P

Oh and that photo of Neko is fantastic!
dang, neko is a hottie. i really admire a woman who wears a ballgown in non-ball situations.
By

Cherry Ghost, at 4:32 p.m.
I have some NP videos on my lj if you need them.
I took three crappy little video clips from last night's show.

Grab them here:
Use It
Electric Version
Letter From An Occupant

Enjoy!
By

Nathan, at 6:56 p.m.
haha, i was the one the guy barged right in front of! looking at your pics, you must've been right behind me at the show... i was bespectacled chinese guy right in front of neko.

btw, been reading your blog for a while now.... good stuff!
Holy shit, Hanson! Hi, Hanson!

(Oh, and I have read your blog too for a while.)
By

Dickolas Wang, at 2:25 a.m.
Dan Bejar on stage with the NP!

shit, Toronto's sold out.
By

Graham, at 10:50 a.m.
It's heartening to know Neko has stopped wearing pajamas in concert.

Thanks for the review and photos - I knew you wouldn't let me down!

Obligatory plug: A few pics and a "review" of the previous night's Victoria show are on my site.
By

David, at 11:01 a.m.
This comment has been removed by a blog administrator.