Monday, November 14, 2005

the incinerator mastered our hearts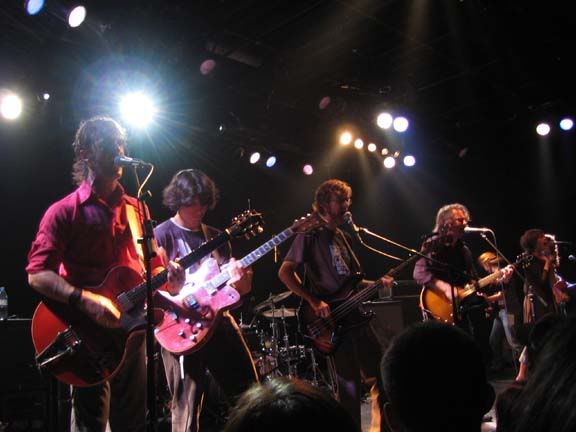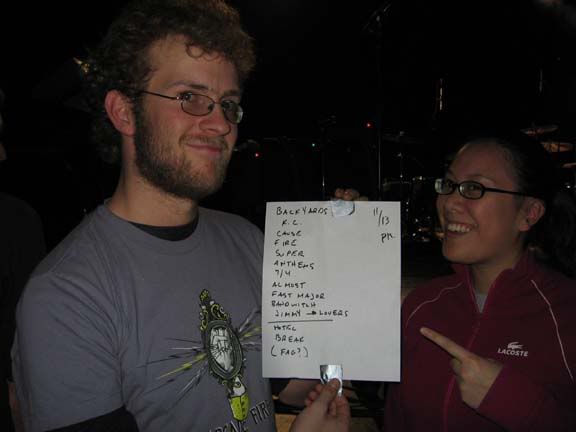 The last time
Broken Social Scene
graced our fair city, I'll admit, I was fairly underwhelmed. No female singers (although Dani from Cadeaux filled in on "Almost Crimes") and no horns = one half assed show. While there was the notable absence of Amy Milan, Emily Haines, and Leslie Feist, (not to mention six-stringer Jason Collett) this time around Lisa Lobsinger (who may steal the crown of hottest BSS female singer) held it down for the ladies, there were also horns a plenty, and even an appearance by Julie Penner on violin. All of this added up to a much fuller - and better - sounding Scene. The band pulled four tunes from
You Forgot It In People
, opened with the as yet unreleased "Jimmy and the Photocall" (they didn't follow the setlist), and filled out the rest of the set with tunes from their self-titled latest. A pity that "Backyards" was on the setlist but not played, but deviating from the plan to play "Ibi Dreams of Pavement" made up for it. It's late, so I'll leave it at that.
Wait, I lied. I also wanted to mention that Andrew Whitman definitely cemented his status as one of my favourite lead guitar players.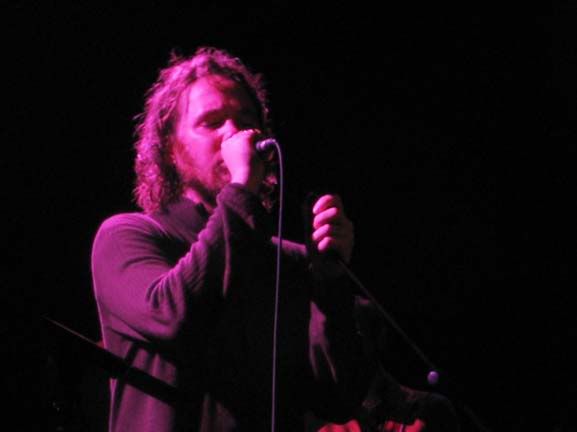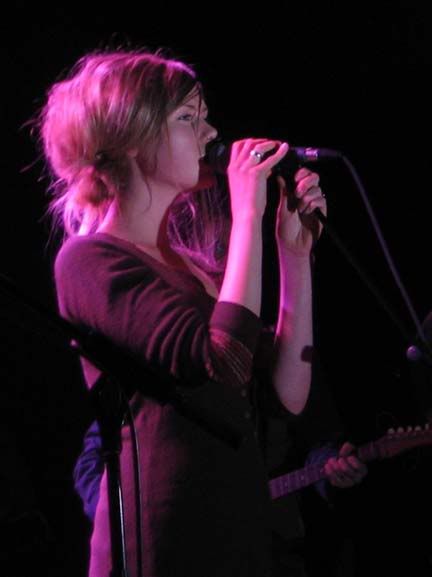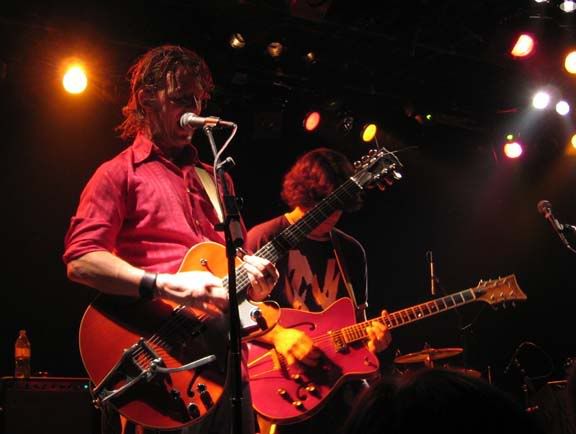 now playing: Broken Social Scene - It's All Gonna Break
17 Comments:
Horns, Ibi...blah blah. I do care about that.

BUT...

umm...is that the new girl there in the pic?

HOTT

and if you say she may be hotter than emily....big call.
How was Lisa's performance in the evening show? We were at the afternoon show, and while she was pretty, and could technically sing, she just stood there, totally frozen, as if she had no idea where she was, or what she was doing. Other than that, the afternoon show was totally kick ass as well.

Also, great call on Andrew Whitman's guitar playing... it was totally bad-ass.
She's definitely the prettiest of any of the BSS women, but HOTTER? I don't think so. She doesn't have the stage presence or personality of either Feist or Emily Haines.
By

Claudia, at 10:52 a.m.
I went to the afternoon show. it was amazing.
By

Peter, at 11:44 a.m.
Lisa doesn't have the stage presence that Emily has, but having seen Emily up close, I'd say that Lisa is 100x hotter.

holy fuck, that was an amazing show.
By

josh, at 1:59 p.m.
i was at the evening show and had a great time. ibi dreams was awesome. was hoping to hear windsurfing nation, but i guess w/o feist, it can't be done properly. lisa did anthems well, if you squinted hard enough, you'd think it was emily. as for her onstage presence, i did mention to my buddy that she seemed out of place and didn't really seem to fit in. i guess this tour will be her hazing.
By

p., at 3:49 p.m.
Ok, about Lisa.

I will say right away, she looks much better (judgeing by that pic) in the evening show than the afternoon show. Now that she changed much, but her hair in the Afternoon show was frightning. My friend thought it looked like the Alien's hair from Mars Attacks. And I agreed. But I thought she had an amazing voice. "Anthems For A Seventeen..." she pulled off amazingly, and was really one of the highlights of the show for me.

And as some of you mentioned, she did lack stage presence. However, it could have been more of a nervous thing more than a "lack of stage presence. This was her first show with BSS was it not? Perhaps as she gets more comfortable she'll get more active.

One will have to just watch I guess.
i love how everyone was sidetracked by the who is hotter debate... for the record, her hair was probably the same as the morning, its just the angle of the photo.

as for singing, apparenlty Anthems was not so hot in Seattle, but was pretty good last night... she doesn't seem super at home on stage yet, but considering BSS is essentially a group of friends, it's probably hard to jump right in.
Wasn't her first show but it was one of the first...She played with them in Kingston on Oct 21st (joined by Feist and later Sarah Harmer)which I believe was her first
By

Shea, at 8:37 p.m.
No, her hair wasn't up like that during the afternoon show. I remember distinctly cause I thought that she would do her hair that same way (I had seen her picture in Dallas photos) but she didn't. Also, I remember cause I hugged her as I left the stage to get back down to the crowd.

I wish Jason was there. Why wasn't he there? Is he on tour?
By

Cy, at 10:11 p.m.
hey i'm the guy with the setlist!

i totally didn't know you were the one taking the picture (as i don't know what you look like).

which one were you? (a number of people asked for pictures and i have a bad memory)
By

Jamie, at 10:12 p.m.
asian guy with glasses... i know Claudia and Trevor from UBC
By

Quinn, at 10:25 p.m.
if i remember correctly they played more than 4 from yfiip

kc
cause=time
anthems
almost crimes
lovers spit
stars and sons
By

Jamie, at 1:19 a.m.
you are indeed correct.

1) i cant count, apparently... and
2) i forgot about stars and sons being played before hotel.
they played backyards and where is your heart where is your mind in the afternoon show and didnt play jimmy and the photocall or its all gonna break
By

jason, at 8:38 a.m.
Wow, just stumbled upon your blog via For the Records. Nice BSS review, glad to see someone else giving Mr. Andrew Whiteman the kudos he deserves. Unfortunately we here in their HOME TOWN have to wait until January to see them! Argh!

I'm going to link you in my music photo blog sidebar, if you don't mind!

cheers!
- Beth

Rock//Paper//Pixels Photo gallery
Concert Blog
By

Rock Paper Pixels, at 4:12 p.m.
Dude, how do you ever know what BSS lineup you're going to get? Do they just show up with whoever? That seems like such a strange thing that you can go to a "BSS" show and it could conceivably be completely different people from time to time. Seems strange to me.
By

Dave, at 5:12 p.m.