Friday, December 23, 2005

another year older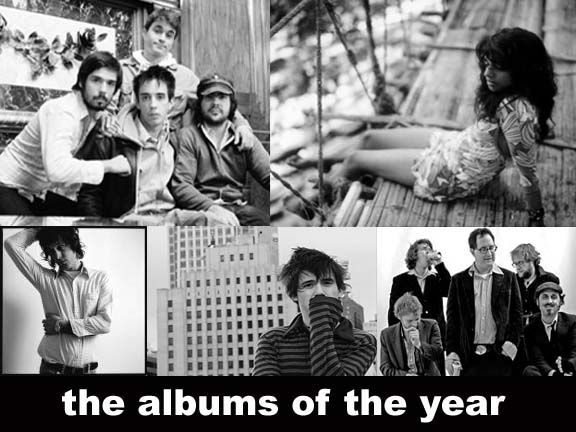 Most of these records have already been talked to death, so I'll refrain. If for some reason you still don't know what all the fuss is about, you can use your ears instead of your eyes by downloading the mix below. As always, I love to hear what everyone else out there thought, so please drop a comment or two.
1.
Wolf Parade
- Apologies To the Queen Mary
2.
M.I.A.
- Arular
3.
Jason Collett
- Idols of Exile
4.
Bright Eyes
- I'm Wide Awake, It's Morning
5.
The Hold Steady
- Separation Sunday
6.
Final Fantasy
- Has A Good Home
7.
Broken Social Scene
- Broken Social Scene
8.
LCD Soundsystem
- LCD Soundsystem
9.
Sleater-Kinney
- The Woods
10.
Bloc Party
- Silent Alarm
The best of the rest (in no particular order): Andrew Bird, Girls Aloud, Architecture in Helsinki, The Constantines, Jamie Lidell, Ryan Adams (the second one), Math and Physics Club (both EPs), The National, The New Pornographers, Someone Still Loves You Boris Yeltsin, Clap Your Hands Say Yeah, Cadence Weapon, Lady Sovereign
As promised, a year-end-sorta-recap mix. Rock it on your IPod, although it'll fit on one cd if you're old fashioned.
1. Broken Social Scene - Ibi Dreams of Pavement (A Better Day)
2. The Hold Steady - Your Little Hoodrat Friend
3. The Constantines - Why I Didn't Like August '93 (Elevator To Hell Cover)
4. Sleater-Kinney - Rollercoaster
5. Bloc Party - Two More Years (MSTRKRFT Remix)
6. Gwen Stefani - Hollaback Girl (Diplo's Hollatronix Remix)
7. Amerie feat. Jay-Z - One Thing (Remix)
8. Kanye West - Gold Digger (Tugboat Edit)*
9. Diplo - Tippin' Toxic (Toxic vs. Still Tippin')
10. M.I.A. - Hombre (Xerox Re-Tug)
11. Jamie Lidell - Multiply (Gonzalez Mix)
12. LCD Soundsystem - Tribulations (Linstrom Mix)
13. Wolf Parade - This Heart's On Fire
14. Final Fantasy - The CN Tower Belongs To The Dead (live)
15. Jason Collett - Pink Night
16. Bright Eyes - Landlocked Blues
17. The New Pornographers - Streets of Fire
18. The National - Baby, We'll Be Fine (live)
19. Feist - Let It Die (live and solo)
*
it's actually more of a Ray Charles Remix, but let's let it slide
download:
From Blown Speakers Year End Mix 2005
now playing: Cadence Weapon - Grim Fandango
9 Comments:
I'm really surprised by your rating of MIA. I mean, it's really good (somehow) but that good?
Wolf Parade and MIA were the records I listened to the most this year... that was pretty much my criteria for choosing. Although, how often you want to put on an album, probably speaks to how good you think it is, so it's a fairly good measure.
I still think Wolf Parade sound very, very similar to Modest Mouse. That's not a criticism of the band, but I just think it's a strange that you can love one and hate the other.
By

Trevor, at 10:57 p.m.
Great number 1!
i agree with trevor. i haven't given the Wolf Parade album many listens yet, but I see it as a poor man's Modest Mouse at the moment.
By

josh, at 10:36 p.m.
Wolf Parade have songs, Modest Mouse have some clever phrases held together with "quirkiness."

I can't really sit through an entire album of theirs.
By

Quinn, at 11:58 p.m.
Sweet, nice to see Collett rate so highly.
By

Casey Dorrell, at 9:46 a.m.
hey Quinn, can you reup this mix? I've been travelling and missed it.

and, oh yeah, Quinn has it right. Wolf Parade are truth while Modest Mouse kinda suck.
me too.. just got back from vacation and the download is no longer available - wow high demand ;)
By

Anonymous, at 10:20 a.m.