Thursday, December 15, 2005

i like the crowds at the really big shows...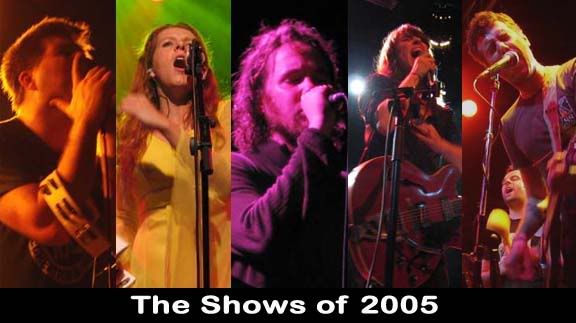 2005 recap round two, which reminds me that I haven't been able to make it out to a show in about a month. There were a lot of great shows that came through our fair city this year, hopefully you were able to make it out to a few. Here were some of my favourites...
1.
LCD Soundsystem
with
M.I.A.
and
Diplo
@ the Commodore
Was there anything that rolled into town this year with more hype behind it? Maybe Clap Your Hands Say Yeah!... but their tourmates, the National, are tragically underrated. This was a one-two punch of anticipation, and it certainly didn't disappoint. MIA, the opener, encored, and James Murphy and co. were enough disco to get the kids dancing and enough punk get fists pumping. Here's what I said about it in May.
2.
The New Pornographers
with
Destroyer
and
Immaculate Machine
@ the Commodore
Two things made this show, and with apologies to the very talented Carl Newman, he was not one of them. For me anyhow, this was the Neko and Dan show. Neko Case has quite often been the highlight of seeing the New Pornographers for me, but touring with Dan Bejar for the first time really made the songs sound whole. Carl did a fine job on "Jackie" and "Testament To Youth In Verse" when I've seen them in the past, but seeing the Destroyer frontman (who ironically, was kinda boring with his full time unit) singing his own songs made my evening. The original take.
3.
Broken Social Scene
with
The Most Serene Republic
@ the Commodore
Bringing along a lady singer and a couple of horns makes a huge difference. BSS were gigantic sounding. And, while Lisa Lobsinger may have been a tad underwhelming, she was the missing piece that was sorely lacking during the Scene's previous Vancouver appearance. The Most Serene Republic, during round two, just cememented there "meh" status with me, however. Not so long ago thoughts.
4.
Feist
with
Jason Collett
and
New Buffalo
at the Commodore
Feist put out one of my favourite albums of last year. Jason Collett put out one of my favourite albums of this year. New Buffalo penned one of my favourite songs of this year. So, before any of them hit the stage I was suitably excited. Sally Seltmann's stage presence wasn't especially strong, but her performance was quite endearing. Collett was immensely good, and his performance was bolstered by some assitance from the headliner. Ms. Feist was captivating, and even threw in a "cover" of her and Collett's sometimes other band, Broken Social Scene. I was just as enamoured about it in October.
5.
The Weakerthans
with
The Constantines
@ Richard's
I would consider myself a pretty big fan of the Weakerthans, but I'm not above admitting that a) their last effort was kinda weak and b) they've been touring it for way too long. But, their three night stand (I caught two) with The Cons was a step up from their usual, with the two canuck factions collaborating several times in the evening. The highlight came in the encore of night two, which featured everyone up on stage with John K. Samson and Bry Webb trading verses on the Travelling Wilbury's "End of the Line" and Bry taking the lead on Neil Young's "Don't Be Denied." Night one. Night two.
Notables: Sleater-Kinney, The Cons with the Hold Steady, Sufjan, ...And You Will Know Us By The Trail of Dead.
Sasquatch Festival was probably the best thing I saw all year, but it was out of town... Go ahead and tell me I'm out to lunch in the comments by letting me know your favourite shows this year.
I need to go
study
cram for International Law... My favourite albums and a year-in-review downloadable mix next week.
now playing: The Stone Roses - Going Down
8 Comments:
Dizzee, dude. That show was dope beyond belief.
By

Graham, at 12:14 a.m.
gang of four!
By

Anonymous, at 1:48 a.m.
I was at the New Pornographers in September as well and left the show thinking it would probably be the best show I saw all year. I had the same impressions you did.

Worst show of the year has to go to Ryan Adams and that annoying crowd. I left the Commodore wanting my $37 back.

Matt
By

Anonymous, at 4:48 a.m.
spot the old guy...

Wedding Present @ the Red Room
Lloyd Cole solo @ Sonar
Sasquatch
Broken Social Scene
Wilco @ Orpheum (or was that last year?)

still pissed I didn't read my ticket properly and missed 80% of Echo and the Bunnymen's 'early show' at Dick's
By

g, at 10:09 a.m.
Way to support the Canadian music! In terms of Canadian releases some of the good stuff(eg. Arcade Fire, Stars, Feist etc) came out in 2004, but it was 2005 that they really PROVED themselves live.
the wilco show was in 2004
By

josh, at 11:03 p.m.
1. Brian Wilson
2. Kanye West
3. Decemberists
4. Broken Social Scene
5. New Pornographers
Centro-matic
Okkervil River
Iron & Wine / Calexico
Son Volt
American Analog Set
By

Anonymous, at 3:19 p.m.