Sunday, February 26, 2006

dj kicks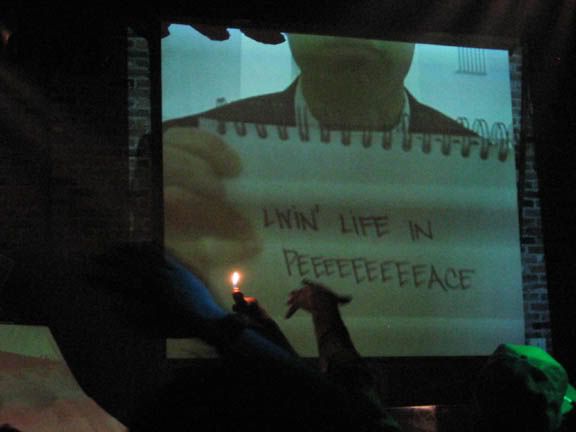 The utter and complete insanity that is
Mike Relm
was summed up quite aptly by a guy a met at the show last night. He was talking about seeing him last year at the 604 Hip Hop Expo, where Mike opened for former DMC Champion (and now Kanye West DJ) A-Trak, and recalled, "A-Trak came on to do his thing and people just sorta shrugged, like "what? that's it?" No dispresect to A-Trak, because he's an amazing DJ. But there are DJ's and there are spectacles, and a Mike Relm show is a spectacle. If you have even a passing interest in turntablism and were not in attendance last night you severely dropped the ball. We're talking "down by 6 at the superbowl, unforced fumble on the 1 yard line" type ball dropping. It's hard to pick a place to start, it's near impossible to pick a highlight. But the thing that would have won over absolutely everyone was scratching his visuals. Yeah, you read that right. He scratches DVDs. I know that sounds gimmicky... and it is. But, it's also utterly amazing. It's really quite difficult to write about what a great audio/visual experience it was. You really had to be there. Luckily, every single person in the very diverse crowd will be raving about the show for the next week or so. If you know anybody at all who went, you can guarantee that next time Mike Relm comes to town, someone will implore you to go. Take their advice. That pic up there is from the finale. A remixed, lighters (and cellphones) up, singalong of "Imagine."
Vancouver's own
No Luck Club
came on right before Mike Relm. And, while I quite enjoy their unique brand of instrumental hip-hop, their set seemed to drag a bit. Plus, they were sandwiched in betwee two sets of unabashed party music, making them seem like a bit of a lull. It was more a time/place thing, than a quality thing.
Montreal's
Skratch Bastid
started off the evening's proceedings, and quickly warmed up the crowd. For one, the guy's a pretty damn good scratch DJ (you pretty much have to be to have that pseudonym). But, in addition, he also spun one of the most fun (mainly) hip hop sets that I've heard in ages. Maybe it's just that I'm a sucker for the old "drop the sampled track before track that used the sample," but judging from the sheer number of people dancing, it wasn't just me.
now playing: The National - The Thrilling of Claire
10 Comments:
Excellent photo. From where I was standing, the monitor was blocking a full view of the screen. Still. One of the best shows of the year, hands down.
By

Anonymous, at 2:05 p.m.
sorry, that was me.
isn't Skratch Bastid actually from Halifax?

man,I think I should go to Mike Relm but like I'm going to shows on Friday, Saturday AND Sunday next weekend and Mike plays on Thursday (wih Holy Fuck and Shout Out Out Out). Ack!!!
Saw Skratch Bastid in a hip hop documentary...did he wear the mullet?
Graham: he may very well be... apparently he resides in Montreal now though. and you should totally go to Mike Relm

Mike: no mullet, still sweet though
yes, he is originally from halifax, and he does live in montreal now... he holds down a monday night residency at blizzarts with a friend of mine.

by the by, the nada surf / rogue wave show earlier in the evening was pretty good too.
By

Chris, at 8:51 p.m.
mike relm blew me away, for reals.

-neil
By

Anonymous, at 12:38 p.m.
had no idea you were there too, but I should have known. I totaly agree- it was an incredible show. Next time I'll actually look at the audience instead of just relm and who knows, maybe we be able to be in awe together.
By

Maddie, at 4:50 p.m.
fuck fuck fuck.

i should have gone.
By

luck, at 5:38 p.m.
marina said you were both going... i was on the look out for you mads, but alas, it was not meant to be.